The big fat Indian wedding is full of colorful functions. The Haldi ceremony is a pre-wedding ritual where the bride and groom have a turmeric bath. It is an extremely important occasion. As a result, Haldi decoration ideas for both indoor and outdoor venues need careful planning. From low-cost Haldi decoration ideas for home to elaborate setups, you can have it all.
Ideally, the venue for the ceremony is traditionally decorated for a festive vibe. So, whether you're planning a low-cost Haldi decoration at home or a glamorous outdoor affair, it's a norm to decorate the venue for the Haldi ceremony in various shades of yellow, white, and green.  
Read along to explore some spell-binding Haldi decoration ideas and tips for low-cost decoration for your home and buy the best decoration items. The article provides some mesmerizing images to help you plan a magnificent Haldi ceremony during the wedding season.
Haldi decoration idea #1
Floral wall backdrop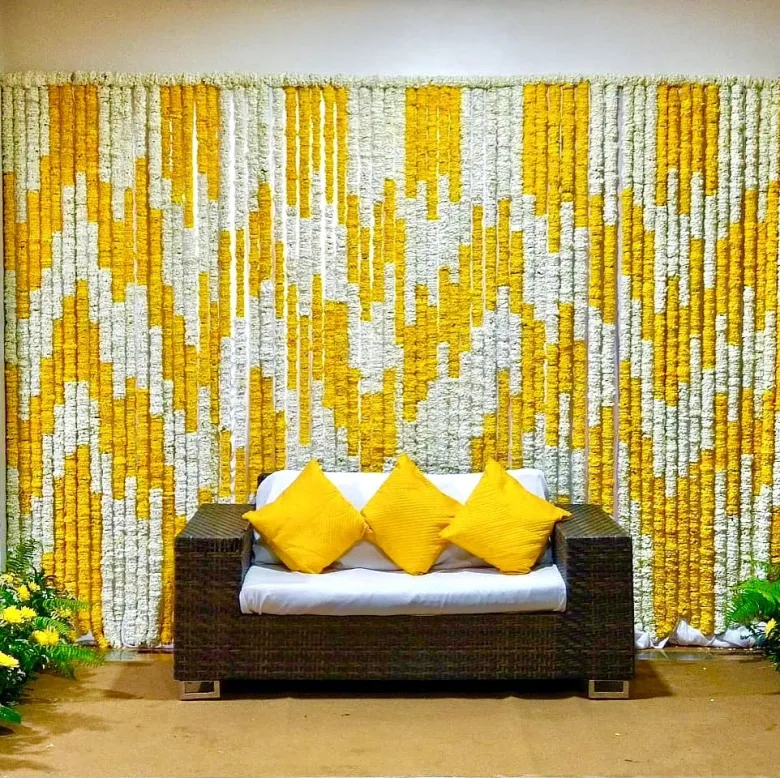 Image Source: Decorsutra
Flowers and wedding rituals make the best pair, so a marigold flower backdrop is a very good idea for your Haldi decor. It adds the traditional touch, matches the Haldi theme and the flowers are easily available. However, you can break the rules and choose mixed flowers or single-hued flowers to create the backdrop of your choice.
Haldi decoration idea #2
Haldi decoration backdrop with fabrics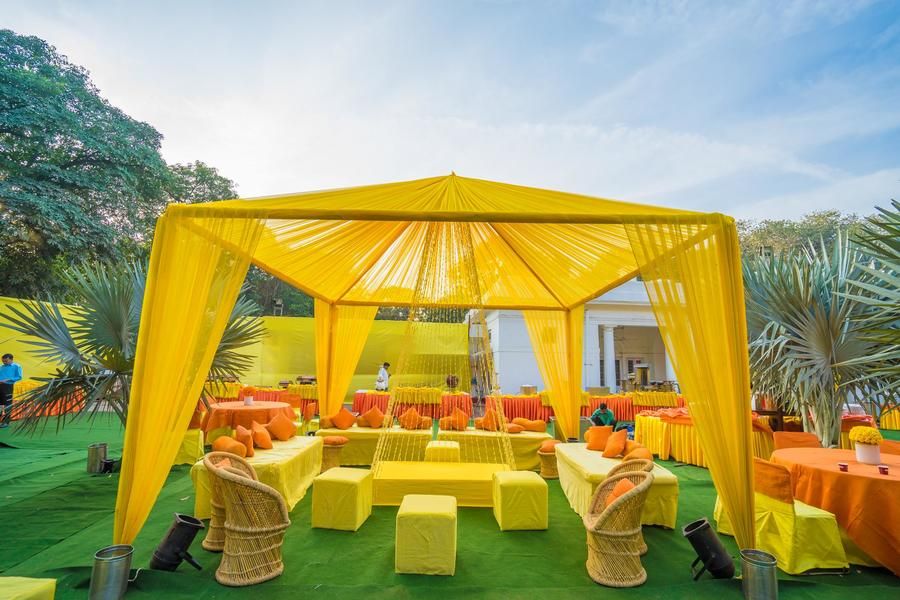 Image Source: Pinterest
Decorating with traditional Indian fabrics or fabrics in yellow, white, and red is a wonderful alternative and a cost-effective solution. You can play with the various ways of using fabrics to suit your style. Indian handlooms offer a treasure trove of indigenous embroidered fabrics that can bring out the cultural flavour of the occasion and add the festive vibe you wish for.
Haldi decoration idea #3
Haldi decoration with a floral canopy
Image Source: Bvmr events
Nothing can be more exquisite than decorating the seating area with a floral canopy. The flowers can be mixed or monochrome. Indian rituals are never complete without flowers, are they? However, you can divert from being too traditional and create canopies that are inspired by fairytales or rustic environments.
Haldi decoration idea #4
Vibrant mandap and indoor seating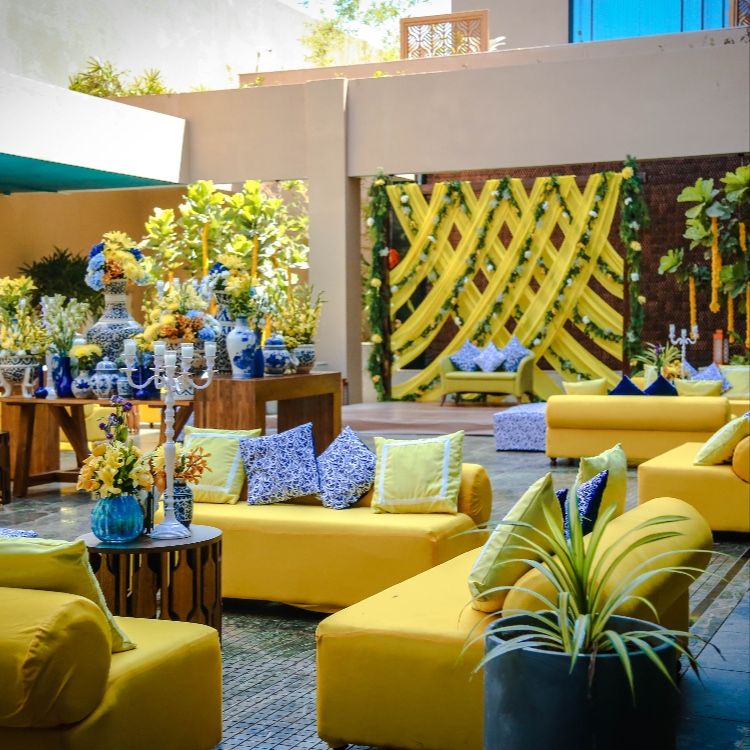 Image Source: Pinterest
When you are thinking of a small intimate ceremony, a colourful mandap is a must. The mandap can be done up with decorative balloons, flowers, or fairy lights. Ensure a colourful ambiance by choosing the brightest colours and huge florals like sunflowers or marigold balls. Do not shy from using myriad fairy lights around the seating arrangement.
Haldi decoration idea #5
Outdoor plush seating and luxuriant ambiance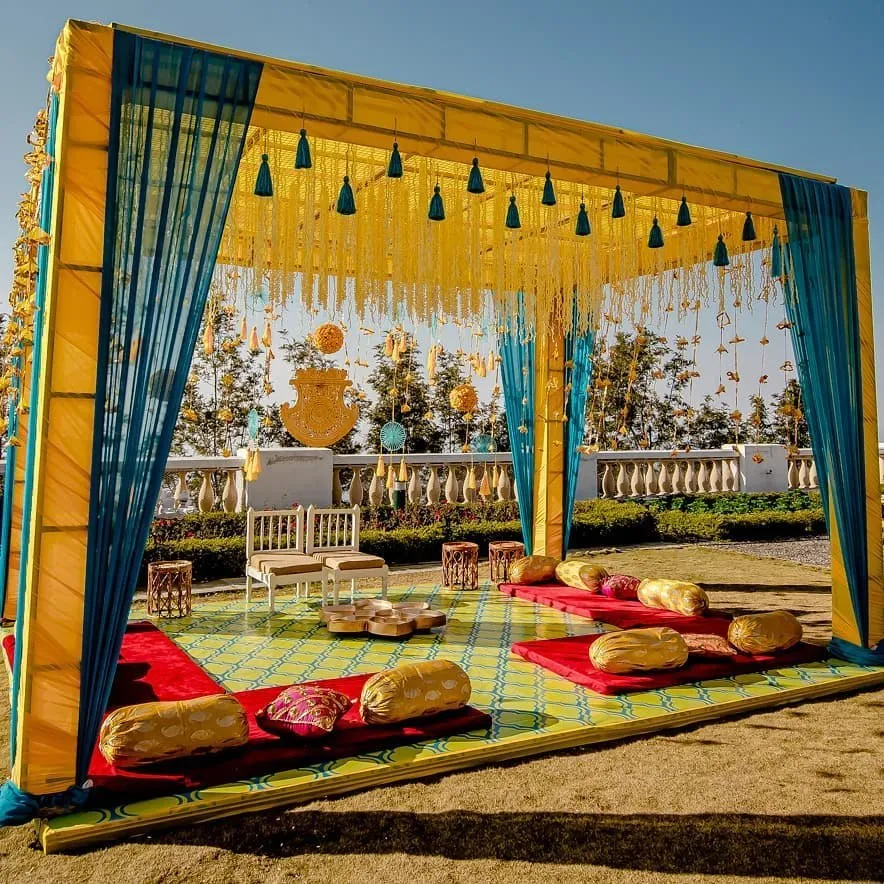 Image Source: Event Destination
If budget is not a constraint, you should select an open-air venue and go all out with luxurious decorations. You can choose a Spanish look or have an Arabian theme or stick to traditional Indian. A traditional Indian theme need not be just marigold garlands, you can experiment with different settings for a change. Starting with elephant statues at the entrance, and flower-bedecked pillars lining the pathway to a canopied stage. Ensure that the seating arrangement spells luxury to the hilt and the decor leans towards opulence.
The Arabian setting offers you an exotic look straight out of the Arabian nights. You can enhance the Arabian vibe with Bedouin tents instead of traditional flower canopies. Spanish-themed Haldi decor is an open-air affair that calls for decor with plenty of white and pastel-hued flowers and leaves. The setting may be designed to imitate a Spanish villa with an open courtyard. 
Haldi decoration idea #6
Simple DIY Haldi decoration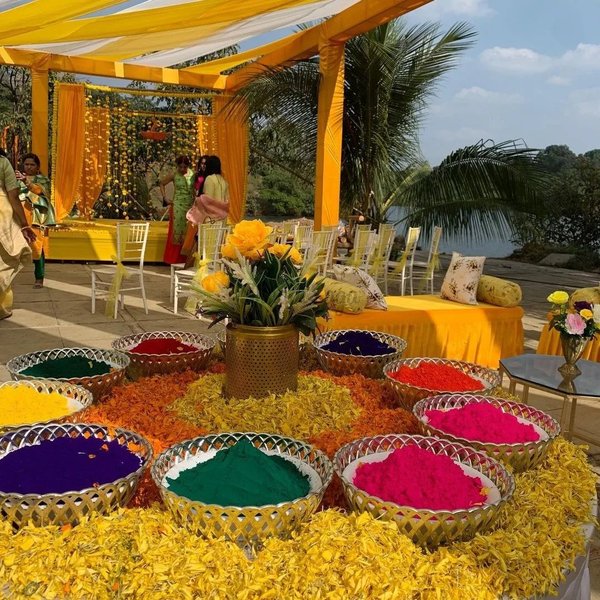 Image Source: Wedding Bazaar
Get creative and engage your friends in homemade decorations. Strings of flowers, balloons, and painted traditional motifs with cardboard and fabric add to the theme. Creating Rangoli motifs or adding earthen lamps are other ways to bring out traditional flavours in low-cost Haldi decorations at home.
Haldi decoration idea #7
Haldi decoration with colourful umbrellas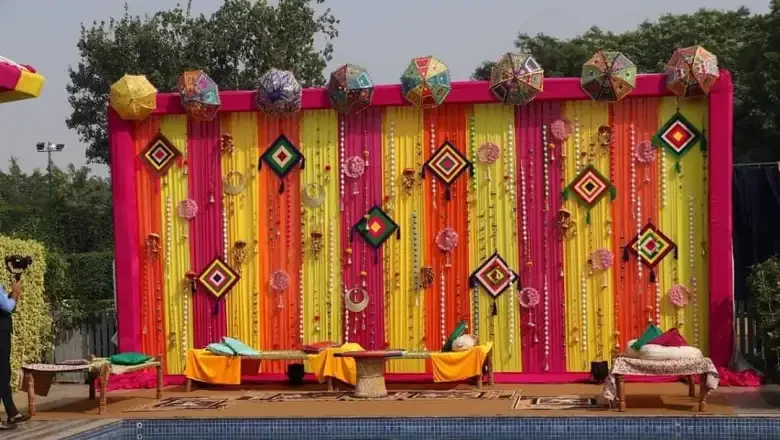 Image Source: Decorsutra
Umbrellas in colourful fabrics and traditional embroidery are a unique way to amp up the Haldi ceremony. It is also a cost-effective and time-saving decor idea.
Haldi decoration idea #8
Haldi decoration with pots
Image Source: My Mandap
Ring in earthy vibes is a cost-effective decoration for the Haldi ceremony. You can go all out and choose pots in different sizes and styles. Terracotta pots, figures, and metallic coloured earthen planters make an exquisite combination. All you need to do is arrange them creatively around the Haldi tub, entrance to the venue, and seating area.
Haldi decoration idea #9
Haldi decoration with origami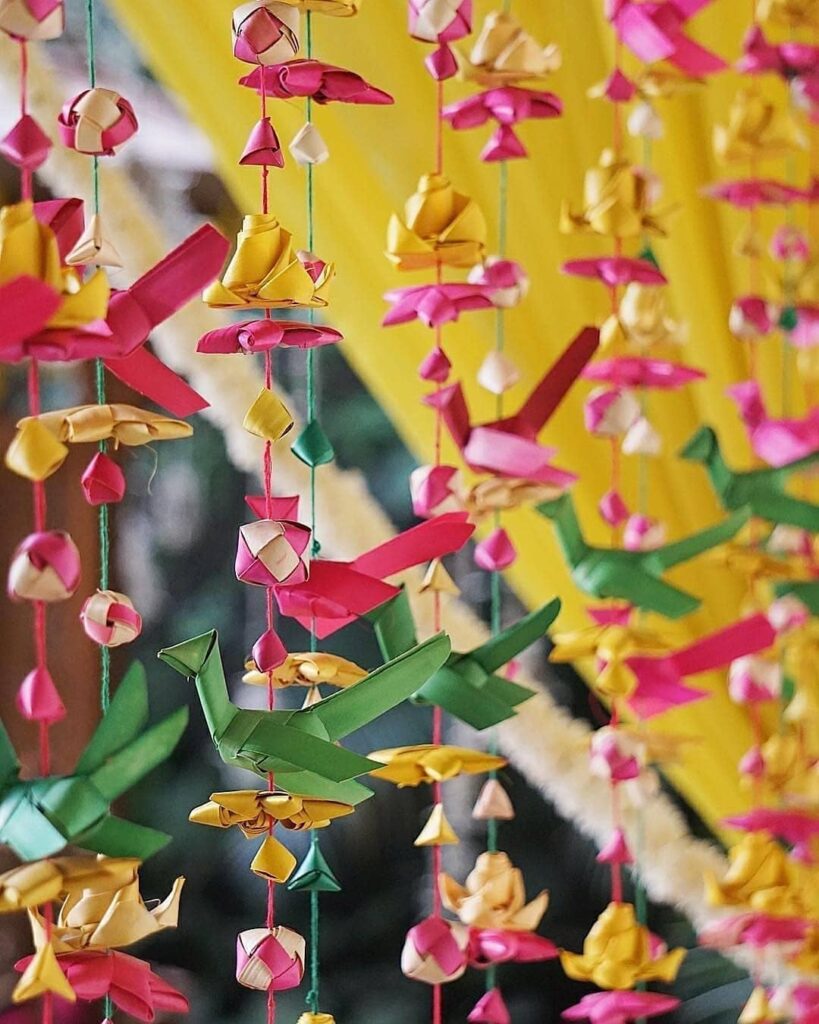 Image Source: Set My Wed
A chic Haldi decor idea, origami offers unique vibes. It gives you many choices and a galore of colours to play with. Origami lets you play with butterflies, elephants, kites, and flower motifs that are traditional celebration motifs. However, you are free to select any motif that suits you. The paper decorations look vibrant and are also cost-effective.
Haldi decoration idea #10
Boho-inspired Haldi decoration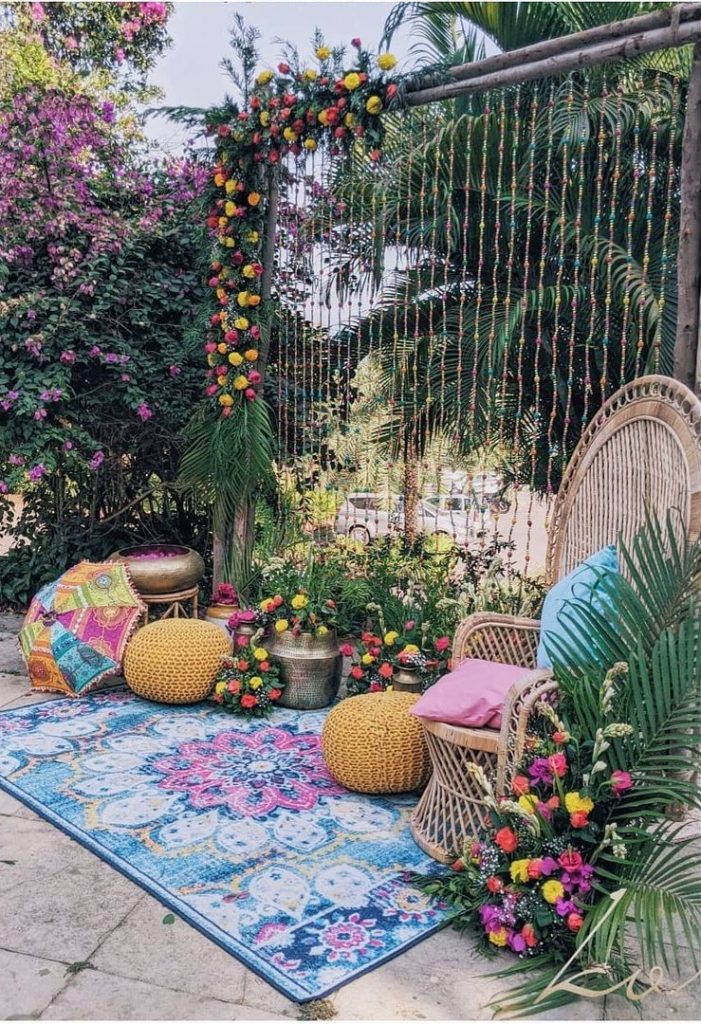 Image Source: Fab Weddings
A completely out-of-the-box way to celebrate the ceremony, Boho decoration for Haldi is a new concept loved by millennial couples. However, the style is more suitable for indoors and a closed circuit of friends. This type of decoration differs from traditional Haldi decoration primarily in colour scheme. The Boho theme concentrates on beige, white, and brown tones. The decoration is on the lighter side. Seating arrangements are casual with plenty of colourful cushions, rugs, and low stools or chairs. 
Additional tips for budget Haldi decoration at home
We Indians love to splurge on wedding rituals. However, if we can have a grand celebration on a budget, nothing could be better. Here are some amazing tips for pulling off indoor Haldi decorations on a budget.
Put on your creative hat: DIY Haldi decoration ideas with colourful earthen urlis, brass stands, and flowers are a big hit for a pocket-savvy Haldi ceremony decoration. You can opt for artificial flowers if the natural ones are beyond your budget.
Simplicity is the key: Ditch the grand throne for the bride and opt for a simple bench for indoor Haldi decoration ideas. You can create a beautiful backdrop with bright fabrics and add more colour with traditional cushions. String some decorative flowers and origami creations for the right vibe.
Make the most of your front lawn: Why waste money on expensive venues? Use your lawn for the day for a low-cost decoration. You can do it up with drapes, lanterns, and hanging flowers.
Our recommendations for Haldi decoration items (Buy here)
Craftisco Floral Haldi Platter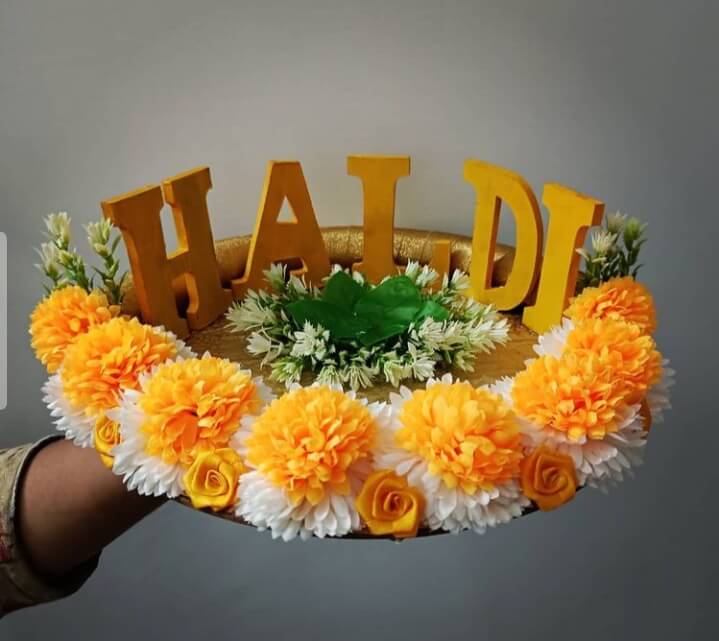 Birthdaywala Fairy lights background
Variddhi Crafts 6ft Marigold Garland (BUFFED) with Lilly Hangings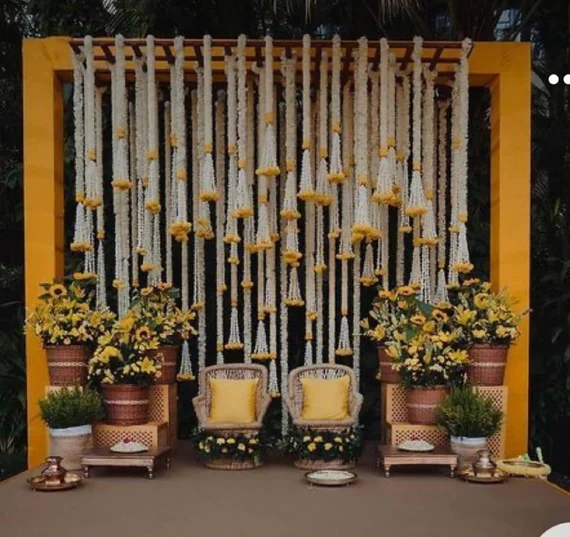 Lamansh Golden Lotus Floral Shape Fiber Urli
Village Women Skill The Charm Treasures Backdrop Umbrella Hangings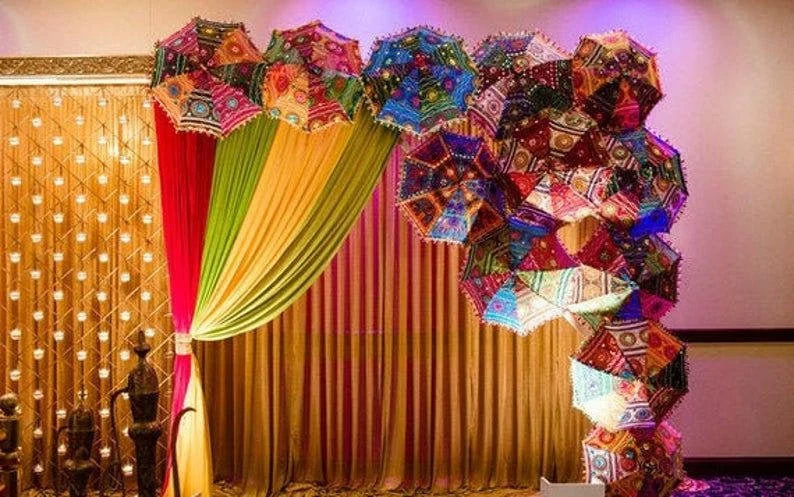 Homafy Customized Haldi Board Decoration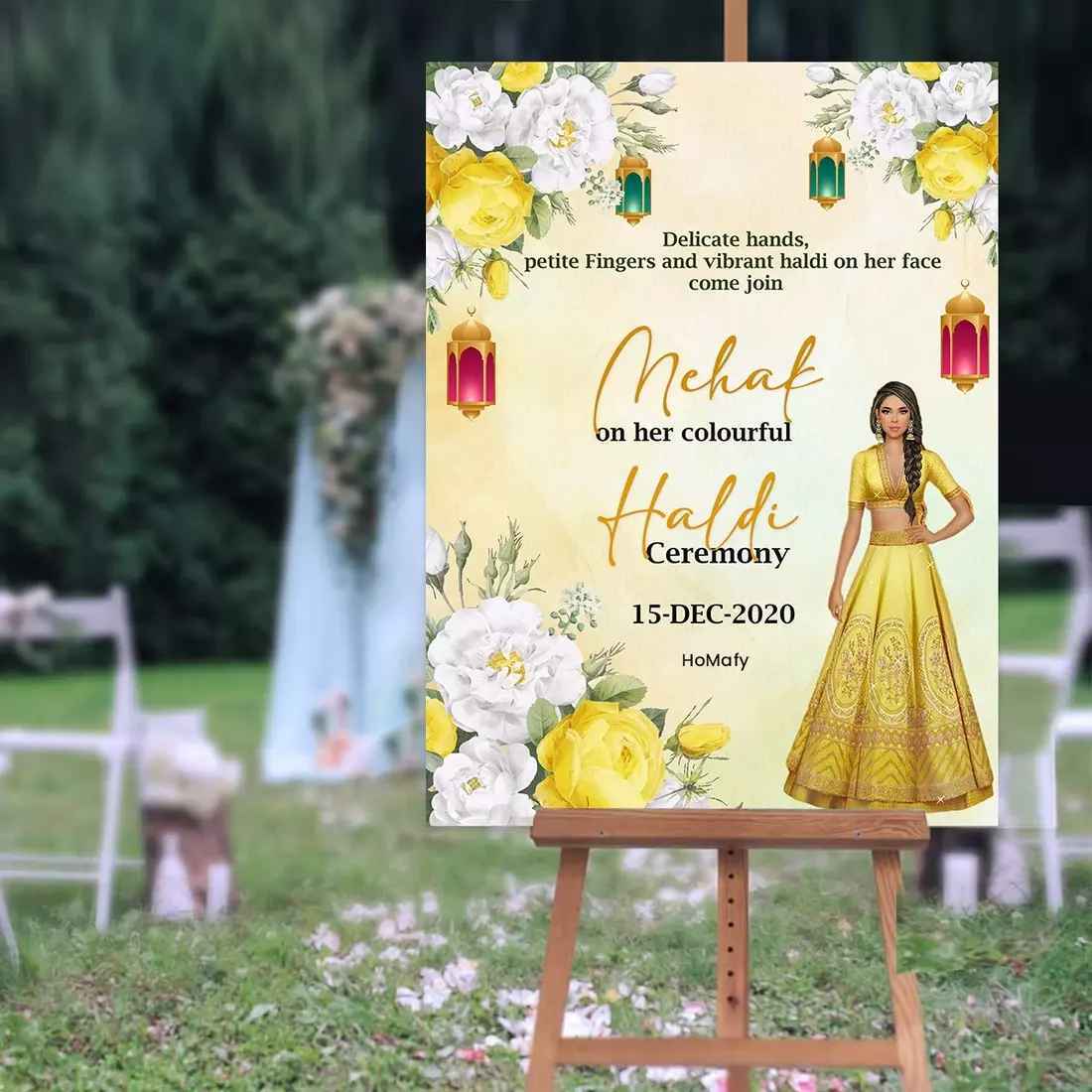 Bridaldulhaniya 100 pieces Marigold with Pom Pom wall hanging  
Lamansh Pack of 10 Bunch Marigold Tassel 
Meesho 63 Pc Gold Foil Balloon with Gold Star & Foil Curtain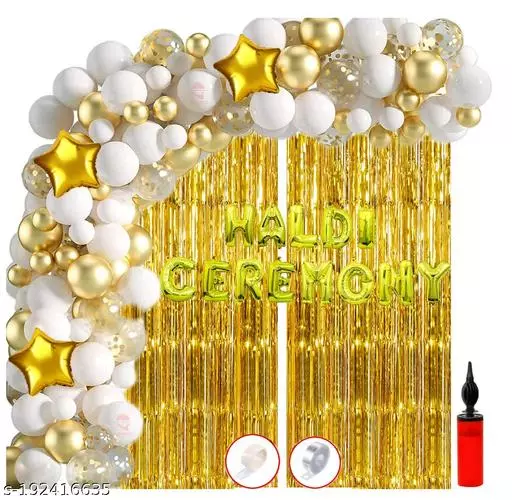 Eventfabricsupplier Floral Accents and Banana Leaves Backdrop 
Lamansh (Pack of 1) Indian Wedding Decoration Umbrellas
Conclusion
When planning the decoration for the Haldi ceremony, you can have a lavish affair or stick to a simple style. Whatever you choose, there are multiple options, from grand and fun, to DIYs, and ideas for every kind of decor style and choice. 
The current trend for indoor Haldi decoration is minimalistic signage, florals, and casual seating arrangement to set a modern vibe. However, traditional decoration ideas call for flowers, earthy decor items, and fairy lights.
While going through the article, you must have picked some tips about seating styles, flower backdrops, budget indoor Haldi decoration ideas, and decor items. So, refer to the above-mentioned suggestions and explore the best online Haldi decoration items to buy what you need. Indian rituals are a package of fun and mutual bonding, decoration is the icing. We hope our tips help you to make wise choices for a grand celebration.
*The featured image used in this article is from Myrah Weddings