In India, most households and offices use rugs to beautify their interiors. A rug holds the furniture in place and serves as the focal point in the room. Not only does it add warmth and comfort to your space, but it is also essential for any living room to feel cohesive. There are various types of rugs available online with some specifically designed for outdoor decks, gardens, living rooms, stairs, etc. Moreover, their way of manufacturing and material also makes them stand out beautifully from each other. DIY, machine-made, hand-knotted, and hooked rugs are some of the most popular types used in India. These rugs range from simple and modern to classic and designer pieces available in different sizes.
In this article, we have provided a selection guide to help you pick the perfect rug to decorate your space. Also, we have provided a wide range of stunning buying options and decor ideas for your convenience.
How to choose the right rug?
Determine the size and shape
The first thing you should consider when it comes to choosing the right rug for your room is the available floor space. Make sure that there is enough floor visible between the wall and the rug, but it isn't too little. Following are a few guidelines you can adhere to for different rooms of the house:
While picking rugs for the living room, make sure that the front legs of the sofa and the adjoining armchairs are on the rug if your sofa is placed against the wall. In a spacious living room with a floating seating area, the rug should contain all furniture, including front and back sofa legs, with plenty of space around it. Typical rug sizes for the living room area are 4×6, 8×10, and 9×12.
If you are choosing rugs for large rooms, opt for the wide ones that fit the entire area beneath the bed and night tables. In smaller rooms, the carpet should cover approximately one-third of the bed's base. Otherwise, you can place small 4×6 area rugs on either side of the bed.
Firstly, refer to the size of the dining table. The rug should be at least 24 inches long on both sides, whether it is circular or rectangular in shape so that even a pushed-back chair can fit inside its confines.
An 8×10, a 9×12, or a square/round rug that fills the room but leaves some space between the rug and cabinetry will likely be the right size to fill a large kitchen. If you want to draw attention to your sink or stove, opt for a rug size of 3×5 or 4×6 instead of a large area rug.
Outdoors
Before thinking about different outdoor rug sizes, measure your layout. For instance, if your outdoor porch or deck includes extra furniture, consider putting a 3×5, 4×6, or 5×7 area rug under your glider, bench, or reclining chairs. Make use of synthetic fibre rugs for your outdoor deck as they keep dust at bay.
Pick a style
When it comes to style, the selection is entirely dependent on the overall design goal and the application area. It's up to you whether you want a bold statement or something more subtle. If you decide to go with a patterned carpet, you have many possibilities ranging from free-form contemporary to traditional. Otherwise, you can keep it simple with fewer patterns.
Choose a material
Rugs can be made of a variety of materials, such as natural fabrics, plant-based materials, synthetic materials, etc. With each material, the characteristics and the look vary and so does the price. For example, plant-based rugs are cheaper and provide an easy, casual aesthetic.
Think about indoor-outdoor options
Choosing an indoor-outdoor rug made of synthetic materials like solution-dyed acrylic, polypropylene, or PET (polyethene terephthalate) may be a good idea if spills and stains from kids and pets are a concern. These materials are soft and appealing which makes them difficult to distinguish from other high-end materials. These rugs are stain-resistant and can handle moisture which makes them a perfect option for outdoor decks or porches.
Types of rugs
Based on material
Wool
Image Source: Ryan Christodoulou on Unsplash
It is one of the most popular and long-lasting materials used for making rugs. Woolen rugs are an excellent choice for high-traffic areas like living rooms or dining rooms because they are durable, yet soft and comfortable. They can be found in a variety of pile heights and designs. Sometimes, they are blended with other fabrics to reduce the price because a rug made entirely of wool can be expensive.
Jute and bamboo
Image Source: Designer rugs
Rugs made up of natural materials like jute and bamboo may give any interior a beach-like feel. These are excellent options for areas that need texture. Moreover, their availability at a cheap cost online justifies their high popularity and demand. You can add some creativity and make DIY rugs by coiling ropes and mimicking the appearance on a far more reasonable budget.
Cotton
Image Source: Amrasha Bafna on Behance
Cotton is a great choice of material for a high-traffic area like an entryway, kitchen, or bathroom. Although affordable, cotton rugs are warm and comfortable. Most of them are machine-washable for convenience and should be kept out of direct sunlight to avoid colour fading.
Silk
Image Source: Designer rugs
This fabric adds a lustrous shine to a rug which makes it different from other materials. Silk rugs are extremely delicate and can be challenging to maintain, hence they are used in low-traffic areas. They are an expensive choice as they are associated with luxury.
Synthetic fibre
Image Source: Amazon Media
These rugs are often made entirely of polyester or from a combination of nylon and other synthetic fibres. The popularity of synthetic carpets has increased since they have advanced significantly and are difficult to distinguish from the ones made of natural fibres. Moreover, these rugs are the best options if you want to place them outdoors on your decks or porches.
Hair-on-hide
Image Souce: Ecowhides.com on Pinterest
Hair-on-hide rugs are composed of cut hide pieces sewn together to form a geometric design or are full-sized animal hides with an organic, uneven shape. Their smooth, short-pile texture gives the room a contemporary and rustic feel. These pieces work well in confined spaces, oddly shaped rooms, and lavish layering.
Based on weaving
Hand-knotted
Image Source: Paynes gray on Pinterest
Knotted rugs are manufactured with a unique type of loom that forms a design out of materials like silk, cotton, wool, and many more. Their value rises as they age. They are aesthetically pleasing and resilient; in fact, many knotted rugs are handcrafted.
Flatweave or Kilim or Dhurrie
Image Source: Overstock on Pinterest
Flatweave rugs are woven on looms. These are very delicate and thin due to their manufacturing style. Moreover, these are reversible and allow you to use either side as required. Most of the time, the design patterns of flatweave carpets are the same on both sides.
Handloom
Image Source: Shopify
One of the most economical types, handloom rugs are easy to clean and maintain. Traditionally, handloom carpets are made by hand on a vertical loom with a mounted warp. They typically have a low to medium pile with a canvas backing.
Machine-made
Image Source: Paynes gray on Pinterest
Compared to handcrafted or DIY rugs, machine-made ones are manufactured quickly. They are a blend of wool and other materials like polyester, art silk, acrylic as well as synthetic fibres. Additionally, these are more affordable than hand-knotted carpets because they need less time and effort to manufacture. They have a lifespan of 20 years or less, depending entirely on the type of fabric used.
Hooked

or DIY rugs
Image Source: Handmakers
Hooked rugs have a little rustic appearance that preserves their flaws and natural bumps since they are manufactured by weaving yarn threads together with a crochet hook. They can last up to 10 years but are very delicate and have a shorter lifespan than other carpets. You can also try your hands at crocheting to make your own unique DIY rugs at home. The secret of making DIY rugs is to wrap your scraps of cloth tightly using sturdy twine.
Based on rooms
Image Source: Spacejoy on Unsplash
When you select rugs for the living room, opt for materials that complement your personal style and the room's decor. Simply put, it depends on how and what you want them to be in relation to the walls, furniture, and upholstery. There are numerous options you can choose from depending on your budget.
Bedroom
Image Source: Mennahh Akram Azez on Behance
The bedroom is unquestionably the most relaxing area in the house and a rug placed under the bed can add to the cosy vibe. You can pick a vibrantly printed carpet that would serve as the focal point of your space, contrasting with the design of your bedroom. Also, a pastel-coloured rug would be a better choice for a warm appearance. You can get a smaller 4×6 area rug for the kids' rooms because they are more likely to misplace it.
Image Source: Beazy on Unsplash
There are different types of non-fibre-based rugs available, especially for kitchens. They are cushioned and have a pleasant touch with an even mat-like texture. Additionally, they provide the padding your feet require after standing for extended periods. Although adding them to the kitchen is a great design choice, be sure you have enough patience to wipe up any daily spills.
Dining area
Image Source: Plushrugs on Pinterest
Compared to the kitchen, this is a safer location for a rug. An expensive carpet in the dining room enhances the style quotient and exudes luxury. Additionally, this delicate installation can pull a room together and complements your home decor.
Bathrooms
Image Source: Etsy
Small bathrooms shouldn't have rugs, but you can put one in spacious bathrooms in the dry area to keep your feet clean. Keep smaller, thinner rugs close to the entrance of the bathroom door, or just outside the shower or bathtub, to create a spa-like atmosphere at home. A 4×6 area rug is ideal for most bathrooms.
Hallways and staircase
Image Source: Ideal home on Pinterest
You might think covering the entire staircase with rugs is a bit of the top attempt, but designers believe placing a thick one just at the bottom of the stairs is a great idea. A good carpet is also a terrific element to draw attention to any accessory-free area. For a long hallway connected to the staircase, a rug running down the centre of the space, also known as a runner rug, can serve as additional decoration. This provides protection and also adds value to your home's decor.
Shop for beautiful rugs to make your interiors visually appealing
Wooden Street Ivory Soft Shaggy Carpet-6×4 feet
West Elm Watermark Premium Viscose
BoConcept Juliet Rugs
Overstock Outdoor Rugs For Decks – Safavieh
Pepperfry Red Cotton Screen Printed Hand Woven 6 x 4 Feet Dhurrie
Ikea Stockholm
Obeetee Carpets Gulabi Hand Knotted Woolen and Cotton
My Trident Classic Area Rugs 4X6 FT
Hatsu Loops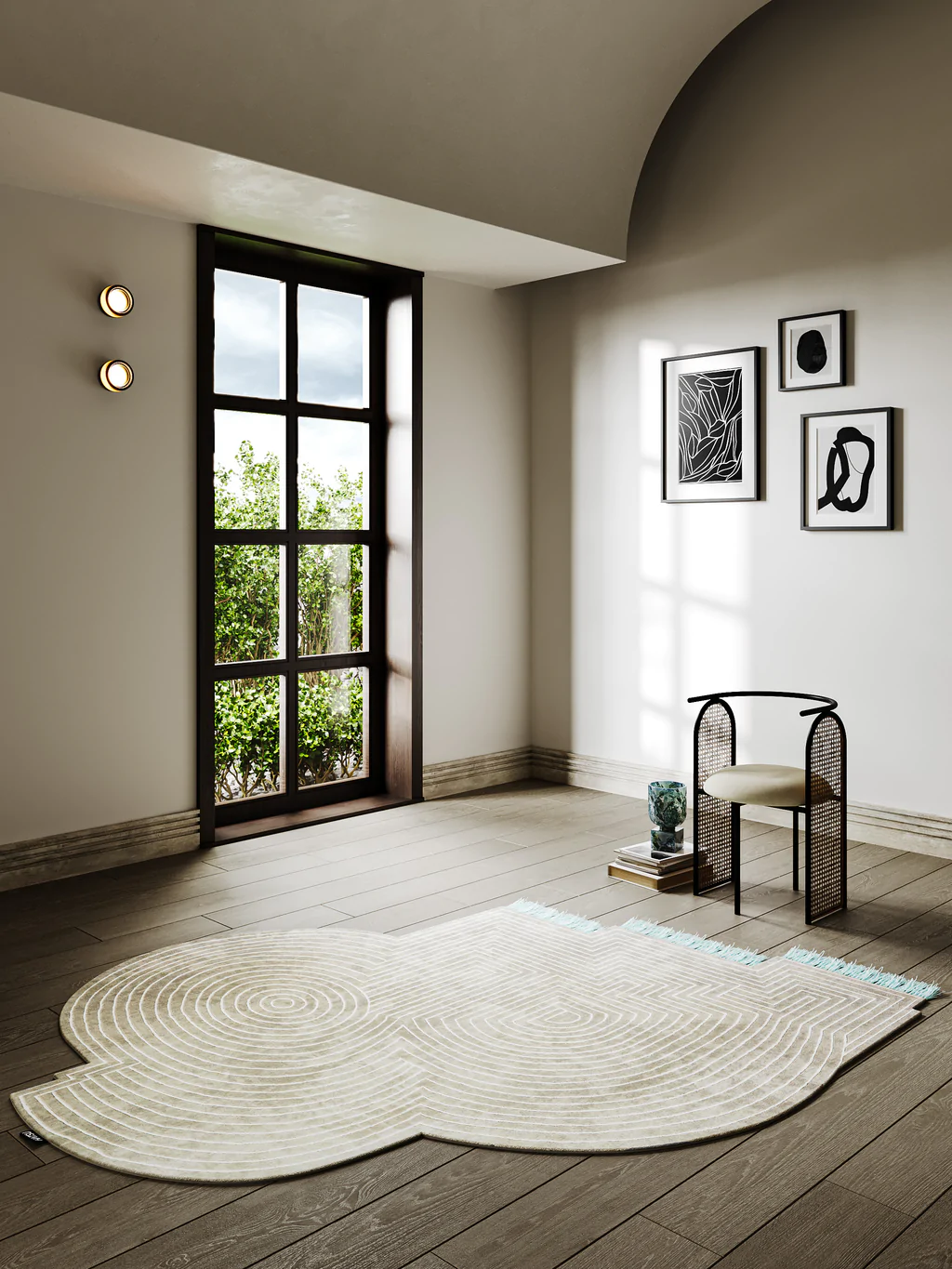 Jaipur Rugs Inde Rose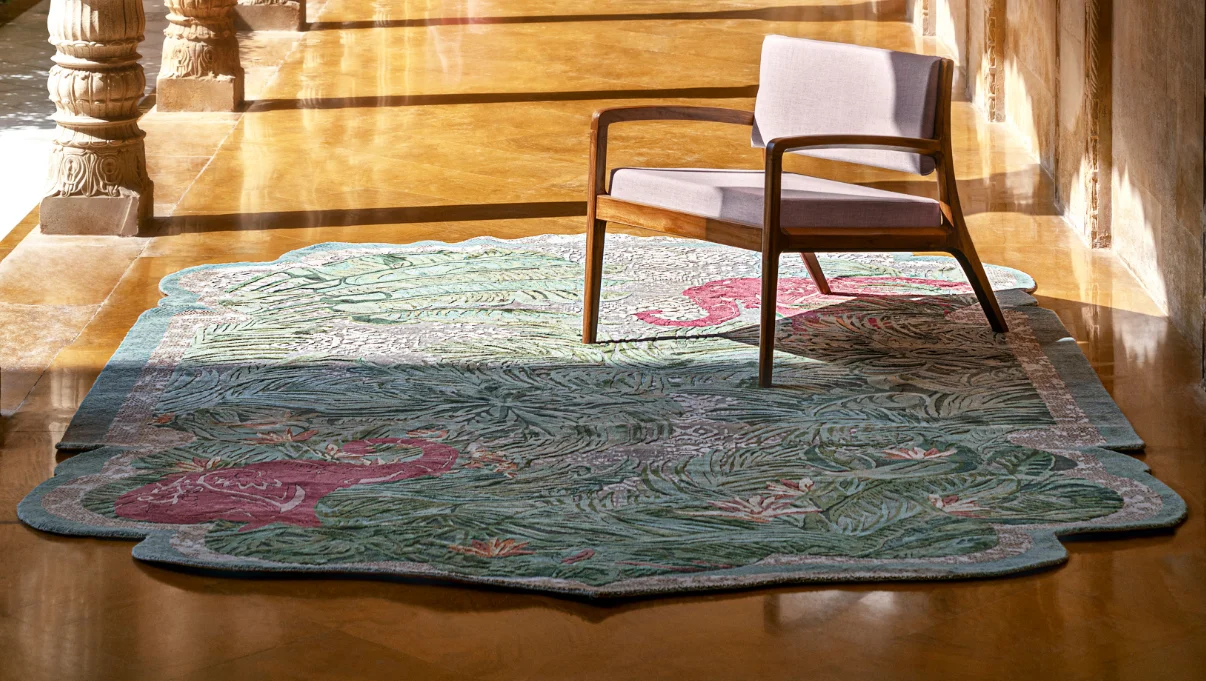 Conclusion
Rugs are an excellent option for interior decoration. They are available in many different styles, colours, patterns, and aesthetics. Moreover, they can instantly add life to your room, making the atmosphere cosy. However, finding the ideal one might be a difficult task. You can choose the best type of rug for your floors by taking factors like comfort, durability, texture, maintenance, etc. into consideration.
Since there are numerous varieties available ranging from hand-tufted rugs for the living room and DIY rugs for the bedroom to outdoor rugs for decks, analyze each style so that you know what to look for while choosing one. Also, if you are planning to invest in any style of rug, you can choose lovely designs from various options available depending on your budget. You can also choose the best rug from our top buying options listed above based on your personal sense of style to enhance your floors.
*The featured image used in this article is from Treelight Design
Whether you're working on an empty space while designing or a crowded room while remodelling, knowing where to start can be difficult. Although professionals make designing and decorating a living room look simple, it's actually very challenging. A living room is a place where families and friends gather and create memories, so they deserve to be designed in a proper way. While planning any living room, the layout, furniture, flooring, decor, e