A living room is a space where you host and entertain your friends and family. So, you must ensure that you create a beautiful as well as comfortable space for them to relax. The best option for creating a cosy living room is a beautiful floor carpet. These are fairly popular in India where most homes and offices decorate their interiors with different types of rugs and carpets. Adding them is an easy way to bring warmth and comfort into any space. However, they offer much more than comfort as they can be used as an important element in room decor. They are often soft and give a lavish feel to the space they adorn. Also, they create a comfortable place for kids to play and reduce the risk of injury during falls because of the padded surface. The only downside is that they require extra care and maintenance.
There are several types of carpets available in the market with some specially made for living rooms, hallways, stairs etc. The cost of a carpet depends upon the material used to make it. For example, natural fibre such as wool is costlier than synthetic materials. Depending upon your budget, you can opt for a beautiful carpet regardless of the material used to produce it. Here, we have provided you with a selection guide to picking the right carpet for your space. Also, we have displayed numerous attractive buying options and styling ideas for your ease.
Tips for selecting the right carpet
Budget
Calculate the amount of money you wish to spend and stick to it. The price of carpet varies according to the material used. For example, wool is generally more expensive as compared to synthetic fibres. A carpet can range from inexpensive, budget-friendly options to high-end luxury styles with a premium feel. So, look for one that comes within your price range. Also, think about investing more in stain-resistant carpets if you have kids or pets.
Carpet size
Ideally, your carpet shouldn't be too small or too large. The problem with excessively large carpets is that they overwhelm the decor and don't look appealing. Similarly, a carpet that is too small will get lost in your room.
It is vital to select an option that matches the rest of your room decor so that it doesn't look out of place. Also, the colour of the carpet must be in harmony with your room's colour. In general, darker colours give the room a cosier feel and are more forgiving when it comes to stains. While lighter colours give the appearance of a larger room and brighten up the room.
Fading
Carpet colours will fade over time. So, choose the colour scheme accordingly. Ideally, you must go for colours which are two shades deeper than the one you want. This will allow enough room for the carpet to fade out and still maintain the visual appeal you originally intended.
Maintenance
Find a carpet that you can maintain with ease. For example, if you have pets or children, you should go for easy-to-clean or anti-stain options. Make sure you understand the cleaning requirement of the carpet you are about to purchase. Ensure that the maintenance requirement is compatible with your life schedule.
Rugs can be made from wool, nylon, polyester, jute etc. It is important to understand what material it is made from in case you are sensitive to any of them. Also, if it is not cleaned properly and regularly, it can harbour allergens. So, if you have any allergies especially to dust, ensure that you take that into account before buying one.
Padding
The amount of padding should depend on the number of people that would visit the area. Ideally, if your floors receive high foot traffic such as an office or a living room, you should go for a carpet with dense padding. Conversely, for low-traffic areas, you can go for something lighter that requires less protection.
Types of carpets
There are numerous types of carpets available in the market based on style, material etc. Their maintenance requirement also varies accordingly. Therefore, when it comes to selecting the right one, you must also consider the type you prefer. Here we have compiled a list of different types of carpets for your understanding.
Carpets based on style
Pattern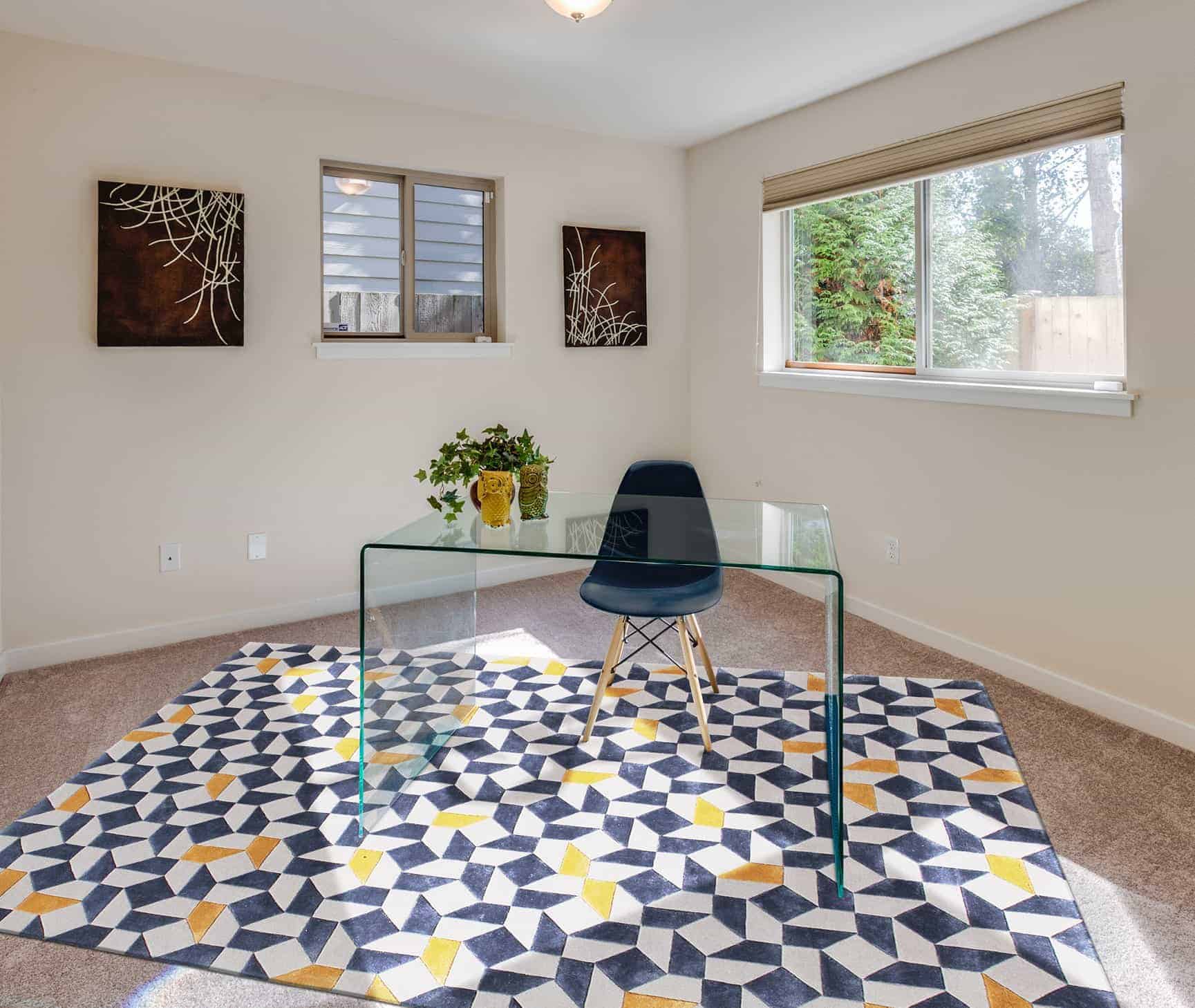 Image Source: Handscarpets.com
There is a wide variety of carpets adorning numerous patterns ranging from geometric to eccentric. The pattern of the carpet you choose is entirely based on your personal preference. So, to understand what you prefer, browse through our collection of buying options and styling images.
Texture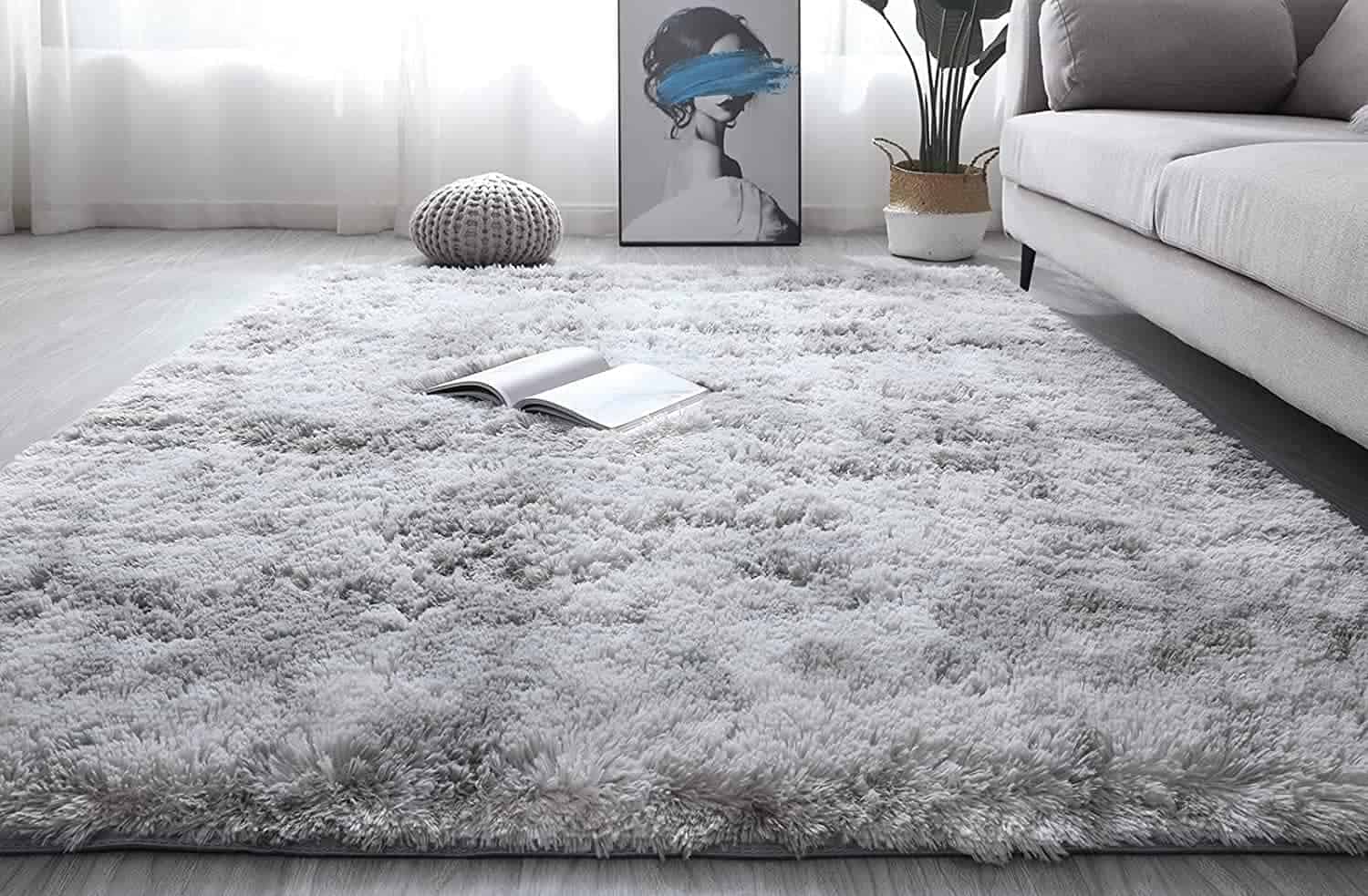 Image Source: Ubuy.com
While textured carpets offer a different aesthetic appeal, their main selling point is how they feel under bare feet. Plush pile carpets, for example, have a velvety finish and are very smooth to the touch. Conversely, level loop pile carpets have consistent uncut loops which makes them harder and more textured. Consider what kind of feel you want your carpets to have and choose accordingly.
Berber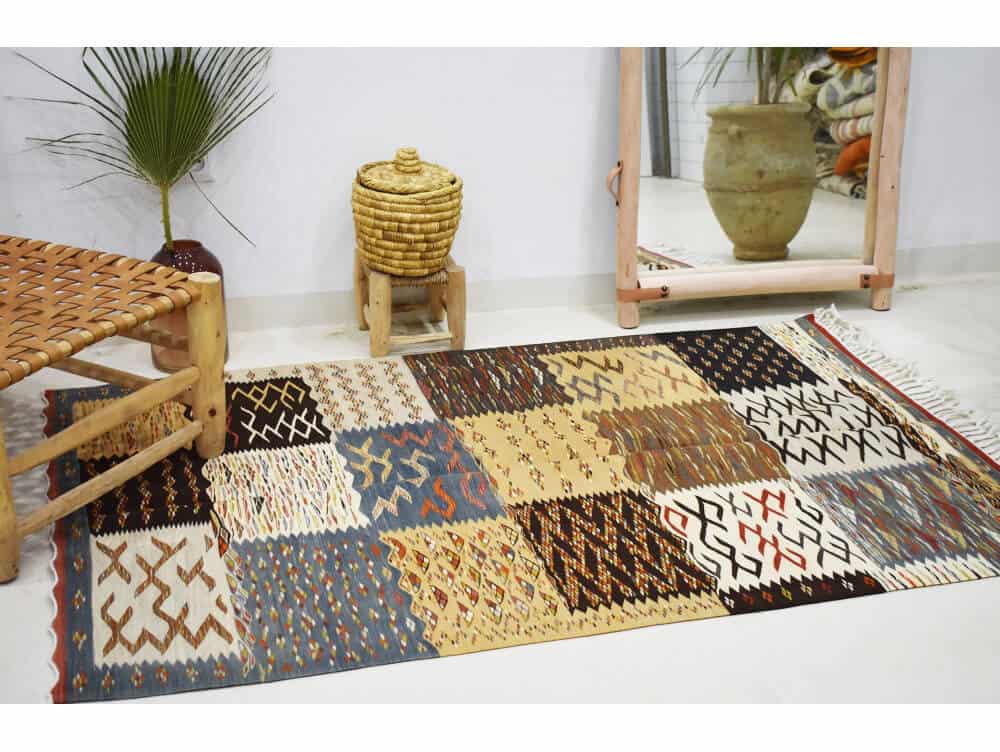 Image Source: Tribaliste.com
These are woven by the Berber tribe native to North Africa. Traditionally, Berber is made of a thicker yarn which has a neutral shade with dark coloured flecks. They are generally more durable than other types of carpets. But for better durability, you have to ensure you buy a good quality Berber carpet. Also, these are considered to be spill-resistant which makes them an even more appealing option.
Carpets based on rooms
Carpets for living room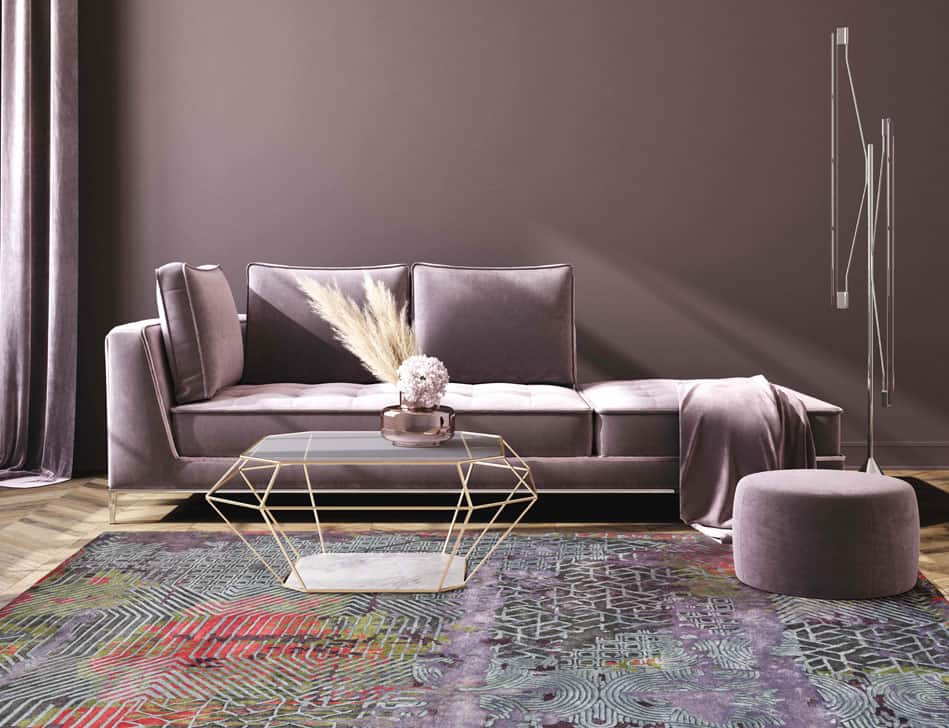 Image Source: Handscarpets.com
Since the living room is a space for socialising with family members or guests or for kids to play, the carpet has to be chosen accordingly. Therefore, go for something soft and comfortable with a cosy vibe. Ideally, the floor carpet must be large enough to fit all four legs of your living room furniture. However, if that goes out of budget, choose one that allows for at least the front two legs to come under the carpet floor.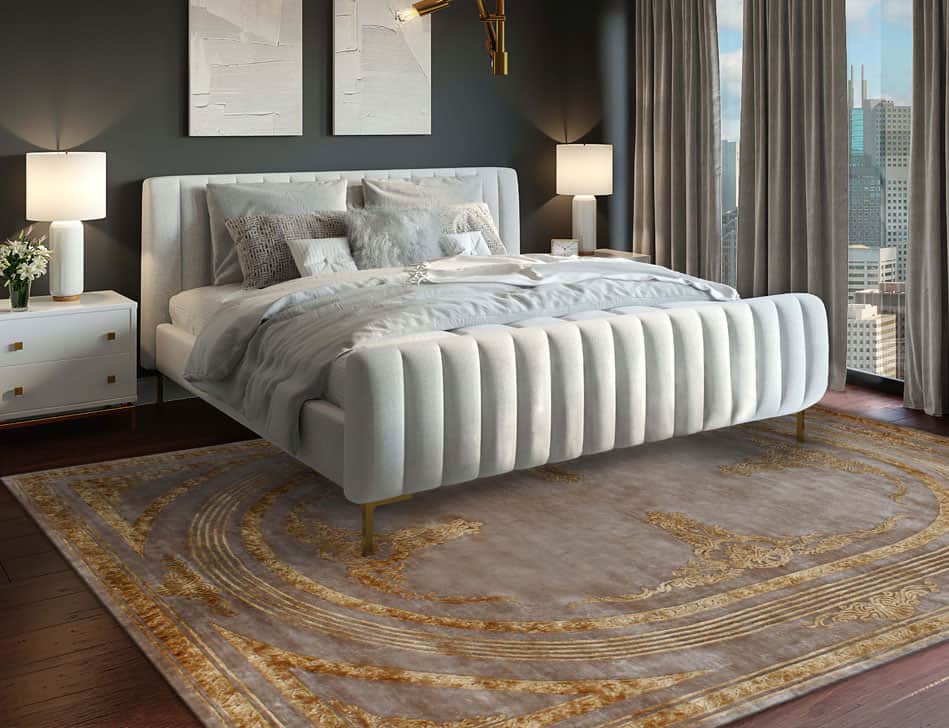 Image Source: Handscarpets.com
Bedrooms are a place to relax and destress, therefore, the room decor should invite a feeling of calm and comfort. So, pick a carpet that makes your floors extra comfy. Wool can be a good option for a bedroom because it has a soft and lavish feel. However, synthetic fibres are more budget-friendly. So, they may be better options if you have a large bedroom and are working on a budget.
Carpets for hallway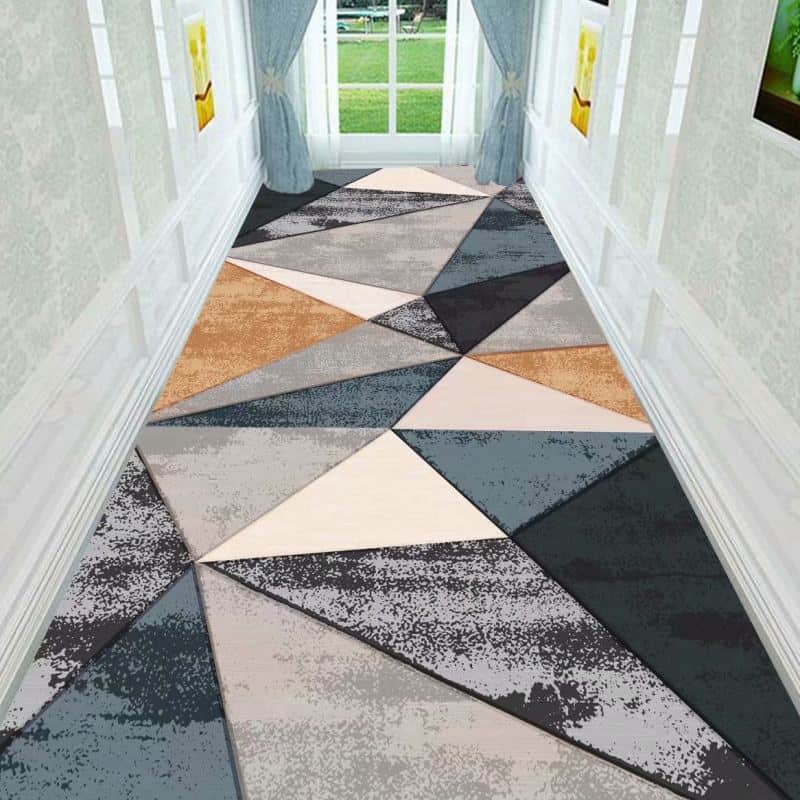 Image Source: Aliexpress.com
Carpets can transform the look of a hallway and add visual interest to it. You can add colours, textures, and patterns to make things more interesting. For narrow hallways, opt for something bright with elongating stripes to give the illusion of a larger space. Also, if your hallway receives a lot of natural light, consider going for a darker colour. Since hallways are a high traffic area, darker colours can conceal dirt marks and stains better.
Carpets for stairs
Image Source: Danforthcarpet.com
Stairs are safer when covered because they minimize injury during falls. So, carpeting the stairs is a good idea. While choosing a carpet for stairs, ensure that it is of good quality because it is a high-traffic area. So, opt for the highest durability you can afford.  Also, keep in mind that the carpet is neither too thin nor too thick. Thin carpets can be less durable while thick carpets are difficult to work with during installation and can cause falls.
Carpets based on material
Wool
Image Source: Woolmark.com
Wool being a natural fibre costs more than synthetic fibres. Its price also depends upon the pureness of wool. Woolen carpets have high durability and are also fire resistant making them a desirable option for living room or bedroom floor. Furthermore, they are great for people with allergies because no chemicals are used in their manufacturing process.
Cotton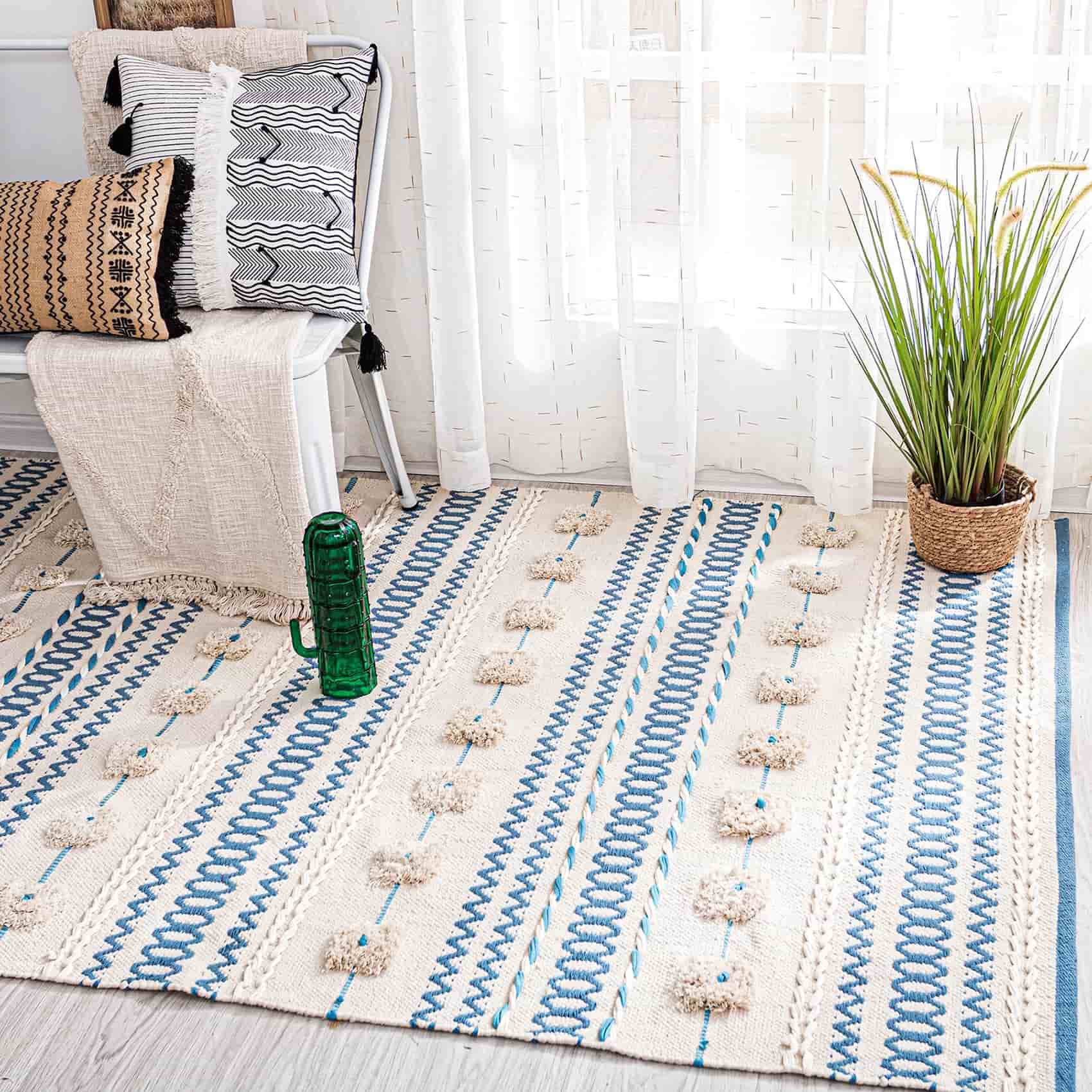 Image Source: Aliexpress.com
Cotton is an ideal choice for summer because of its property to resist heat. Additionally, it is easy to clean because of its ability to dry quickly. Being strong and durable, cotton is available in numerous colours and patterns. However, cotton tends to get a little brownish over time because of the degradation of cellulose cells.
Polyester
Image Source: Therugshopuk.co.uk
Being a synthetic fibre, it is a much more budget-friendly option. Due to its cost-effectiveness, polyester has become popular in the carpet industry. Another point of attraction is that it is soft and tends to repel liquids.
Nylon
Image Source: Pepperfry.com
It is also a synthetic fibre that is popular for its high durability. It is sufficiently equipped to handle the natural wear and tear of everyday life. Therefore, it is an ideal option for high-traffic areas with a lot of foot traffic. Additionally, nylon is comparatively less prone to fading over time.
Buy gorgeous carpets for a cosy home here!
Obsessions, Cream Polypropylene Geometrical Machine Made rugs and carpets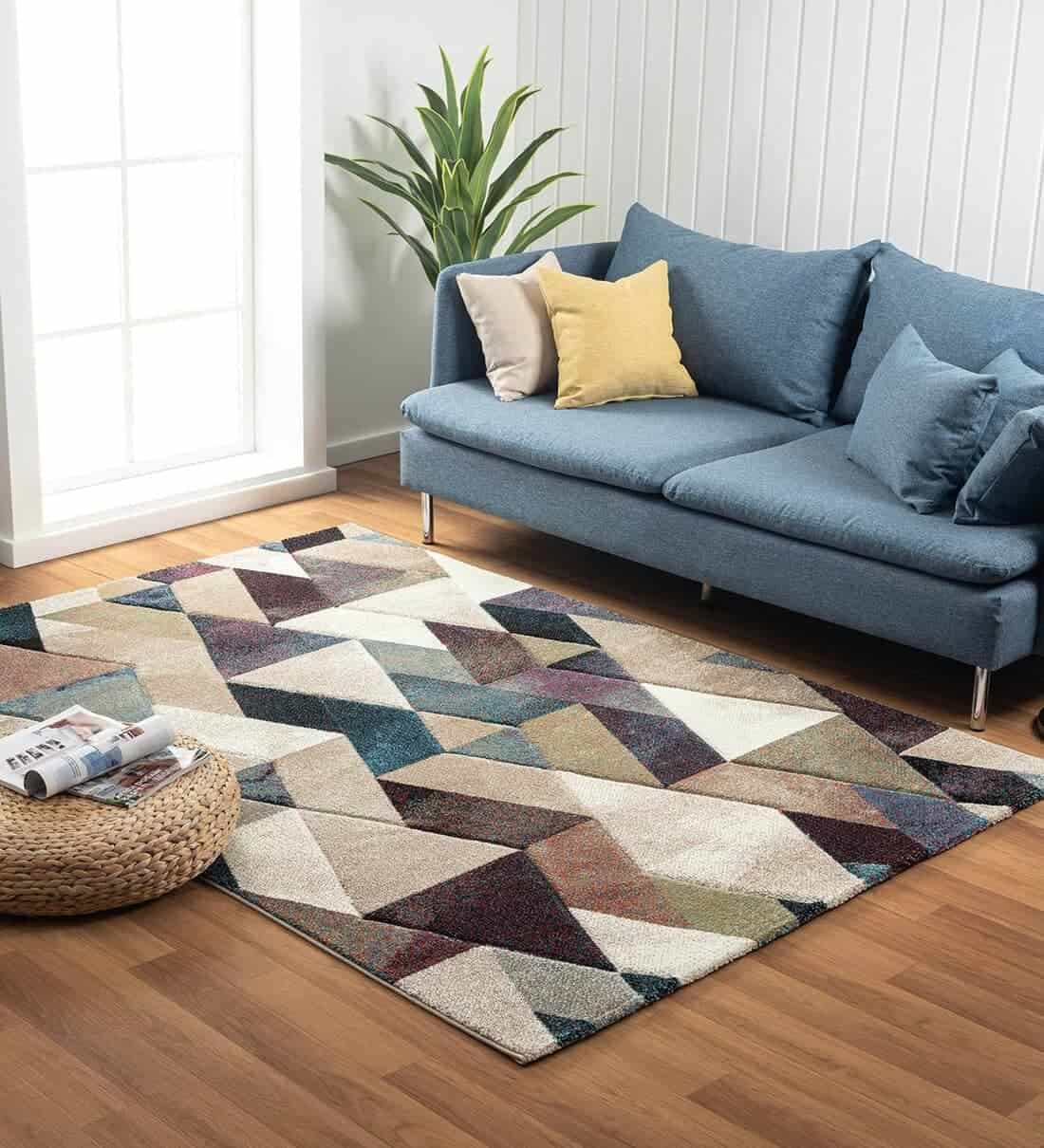 West elm, Summit Indoor/Outdoor Rugs and carpets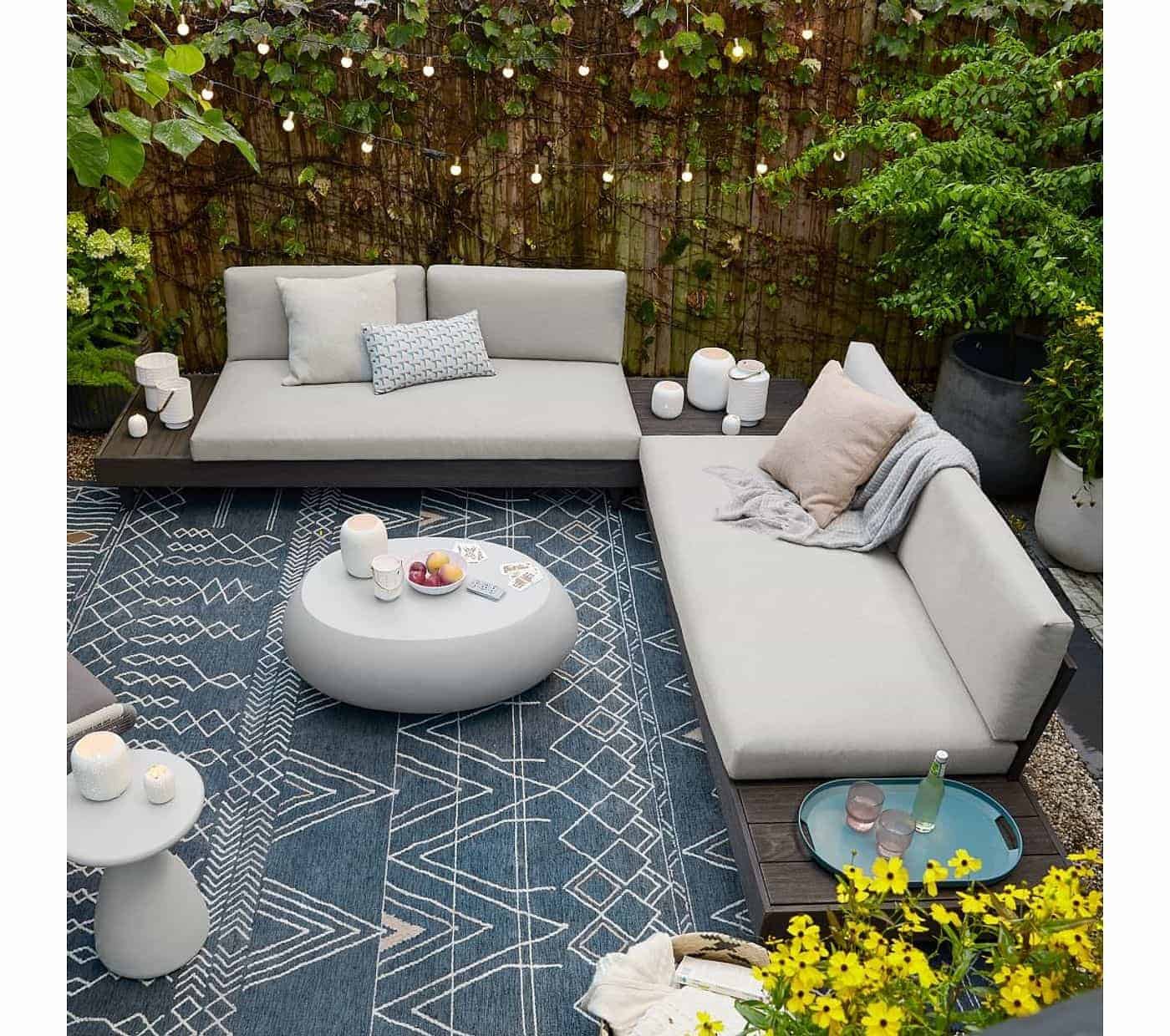 Urbanladder, Gino rugs and carpet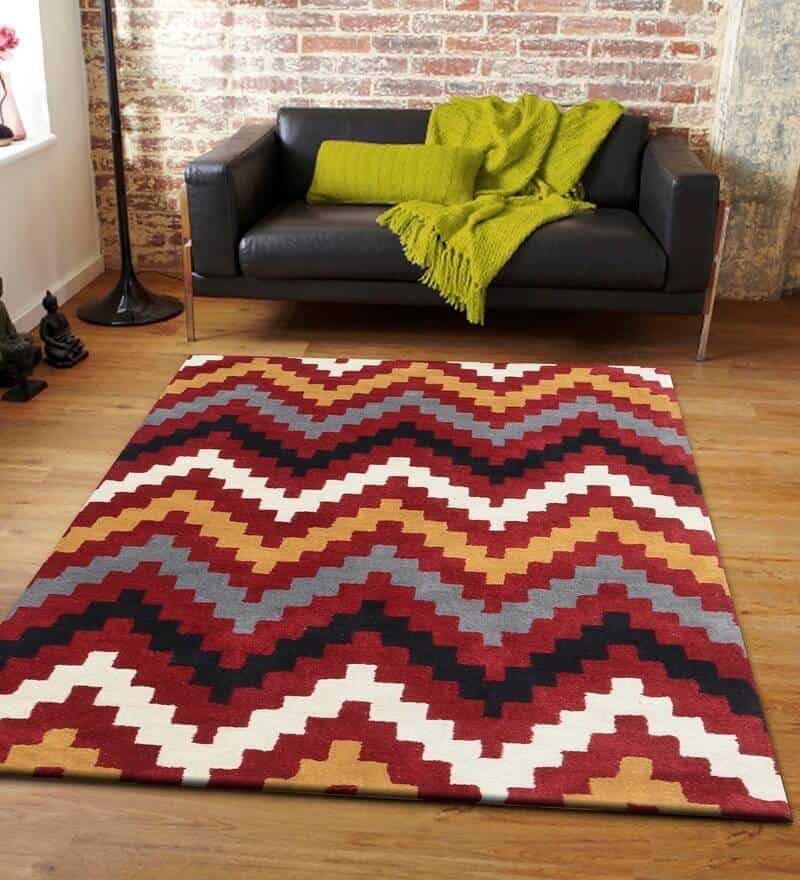 Luxe Ajio, Vines Wool Hand-Tufted Rugs and carpets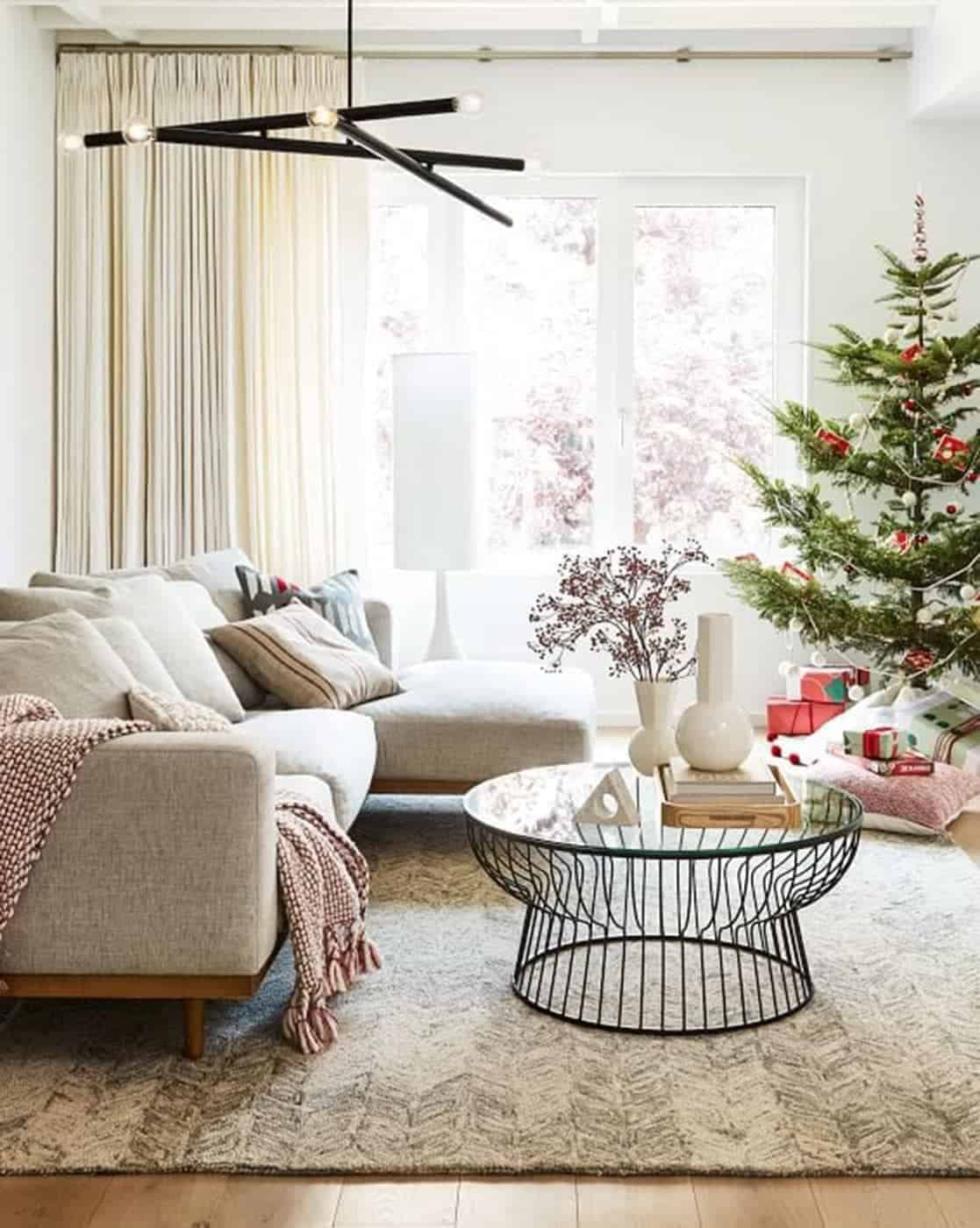 Ubuy, New Bright Multicolour Rug and carpet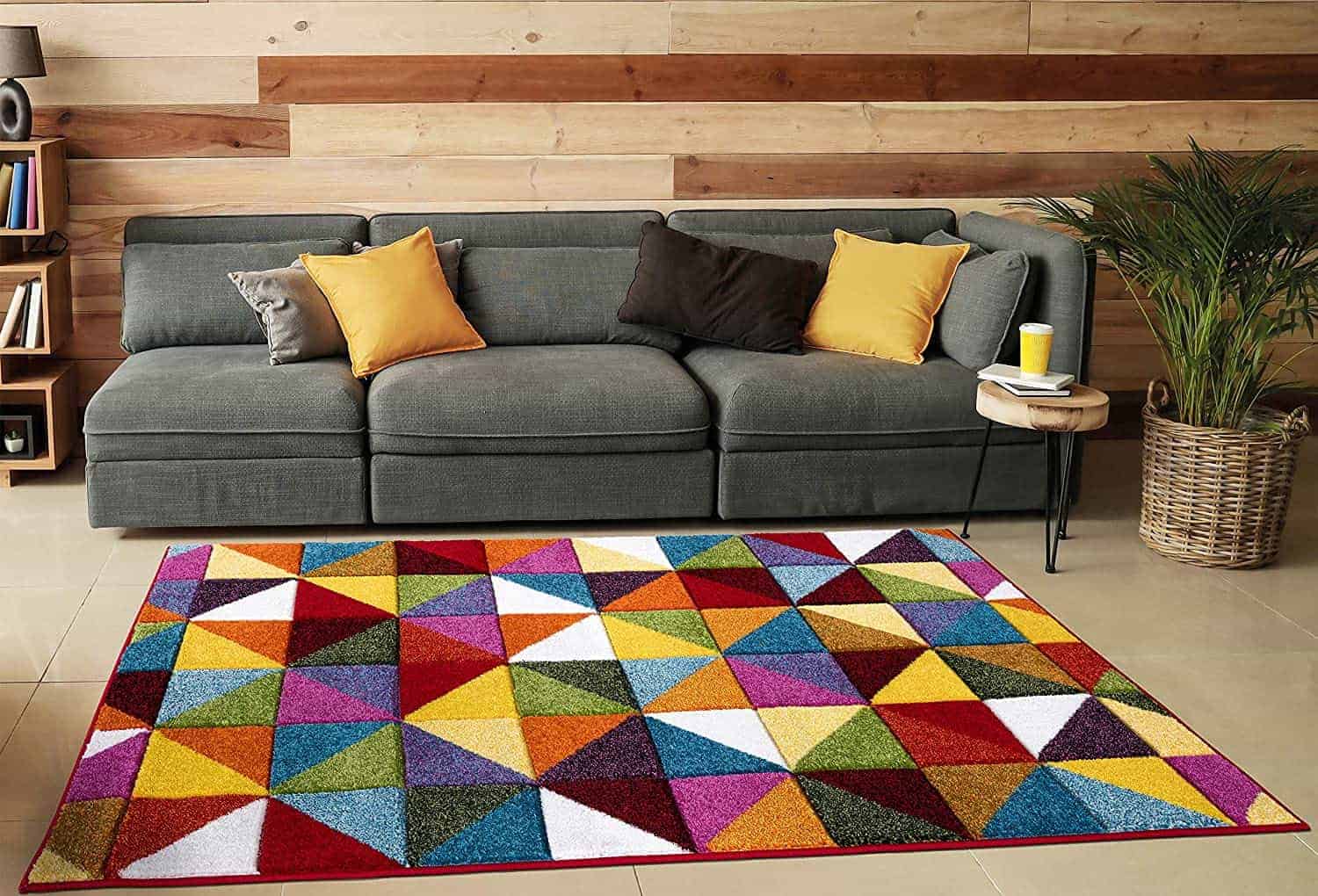 Wooden Street, Floral Print Vintage Nylon Rug
BoConcept, rug
Mohawk Home, Alexa Floral Medallion rugs and carpets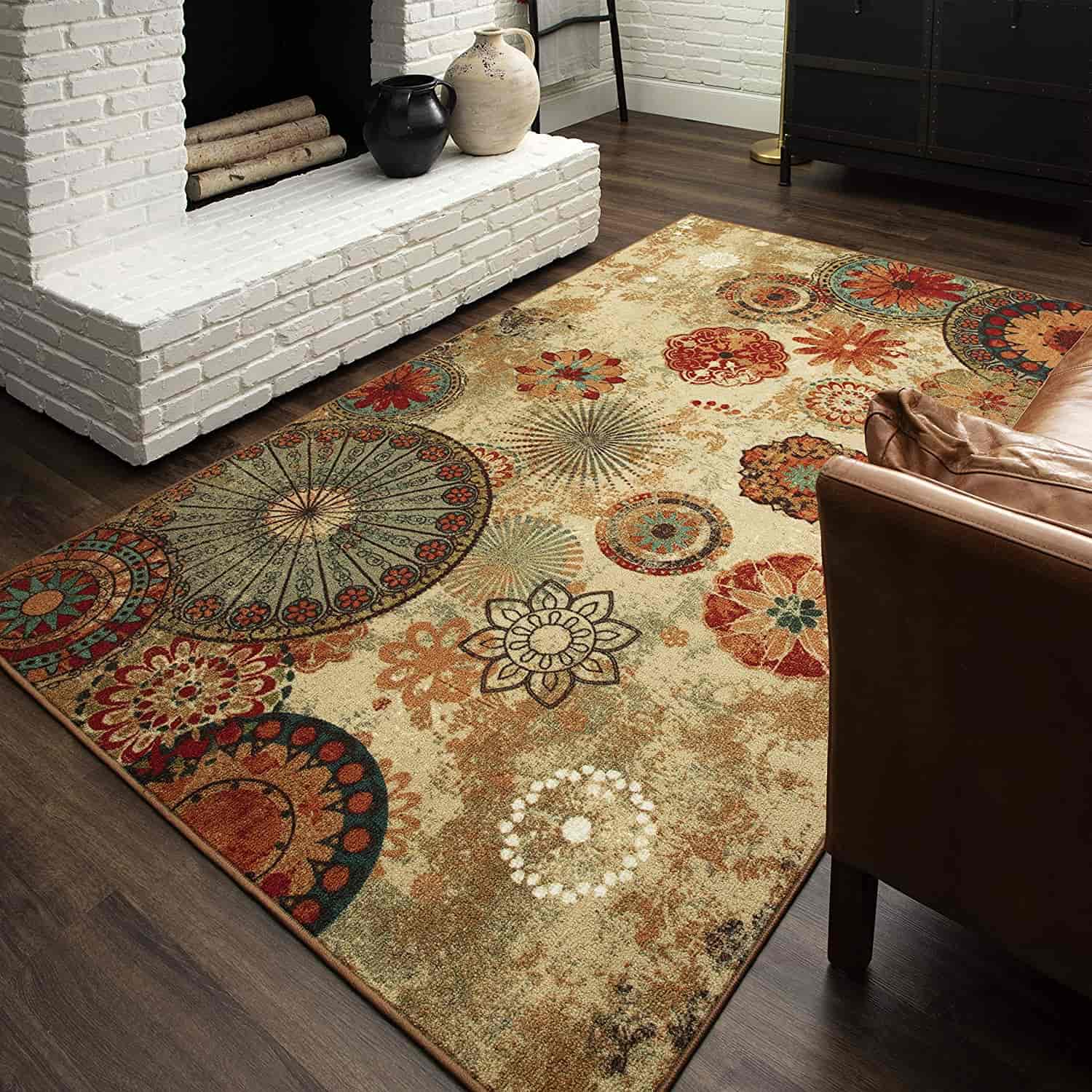 Homecentre, Savanna Multicolour Textured Woven rug
Jaipur rugs, White Wool Floral 8 x 10 Feet Hand Tufted rug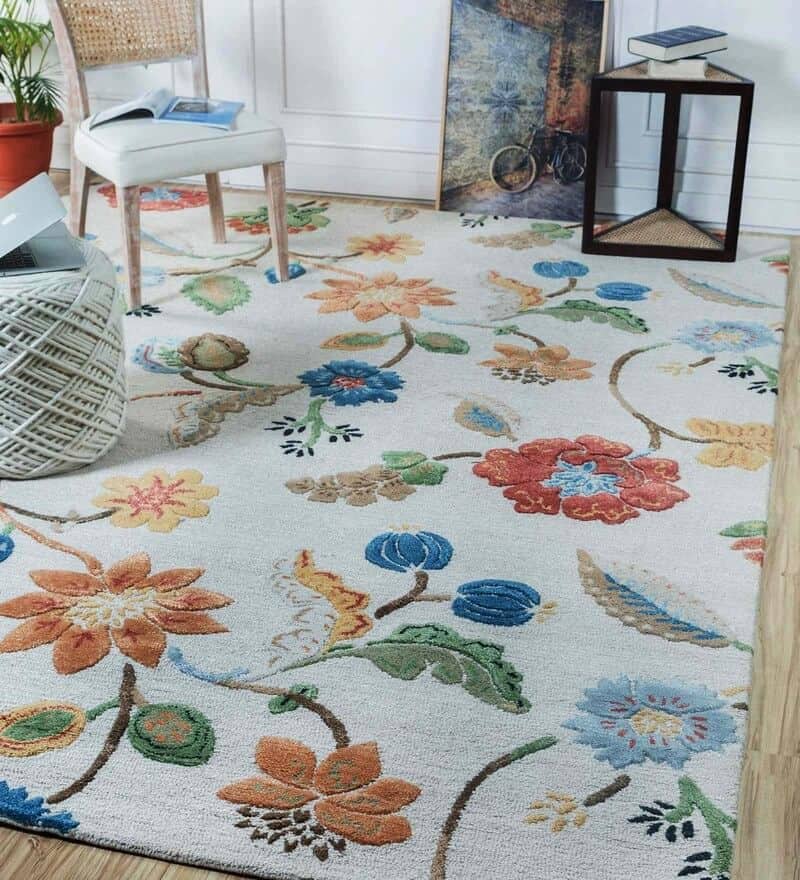 Jaipur rugs, hand-tufted modern abstract wool viscose rug 8′ x 11′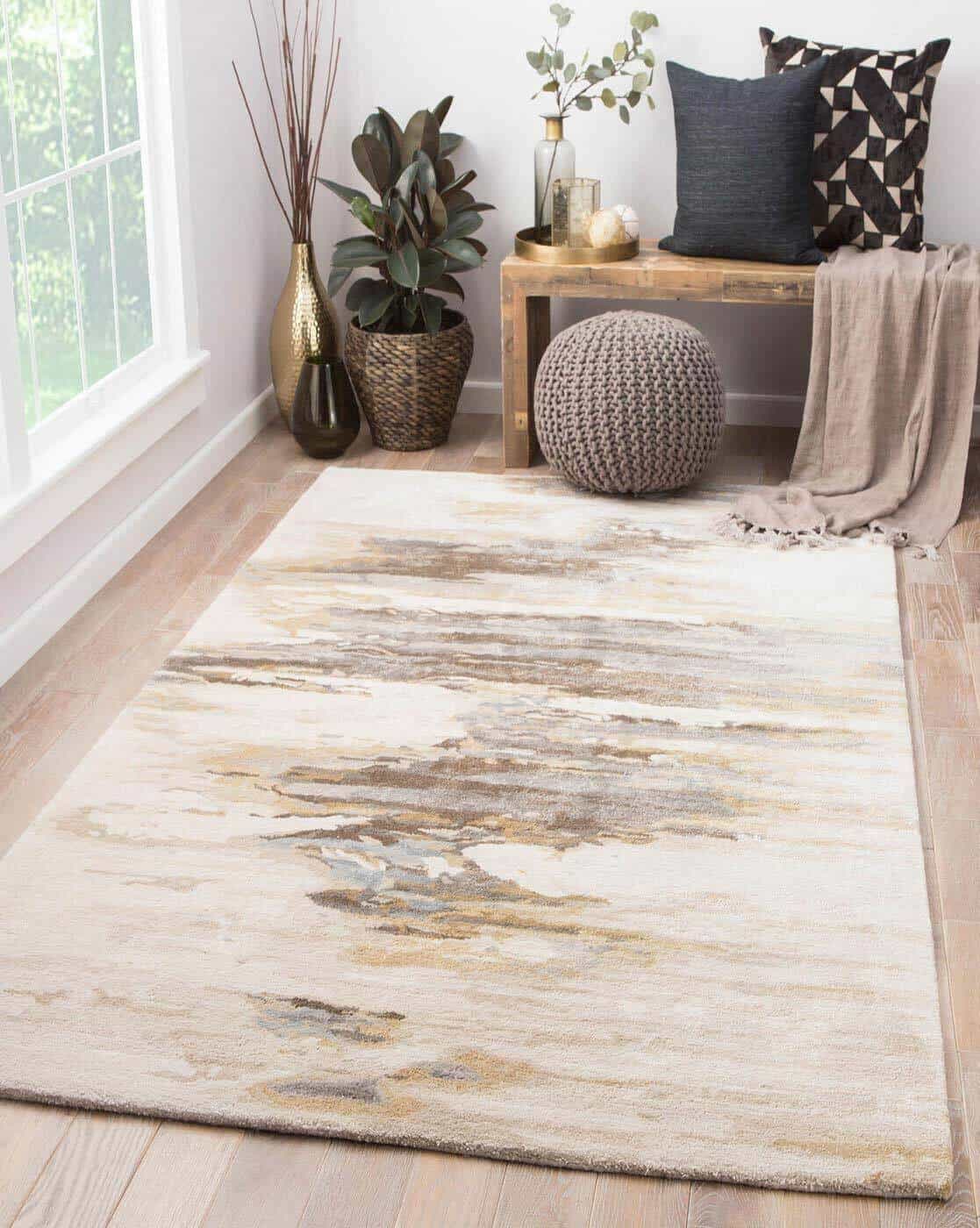 Status, Blue Nylon Vintage 3 x 5 Feet Machine Made rug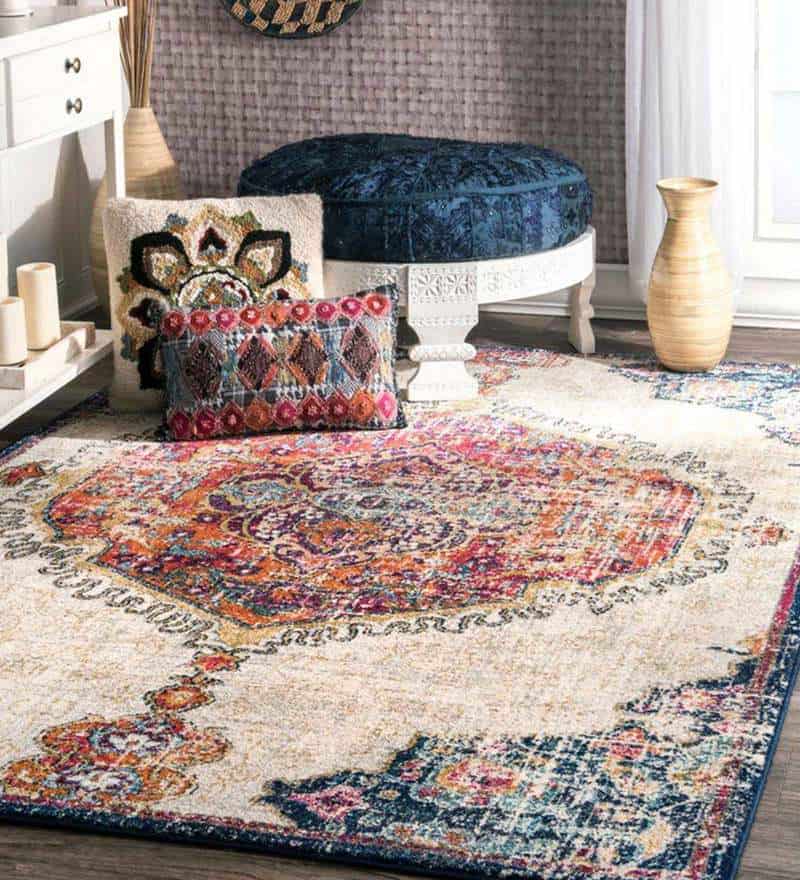 Jaipur rugs, Genesis
Jaipur rugs, Caliedo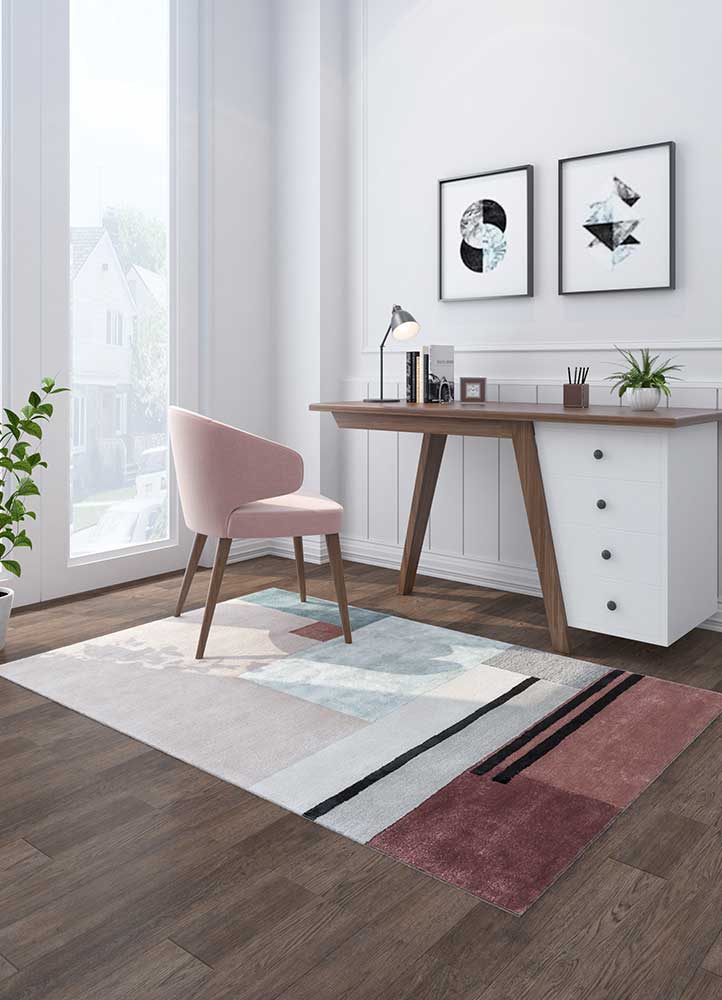 BoConcept, Rug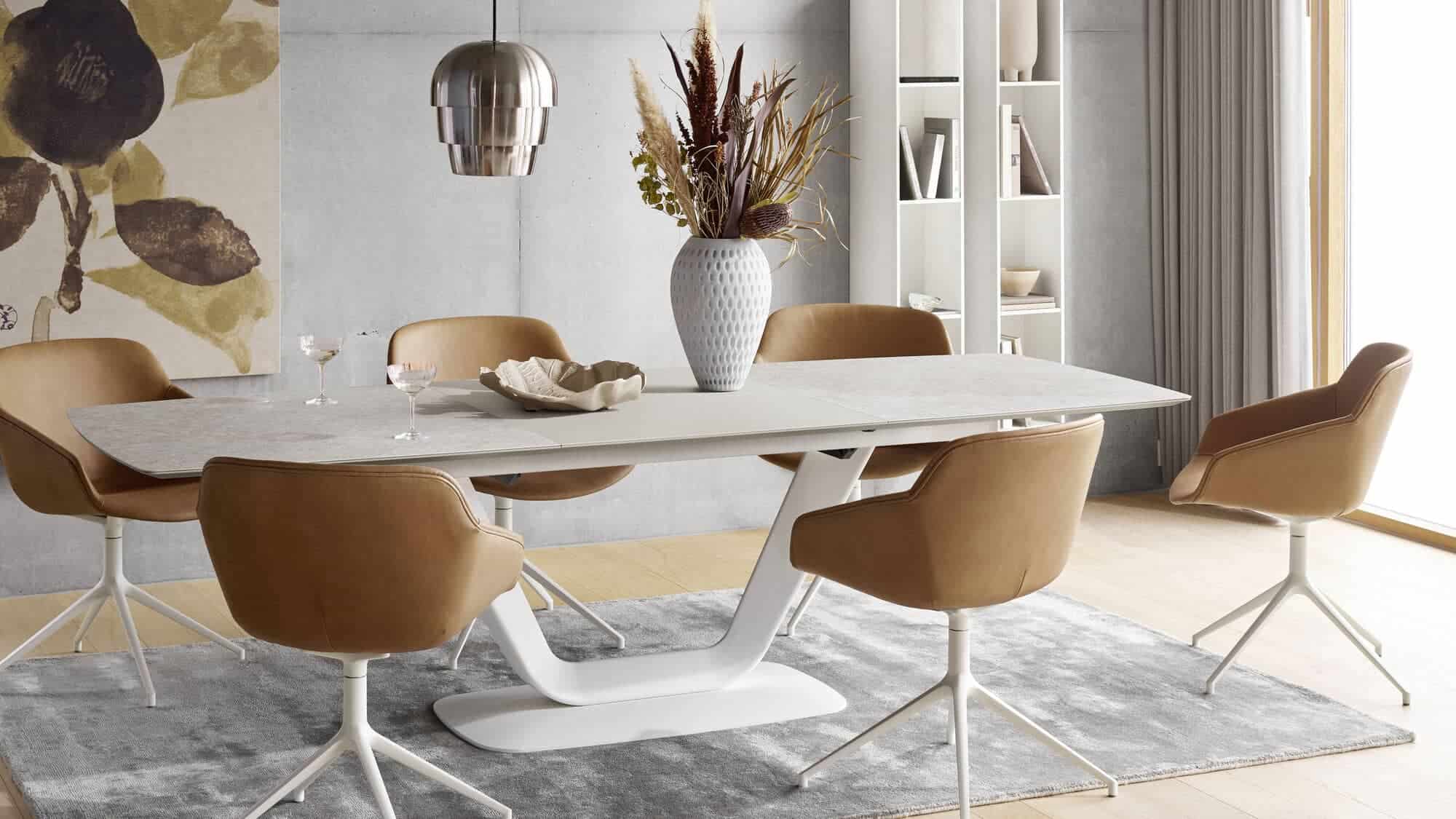 Transform your home with carpets using these ideas
Conclusion
Carpets and rugs are popular options for those wanting to enhance their floors. Carpets are available in numerous types, colours, patterns, and aesthetics. Therefore, they are great when it comes to interior decor. Due to their wide variety, a lot can be done with them. They can instantly liven up your space or add a comfy vibe to it depending upon the type you choose. However, buying the right one can be a daunting prospect. Keeping in mind things like comfort, durability, texture, maintenance etc., you can select a carpet type ideal for your floors.
Since there are many types of carpets available for living room and bedroom based on material and style, analyse every type in detail to get a good idea of what to look for while buying. Then, based on your styling aesthetic, select and buy the best carpet from the buying options available above!
[vvsmustread]