Kitchen tall units are a stylish and beneficial addition to any kitchen as they make the most of your kitchen space. These tall units in your modular kitchen provide the largest storage space because they occupy the entire area up to the ceiling. The tall units come in a variety of widths, making them suitable for any type of kitchen design. The inside of tall cabinets can be specially built to meet all of your storage/organization needs and aesthetic preferences, which is another fantastic feature. For simple access to food products, the kitchen tall cabinet can be constructed with movable racks, pull-out trays, and baskets. With a tandem pull-out, you can optimally use the storage capacity of tall cabinets and easily access your cooking essentials.
In this article, we have talked about almost everything you need to know about kitchen tall units in terms of their uses, dimensions, storage solutions, etc. to help you decide what works best for you, functionally as well as aesthetically. So, if you are planning to install a tall unit in your modular kitchen, read along.
Most kitchens feature at least one tall cabinet, which is often positioned next to the refrigerator. These tall cabinets are also referred to as pantry or utility cabinets. Tall kitchen cabinets might even reach the ceiling, fitting their name.
Uses
Tall kitchen cabinets optimize space in the smallest kitchens and are the trendiest design intervention in large kitchens. They can be tailored as per your specifications. You have the option of towering corner cabinets for designer dinnerware, pull-out storage for the pickle collection, or open-ended units for storing wine bottles. There are several ways to use tall cabinets in the kitchen.
Pantry: The ideal pantry storage solution for spices, jellies, grains, oils, and other items is a tall cabinet. To store pantry products, you can pick between a pull-out cabinet and a tall open-ended unit.
Crockery Unit:

In addition to saving space, the tall cabinets can serve as display cases for priceless family relics, in the form of

teaware or antique brass cooking vessels.

Cleaning Supplies:

A

tall kitchen cabinet with hooks is useful for hanging long-handled tools like brooms, mops, and dustpans, while the bottom portion may be used to store cleaning materials.
Daily use items: Some kitchen tall cabinets come with an opening mechanism that can be pulled down whenever needed to access items of daily use, like plates, bowls, containers, etc.
Appliances: Kitchen tall cabinets with electrical appliance storage are specifically designed to house the microwave, induction, etc. This makes the appliances easily accessible and makes more room for other useful tasks.
Standard dimensions
Kitchen tall cabinets can be manufactured to any size, but if you're purchasing semi-custom or stock cabinets, either pre-assembled or RTA (ready-to-assemble), you'll have to pick from a set of standard measurements that almost all manufacturers adhere to. The standard dimensions of tall cabinets are:
Height:

84 or 96 inches

Depth:

12 or 24 inches

Width:

12, 24, or 36 inches
Storage
Tall kitchen cabinets can be equipped with shelves or drawers to keep your area organized. Your decision to have shelves, drawers, or a mix of both for your tall cabinets will rely on its intended purpose.
Shelves:

If you require storage, shelves are ideal for stacking pots, pans, and plates so that you can easily access everything you need when preparing or serving a large dinner. Pull-out shelving allows better access and organization of all your cooking essentials.

Drawers: Traditional drawers in your tall kitchen cabinets will give you the best of both storage and accessibility. As they are ideal for storing and organizing large objects like mixing bowls or appliances as well as pantry items like cereals, packaged food items, etc. within easy reach.
Kitchen tall units buying recommendations (Shop here)
Ozone Kitchen Tall Unit
Kesseboehmer Dispensa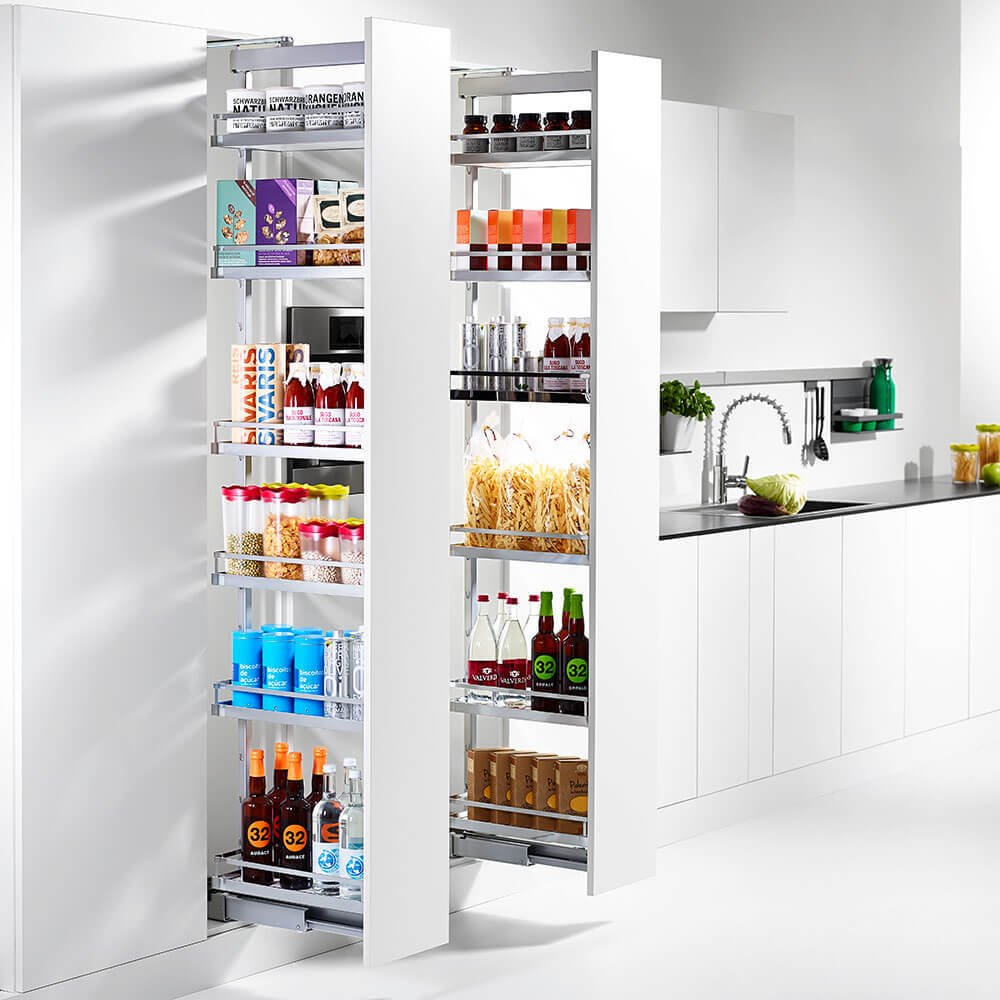 Godrej SS Tall unit
Peacock Kitchens Tall Unit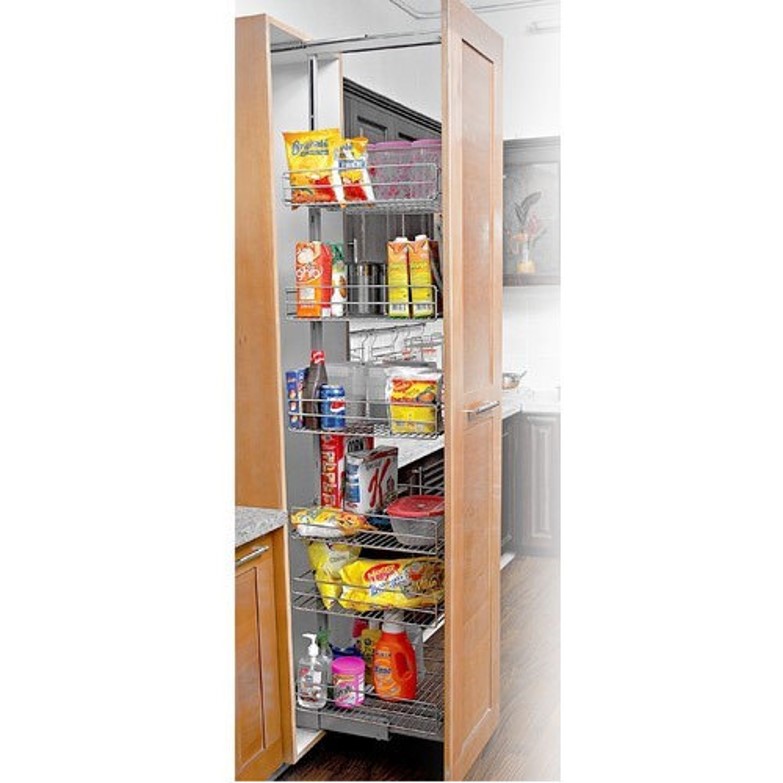 Hettich Cargo Larder Set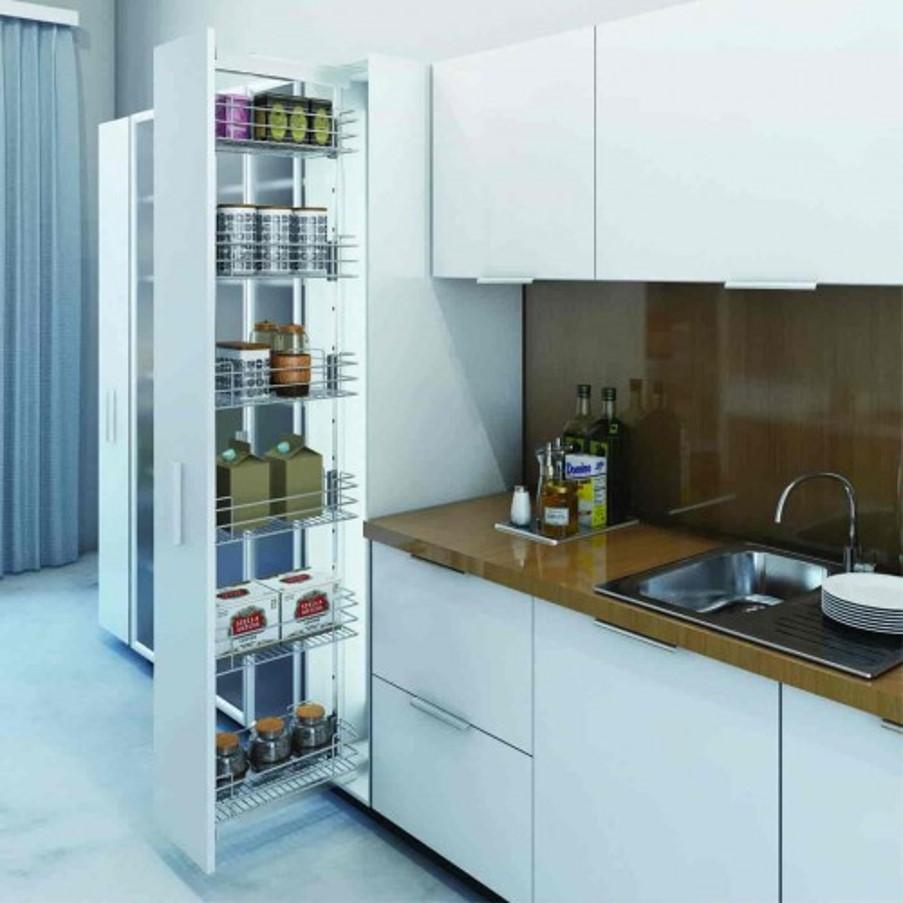 Sugatsune Tall Unit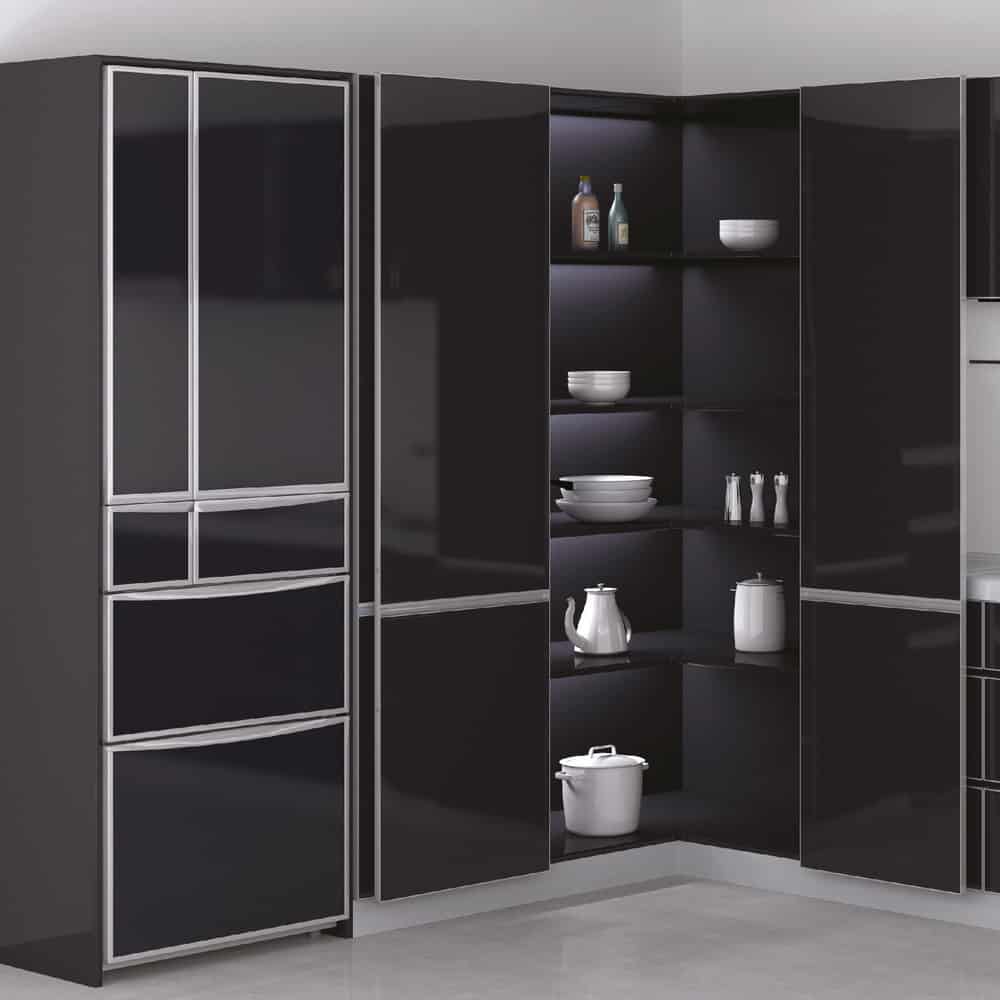 Hafele Tall Unit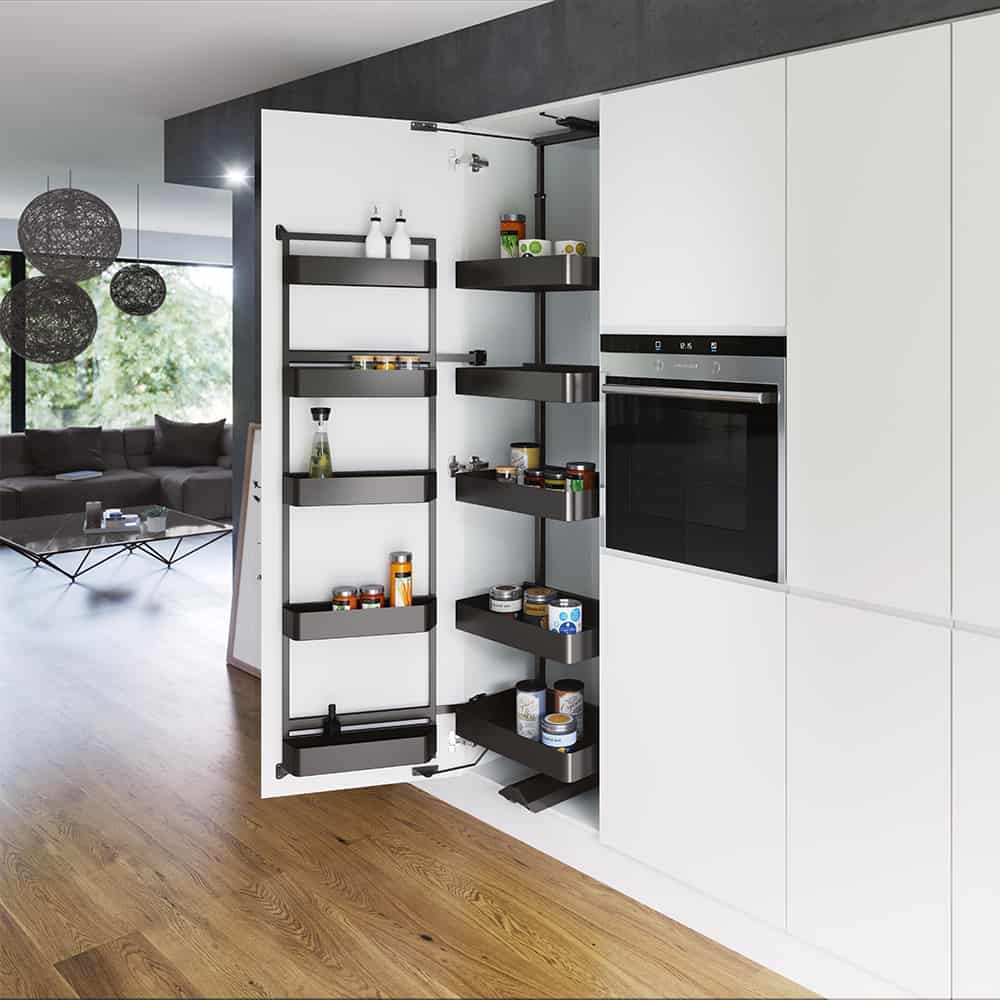 Evershine Pantry Unit
Arancia Kuchen Tandem Pantry Unit
Blum Space Tower – Tall Storage Unit
Kitchen tall cabinets offer a simple and sleek look to your kitchen. You can go for wooden tall cabinets if you want to incorporate vintage-inspired textures and a rustic feel to your kitchen area, or a minimalist one with built-in appliances and hidden opening mechanisms. Open-shelving in tall units is also a great way of styling your kitchen, as you can display all your favourite kitchen crockery or flaunt your wine collection on the open shelves.
Conclusion
Tall kitchen cabinets are trendy, aesthetically appealing, and timeless. They are at least eight feet high and reach from the floor to the ceiling. The tall units can be free-standing or included in any modular kitchen design. Tall units are ideal for both large and small-size modular kitchens since they maximize available space. They are quite practical for storing all the culinary utensils that accumulate over time. Kitchen tall units guarantee that everything we need on a daily basis is within easy reach and readily accessible at the same time by using modern mechanisms. They can accommodate even electrical appliances, keeping the countertop tidy and free of clutter.
Now, you know all about kitchen tall units and how they incorporate grace and utility into your kitchen space. So, get inspired by our design ideas and ultimate buying guide and choose the perfect tall units for your kitchen.
*The featured image used in this article is from Nolte Kuechen
[vvsmustread]