Are you in the process of building a home and deciding on the type of door design that matches your preference, style, and budget? Be it the modern iron doors, glass doors, wood doors, WPC doors, or steel doors, it is essential to consider looking at the pros and cons of each material and design before coming to a decision.
There is nothing like a spectacular and stunning design of a door to make an impactful first impression of your home.
An important aspect of door design is the choice of appropriate material.  Apart from other factors, the right kind of door material accentuates the design of a door.
Presently, it is quite challenging to find the right door material based on your design preferences and functional needs. The perfect door provides visual appeal as well as security and functionality.
That said, there is a wide variety of materials to choose from when it comes to doors.
Since doors are the first thing to be noticed in any house, why settle with boring and normal?
In this article, we have curated a list of some popular door materials, their advantages and disadvantages, material-based door designs to inspire you, and top door brands in India.
Wood doors have a natural wood grain contributing to their luxurious character, depth, and beauty. Often stained and not painted, wooden doors are particularly durable and have a sturdy feel to them.
Moreover, wooden doors are not prone to wear and tear they don't dent. However, any scratches that occur can be repaired as long as you keep them maintained.
Getting all the attention, the wood accent adds warmth to space. Thus, it adds an inviting and welcoming vibe to the environment.
Advantages
Wood door designs offer high durability and strength.
Since they are made from a natural product, wood door designs can be easily customized.
Wooden doors are suitable for every theme including rustic and traditional as well as sleek and modern.
Along with security, wooden doors provide sound insulation.
Disadvantages
For wooden doors to keep looking the best, they require good care and maintenance.
Not being completely resistant to moisture, wood doors tend to warp and swell over time.
These doors are suitable for installation in home and office depending upon the wood species and its properties.
So, here are a few wood door designs to suit the home, lifestyle, and budget.
Wood door design #1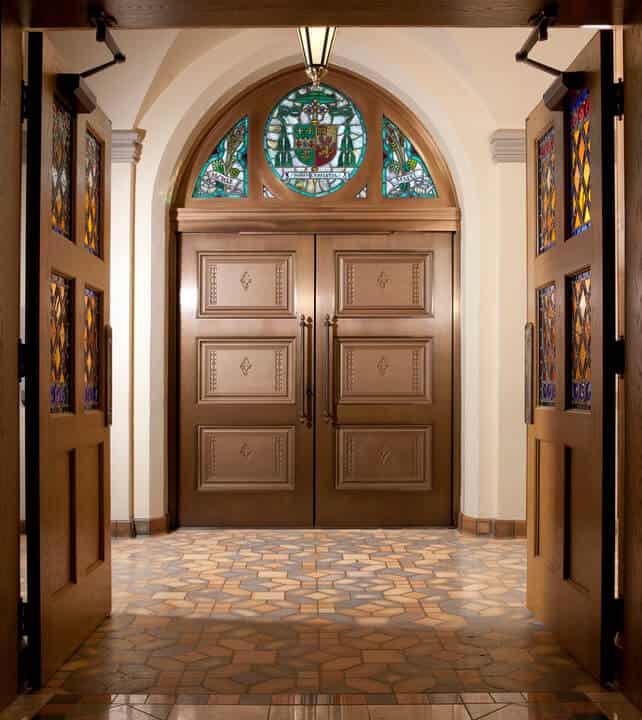 Image Source: Ellison Bronze
Wood door design #2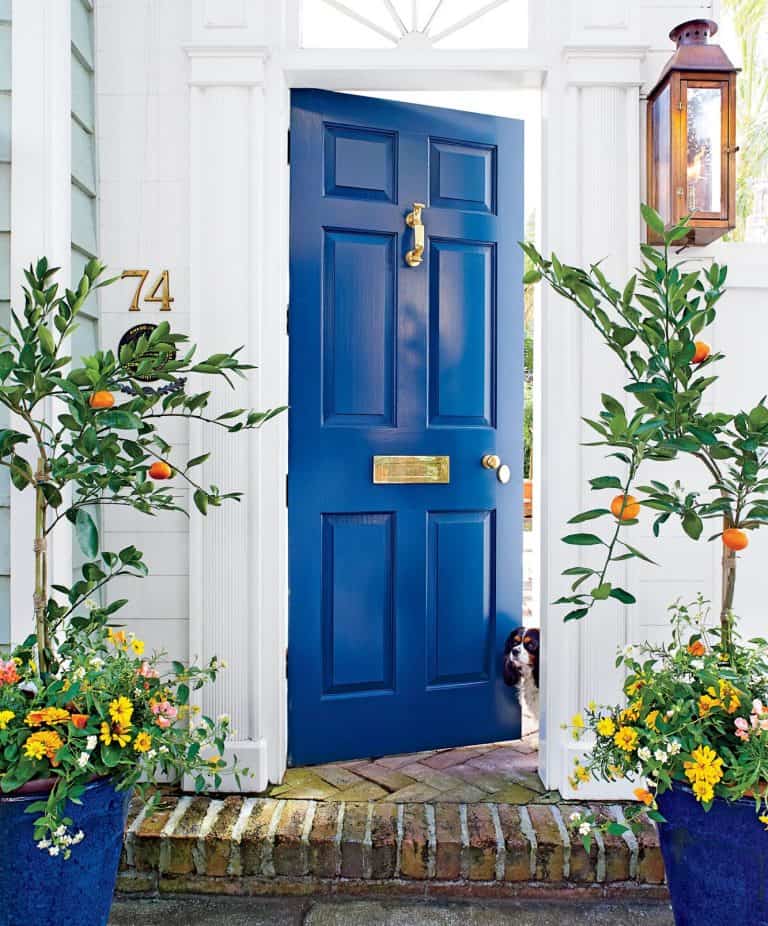 Image Source: Southern Living
Wood door design #3
Image Source: legnoform
Wood door design #4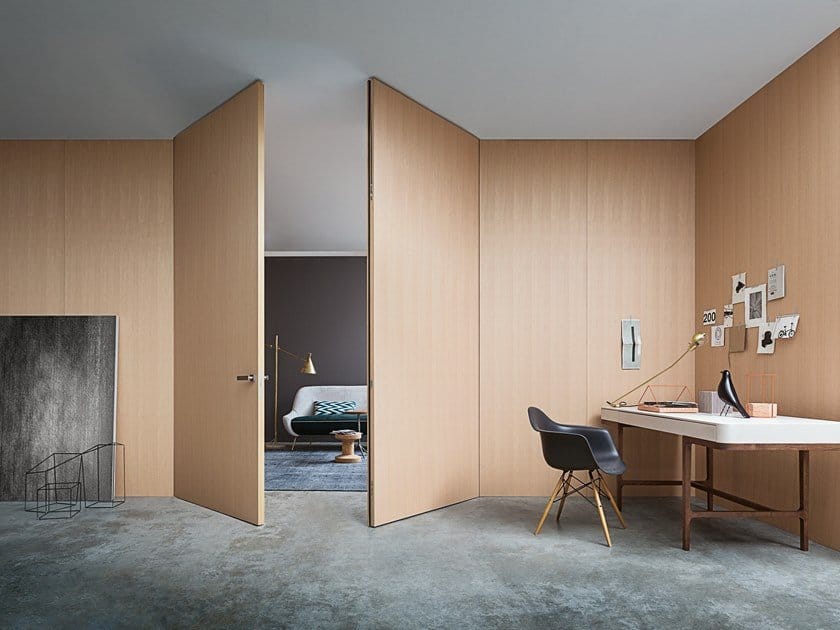 Image Source: Lualdi
Glass door designs
Doors made out of glass are elegant and beautiful. However, it is important to ensure privacy and durability without compromising on aesthetics.
Perhaps these doors offer the most notable view of the outdoors and allow plenty of natural light to enter keeping it lit at most hours. However, along with the light that streams in, you might be bringing in cold air and unwanted peeks of outsiders.
Advantages
Disadvantages
The transparency of glass doors may interfere with your private life.
Glass doors are costly and have the potential to crack or shatter if hit hard enough.
In addition, transparent or opaque, glass doors are extensively used on the backside of the house to provide an unobstructed view of the garden.
Glass door design #1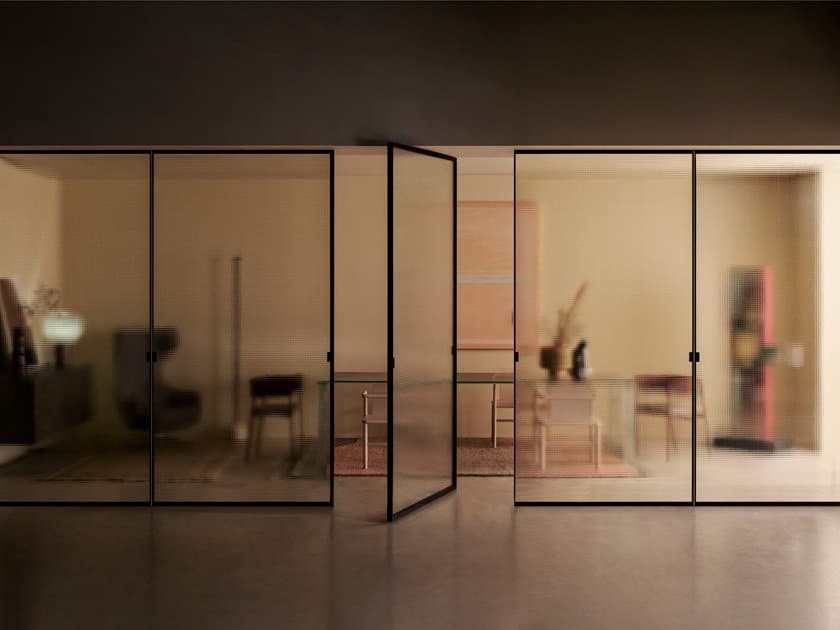 Image Source: Glas Italia
Glass door design #2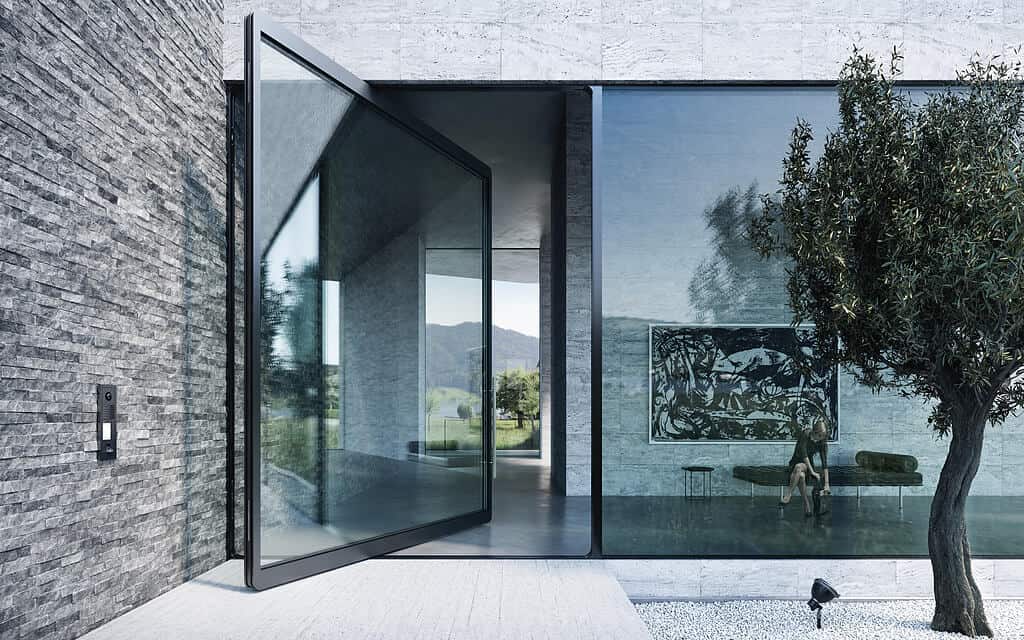 Image Source: Air-Lux
Glass door design #3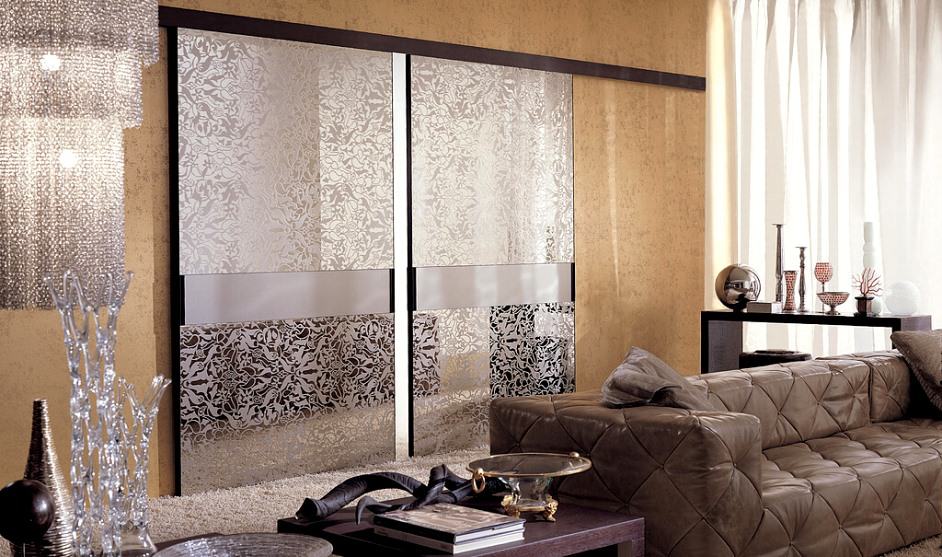 Image Source: Longhi
Glass door design #4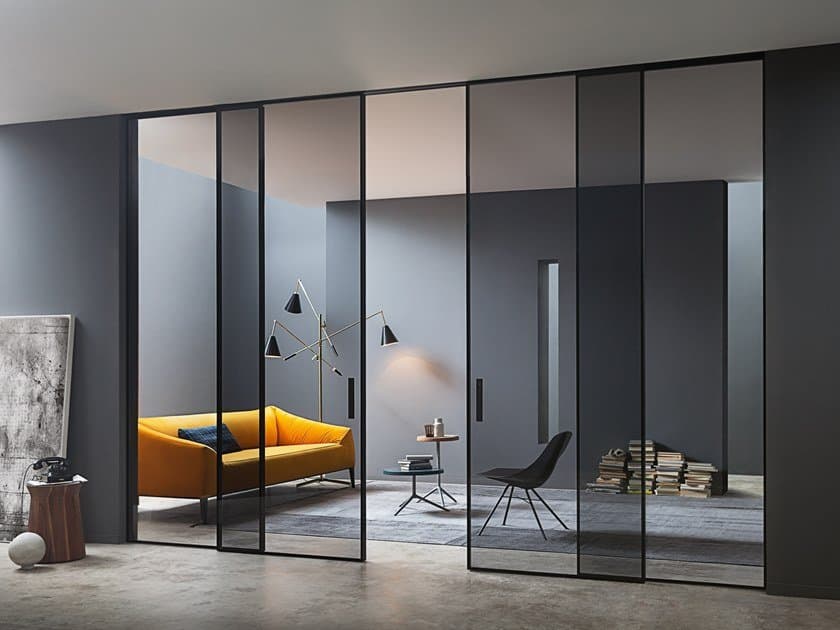 Image Source: Lualdi
Doors made out of iron are nothing less than a valuable addition to your home. Having been in use for centuries, iron doors are heavy-duty, timeless, and multi-functional.
Being as old as the Victorian era, iron doors are being incorporated into the modern design world beautifully. Their salient feature is the amount of security they provide along with the fabulous looks.
Advantages
Iron doors are considered the strongest in the category and are impossible to penetrate.
Moreover, they have very high resistance to high temperatures.
Iron doors have high durability, resilience, and provide bounty of security.
Being moisture resistant, iron doors are also resistant to rot and insects.
Disadvantages
Additionally, installing an iron door at the entryway can be very rewarding.
Iron door design #1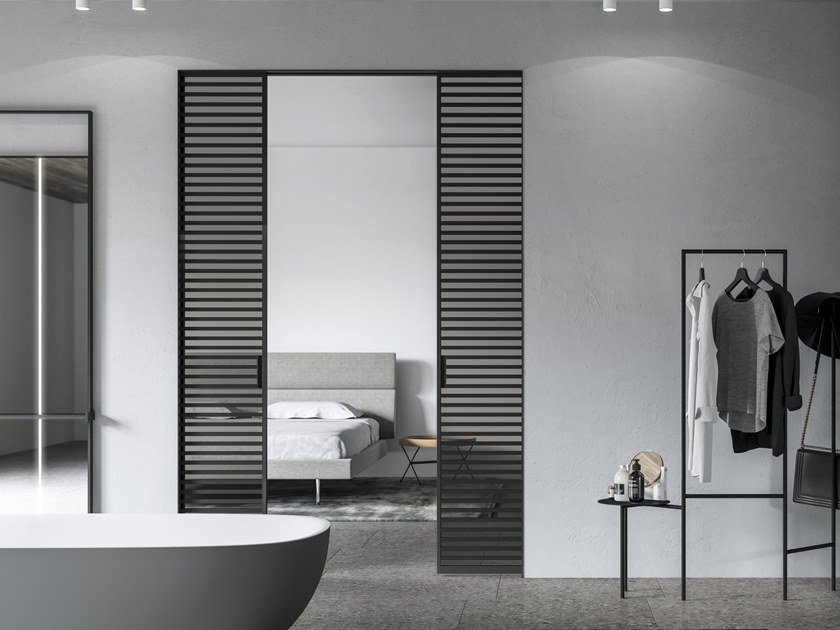 Image Source: Massimo Luca for ADL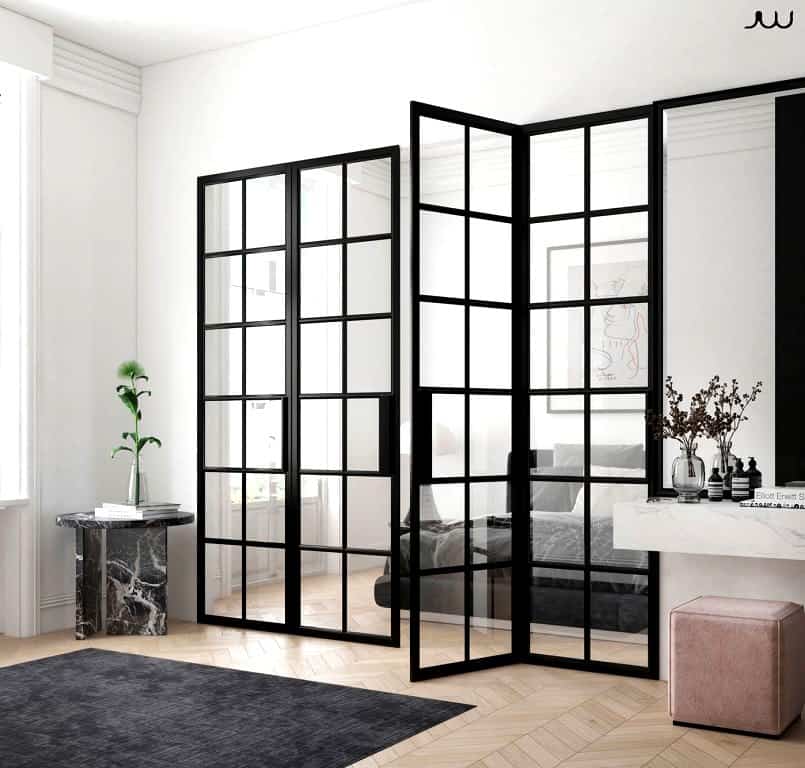 Image Source: Glenview Haus
Iron door design #3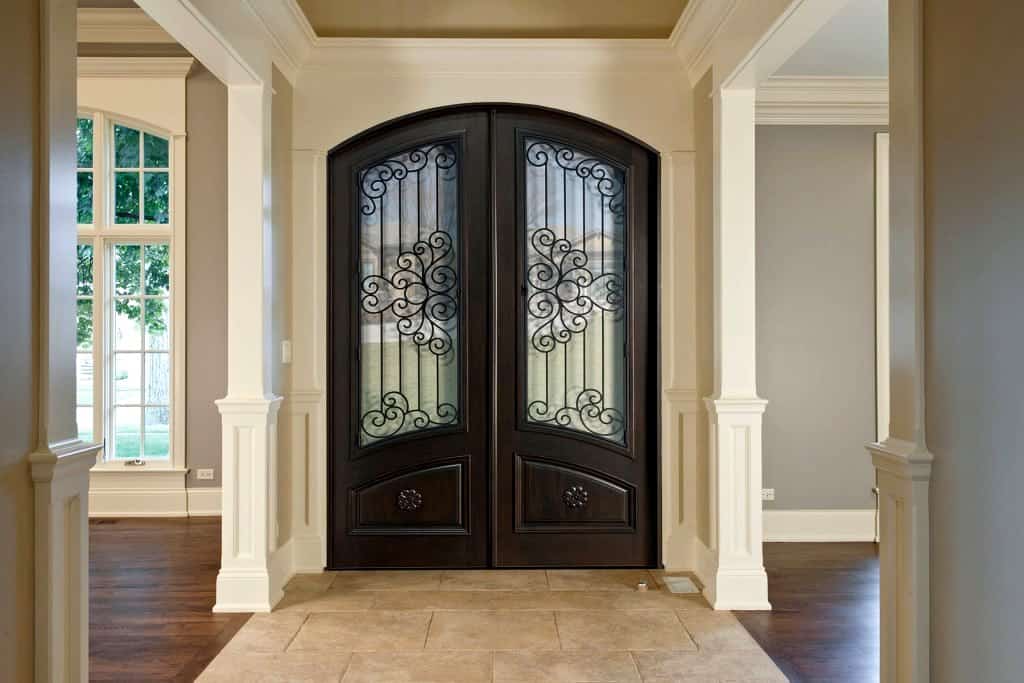 Image Source: Doors for Builders
Iron door design #4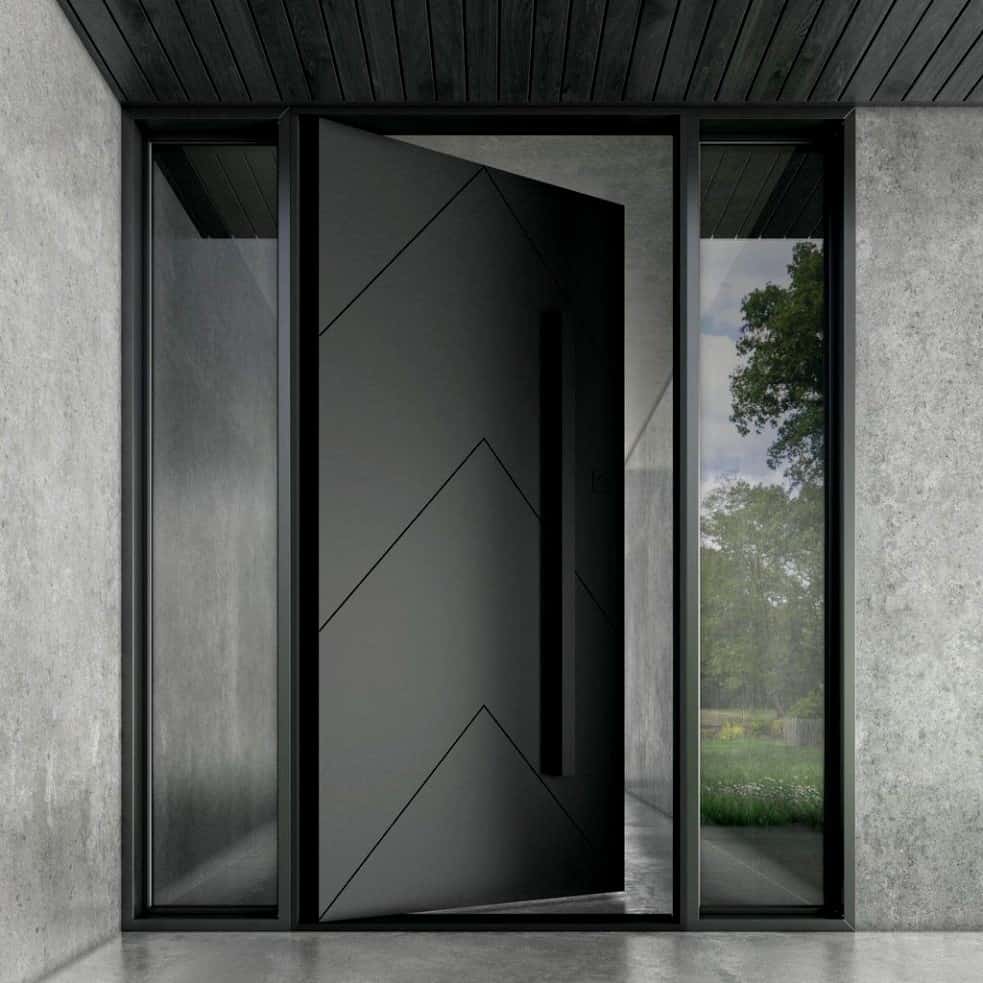 Image Source: Zen Doors
Steel door designs
If you choose a steel door design remember that you are probably picking one of the safest options with respect to intrusions.
Steel doors are efficient enough to keep cool winds from entering your home. However, if the door gets a dent, it can be very hard to repair and will likely remain the same. This may result in the need to replace the entire door.
Advantages
It would be fitting to say that steel door designs are one of the strongest and most enduring.
Being highly secure, steel doors have an extremely long service life.
These doors have a high tolerance to extreme weather conditions.
Steel doors do not require any polishing or painting offering ease of maintenance.
Disadvantages
Steel doors are prone to denting if hit hard enough and rusting if continuously exposed to moisture.
This door material falls on the upper end of the price spectrum.
Usually installed between interior and exterior areas, steel doors are not suitable for installation in interior space unless there is a great need to.
Steel door design #1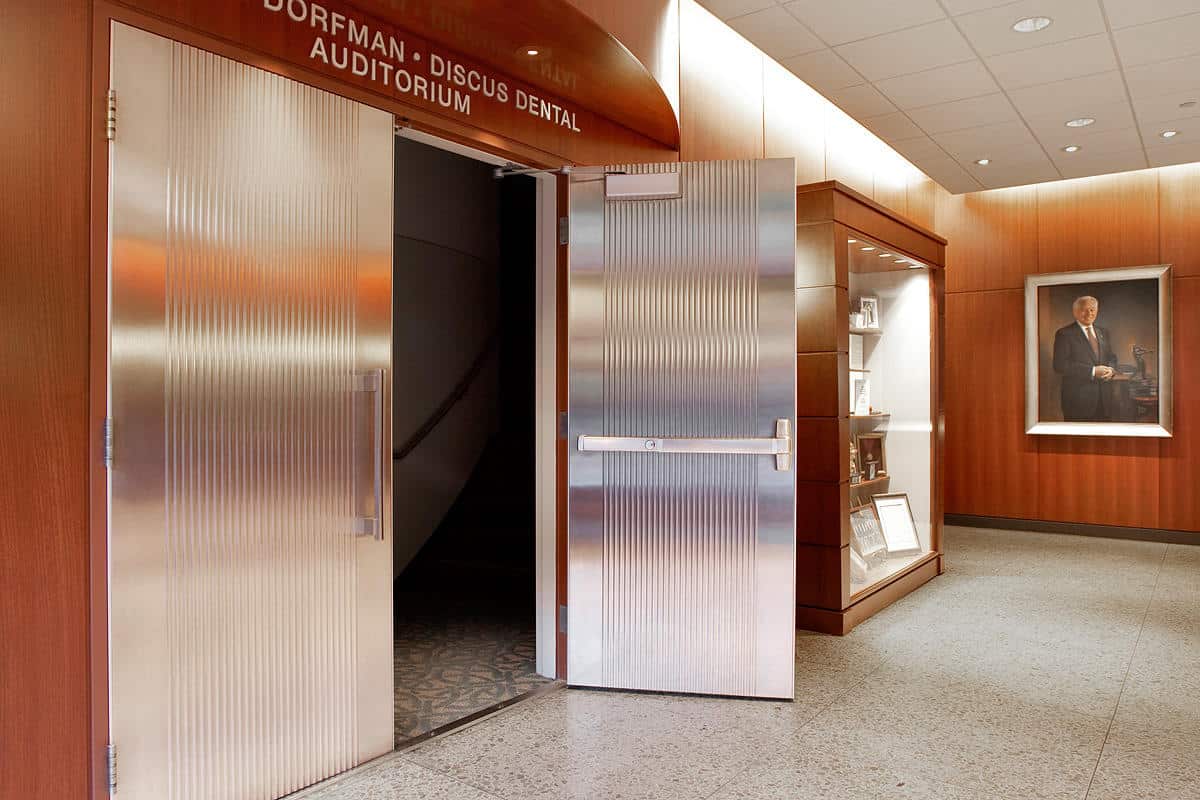 Image Source: Forms+Surfaces
Steel door design #2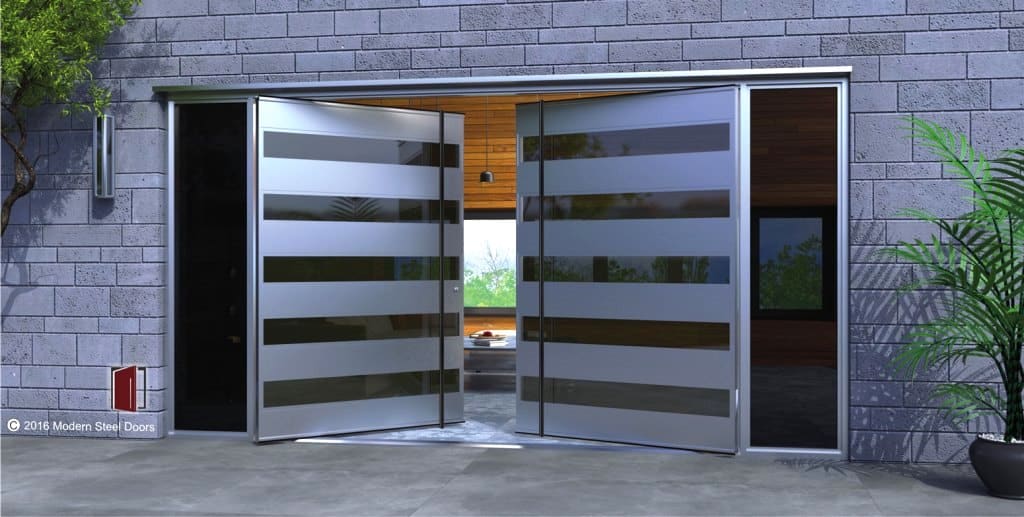 Image Source: Modern Steel Doors
Steel door design #3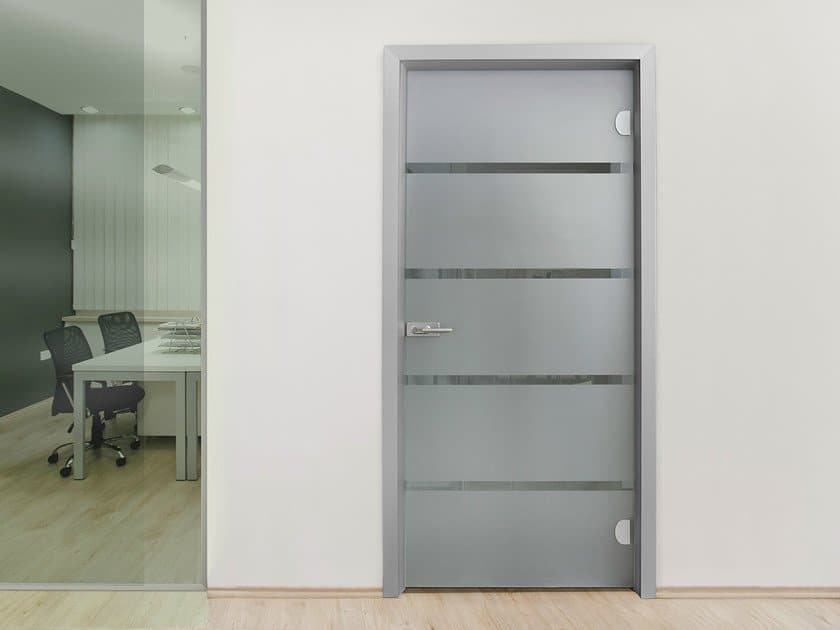 Image Source: ALsistem
Steel door design #4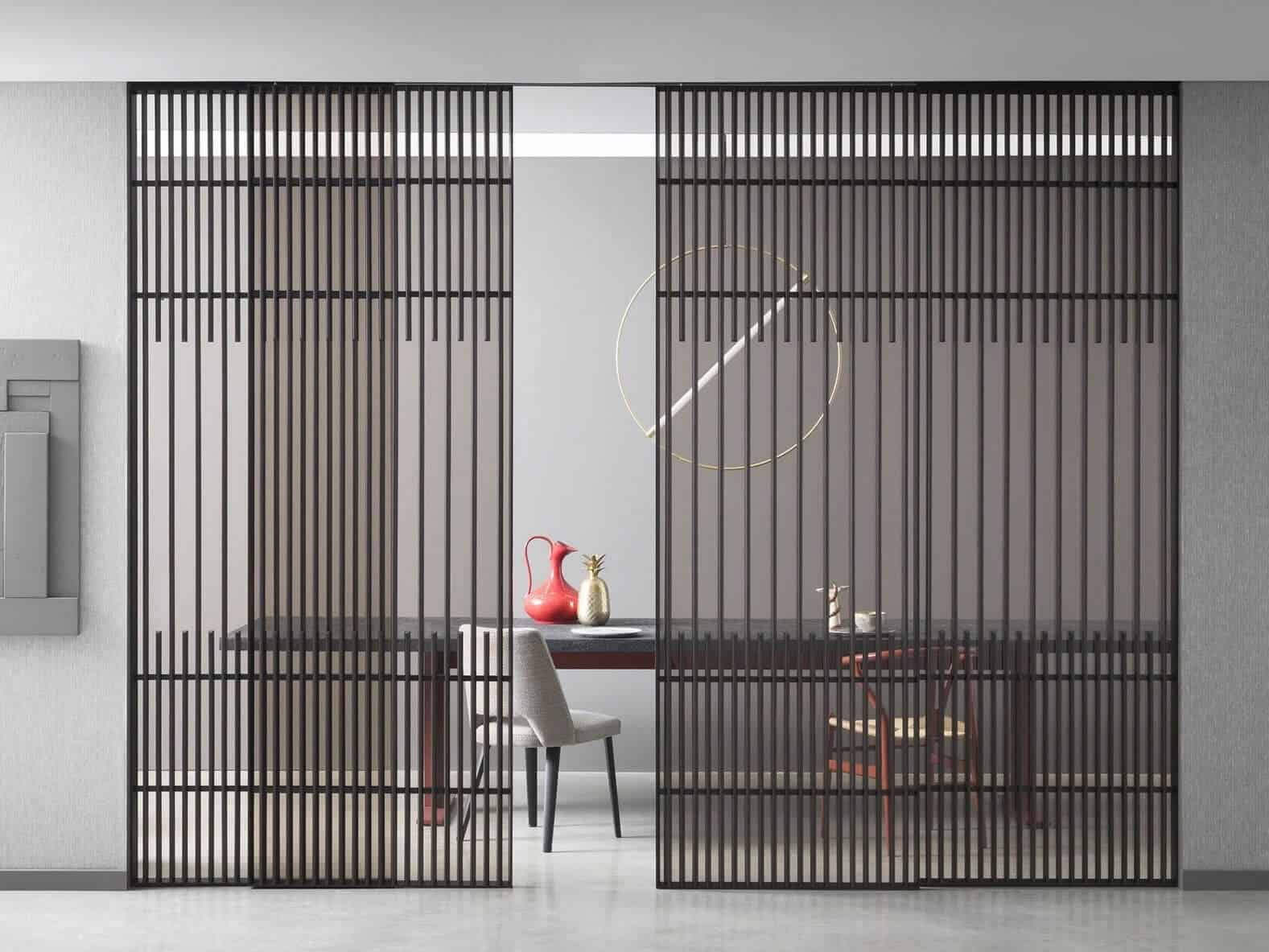 Image Source: Lualdi
Sunmica or laminates are a type of surface finishing material. Hence, if you want to make your doors exceptionally creative and versatile, go with sunmica.
Advantages
Laminate or sunmica offers various surface finishes like high-gloss, matte-finish, or textured.
Doors made out of laminates are highly durable and easy to maintain.
These doors are scratch and stain-resistant qualities.
Laminates are available in a myriad of colors, designs, and textures.
Disadvantages
Sunmica doors are prone to moisture.
Moreover, sunmica is considered to be toxic as it releases formaldehyde, a volatile compound.
Sunmica door design #1
Image Source: Linvisibile
Sunmica door design #2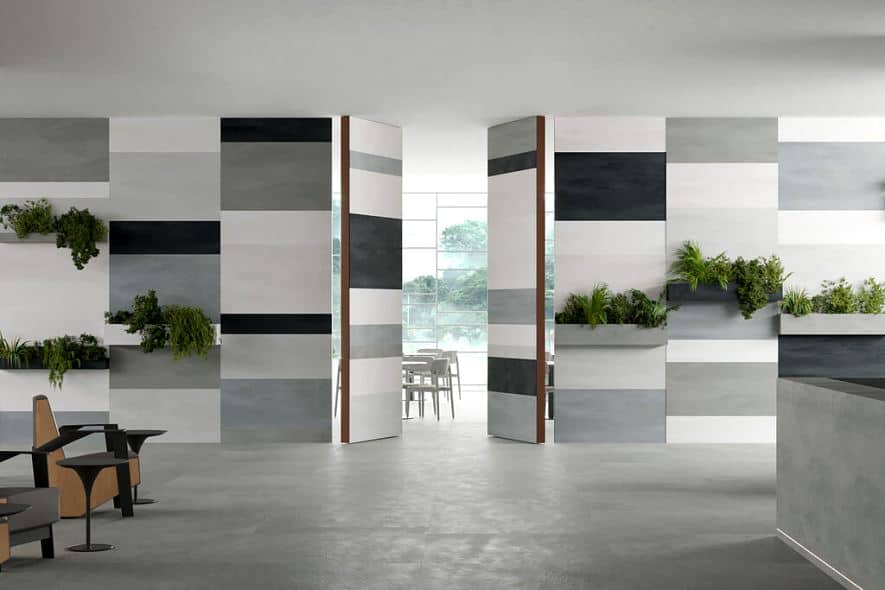 Image Source: Linvisibile
Sunmica door design #3
Image Source: Longhi
Sunmica door design #4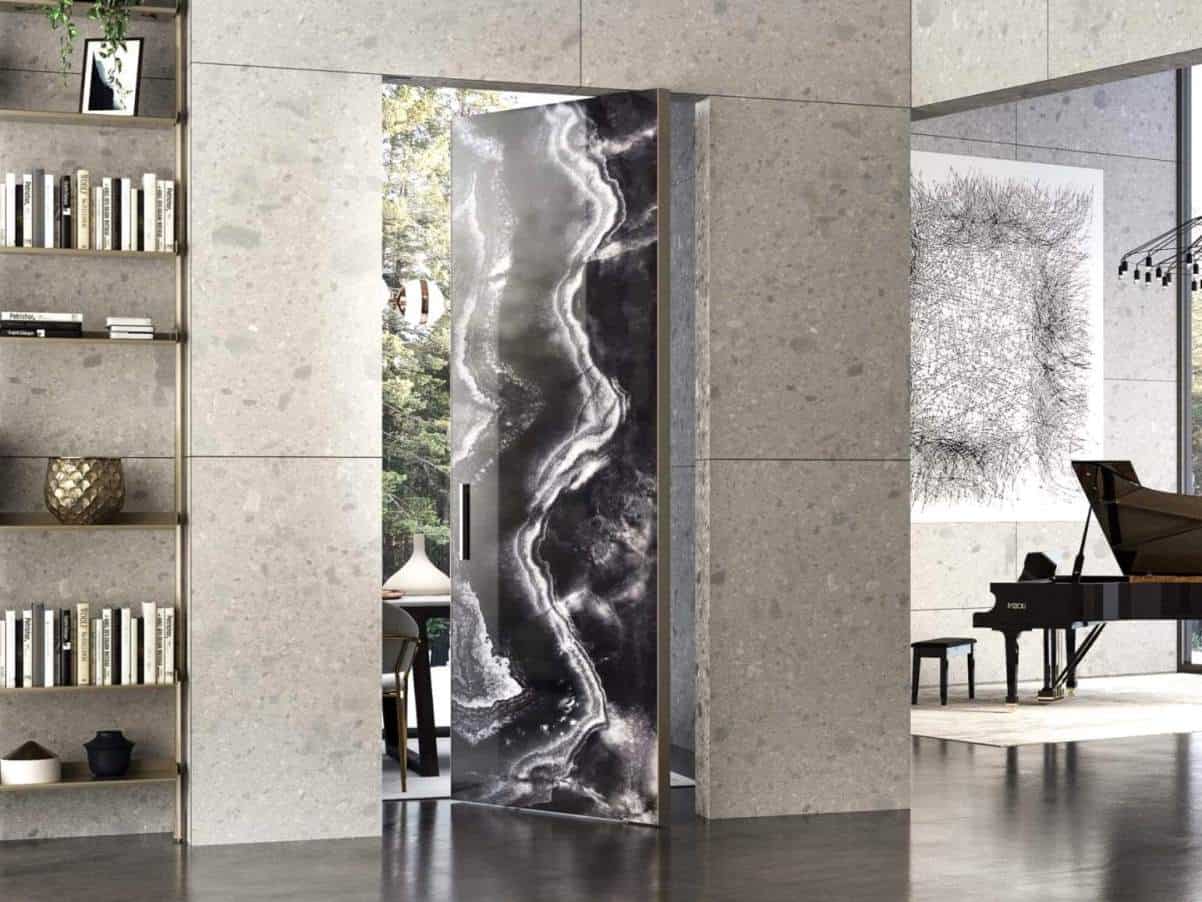 Image Source: BARAUSSE
In simple terms, plywood is the thin layers of wood veneer glued together. It is an engineered product manufactured from natural timber.
Imitating the strength and beauty of real wood, modern plywood door designs offer superior impact protection. These can be of different types like hardwood doors and softwood doors.
Some of the most common hardwoods are maple, oak, ash, mahogany, and teak. Whereas pine, spruce, cedar, and redwood are some examples of softwood.
Advantages
Plywood doors, in particular, exhibit high stability and minimal shrinkage.
Offers high durability.
Plywood does not absorb moisture.
Disadvantages
Due to its high strength, plywood is difficult to cut and mold.
In addition, plywood doors find their application both indoors and outdoors.
Plywood door design #1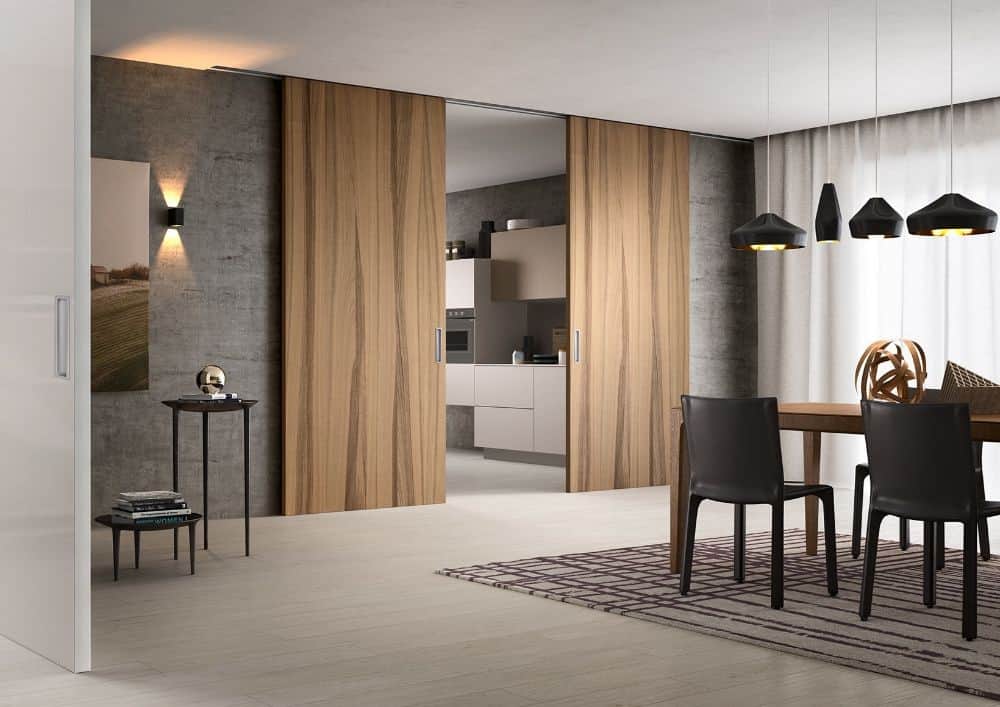 Image Source: Ferrero Legno
Plywood door design #2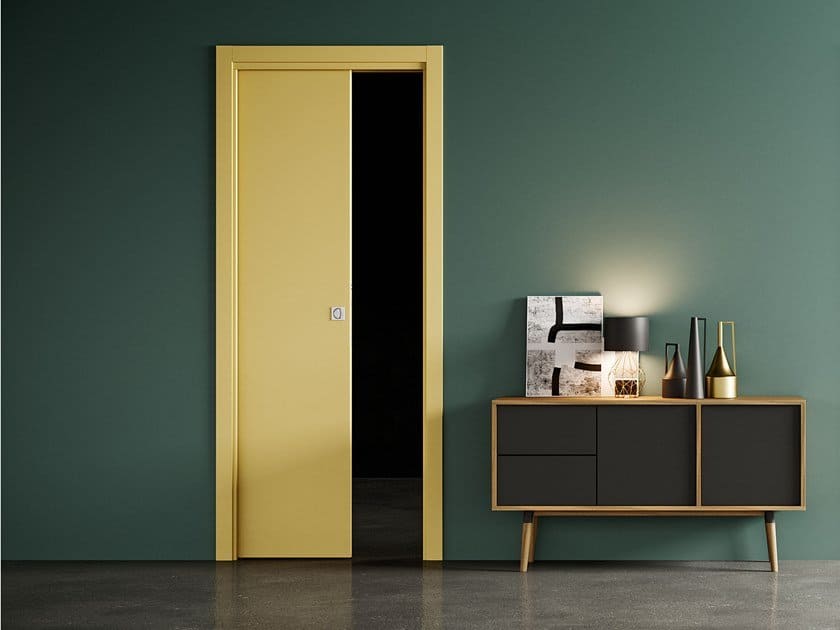 Image Source: Ermetika
Plywood door design #3
Image Source: GAROFOLI
Plywood door design #4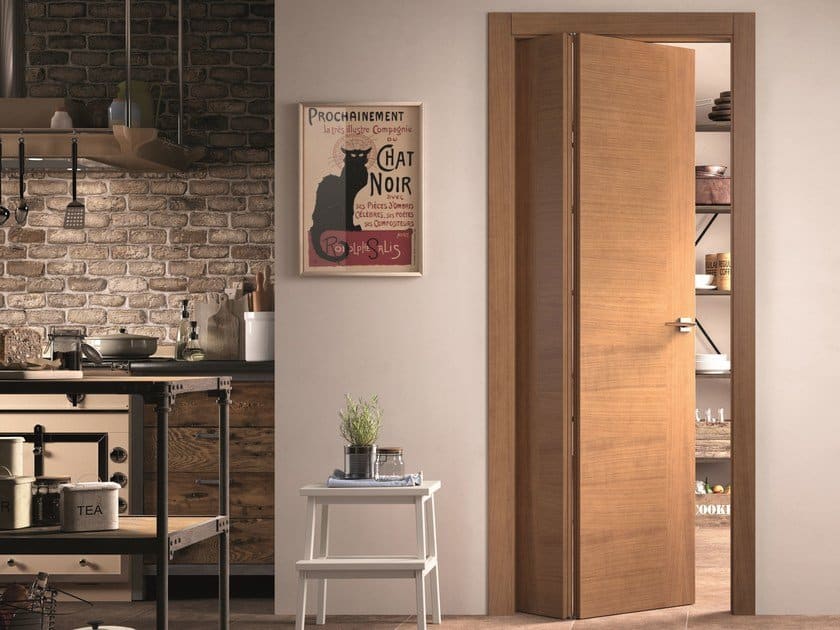 Image Source: Ferrero Legno
Having the perfect woodwork in your home is certainly not enough. You must always be on the lookout to find any interior element that is beautiful as well as highly functional.
If the words rustic, royal, and traditional describe your personal style, then veneer door designs are your perfect fit. They are characterized by sturdiness, durability, and ecological friendliness.
Advantages
Veneer doors are durable and can tolerate heavy impact
The veneer is an eco-friendly alternative to natural wood.
Doors made out of veneers offer the look and feel of real wood and do not compromise on quality.
Veneer doors prevent wood wastage.
Disadvantages
Veneer doors are susceptible to water damage as the water may seep under and loosen the layers of the veneer.
The texture of coating in veneer doors is not informed.
Veneer door design #1
Image Source: Nishita Kamdar Designs
Veneer door design #2
Image Source: HenryGlass
Veneer door design #3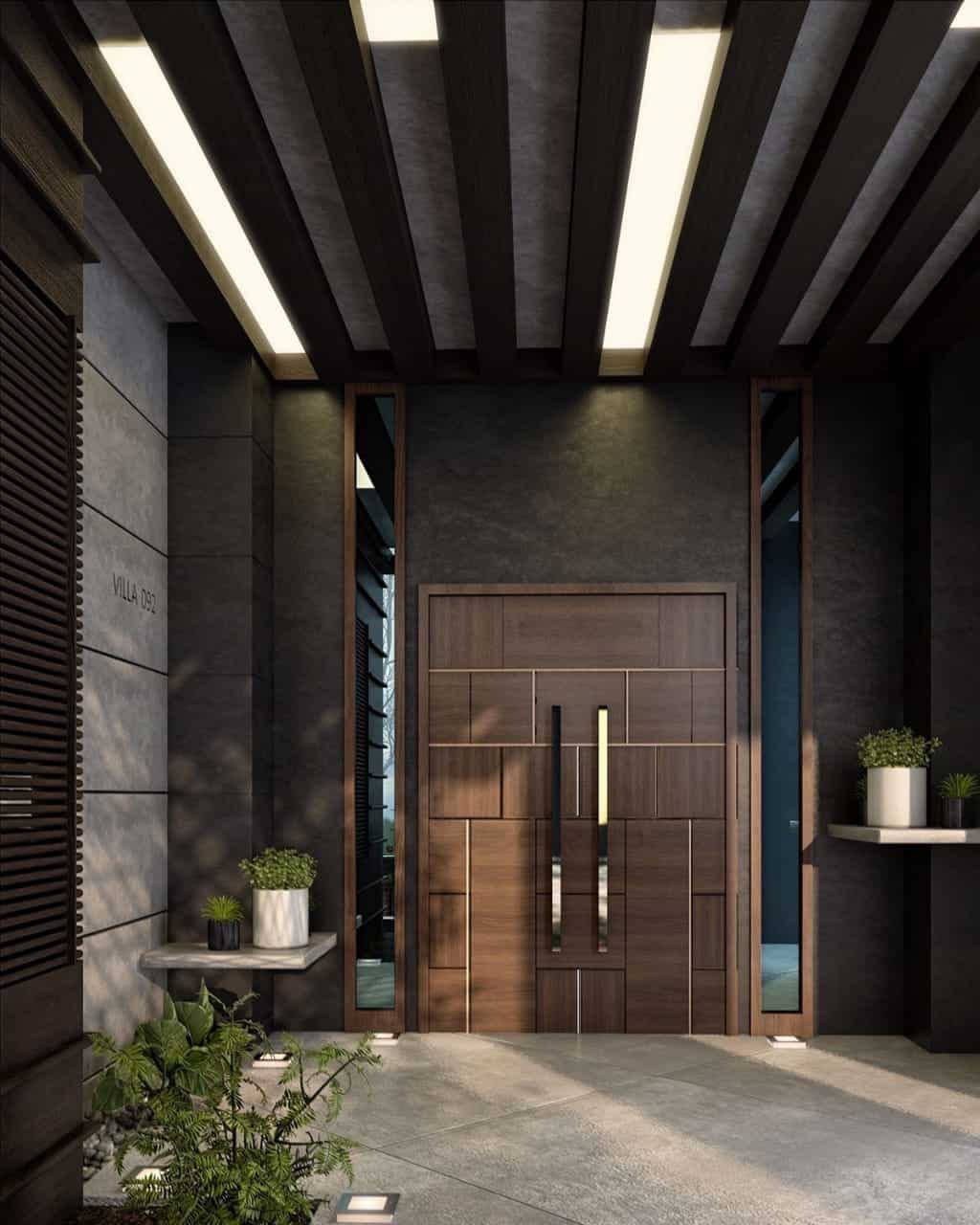 Image Source: Behance
Veneer door design #4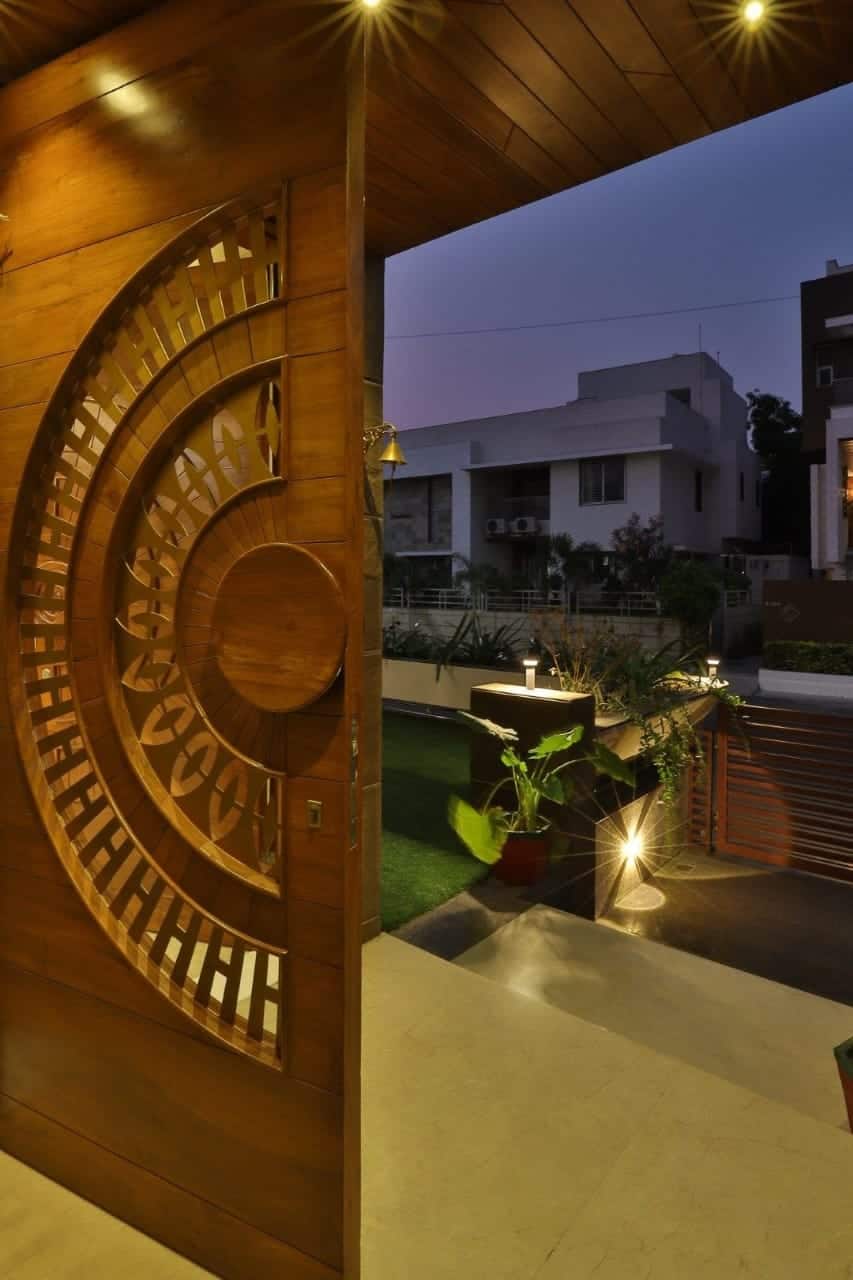 Image Source: The Architect's Diary
WPC door designs
Being a natural product, wood is susceptible to damage and warping. The damage caused to wood doors by water, moisture, termite attack, etc., cannot be altered.
Therefore, Wood Plastic Composites (WPC) doors are the best alternative for modern natural wood door designs.
Due to the outstanding properties, WPC gets over the problems of wood.  Doors made out of WPC can be produced in multiple colors and in various textures and surface finishes.
Advantages:
Disadvantages:
The resistance of WPC to extreme temperature is low as compared to wood.
Pricier than wooden doors, WPC doors lack the grain, natural texture, and warmth of wood.
WPC door design #1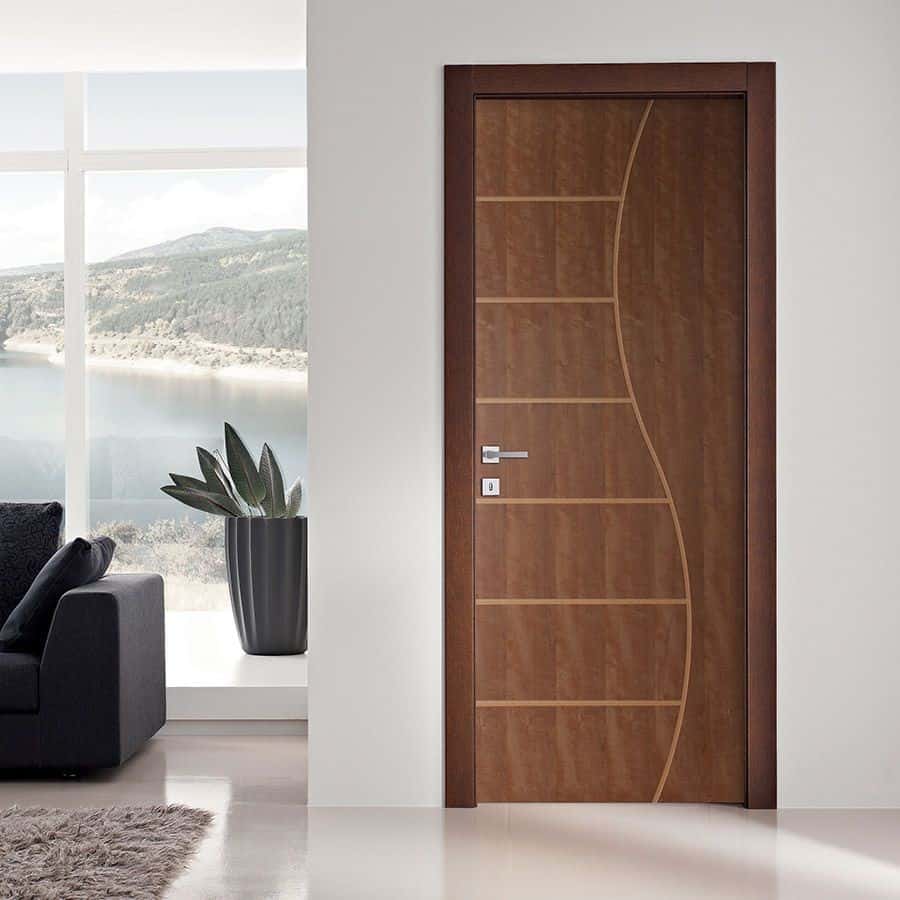 Image Source: Madel Madeiras
WPC door design #2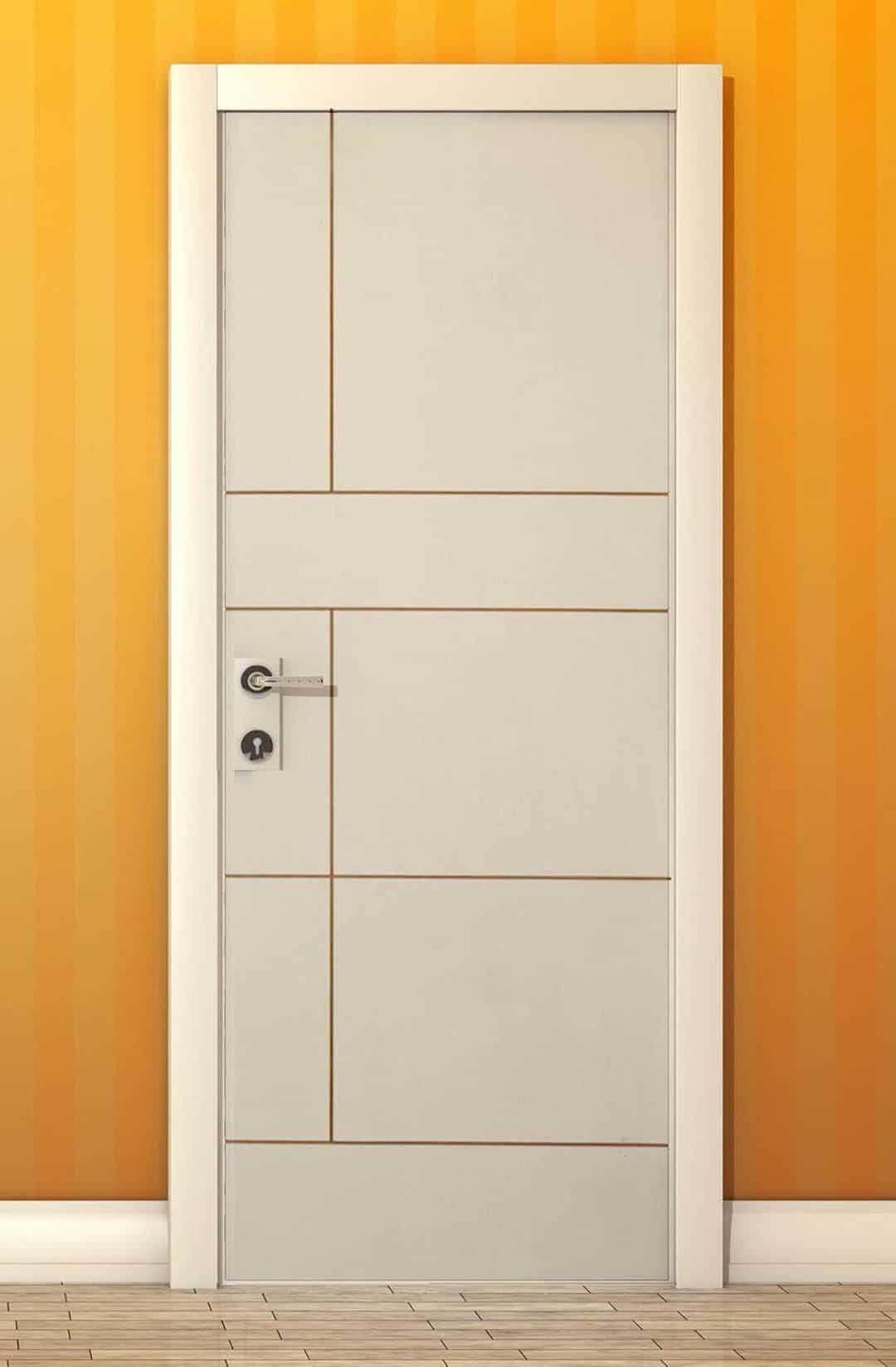 Image Source: MadeiraMadeira
WPC door design #3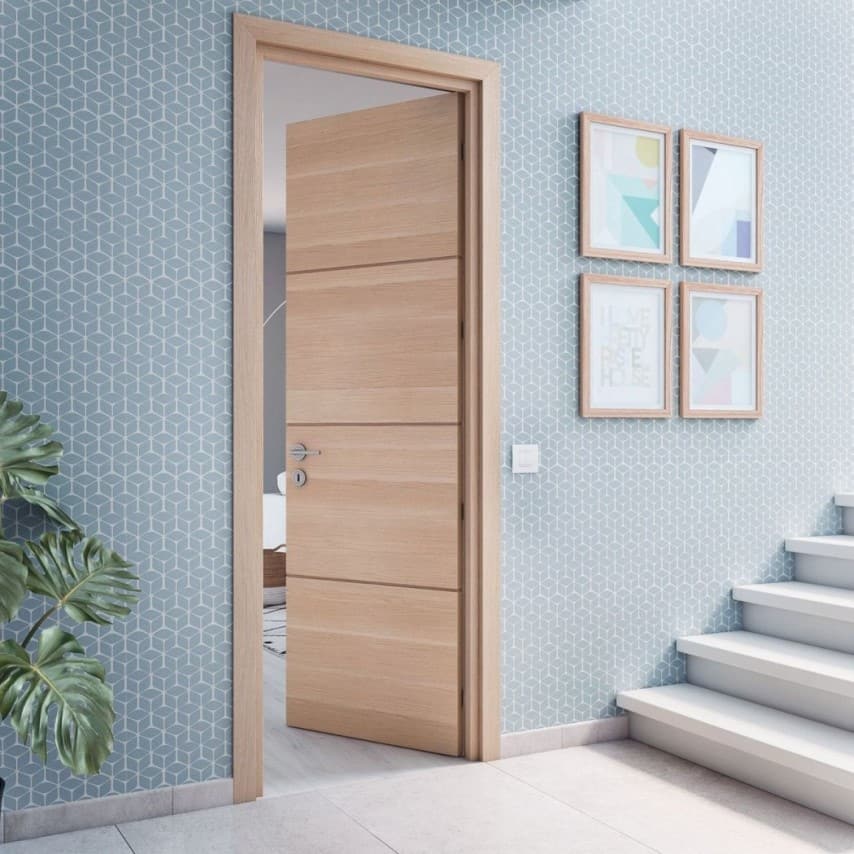 Image Source: Leroy Merlin
WPC door design #4
Image Source: Oppein Home
Top door brands in India
Being a new brand in Tata Steel's portfolio, Tata Pravesh offers a complete range of stunning steel doors and strong wood doors as a part of home solutions. The products are long-lasting as well as ensure security for your home.
The doors are manufactured from high-grade steel using state-of-the-art technology to ensure supreme resistance to fire and overcome the flaws of wooden doors.
Tata Pravesh has residential as well as commercial doors categorized as under:-
Century Doors offer a wide collection of beautiful entrance doors, ranging from interior flush doors, laminated flush doors, veneer flush doors, and more. Protection is paramount when it comes to their modern door designs.
Century Doors by Century Ply offers various products such as:-
Alstone has come up with a revolutionary product manufactured with wood polymer composite products. Moreover, their WPC door frames are 100% waterproof, termite proof, fire retardant, distortion resistant, and have great adaptability to outdoor conditions. Also, WPC is considered a lifetime substitute for timber.
Alstone offers a variety of Wood Polymer Composite (WPC) doors, such as:-
Durian is one of India's leading manufacturers of interior as well as exterior surface solutions. With an experience of over 4 decades, Durian offers an extensive range of doors and door frames that can be customized to suit specific requirements.
In addition, these doors are fire retardant, soundproof, termite resistant, moisture resistant, tested for endurance, and offer nail-free installation.
Thus, following are the door types produced by Durian:-
Established in 1937 in Belgium, Deceuninck is among the top three UPVC Window and Door profile manufacturers in the world. In addition, the brand specializes in compound technology, design, development, extrusion, finishing, and recycling for the building sector. Deceuninck India has a wide range of UPVC doors to complement your home's style and value. These include door systems offering excellent insulation, comfort as well as elegance, such as:
Legend system
Zendow system
Everest Max system
Fenesta is a part of DCM Shriram Group. It has pioneered the design, manufacture, installation, and service of precision-engineered, customized UPVC as well as Aluminium windows and doors.
It manufactures the following products:-
Fenesta offers a vast collection of high-quality UPVC doors, such as:-
Also, Fenesta offers a wide variety of ultra-modern aluminum doors in a range of styles, including:-
Conclusion
Doors are an essential part of house design. In addition, they create the very first impression of what's going to be seen further.
An impression will be made with the door even if the interior of the space may be in stark contrast. Therefore, you need a modern marvelous door design to catch everyone's eye and achieve maximum functionality at the same time.
Some door materials have the potential to promote energy efficiency, while some act as a way to interact with the surrounding theme of the house. Moreover, they provide an architectural structure and integrity along with character and depth to your home.
Choosing the perfect material for doors and corresponding design to match your preference is not an easy task especially when you have numerous varieties to choose from.
Be it a classic wooden door with a rustic and rich feel, a glass door with a sleek structure, an iron door with immeasurable strength, or a plywood door to imitate but overcome the flaws of wood doors, each material has its own unique properties.
Now that you know the pros and cons of various door materials in detail, you can make the right decision to please your client.
So, depending upon the manufacturing material, find bags of inspiration to incorporate in your home and get the perfect door that ticks all boxes.
If you want to buy top-quality doors from the best brands, click on the link given below to check your options and submit your inquiries:
For more details, contact below:
Email: mukul.jain@buildingandinteriors.com
Mobile: +91 99676 32127
[vvsmustread]