Tiles impact the decor and longevity of a space to a great extent. This is because they come in a variety of colour schemes and textures that provides great aesthetic beauty. Tiles can be used on both floors and walls, but there is a vast difference between floor and wall tiles. Floor tiles require strength and durability to withstand high foot traffic, whereas wall tiles are expected to offer aesthetics. Hence, to ensure suitable tiles for your floors and walls, Orientbell comes with a variety of good-quality catalogue products at a pocket-friendly price in various stores near 'me'. Orientbell tiles also have good reviews and ratings from their top clients and customers.
So, go through this article, to know more about Orientbell tiles, in terms of company overview, product catalogue, price list, and dealer location if you are considering this tile brand for your walls and floors.
About the brand
Orientbell tile is one the largest manufacturers of ceramic and vitrified tiles in India with good customer reviews, headquartered in New Delhi. Since 1970, it had gathered enough experience and expertise to manufacture durable and premium quality products. It has manufacturing plants in some of the prime locations of India, like Sikandrabad in UP, Hoskote in Karnataka, and Dora in Gujarat.
Head Office: Iris House, 16 Business Centre, Nangal Raya, DDA Complex, New Delhi – 110046 (India)
Types of tiles
Wall tiles
Image Source: Orientbell
Wall tiles are expected to be aesthetically uplifting, but in reality, they need to be functional too. Orient Bell understands this requirement and provides wall tiles that protect your walls from water spills and damage. The brand uses the latest technology to manufacture wall tiles in a wide variety of designs, finishes, and sizes, to match your preferences. Carving Bottocino, ODH, EHM, etc. are some of the popular wall tile ranges offered by this brand.
Also see:
Renovating Your Commercial Space? Replace Your Tiles Flooring In No Time!
Floor tiles
Image Source: Orientbell
Floor tiles withstand heavy footfall and the weight of furniture and other items on a daily basis. Hence, they need to be durable and strong. Orientbell provides floor tile solutions that are durable and have low porosity. You can also find a wide range of floor tiles in a variety of colours and finishes, to get the aesthetics you desire. Some of the popular floor tile ranges of the brand are Carving Armani, PGVT, DGVT, etc.
Other types of types
Parking Tiles
Image Source: Orientbell
Parking tiles are expected to withstand moving traffic in parking lots and driveways. Among 1600+ parking tile options, some of the popular parking tile ranges of Orient Bell are Forever tiles and Rhino pavers.
Outdoor Tiles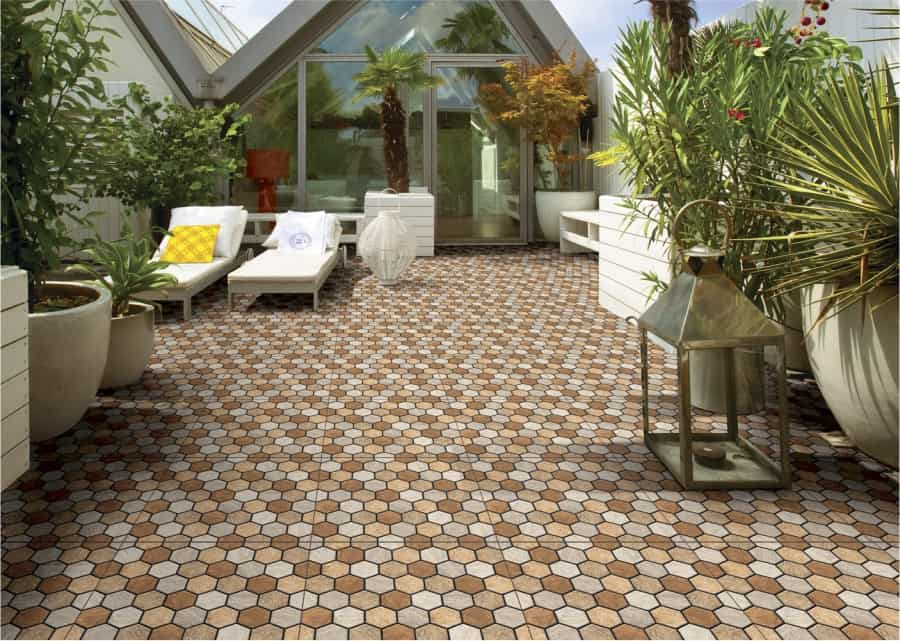 Image Source: Orientbell
Outdoor tiles need to be durable and climate resistant. Orientbell manufactures almost 140+ outdoor tile options in various designs, sizes, finishes, etc. to give rise to popular ranges like DGVT, Rocker Traventino, Plank, etc.
Terrace Tiles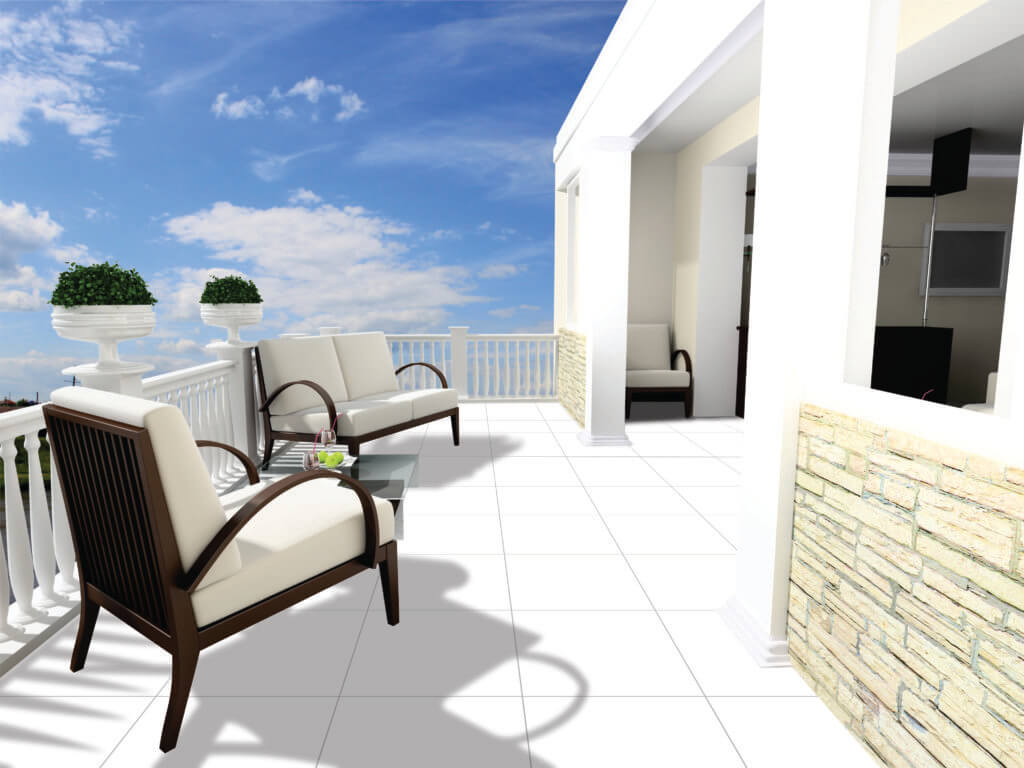 Image Source: Orientbell
Terrace tiles by Orientbell are best for your terrace area and balcony as these prevent heating up of your rooms downstairs and can withstand different climatic conditions without getting discoloured or damaged. These tiles come in almost 190+ options in various sizes and finishes.
High-traffic Tiles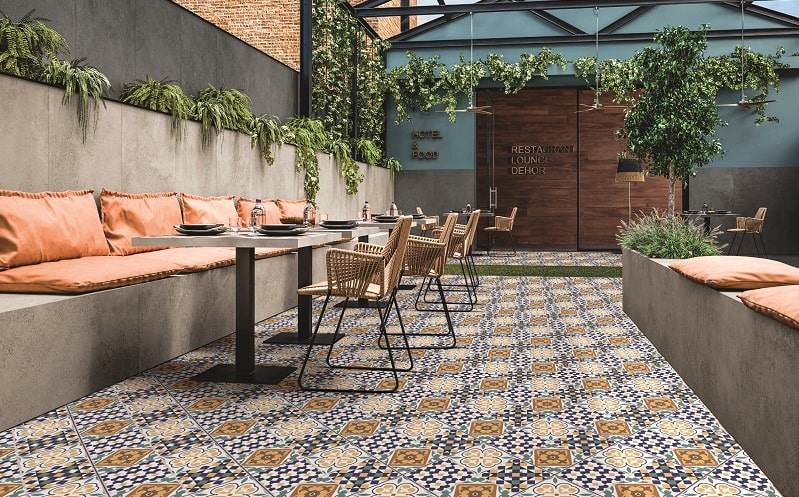 Image Source: Orientbell
As the name suggests, high-traffic tiles are meant for areas with high footfall, like public places. There are almost 720+ high-traffic tile options offered by Orientbell, while some popular ranges are Cipollino, Statuario, Ankara, etc.
Commercial Tiles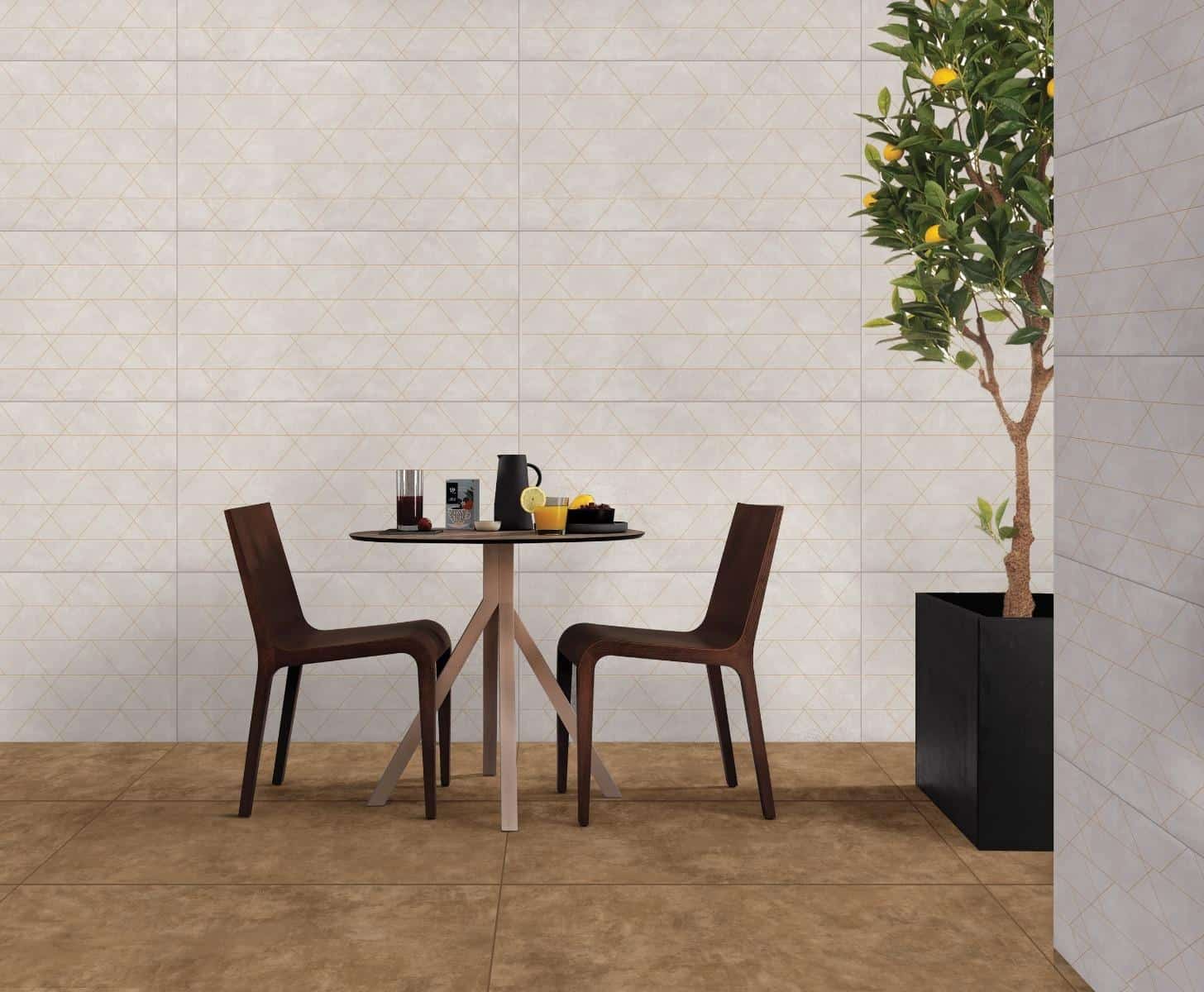 Image Source: Orientbell
Commercial tiles need to be durable and attractive. Orientbell offers almost 250+ commercial tile options in different sizes and finishes, while the popular ranges include Lara, Star, Lucent, etc.
Swimming pool tiles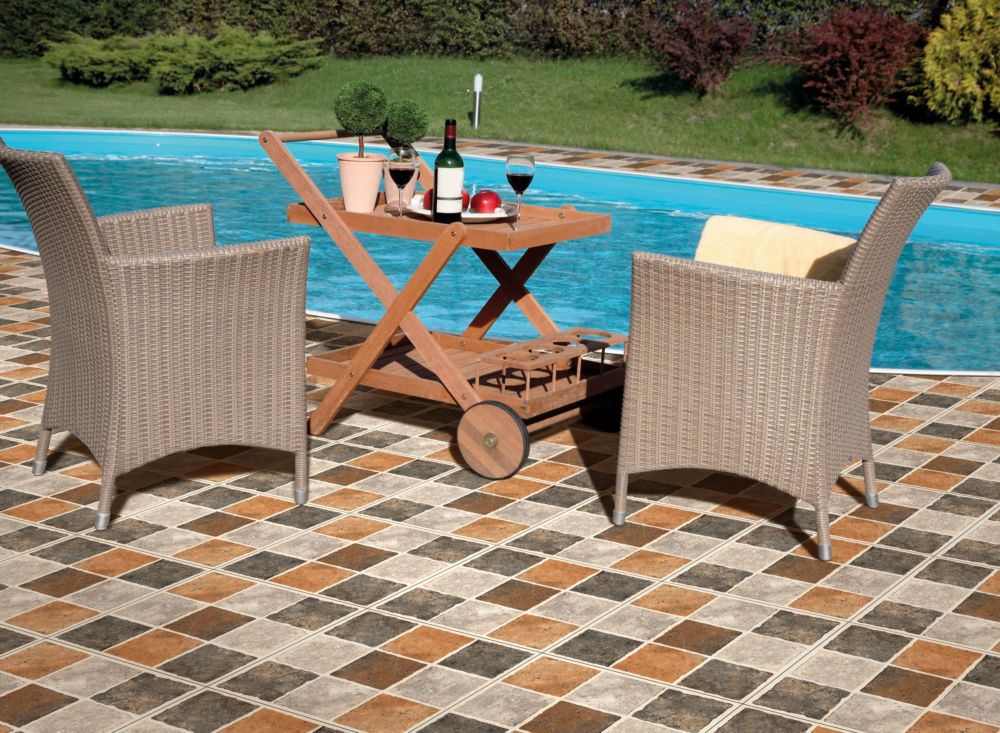 Image Source: Orientbell
The mosaic tiling range is one of the best picks for swimming pool tiles. Some of the popular swimming pool tile ranges of the brand are Hexa, Vesta, Subway, etc.
Step stair tiles
Image Source: Orientbell
Step stair tiles protect the staircase, while also making them safe for the people using them. There are almost 25+ step stairs tile options provided by Orientbell, among which the HLP range is a popular pick and got the best reviews.
View full Orientbell tile catalogue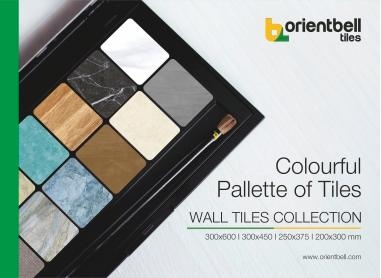 Orientbell tile price list
A huge customer base trusts Orientbell tile because of its vast range of catalogue products, which come at an affordable price and have positive reviews. So, here is a table for you to take a cue from the prices of different tiles offered by them:
| | |
| --- | --- |
| Types of tiles | Price per square feet |
| Wall tiles | Rs. 34/- to Rs. 356/- |
| Floor tiles | Rs. 34/- to Rs. 327/- |
| Parking tiles | Rs. 38/- to Rs. 178/- |
| Outdoor tiles | Rs. 51/- to Rs. 172/- |
| Terrace tiles | Rs. 70/- |
| High-traffic tiles | Rs. 64/- |
| Commercial tiles | Rs. 64/- |
| Swimming pool tiles | Rs. 34/- |
| Step stair tiles | Rs. 48/- to Rs. 120/- |
Orientbell tile 'near me'
The brand has over 3000+ outlets and 150+ tile boutiques across India, where the customers can have a look and feel of its wide product spectrum. Therefore, to locate an Orientbell dealer near you, use the link given below.
Conclusion
Tiles are becoming more and more popular for floors and walls, due to their longevity and minimal maintenance. There are a wide variety of tile options available in various materials, finishes, sizes, shapes, colours, and designs, which makes choosing the perfect one, a bit overwhelming. Hence, choose tiles for one space at a time because different spaces have different requirements. Then, you can choose the material, size, and colour of the tiles.
Now, you are ready to spruce up all the walls and floors of your house with the top-notch designs and finishes of Orientbell tiles. So, get inspired and incorporate different tile options of this brand to reflect your personality on your walls and flooring.
*The featured image used in this article is from Orientbell