From cave paintings on the walls to luxurious engraved wall art, wall design has changed with time. The homes are being transformed into lovely residences that reflect the personalities and lifestyles of those living. All thanks to modern art, technology, and designers' creative ideas. That's the cause of the dramatic improvement in wall tile designs recently. You must plan carefully and keep up with current trends regarding wall tiling at your home or place of business because even a little mismatch can detract from the appearance of a great design. This article will show you some stunning wall tile designs and ideas that you may use in your perfect kitchen, living room, bathroom, or bedroom along with a short selection guide & top trends followed by our recommendations from top brands in India. 
How to choose the best designs of wall tiles for your home?
You have envisioned the layout of wall tiling in your mind, but can't decide where to begin?  Here are some guidelines for selecting the top wall tile designs:
First, determine the sort of tiles to be placed in each room. The best solutions on the market that successfully blend the aesthetics and function of homes are vitrified or ceramic tiles.
The area where the tiles are to be installed comes next. The tiles for exteriors are distinct from the tiles used inside. To resist all weather conditions, outside walls should typically be covered with hard, concrete tiles. Tiles for bathrooms, for example, should be purchased from top brands in India to assure the best design and quality of the material.

The budget is another crucial element that should not be overlooked. Tiling work typically starts right before the project is finished (construction of the house). The budget can grow a little tight in the finishing stages. Thus, make intelligent tile selections to keep your costs within your planned budget.
Inspirations & photo gallery for designer wall tiles for your home
Designs of kitchen wall tiles
You can experiment with tiles and their numerous design options in the kitchen. The kitchen backsplash is the first and most important area to think about when upgrading tiles. We prepare our meals and do our cooking in the kitchen. Therefore, this location needs to be tidy and clean. So, choose a design for kitchen wall tiles that is easy to clean and pairs well with your countertop surface. The colour that gives a luxurious appearance is white or cream. Alternately, by adding kitchenware, fruits, or vegetable patterned tiles, you can achieve a cool aesthetic for your kitchen.
Designs of bathroom wall tiles
Today, bathrooms have also evolved into one of the most important spaces in our homes, requiring a lot of care and attention to create the ideal ambience. A small touch of personality can be added to this area by selecting ceramic tiles in a darker shade of grey or dove grey. It can elegantly contrast the bright white bathroom fixtures. Ceramic wall tiles come in a wide variety of colours, designs, patterns, and sizes, giving you many options for your bathroom from top brands in India. Thus, choose neutral design subway tiles or bright-coloured glazed tiles. Make sure to pick tiles that are not only gorgeous to look at but also moisture-resistant and anti-skid. So, check out our recommendation to shop for the latest bathroom wall tile designs from top brands in India.
Designs of living room wall tiles
The living room is the focal point of our home. It is the place usually used for hosting guests or spending quality time with family. Thus, this room deserves the best. Investing in a feature wall for the living room is a great idea. Pick up beautiful geometric tiles or use the half and half aesthetic to add jazz to your living room. For living room wall tiling, your focus can solely be aesthetic, so choose eye-catching tiles with a unique texture. 
Designs of wall tiles in bedroom
A bedroom should be a relaxing, peaceful space where you can get a good night's sleep. Therefore, when planning a home, the bedroom's design is really important. Go for minimal designs in the bedroom to create a calming ambience. You can even experiment with natural stone wall cladding to give the room an earthy feel.
Top trends for wall tile designs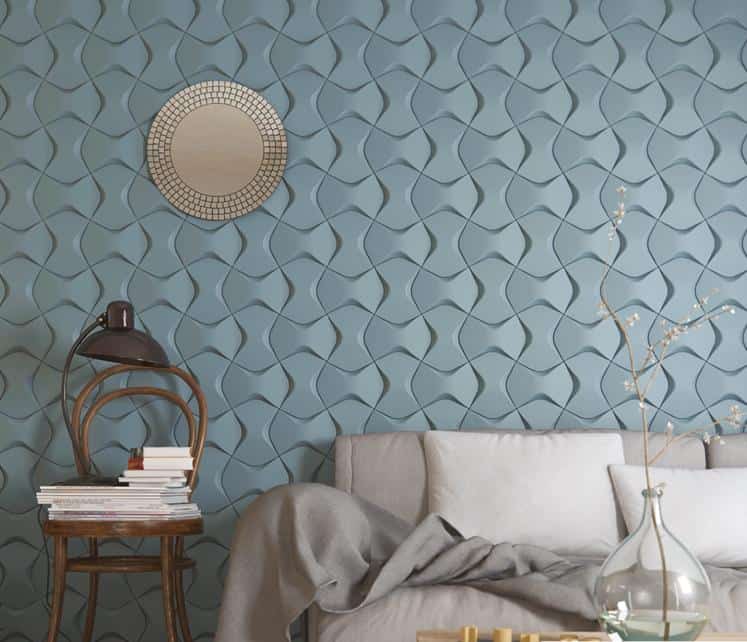 Image Source: Residential product online
With feature wall designs, you can experiment with patterns and colours while breathing life into your room. A daring design can create a big impact on your space, but even a delicate pattern can add interest without taking over the room. Select a wall that you want to serve as the room's focal point, such as the one behind the headboard of your bed, the wall behind your fireplace, or the wall on which your TV is mounted. Just make sure that your wall still blends in with the rest of your room if you choose a bold design.
Adding texture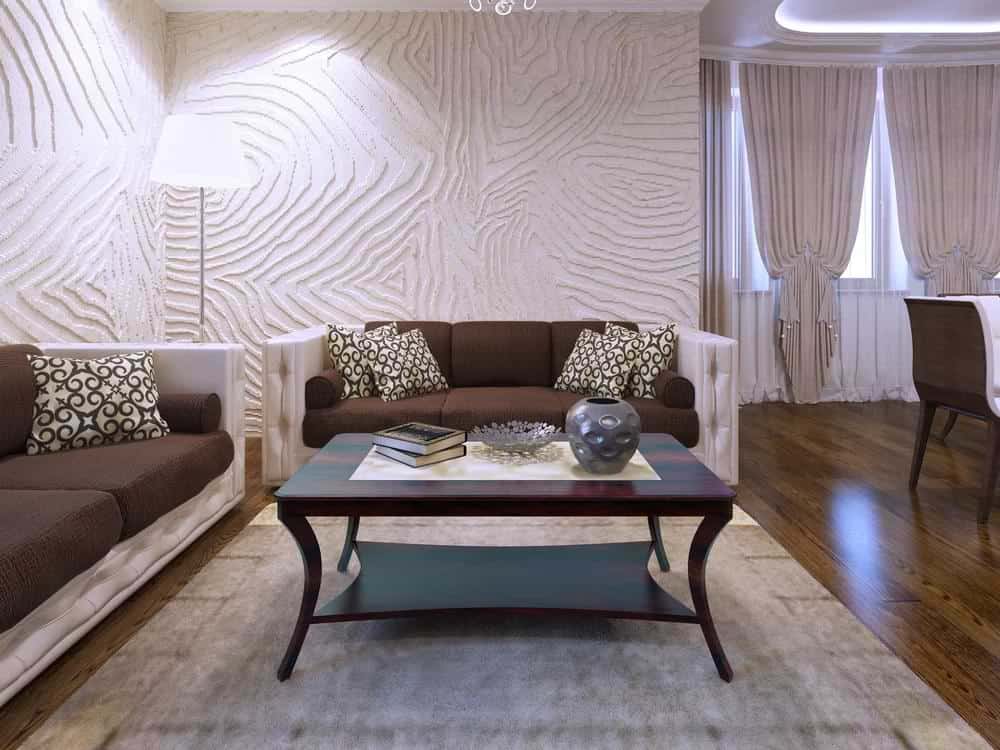 Image Source: Depositphotos
Textured tiles are a terrific way to give your walls some personality. Whether you want to add a subtle surface texture or a dramatic, embossed tile, providing a tactile element is an effective way to add individuality and character anywhere in your house. Add a matte texture to the wall to make it visually striking. These straightforward wall tiles made just for the living room will give your living space some personality.
Half and half aesthetic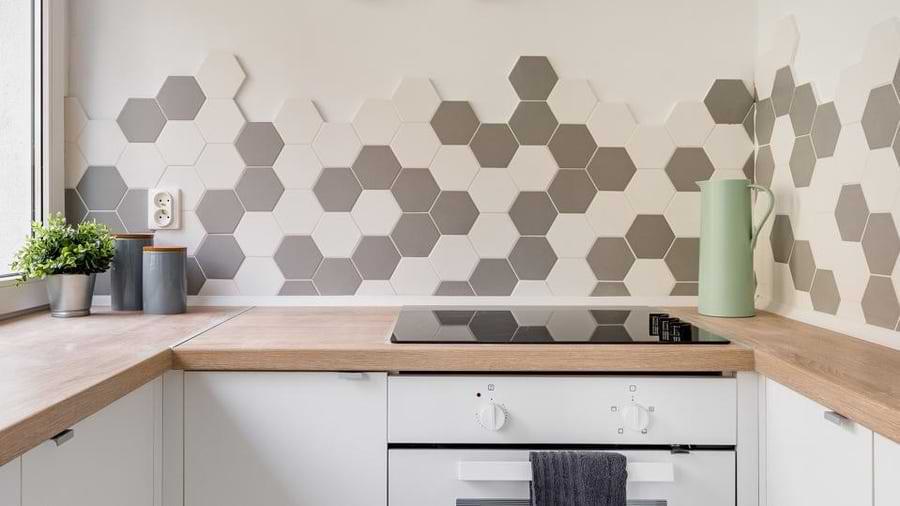 Image Source: LoveProperty
Some of the designs that strike out are the half-and-half tile aesthetics, which can be used in a variety of spaces, including kitchens, bathrooms, and living rooms. These designs can also be combined with tiles of different colours to highlight a space. You can use this pattern to include design elements without committing to a colour palette. For instance, checkerboard flooring made of the same tile colour as the wall will make the pattern stand out more than the colour. While new mosaic patterns have grown in popularity, traditional patterns like chevron, honeycomb, and basketweave will never go out of style.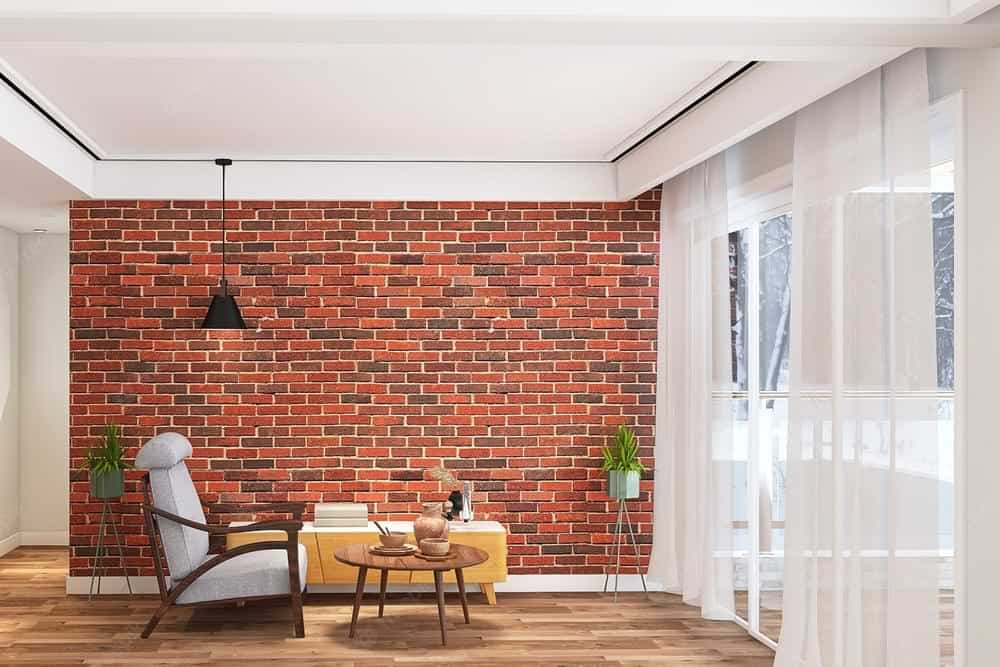 Image Source: Freepik
A distinctive touch is added to any space where 3D wall tiles are installed because they are available in so many different designs and finishes. In addition to the appearance, it is far less expensive than other textures. They can be utilised in the living room, bedroom, or even the bathroom because of how adaptable they are. The 3D illusion gives your room depth and a unique appearance.
Stone cladding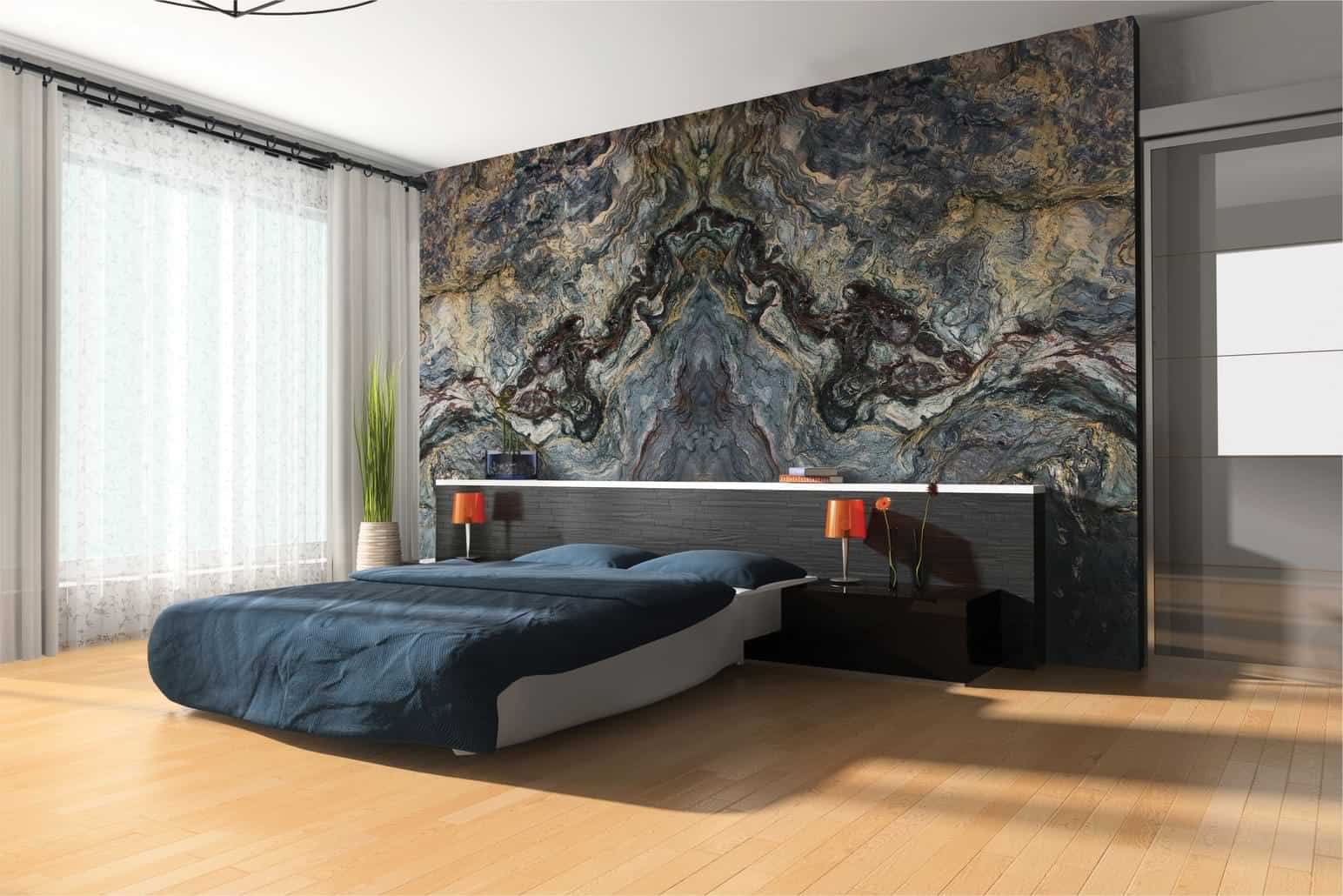 Image Source: Curriculamacional
Stone cladding tiles for interiors and the exterior of the house are quickly gaining popularity among homeowners for their sturdiness, adaptability, and timeless charm. Stone tiles are commonly utilised for outdoor functions such as paving, curbing, and cladding because of their high heat and damage resistance. Now, statement walls with natural stone cladding like quartz, granite, limestone, and marble are translating into a popular trend. So, add class to your home walls with natural stone tiles now!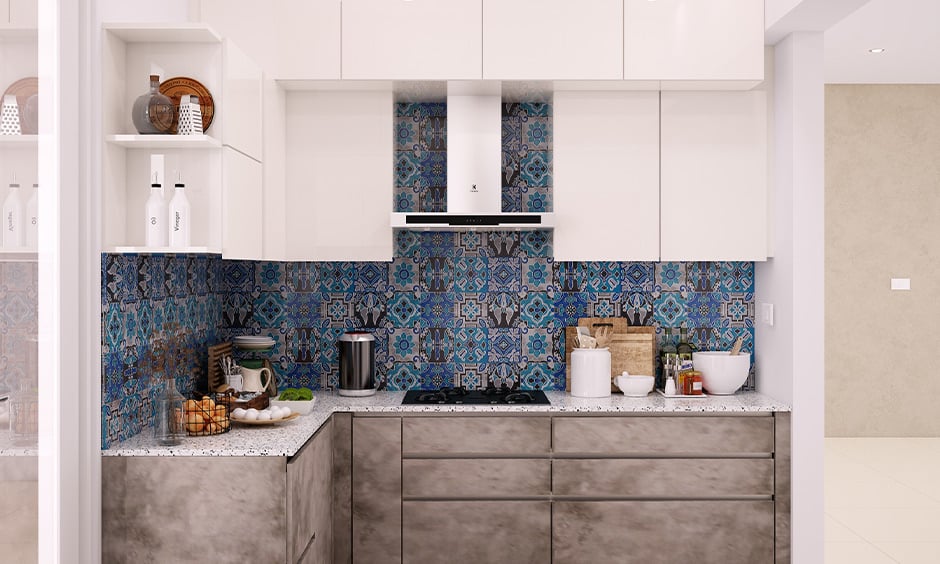 Image Source: Create your world
One of the most prevalent trends in recent years has been the design of Moroccan and geometrical patterned style front wall tiles, which was inspired by the encaustic tile design popularised in the Middle Ages. Moroccan tiles are a natural choice for traditional home exteriors as well as interiors, though they go well with any style of house.
Checkerboard tiles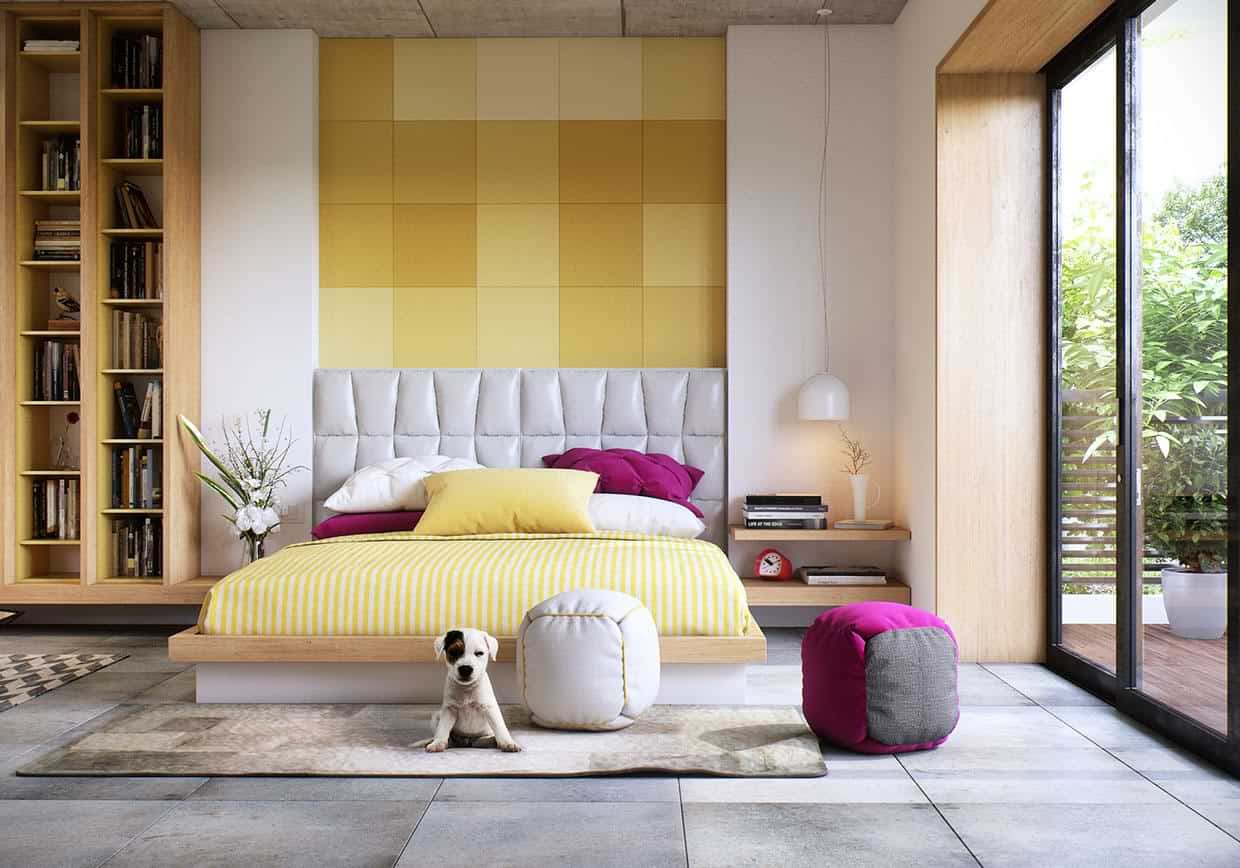 Image Source: Image Box Studios
With these magnificent yet simple monochromatic ceramic tiles, each with a slightly varying tint of the same colour, you may make a dreamy feature wall in your living space. These tiles can be used with ornamental drapes and rugs for added elegance. Monochromatic chequered tiles are timeless designs for wall tiles. 
Our recommendations: 10 handpicked wall tile designs (with enquiry links)
Kajaria Kitchen Digital Wall Tiles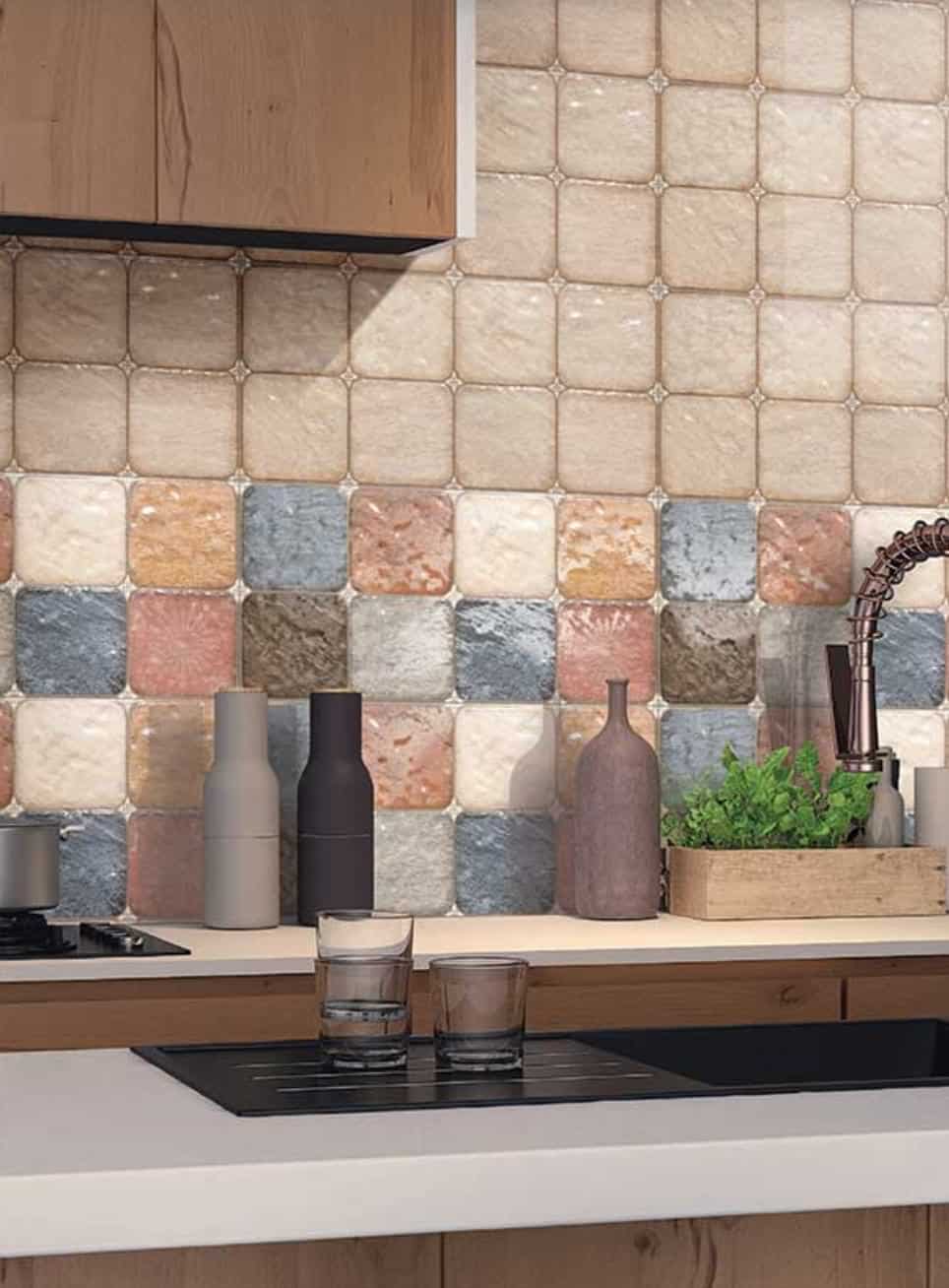 Nitco Floral Bathroom Wall Tiles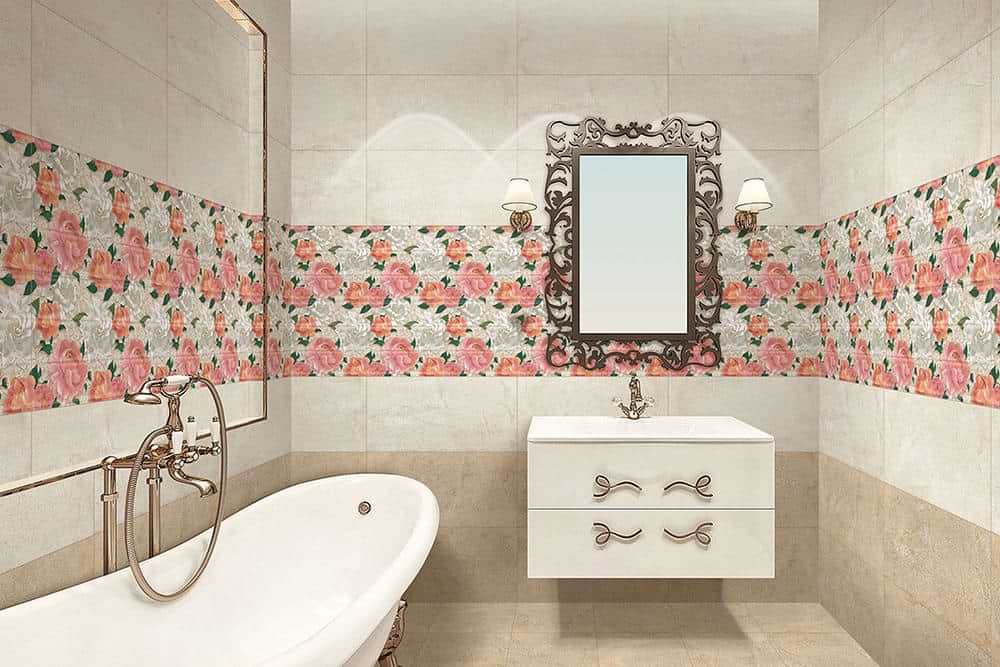 Somany Wilmer Wood Brown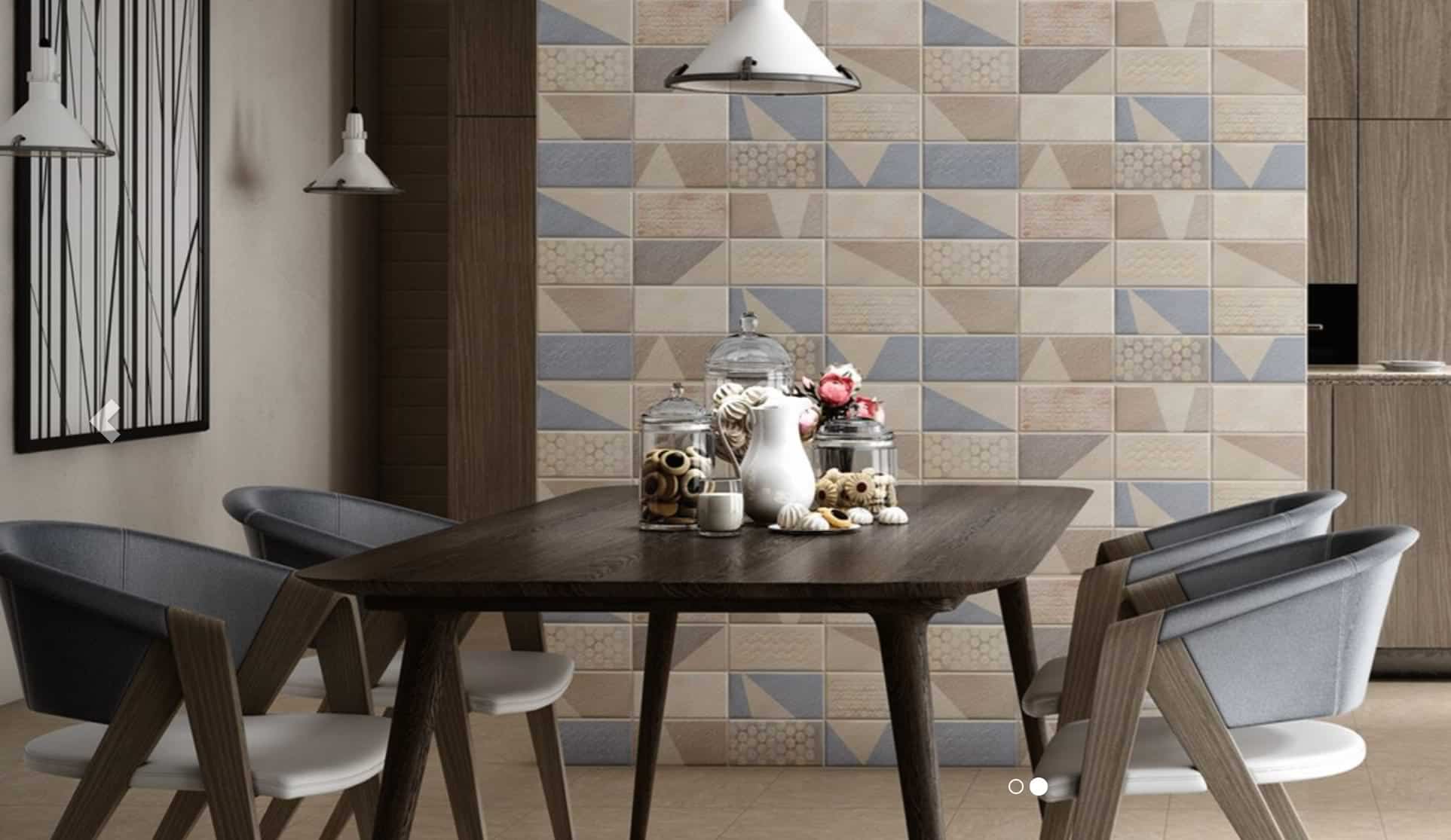 Orient Bell EHM Hewn Stone Grey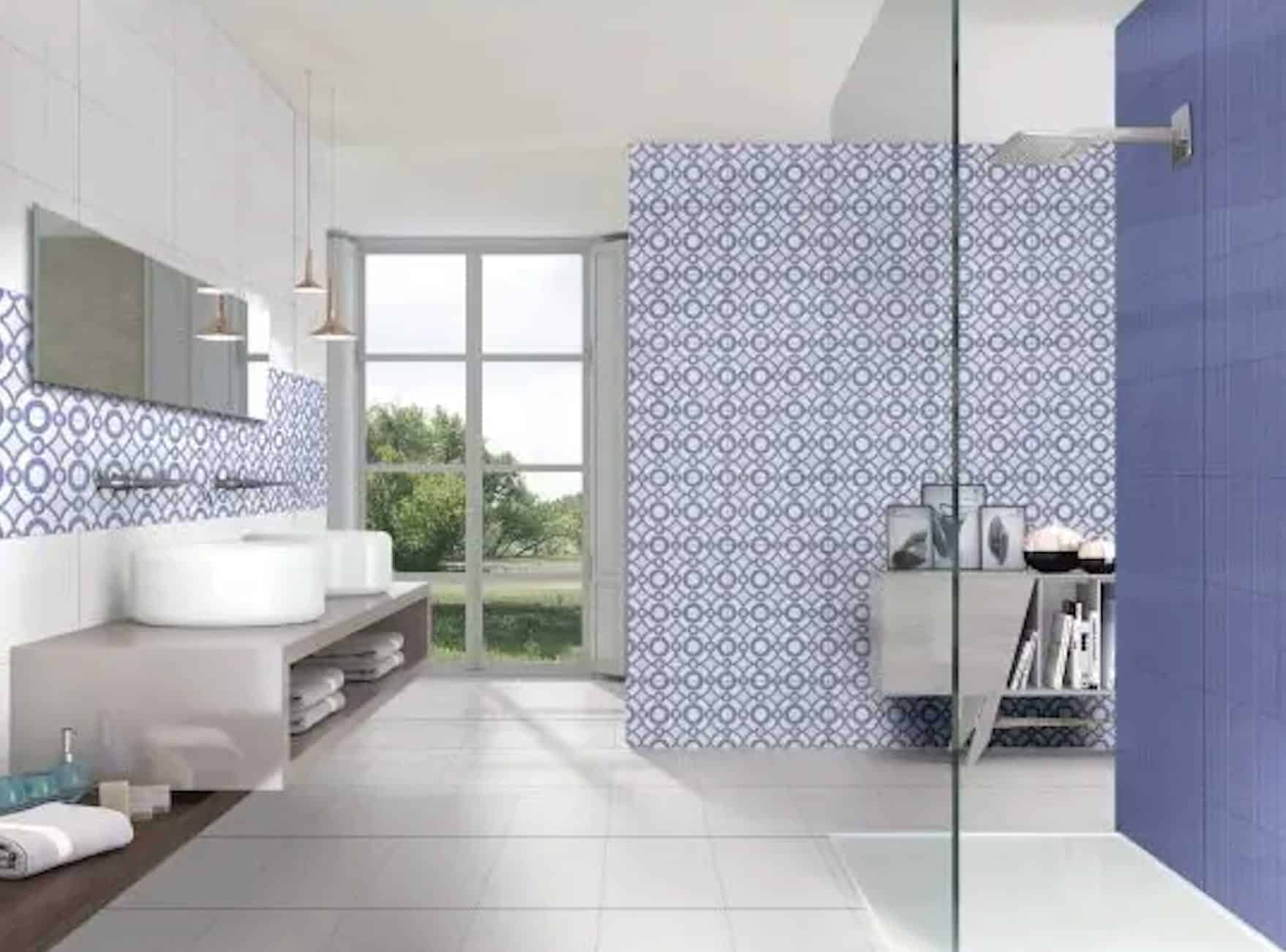 RAK Portovenere Black Marble Wall Tiles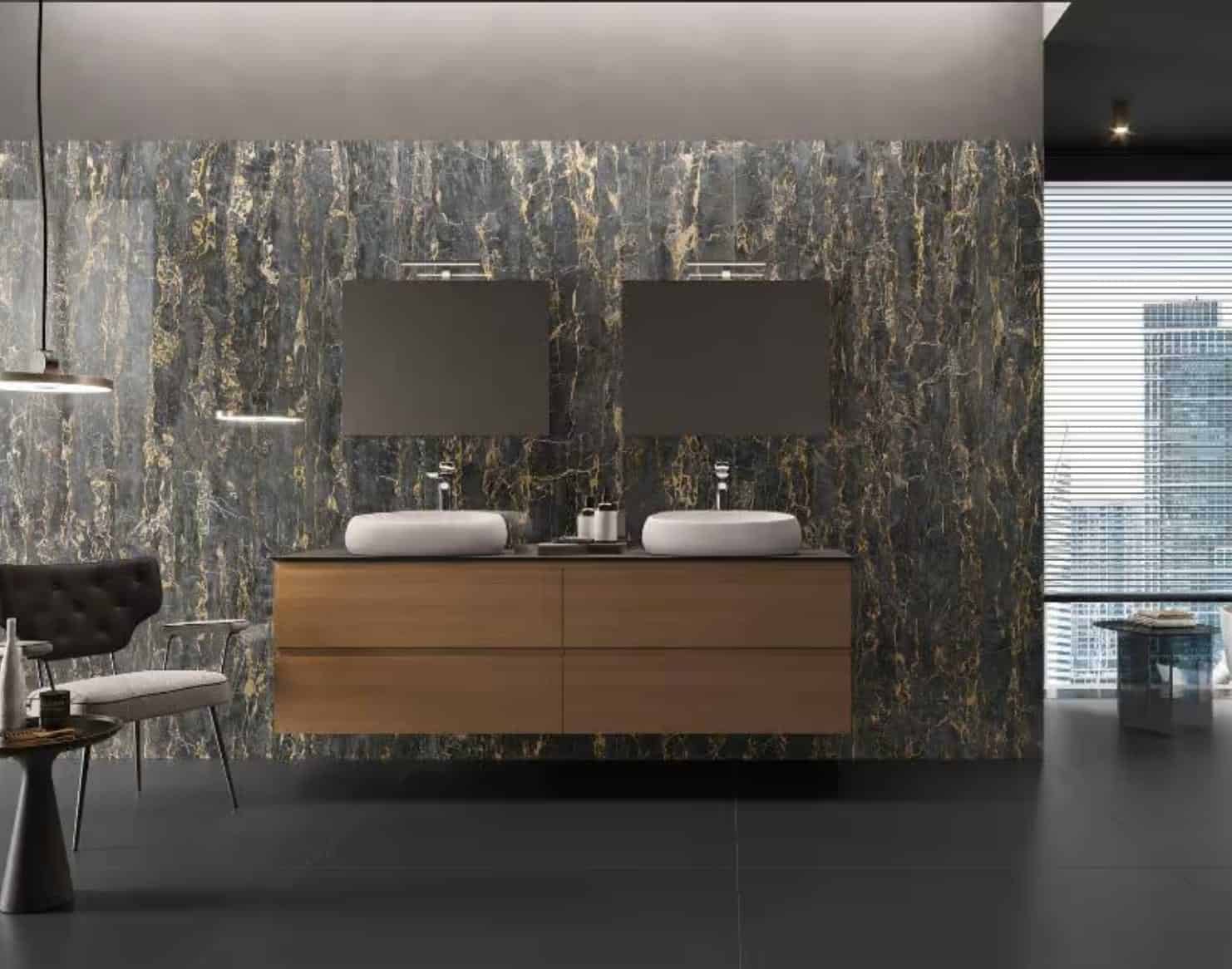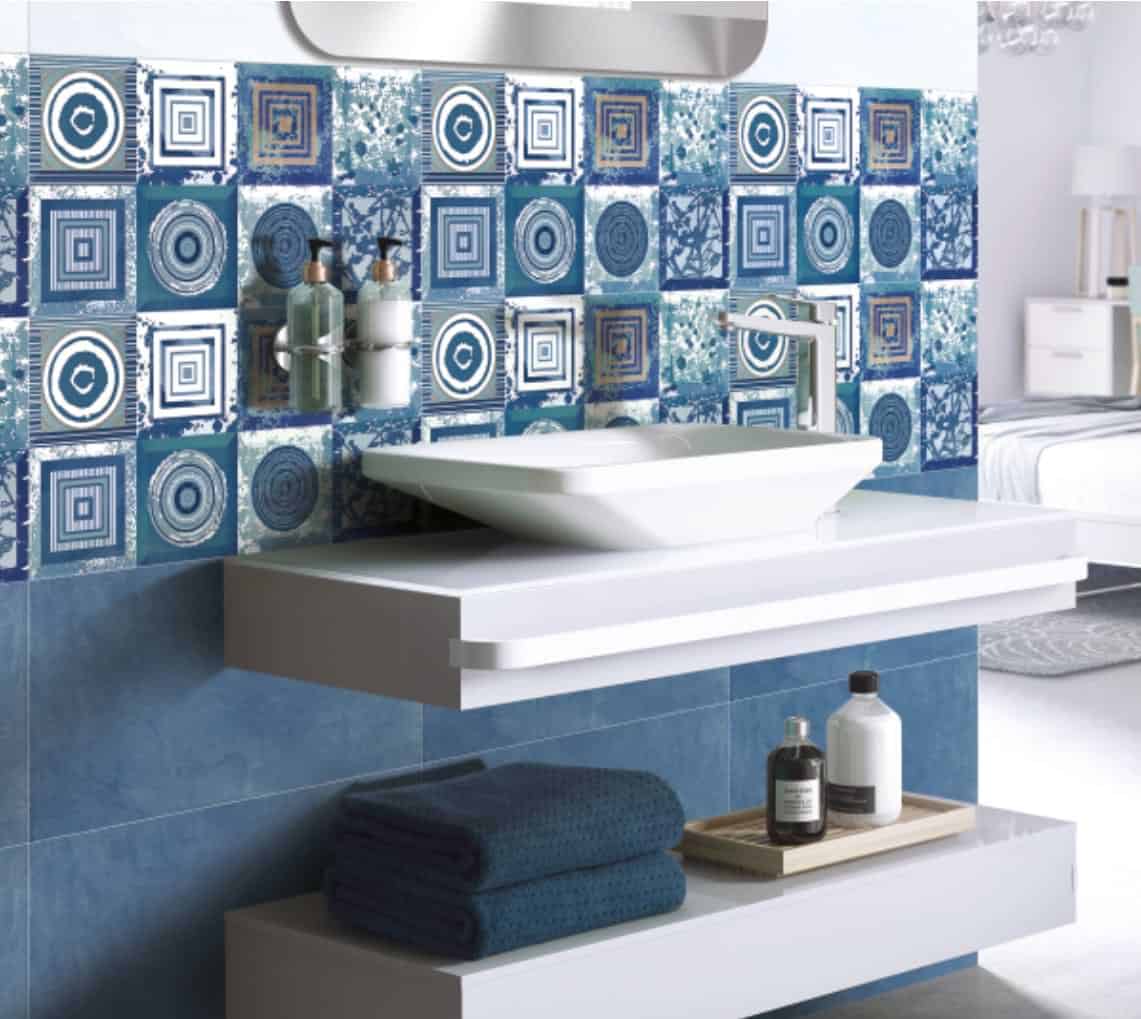 Simpolo Living Room Wall Tiles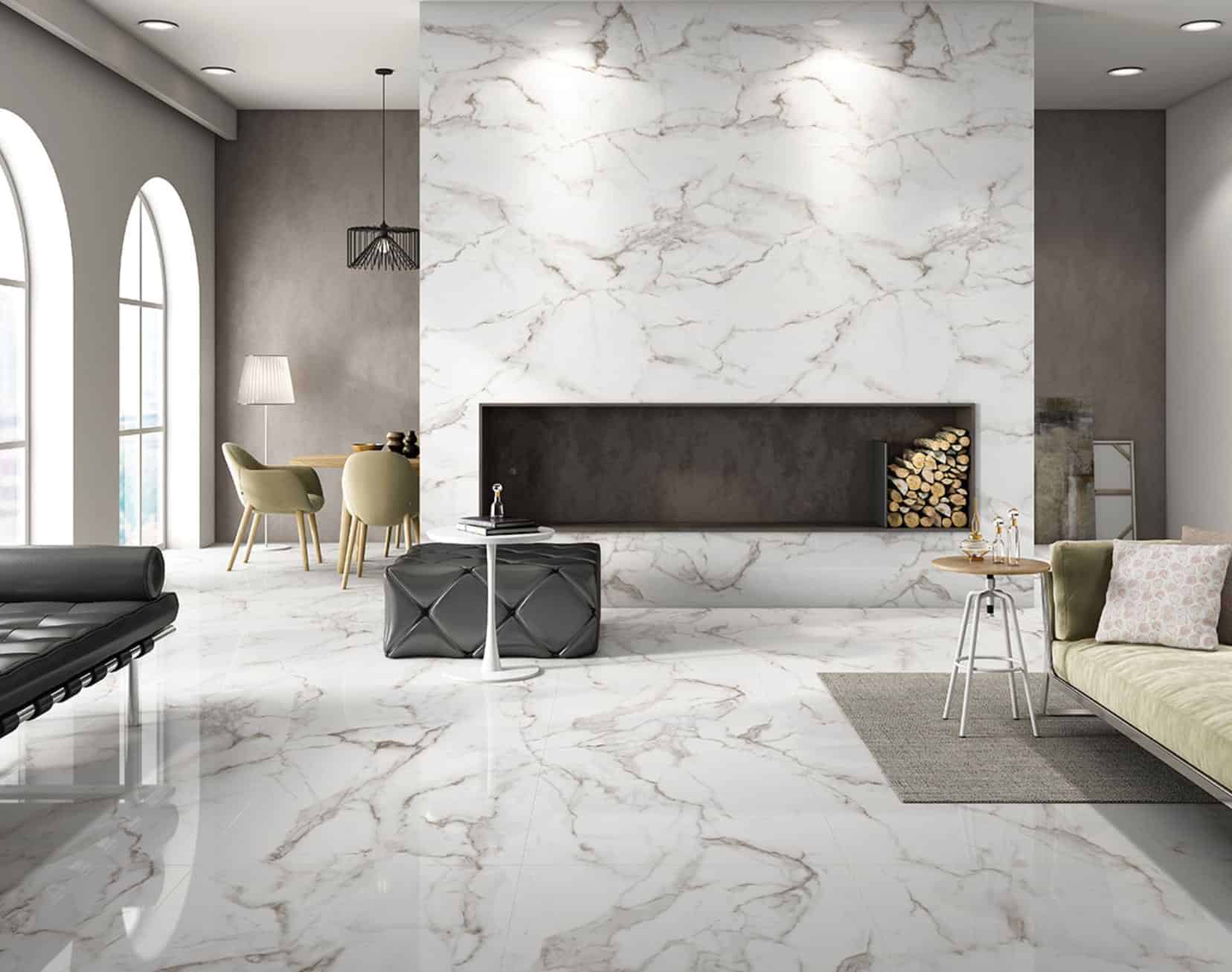 Varmora Granito Arlo White Bathroom Wall Tiles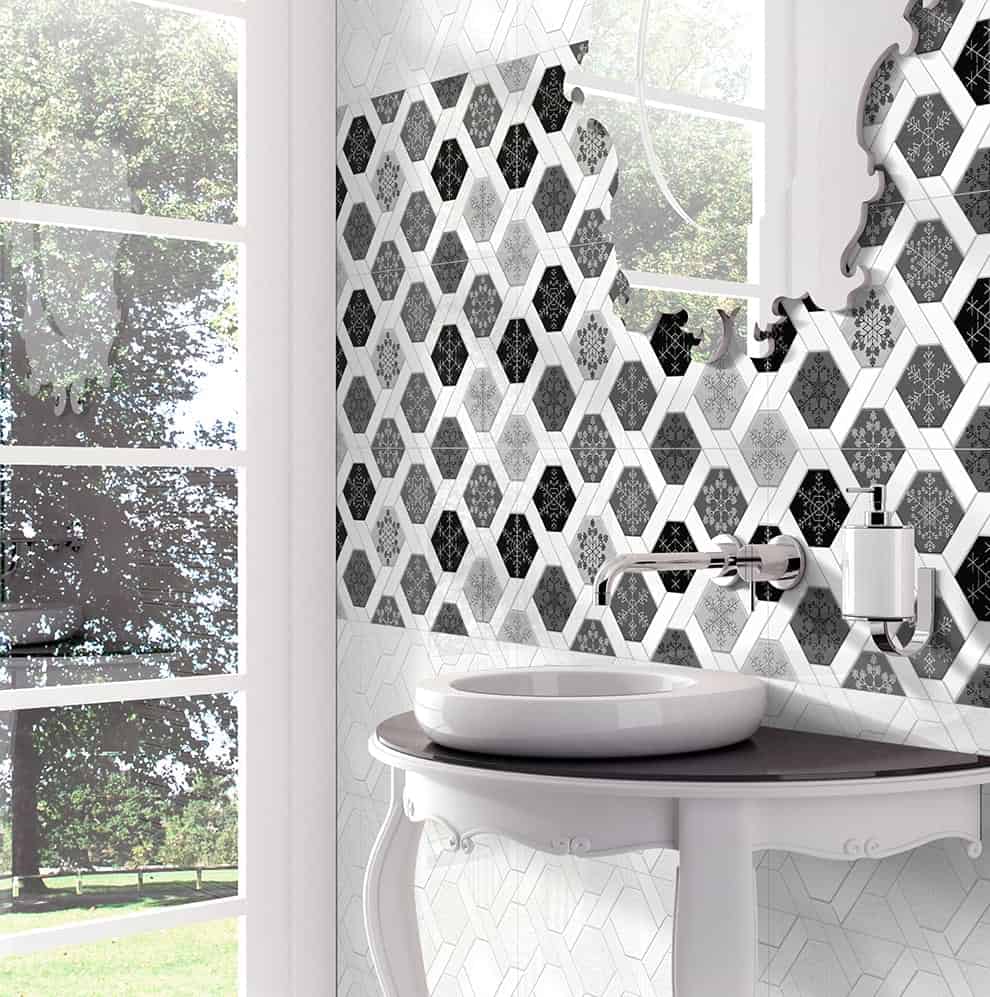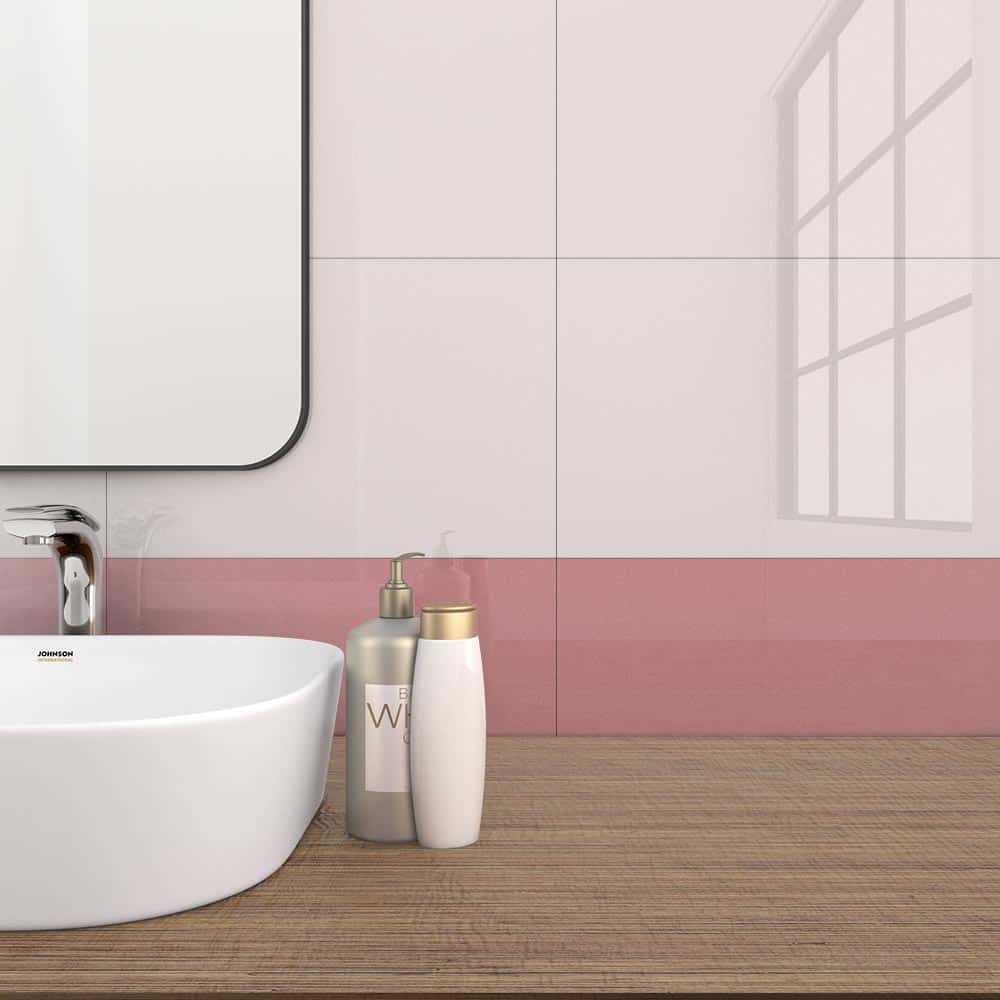 AGL Armoni Aqua Bathroom Wall Tiles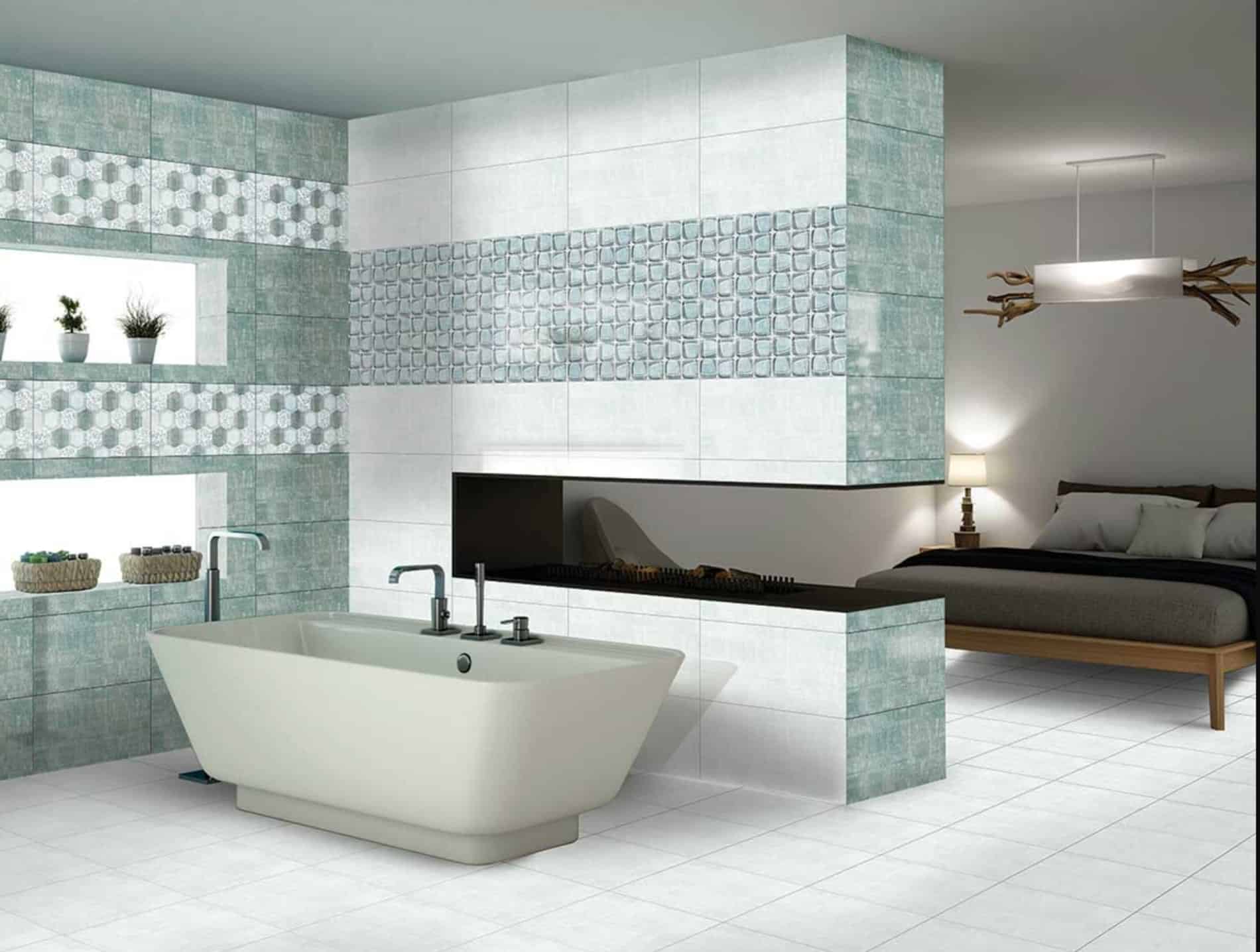 Conclusion
Not all tile patterns hold up over time. Don't simply consider the style and colour of the wall tiles while preparing for tile installation. Instead, think about the texture and longevity of the tiles, the size and shape of the surface, and nearby surfaces. Also, assess the predominant weather patterns in the area around your house. Install delicate and dainty tiles in areas that are not in contact with wet areas like living areas. However pay a lot of attention to the material of wall tiles for wet rooms like bathrooms and kitchens as painted tiles might react to the smoke and water over time, resulting in fading of colour.  So, it is only wise to use wall tiles of the best brands of India in your bathroom and kitchen for longer service.
Moreover, pay attention to the room function and ambience before selecting the wall tile design. Dramatic effects like a feature wall and a half-and-half wall tile design would look great in the living room and bedroom. While chequered monochromatic tile design and patterns would look amazing as a backsplash for the kitchen or as bathroom wall tiles.
Pick your favourite wall tile design and buy from our handpicked options for bathroom, bedroom, living room, and kitchen, all selected from top tile brands in India. The selected tiles are all stunning in look and also sturdy in material composition. With these rounder wall tile designs you don't have to think twice. So, buy them now and make your home the definition of perfection.
*The featured image used in this article is from Ceramica Rondine
[vvsmustread]