Hafele Shower Lights (Calices) | Bath fittings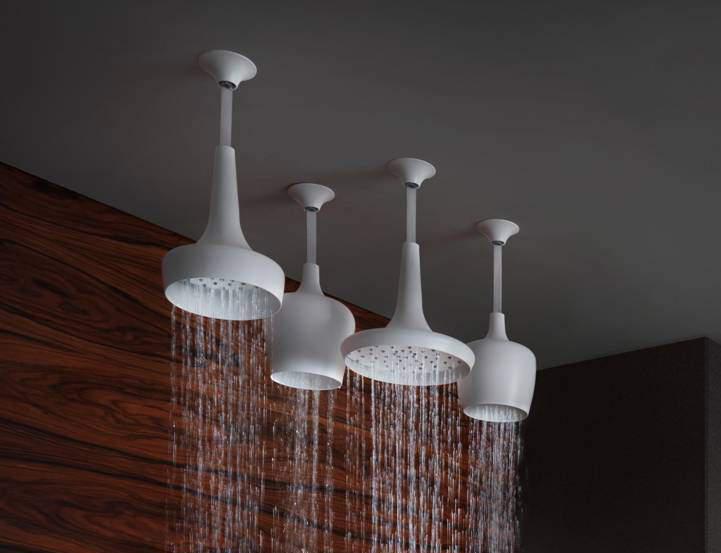 Part of the newly launched Hafele Bath Concept 2020 is Calices showers. Hafele is a German company and is the leading international manufacturer and supplier of architectural hardware.
About the Product
Hafele Luxury Showers – Calices combine showers and lighting in an aesthetical, sleek and graceful design to provide you with the experience of luxury showers. The four different models of showerheads and LED lamps give you the freedom to design a shower configuration of your choice. There can be only four showerheads/ LED lamps on one fixing plate.
A kitchen Drawer mat roll is the best alternative to have and is available in different materials. Hafele provides a high level of protection for drawers and shelves. This eases the cleaning process and prevents damages. They come in different textures and surfaces. The outstanding slide resistance qualities of these mats distinguishes them as high quality. The mats- made up of a material named polypropylene. The material used is non-toxic and t
| | |
| --- | --- |
| View Catalogue: | |
Product Description
Hafele Luxury Shower lights LED and lighting (Calices) are high in quality and brighten up the shower area. The sleek border design presents a modern look.
Features
Design: Hafele

Luxury Showers –

Calices combines showers and lighting in an aesthetical, sleek and graceful design to provide you with the experience of luxury.
Showers  -Four Different Calices Models: The four different models of showerheads and LED lamps to give you the freedom to design a shower configuration of your choice. There can be only four showerheads/ LED lamps on one fixing plate.
Material: Solid Brass
Finish: Chrome-plated
Average Water Flow Rate: 18 litres/ minute
Average Water Flow Rate of Each Showerhead: 6-8 litres/ min
Minimum Dynamic Pressure: 1 bar
Colour Temperature of Lamp: 3000 °K (warm light)
Water and Dust Protection Ingress: IP67 [Note 1]
LED Power Output: 5 W
Light Intensity: 500 lumen
LED Driver: SELV [Note 2]
False Ceiling Fixing Plate: The finish of the fixing plate provided along with the kit matches with your showerheads and LED lamps avoiding any discrepancies in colour tonality and providing a uniform look to your bathroom.
Patented and registered model
Image Source: Pinterest
Note 1 – IP (Ingress Protection) rating of 67 protects Calices from contact from harmful dust and immersion in water up to 1 meter for half an hour. This makes it completely dust resistant and water-resistant.
Note 2 -SELV stands for Safety Extra Low Voltage. This system is electrically separated from earth and other systems thereby preventing the risk of an electric shock and fluctuation in output voltage
Configurations of showers
All Calices Shower Heads and LED Lamps require a false ceiling for their installation. These Showerheads possess the property of anti-scaling (prevents the shower to loose its charm from the hard water)
Set of 2 Shower Heads and 2 LED Lamps
With Manifold and False Ceiling Fixing Device
Finish – Chrome, Copper
Mixer and Diverter: Built-in Mixer with Diverter
Finish – Chrome, Copper
Mixer with Diverter: Thermostatic Mixer with diverter
Finish – Chrome
Call us to know more about other Hafele Luxury Shower lights LED – Mini Pluvia and Edelbad
Contact details:
M: +90-9967632127
Email: Support@buildingandinteriors.com
Brand Info

Hafele
Hafele – the home improvement brand has its origins in Germany. It all started in 1923 as a specialty store for joinery needs in Aulendorf, Germany. Also, today, Hafele has subsidiaries all across the world, including one in India – one of the company's top-performing markets. Thus, check out Hafele India products, appliances, and modular kitchen fittings along with the customer care number here.
Hafele India
The Hafele Germany HQ wholly- owns the India subsidiary and offers products in the categories of:
Hafele offers you fresh and unique trends in the shape of its holistic range of door hardware and accessories, which is backed by an established and worldwide known quality-with-functionality concept. Also, these advancements are backed by a solid service package. Thus, they include total help from the project's selection phase through installation and after-sales care. For our customers, Häfele's 'functionality' details the knowledge, convenience, and solution-based services.
Hafele Sanitising Station
Sensor-operated Sanitising Stations for Countertops, as well as Wall Mounted and Floor-Standing Stations (with/without Anti-bacterial Wipes and Bin) are available from Häfele's Stay Healthy Range. It also features The Foot Pedal Sanitising Station, an easy-to-use, mechanically controlled type. Also, these Sanitising Stations enable cross-contamination prevention as well as protection against hazardous microorganisms and infectious viruses on surfaces.
Hafele's furniture fittings remain underpinned by years of research and up-to-date technical experience, including only the most current global trends and developments. Thus, Hafele presents to you our capable assortment of furniture fittings that comprehensively covers every requirement of any home. Häfele's solution-based approach is backed up by a robust service package, with our experts on hand to assist and guide you through every stage of the process, from design and selection to installation and after-sales support.
Systems for architectural applications (i.e. interior and external doors – be they wooden, glass, or profiled doors) and systems for furniture applications are the two primary types of sliding systems offered by Häfele (i.e. cabinets, wardrobes, and other such units).
Innovative storage solutions from Hafele help you organize your kitchen essentials the way you desire. Also, Hafele now has an organized room for anything you need in your kitchen, whether it's big food products, cooking vessels, or even the day-to-day needs. Thus, make your kitchen a pleasure to use every day by combining these creative storage spaces with stylish and durable worktop surfaces.
Two unique product lines matched to different market groups make up the Häfele Appliances range:
Häfele's international line of luxury appliances: It includes world-renowned brands such as Asko (a Swedish designer range of cooking and cleaning appliances) and Falmec (A technologically advanced range of extraction hoods from Italy).
Hafele's In-House Premium Appliances: Häfele's in-house premium built-in, free-standing, and counter-top appliances remain designed with Indian cooking and cleaning patterns in mind while maintaining the company's well-known German quality and innovation.
Hafele has grouped all goods for kitchen sink units and bathroom fittings under its Sanitary Solutions Range. Also, they remain in line with how the Indian industry works. Thus, typical sanitary merchants also sell sink units and faucets for kitchens.
The Loox range of light and lighting solutions from Häfele remains created and engineered with three main goals in mind:
flexibility
ease of use
reliability.
Every light in our collection gives you the most versatility in application. Also, it remains simple to install, and comes with the 'German Quality guarantee. Furthermore, Loox lighting fixtures and fittings were designed with modularity at the heart of all design. Thus, they offer you the freedom to plan your lighting requirements within your homes or interior spaces with simplicity.
Website: https://www.hafeleindia.com/en/
Hafele India Customer Care Number: +91 1800 266 6667