Villeroy & Boch is a German manufacturer of ceramics and bathroom fittings. The brand not only offers products from the Bathroom and Wellness and Dining & Lifestyle divisions but also a coordinated furniture range.  One of their extraordinary products is the ProActive+ touchless flushing system.
About the Product
The new ProActive+ sensor-controlled flushing system represents Villeroy & Boch's next generation of ViConnect, consisting of the reliable 'made in Germany' installation systems and flush plates.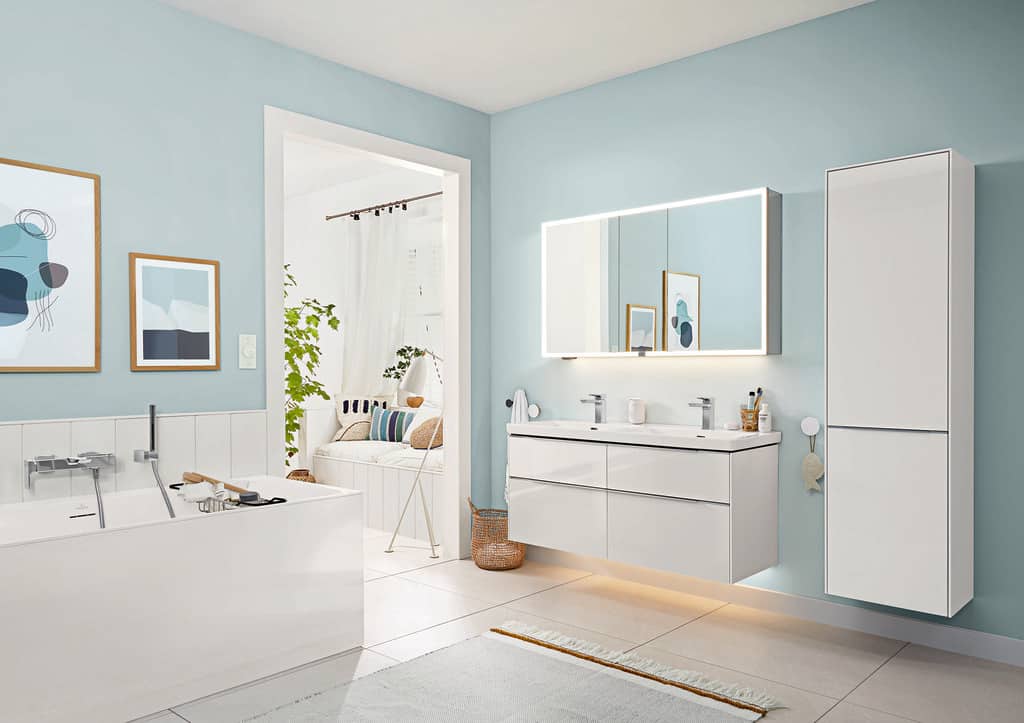 With the patent-pending TwistFlush toilet that saves water with every flush, long-lasting materials, and many smart features,
| | |
| --- | --- |
| View Catalogue: | |
Product Description
The ViConnect ProActive+ smart toilet flush system is not only activated by a simple hand motion near the sensor but also flushes automatically when the user forgets to or is unable to activate the flush. This increases the hygiene aspect two-fold: the user no longer has to touch the flush plate directly to activate the flush. ProActive+ toilet flush system by Villeroy & Boch is setting new benchmarks for economy and hygiene at an excellent price.
Technical advantages of the toilet flush system
1. Automatic flushing and control of the appropriate flushing volume by means of two-zone sensing fields and duration length.
2. Available in 3 different flush volumes: pre-flush, small, and large flushing volume
3. Pre-flush of this toilet flush system offers reduced soiling and easier cleaning
4. Alternatively, manual flushing is possible — in non-contact mode by means of gestures or at the push of a button for inexperienced users
5. Integrated hygiene flush mode to reduce germs
6. Set essential functions via Bluetooth with the Pro app. It adjusts the main flushing volume (4.5 l or 6 l), activates pre-flush and hygiene toilet flush, and configures the hygienic rinse with adapted time intervals.
7. Adjustment of light intensity and color temperature of the illuminated logo possible via Pro app
8. Usage statistics can be evaluated and used for optimizing consumption
9. ProActive+ flushing plates are available in various designs, such as:
200 M in brushed stainless steel finish, and
200 G in white backed glass finish.
ProActive+ smart toilet flush system is ideal for use in hygienically sensitive environments such as clinics and nursing homes, public and semi-public sanitary facilities, hotels and restaurants, office and administration buildings, and schools and nurseries. In private homes, the touchless flushing method is also handy. This flush system is especially recommended for persons who have physical impairments, the elderly, and small children.
Call us now for the price of ProActive+ toilet flush system!
Contact Details
M: +91-9967632127
Email: support@buildingandinteriors.com
Brand Info
Villeroy & Boch
Villeroy & Boch has been innovating and producing high-quality products since 1748, adding sophistication and flair to people's lives. The ceramics manufacturer has grown into a global lifestyle brand and is profoundly anchored in European culture.
It is a German manufacturer of ceramics with the company headquarters located in Mettlach, Saarland.
Moreover, with 13 production sites worldwide, the brand is now represented in over 125 countries with its Bathroom and Wellness and Dining & Lifestyle products.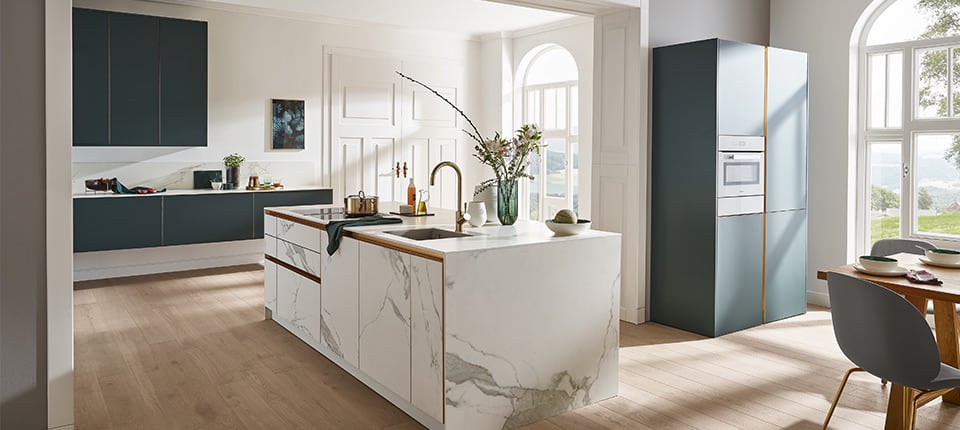 For both the consumer and contract markets, Villeroy & Boch delivers unique product and furnishing solutions. The House of Villeroy & Boch, a ceramics manufacturer, offers a stylish assortment of products centered on dining and tableware themes, as well as a large range of gift items to make every moment unique. Also, it offers high-quality goods in the Bathroom and Wellness category that are designed to transform the bathroom into a fashionable and functional haven of well-being.
In addition, the brand's product range includes the following:
A collection that offers everything from bathroom sinks through toilets and whirlpool systems, saunas, cabinets, and bathroom furniture to a large range of taps & fittings, and accessories. So, it includes:
Crockery: Fresh, modern shapes as well as rustic, country-style designs of tableware.
Cutlery: An extensive selection of high-quality plates, cups, egg cups, etc.
Glasses and goblets: A wide and premium range of wine glasses, bar glasses as well as tumblers.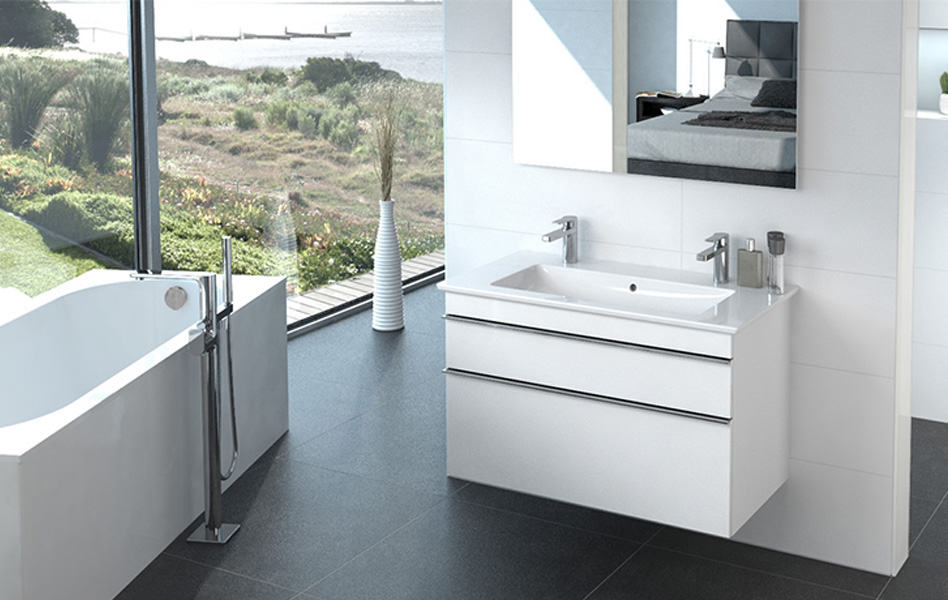 Ceramic sinks: A wide range of sink models including corner sinks, built-in basins, flush-fitting sinks, coloured sinks, butler sinks as well as under-mount models. Available in an extensive selection of bowl shapes and sizes.
Kitchen taps and fittings: Available in stainless steel as well as the latest ceramic colours with retractable hand spray and other special features.
Kitchen accessories: Premium as well as durable kitchen accessories like chopping board, pop-up wastes, strainer bowl, metal basket, waste bowl, soap dispenser, roll-up rack, and more.
Additionally, popular ranges from this brand include:
Subway 3.0 modern as well as innovative bathrooms
TwistFlush toilet flushing system
Collaro washbasins as well as sinks
Artis surface-mounted washbasins
Memento 2.0 premium bathroom collection
Venticello bathroom ceramics
Amazonia premium bone porcelain
Artesano Original
Aberdeen natural stone tiles
CÁDIZ vilbostone porcelain stoneware tiles
METALYN OPTIMA XXL ceramic tiles
OAK SIDE wall as well as floor concept
Siluet kitchen sinks
Cisterna undercounter sink range
Momentum corner module
COMO taps as well as fittings
Video