A Snake plant is a common household plant that belongs to the family of Asparagaceae. Its distinctive feature is its sword-like leaves that grow upright to a height of around 6 to 8 inches. There are numerous benefits of adding Snake plants into your home. Moreover, there are several varieties of Snake plants that are easy to care for and ideal to be used indoors. Apart from being low-maintenance, they are also aesthetically pleasing. For that reason, adding a Snake plant indoors is a great way to subtly enhance your space while simultaneously reaping the many benefits it offers at an affordable price.
So, if you want to learn how to grow, care for, propagate, and incorporate a snake plant indoors to beautify your space, you have come to the right place. Also, we have added beautiful buying options for you to shop from!
Benefits of Snake plant
Apart from being aesthetically pleasing, the Snake plant offers a plethora of benefits as can be seen in the list discussed below –
1. Natural air purifiers – They can absorb carbon dioxide, formaldehyde, xylene, benzene, and toluene. So, adding them indoors will help lower indoor air pollution. Additionally, they can convert carbon dioxide into oxygen even at night time. As compared to the other air purifiers available in the market, a snake plant comes at a cheaper price while offering the same benefits.
2. Low maintenance – Snake plants do well in shade, sun, dry air, or drafts making them easy to care for and preferred indoor plants. They are a versatile plant that can survive the humidity of a bathroom or the dry air of an office. Furthermore, they don't require frequent repotting, making them a hassle-free option to add indoors.
3. Home décor – Their unique and interestingly shaped leaves make them visually attractive and eye-catchy. They have both tall and dwarf varieties, making them perfect for home décor. The tall varieties can nicely complement the corners, while the dwarf varieties can be placed on your office desk.
Varieties of Snake plant
Hahnii
Image Source: Plantscaretoday.com
This dwarf variety is also known as the bird's nest Snake plant. It can only grow 6 inches tall. Its distinctive feature is its leaves that form clusters closely resembling a cup comparable to a bird's nest, hence the name.
Cylinder Snake plant
Image Source: Nouveauraw.com
This variety is especially resilient as it can thrive even if it is neglected for a long time. Therefore, this variety is ideal for first-timers or people with a hectic schedule. The cylinder snake plant gives all the benefits of an indoor plant at very low maintenance and price.
Golden Snake plant
Image Source: Greg.app
This variety thrives on indirect sunlight and warmer temperatures. Therefore, the golden snake plant can survive well when planted indoors. Its name comes from its leaves which are dark green and outlined by yellow margins.
Twisted sister Snake plant
Image Source: Worldofsucculents.com
Its uniquely twisted leaves in bright yellow and green colour give it the name – twisted sister. It has a unique aesthetic which makes it an interesting addition to any space.
Snake plant compacta
Image Source: Nurtureplant.com
This variety thrives well in low light conditions making it perfect for indoor use. So, this plant should be kept in indirect sunlight. NASA conducted a Clean Air Study which proved that this variety of Snake plants is a good air purifier which justifies its comparatively high price.
Mother-in-law's tongue
Image Source: Dengarden.com
The name comes from the sharpness of its sword-like leaves that grow upright. This is a flowering variety of Snake plants and is also the most commonly used variety. However, when grown indoors, it becomes difficult to encourage flower growth.
Mason's congo Snake plants
Image Source: Halpingarden.com
It is an aesthetically pleasing variety of Snake plants with dark green leaves and a spotty pale green pattern. Its leaves grow up to 4 feet long and 10 inches wide. It grows well in a moderately bright room with filtered light.
How to grow a Snake plant indoor
Select a good quality potting mix that is well-draining since Snake plants do best in a free-draining soil mix.
Take your container and fill it two-thirds with potting mix. Now dig a well in the center of the soil. Take out your plant and loosen its roots.
Put the plant in your container filled with potting mix and press in the soil. Now, add more soil to cover the top of the roots up to an inch.
After planting, place the plant in a spot with indirect light.
Water the plant until the soil is slightly damp. While watering the plant, avoid getting the leaves wet.
Care and propagation of Snake plant
A Snake plant is a low-maintenance, easy-to-care-for plant. It does not require much sunlight so it should be kept in a spot with indirect sunlight. Also, avoid moving the plant from indirect sunlight to direct sunlight too quickly because this can shock the plant. This process needs to be done gradually over a week.
When it comes to watering, a Snake plant does not require much water. So, be mindful of not overwatering it, especially during winters. Do not water the plant too frequently and make sure you allow the soil to dry out completely between watering sessions. To assess whether it's time to water the plant, stick your finger or a wooden stick some inches into the soil. If you see any moisture or notice the soil sticking to the stick, don't water the plant. Additionally, it's preferable to water the plant from the bottom as this gives the plant more stability. Also, water the plant less often in winters.
Make sure you place the plant in a room that is more than 10°C. Its leaves collect dust over time. So, wipe them with a damp cloth when required. Finally, all you need is some general-purpose fertilizer if the plant is grown in a pot and then you are good to go.
Propagation methods
A Snake plant is very easy to propagate. So, you can multiply yours for your home or as a gift for your fellow nature lovers. There are three ways of propagating a Snake plant. They have been discussed in detail below –
Soil
Start by cutting a Snake plant leaf near its base. Allow the leaf to dry off and heal for around 1-2 days.
After it has been dried, plant the leaf in some potting soil and water well. Ensure that the soil does not get too dry or too wet as cuttings decay in soggy soil.
Finally, keep checking the soil once every one to two weeks. Water the leaf if the top 2 inches of soil feel dry to touch.
Water
Cut off a Snake plant leaf near its base. Now make an upside-down V-shaped cut at the bottom of the leaf and place it in a jar of water. Ensure that the water level is slightly above the V cut.
The roots will begin to grow after three to five weeks. After another two to three weeks, tiny pups will begin growing. After that happens, you can either let it continue growing in water or plant the rooted leaf in the soil.
Division
Start by digging a clump of the plant out from the soil. Now, use a sharp sterile knife to divide the root clump. Ensure that each division has roots and a leafy top attached to it.
Finally, plant the divided clumps in new pots or a garden. This method yields a plant that is a true copy of its parent.
Tips for positioning a Snake plant
According to Vastu
As per Vastu, Snake plants must be kept in the eastern, southern, or south-eastern corners of your home. Furthermore, they should not be placed above any surface or table. Also, they must not be surrounded by other plants in a way that blocks all their sides.
According Feng Shui
As per Feng Shui, the best places to put a Snake plant are in the home office, entryway, kitchen, bedroom, dining room, and bathroom.
Home office – Placing a snake plant in your home office will increase your concentration and productivity. For that, you can place the plant anywhere in your office, including on top of desks or bookshelf.
Rooms in the South area – Putting a snake plant in the southern rooms of your house gives you more courage and improves your judgment. However, if your snake plant is over a foot long, avoid placing it in this area as it is said to invite negative energy into the home.
Rooms in Southeast and East areas – Placing a plant in these areas keeps you motivated and makes you more creative. For that to happen, ensure that you do not place a larger plant in this area.
Dining room – Putting a snake plant in this area of your house will bring you wealth. A plant of any size can be placed in the dining room anywhere, including the table, shelves, or windowsills.
Buy alluring Snake plants at an affordable price here!
Pepperfry, Green Snake Natural Plant
Ferns N Petals, Set Of 3 Green Plants In Cute Girl Pots
Flower Aura, Planted Snake Plant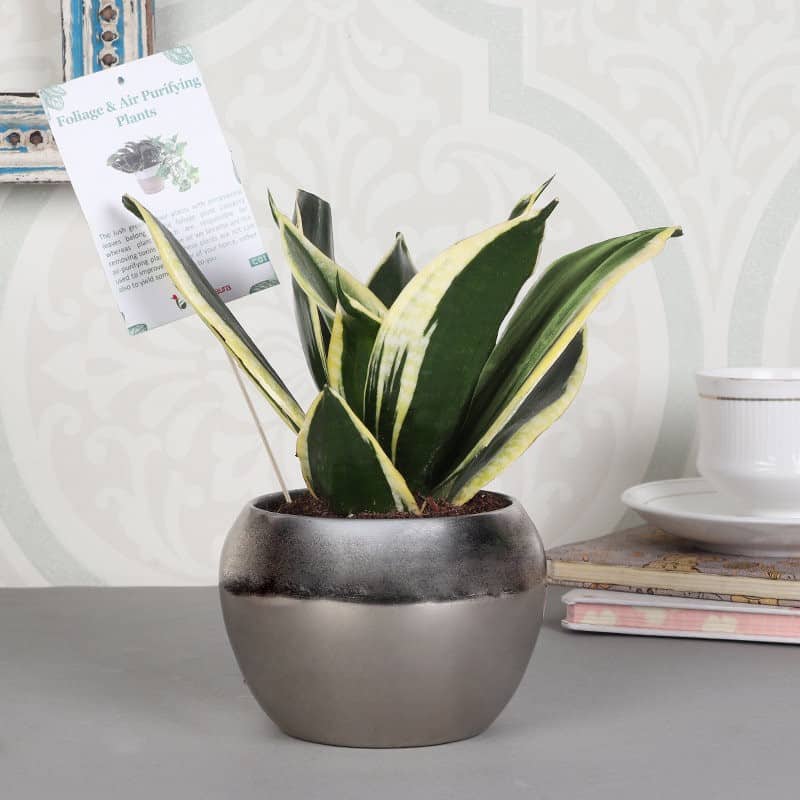 Nurserylive, Sansevieria trifasciata Golden Hahnii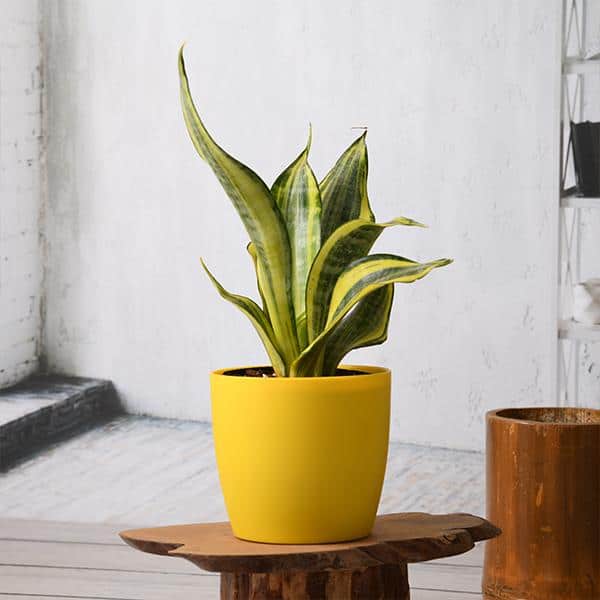 Nursery nisarga, 'bentel sensation" (sansevieria)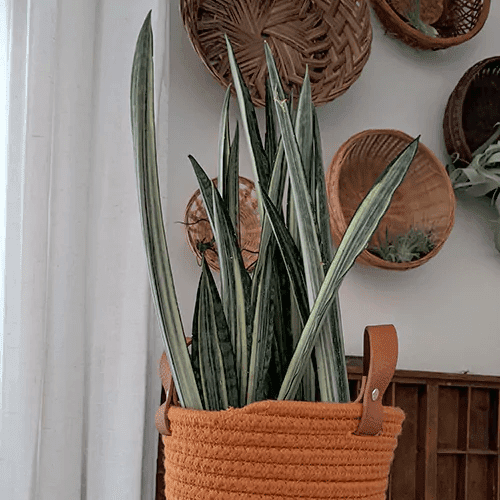 Rootbridges, 'Whitney'

Nursery Live, Sansevieria Plant in Decorative Ceramic Pot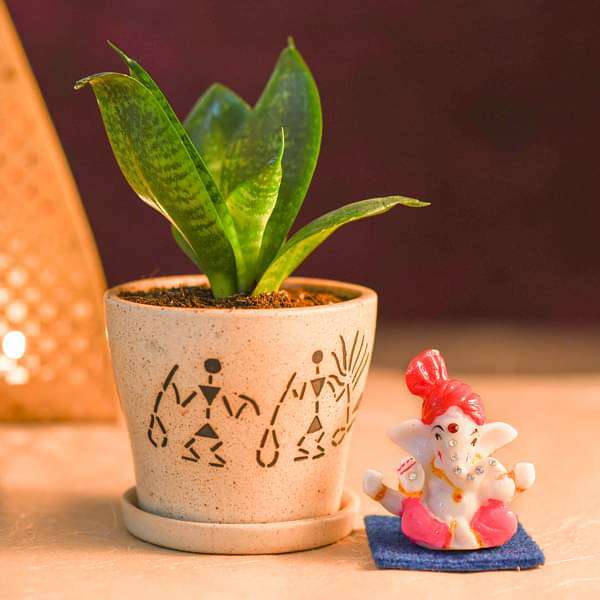 Ugao, Snake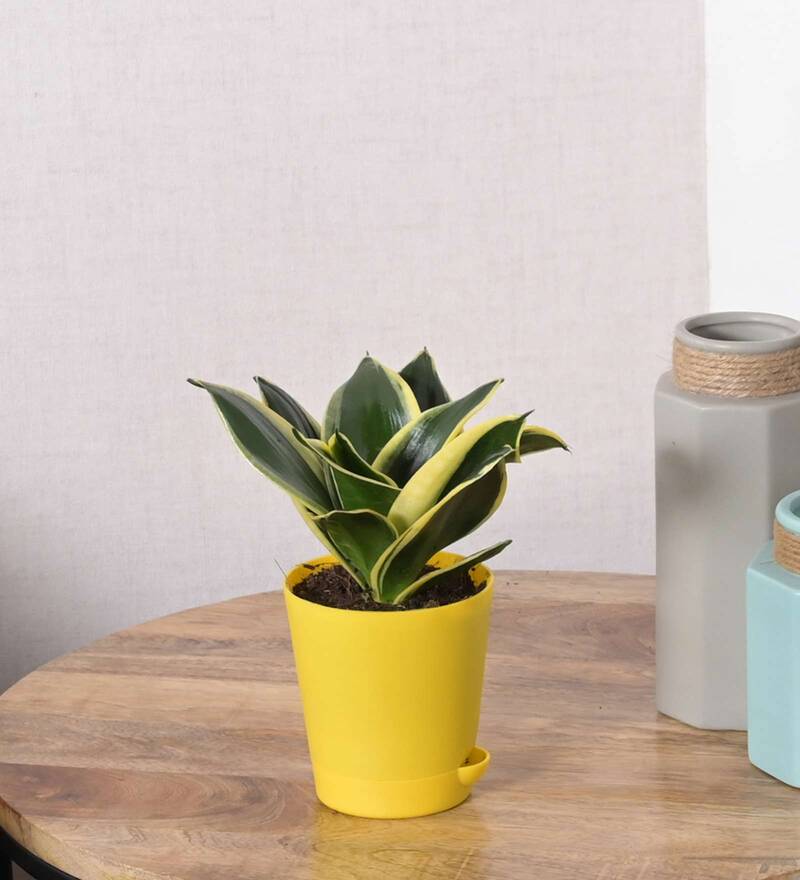 Abana homes, Sansevieria Hahnii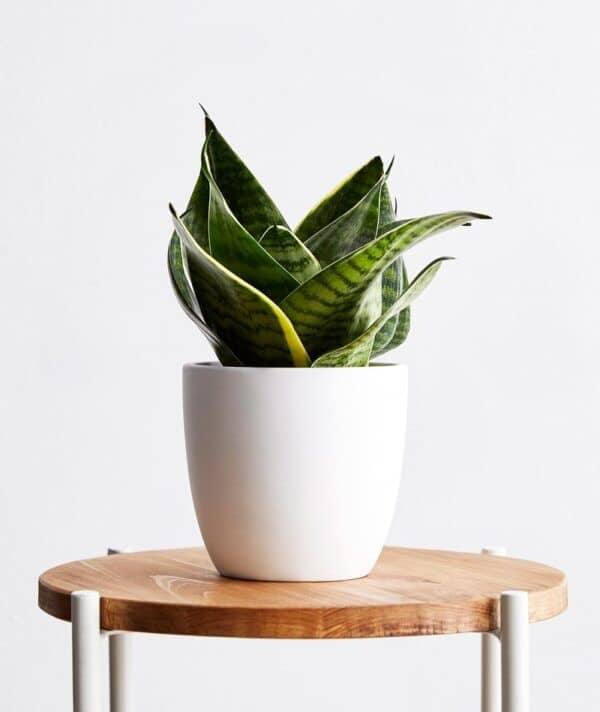 Flower Aura, Snake Skin Sansevieria Plant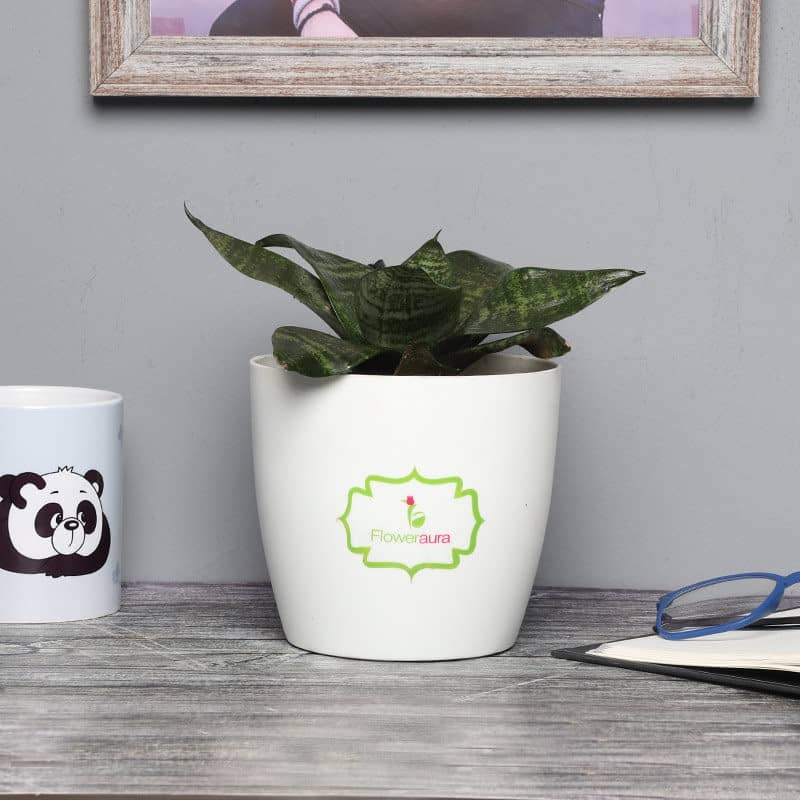 Inspiration to create a stunning Snake plant display at home
Conclusion
The threat of air pollution looms large upon our generation, but don't reach out for those expensive air purifiers just yet. A Snake plant can do all of that for you at very low maintenance because it's so easy to care for. Due to its low price, a snake plant is easy on the eyes and the purse. Being an ideal plant for a nature lover with a busy schedule, it can enliven your space with the bare minimum effort. The different varieties of Snake plants and their numerous benefits make them compatible to be placed in any room or setting, be it your house or office. So, now is the time to parent a Snake plant to enhance your indoors! Also, feel free to conveniently buy one for yourself from the list of options displayed above.
*The featured image used in this article is from Pennington.com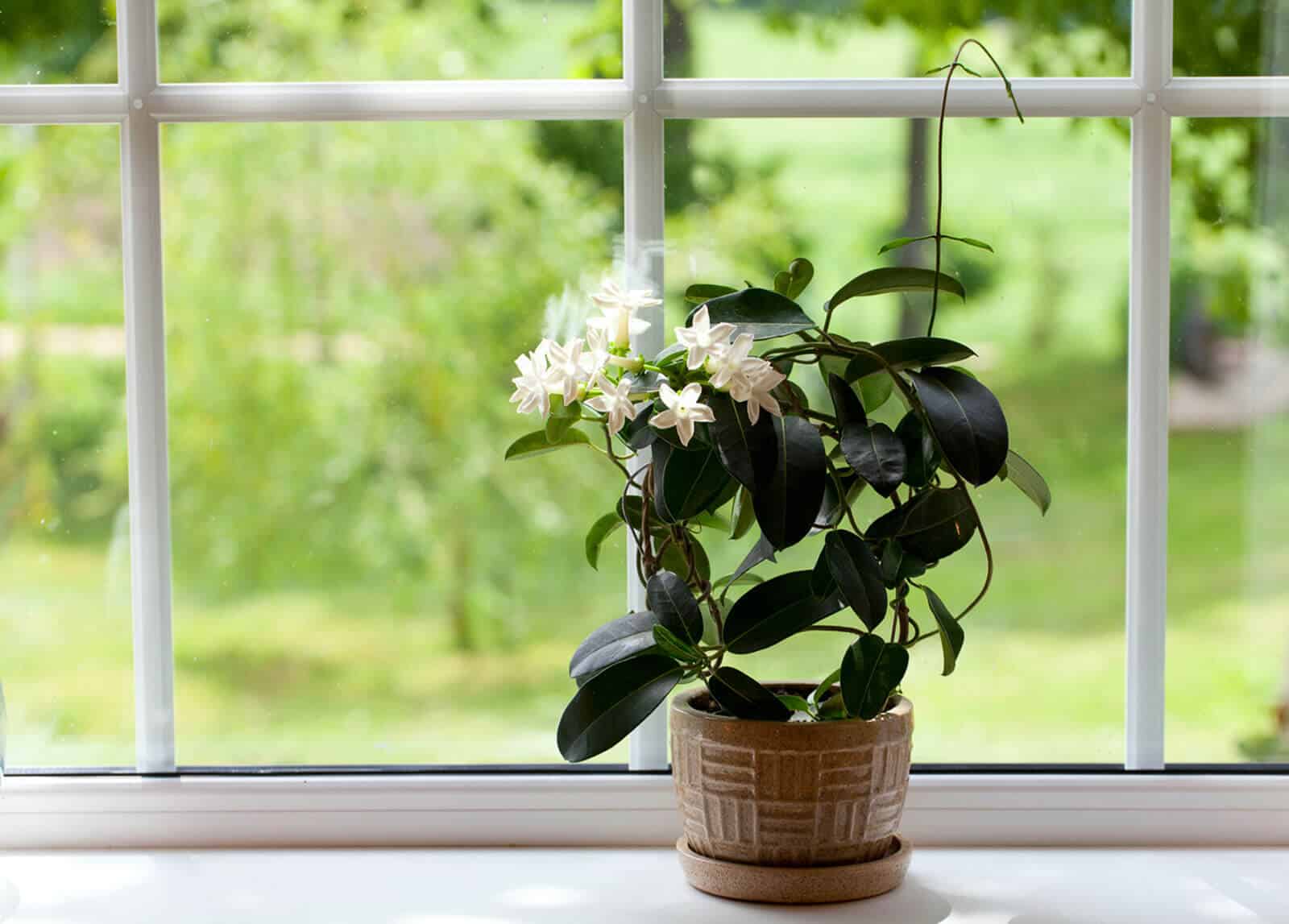 A Jasmine plant is a group of vines and shrubs that belong to the Oleaceae family, also known as the olive family. Its botanical name is Jasminum and it comprises around 200 species that are native to tropical areas of Southeast Asia, Australia, and Africa. Jasmine flowers are widely known for their sweet fragrance and can be both white and yellow. Their beauty and sweet scent make them a great addition to homes. There are several varieties of Ja
[cbxwpbookmarkbtn]