No matter what kind of house you live in, there's a strong likelihood that storage is one of your primary concerns. Sadly, closet space is becoming increasingly scarce. The solution to this problem is storage shelves. Shelves are our life savers when it comes to adding that extra space in our bathroom, kitchen, bedrooms, or living areas. However, there is a thin line between using appropriate shelves for storage and going overboard with it. Owing to this, we are on a constant search for innovative shelving ideas that mix useful storage for all of our collections with attractive solutions to display the items we adore. In this article, we have discussed a few reasons why you should definitely use storage shelves in your home and have reviewed six useful storage shelf ideas (from wall-mounted to freestanding book racks) that are both functional and decorative in their designs.
Whether you are looking for shelves to style your living room or to add extra storage in your kitchen, we've got you covered! Read on to find out all about the different types of modern shelves and shop the best picks from our recommendation section!
The benefits of storage shelves
Organise your clutter
With a new storage shelf or bookshelf, you could organise anything in your house, from your pantry to your home office. These help you get rid of the clutter. You can store multiple items on a shelf. You can put them in plain sight for easy access to everyone. To beautify each shelf, spend some time methodically arranging your items while including some decor features too.
Space optimisation for closets
Shelves can transform your small closet into a space that can hold your full wardrobe. Adding a shelving unit will give your closet additional space for all of your folded and hung-up clothing. Before deciding on a method to organise your shelves, begin by classifying your wardrobe items to determine the best way to keep your things.
Add function
You can easily add utility to your shelf by making it something more than just a place to put your things on display. A tiny in-home bar can be housed perfectly on a shelf that has been set up at the appropriate height. Don't limit yourself to using the top of a short bookshelf as a surface for a minibar. So, look for a shelf that makes it simple to pour and stir drinks. However, stay away from converting high shelves into a countertop.
Keep your items secure
Arranging your items on storage shelves not only keeps them secure but also keeps them protected from dust. Putting items in a designated place in a storage rack helps you find them quickly and eliminates the chances of things getting lost.
Display your personality
The ideal place for you to display your personality is on the shelves. By selecting the ideal shelf to match your living space, you may display the items that express your interests and passions. It can be difficult to choose from the many shelf designs available, but you can do so by thinking about the colour scheme or theme you currently have in your living room, the amount of space you have available, and the number of objects you need to display.
Storage shelves: 6 ideas for improved home efficiency
Built-in shelves
Of all the shelving systems, this is the most practical one. Built-in shelves can be fitted practically anywhere where there is a nook or niche, making them ideal for houses with limited room. A single piece of wood fastened horizontally over a wall opening is the most basic built-in shelving design. You can have a built-in wall storage shelf added anywhere in your house and store anything and everything ranging from books, art, and decor. They can be built off-site and then installed after completion, or they can be assembled and fitted on the spot. Thus, these solutions are a practical and adaptable way to make the most of the void spaces in your home.
Fixed bracket shelves
Fixed-bracket shelves can be used as independent shelves or in conjunction with other brackets to create multi-unit systems. Fixed brackets are available in materials like metal and wood and can be hinged or fastened straight to a case, wall, or both. They are held up by a range of thick metal or plastic ledge pins. Wood brackets are widely used in home interiors and come in a variety of decorative designs. Another name for this concept is suspension shelving. If required, these storage shelves are simple to remove and disassemble.
Floating shelves
Not only are these shelves incredible in terms of functionality, but they also look beautiful. In contrast to fixed bracket units, which are secured to the wall with noticeable nails and screws, floating shelf units have minimum hinges and appear to float on the wall.
They are a chic way to display precious purchases and works of art. These shelves provide a great storage solution for the kitchen too. Built with engineered wood, floating shelves have internal frame support to make them sturdy. They are lovely minimalist interior décor accents and come in a variety of colours, sizes, styles, and shapes.
Top-hung shelves
These shelves can store and exhibit objects like books, ceramics, glassware, and other things put on display in showrooms, storerooms, and modern kitchens. They come with wall-mounted or ceiling-mounted metal body panels from which shelves and droppers hang. However, systems for top-hung storage shelves are not advised for low ceilings and thin walls. These designs of wall-hanging shelves are increasingly getting popular for bars, book shops, and kitchen displays.
Freestanding shelves
These are perfect for both displaying and storing stuff. These offer considerable space and are movable, making it simple to relocate them to any other room as well. Systems of free-standing shelvings come in a variety of sizes, materials, shades, and styles. So, achieve the needed interior aesthetics and utility for your rooms with freestanding storage shelves.
Corner shelves
Despite being called corner shelves, these are actually not just for the corners. Instead, these are customised to accommodate smaller spaces. These come in open or closed-style units. Additionally, these usually have freestanding or wall-mount applications. Corner storage shelves are a resourceful option to maximise storage without taking up a lot of room. These convert awkward and difficult-to-reach locations into useful storage in a variety of sneaky ways. Also, these shelving systems come in a variety of materials like solid wood, plastic, and engineered laminates.
Our recommendations: Shop the latest shelves for storage here!
IKEA OMAR Shelf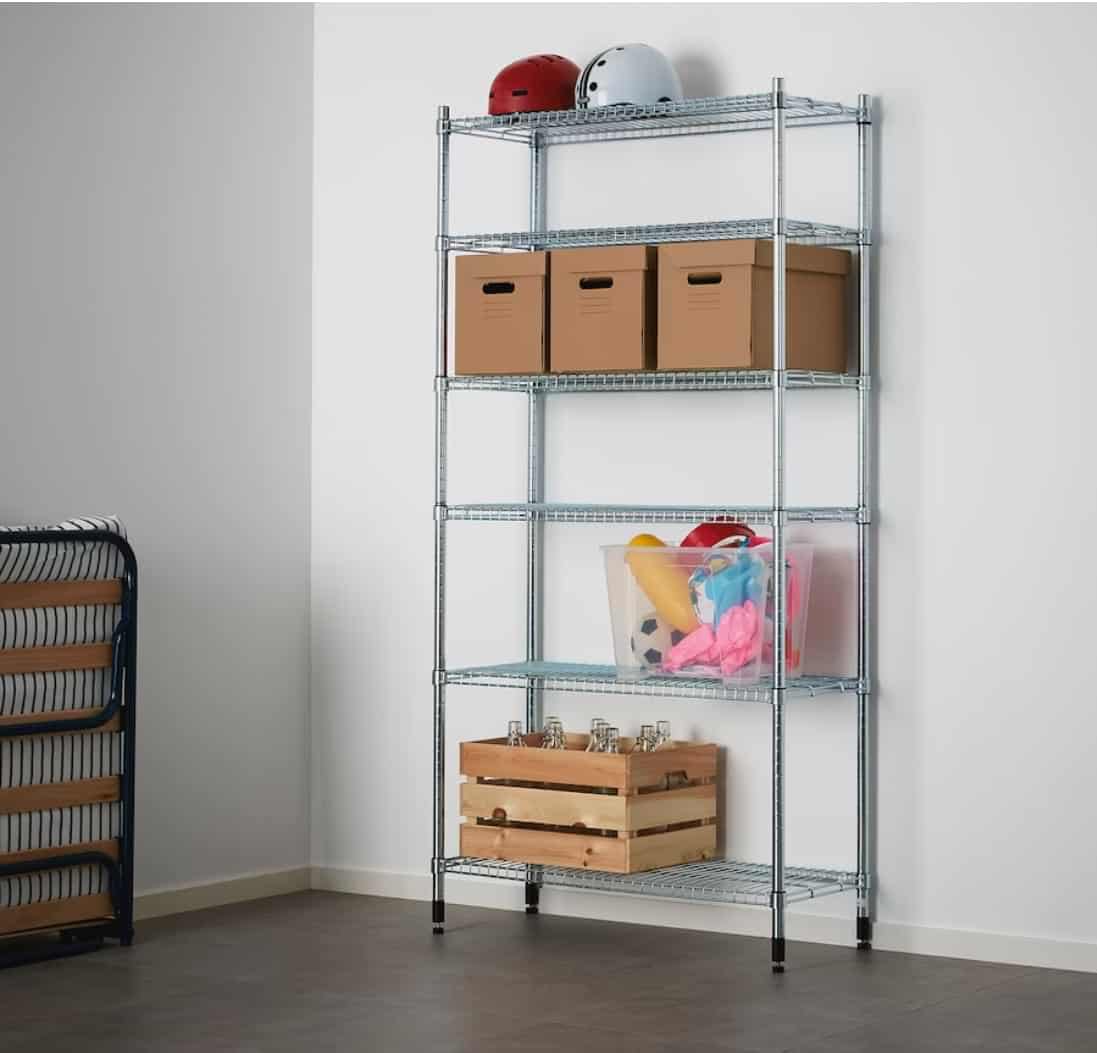 BoConcept Como Wall System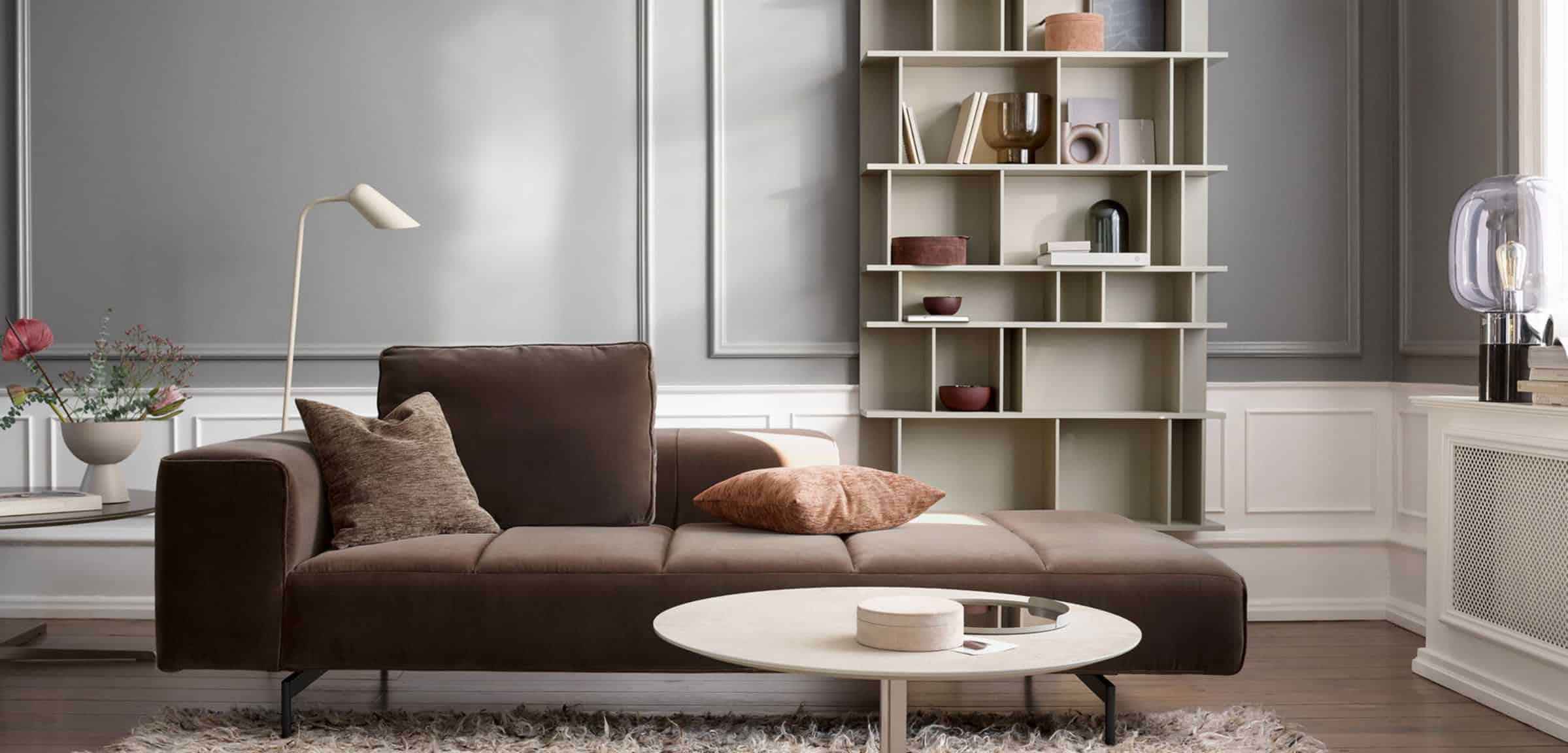 Nilkamal Hera Book Case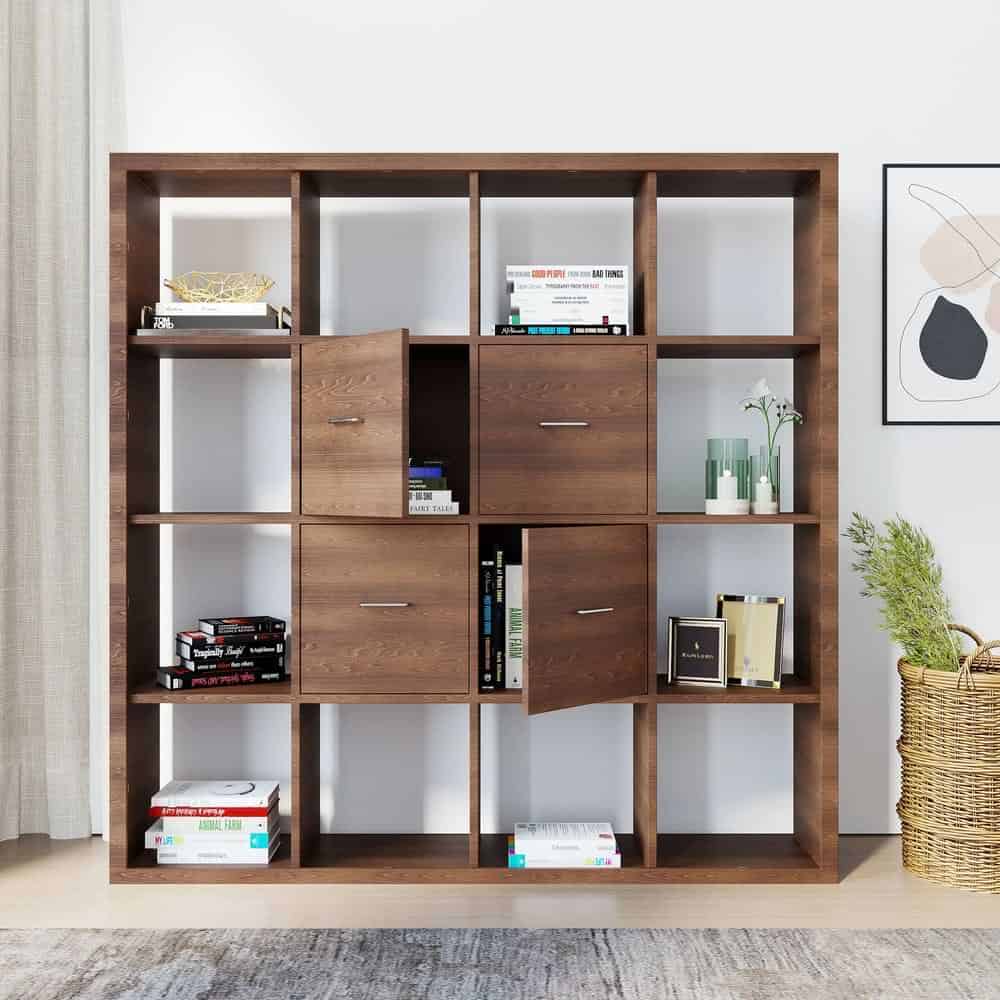 Haworth Cloud Wall Storage Book Shelf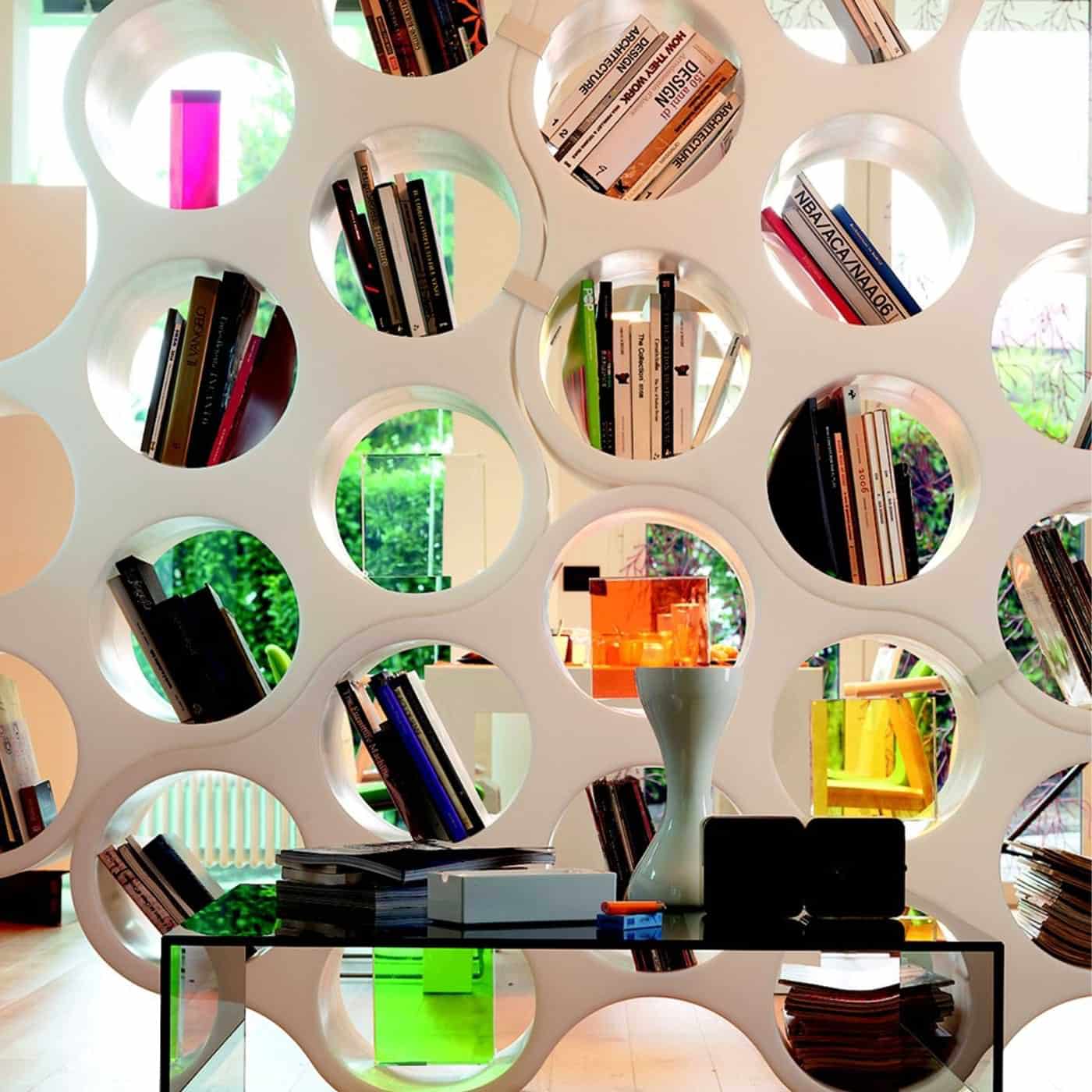 Stanley Corner Storage/Display Shelves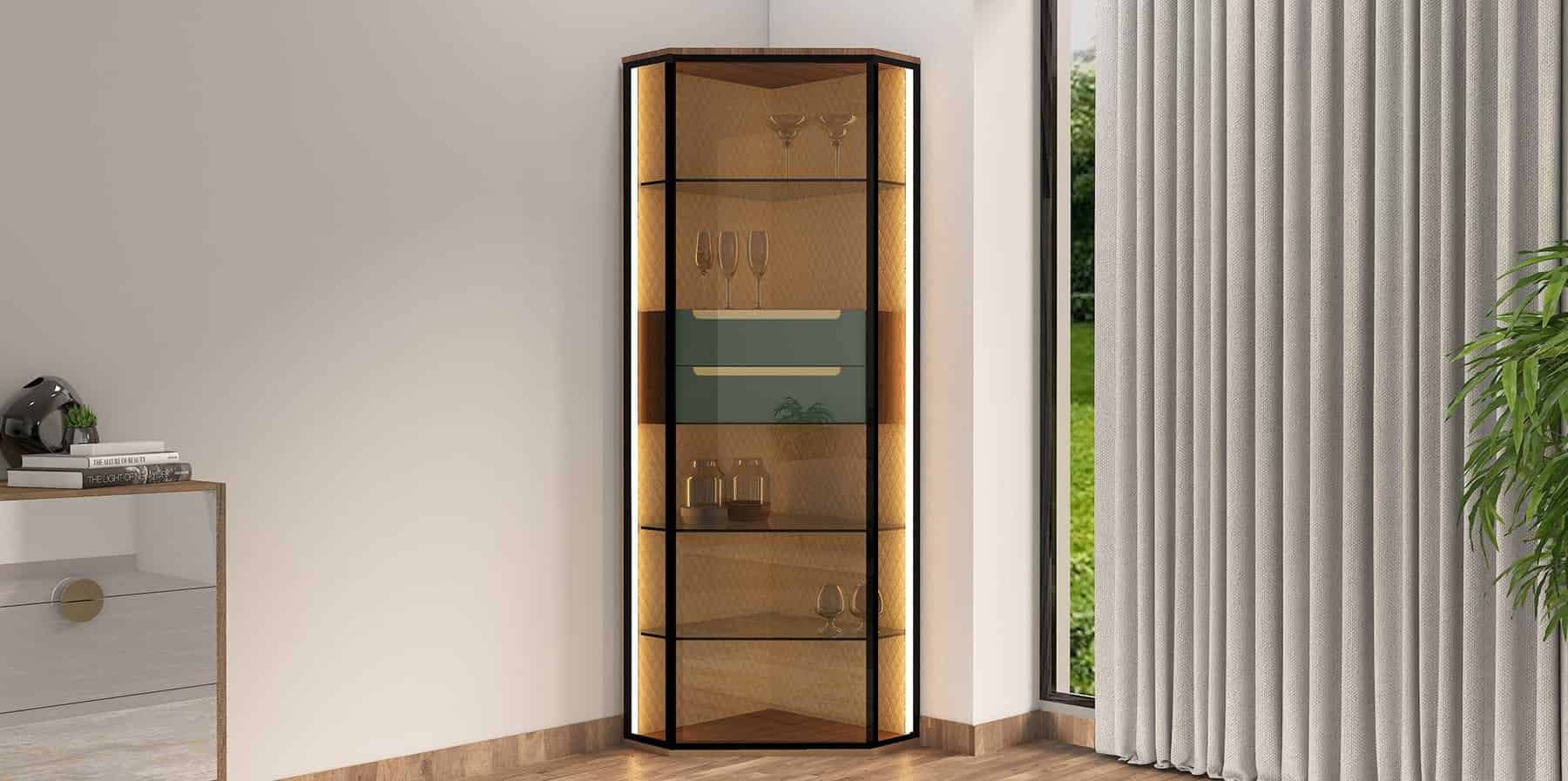 B&B Italia Flat C Living Room Wall Storage Shelves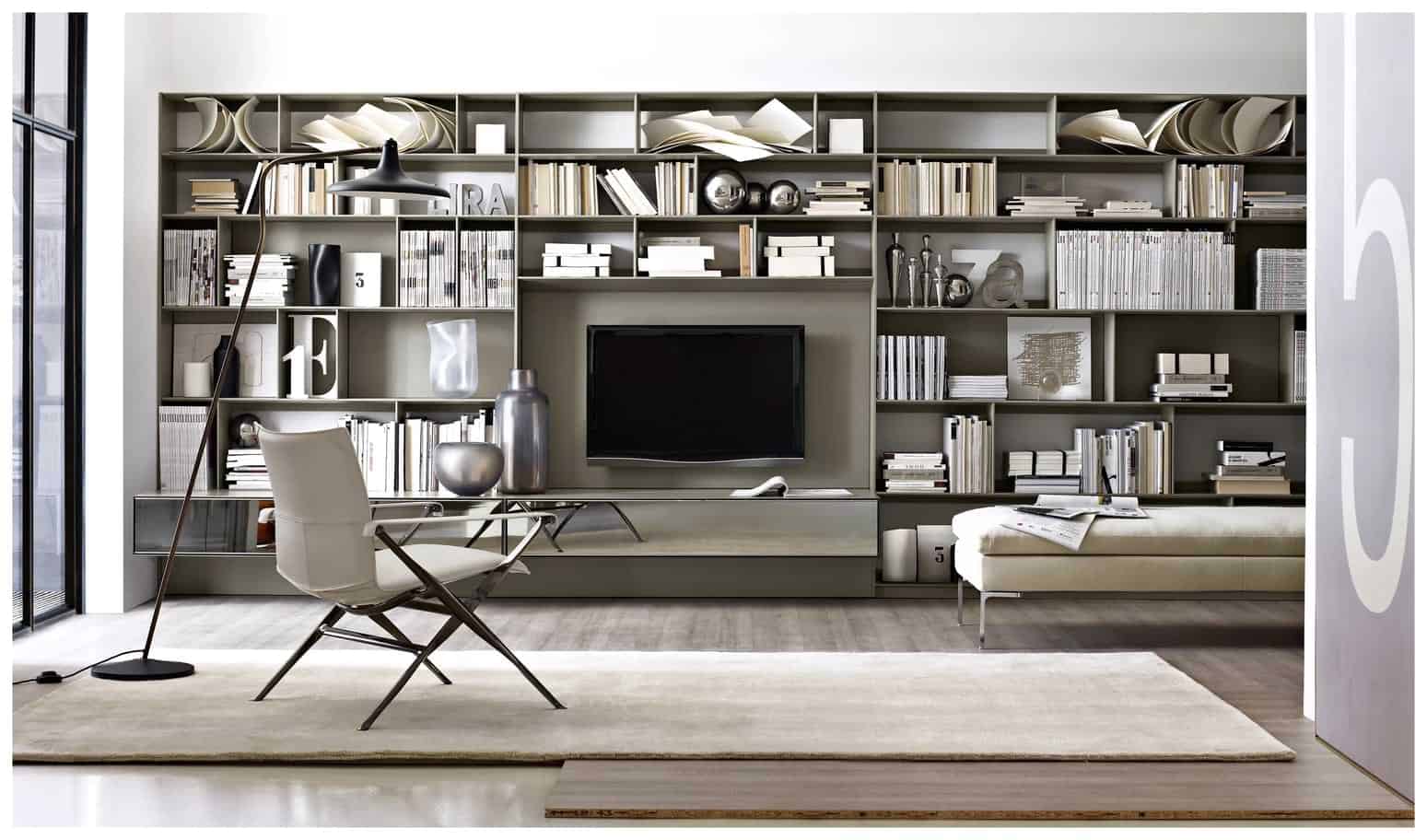 Wakefit Dewey Shelf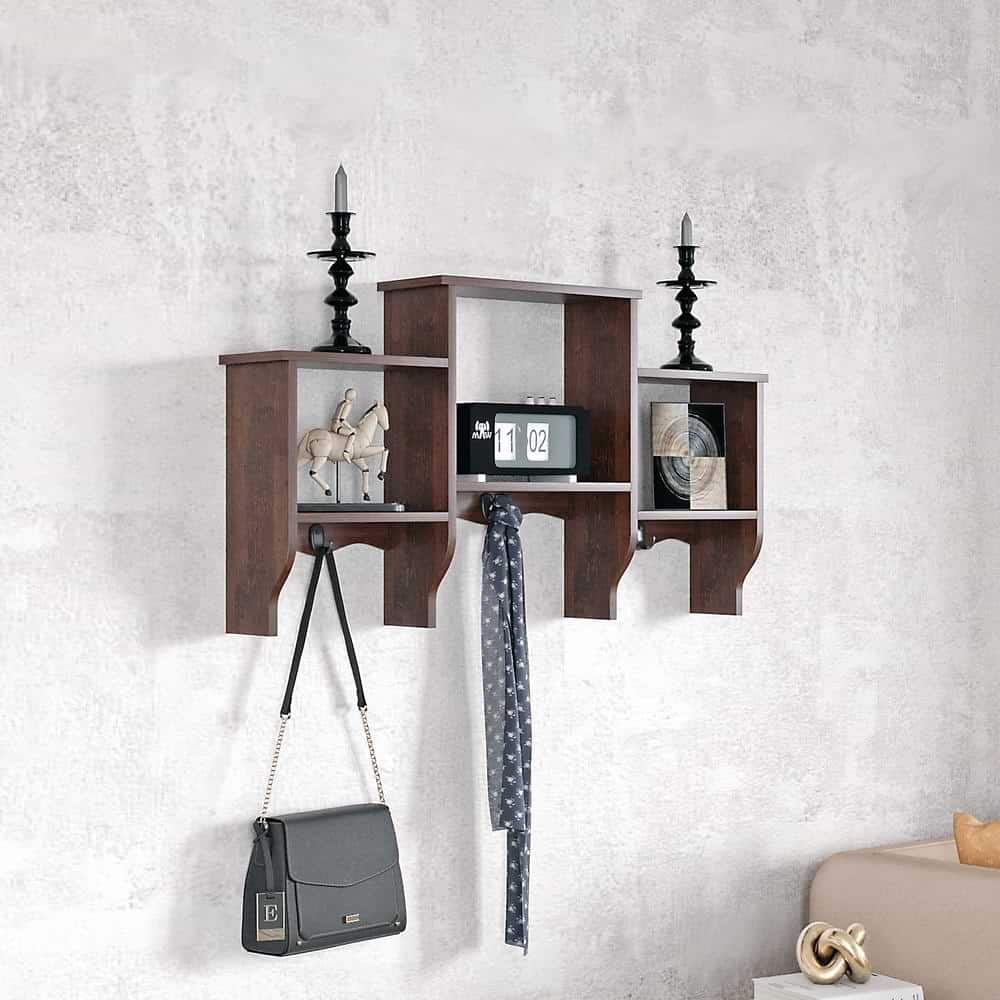 Home Centre Helios Arvis Freestanding Shelf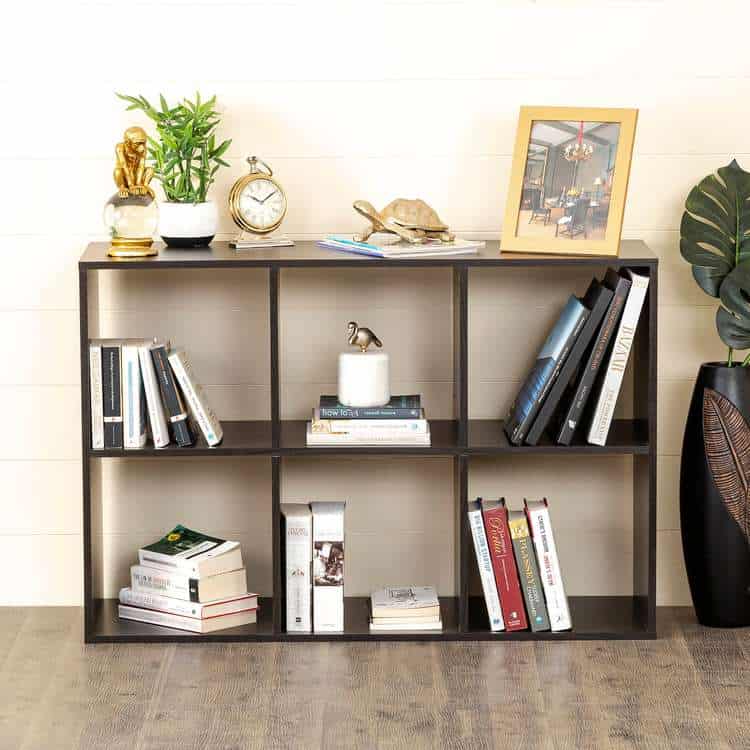 IKEA RONNSKAR Shelving Unit
Jaypore Designer Gold Wall Shelves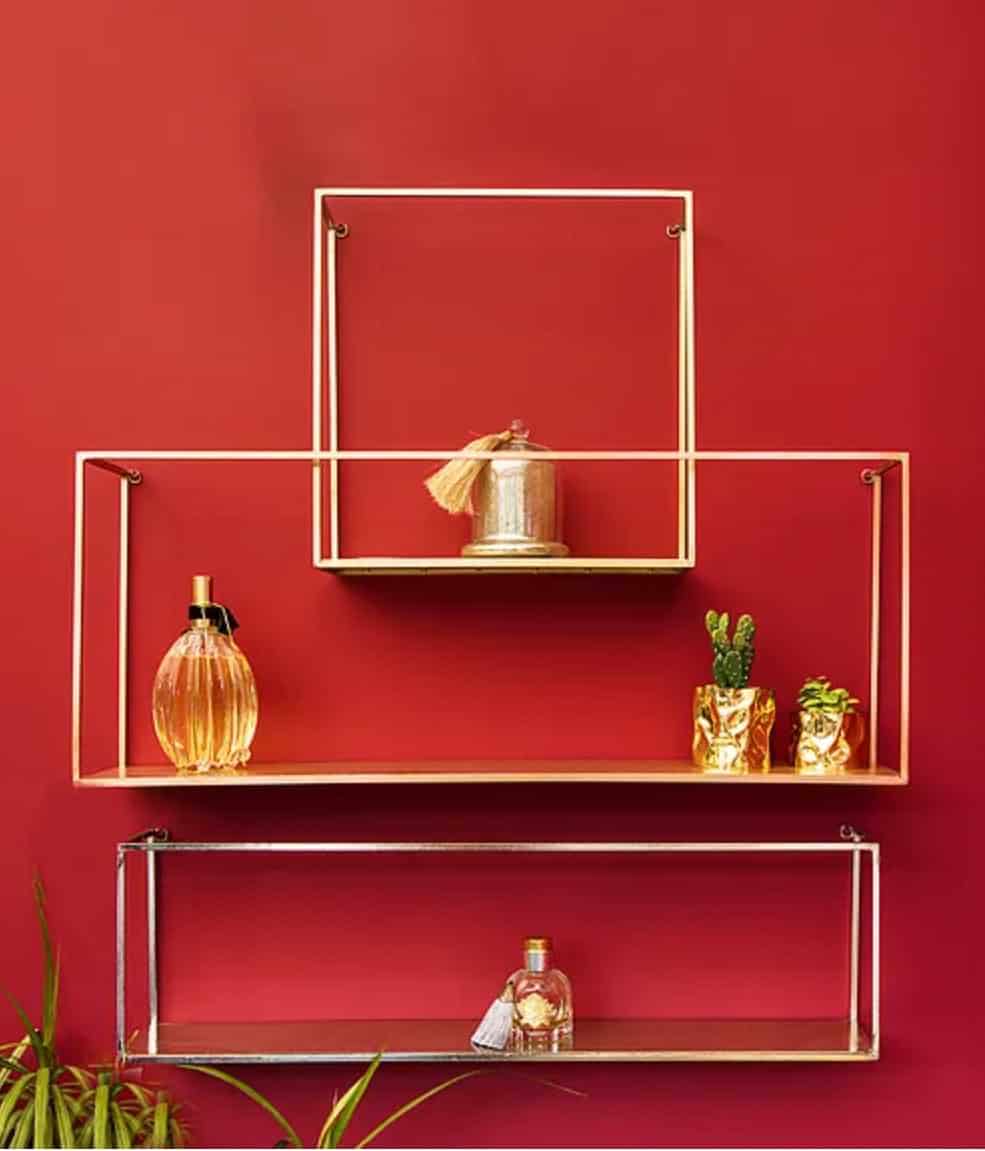 Aristo Linea Novelty Display Units
Nestasia Wall Shelves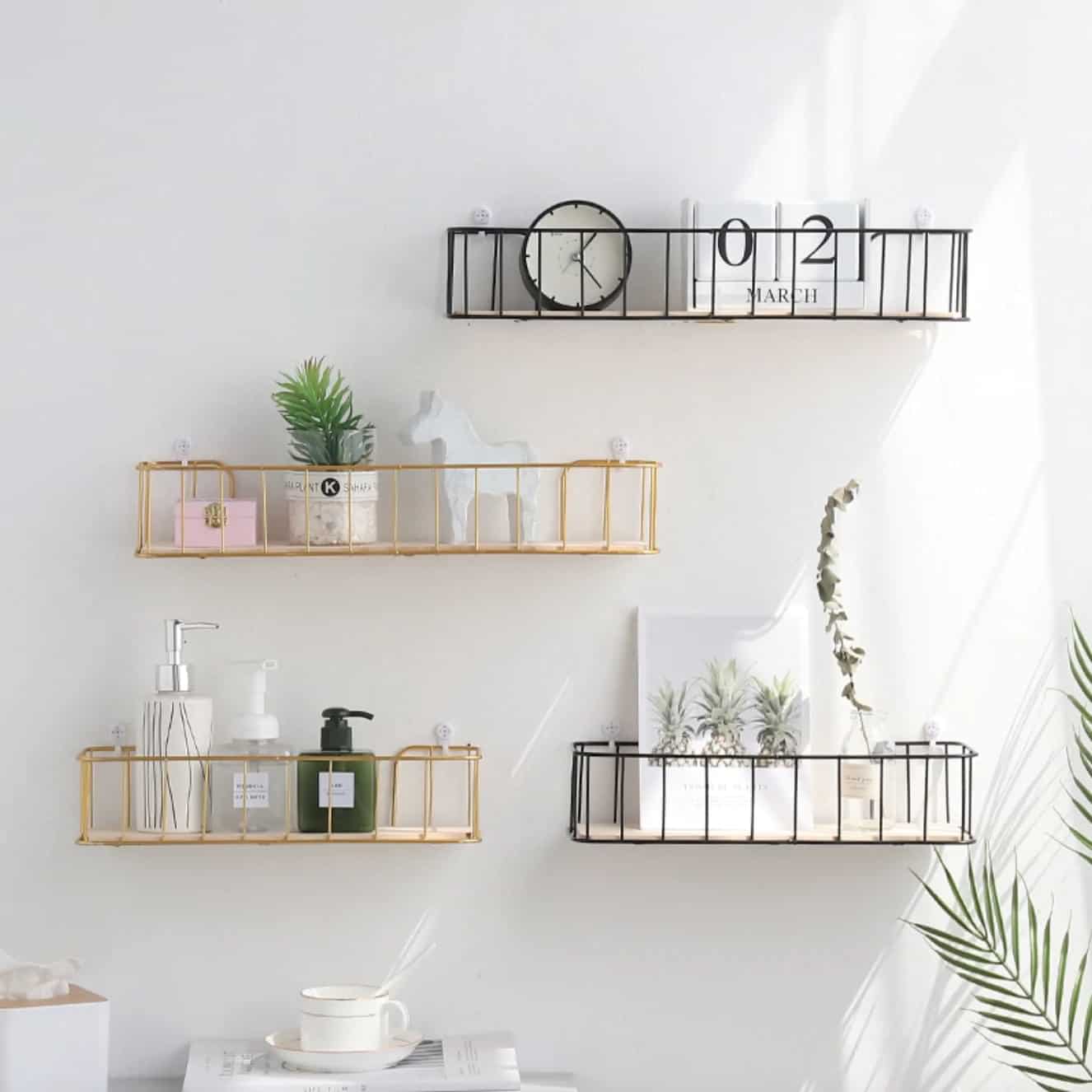 Home by Nilkamal Jared 4 Tier Shelf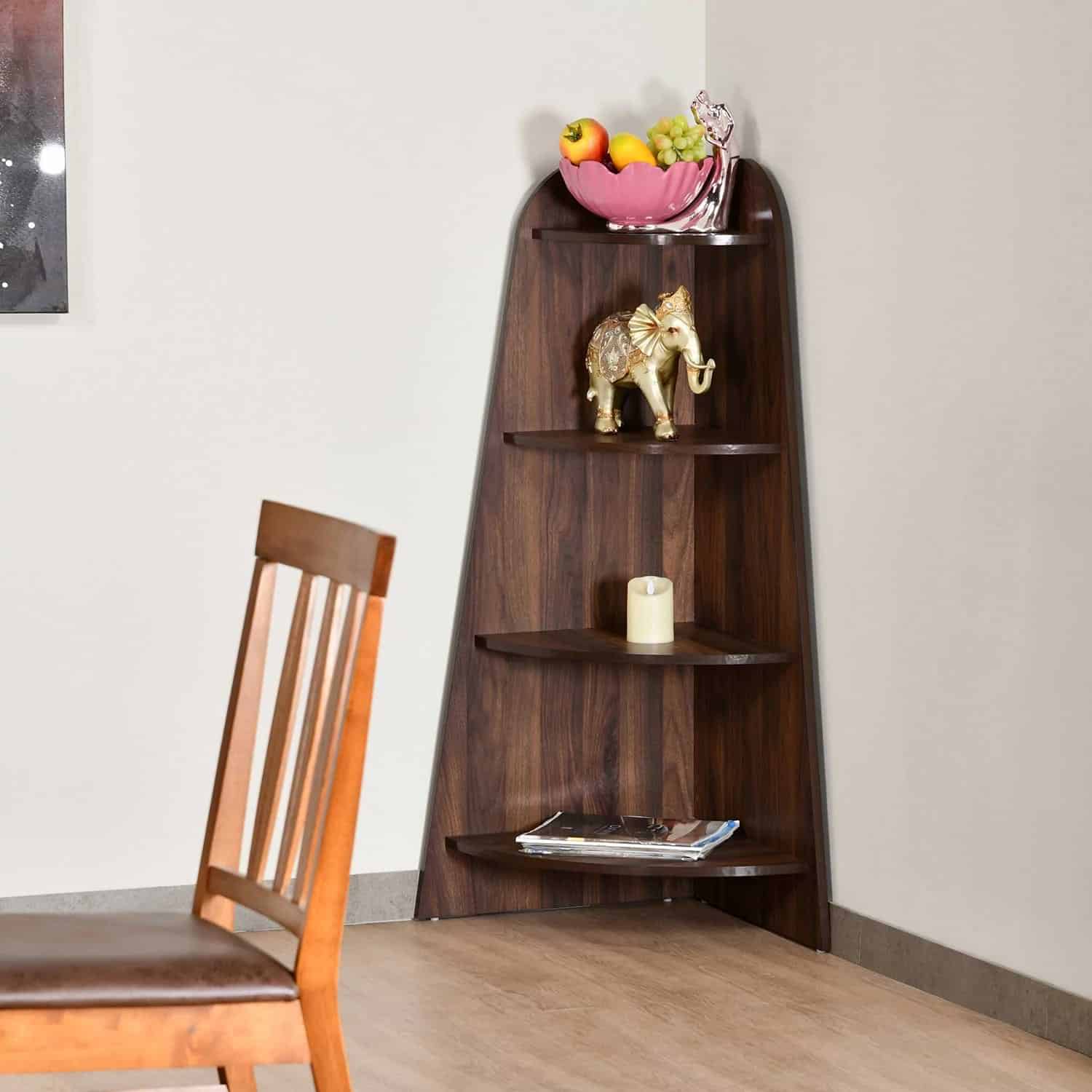 Homed Well Mcombo Industrial design wall Book Shelf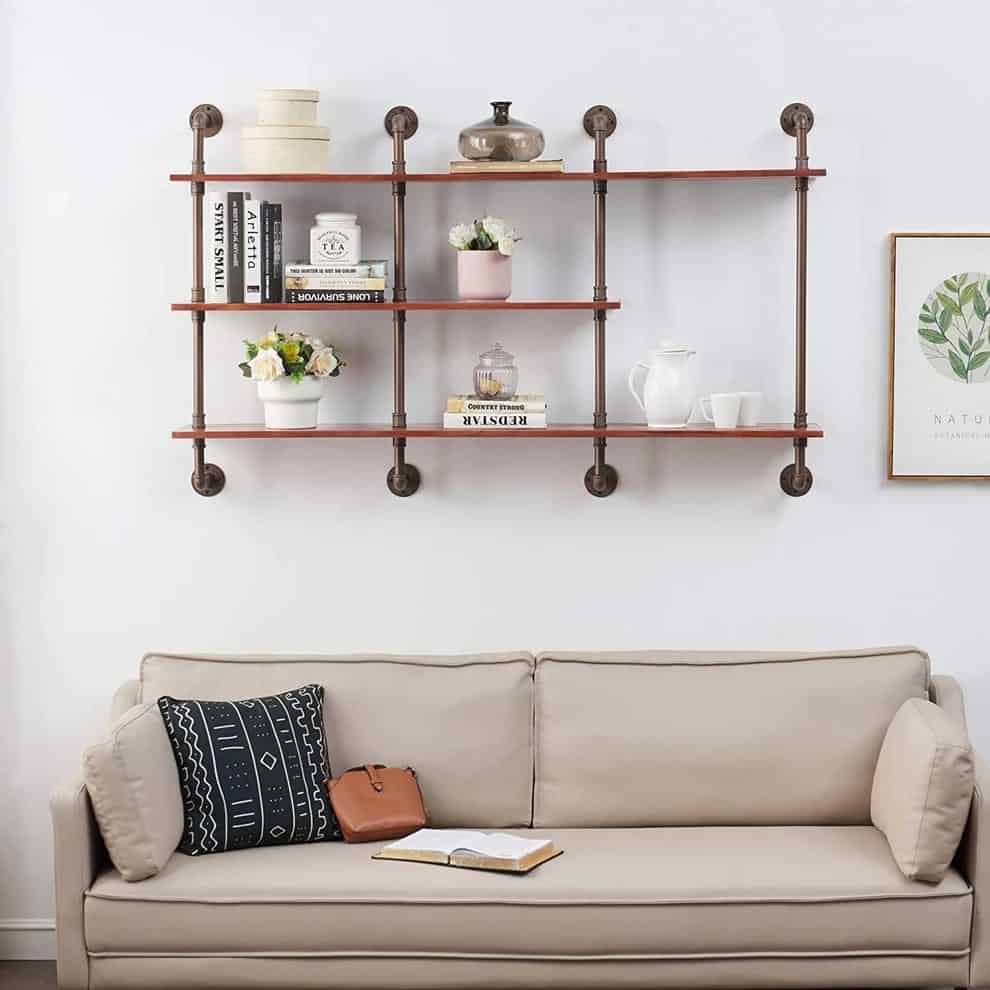 Saviesa SAVVYCUBE Storage Shelves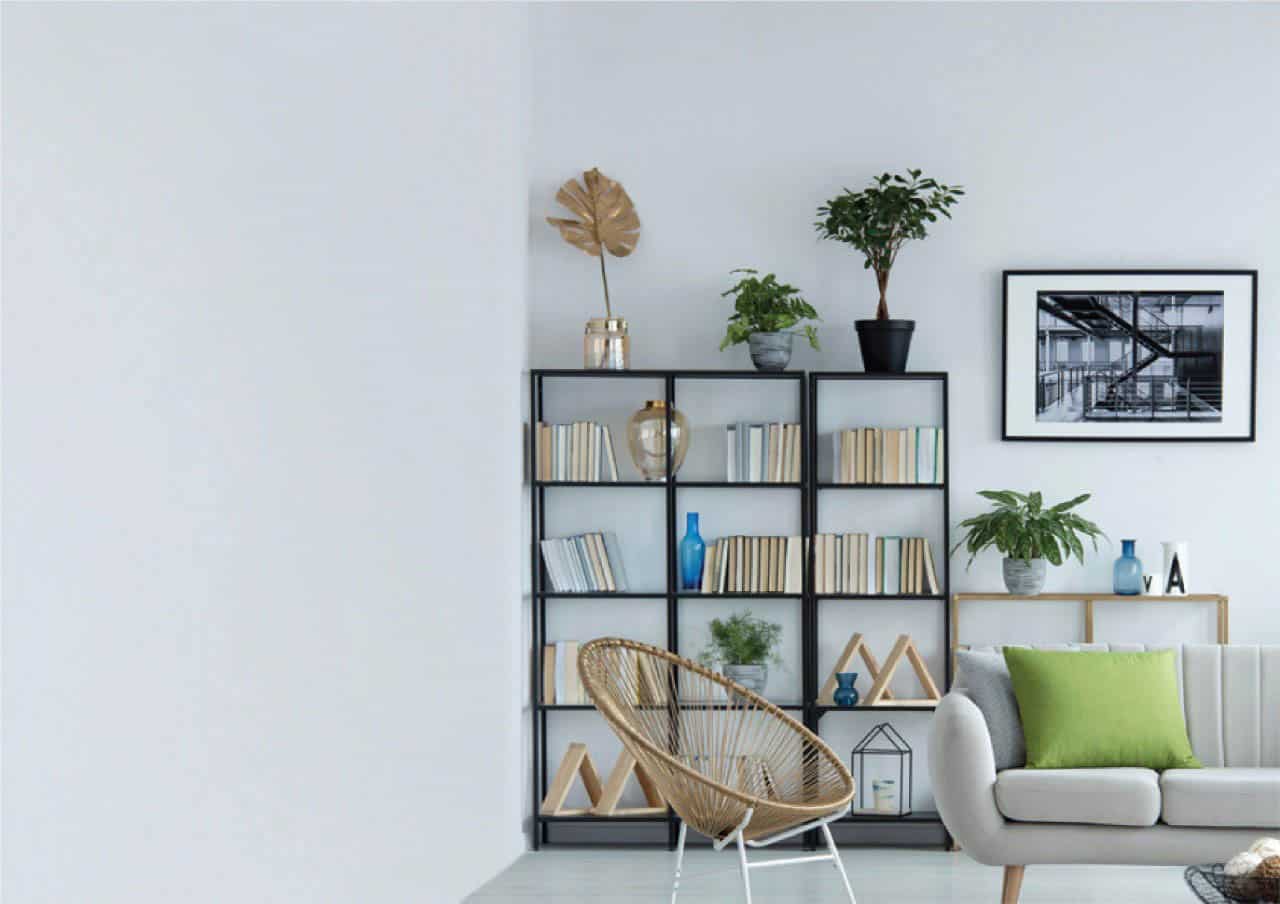 Conclusion
Maintaining a tidy home is now easy with the variety of storage shelves available to organise our home and life! To make the space look presentable, it is imperative to choose the right design of storage shelves concerning the location, application (wall mounted, hanging, or free-standing), and its function. Shelves are simple elements that can uplift your room's interiors instantly. However, if you are choosing shelves that are out in the open, make sure to have the minimum items on display to avoid clutter. To store the maximum number of items in a sneaky manner, opt for free-standing storage shelves and use baskets to store items.
Storage shelves are available in a variety of materials, designs, and applications for your kitchen, bathroom, living room, and bedroom. So, to shop for sturdy and beautiful shelves, check out our top recommendations above.
*The featured image used in this article is from Regalraum.
[vvsmustread]