The kitchen is the heart of your home. So, your kitchen needs ideal kitchen cabinets to function properly. You can find your essentials at arm's reach with the help of effective kitchen cabinet designs. Therefore, you need cabinet designs that complement your family's lifestyle and take into account any unique needs. Kitchen cabinets with proper design, storage space, and handles help keep the kitchen area neat, organized, efficient, and clutter-free. You can also upgrade the look of your modular kitchen with designer kitchen cabinets made of wood or metal.
It's great to have designer kitchen cabinets that are both efficient and durable. Cabinets made up of strong and moisture-resistant materials are very crucial for fully functional and efficient kitchen utilities. It also needs to have good storage configurations and mechanisms to provide perfect organization. So, planning and investing in good-quality cabinetry is a necessity.
The style and finish of the cabinetry add a little more soul to the kitchen decor and space. You can prefer a more conventional look with wood kitchen cabinets or experiment with different decorative hues, handles, and finishes that go with the theme of your kitchen. However, finding such a perfect design becomes difficult due to the abundance of designs and styles available in the market.
Therefore, in this article, we have reasoned why cabinets form an integral part of the kitchen. We have also listed some of the most exquisite kitchen cabinet designs and storage configurations to help you have the best experience in your kitchen area.
Factors to consider while designing kitchen cabinets
When choosing kitchen cabinetry, we tend to overlook a lot of things. Sometimes, we give too much attention to either external appearance or organization and end up compromising one. So, to avoid such scenarios, we have talked about some important factors to consider while choosing kitchen cabinetry:
Materials
The choice of material for kitchen cabinetry is very crucial. It is always a great idea to opt for materials that are durable and resistant to heat and moisture. Solid wood, plywood, PVC, stainless steel, and aluminium are extensively used to make designer kitchen cabinets. Solid wood and plywood are the most popular materials for kitchen cabinets because of their durability and appearance.
Usually, plywood or particleboard is used to make cabinet boxes. To maintain their angular shapes during installation, support the weight of heavy countertops, and resist moisture damage, the strongest cabinets have complete plywood sides and backs. A less expensive option is particleboard.
Colours and finishes
The colour and finish of the cabinetry greatly determine the look of the kitchen. Bright colours are visually appealing and make the kitchen area appear warm, stylish, and comfortable, whereas finishes like glossy or matte laminates give a more decorative touch to the kitchen space.
Space planning and optimization
Standard kitchens will surely need a space with lots of storage. Having distinct cooking zones will help you make better use of space in a large kitchen. For instance, we would recommend a kitchen cabinet layout that includes both wall and base cabinets to make the most of the available space and reduce countertop clutter.
A pull-out pantry unit with numerous shelves for storing jars and containers could also be an excellent option for modular kitchen cabinet designs.
We advise using kitchen cabinet design ideas that include base cabinets if you only cook occasionally or on the weekends. To make your kitchen appear spacious and uncluttered, we recommend reducing the number of wall cabinets.
Placement
The placement of the kitchen cabinetry should be in sync with the overall layout and size of the kitchen. You can have kitchen cabinets with multiple storage spaces for a large kitchen, but you need to optimize space for a small kitchen. To use the space more intelligently, you can place your cabinets on, below, or over the kitchen islands and counters.
Functionality
Modular kitchen cabinets should provide the desired benefits and functional value at all costs. However, the proper functionality of kitchen cabinetry not only depends on proper storage and organization but also on the fact that your cabinets should be perfect for the types of products you want to store in them. So, make sure that your kitchen cabinetry is in harmony with your way of living.
Appliances
During the kitchen's design process, choose the appliances so that their precise sizes may be taken into account when integrating them into the plan.
In a regular kitchen, you'll need a gas hob that is intended for everyday cooking. If your kitchen is spacious, you can choose to add more counter space, but don't forget to build an island as well. Similarly, if you are a professional chef or baker who works from home, your kitchen needs to have enough storage and multiple ovens that are suited for baking. So, to hold your essentials, we advise designing custom cabinets.
Additionally, if you choose built-in appliances, you might want a bespoke kitchen cabinet design that maximizes the area around the appliance. Built-in appliances offer a streamlined aesthetic while being simple to maintain. One of the best manufacturers of integrated kitchen appliances is Siemens. For higher efficiency and practicality that suits people's lifestyles, the brand provides the optimal fusion of cutting-edge technology and modern design.
Accessories and components
The various components and accessories of modular kitchen cabinets convey your design requirements as well as your cooking and storage needs. You can add a stylish look to your kitchen cabinets with wood handles, drawer pulls, and built-in motion sensor lights. You can also have built-in drawers or racks to organize the kitchen appliances and food supplies more efficiently.
Face frames – Framed vs frameless
A sturdy wooden frame is added to the front of the cabinet box in a framed cabinet. The frame is where the drawer glides and door hinges are attached. However, European-style or frameless cabinets do not have a frame on the front of the cabinet box. Doors are directly attached to the cabinet box in a frameless cabinet.
The two building techniques have quite different visual characteristics, and their strength and stability might differ greatly as well.
Customizability
The design and style of kitchen cabinets determine the overall aesthetics of the modular kitchen. You can opt for Italian-style kitchen cabinetry if you love clean lines and lavish designs, or the Shaker style if you want a balance between simplicity and detail. Hence, remember to choose a cabinetry style that mingles well with the overall kitchen interior.
Customized cabinets offer a wide range of options for sizes, styles, and specialized features that are adapted to the particular requirements and available space in your kitchen. Customized wood kitchen cabinetry costs more than ready-to-assemble modular kitchen cabinets. You can opt for plywood cabinets and laminate finishes as they are durable, waterproof, and pocket-friendly.
Designs for kitchen cabinets
The overall look and feel of the kitchen area depend on the design and style of the kitchen cabinets. However, we understand that picking out the correct design can get tough if you don't have any idea about your kitchen interiors. So, here we have curated some exquisite modular kitchen cabinet designs for your space:
Base kitchen cabinets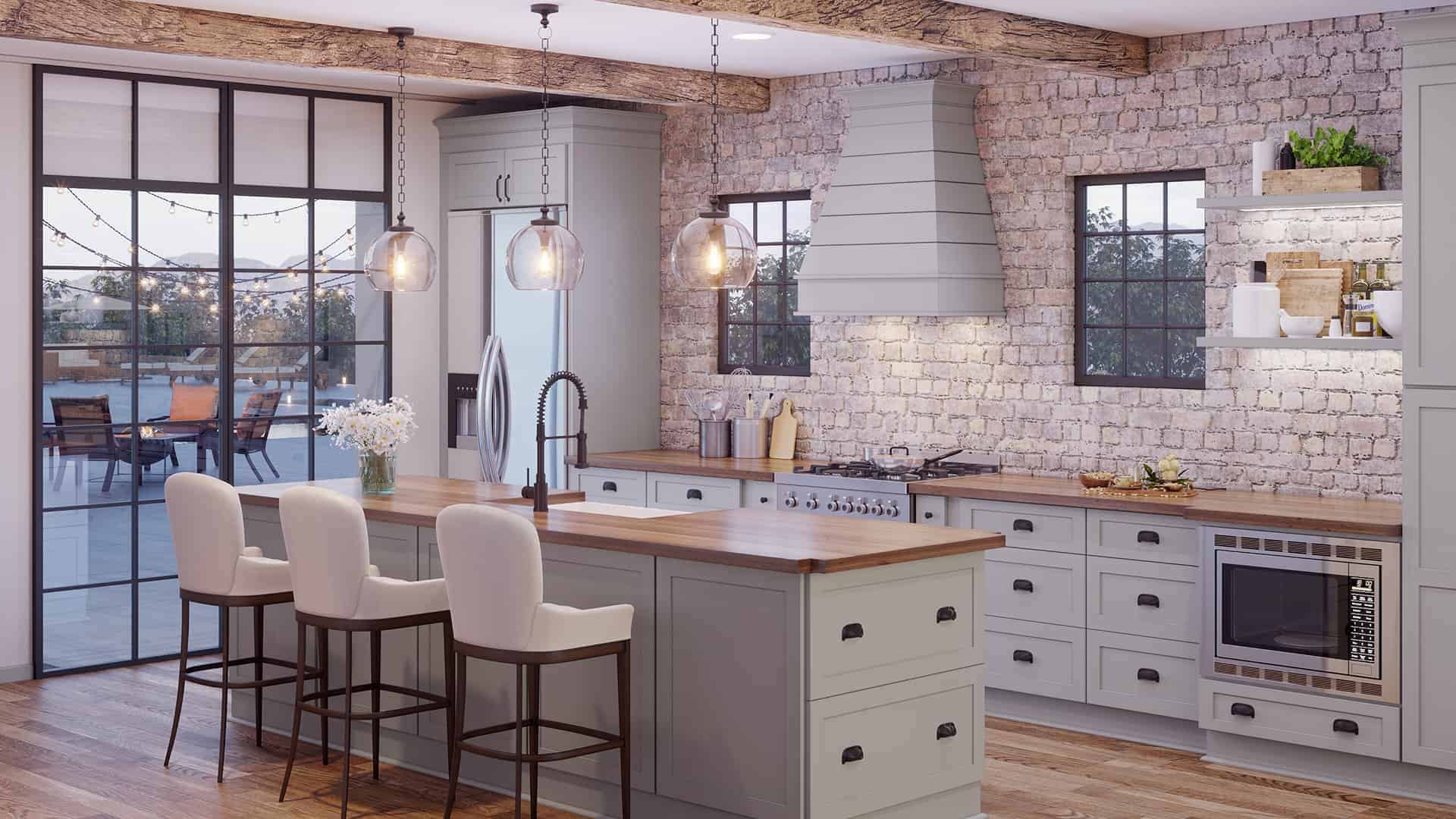 Image Source: Cabinet Corp
Base cabinets serve as the foundation of the overall modular kitchen cabinet design. This kitchen cabinet design holds up the kitchen countertop, provides different types of storage functions, and stands directly on the kitchen floor. Furthermore, base cabinets can also house built-in dishwashers to give your kitchen a smooth, integrated look.
Wall kitchen cabinets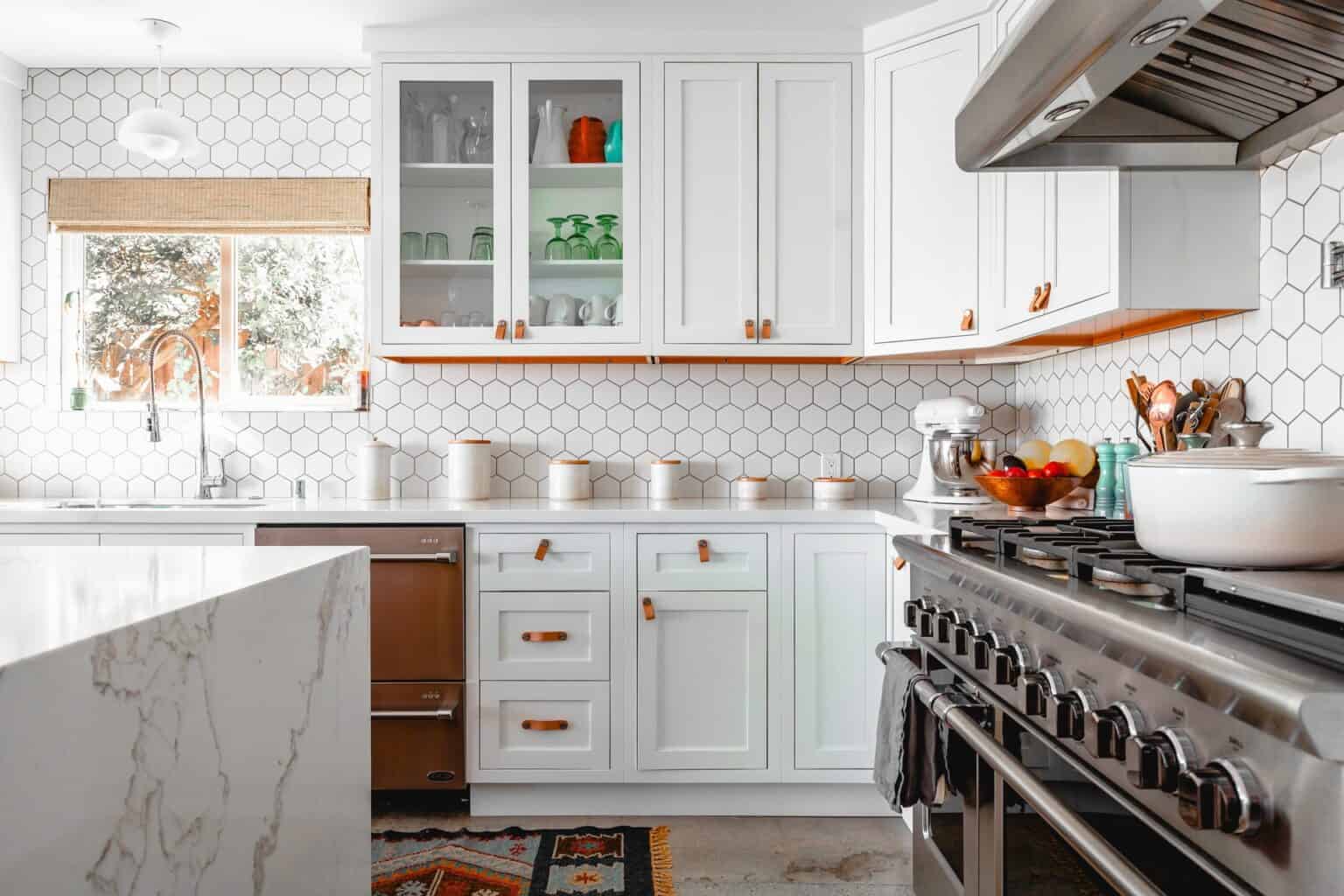 Image Source: Bombay Kitchen Cabinets
The wall cabinets are mounted on the wall and are perfect for optimizing space in a small kitchen. This type of cabinetry focuses more on functionality and offers clutter-free storage space for the intelligent organization of kitchen equipment.
Tall kitchen cabinets
Image Source: Inspired Kitchen Design
Tall cabinets are built from the floor to the ceiling and can be divided into shelves as per your needs. This style is perfect for all types of kitchens.
Modern kitchen cabinets
Image Source: Sleek Kitchens by Asian Paints
Modern kitchen cabinetry is elegant and light in look and feel. This design brings a contemporary feel with bold details to the kitchen cabinets. This particular style lets you flaunt your kitchen utilities with a sense of style. Black or stainless steel built-in appliances by brands like Siemens particularly enhance the aesthetics of the kitchen when combined with modern cabinetry.
Retro-style kitchen cabinets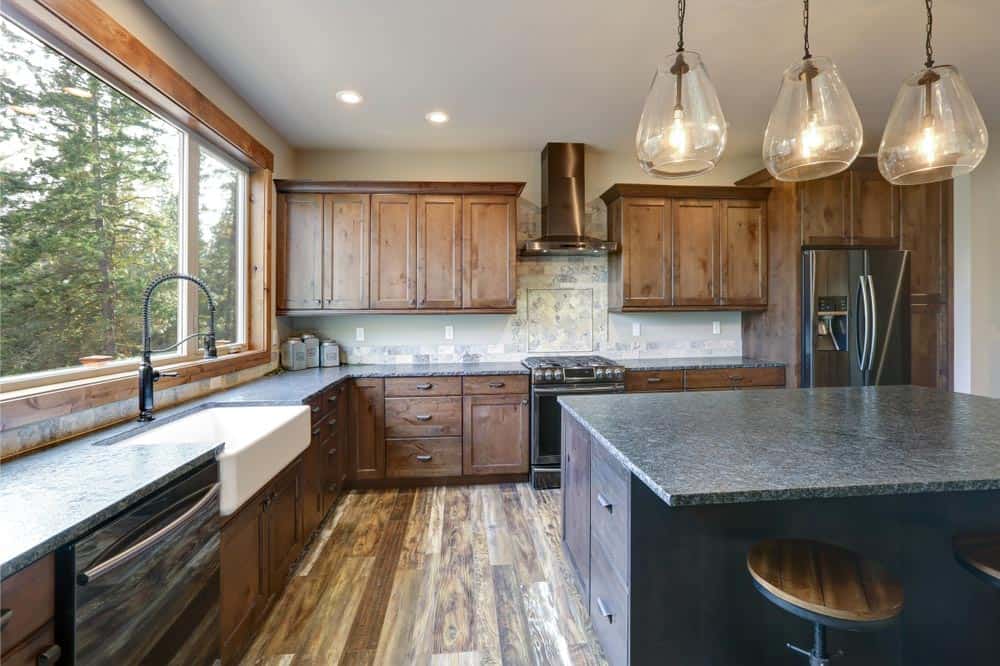 Image Source: Beautiful Homes with Asian Paints
Retro-style wood cabinets are perfect for incorporating vintage aesthetics and modern comforts into the kitchen area. This style of cabinetry gives a rustic feel and a timeless charm to the kitchen area. You can use natural wood tones in your kitchen cabinets to bring in more vintage-inspired textures.
Monochromatic kitchen cabinets
Image Source: The Kitchen Company
As the name suggests, monochromatic cabinets are all about including one particular shade or just using the old-school black-and-white combo. This style gives a glossy finish to the kitchen cabinetry and never fails to attract attention.
Coloured kitchen cabinets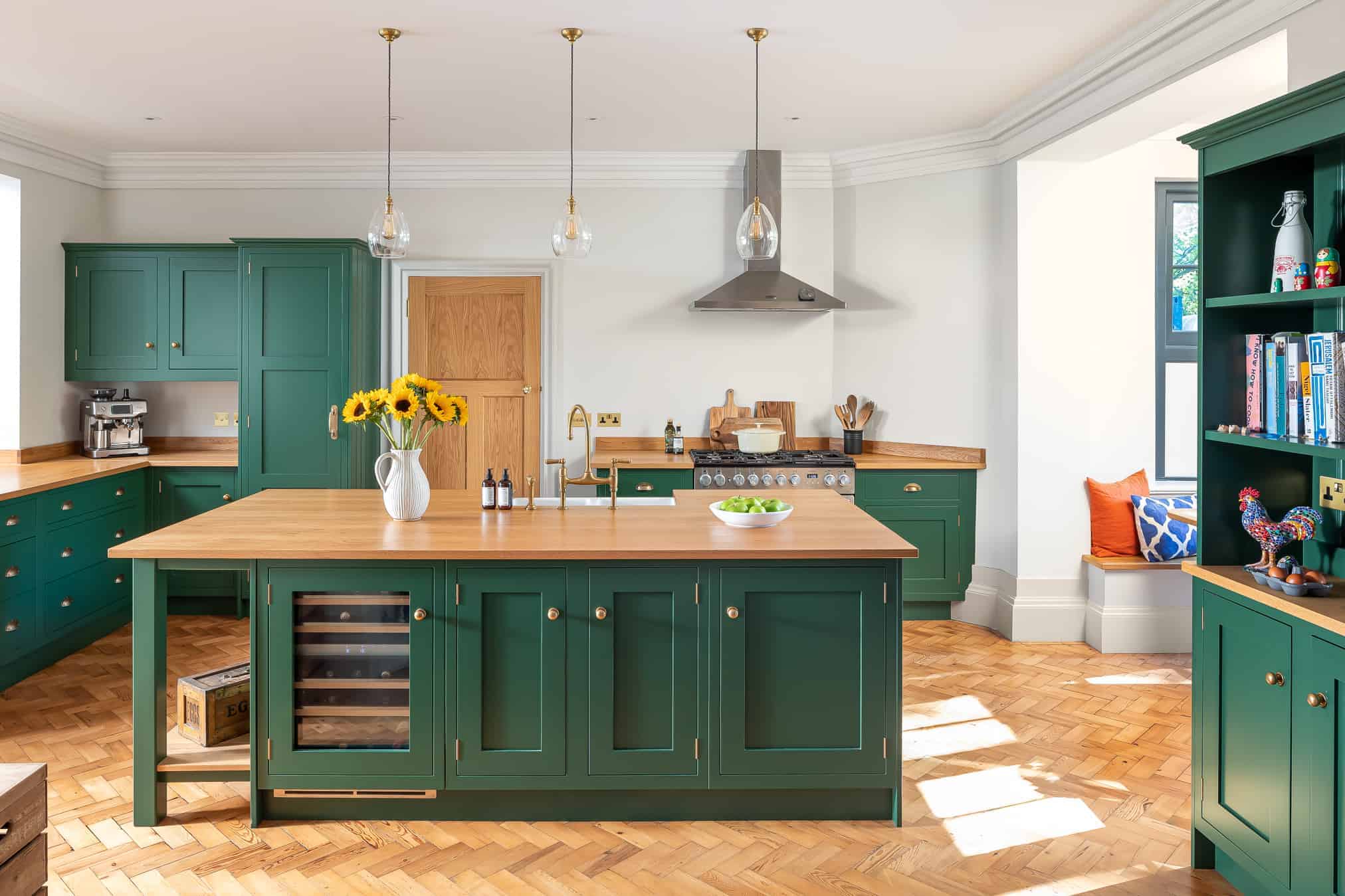 Image Source: John Lewis of Hungerford
Kitchen cabinets with bright and bold colour combinations can add a lot of fun and quirky effects to the kitchen area. You can experiment with colours like blue, orange, pink, red, and yellow to bring a warm and luxurious feel to the kitchen.
Kitchen island cabinets
Image Source: Wholesale Cabinets
Kitchen island cabinetries provide a great way to have more countertops and storage space in the kitchen. With this style, you can keep your kitchen walls free and have more usable space at the same time.
Metal mesh kitchen cabinets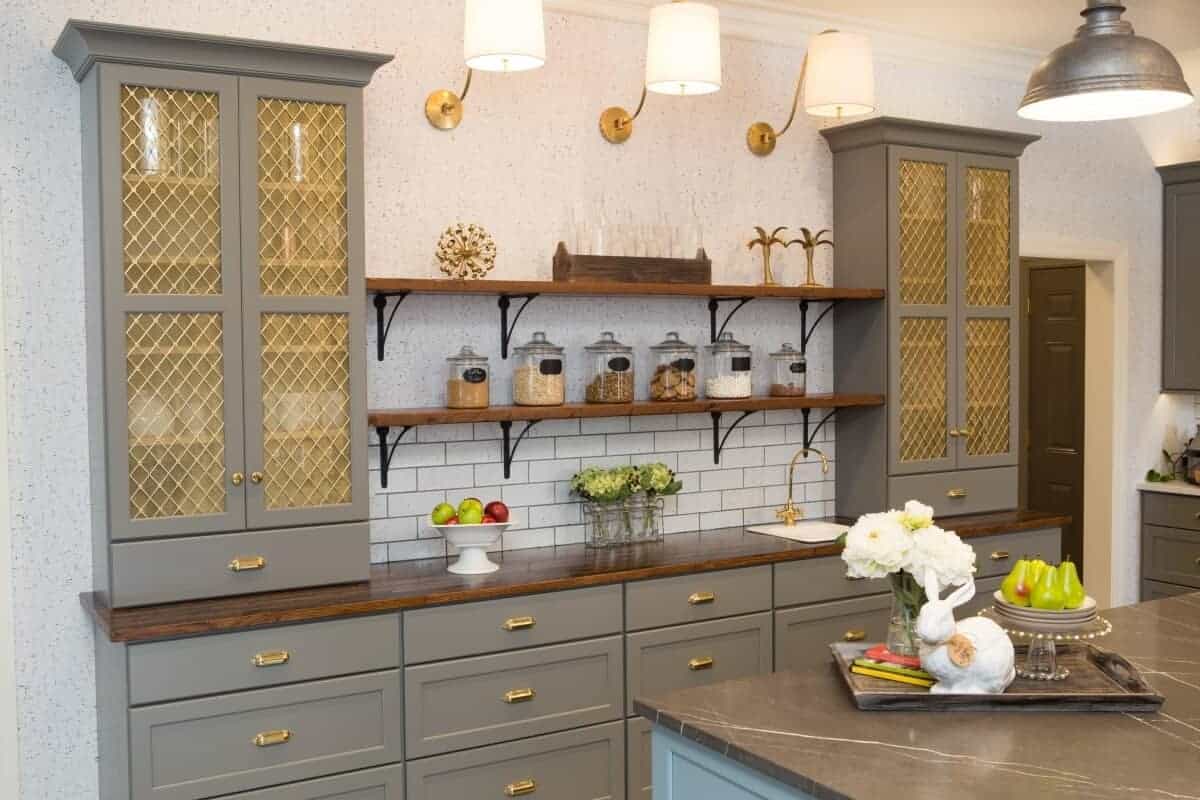 Image Source: Dura Supreme Cabinetry
Metal mesh cabinets are great to have if you don't like monotonous or plain cabinets. This style is more reliable than glass as it gives the required visibility without breaking. Metal mesh cabinetry never fails to add sophistication and style to the kitchen.
Standalone kitchen cabinets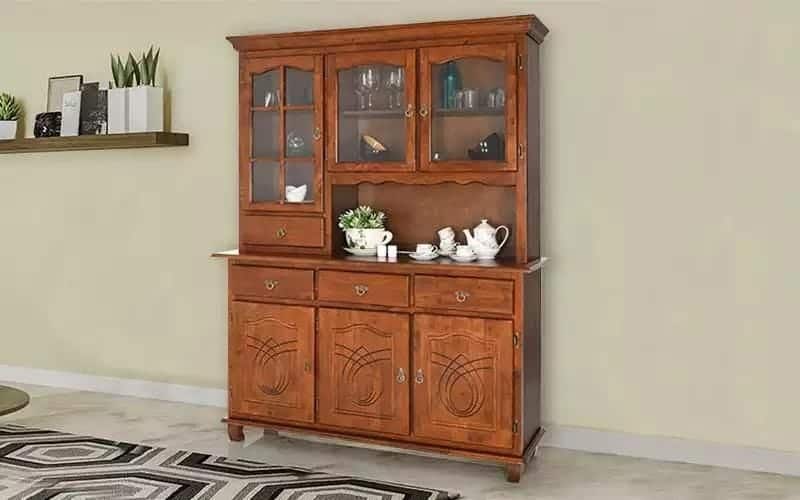 Image Source: Royaloak
Standalone cabinets come in different styles and sizes. They can also be moved around easily, as they are not installed in a specific place. If you love to give a new look to the kitchen every now and then, standalone cabinetry is for you.
Exposed kitchen cabinets
Image Source: Haecker Kitchens
Exposed cabinets skip the doors and handles and have open shelves that offer a simple and classic look to the kitchen area. This style is perfect if you love to display your kitchen essentials on long and deep shelves.
Minimalist kitchen cabinets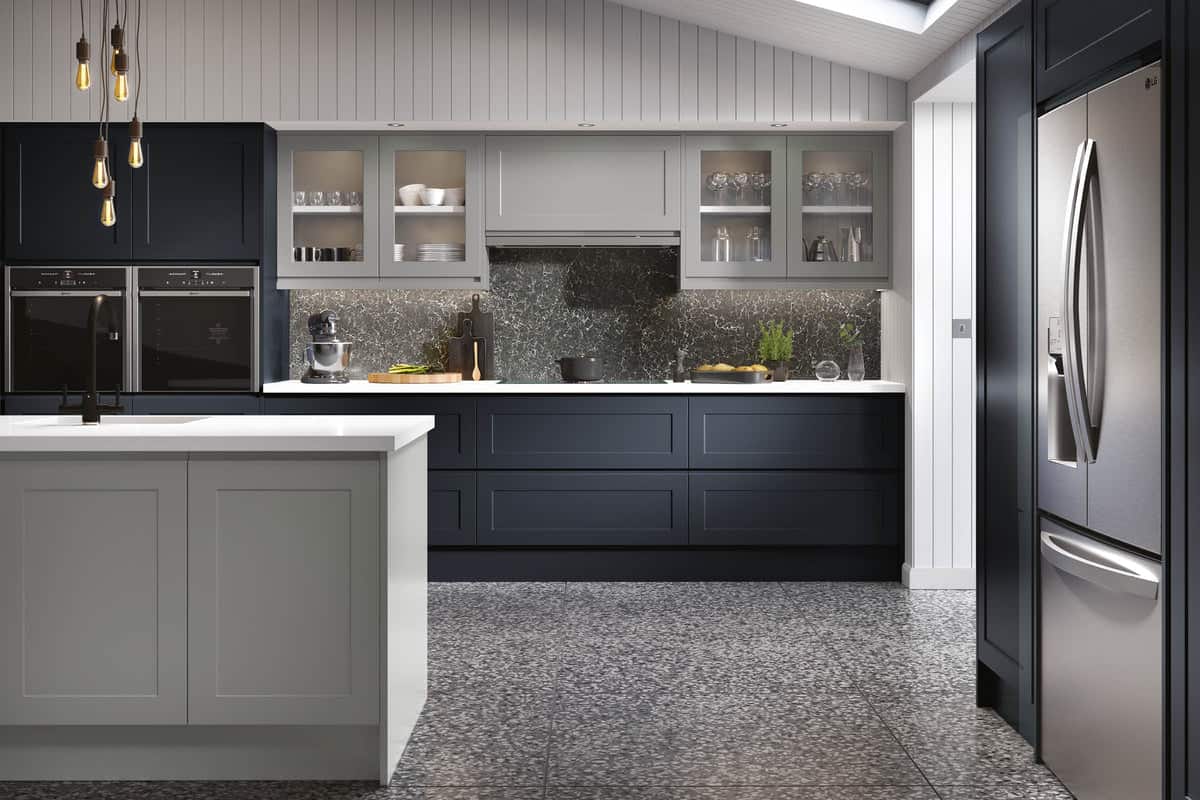 Image Source: The Kitchen Door Site
Minimalist cabinetry is the most simplified style that offers a sleek and clutter-free look to the kitchen. This style comes with frameless kitchen cabinets and drawers without handles or knobs. These cabinets can be easily operated using finger pulls, push buttons, or hidden channels.
Stained kitchen cabinets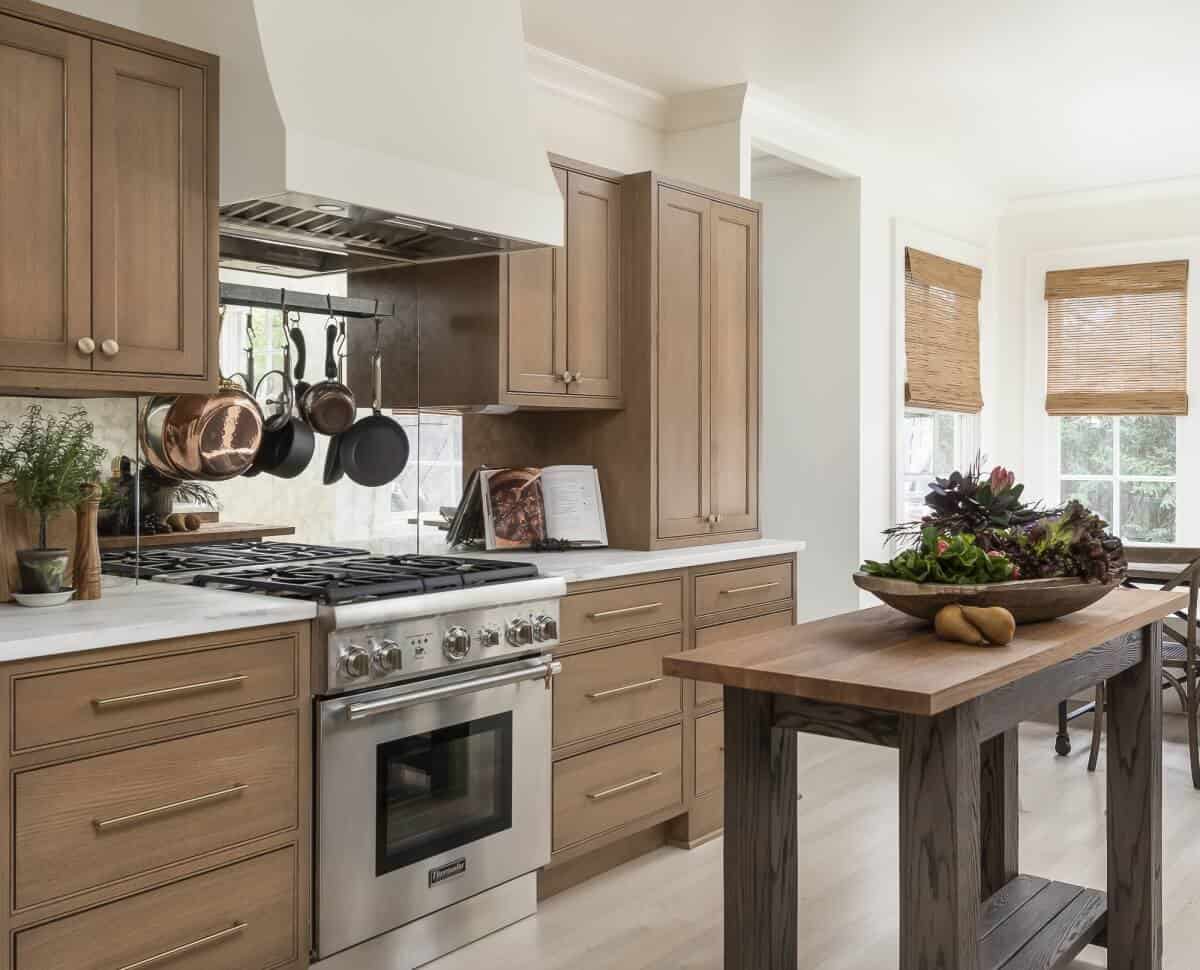 Image Source: Dura Supreme Cabinetry
Stained cabinetry is long-lasting compared to coloured ones and brings a rustic appeal and charm to the kitchen. You can stain your kitchen cabinets in wood brown, burnt orange, beige, etc., as per your choice.
Glass-front kitchen cabinets
Image Source: Sina Architectural Design
Glass-front cabinetry is perfect for both traditional and modern-style kitchens. Also, if you are not comfortable displaying the kitchen equipment, you can go for frosted glass doors instead of clear ones. This style is available in a wide range of designs and never fails to add sophistication to the kitchen space.
Sliding kitchen cabinets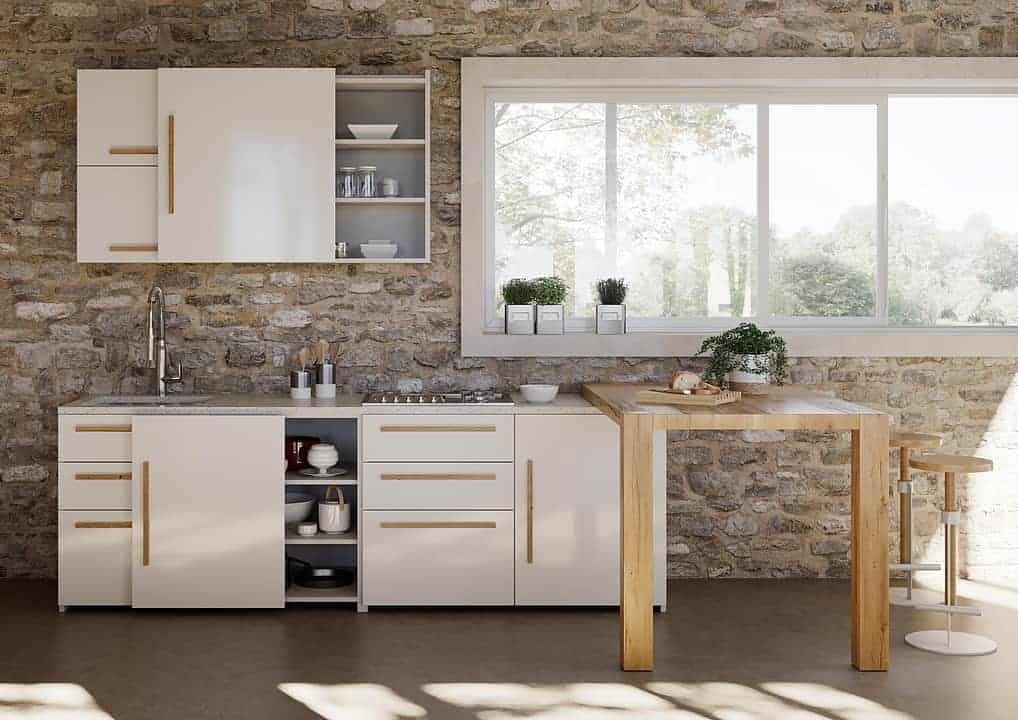 Image Source: Salice
Sliding cabinets are great for small kitchens. The sliding doors of kitchen cabinetry save a lot of space as they don't need space to swing open. Sliding cabinets give a sleek and seamless look and are also durable in nature.
Storage configurations in kitchen cabinets
Kitchen cabinetry is mostly about storage and organization. Cabinets with storage drawers, pull-out handles, shelf organizers, tandem boxes, etc., are always preferred for an attractive kitchen design. This is because functional and efficient cabinet storage options make your overall cooking experience enjoyable and seamless. For this, we have enlisted some top-notch storage configurations for your kitchen cabinetry:
Pull-out drawers/racks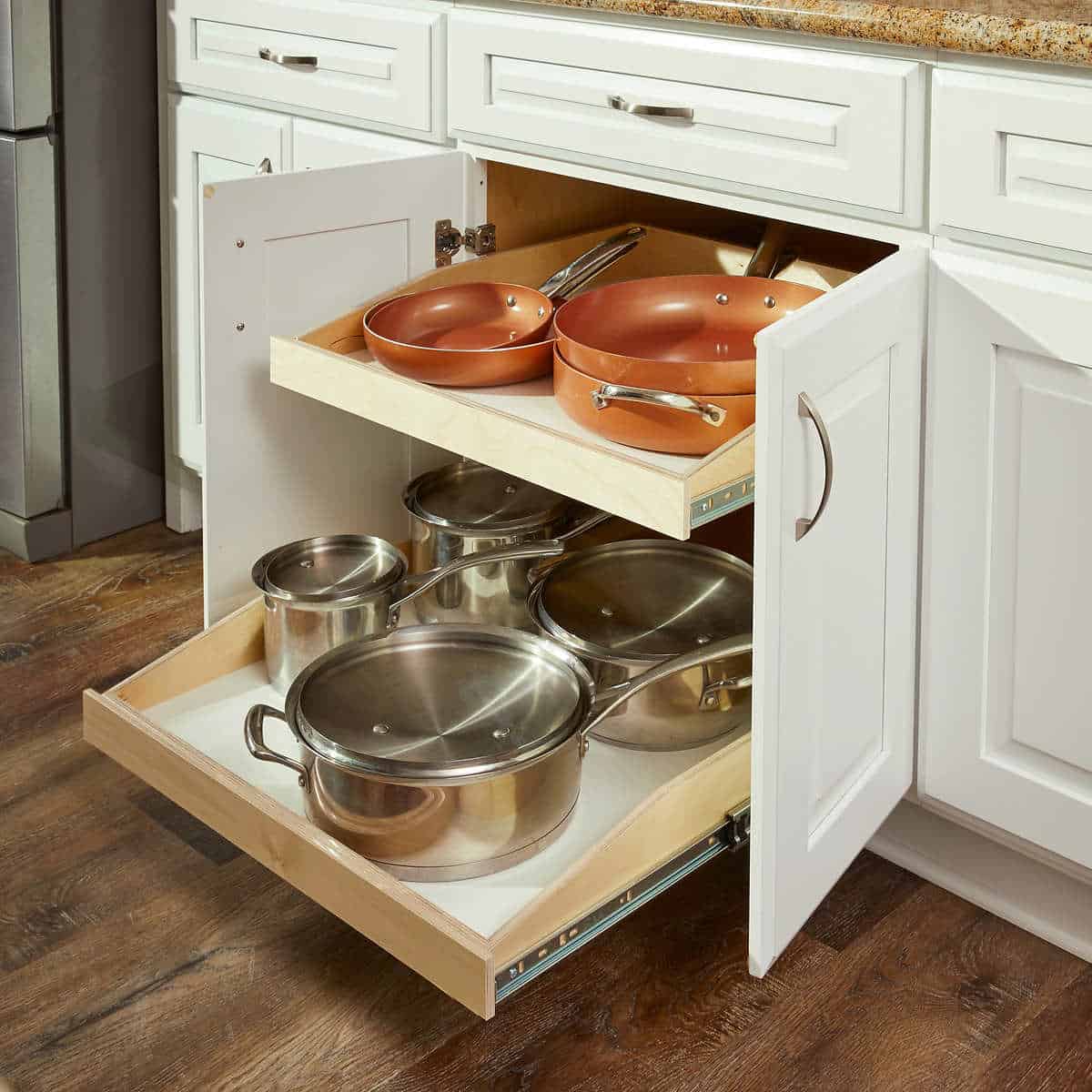 Image Source: Kitchen Sohor
Pull-out drawers or racks are one of the most popular components of kitchen cabinetry. They help to optimally use the cabinet space by providing access to unreachable items kept in the back of the cabinet.
Toe-kick drawers
Image Source: The Family Handyman
Toe-kick drawers display all their contents with just a nudge of your toe. These kinds of drawers are mainly installed between the space of the lower cabinets and the floor. You can use these drawers to store items of less frequent use.
Corner cabinets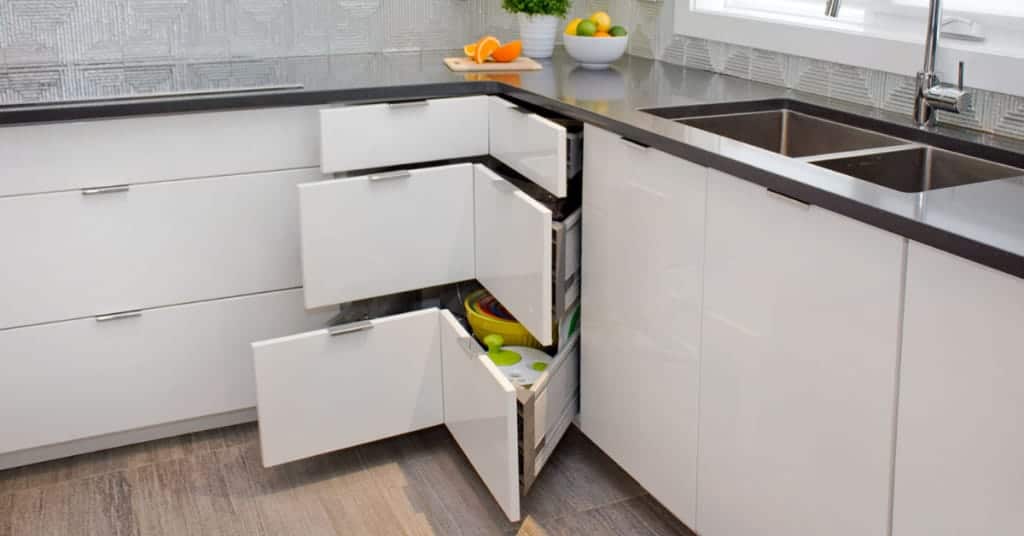 Image Source: Superior Cabinets
Corner cabinets allow the maximum utilization of the corner space. It can be installed both ways: as a wall cabinet and as a base cabinet. These cabinets differ in configuration from the other cabinets.
Lift-up wall units
Image Source: Salice
The lift-up mechanism allows easy and comfortable opening of heavy and big wall units by simply lifting them up. Lift-up wall units ensure simple access to contents and total freedom of movement.
Tandem box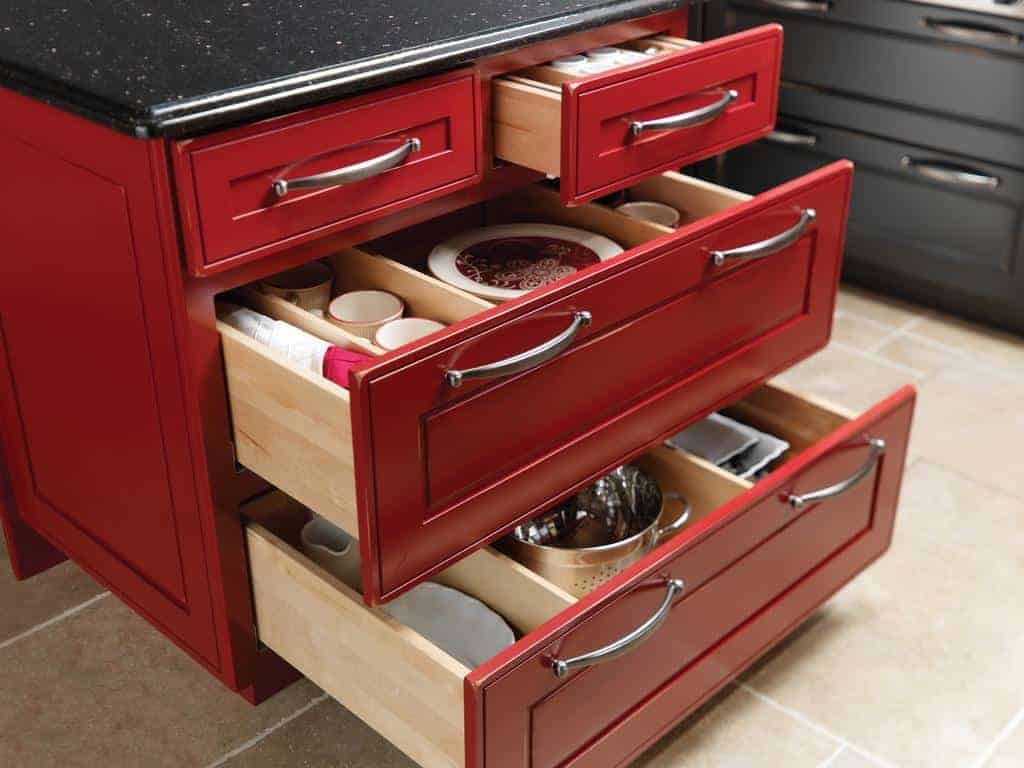 Image Source: Best Online Cabinets
Tandem boxes are drawers in the form of containers that work on a sliding mechanism. They come in various shapes, sizes, and forms and help you to keep similar-type items in one place.
Rolling shutters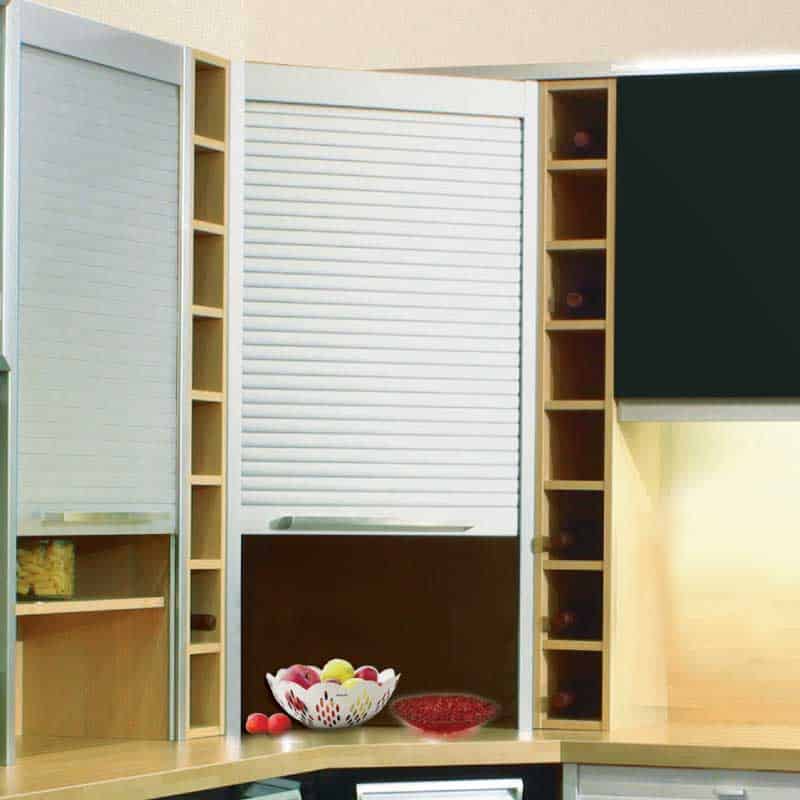 Image Source: Ozone India
Rolling shutters are comprised of numerous horizontal slats hinged together, which need to be raised or lowered using a handle to open and shut the modular kitchen cabinet. These shutters are great for a small kitchen area.
Tall units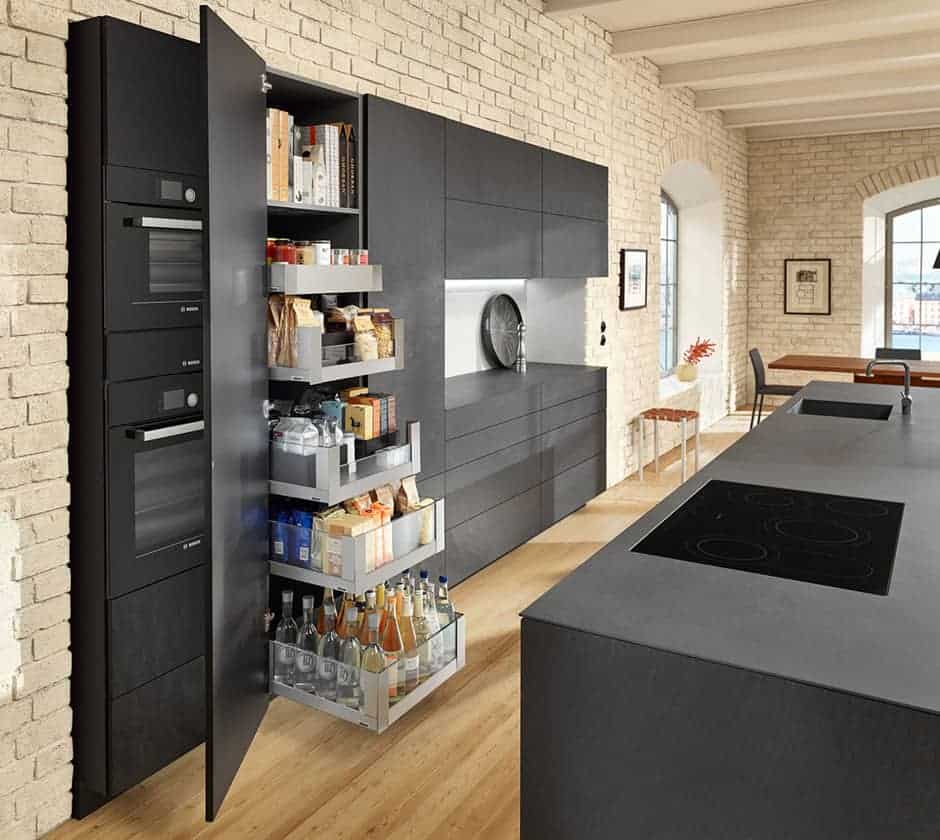 Image Source: Two Tone Kitchens
Tall units are perfect for any kind of kitchen, irrespective of its shape and size. These units provide a huge amount of storage space to contain bulky kitchen items in an organized way. Moreover, tall kitchen units can also have a niche to fit a built-in oven or microwave.
Shelf organizers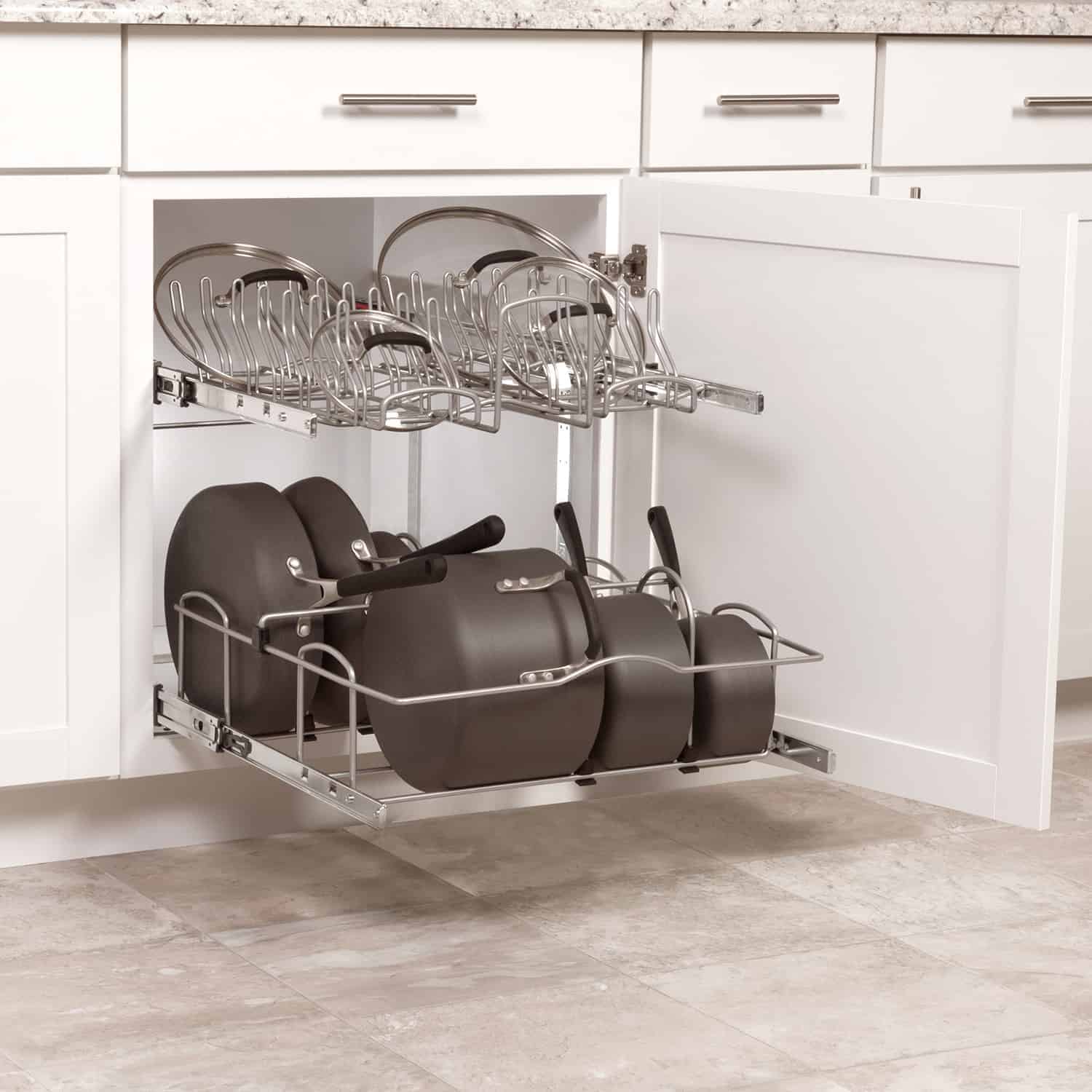 Image Source: Simplyput
Shelf organizers come with small compartments or fixtures like hooks or tension rods to sort various kitchen items like plates, jars, cooking pans, etc. These organizers convert even the slightest amount of space into storage.
Under-sink cabinets
Image Source: Cardell Cabinetry
Under-sink cabinets can be installed in the free space available under the kitchen sink. You can use these cabinets to keep items that are not used for cooking, like built-in dishwashers, floor cleaners, extra tissue rolls, etc.
Pegs and baskets
Image Source: BCulinary Lab
Pegs and baskets provide an intelligent way to organize your plates and pans. Also, you can customize your storage needs as pegs can be removed and configured into any desired layout.
Conclusion
Kitchen cabinets make your cooking time in the kitchen comfortable and fulfilling. Hence, kitchen cabinets play a very important part in the proper functioning of the kitchen area, and their style should blend well with the overall interior of the kitchen.
Kitchen cabinets are the major focal points of the kitchen as they provide storage space and organization. Also, your cabinets should have the perfect storage configurations and mechanisms to provide easy organization for the types of products you want to store in them. For instance, you cannot store big kitchen utensils in flat drawers.
Selecting the right features like the materials, handles, colours, finishes, and style for your kitchen cabinets determines the overall look and feel of your kitchen. You would be amazed to know that just by putting a particular colour on your cabinets, you can make your kitchen area appear big, spacious, well-lit, and lively.
The placement of the cabinetry is crucial as per the size of the kitchen space. You can have a huge unit if your kitchen area permits, or a thoroughly optimized unit for small kitchen spaces.
Now you know how small factors like materials, finishes, and accessories need to be planned before selecting kitchen cabinetry. So, get inspired by our ultimate buying guide to choose the perfect cabinets. Also, don't hesitate to pick any of the above styles and experiment with your own ideas to incorporate elegance and utility into your kitchen.
*The featured image used in this article is from Masterclass Kitchens
When planning or renovating a kitchen, there is a lot to consider. From layout and appliances to the colour scheme and materi