A third of your life is spent in bed and that reason is good enough for you to invest in the best type. Since the value of sleep cannot be understated, the requirement of having functional, comfortable, and beautifully designed beds should not be neglected. Whether it is a platform, convertible sofa, folding, futon, or bunk bed, it must suit all your preferences.
A bed is a piece of furniture that is used as a place to sleep and relax. Moreover, it enhances your productivity and quality of life. Most modern beds consist of a soft, cushioned mattress on a frame. While most types of beds are single mattresses on a fixed frame, other varieties, such as the murphy bed folds into a wall, the sofa bed folds out of a sofa, and the bunk bed provides two mattresses on two tiers as well as a ladder to get to the upper tier.
Having a versatile design, beds are available in many sizes, ranging from infant-sized cots and cribs to small ones for a single person or adult, to large queen and king-size beds designed for two people.
Have a glimpse of some of the most impressive types of beds in the market. From stylish and futuristic looking to unique and creative ones that have handy built-in features, refer to this article to buy the best bed for your bedroom. Whatever design or theme you have in mind, there is a bed or frame on this list that will complement it wonderfully.
In this comprehensive collection, get the full spectrum of bed varieties available to today's customers. Also, with the detailed information, easily select the best one depending on your unique requirements of size, design, style, material, and features.
Types of beds
There are a lot of things to consider when choosing new bedroom furniture. Do you want something with extra storage or something that is easily stored? Do you want one with a fancy headboard or a simple frame? Consider your current bedroom design & decor and find a type to match.
On the basis of the size of beds
The standard size of the bed depends on the standard size of the mattress, which varies from country to country. Moreover, the size changes as per the size and degree of ornamentation of the frame. Therefore, dimensions and respective names vary significantly around the world.
Fun fact: The largest bed in history was custom built for the summer festival of St. Gregorius in Hertme, Netherlands in 2011 and measured 87' x 54' or 26.5 x 16.44 m.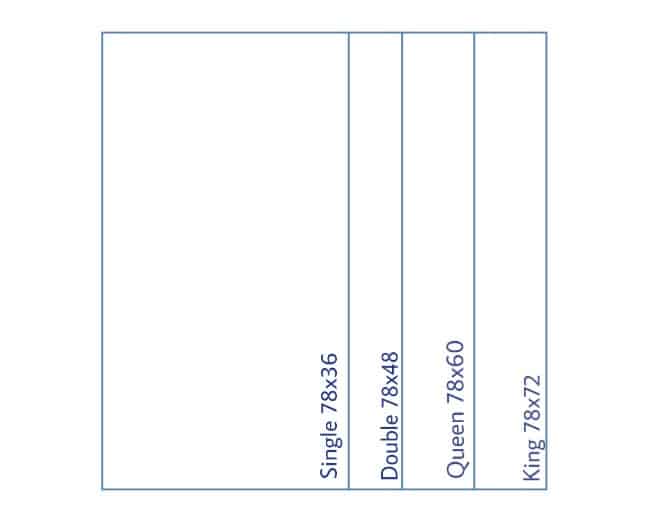 With most countries having their own standards and terminology, the following are the most common sizes available in India:-
Single beds are designed for a single person. Having narrow proportions, these best suit small bedrooms such as children's rooms, guest rooms, hotels, and micro apartments.
These types of beds have an overall length of 78" (198 cm) and a width of 36" (91 cm).
Double beds
Double beds are sized for sleeping two people or single individuals that want a little more space. They offer more flexibility for different types of users and spatial arrangements and have become one of the most common types.
These cots are economical and suitable for smaller apartments.
These types of beds have an overall length of 78" (198 cm) and a width of 48" (122 cm).
Queen size beds
Queen beds are for comfortably sleeping two people and have become the most popular size for couples. With extra width and length added compared to double beds, they provide more support for taller people and couples that feel a little cramped in a double bed.
These types of beds have an overall length of 78" (198 cm) and a width of 60" (152 cm).
King size beds
King beds are among the widest of all types and are ideal for spacious master bedrooms or for individuals that require the extra space to move when resting. In total, they provide the same amount of space as two single beds placed side by side.
This is a good fit for two adults who prefer to have plenty of personal space or two adults and a growing child.
These types of beds have an overall length of 78" (198 cm) and a width of 72" (183 cm).
On the basis of bed design
To cater to the needs, preferences, living space, and requirements of different people, there are various bed designs in the market. Listed below are a few types of beds based on their design.
Image Source: livingitup.co.uk
In general terms, they come with a base consisting of a raised or elevated structure meant to support the mattress. This platform provides sufficient support and ventilation for a mattress, eliminating the need for a separate base.
Although this type of bed frame rests on four legs, a few floating varieties are also present around.
These do not require, and actually discourage you from using box springs, so you'll only need a simple mattress to go along with your frame.
Folding bed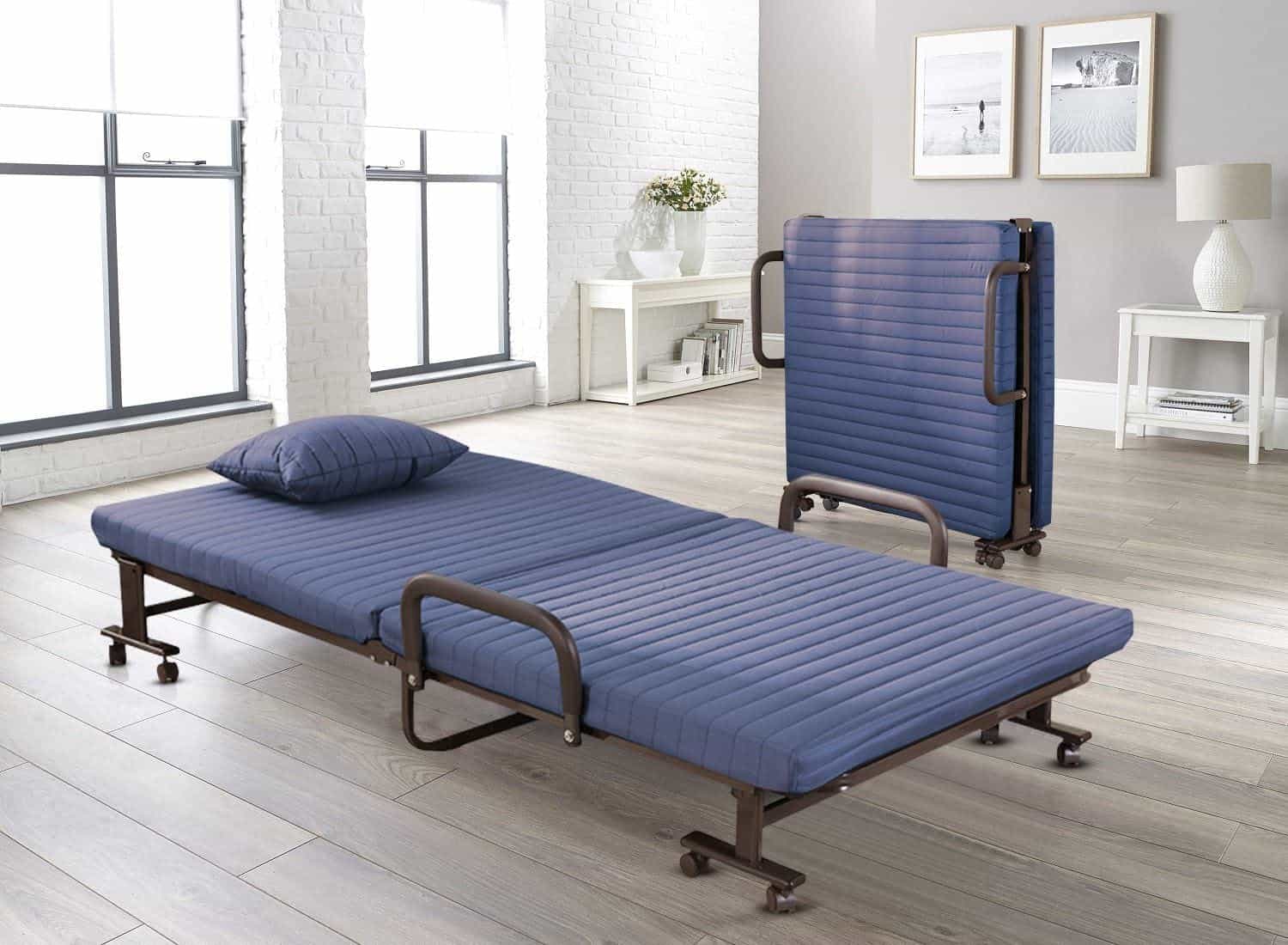 Image Source: Amazon
A folding bed is one of the most convenient types of bed frames for the home. These occupy less space in the house. Moreover, you can easily fold them and put them in a closet when not in use. Folding beds have a wooden headboard comfortable enough for sleeping as well.
Panel bed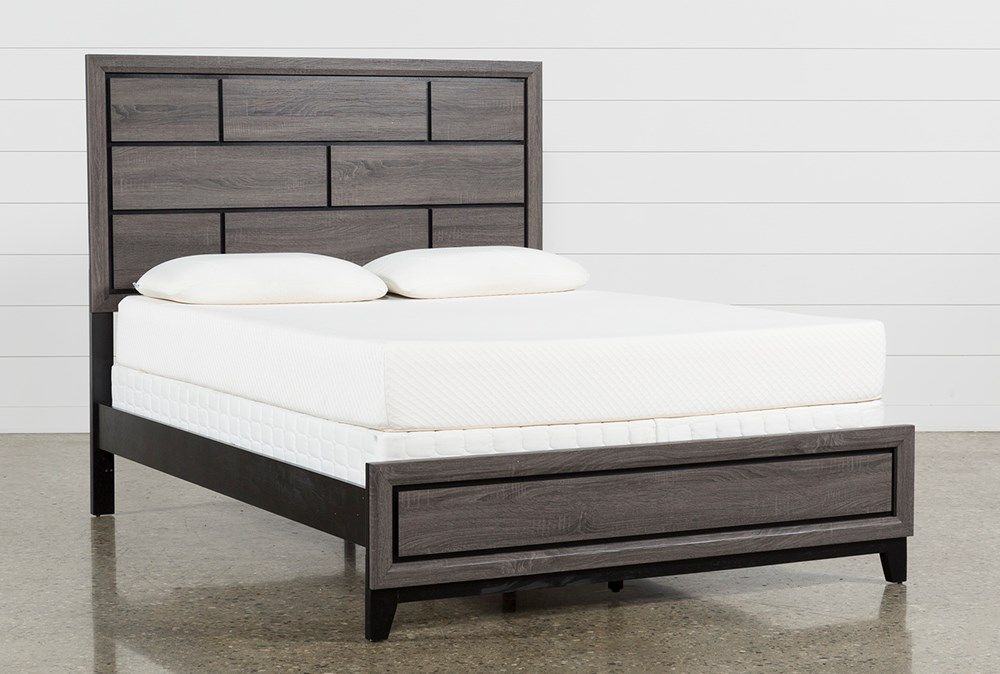 Image Source: Living Spaces
This basic option is of two kinds. One of its types includes a flat panel headboard while the other comes with a matching flat panel footboard.
They are slightly older in fashion but you will feel good sleeping on them. In addition, it features rails along the foot and head. This type of bed is built to support both a mattress and a mattress foundation. Its base is typically made with wooden panels to increase breathability and help extend the life of your mattress and foundation.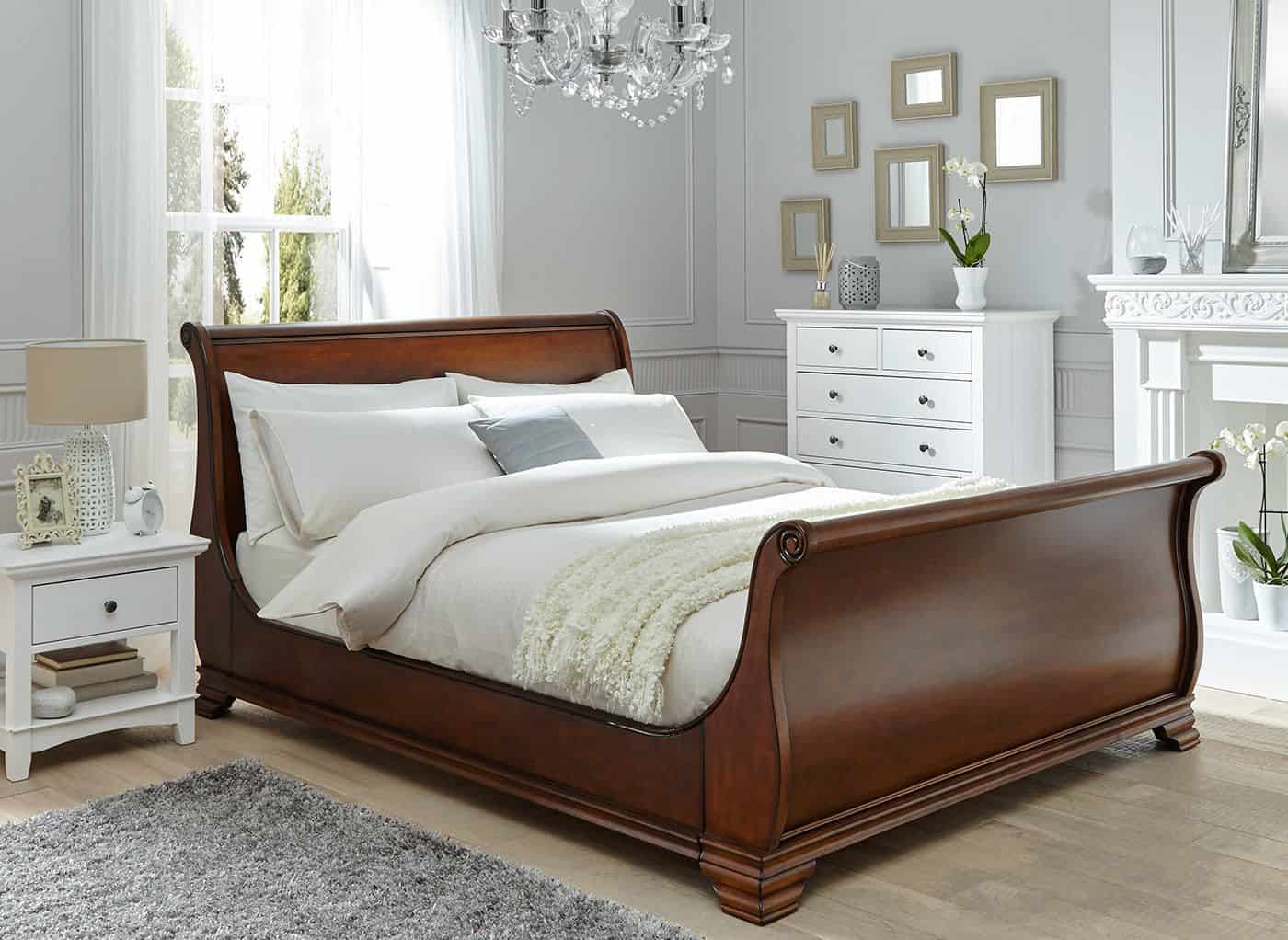 Image Source: wholesalebedsdirects
As the name implies, this frame resembles a sleigh. It has distinctive outward-arching footboards and headboards typically made out of wood.
It is a traditional type of bed frame that was created in the early 19th century.
Its sides are bigger than other types of beds. It is medium in height and touches the flooring. Thus, these may claim more floor space than other styles of the same size.
These can come in ornately designed, darkly stained wood styles or simpler, sleeker modern designs. Today, these are made from a variety of materials including wood, iron, steel, and aluminum, and often possess less exaggerated curves of the foot and headboards.
Futon
Image Source: Housely
A traditional Japanese futon uses a mattress on a wooden frame. In addition, a futon comprises a malleable mattress that can be laid directly on the floor for comfortable sleeping. A complete futon or folding bed set consists of a mattress and a duvet.
Traditional futons, a type of folding sofa bed, were made with cotton. But, in the 2000s, many futons include synthetic foam. Moreover, modern iterations of the classic futon look more like simple, low-to-the-ground sofa beds with cushioned upholstery perfect for lounging.
Futons must be folded away daily and aired in the sun regularly to prevent mold from developing. A futon dryer is also available for those unable to hang out their futon. Western-style futons, which typically resemble low, wooden sofa beds, differ substantially from Japanese futon counterparts.
Similar to a daybed and bunk bed, a futon can double up as a couch and bed. Perfect for small rooms and apartments, a futon has no headboards or footboards. You can sit, recline, or sleep on these folding beds comfortably.
Image Source: Functional Furniture NYC
A murphy bed orwall bed is a bed that can fold up into a wall or cabinet to save space. Similar to a futon, these are also space-saving.
Also known as a pull-down or fold-down bed, it is hinged at one end to store vertically against the wall, or inside a closet or cabinet.
Most of these do not have box springs. Instead, the mattress usually lies on a wood platform or wire mesh. The mattress is attached to the frame often with elastic straps to hold the mattress in position when the unit is folded upright.
Piston-lifts or torsion springs make modern Murphy beds easy to operate. It is a great option for those who want to maximize their space.
Four-poster bed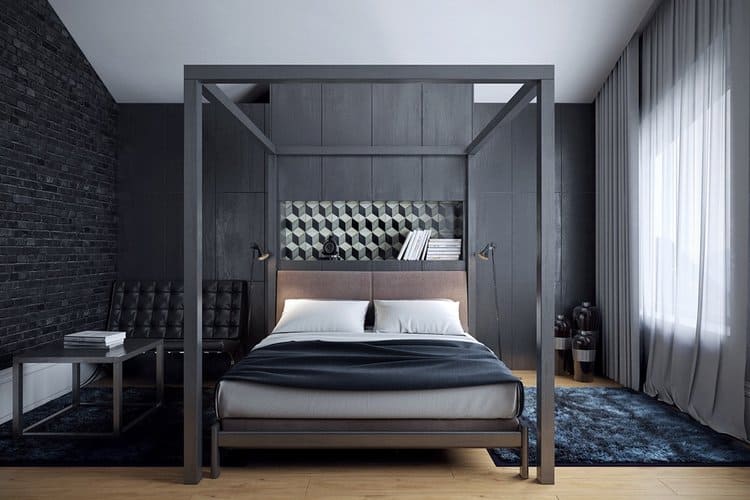 Image Source: Toronto Designers
It is known for the distinct decorative posts that rise up from each corner of the bed frame. However, the posts vary in height, some protruding only a couple inches above the mattress and others extending to almost ceiling height.
This style is a popular addition to a large bedroom. The posts can be designed in a variety of styles, from rustic to regal. Moreover, it occupies a larger space in the room and has vertical sides taller than the headboard and footboard.
Daybed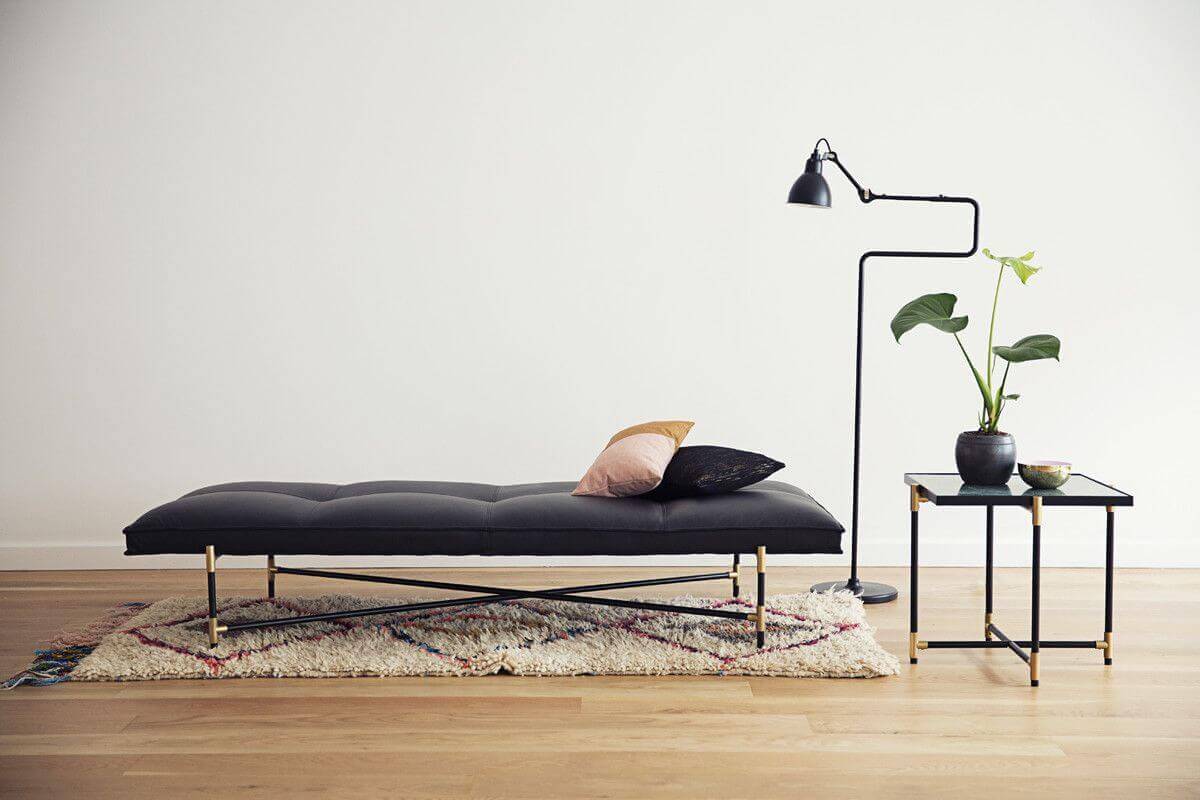 Image Source: KreateCube
A daybed is a couch that is used as a seat by day and as a bed by night. It is incredibly versatile because it can be used as a bed, a bench, and a sofa. While it serves the same purpose as a futon, it's a bit more elegant.
It comes in a variety of shapes and sizes, the most common ones being single beds. It is perfect for home offices, guest rooms, and even patios.
This multifunctional option doubles as a sofa and is meant to be placed against a wall. The headboard and footboard of a daybed act as the sofa arms, and some styles also have a sideboard that stands in for a sofa back.
Convertible sofa bed
Image Source: RightStyle
Also known as convertibles and hideaways, these are folding beds stored inside a sofa. Similar to a bunk bed, the main feature of sofa bed is space efficiency.
If you love things that are multifunctional, you're going to love a convertible & folding sofa bed. They can be transformed from a bed into a sofa, and vice versa. Folding sofa beds work great in any space in your home but are most commonly used in guest rooms.
Waterbed
A waterbed is a flexible plastic mattress full of water. As opposed to memory foam or spring, a waterbed isn't the most popular type of mattress. However, it has several benefits, including soothing sore muscles.
They are even used in different types of physical therapy. The water can be heated to have a therapeutic effect and relieve pressure on aching joints.
Image Source: dreams.co.uk
While airbeds are filled with air, they are different from air mattresses. An airbed uses an air-inflated mattress, sometimes connected to an electric air pump. Additionally, its portable version can be rolled up and packed making it ideal for travel.
However, these are considered more permanent and are designed to be used in the home, as opposed to camping or travel. They can be used as regular beds or can even be used in pull-out couches.
Ottoman bed
Image Source: casper.com
This is a type of storage bed with gas-lift hydraulics placed underneath the mattress base. It is accessed by lifting the hinged frame with the help of a spring or hydraulic mechanism.
It opens either from the food end or from one side. In addition, in case of space limitations, these are an excellent option. These add an air of luxury to your bedroom without sacrificing comfort.
Round bed
Image Source: IDF design
It is designed in the shape of a circle. The size of this style can be compared to the length of a king-sized mattress. This unique style is great for lounging and works well in a TV room, theater room, or placed near large windows.
Divan
Image Source: Wooden Street
Divans are unique because they have a specially designed base that consists of a wooden frame encased by fabric. The base sometimes includes a headboard and drawers for additional storage space. However, if you want a model without the drawers, you can opt for the standard Divan which can be custom made.
Moreover, it comes with a mattress designed to work with the base for your comfort. It is perfect for those looking to purchase a mattress and bed all in one. Their soft headboards also make sitting up more comfortable while reading or watching television.
Bunk bed
Image Source: casper.com
A bunk bed necessarily is two or more beds one atop the other. They are used for adults in military barracks and in some ski lodges. In addition, they are used for children and teens in summer camps. Some inexpensive hostels provide bunk beds for guests as well.
Also known as double-decker beds, these are ideal for bedrooms that are shared by multiple children. Traditionally, it's a single bed stacked on top of another with a ladder leading to the top bunk.
Futons and these have one common property- space efficiency.
Triple bunk bed for kids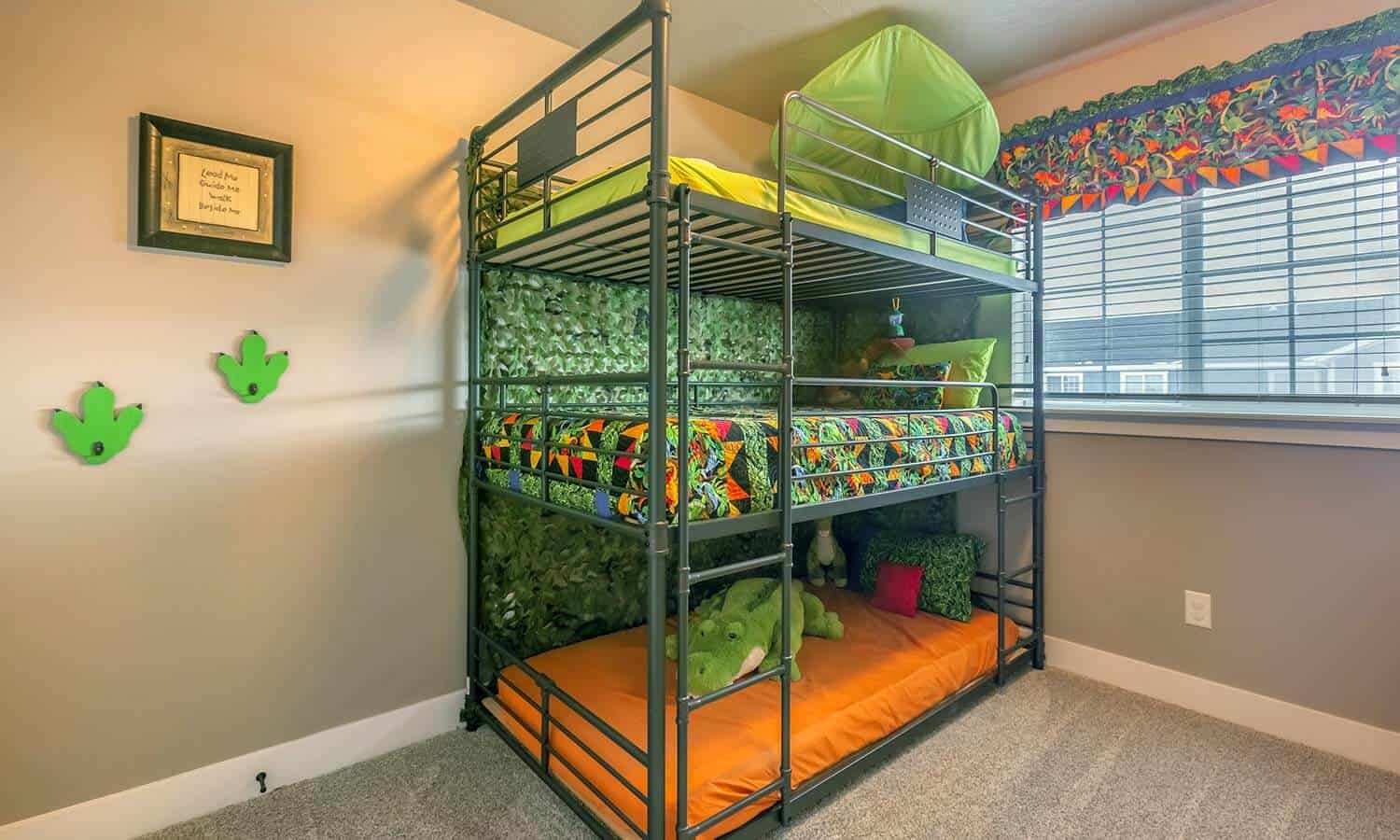 Image Source: casper.com
Just like the name suggests, triple bunk beds have three beds. They stack directly on top of each other and can be made out of metal or wood. Triple bunk beds come in single, double, and queen size beds for children of all ages.
Cot bed for children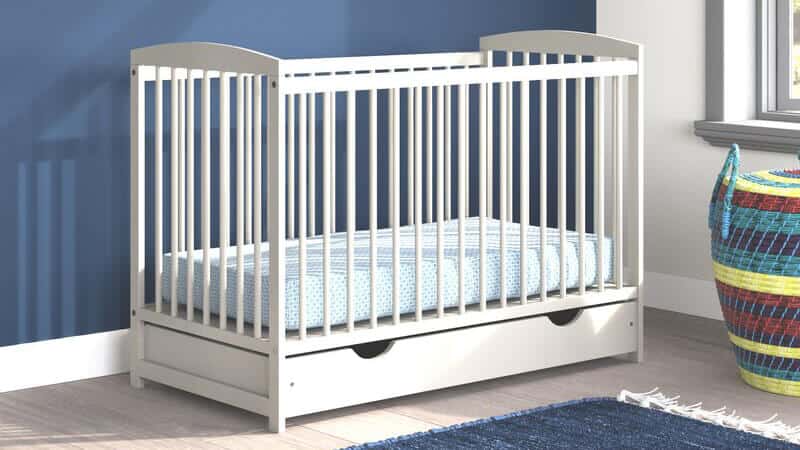 Image Source: goodto.com
It is necessarily a crib or cradle for infants and young children. Today, due to its versatile design, cots are available in bigger sizes as well.
It has a cage-like design that restricts the child to the bed. The sides are too high for a baby to climb and provide no footholds. In addition, some cot designs contain a drop gate to ease the process of putting a child into the bed.
Convertible cots that can be turned into a standard-sized bed as the child grows older have become increasingly popular these days. This ensures a long useful life for the furniture.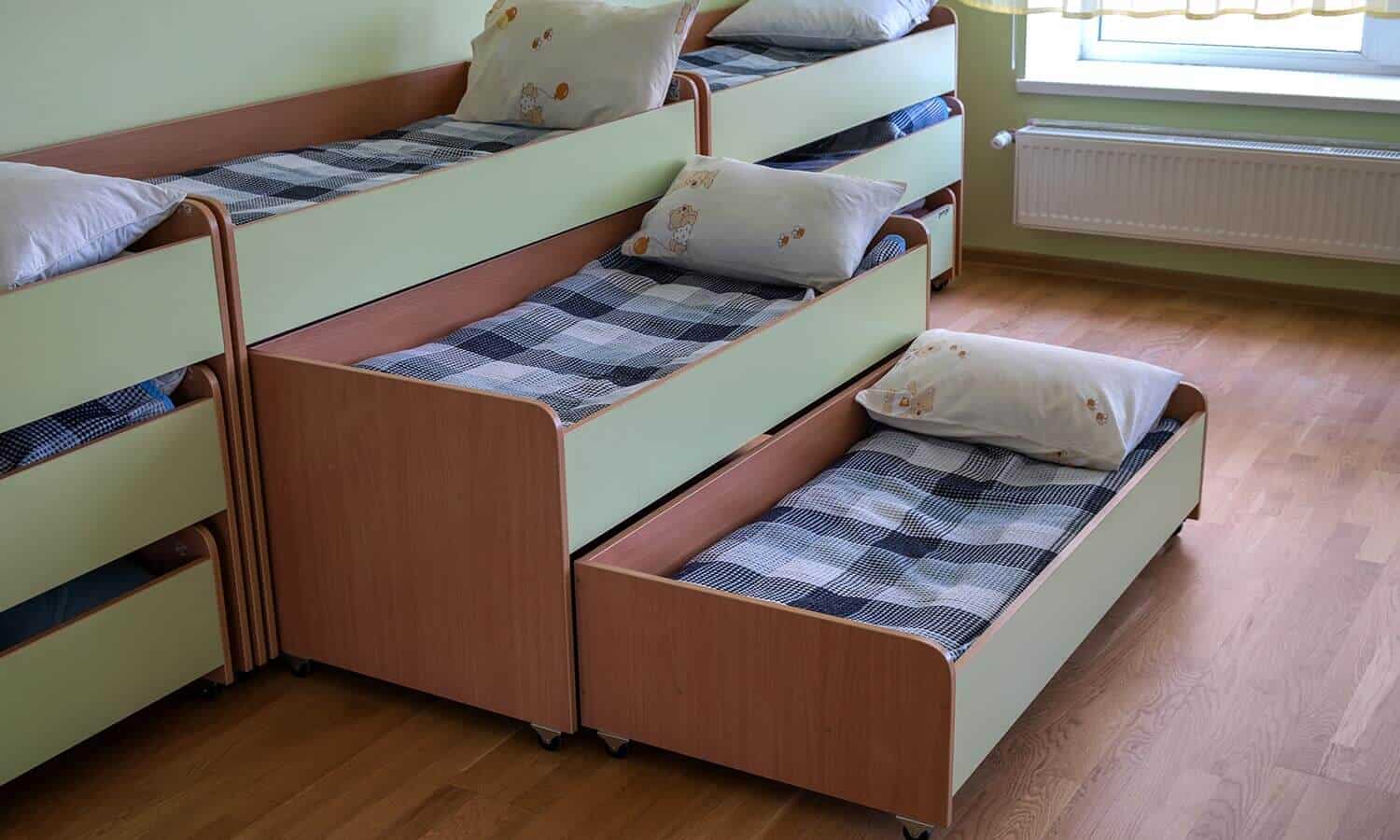 Image Source: casper.com
A trundle or truckle bed is usually stored beneath another bed during the day. They have been in use for centuries. In the modern era, they are sometimes referred to as sleepover beds or daybeds with pop-up trundles.
They are the opposite of bunk beds as they have a built-in design underneath that pulls out. These are another great way to save space in a kid's bedroom and are great for sleepovers.
Similar to a bunk bed, it is space-saving in nature. It has a high headboard of wood and no footboard.
On the basis of the style of beds
If your home or bedroom has a specific aesthetic, you'll likely want to get bedroom furniture to match. From traditional to Scandinavian styles, we have covered different styles for every home.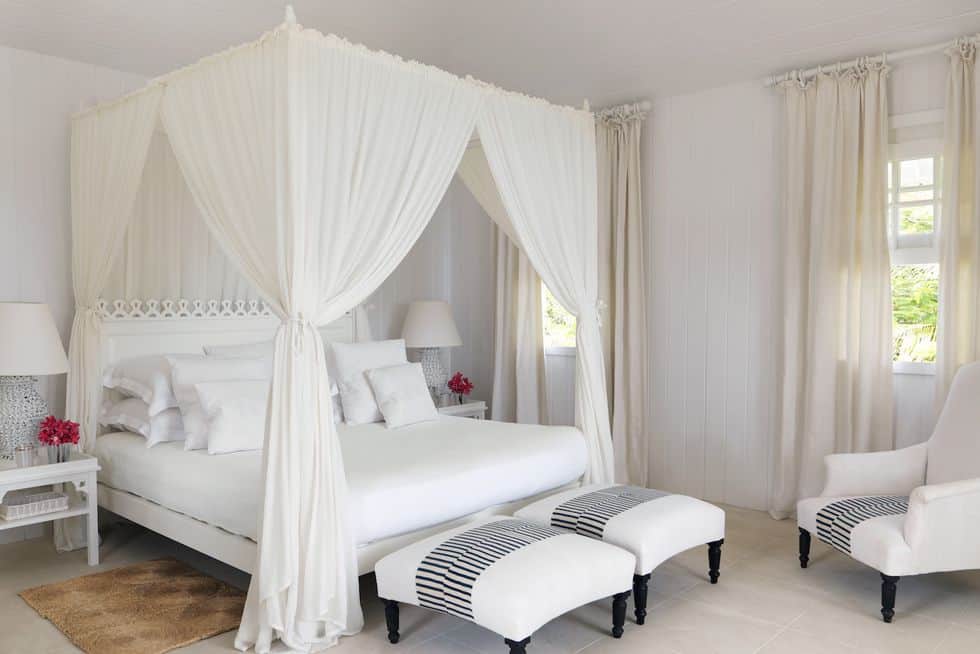 Image Source: Katie Considers
It is the modern version of a traditional canopy bed having a very thin frame. It can be made from a variety of materials to suit your style and space. Moreover, its design works well in most bedrooms and doesn't have any overwhelming ornamentations. Therefore, this style easily fits in with the décor of your room.
Traditional style bed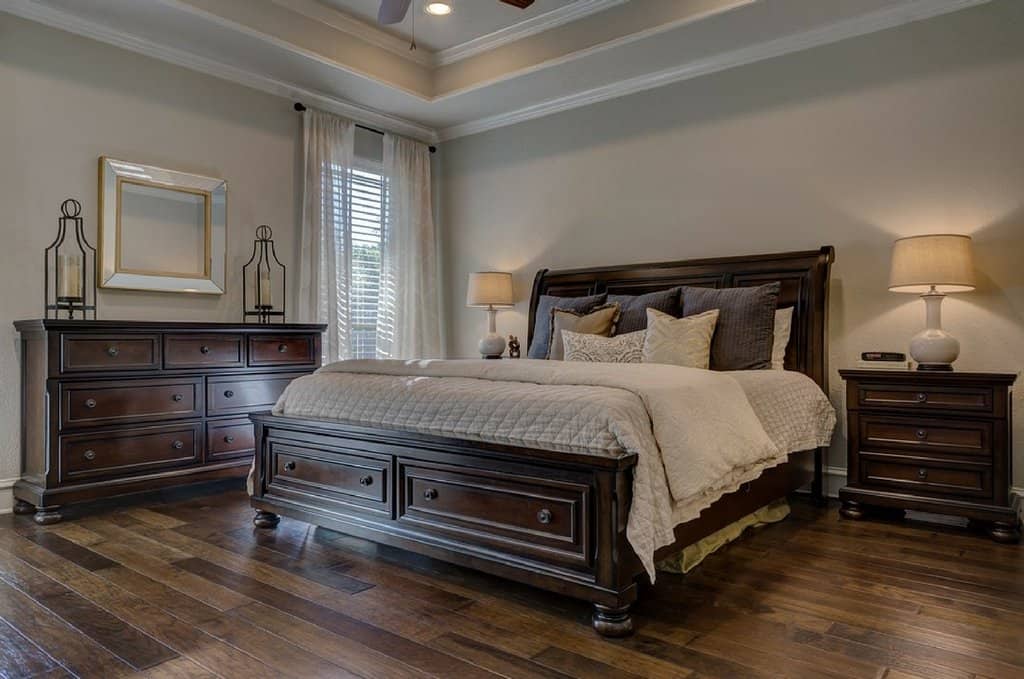 Image Source: Nour Luxury
This style includes a variety of designs from past eras. These designs include canopy beds or a different variation of each.
It is typically made with dark wood to capture the timeless traditional style. Additionally, with these styles, you will get the elegance of modern-day touches with regular features.
Mid-century bed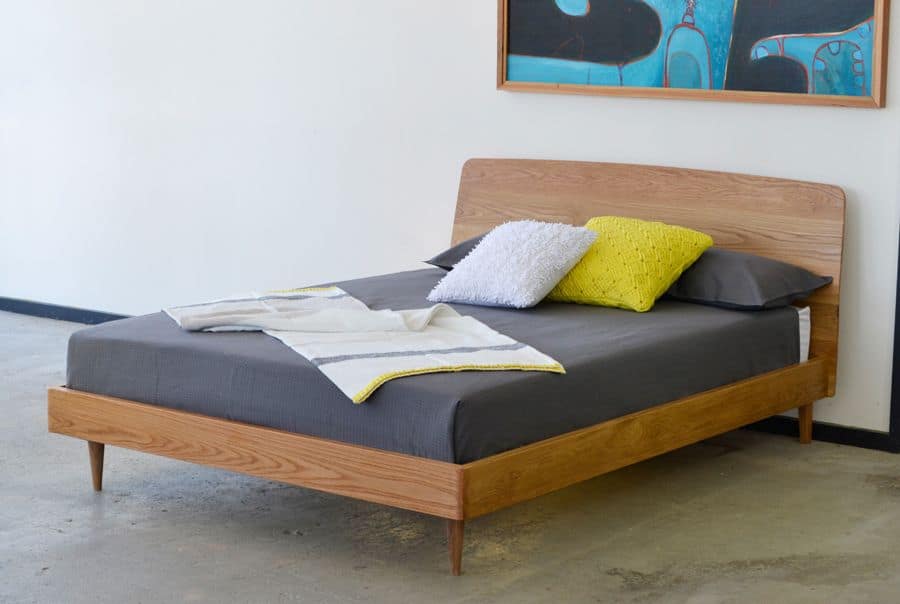 Image Source: the natural room
These styles consist of features from the mid-1900s with a traditional style. They are generally made out of wood and impart a vintage appeal to your bedroom. Also, they feature retro upholstered heads and footboards. These are sleek in design and contribute to the bedroom's ambiance.
French-style bed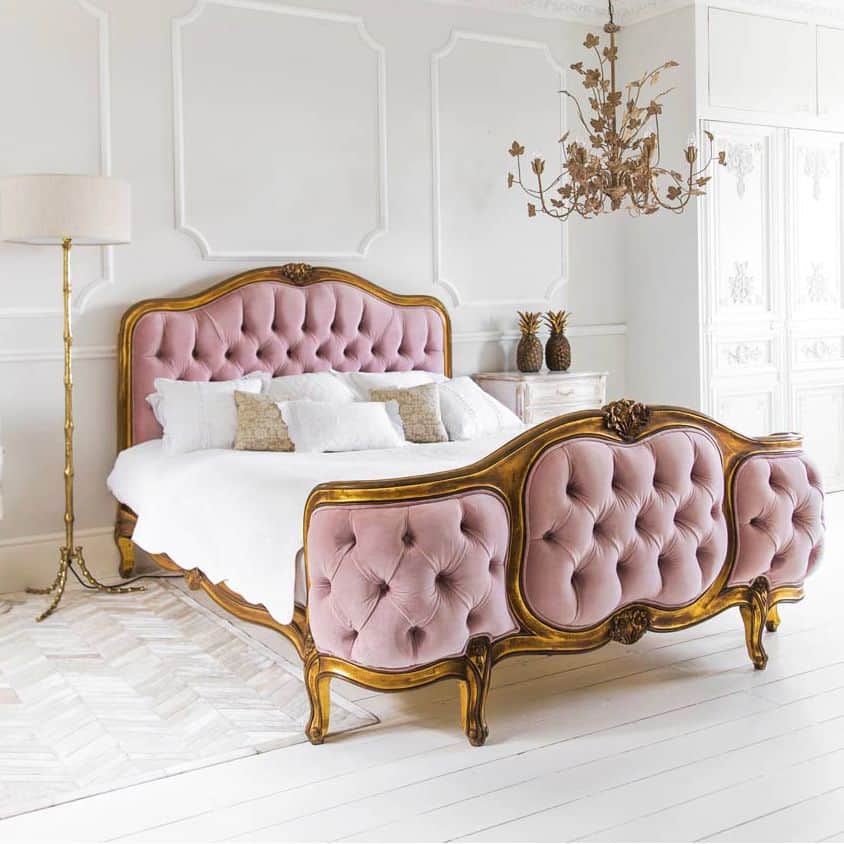 Image Source: French Bedroom Company
Elegant in design, these are a classic option. These feature romantic headboards, sometimes accompanied by footboards. Although these resemble upholstered beds, these styles have unique characteristics that set them apart.
Therefore, they work great in master suites and can add a touch of romance to any room.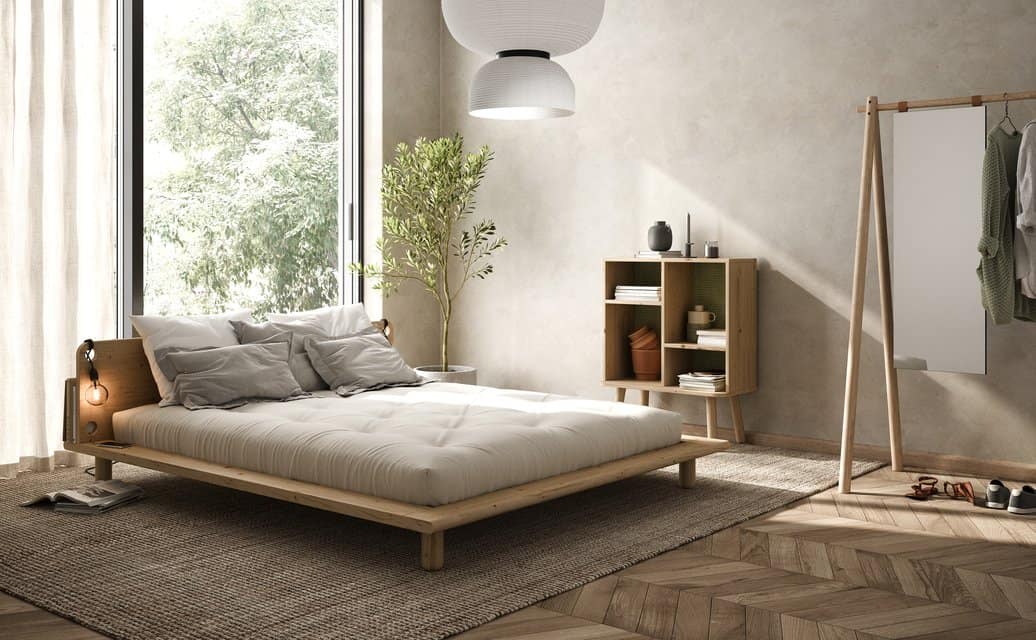 Image Source: Nordic Soul
Apart from a common culture and language, the Scandinavian countries share a decorating style that is light, airy, simple, and clean.
These Nordic-inspired designs offer a simple, clean look. Ideal for modern homes, these bed styles are made of solid wood.
Country style bed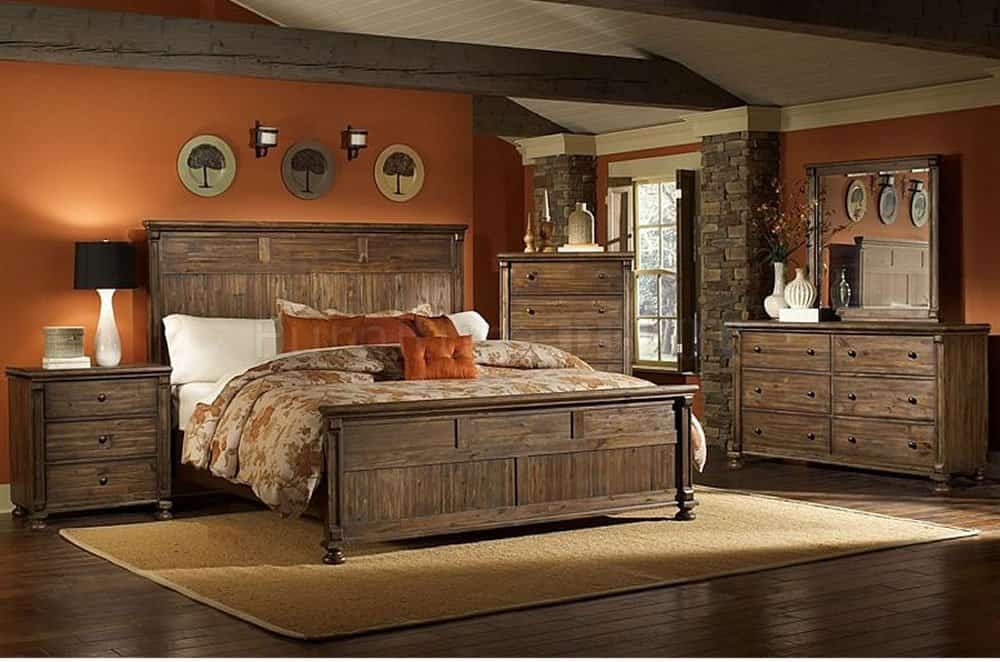 Image Source: apppie.org
Rustic looking, this style is typically made from wood with a tall, flat headboard. Moreover, they also look like paneling made from wooden logs to give it a woodsy accent.
These have a unique rustic and aged appeal to them.
Modern bed style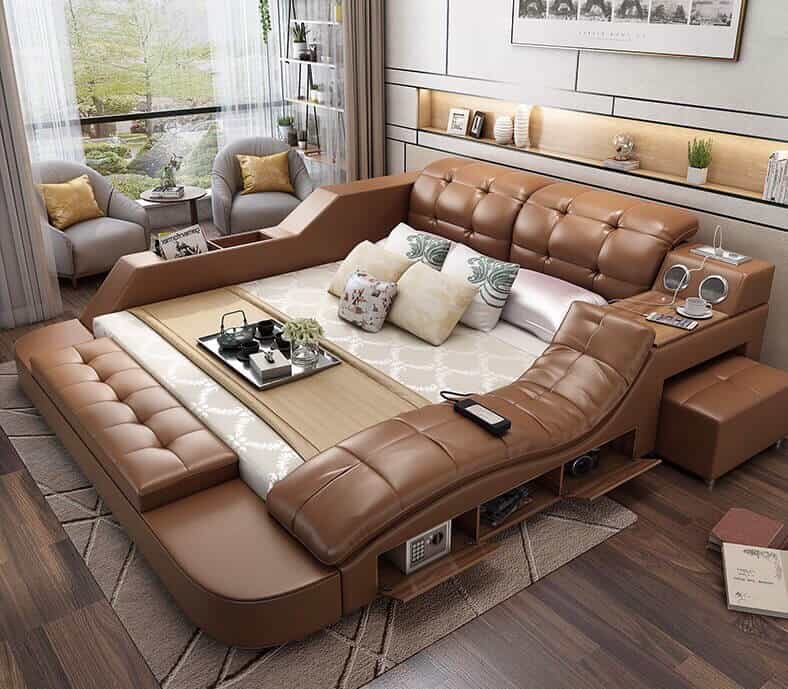 Image Source: Alibaba
Modern styles are rather sleek and up-to-date in design. Nothing about these is inordinate or too flashy making them suitable for all kinds of homes. Therefore, this style is preferred and desired by most homeowners.
On the basis of special functional features
Your bed is the largest piece of furniture in your bedroom. It covers a huge amount of space that you may use as concealed storage.
Storage beds with box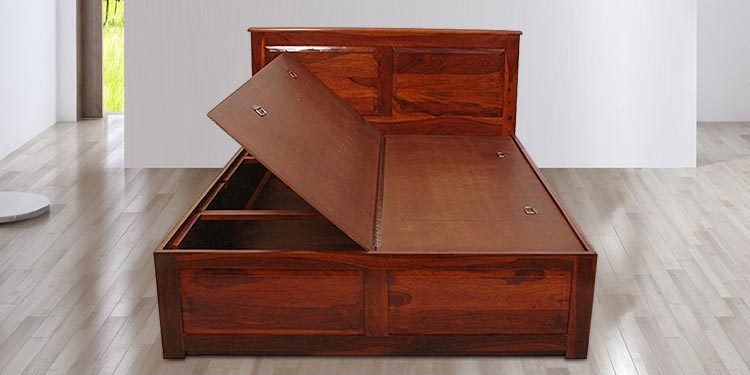 Image Source: ourmattresswall
A box bed with storage makes the most of the space to store items such as unused bedding, linens, and seasonal clothes.
Having a sensible in-built storage space, they are statement furniture pieces. Moreover, organize the storage space with boxes and dividers to create the perfect balance between style and functionality.
Hydraulic beds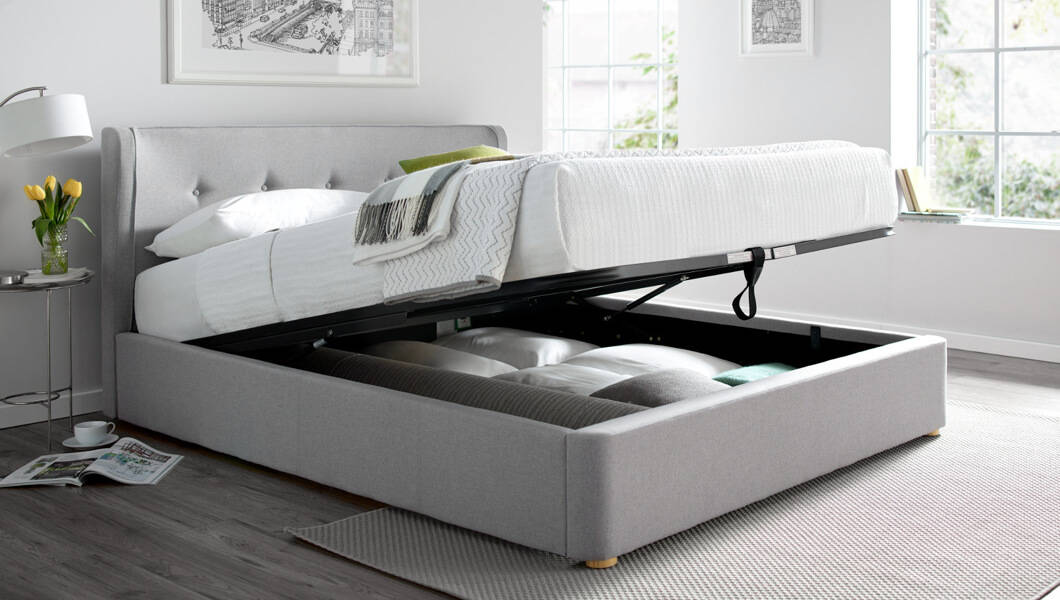 Image Source: time4sleep.co.uk
Offering easy and hassle-free operation, hydraulic beds double up as storage solutions. Due to their amazing features, they are fairly popular for homeowners looking to invest in bedroom furniture.
These have an expansive storage space along with a hydraulic lift mechanism that makes handling the furniture convenient. These are available in a wide variety and enhance the style quotient of your bedroom.
Beds with headboards
Image Source: Haus Photo Media
When it comes to ultimate comfort, beds with headboards are an ideal choice. These can completely change the look and feel of your bedroom.
Headboards come in all shapes and sizes. They can potentially turn an all-basic design into a striking feature of the bedroom. Hence, they elevate your space and make it cozier.
Beds with drawers
Image Source: casper.com
This design incorporates under-bed storage, usually in the form of deep, wide drawers. In addition, some of these designs have storage space in the headboard as well.
Therefore, these are perfect for a smaller bedroom with minimal storage space.
Hospital beds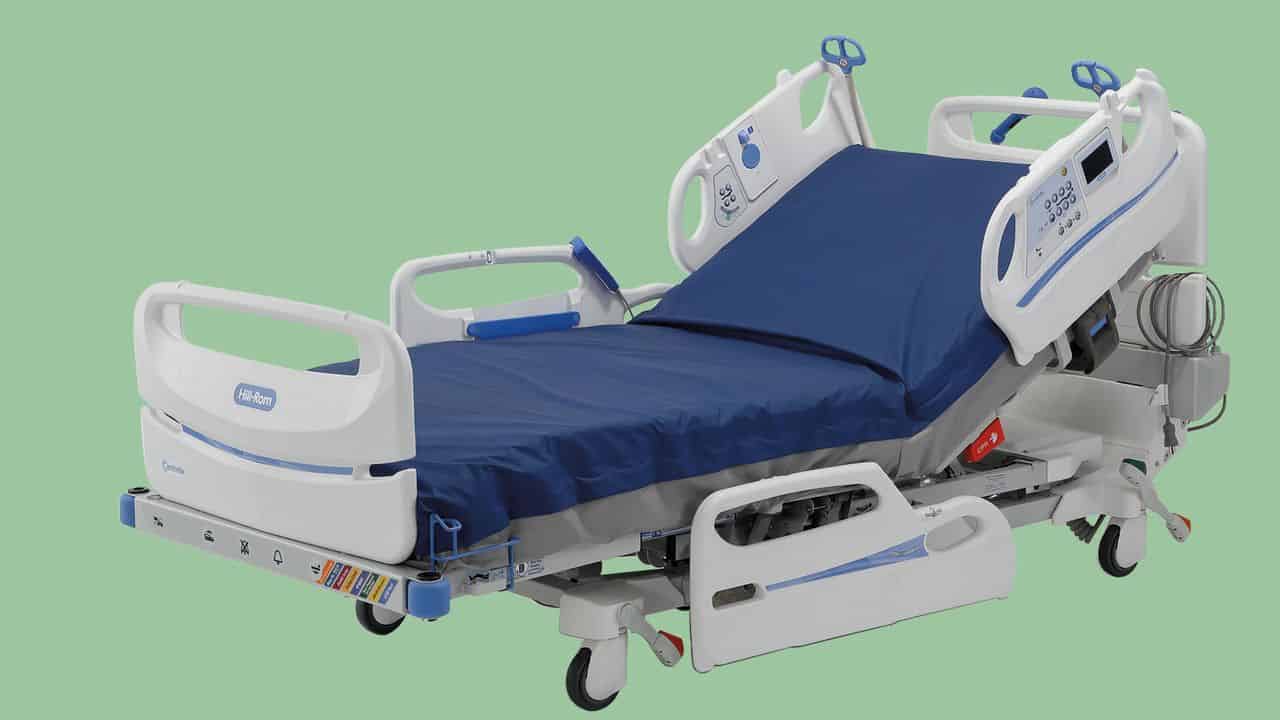 Image Source: The Wall Street Journal
A hospital bed is designed particularly for hospitalized patients or others in need of special health care. These have special features for the comfort and well-being of the patient. Moreover, these facilitate the convenience of the hospital staff.
Its common features include adjustable height, the head, and the feet, adjustable side rails, and electronic buttons to operate both the bed and other nearby electronic devices.
Hospital beds and other similar types of beds such as nursing care beds are used not only in hospitals, but also in other healthcare facilities and settings, such as nursing homes, assisted living facilities, outpatient clinics, and in-home healthcare.
They possess the following physical features:
Wheels that enable easy movement.
A mechanism that can raise and lower the head, feet, and their entire height.
Side rails that can be raised or lowered serve as protection for the patient.
Columns that help tilt the bed to 15-30 degrees on each side.
Exit alarm whereby a pressure pad on or in the mattress arms an audible alert.
CPR functions in the form of a button or lever.
On the basis of frame material
There are a lot of options available when it comes to frames. Thus, the following is a list of the predominant types of beds that could help you furnish your bedroom.
Metal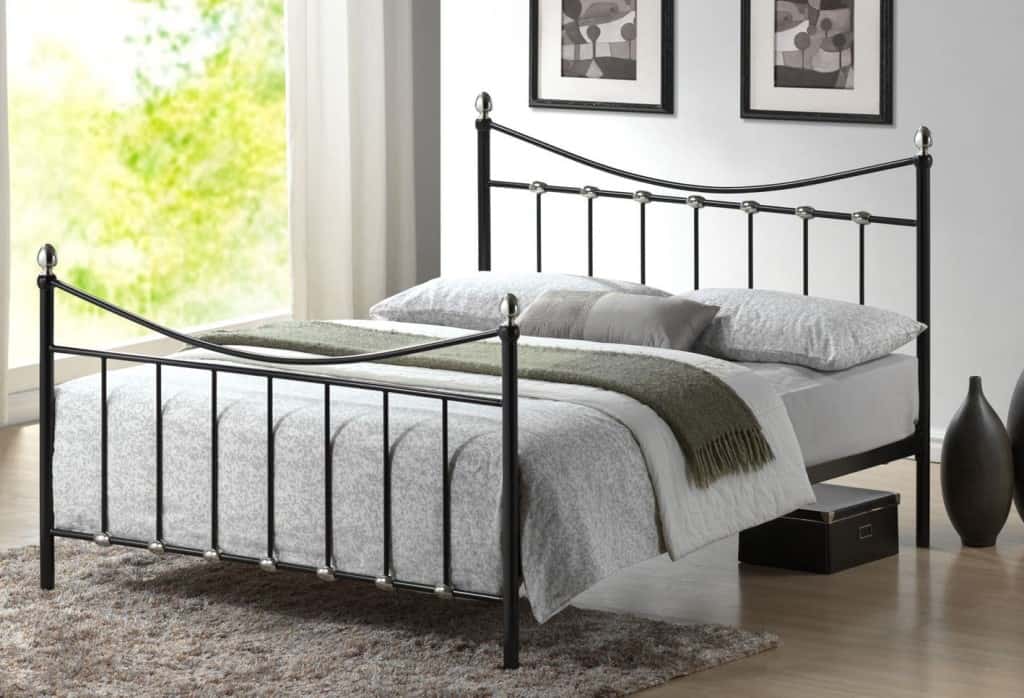 Image Source: apppie.org
Metal frames are the most common and cost-effective option. Eliminating the main drawback of wooden frames, these are light in weight and hence, quite easy to move around.
These are almost always used with box springs except in the case of a bunk bed. In that case, they have bars that support the mattress without having to use a box spring.
Image Source: Head2Bed UK
Wood is the oldest material used for manufacturing furniture. In addition, it is suitable for carving, cutting, and painting to make beautiful pieces. Nowadays, engineered wood like plywood, MDF (medium-density fiberboard), etc. has become quite popular materials for this purpose as well.
These range in style from rustic, vintage, country, cottage, and so on. Moreover, these are much easier to buy with shelves in them. In addition, the warmth of wood gives your bedroom a homey feel. Wood bed designs are available in a variety of finishes and styles.
Upholstered
Image Source: Neon Brand
These became particularly popular in the last few years. The upholstery laid on top of a layer of padding makes the headboards very soft as well as comfortable. This is something that a lot of people look forward to.
They often feature the buttoned look and offer a luxurious and decorative touch to the bedroom. These have frames made of a variety of materials including suede, velvet, and faux leather.
It's perfect for those that like to sit on their bed to read or work.
Woven or Rattan
Image Source: Bloom Furniture Studio
Woven (also known as rattan or wicker) beds have a casual vibe to them. Used more and more in homes and for outdoor recreation, these are popular for their lightweight and sturdy frame.
Generally made from plastic or plant-based materials, these frames give your bedroom a country-like look. Moreover, these act as a great way to add texture to farmhouse, country, or beach-style homes.
Brass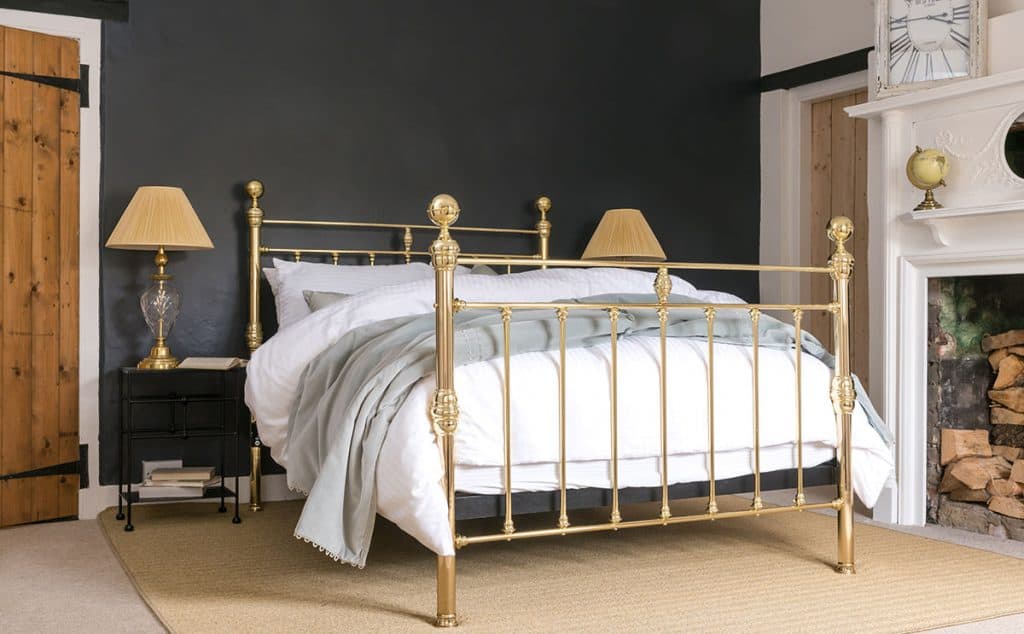 Image Source: Design Corral
Brass frames contribute to the elegant and old-fashioned look of a bedroom. These are available in a variety of styles, with or without head and footboards. Moreover, these frames typically have a curved head or footboard. Similar to any other metal frame, these also are lightweight and sturdy.
Conclusion
Now that you know the specifics, you can choose one based on your room size, price, and other factors. Additionally, if you are looking for a size that isn't standard, opt for a bespoke design and size.
Choose from budget-conscious upholstered futons or folding beds oozing with luxury to mid-century modern frames with strikingly rich finishes. On the other hand, platform beds are a simple way to modernize any bedroom.
A smaller home needs to make the most of every piece of furniture. Moreover, a multifunctional designer bed can serve as a sofa by day and convert into a bed at night.
A sofa bed is ideal for small apartments where it takes up very little space and pulls out to make a single bed. Featuring no headboard or footboards, a folding futon bed is suitable for laying directly on the floor for comfortable sleeping. Western-style futons look a lot like sofa beds. Similarly, bunk beds can accommodate two children easily without taking up double space in the room. Its other variation is a triple bunk bed for kids.
Cots should also meet the highest safety standards of design as well as materials to ensure maximum safety for your child.
If you like to spend time reading in bed, you will enjoy the luxurious comfort of an upholstered designer one. Moreover, the upholstery adds a distinctive soft elegance to the design. Also, it is quite comfortable to lean on.
We hope that you found this piece informational and now you won't face any challenges in selecting the perfect bed for your bedroom. Lastly, shop for the best-suited beds as per your taste, requirements, and preferences.