UPVC windows such as bay windows, sliding windows, etc. have revolutionized the game of windows and doors with their excellent features and great price ranges. Also, it is a topic of interest for all architects, developers, and constructors who want to take up better and innovative projects.
UPVC is one of the oldest polymers. Also, the cost-effectiveness, non-toxic, environmental-friendly properties make these windows an ideal choice for every building.
These windows need the least maintenance and offer high security and safety to the house. Also, these window designs come in a wide arrange of choices. So, they make ideal home décor items as well.
This article, however, deals with several lesser-known but extremely important details about these windows.
What are UPVC

Windows

?
UPVC (unplasticised polyvinyl chloride) is a form of plastic that is durable, rigid, and strong.
It provides a solid foundation for doors and window frames. Also, it is BPA-free, which means that it cannot be contaminated and does not have any toxic characteristics.
UPVC vs PVC windows
Architects prefer UPVC over PVC windows for its unique properties:
Does not warp in extreme temperatures.
Also, it is recyclable.
It is chemical erosion-resistant.
Also, maintaining these windows and doors is easy
It is not too heavy on the pocket.
Also, it is long-lasting.
Doors and Windows are the underrated stars of an amazing architectural design. Also, constructors and architects give a lot of thought to their design and planning.
Windows not only provide ventilation and light but also enhances the aesthetic appeal of a building.
There are many types of Window Systems such as bay, casement, etc. In this article, we have narrowed down some of the most widely used categories.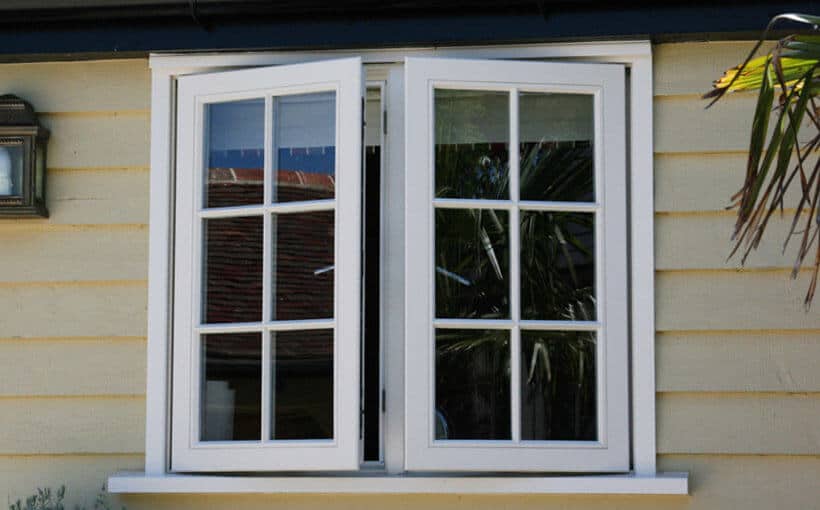 Casement windows are attached to their frame at the side by one or more hinges.
Moreover, the air leakage rate is very low in Casement Windows. They are excellent for ventilation. Also, they trap the heat with their effective sealing.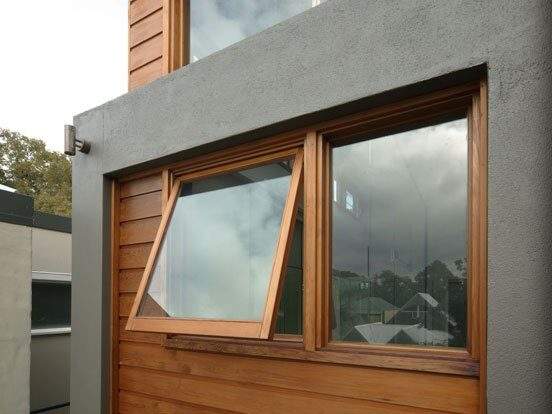 Awning windows are hinged at the top. So, they open outward and offer protection from rain and sunlight and also provide proper ventilation.
Also, most awnings are made from UPVC which makes them highly durable.
UPVC window design #3: Sliding Windows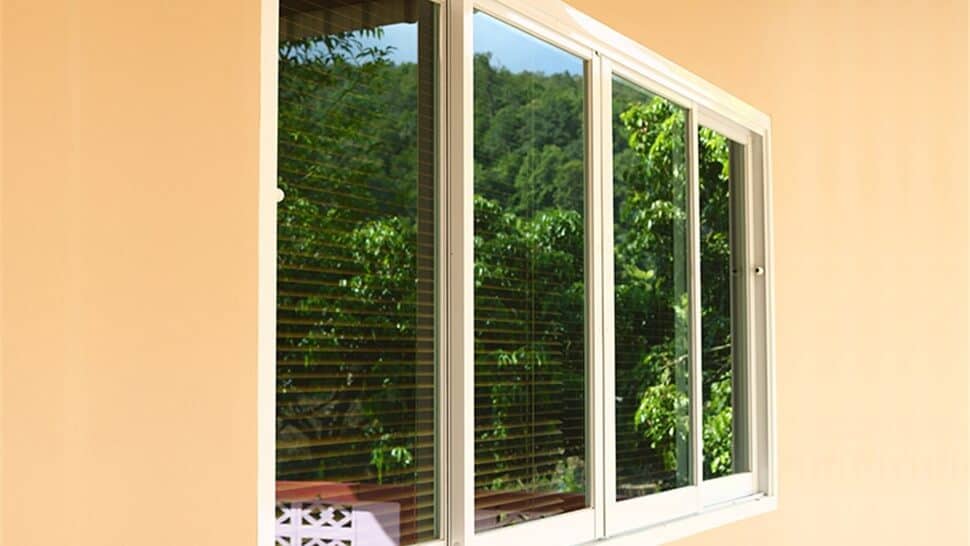 Sliding windows slide to open sideways. These sliding windows offer proper ventilation and light.
Also, sliding or Slider Windows are great space-saving solutions for buildings. They come in two and three-way sliders.
Also, a variety of styles and colour options are available in Window Sliding Systems
UPVC window design #4: Single-Hung and Double-Hung Windows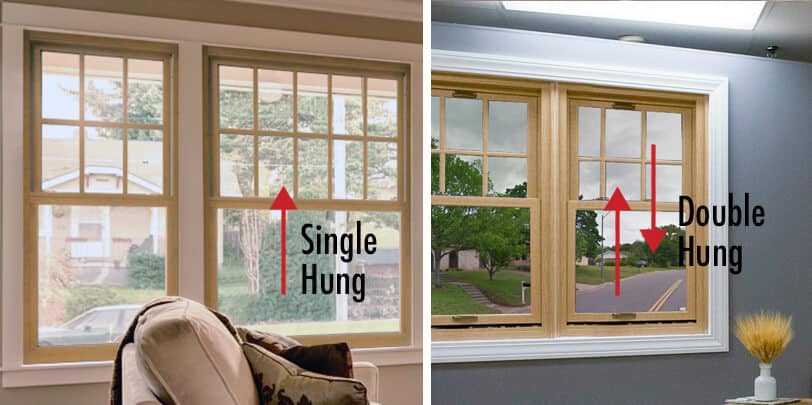 One of the most common types of window systems, single hung and double hung windows come with movable sashes.
In single hung sash windows, the top sash is fixed and the bottom sash is operable. Also, in double sash windows, both the frames are operable.
Thus, Double and Single Hung Windows are easy to clean and offer ample sunlight and ventilation.
UPVC window design #5: Bay Windows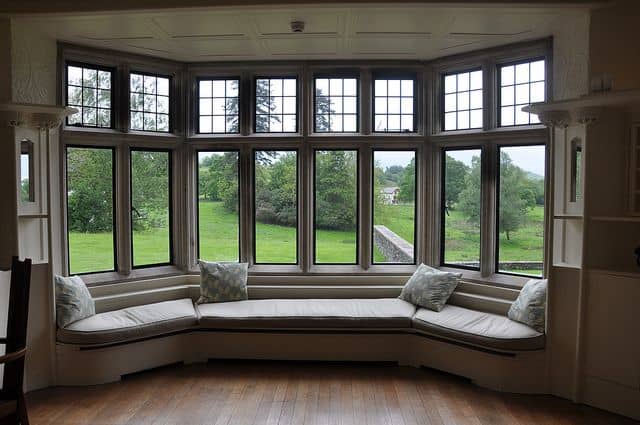 Architects simply love Bay windows as they help create beautiful angles and projections on a building.
Light can enter through different angles of the bay window.
Also, bay windows come with a side window that can be opened to allow the entry of air. Thus, the window sills of bay windows are ideal for keeping plants or placing a window seat.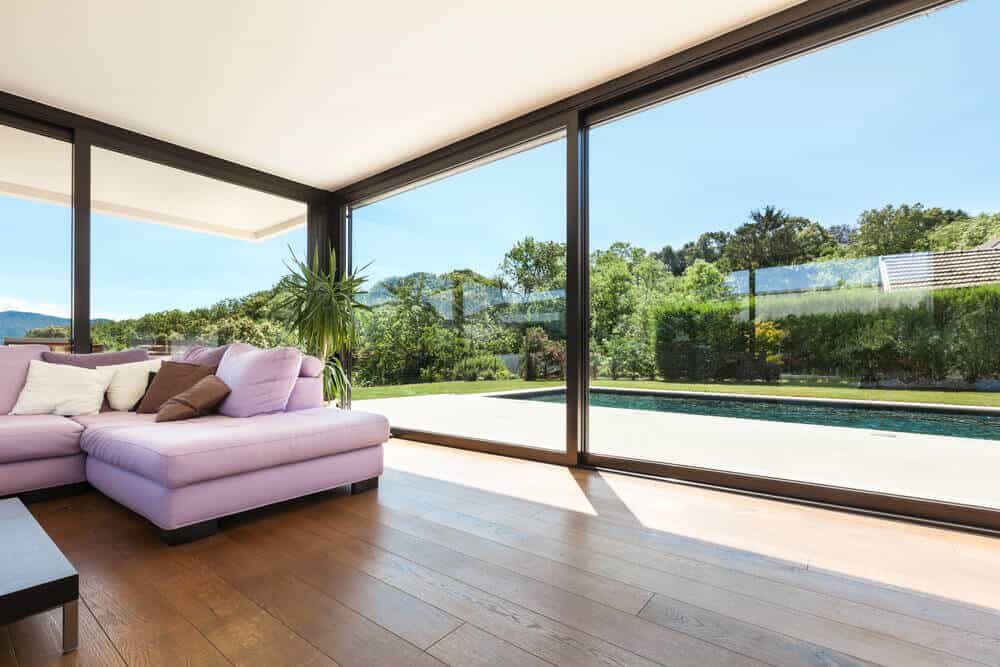 Picture windows are ideal for buildings in which airflow is not a matter of consideration.
Also, these are large glass expanses, usually occupying the centre portion of the all. So, they offer ample sunlight and a view.
So, choosing the right UPVC material with the correct thickness, quality, and efficiency is important, as the entire window system depends upon it.
Thus, these Window Systems are preferred by architects, constructors, and designers to Aluminium Windows or Wooden Windows for many reasons.
UPVC doors and windows Advantages
Durability and sturdiness
UPVC Doors and Windows are highly durable. Also, they have a better and longer life than conventional Solid Wood Windows or Aluminium Windows.
These Window Systems are resilient too. They are termite and temperature resistant. Also, their lifespan is very long compared to traditional materials.
UPVC is 100% recyclable. So towards the end of its life, it can be converted, reprocessed, and repurposed into other products.
Thus, it is environment-friendly and weather-proof.
Easy maintenance
UPVC Doors are not affected by fungus. So, they are immune to rotting, warping, or rusting.
They are naturally resistant to pollution, chemical, and water. Also, carrying and handling UPVC is easy as it is very light-weighted.
Great insulators
UPVC is a great thermal insulator. It does not allow the outside heat to enter the building and the inside cooling to escape outside.
Also, in adverse climatic conditions, where the temperature is extremely chilling, these Window Systems trap the warmth inside the room; allowing a comfortable living.
Furthermore, UPVC Doors offer sound insulation as well.
If you are living in an area with high noise pollution such as near the airports, highways, etc. Also, UPVC is the right choice for you.  But, UPVC has some disadvantages as well.
UPVC doors and windows disadvantages
Lacks sophistication
Compared to solid wooden doors and windows, UPVC looks less sophisticated and refined. So, the former has a better aesthetic appeal.
Also, UPVC has a limit to customization and personalization as it is manufactured for the masses with more focus on functionality and durability.
Light-weight Structure
Due to their lightweight, these Window systems often get sagged and sashed. So, the frames might rupture over time. Aluminium Windows are much stronger in this respect.
But to overcome this obstacle a Mild steel rod runs through the cross-section of the window to make it stronger and rigid.
Proper Window Systems are constituted of many components. Also, many different elements and materials are assembled and engineered together to make good Window Systems.
1. UPVC Profile: The profile or the frame of the window is extremely important as the efficiency and durability of the window primarily depends upon it.
2. Glass Unit: These Window Systems come with double-glazed windows. Also, double glazing comprises two glass sheets that have an air layer between them.
This technology increases the sound insulation capacity of the window.
3. Seals: Seals are responsible for the tight-fitting of the sash to the window frame. Also, they are changed quite often as they are more prone to wear and tear on regular use.
4. Window furniture hardware items: These include the most important components of the Window Systems.
Window handles, locks, interlocks, etc. make up the hardware of  Window.
Also, LGF SYSMAC, Hafele, Hettich, etc are some major brands that offer a wide range of architectural hardware components.
Also, they provide hardware items and window fittings for all types of Window Systems. Thus, superior quality window and door locks are essential for the security of the building.
5. Additional accessories: Mosquito nets, insect screens, blinds, etc. are the add ons that enhance the aesthetics and functionality of the windows.
6. UPCVC window price also plays an important role while choosing: The UPVC Windows price range in India is from Rs 300/ sq ft to Rs 1200/sq ft.
Thus, the material quality, finishes, brands, colours, and many other factors play a role in deciding the UPVC window price.
Challenges with these Windows and their preventive measures
Weather damage
India is a country with extreme weather conditions.
The central and western parts experience extreme heat. But, the northern and eastern parts have low-temperature conditions. The southern part remains hot and humid all throughout the year.
Also, monsoons are terrible in most regions of the country.
Thus, to avoid the damage caused by varied weather conditions, its manufacturers came up with an innovative solution, i.e. to add Titanium dioxide to the Window Systems.
Use of Titanium dioxide in UPVC Window Systems:
UPVC profiles are outdoor products. So, weather damage is a common issue that might compromise the durability and longevity of the entire window system.
Also, Manufacturers add Titanium Dioxide (TO2) to the UPVC compound so as to develop weather resistance in the windows and doors profile.
So, this chemical absorbs the UV light and protects the polymer from degradation, fading, and discolouration.
TO2 also protects the windows from heat and other weather damages; thus, protecting the overall structure and durability of the entire building.
Different wind pressure conditions
Another major problem faced by these Window Systems is the ability to bear the wind pressure at different heights.
This window was originally made for low-rise buildings that do not have to withstand too much wind pressure. But, the material gained overnight popularity and began to be used widely for all types of buildings.
But as discussed earlier, the material tends to sag and sash over time. So, when exposed to high wind pressure, the process gets quicker.
Use of Mild Steel Rods in UPVC Window Systems
To overcome this challenge, the UPVC manufacturing companies came up with yet another creative idea. So, a mild steel rod is inserted in the UPVC cross-section.
Also, this rod makes the entire profile ten folds stronger and powerful enough to withstand extreme wind pressures without getting damaged.
Make your building cooler, safer, and sound-resistant with UPVC Window and Doors. Thus, this window helps in raising your living standards and reducing the lifestyle cost simultaneously.
Some of the best UPVC window manufacturers
The uPVC windows from Prominance are a beautiful combination of beauty and function. The profiles are designed to fulfill a wide range of needs, from low-cost flats to opulent villas and commercial buildings, with structural construction that can survive harsh weather conditions and wear and tear while assuring quality consistency and longevity.
Lingel offers dust-proof, water and weather-resistant Window Systems and related solutions.
Also, it offers all the additional accessories such as roll-up and chain insect screens for a compact and sufficient window system.
Aluplast offers quality living with its safe Window Systems. Also, the sound-insulating property of UPVC windows sliding and door systems make living easier and more comfortable.
Thus, Aluplast's solutions are energy-efficient and help in cutting down your electricity bill.
Deceuninck manufactures top-quality Window Systems for Indian buildings.
Thus, it offers three types of window systems-
a. Legend System, designed for extreme sound and heat insulation
b. Zendow System, that fits perfectly and adds to the décor of the building
c. Everest Max System for affordable elegant insulating solutions.
Also, some of the other brands available in the market are Fenesta, Veka Window, Plastone Window, Kommerling, Prominance Window Systems, Simta, Encraft, etc.
Kommerling UPVC doors & windows
Profine's Koemmerling brand has a long history within the Profine group, having commenced extrusion of window profiles and PVC sheets in 1967. Profine produces products that meet the highest standards. KOEMMERLING has a wide range of window solutions to choose from. As a result, alternative frame and sash heights and depths, double-sash elements without a fixed centre post, transom/mullion combinations, actual Georgian bars, and other design options are available. Also, window sills, safe roller and French shutters, uPVC sheets for the building sector (used, for example, as residential door panels), cladding, and balcony systems round out the product range.
AIS UPVC Windows
AIS Windows provides a wide selection of high-performance window and door solutions in both aluminum and uPVC profiles. These come in a variety of customizing possibilities and are intended for usage in homes, offices, and apartments. AIS Windows improves people's lives by improving their aesthetics while also providing a variety of acoustic comfort, privacy, and security solutions.
Fenesta provides you with a broad choice of magnificent and exquisite home window designs that will not only enhance the façade of your property but also protect your home from the outside world as the best uPVC windows manufacturer in the country. You can keep out noise, dust, rain, and pollution while also controlling your rising energy expenses with the correct window design for your home.
UPVC windows price (based on design)
| | | |
| --- | --- | --- |
| Sr. No. | UPVC Window Design | UPVC Window Price |
| 1. | Fixed UPVC window price | Rs. 200-550/ sq. ft. |
| 2. | UPVC window sliding price | Rs. 280-700/ sq. ft. |
| 3. | Tilt turn window | Rs. 340-780/ sq. ft. |
| 4. | Villa window | Rs. 350-700/ sq. ft. |
| 5. | Mahogany frame window | Rs. 450-880/ sq. ft. |
| 6. | Top hung window | Rs. 650-700/ sq. ft. |
Installing a window system is not difficult but needs a systematic approach and the right skills.
Also, the glazing process needs accuracy and precision as it can compromise the entire window system if it's not done properly.
Click here to find out how to install a Window System in the right way.
Also, you can also watch this video for a practical demonstration of Window System installation.
UPVC window images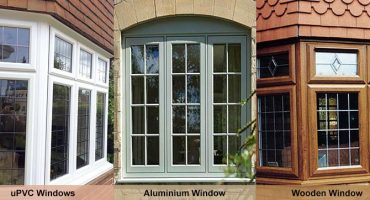 UPVC vs Aluminium Windows; UPVC vs Wooden Windows
An unbiased comparison of this Window with its contemporaries – Aluminium Windows and Wooden Windows.
| | | |
| --- | --- | --- |
| UPVC Window | Aluminium Windows | Wooden Windows |
| Less energy is required for conversion from raw material. | Require 7.5 times more energy | Energy consumption is less. |
| Operation is smooth | But, the operation is not as smooth as UPVC | But these make noise when opened and closed. |
| Do not contract and expand | High thermal expansion | But absorbs moisture and expands |
| Superior thermal insulation | Thermally inefficient | Poor conductor of heat |
| Termite resistant | Termite resistant | But these require additional products for protection against termites |
| Do not rust, corrode, and fade | Can rust, corrode. But, it can fade if not power-coated properly | Do not rust or corrode. Can be discoloured. |
| Cheapest window systems | More expensive than UPVC is | Most expensive and need a lot of maintenance |
UPVC Window Systems whether bay, hinged or sliding have an affordable price and are long-lasting. Also, they have a high aesthetic and functional value which makes them the preferred choice of architects and builders.
If you want to buy top-quality windows from the best brands, click on the link given below to check your options and submit your inquiries:
For more details, contact below:
Email: mukul.jain@buildingandinteriors.com
Mobile: +91 99676 32127
To know more about Deceuninck, contact on the details mentioned below: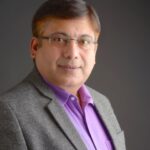 Mr. Dev Chandwani
Business Development Director
Deceuninck Profiles India Pvt. Ltd.
Contact Number: +918754864440
[vvsmustread]