Everyone dreams of a cozy and beautiful home. To make your homes look inviting and harmonious, different wall colours are chosen. But a coat of paint can only take a room so far. This has led to the emergence of various Do-It-Yourself or DIY ideas for wall decoration. These wall decor DIY ideas are suitable for every home and cater to different dimensions. For instance, the 3D wall decoration hacks are suitable for large walls. Additionally, there are many easy-to-execute and time-saving DIY wall decor ideas for small walls.
If you really want to make your space feel like a home, then the best way to customize it is with one of the following DIY wall decoration ideas. 
12 DIY ideas for wall decoration 
Wall decoration DIY #1 – Washi tape wall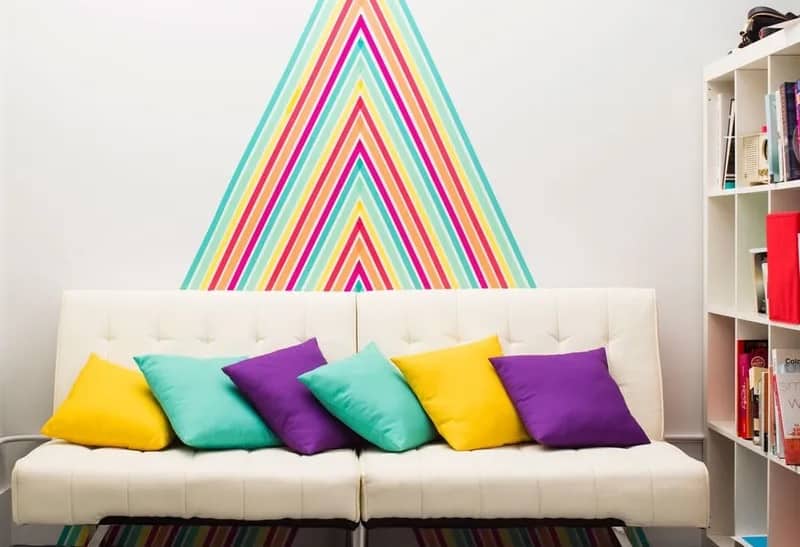 Image Source: Brit Co.
Have you ever thought that the solution to your wall woes can actually be Washi tape? Readily available in stationery shops nearby, this DIY hack can transform the space. You can choose from solid colours or patterned designs, these tapes are available in thousands of options. You can go for a geometric pattern or any design which you might fancy. This DIY is not only easy to execute and time-saving but also a temporary fix that you can change anytime. 
Supplies you will need:
Washi tape in 2-3 colours
A pair of Scissors
A pencil
A utility knife
 Wall decoration DIY #2 – Photograph display
Image Source: Kathryn Marsh
The most common home decor DIY is using photo frames for wall decoration. Everyone has pictures from the last holiday or festive occasion, all you need to do is print them out. Different types of frames are readily available online. One can also source vintage frames from thrift stores.  Another cool trend is using old picture frames and dipping exactly half a portion of the frame in the paint bucket. These half and half frames look vibrant on the walls.
Supplies you will need:
Printed copies of your favourite photographs
Frames of your choice
A few nails
Pro-Tip: This DIY idea is suitable for both small and large walls. This is a great way to personalize your space.
Wall decoration DIY #3 – Make your own art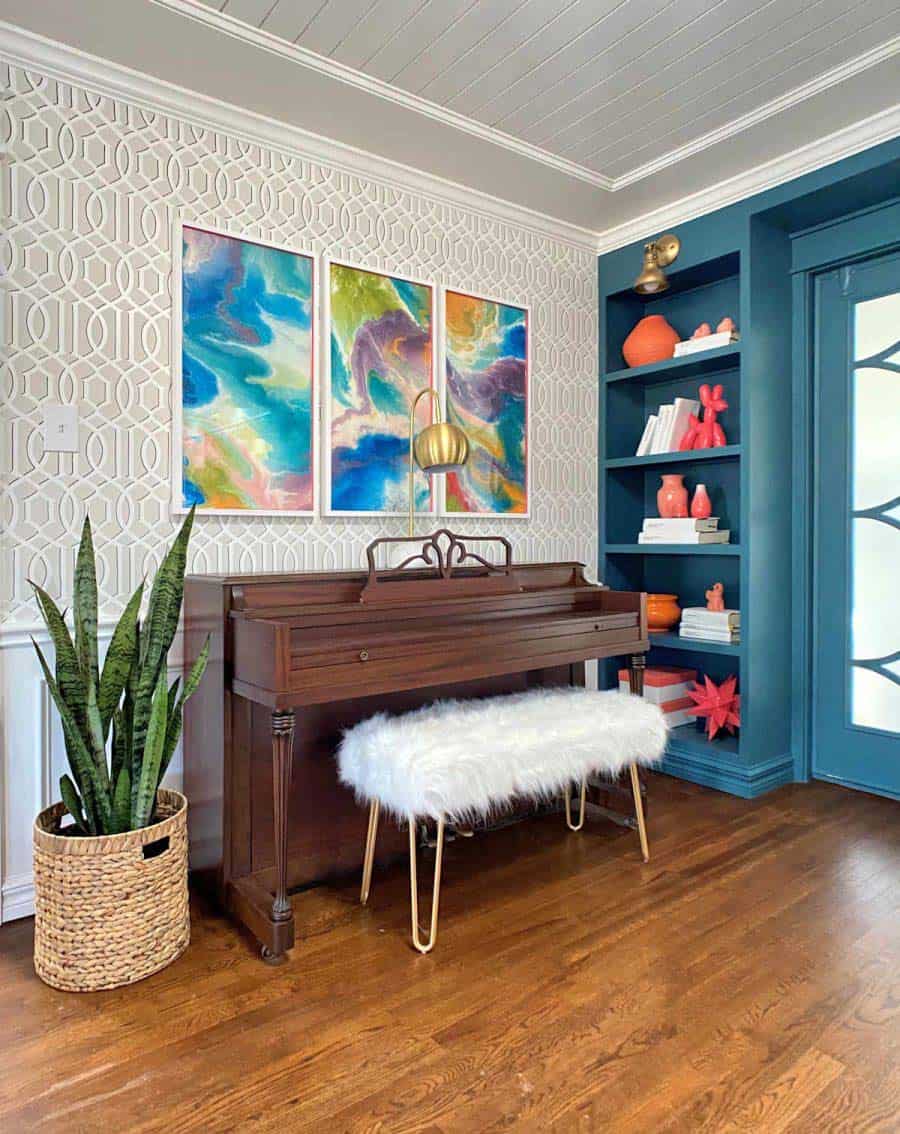 Image Source:  Addicted 2 Decorating
Art in modern times is abstract and minimalistic. As a result, there are many cost-effective DIYs for home wall decor. You can paint your walls freehand by repeating a pattern. Painting a mural resembling your favourite artwork. Additionally, you can hang a tapestry, frame a piece of printed fabric, or make a gold leaf print for your wall as well. 
Supplies you will need:
 Wall decoration DIY #4 – 3D spoon display 
Image Source: Pinterest
Do you have a minimalistic dining room that needs a pop of colour? Then this is the perfect wall decor DIY for your home. This is one of the simplest 3D wall decoration ideas and a very cost-effective one at that.  Dip the spoons in different paint colours, let them dry, and arrange them however you want. This 3D wall decoration idea is a colourful and perfect fit for the home.
Supplies you will need:
A variety of spoons
Enamel Paint
Hot Glue/ tape
Wall decoration DIY #5 – Oversized Maps

 
Image Source: Pinterest
Maps are an inexpensive DIY decor idea for large walls. You can choose maps of your favourite places or the nautical maps available at thrift stores. Once you have selected your maps, you can display them in different ways. Oversized prints and small stationery shop maps stuck together to form wallpapers, or framed prints organized carefully for a refined look are some of the easiest DIYs for wall decoration.
Supplies you will need:
A large map
Tape
Frames (if you want to frame the map)
Pro-Tip: Choose a map of the place you're from as it will add sentimental value to the design.
 Wall decoration DIY #6 – Favourite Quotes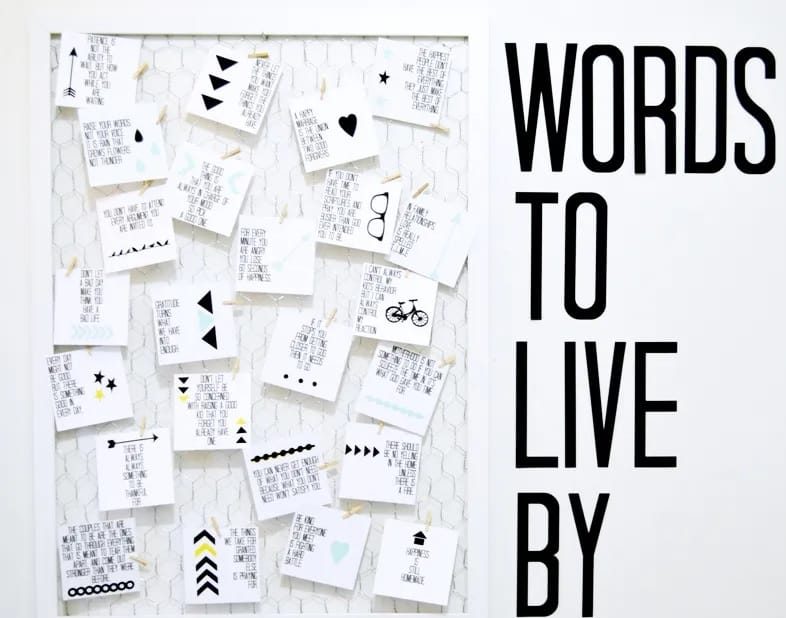 Image Source: Lemon Squeezy Home
Everyone has their favourite quotes they live by and what better wall decoration DIY idea than to use your favourite quotes to decorate your home?  Stick the wire mesh to the frame and arrange quotes with the help of clothespins and you are done. Inspiring and pretty,  the words-to-live-by wall is sure to become a talking point.
Supplies you will need:
Prints of your favourite

quotes

Wire mesh
Clothespins
Frame
Pro-Tip: Create this DIY on a wall of your home office or your workout area for inspiration.
Wall decoration DIY #7 – Plant Trellis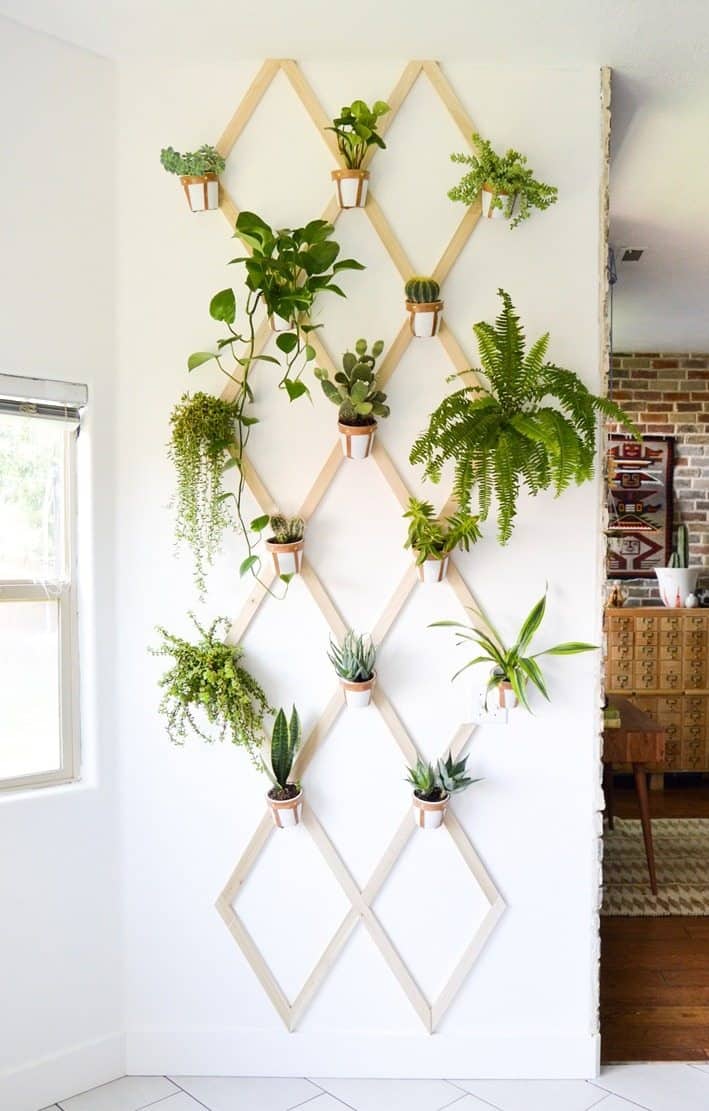 Image Source: Vintage Revivals
Greens look good everywhere and are trending in contemporary urban homes. All you need to do is cut the strips and nail them into the wall, after which plant holders are added to this modern wall trellis garden. Air purifying indoor plants are a perfect fit for this wall decor DIY.
Supplies you will need:
Wooden strips
Planters
Plants
Nails
Wall decoration DIY #8 – Woven baskets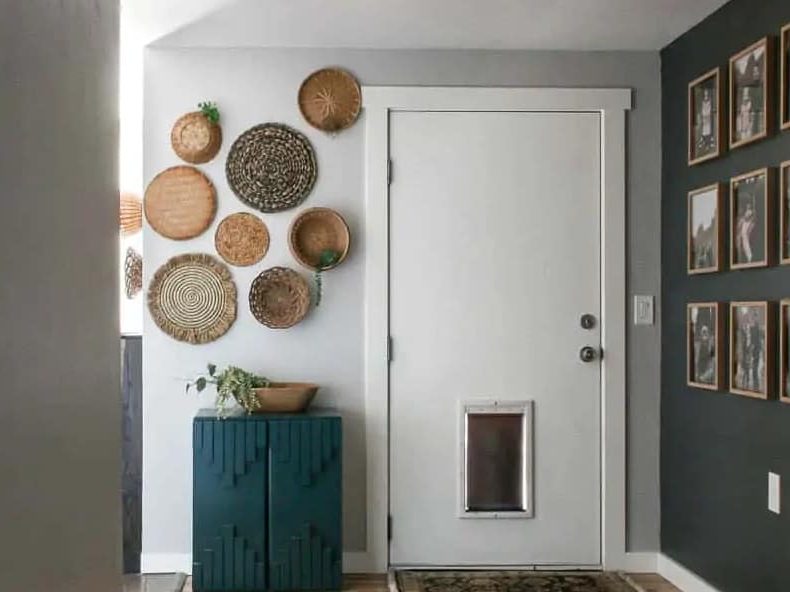 Image Source: Making Manzanita
A rattan basket gallery wall is perfect for so many reasons. Not only is it trendy, but it also adds instant texture, and provides character. It is a budget-friendly DIY decor idea for an empty wall. This 3D wall decoration idea is a great way to upcycle old fruit baskets. The first step is to finalize the layout and then hang the baskets on the hooks and tie them with twine to secure them properly. This bohemian decor DIY idea will transform your home.
Supplies you will need:
Old Baskets
Small hooks
Twine
Nails
Wall decoration DIY #9 – Upcycled rug pinboard 
Image Source: Brightly Eco
Upcycling a rug as a pinboard is a fun DIY idea to display and organize items in your home office or your bedroom. It can be used on different walls since it's very customizable and is a cute decor piece that's also functional. All you need to do is tie a rope on the upper edges of the rug and then hang the rug on the wall with the help of the wooden strip and nails. Clip important notes onto the rug and your DIY wall decoration is done.
Supplies you will need:
Old rug
Clips
Nails
A piece of rope
A wooden dowel
Pro-Tip: Use a thin rug as it will be easy to hang and use as a pinboard.
Wall decoration DIY #10 – Paint chips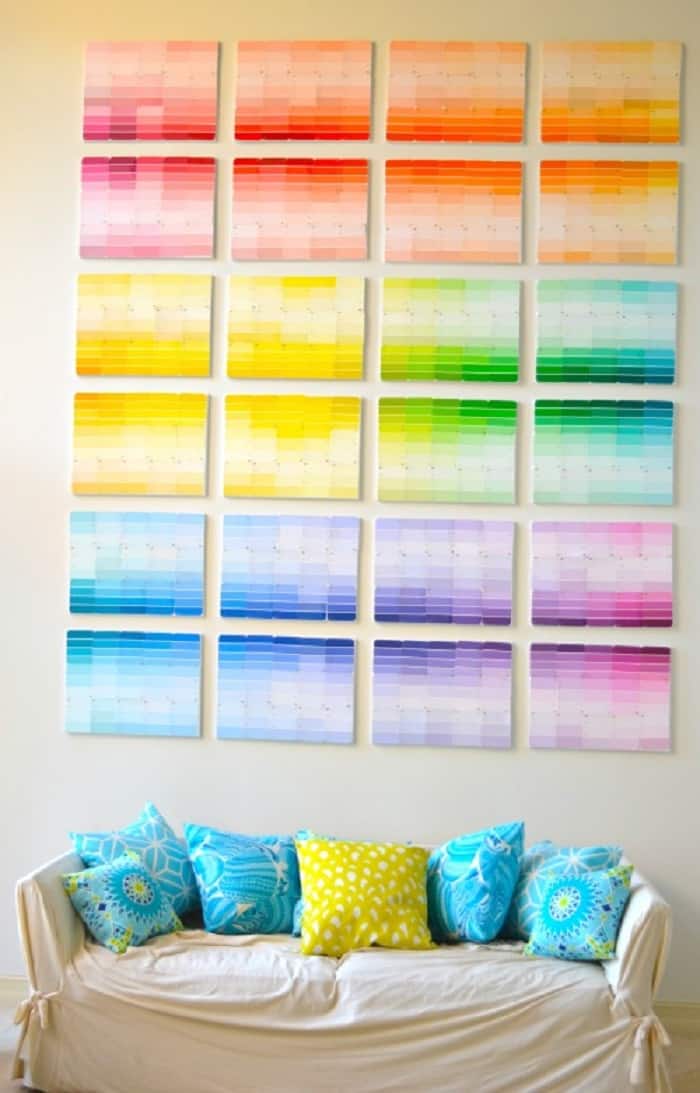 Image Source: Diys.com
Most paint companies give paint swatch booklets to help a customer choose their preferred colour. Using these swatches or chips for DIY wall decor is an emerging trend. Budget-friendly swatches are available for free and can be arranged on walls to create a colourful mural. All you need to do is stick the paint chips on the wall with the help of the tape in your chosen pattern.
Supplies you will need:
Paint swatch booklets
Double-sided Tape
Wall decoration DIY #11 – Tassels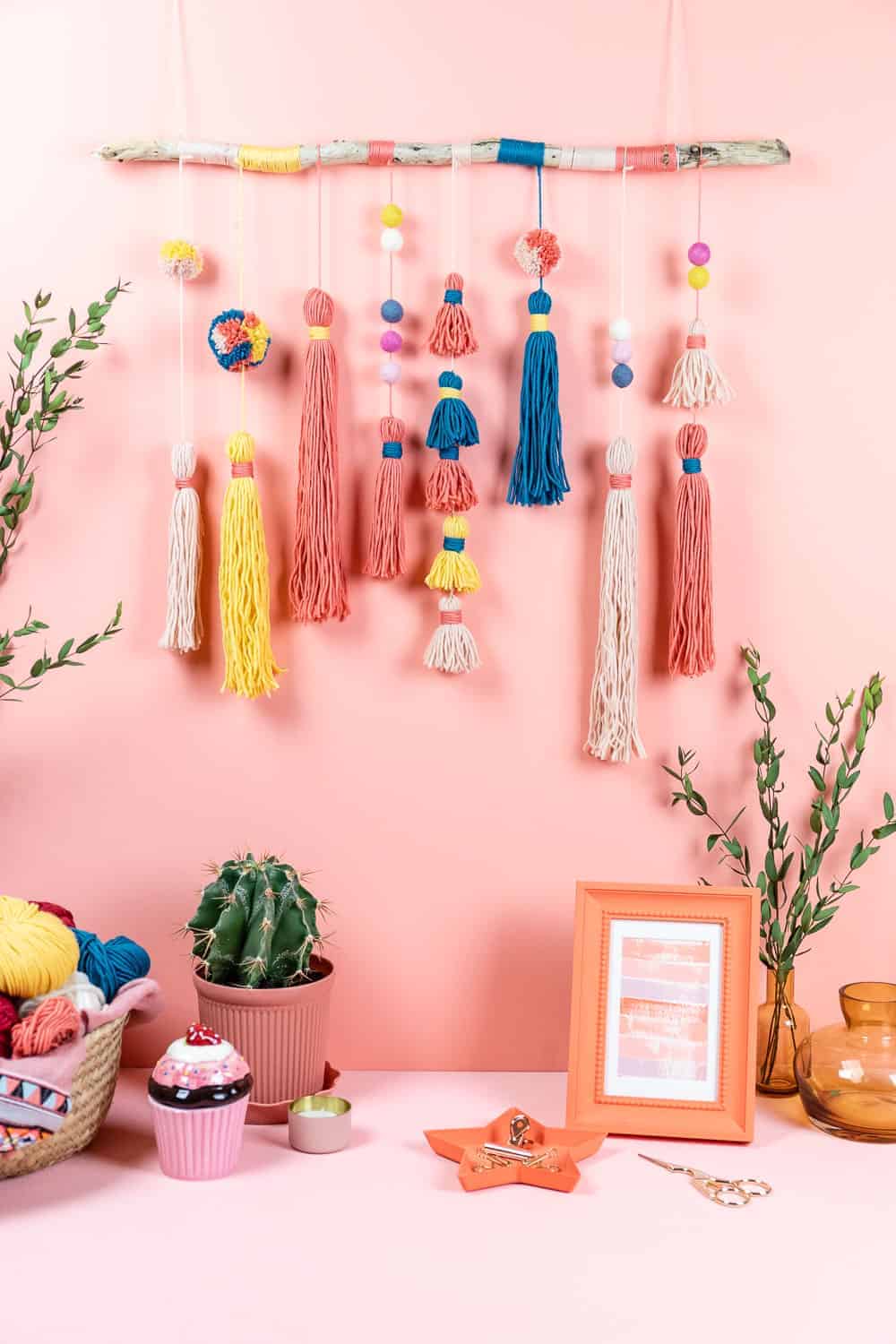 Image Source: Mrsberry.de
Do you like the tassels hanging from your cushion covers and bed covers? If yes, you can take it a notch further by using tassels for wall decor. The texture of the tassels brings a summer vibe to the wall. Tassels are readily available in the Indian market. For this 3D wall decoration idea, attach the rope above the stick and hang it on the wall with the help of a nail. Next, tie the tassels onto the stick in varying lengths to make the DIY wall decor idea look different.
Supplies you will need:
Colourful Tassels
A wooden stick
Rope
Nails
Pro-Tip: String some small bells with the tassels to create a wind chime effect.
 Wall decoration DIY #12 – Macrame hangings
Image Source: Joyful Derivative
Macrame art is currently the biggest DIY trend for home decor. You can use them for hanging plants, around mirrors, and most importantly as wall hangings. Before starting a macrame project one must practice basic knots. The general rule is that the length of the cord should be four times the desired length of your finished product. The next step is to learn the five basic macrame knots namely Lark's head, square knot, spiral knot, double half-hitch knot, and the Berry knot. Another key tip to remember is to make sure your knots are not too tight or too loose as they will not look uniform.
Supplies you will need:
A wooden dowel
Macrame cord
Measuring tape
A pair of scissors
Pro-Tip: Practice the different knots as many times as possible to get a neat and clean end product.
5-minute wall decor DIY ideas 
Sometimes you may not have the time for the elaborate DIY options. All you need is a quick fix that will provide instant results. Listed below are wall decore DIY ideas which will not require more than 5 minutes of your time.
#1 – Lego Display Wall

 
Image Source: The No Pressure Life
Love Lego? Then you have the perfect five-minute solution for DIY home decor. Most kids love lego and making those mini-figures. This is an easy hack that doesn't require much time. Lego display shelves are an out-of-the-box idea for your kid's room. All you need to do is arrange the Lego mini-figures on the wall shelf and you are done.
Supplies you will need:
Lego Mini-figures
Readymade Shelf
Nails
#2 – Seashells wall hanging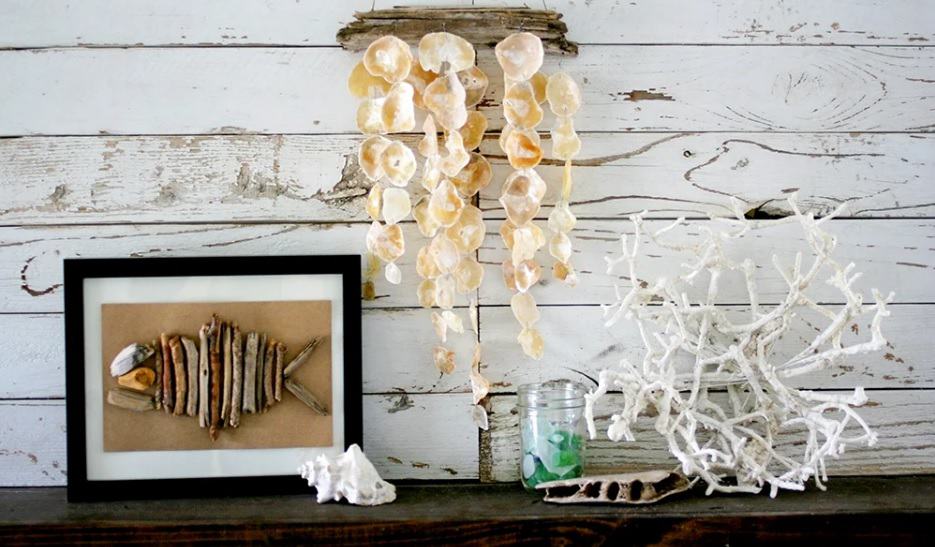 Image Source: Make It Love It
Seashells have routinely featured in home decor because of their beachy vibe and the calmness they bring. So, it is natural that they will be a popular choice for DIY wall decoration ideas. A simple and budget-friendly method, this hack hardly requires any time. All you need to do is string together a few shells on a piece of rope with the help of glue. Then these pieces of rope are tied to a wooden twig and hung on the wall with the help of a nail.
Supplies you will need:
Shells
Rope
Glue
A wooden twig
Nails
#3 – Fake frames

 
Image Source: The Crafted Life
Fake frames? You heard that right. If you want a temporary and cost-effective fix for your walls that requires minimal effort and little time then this DIY method is for you. All you require is your favourite pictures and washi tape. Stick the pictures on the wall and then stick different coloured washi tapes around them giving an illusion of colourful frames. Another fake frame method is simply hanging old wooden clipboards on the wall. Then the pictures can be stuck on these boards to give an innovative look to the walls.
Supplies you will need:
Washi tape
Wooden clipboards and double-sided tape
Pro-Tip: You can use this DIY idea in an all-white room to create an accent wall.
#4 – Fairy lights and Polaroids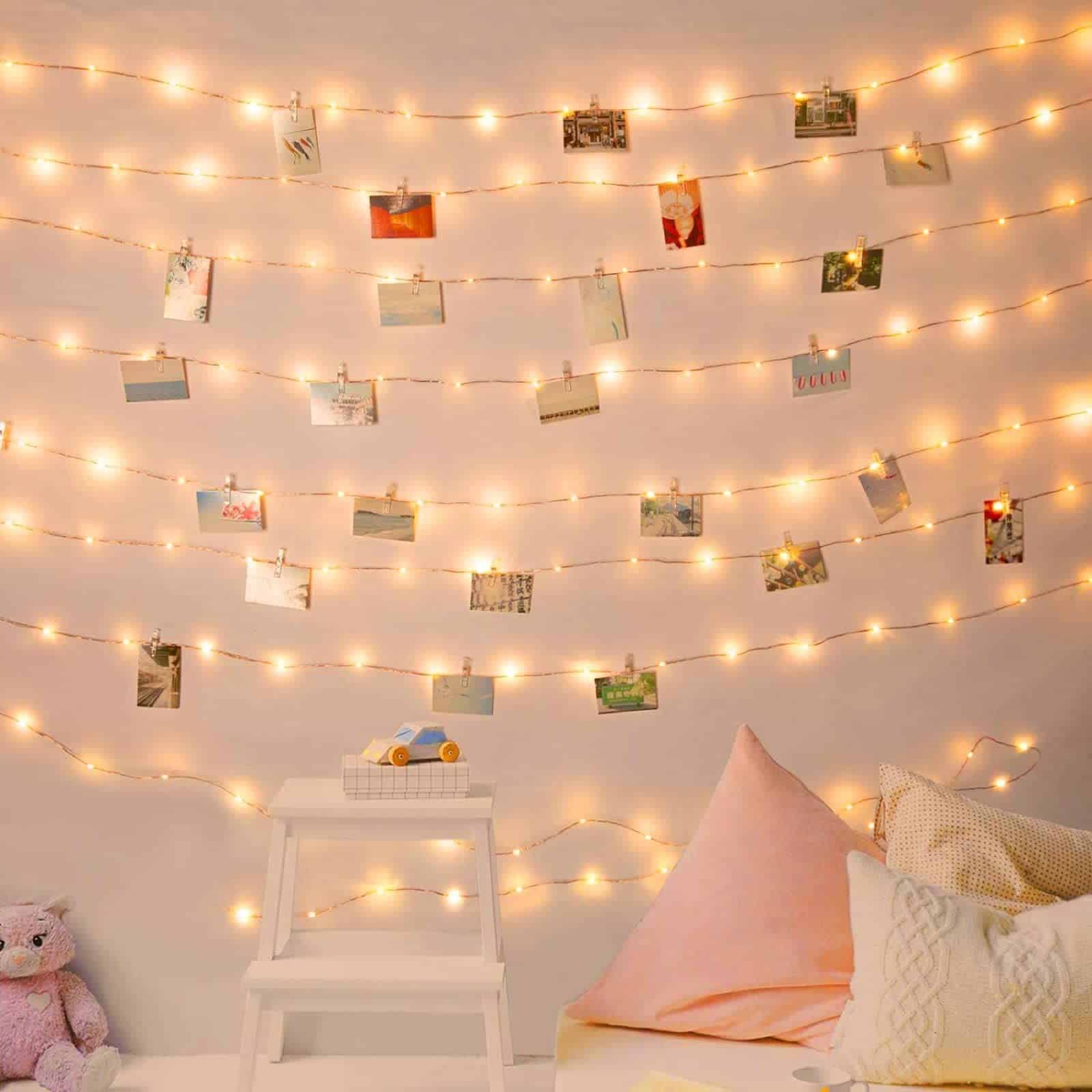 Image Source: Instagram
Fairy lights have the magical power to add coziness to any space they are put in. This easy and cost-effective DIY method is a popular wall decoration idea. All you need to do is stick the hooks on the wall and hang the fairy lights. Then attach the Polaroid pictures to the wire with the help of mini clothespins and your wall is ready.
Supplies you will need:
A box of string lights
Small wall hooks
Mini Clothespins
Polaroid photographs
#5 – Lace and embroidery hoops

 
Image Source: Wonderful DIY
Do you remember those embroidery hoops that most grandmothers would use? They are back in fashion but as home decor items. You will need to cut the lace according to the hoop size and fix it into the hoop with the help of its in-built mechanism. Trim the edges of the lace and hang the hoops on the wall and you are done. This 3D wall decoration DIY is pretty and easy on the pocket.
Supplies you will need :
4-5 pieces of an embroidery hoop
Different lace cuttings
Nails
Pro-Tip: Use different coloured laces to enhance the look of the wall.
Conclusion
Statement walls can transform a room. A well-decorated wall can become the most eye-catching part of your room. Therefore, DIYs have become the need of the hour. You can add colour to a boring wall with the help of a Washi tape wallpaper or tassels. Also, you can give a 3D look to the walls by adding painted spoons, woven rattan baskets, or plants on a wall trellis. Personalize the decor by adding photographs, favourite quotes, and artwork. You can also decorate the walls by hanging large maps, macrame wall hangings, or an upcycled rug pinboard.
In this fast-paced world, quick fixes are needed in all areas. There are a few wall decoration DIY ideas that do not take more than five minutes to complete like a lego display, lace embroidery hoops, or a seashell wall hanging. Also, you can put up fake frames or fairy lights and Polaroid pictures to enhance a wall.
The home must reflect its users and their taste. You can choose a wall decoration DIY that suits your style from the above-listed ideas to personalize your space.
*The featured image used in this article is from DIY Projects
[vvsmustread]