Most city residents dream of having their own private outdoor space, even if it's just a modest balcony. If you're fortunate enough to have a balcony, you owe it to yourself—and your friends—to take advantage of it. This takes more than simply putting a lawn chair out and calling it a day. Your balcony, no matter how small, has a lot of creative potential and it can be anything from a garden to a reading nook. The design of railing, grills, and seating arrangements are critical in a balcony. So, while you're planning the perfect balcony for yourself, it is wise to keep the size of the space in mind so that it doesn't feel cluttered. Continue reading to know the essentials of balcony design and decor tricks to make your narrow balcony look spacious and discover 41+ balcony decoration ideas for transforming your outdoor space from top to bottom.
Essentials of a balcony design
This is an important part of any area's design, whether it's a living room or a balcony. Your space will feel pleasant and warm with proper lighting. As a result, string lights or lanterns should be placed on your balcony to create a warm, romantic ambience.
Balcony seating
The fresh air of early mornings, a cup of tea, and a comfy area to sit and read are all attainable on a balcony. So, a balcony is nothing without a comfortable seating arrangement. What you'll need is the correct kind of furniture that can seat a few people and fits into the space's layout. 
Layout
If you have a small balcony, you must be careful with proportions. The objects must be arranged in such a way that movement around the space is not restricted. Make sure the furniture you buy and place on your balcony is appropriate. If you don't have a lot of space, slimmer and foldable furniture is the way to go.
Layering
Give your balcony multiple layers of textures to make it feel cosy and inviting. Add some rugs and plush cushions for a relaxing atmosphere.
Greenery
Greenery is necessary for a balcony to be complete. Fill the balcony with indoor plants to give it the feel of your dream backyard. You can also make a tiny herb garden with a variety of herb plants.
How to make your compact balcony seem spacious?
Before making any rushed decisions, you need to know what size of the balcony you're working with. Before bringing in furniture and decor, measure the available space. Keep the following points in mind for the best results:
Functions: What does the balcony mean for you? Is it a comfortable spot to sit and unwind? Or perhaps, it's a reading nook? Do you want to turn it into a kids' activity space where they can draw and chill? Your balcony can also serve as a storage area. Consider the various uses for your balcony and don't be afraid to experiment and make changes as you go.
Outdoor furniture: Since your balcony is exposed to all extreme weather elements. Select high-quality outdoor furniture that will resist the severe Indian climate. If you have a small balcony, choose furniture sets that are more compact and can be stacked when not in use.
Choose a colour or a theme: Just like your home's interiors, your balcony also deserves a colour scheme. This will assist you in planning your furnishings and decor accordingly.
Make use of vertical space: If your balcony is small, take advantage of the vertical space available. For maximum use of space in your balcony design, hang potted plants on the balcony railing grill or create a vertical garden on your wall. Also, you can include shelves for displaying knick-knacks or indoor plants.
11 Trending balcony design hacks for cosy interiors
Balcony design #1
Say yes to a vertical garden balcony!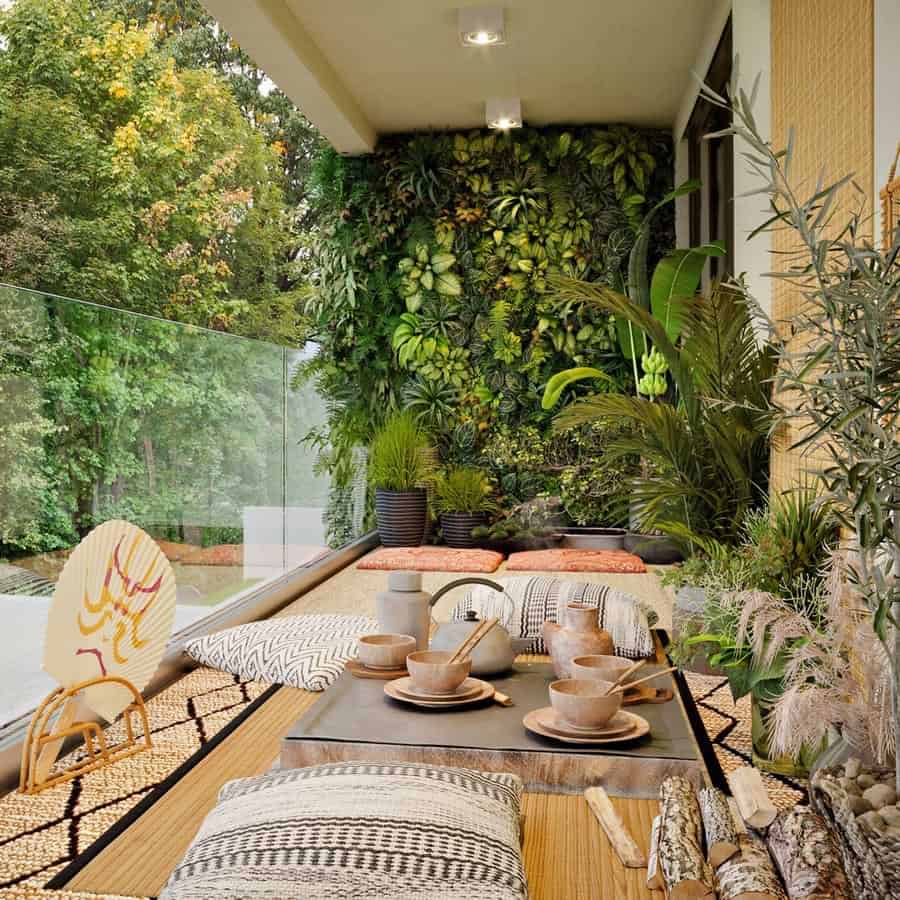 Image Source: Lovethegarden
Here's a great vertical garden for gardening lovers to incorporate into their little balcony design! You don't have to abandon your hobby because of a lack of room. Fill planters with lush plants to give your balcony the feel of the backyard garden you've always wanted. To make your balcony garden smell as good as it looks, add some herbs too.
Balcony decoration ideas #2
Hang a chair or hammock 
Image Source: Max Kim Bee
Even though you're in the city, your balcony could make you feel like you're on vacation. A hammock or a hanging chair creates a relaxed atmosphere. Thus, swing decoration ideas can transport you to your happy place like a balcony! With a wide swing or a temporary hammock, you can transform your balcony space into a personal retreat.
Balcony design #3
Make it cosy with a rug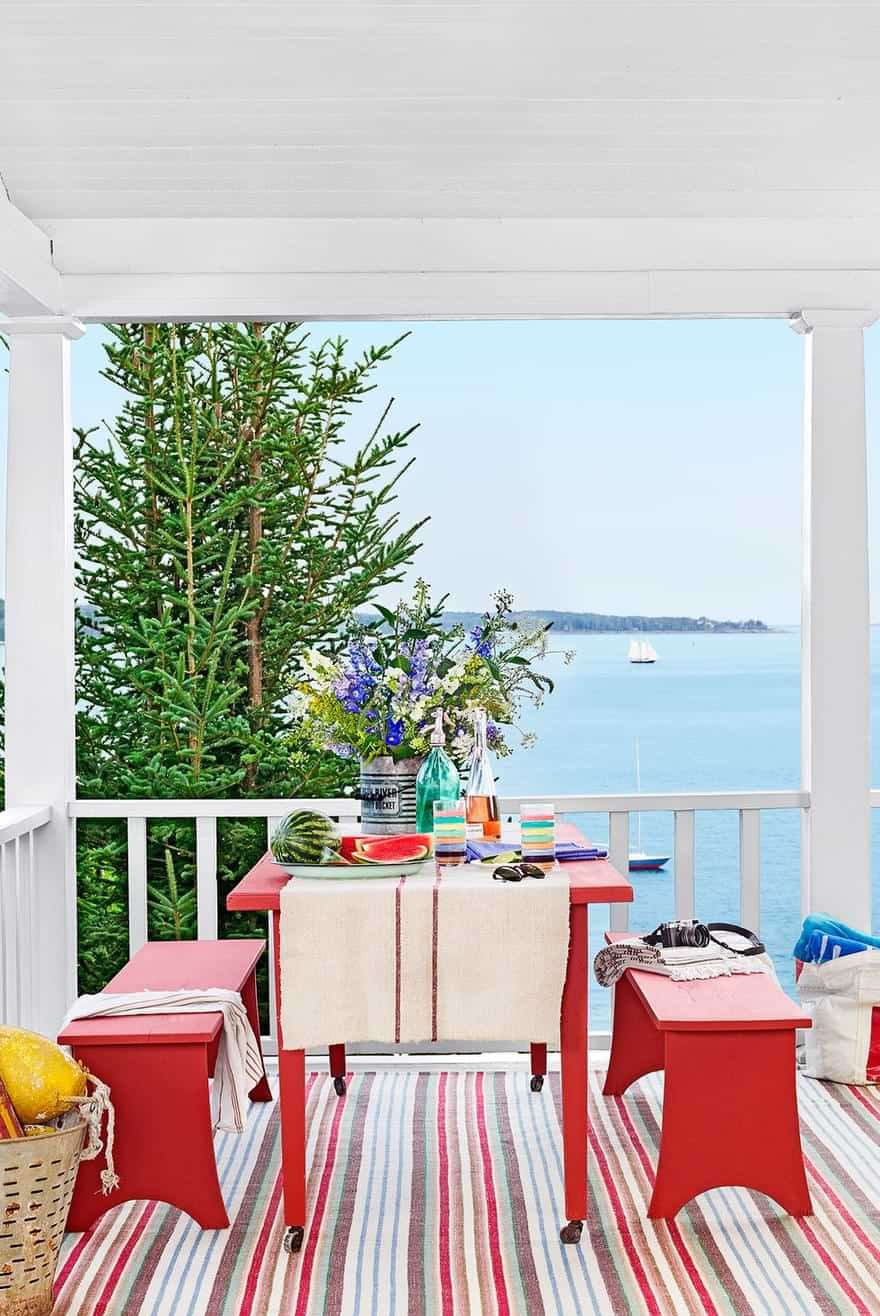 Image Source: Greaves Photography (Griedley)
A patterned rug or mat will enhance the appearance of your balcony. Make sure to pick one that can gel well with all the elements. Striped patterns can visually expand a space, thus a simple pattern rug can completely transform the look of a balcony.
Balcony decoration ideas #4
Create a reading nook
Image Source: Instagram (myinspiringinterior)
You should create a balcony reading nook if you can't live without a bookshelf no matter where you go. Make it cosy with a bean bag or use floor pillows to add softness. For storing your current reads try thrifting a small rack or shelf that doesn't take up too much room on your balcony.
Balcony design #5
Go Monochromatic
Image Source: Dazey Den
The use of one colour in different shades on your balcony can make it appear interesting. Try it with bright colours like pink, orange, or yellow to create a jolly atmosphere. If you don't want anything drastic, stick with the neutrals like white and cream. 
Balcony decoration ideas #6
Foldable furniture is the key
Image Source: Popsugar
Install furniture that can be stowed or folded away when not in use or when you are low on space. These foldable pieces are simple to move and will help you save a lot of space on your little balcony. Patio furniture like this is made up of durable material that can take the heat of the extreme climates and also provide you with a resting place when needed.
Balcony design #7
Accessories to add colour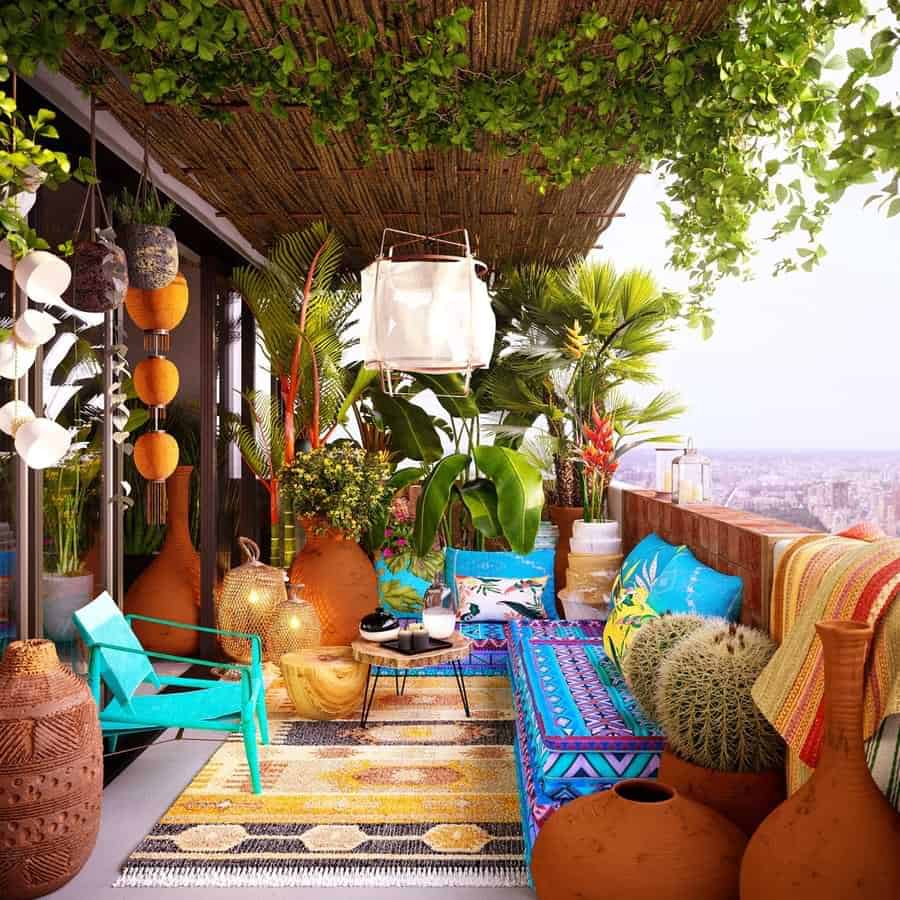 Image Source: Lovethegarden
Using decor accessories like a rug, floor pillows, poofs, and curtains can make your balcony so comfortable and full of colour like this one!
Balcony decoration ideas #8
Want more privacy? Get blinds!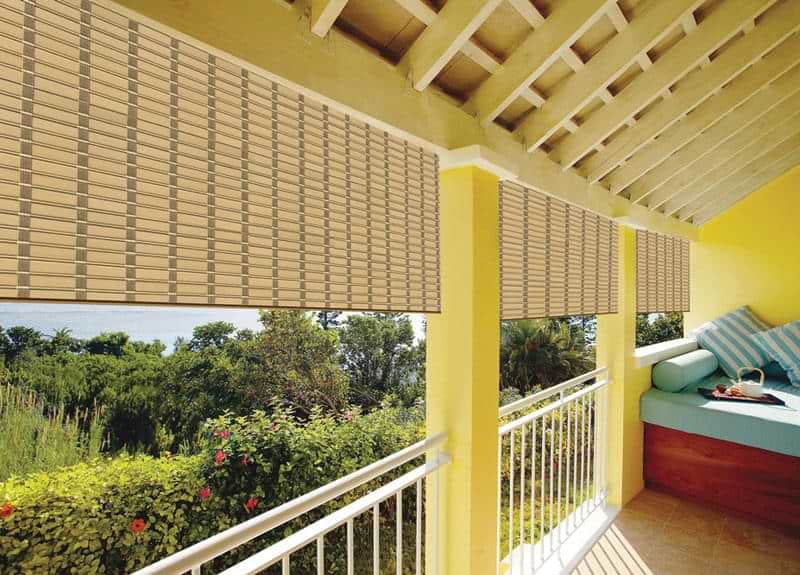 Image Source: Sonu home furnishing
If you want to shield your balcony space from the harsh sunlight or just make it more private, install blinds. Shielding your balcony with blinds or shade will protect your balcony space from dust too. So, make the balcony functional even in the daytime with blinds!
Balcony design #9
Open balcony bar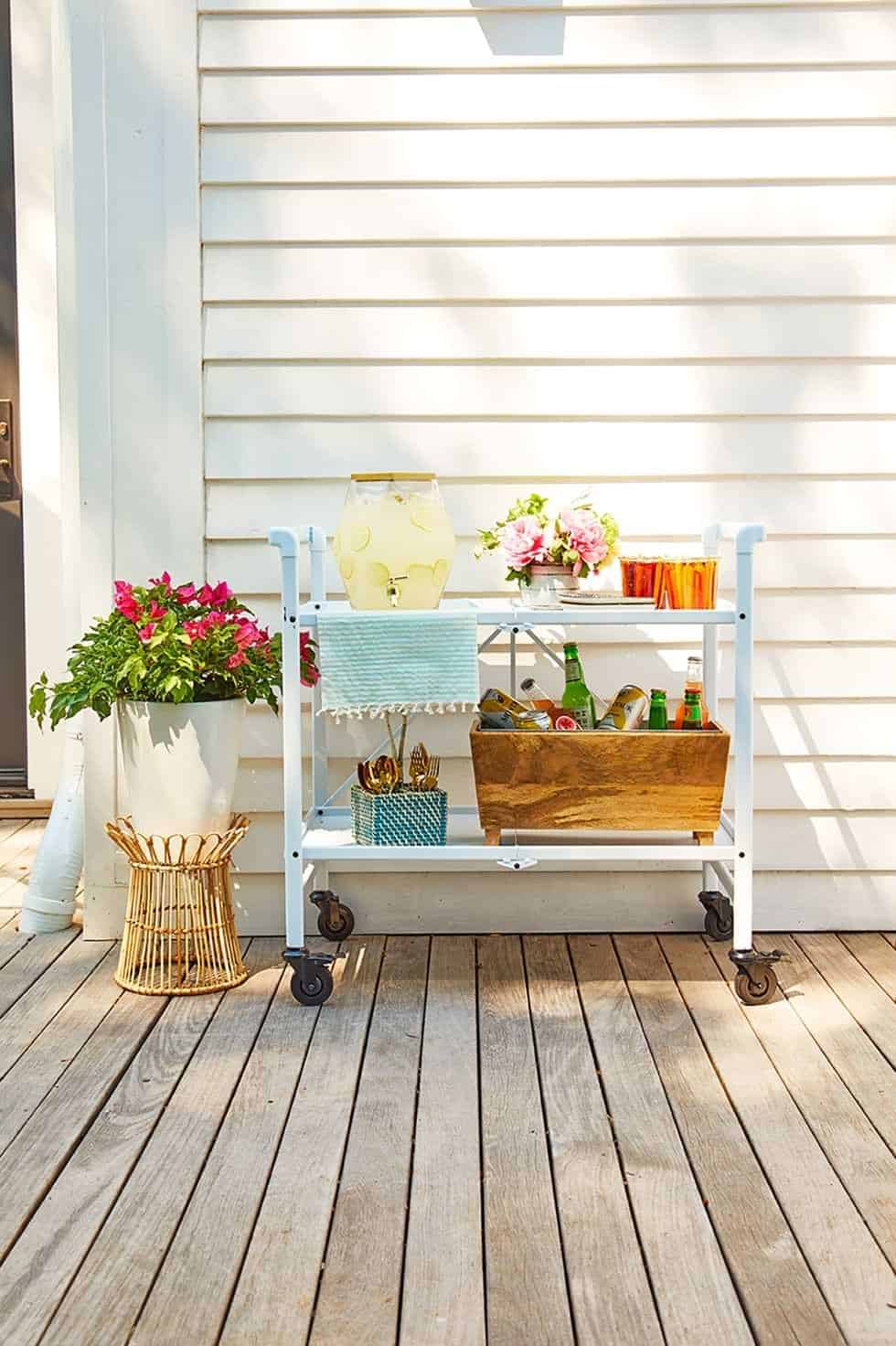 Image Source: Mike Garten
Have enough room in your home's balcony design for a beautiful view? Make the most of it with a stunning bar unit! On your balcony, a little glass cabinet containing all of your lovely glassware for a quick drink in the evening is such a mood. What could possibly be better than a happy hour outside?
Balcony decoration ideas #10
Fairytale balcony with flowers
Image Source:  Future Plc/David Brittain
Even if there isn't enough room for a dining table (or even a chair), there is always a place for flowers. Install decor pots along the balcony grill to enhance your design and increase the curb appeal of your home. You won't even know you live in a congested city if you manage to set up a small flower garden on your balcony.
Balcony design #11
Outdoor dining setup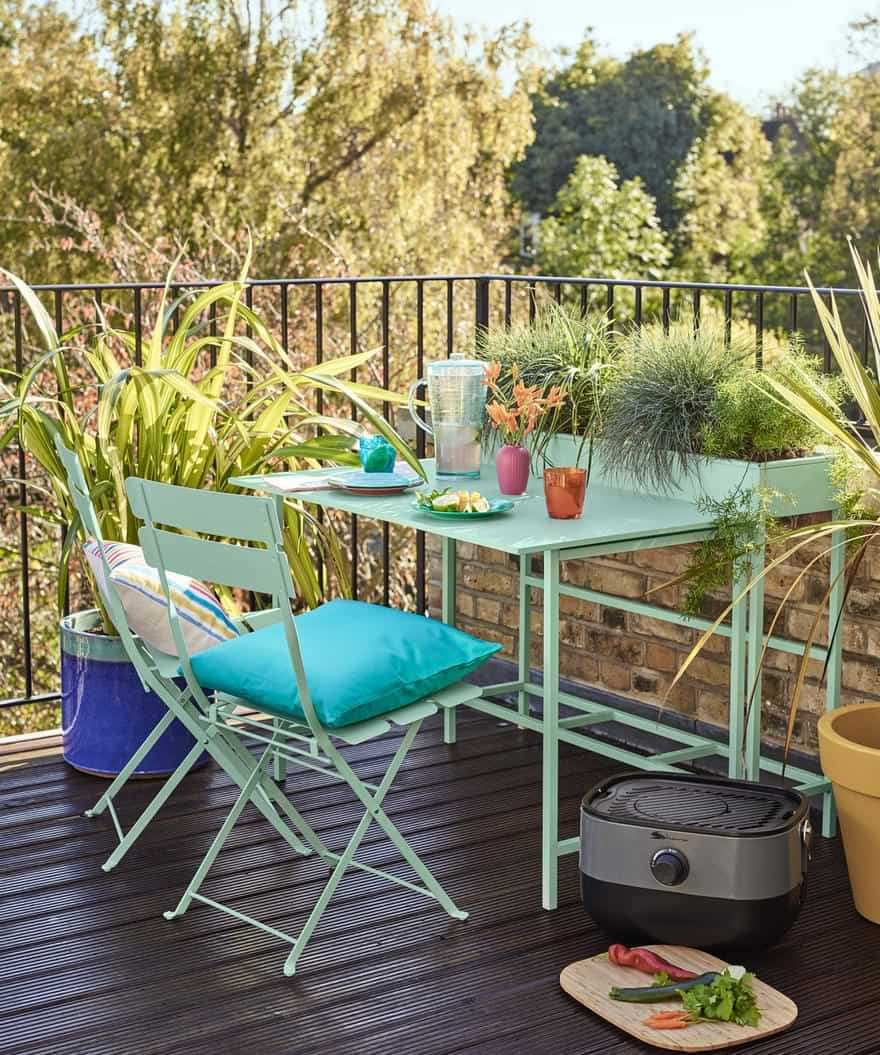 Image Source: Dobbies Garden Centres
If space on the balcony isn't a constraint then opt for a small dining space outdoors. A balcony diner set up with two chairs and a small table will be perfect for a date night. Add warm lighting with string design lights on the balcony grill or pendant light to create a romantic ambience. 
30+ Beautiful balcony decor inspirations 
Conclusion
For those living in busy city apartments or high-rise buildings, the balcony is the only refuge they have in the face of home exteriors. So, it is only imperative to make use of the space even if it's not huge. Simple tricks like adding textures, a unique grill design, or a small herb garden can make such a difference on your balcony. While the balcony is a little outdoor space, it is also an open area that provides our home with ventilation. In India, most of us struggle with the narrow layout of balconies, however, the simple trick listed above can give your compact balcony a facelift without any hassle. 
The balcony decor should reflect the personality of the user. Thus, pick a decoration idea from the above-listed ones that suits your balcony requirement and personality the best. Also, pick the right decor design and decoration ideas for your balcony to create the best memories with your family and friends.
*The featured image used in this article is from Istock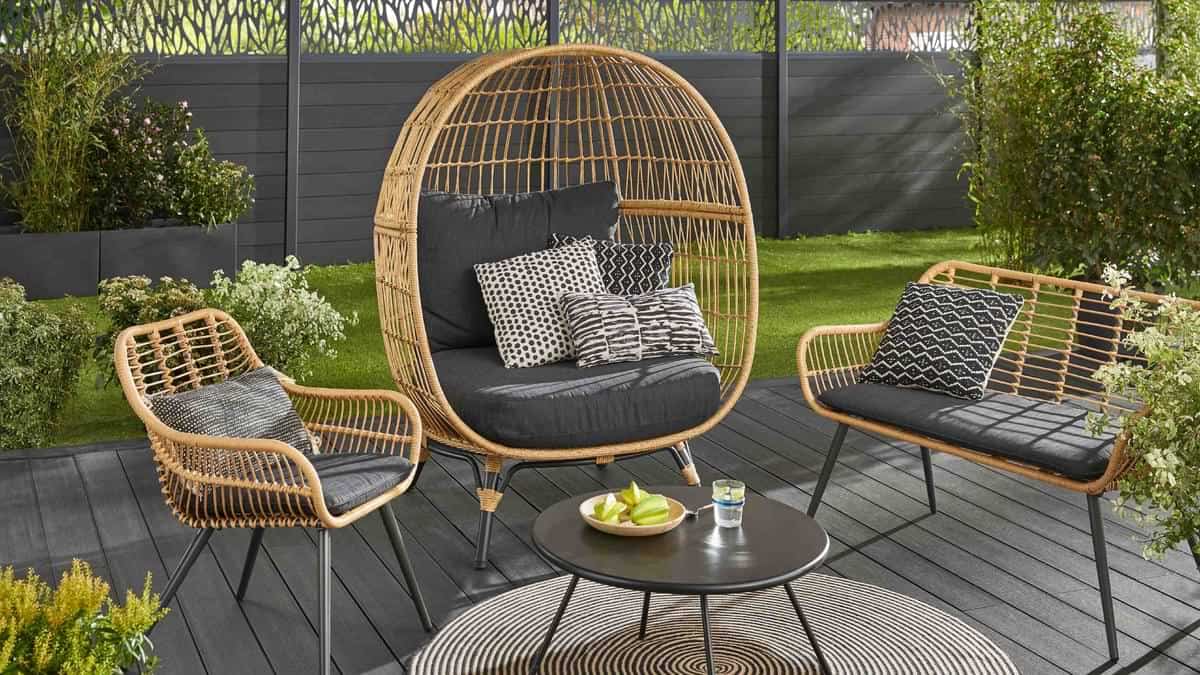 If you're fortunate enough to have a patio, you undoubtedly want to use it as frequently as you can. It needs some decorating