While doors have the potential to make an eye-catching and utilitarian design statement, they also expose the house to various security issues. Therefore, several types of door locks including padlocks, mortise locks, rim locks, deadbolts, electronic locks, etc. are available. Godrej, Europa, Yale, Hettich, etc. are the most popular door lock brands.
Regardless of the kind of property you own, commercial or residential, you need door locks to keep your belongings safe and secure.
When thinking of the latest security measures, the first thing that comes to our mind is the high-tech surveillance cameras and security systems. However, one of the most efficient ways to safeguard your property is to emplace the right types of door locks.
Moreover, not all locks are the same and offer similar security. Since they are not akin, different types of door locks serve different purposes and are suitable for different areas of applications.
The safety of any space largely depends on the proper functioning of door locks. Therefore, it is important to get the basic information of the different types of door locks, along with their ideal applications.
In this article, you will get to know about the different types of door locks, exclusively meant for main doors and sliding doors along with other useful information that will help you make an informed decision.
Types of door locks
Main door locks
Doorknob lock
Image Source: Amazon
Doorknob locks are the most popular type of locking mechanism you will witness in homes today. These are widely used in interior doors, such as bathrooms and bedrooms.
Mostly seen in combination with a deadbolt, doorknobs are a fairly secure lock system.
As the name suggests, the locking mechanism of these kinds of locks lies within the knob. Having knobs on both sides of the door, doorknobs come with a single as well as a double cylinder, depending on your preference.
Doorknob locks are available in the following four variants:-
Passage locksets: Do not have locks but provide a passage from one area to another.
Privacy locksets: Have a push button on the inside of the lock.
Keyed entry locksets: Can be locked on both sides.
Dummy locksets: Non-functional and decorative locks.
Image Source: BRIGHTS hardware
Image Source: Honeywell Store
Image Source: mr-locks
Door lock Handle set
Image Source: Baldwin Hardware
Handle sets enhance the aesthetic appeal of the house. These are usually seen on the front doors with a deadbolt providing security and beautiful handles providing great visuals.
Handle door lock sets are considered to be a decorative locking system.
However, the utility of handle sets is not limited to great looks. These are known to offer high security as well. A handle set consists of a deadbolt on top and a doorknob lock on the bottom.
Image Source: AliExpress
Deadbolt
Image Source: yourhomesecuritywatch
One of the most widely used methods of locking; deadbolts are considered an extra security measure.
It is operated manually as there is no spring attached or integrated with it. Moreover, deadbolts are considered to be the most secure locking mechanism.
Bank customized as per the size of the doors, deadbolts are usually paired with a knob or a lever.
There are two main types of deadbolt, namely:-
Single-cylinder deadbolts, which require a key on one side of the lock and are operated by a knob on the other side.
Double-cylinder deadbolts, which require a key for operations on the inside as well as on the outside. These do not require any kinds of doorknobs.
However, other lesser-known deadbolt variants can be:-
Thumb-turn only deadbolt
Exit-only function deadbolt
Mechanical/electrical push-button deadbolt
Single-cylinder with removable thumb-turn deadbolt
Image Source: Amazon
Image Source: Yale
Image Source: Yale
Door lock with lever handles
Image Source: Architonic
Door levers or lever handles are very popular in residential and commercial buildings. Lever handles can be split into the following two categories:-
Lever handles on a backplate: These are a traditional type of handle which sits on a backplate.
Image Source: Unity Hardware
Image Source: Willow & Stone
These have three different operating mechanisms mentioned as under:-
Lever lock: Featuring a keyhole, lever locks provide security in combination with a mortise lock.
Lever bathroom: As the name suggests, these are used in places like bathrooms where privacy is primary. Featuring a thumb turn lock, these locks can be operated from inside as well as outside.
Lever latch: Featuring a push-down lever for simple operations, the lever latch is mostly installed on interior doors.
Lever handles on rose: These are a more contemporary handle option. It sits on a round or a square rose. Also, these are way smaller than backplates.
Image Source: Casson Hardware
Image Source: boonlogistic
Chain door lock
Image Source: Amazon
A chain lock, security chain, or security door chain is a small chain attachment made to the door frame. It attaches to a track on the door for security reasons. This type of lock is often used in combination with some other types of locks.
Door chain locks are particularly useful to prevent outsiders from gaining unauthorized access to the house. As door chains only allow the door to open slightly, it is ideal for communication and the exchange of small objects.
Moreover, door chain locks can also be installed in places where the door need not be opened time and again.
Image Source: Shopee Philippines
Electronic door lock
Image Source: Archi Expo
Electronic locks or electric locks operate by using electric current. Usually connected to an access control system, these locking devices also offer key control.
Moreover, electronic locks can be remotely monitored and controlled for the purpose of locking and unlocking.
Following are the types of electronic locks used today:-
Electromagnetic locks
Electronic strikes
Electronic deadbolts & latches
Passive electronic locks
An electronic lock can be opened by authentication and without the usage of any traditional keys. Below mentioned are some authentication methods used in electronic locks:-
Codes & passwords: Such locks use a keypad that enables entering a numerical code or password for the purpose of authentication.
Security token: Such locks require a security token which shall be scanned or swiped to open the lock.
Biometrics: Such locks make use of the latest technology and use fingerprint scanning, retinal scanning, etc. to authenticate users.
RFID: Radio-frequency Identification (RFID) uses RFID tags for the purpose of authentication and tracks using radiowaves.
Image Source: Heyce Technologies
Image Source: Ebay
Image Source: Electrical Contractor
Smart door lock
Image Source: Smartify
A smart lock is nothing but an electromechanical lock. It locks or unlocks a door when it receives respective instructions from an authorized device.
A smart lock mechanism uses a wireless protocol to execute the authentication process. It also has access control monitors access and sends alerts regarding the device.
Of late, smart locks have become an important element of a smart home.
Like any traditional locks, smart locks also have a lock and a key. However, in this case, the key is not a physical one. It is a special key configured especially for this purpose. Also, a smartphone can be used for the same.
Therefore, a smart lock uses a wireless mechanism to perform the authentication to unlock the door.
Smart locks allow users to grant access to a third party by means of a virtual key. This key can be sent to the recipient's smartphone over standard messaging protocols such as e-mail or SMS. Once this key is received the recipient will be able to unlock the smart lock during the time previously specified by the sender.
Smart locks also offer the feasibility of granting access to a thirty party by sharing the access via a mobile app. Certain smart locks include a built-in Wi-Fi connection as well.
Image Source: Xiaomi Planets
Padlock
Image Source: Godrej
Padlocks are locks that are not permanently attached to the doors. Having a looped handle and shackles, padlocks have a strong operating mechanism.
These locks belong to the free-standing lock category. Padlocks are portable and are available in a variety of models that are grouped into two main categories:- keyed and combination.
A padlock comprises a body, shackle, and locking mechanism. The most commonly seen shackle is a "U" shaped loop of metal. Padlocks work on two different locking mechanisms, integrated locking mechanisms, and modular locking mechanisms.
Mortise lock
Image Source: Godrej
Mortise locks are sturdy and efficient locksets used on exterior doors. However, they are easily available in light as well as heavy-duty models depending upon your requirement.
Mortise locks consist of an internal system that functions as a locking system. These locksets use a set screw and a cam for better functioning.
Mortise locks require professional installation and provide a high level of security to any door. Moreover, their ability to be locked from both sides results in improved safety standards.
Image Source: Craftmaster Hardware
Sliding door locks
Along with mortise locks, smart locks, and deadbolts, here is a list of types of door locks exclusively used in a sliding door.
Patio lock
Image Source: firstwatchsecurity
These types of door locks comprise a spring and mounts at the top or the bottom of the door frame. It is a keyed lock that works by holding the door in place with help of the spring-loaded pull slots.
Moreover, the key feature prevents any intruder from opening the door.
Patio locks are easy to install locking solutions. However, it may require some drilling and designated equipment.
Double bolt sliding door lock
Image Source: Amazon
A simple type of lock designed to secure sliding doors is a double-bolt locking system. These types of locks are easy to install and can be set up at any height on the door. This type of locking system acts as an additional level of security to the latch.
Depending on the alternative you buy, cheap, plastic locks may break down easily and less than a year's time. However, their ease of installation, usage, and relatively low cost make replacing and upgrading them easy and convenient.
Image Source: Pinterest
Security bars
Image Source: Walmart
Along with a superior-quality door lock it is recommended to invest in security bars. Security bars could be made from a variety of materials, like wood, steel, iron, etc.
However, a steel bar can be the most appropriate choice as it is harder to break and can easily be customized to match the style of the sliding door.
Security bars function by sliding into the space at the bottom of the door between the slider and the wall. Moreover, on one side it has a stopper and the other side has a groove to slot onto the door.
Useful tips to maintain your door locks
When it comes to the maintenance of the home, people rarely think about the hardware installed. Nonetheless, door locks should be the most cared-about hardware element as they are responsible for securing your house.
Therefore, to prolong the useful life of your door locks, here are a few tips that will help you in their maintenance:-
Clean the locks
Locks are exposed to dirt and dust throughout their usage which tends to build up on its inside. This results in jammed locks.
Therefore, to avoid the gradual process of ending up with a jammed lock, clean them from time to time with special spray lubricants. It is recommended to clean the locks once every year.
Keep away from excessive force
It is advisable to avoid applying unnecessary force on the door locks as it tends to weaken them. All the excess force results in reduced strength, durability, and functionality.
Ensure proper balance
Note that the door should not lean or sag. This puts too much pressure on the locks and hinges which ultimately weakens its ability to function properly.
Use them consistently
Last but not the least, having the best door lock in the world doesn't help if you don't use it regularly.
Regular usage ensures that the lock is always in working condition and not jammed. This reduces your chances of getting stuck with a useless, inefficient lock.
All homeowners are aware of the risks involved with using old and worn-out door locks. Over the course of time, you may feel the need to change the locks to ensure that your house is secure.
Moreover, there are several relatively simple ways to achieve this.
The process of changing the locks on a door may involve replacing it or rekeying it.
Replacing a lock is pretty self-explanatory. It involves removing the existing lock and installing a new one in its place. It is ideal to replace the entire lock that has a damaged internal mechanism.
On the other hand, rekeying is a rather cheap option. It involves replacing or realigning the pins of the lock in order to match it to a brand new key.
Rekeying is considered suitable when you are moving into a new house and a lot of other people like contractors, agents, etc. might have the keys to your locks.
However, if you lose the keys somehow, it is best to change the lock. In such situations rekeying is not an option as the process requires the use of the original key itself.
Door locks: Top brands in India
From building complex bespoke engineering solutions to making branded consumer goods like appliances, furniture, door locks, and security solutions, Godrej offers a wide range of products.
Godrej locks are suitable for bathroom doors, main doors, interconnecting doors, shutter doors, and grill doors.
Following are a few door locks by Godrejamong other digital locks, padlocks, rim locks, and mortise locks:-
#1: Godrej Advantis (Digital main door lock)
Godrej Revolution Door Lock
Crystal
Rimtronic
Technosecure
Rimtronic RF
Cabinet lock
Spacetek
#2: Godrej Mortise Lock (Cylinder door locks)
Godrej EXS Cylinder Door Lock
Ulturo Cylinder
Victor Cylinder
#3: Godrej Multipurpose Lock (Furniture door lock)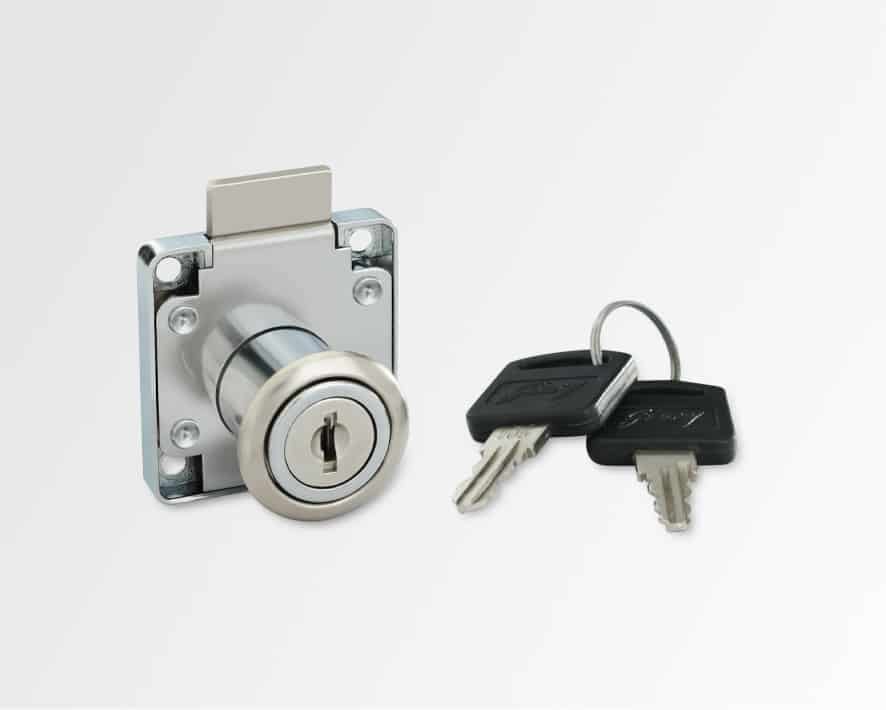 #4: Godrej Rim lock for sliding doors and double doors
Vertibolt Ultra XL+
Rim Pin Cylinder Lock
Night Latch
Latch Bolt
Deadbolt Ultra XL+
Twinbolt Ultra XL+
Tribolt Ultra XL+
Godrej Astro Door Lock
Godrej Altrix Door Lock
Pentabolt Aries
#5: Godrej Padlock
Godrej Nav-tal Door Lock
Freedom
Sherlock
Kaditala
Round padlock
Square Padlock
Häfele has a comprehensive range of mortise and knob locks that come with a host of features. These locks provide robust security and durability together with superior aesthetics and contemporary designs.
In addition, Häfele offers a complete selection of cylinders and keying options. Some of its products are as follows:-
#1: Hafele Mortise Lock BR NIP MATT 50/16MM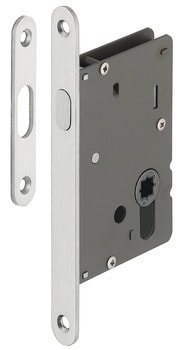 #2: Hafele Flush Bolt Brass POL 305MM, 32MM

#3: Hafele Deadbolt, Door Bolt (Thumbturn Only)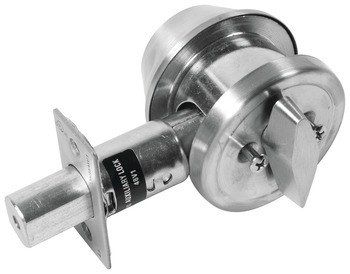 #4: Hafele RE-bell (Smart Motion Sensor Lock)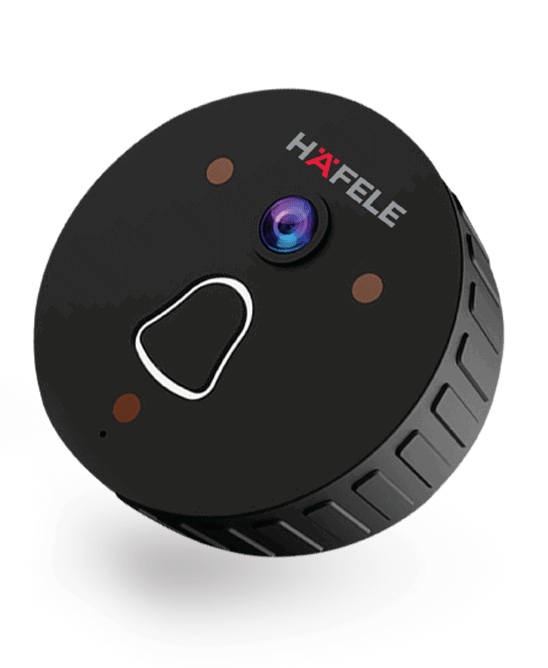 #5: Hafele RE-mote (Bluetooth Technology Digital Lock)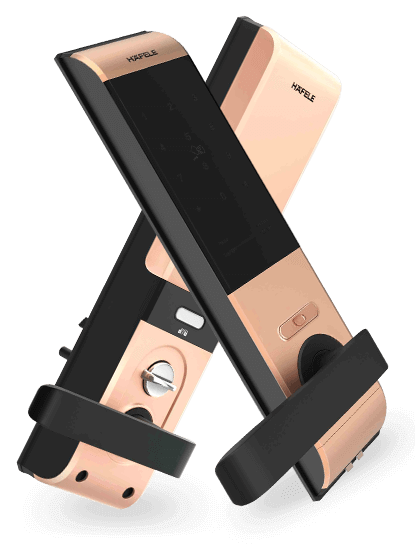 The company offers locks for main doors, single doors, double doors, and sliding doors integrated with deadbolts, designed with ultimate features, strength, and durability.
Europa door locks are available in several variants, such as hexabolt main door lock, main door lock, night latch, cylindrical lock, diamant padlock, and center shutter lock.
#1: Europa Hexabolt H640 AB (Deadbolt, Main Door Lock)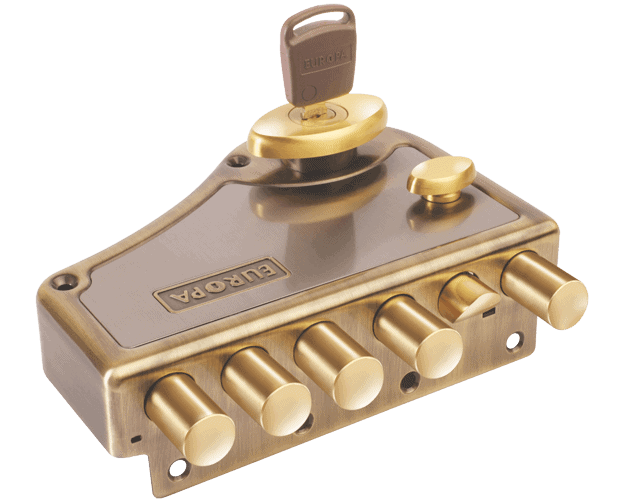 #2: Europa Parma V-621 AB (Main Door Lock with Interlocking Technology)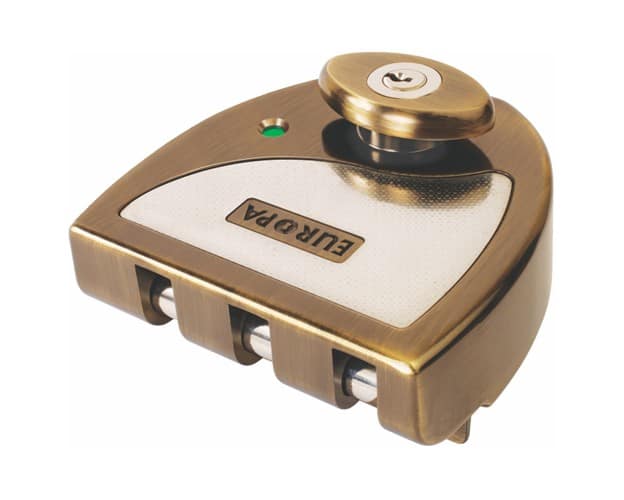 #3: Europa Electronic Lock E911 SS (Advanced Electronic Digital Security Lock)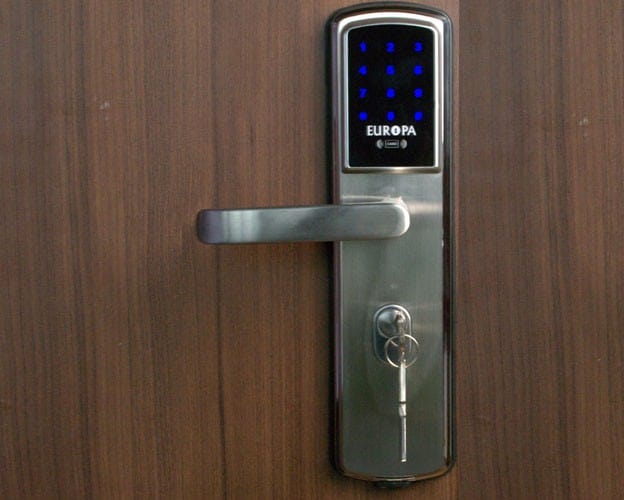 #4: Europa Jemmy Proof Door Lock J-310 NS (Vertical Interlocking Bolts)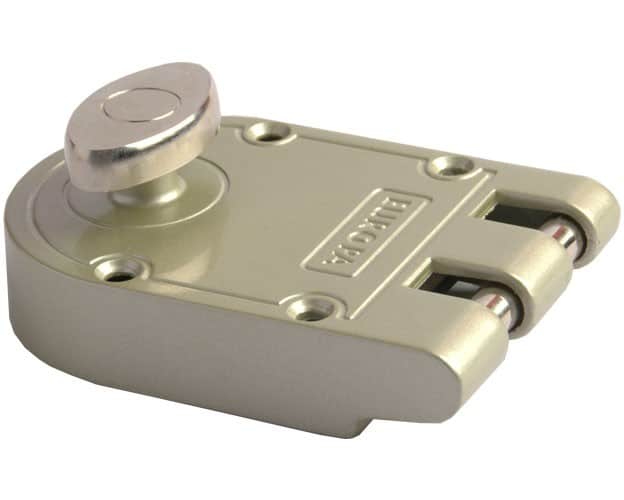 #5: Europa Diamant Padlock L-358 SS (Padlock with DLSB Technology)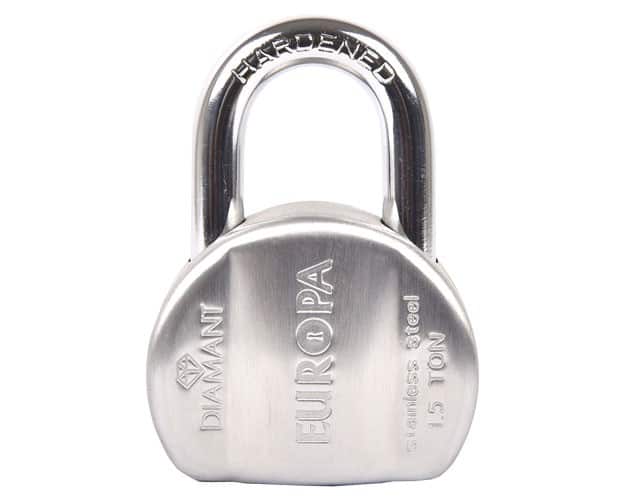 Yale door locks are among the best in the world. Offering integrated locking solutions combined with digital locks and access control systems, Yale produces a wide array of products for residential and commercial use. Its smart locks include both keyed and keyless products.
Some of the products from the wide range of smart products, digital safes, mechanical products, electromechanical products, and padlocks are:-
#1: Yale Smart Lock YDM 7116 (Mortise Lock – Fingerprint, PIN Code, RFID Card, Mechanical Key)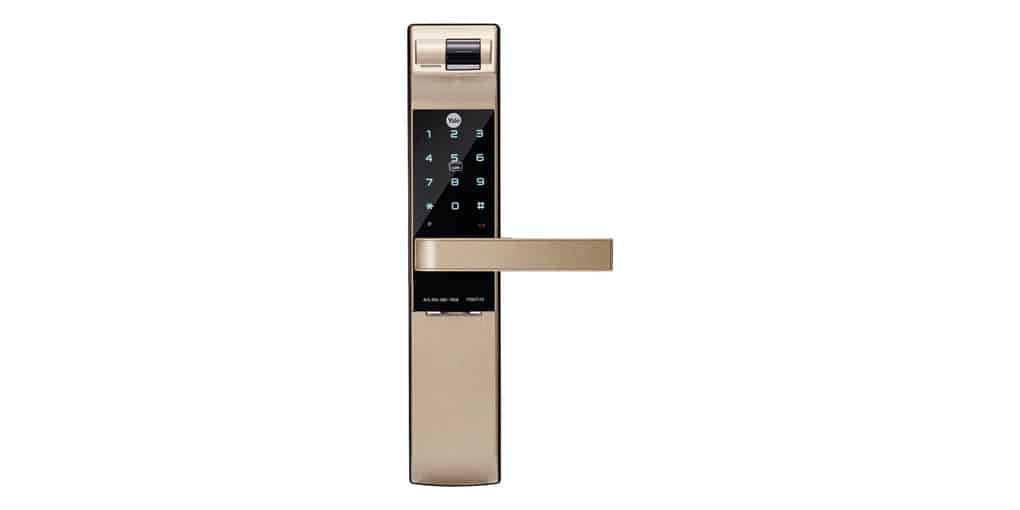 #2: Yale Padlock – Brass Shutter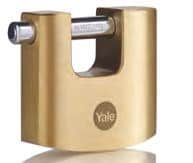 #3: Yale Electric Rim Lock (Solid Brass Double Cylinder)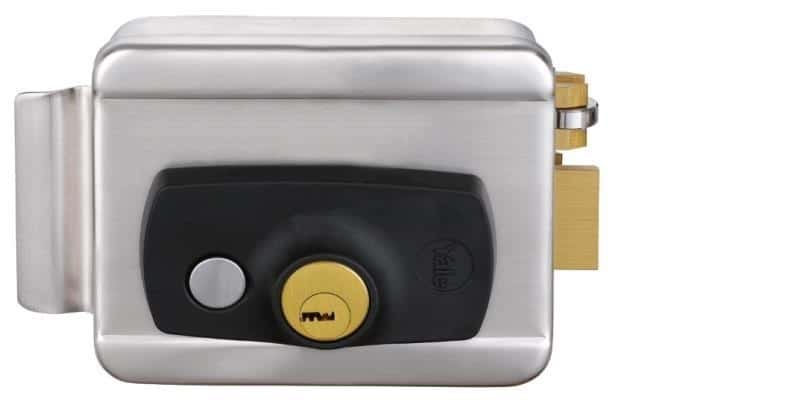 #4: Yale PVD Solid Brass Lever Handle YPVL-903-RG (Mechanical Lever Handle)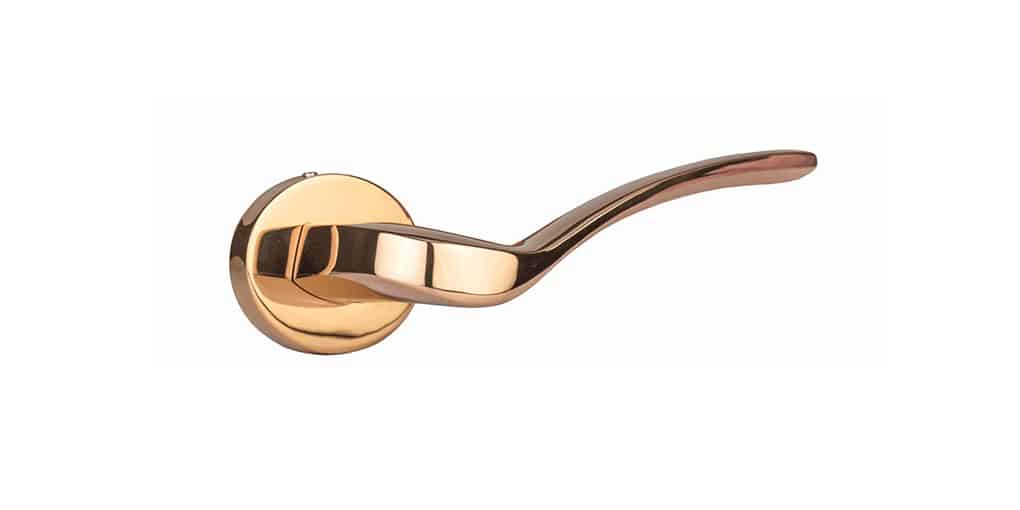 #5: Yale Lever Lockset L6517 Entrance series (Cylindrical Locksets with Doorknobs)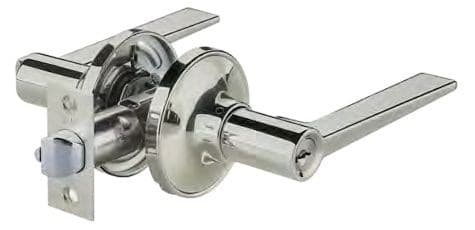 The brand Hettich offers architectural hardware solutions that are a perfect combination of cutting-edge German technology and exceptional design.
Nothing compares to hardware manufactured by Hettich when it comes to safety and security. Its locking solutions define a class and timeless design made to perfection with patented technology.
Following is an overview of a few Hettich door locks:-
#1: Hettich 3-Door Sliding Lock Dia 18mm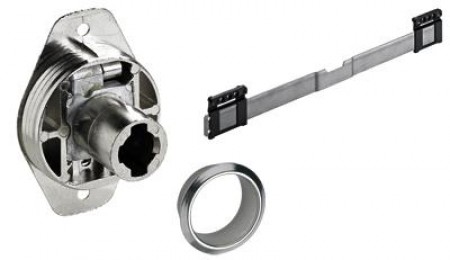 #2: Hettich SS Room door knob HCK 01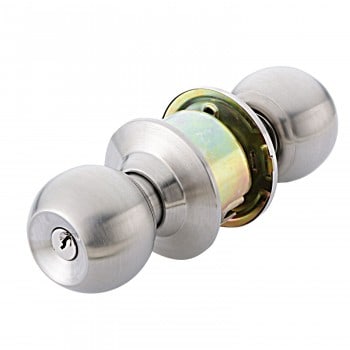 #3: Hettich Polished Brass Handle Lock HCH 02 PB WC for Washroom door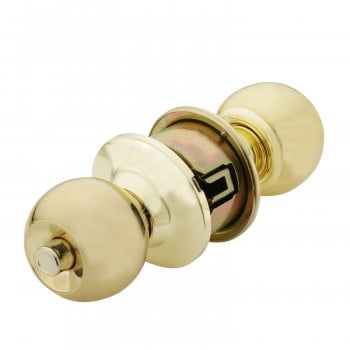 #4: Hettich SS D3 Left Prolock Infinity Left Main Door Safety Lock, (Both Side Movable)
#5: Hettich 2-Door Sliding Lock Dia 18mm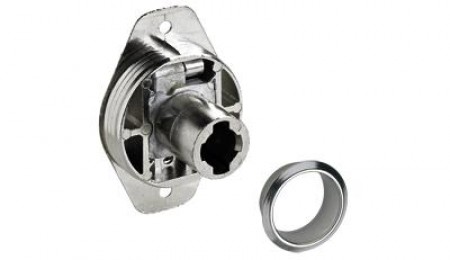 Dorset, a consumer-oriented company, is a market leader in locks, door lock sets, and security systems. With a huge variety of locking systems, Dorset also offers a wide range of architectural hardware and kitchen & furniture hardware.
Dorset India offers rim locks, mortise locks, euro profile cylinders, cylindrical knob locks, and furniture locks as locks and security systems. Some of its products are as under:-
#1: Dorset Cylindrical Knob Locks (Keyed Door knob with cylindrical locking system)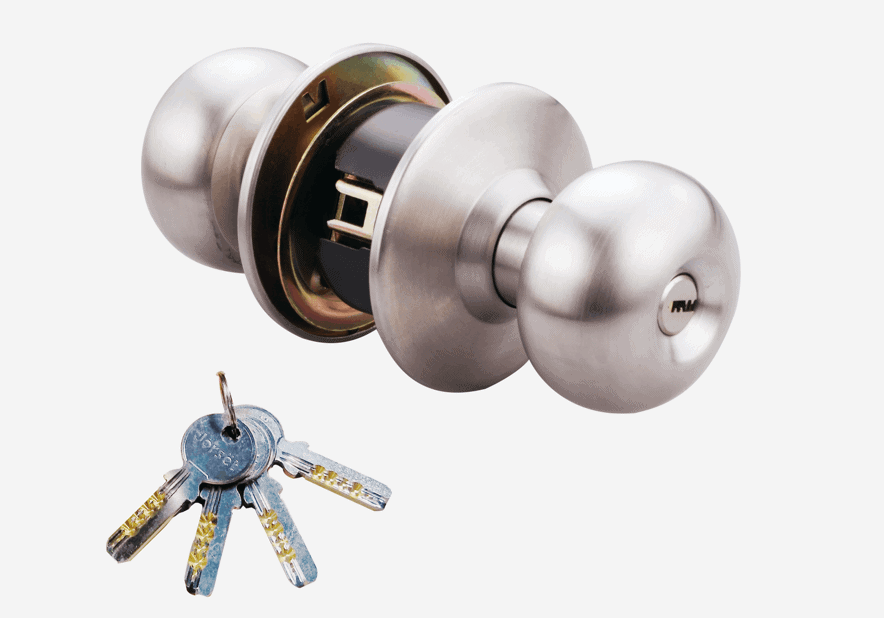 #2: Dorset Smart Series Night Latch (Rim Lock with Both Side Key)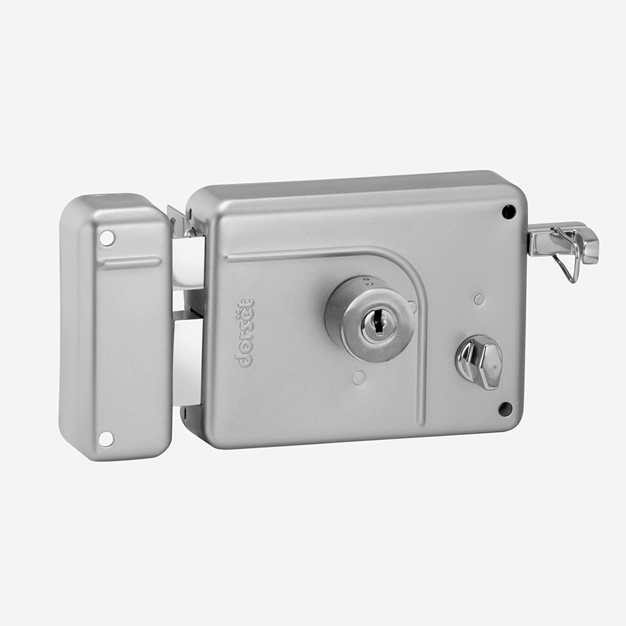 #3: Dorset Phantom Verti Lock (Rim Lock with Key and Knob)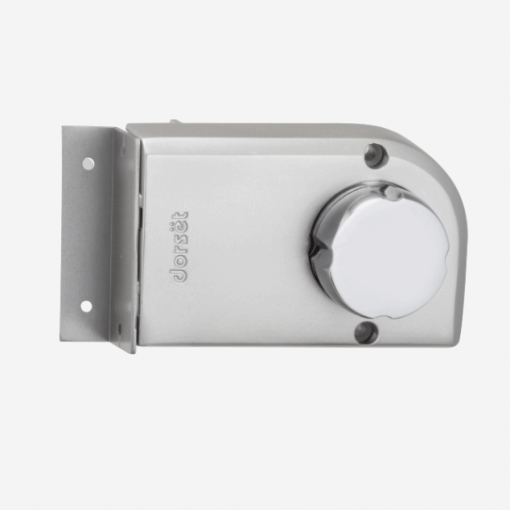 #4: Dorset Mortise Digital Door Lock (Digital Lock with Finger Print ID and Mechanical Key)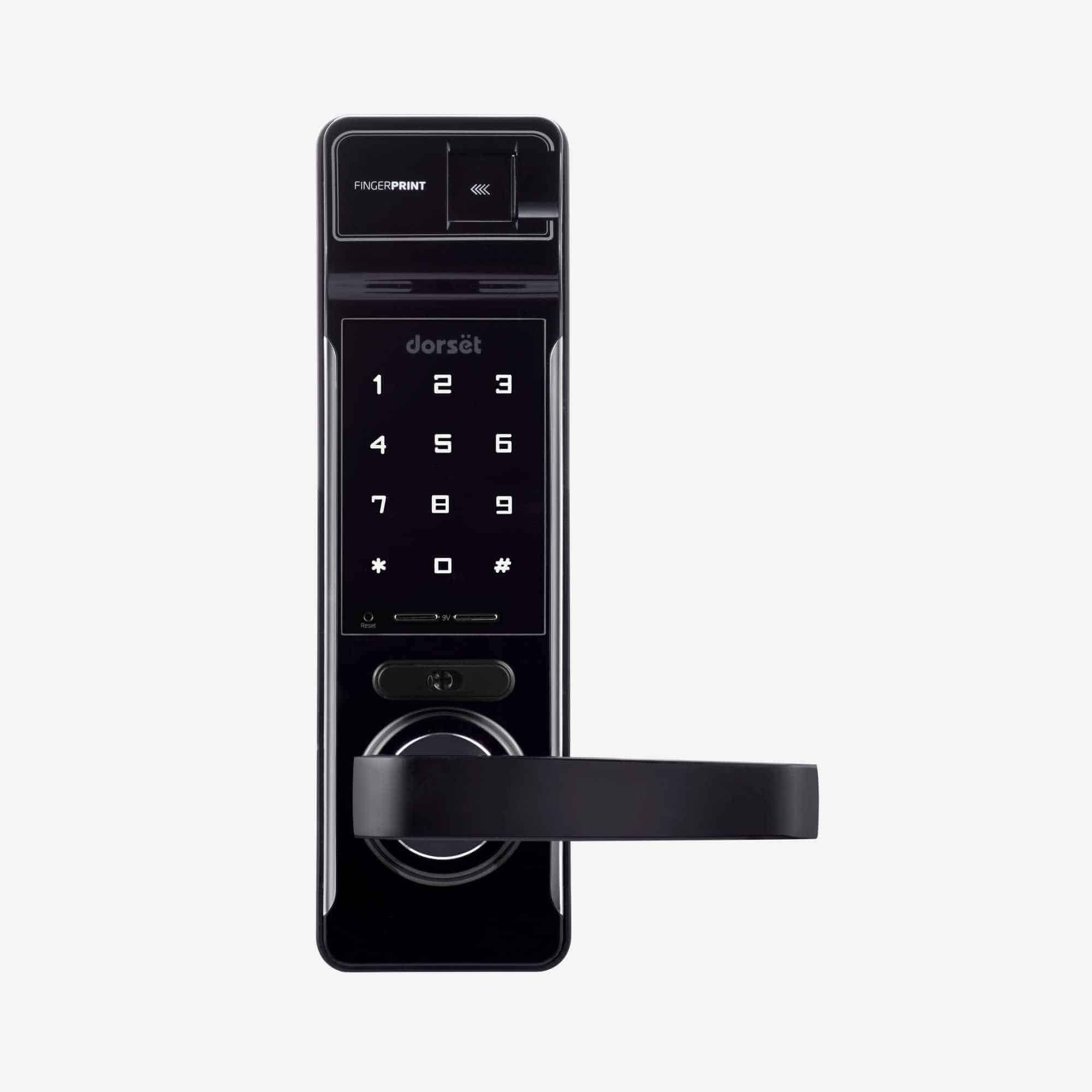 #5: Dorset Multi-Pin Bolt Mortise Lock ( Mortise Lock with Reversible latch Design)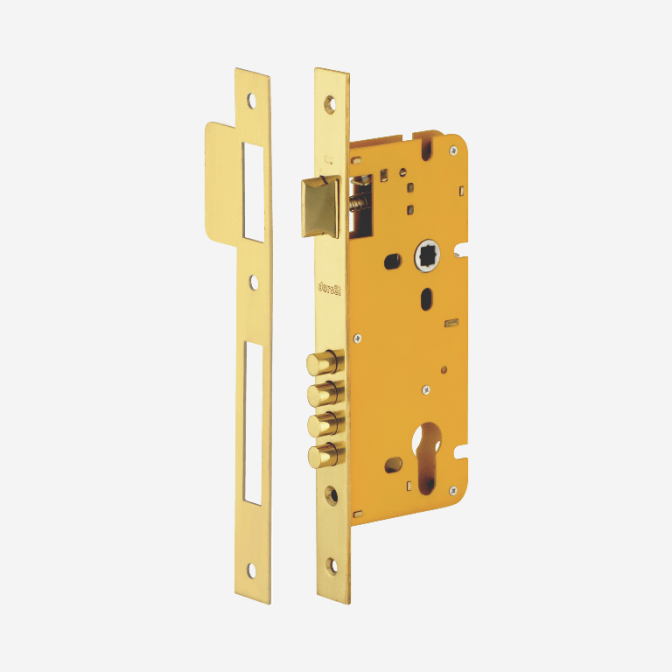 Harrison is one of the leading companies known for providing the best security and hardware. Showcasing rigorous craftsmanship, Harrison aims to manufacture innovative and sturdy products.
Out of many, some Harrison locks are mentioned as under:-
#1: Harrison Combination TSA Lock (Padlock)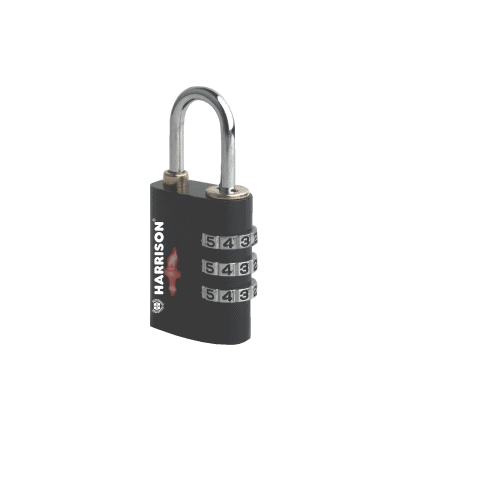 #2: Harrison Lock Sure Mechanism (Padlock with Computerized Key)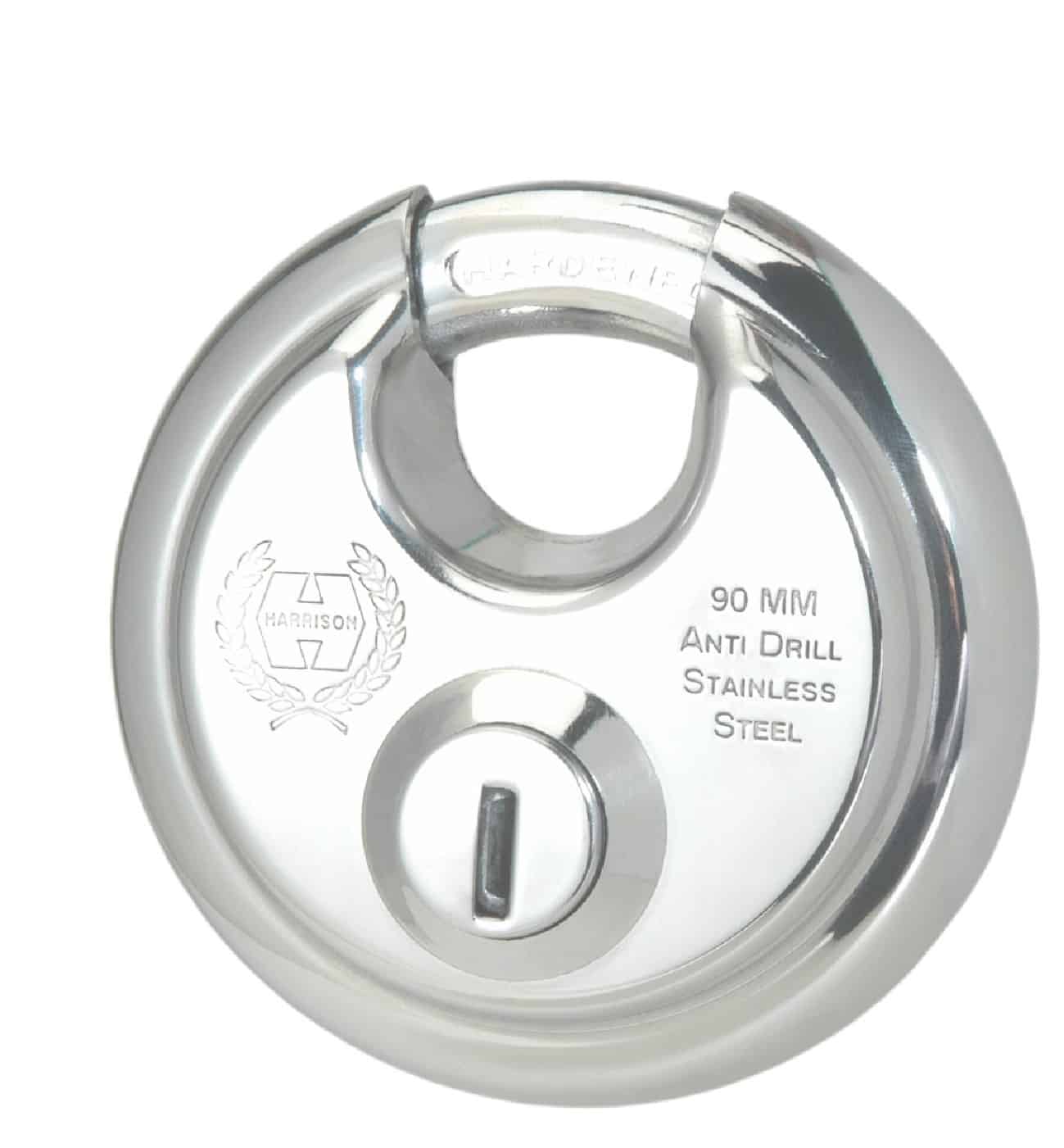 #3: Harrison Iron Shield Tribolt (Main Door Surface Mounted Rim Lock)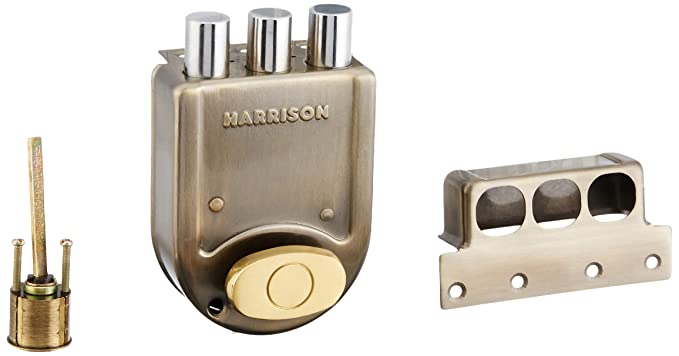 #4: Harrison APPLE White Metal Collection (Door Handle Set)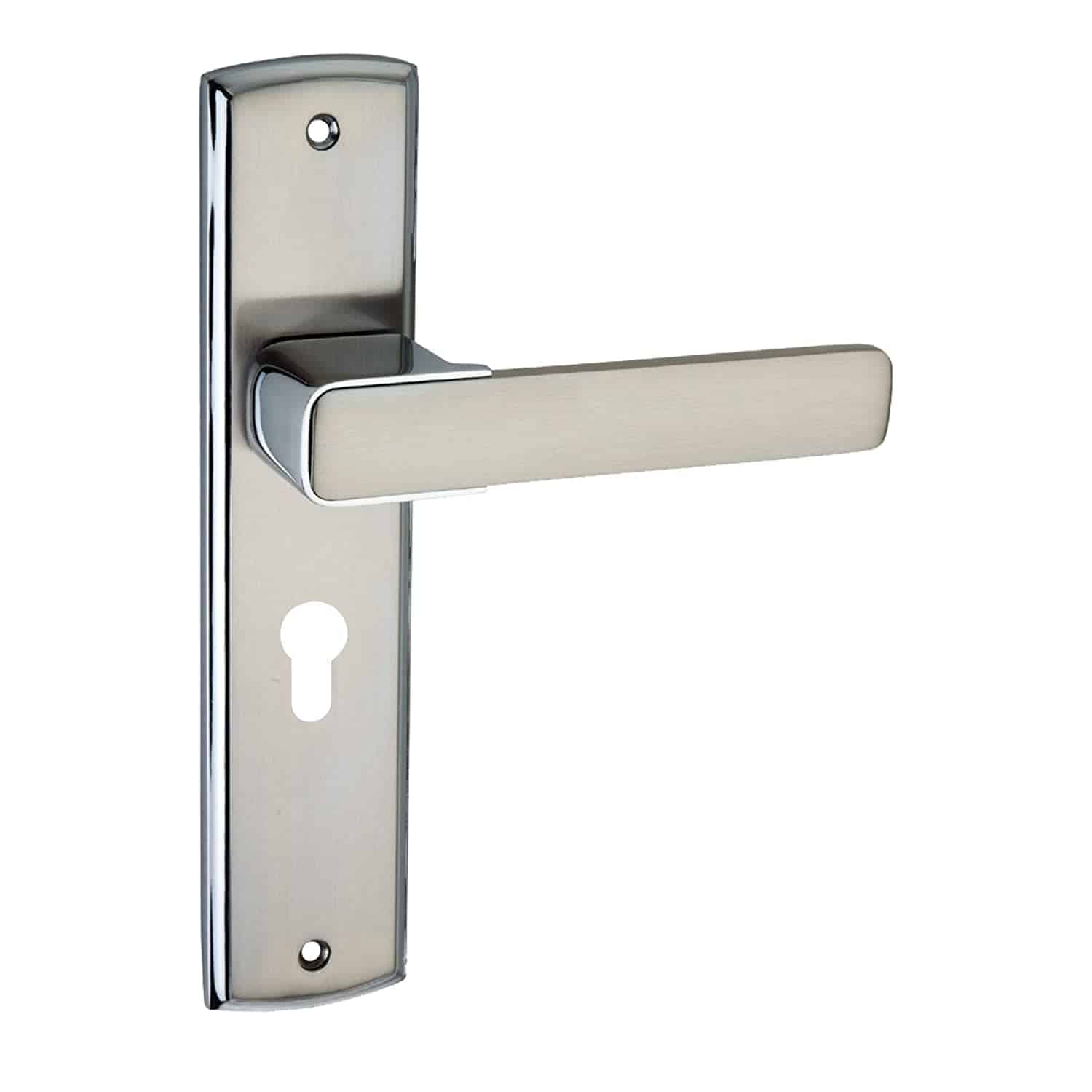 #5: Harrison Lock Body Solid Latch BPL/SN (Mortise Lock Body)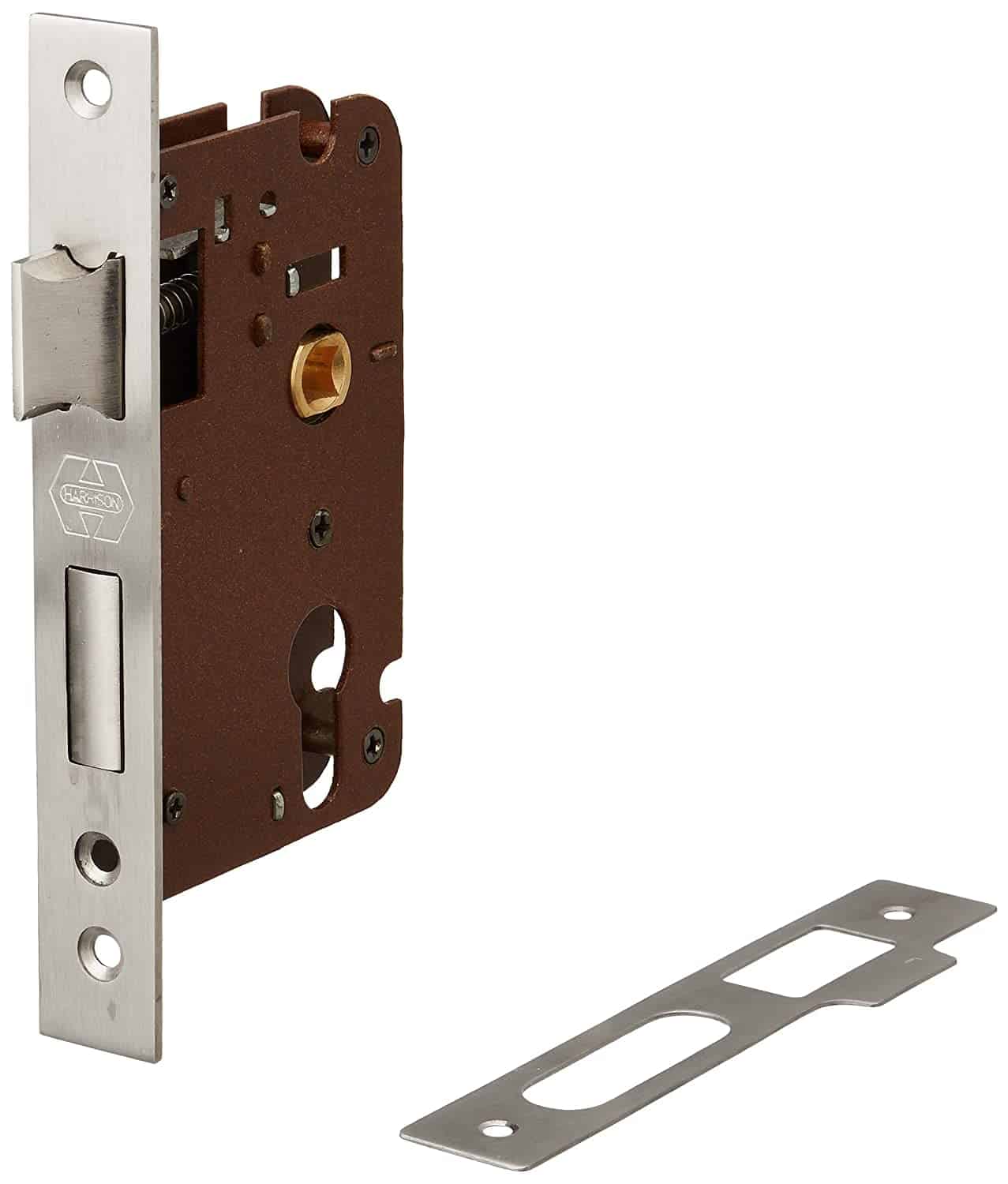 Link locks offer unique design, precision engineering, and superior finishes. The brand is recognized for manufacturing High-tech padlocks, mortise handle door lock sets, rim locks, smart locks, hinges, furniture locks, rod locks, knob sets, shutter locks, etc.
Some of their products are as follows:-
#1: Link Colour Lock No 10 (Coloured Padlock)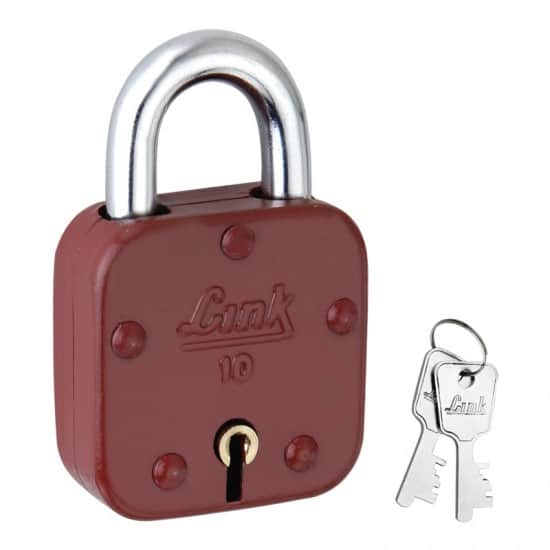 #2: Link HT 7 CY Handle Set With 5110 – GS (Brass Mortise Handle)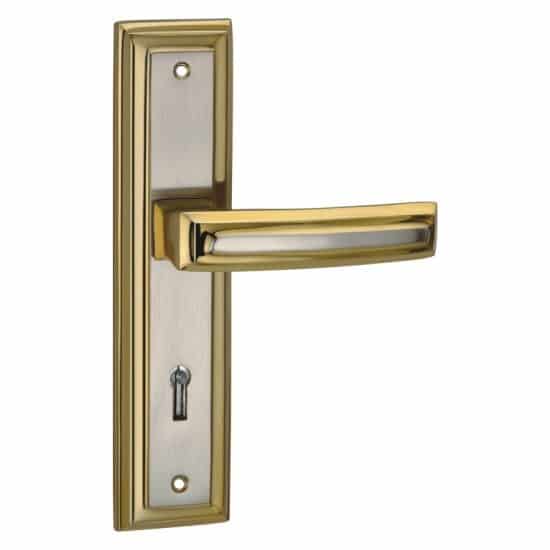 #3: Link 4002 One Side Key with Dead Bolt (Rim lock with a deadbolt)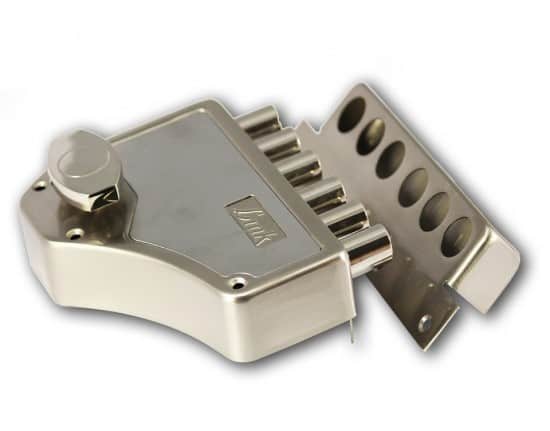 #4: Link 5 Pin Double Cylinder 62 MM (Cylinder Door Lock)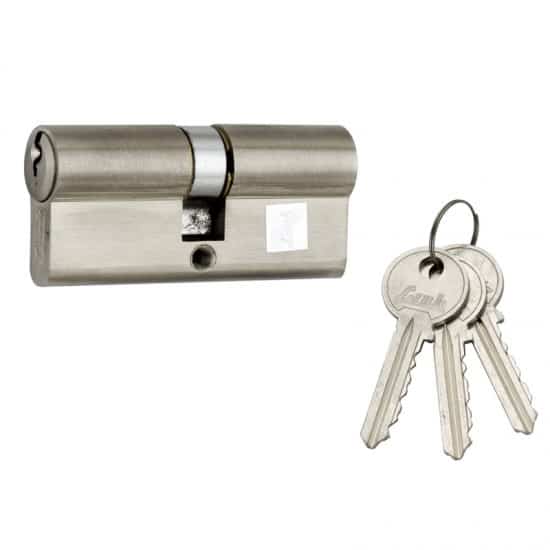 #5: Link Knob Set (Stainless Steel Knob Set for Entrance)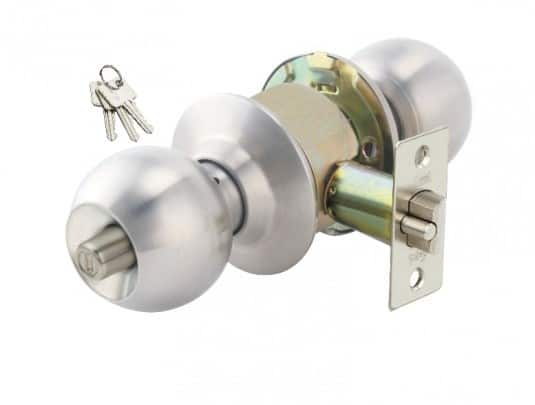 Conclusion
Being one of the major aspects of house protection, the choice of door hardware is governed by the location and type of the doors. Some areas need paramount security while others can be shut simply.
There are a number of things that one must consider before deciding the ideal lock for their home. Since every lock serves a unique function,­ one should have a clear understanding of their properties and applications to match their preference. In addition, it is important to understand the difference between replacing and rekeying door locks and when and how to use both methods.
Although the most common type, doorknob locks are not suitable for entry doors as they can be easily broken into. Similar in purpose to doorknobs, the door lock handle sets add a more appealing look to the door.
On the other hand, deadbolts feature a unique locking mechanism that resists any such chances. Similarly, mortise locks are powerful enough and considered a suitable fit for external doors.
In addition, electronic locks have a similar locking mechanism to that of a smart electronic lock. However, the upgraded technology does add some additional functionality over older electronic locks.
Now that you have ample information on types of door locks, ensure that you invest in a superior quality door lock that can combat both light and rough handling. Subsequently, an ideal door lock makes sure that you get in and out of your house without any inconvenience.
Overall, install locks in a competent manner to ensure high standards of safety and maximum security.
If you want to buy top-quality door locks from the best brands, click on the link given below to check your options and submit your inquiries:
For more details, contact below:
Email: mukul.jain@buildingandinteriors.com
Mobile: +91 99676 32127