The growing awareness towards a sustainable environment has been driving the wooden interiors market in India. Canadian Wood has been a front-runner in spreading this awareness. The sustainable forests in British Columbia (B.C.), Canada source the Canadian Wood species. Increasingly, for a specifier, the assurance of wood being sourced 'responsibly' opens-up unlimited creative potential for his/her projects. So is the case with environment-conscious manufacturers – again a growing group.
Circumventing the limitations of the present times, Canadian Wood has been effectively using webinars to reach-out and educate various stakeholders in the industry. It has been conducting a series of informative and topical webinars. That's the main reason why Architects / Designers, Builders / Developers, Structural Engineers, Contractors/ Manufacturers, PMCs and the Hospitality Industry professionals have been attending these webinars in good numbers.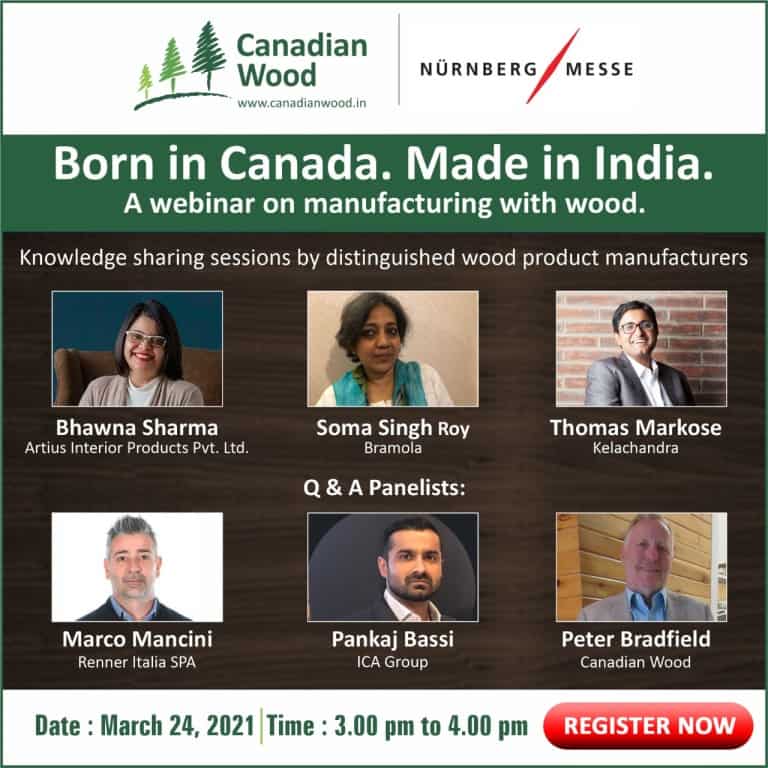 Consequently, the upcoming webinar (a 10th in the series) by Canadian Wood titled 'Born in Canada, Made in India – A webinar on Manufacturing with Wood' promises to remain no less absorbing.
The webinar – Wooden interiors manufacturers to give valuable insights
Leading manufacturers in the Indian wooden interiors market have teamed-up with Canadian Wood for this webinar. Eminent names from across India including Ms.Bhawna Sharma (Artius Interior Products Pvt. Ltd.), Ms.Soma Singh Roy (Bramola)and Mr.Thomas Markose (Kelachandra) will be discussing the intricacies and opportunities in wooden interiors business. Their sessions will unveil insightful information on the use of wood for high-end doors, door frames & window systems, engineered door frames, world-class furniture (both contemporary and ethnic styles) and more.
Increasingly, reputed manufacturers across the country have been adopting wood species like those from B.C. Canada. It remains the ideal alternate to create high-grade, export quality wood products. At this engaging webinar, get to hear the first-hand experiences (and more!) from the manufacturers themselves.
Protecting the wooden interiors -a value-add at the webinar
That's not all! These informative presentations will be followed by a Q&A session that will include amongst others, special guests Mr.Marco Mancini (Renner Italia SPA) and Mr.Pankaj Bassi (ICA Group) with an exceptional background in the coating category.
SIGN-UP NOW to reserve your participation in this enriching experience.
CLICK HERE TO REGISTER: https://zoom.us/webinar/register/WN_I1eHzvUZQg2A6_FdSi8F-A