Forestry Innovation Consulting India Pvt. Ltd. widely known as Canadian wood is the crown agency of the Provincial Government of British Columbia. Canadian Wood remains a global leader well known for supplying timber grown from sustainably managed forests. To continue their efforts for promoting sustainable and legally harvested wood, Canadian wood is conducting a webinar on sustainable wood. The topic of discussion is "legally harvested and seasoned wood for a better future". Recently, there has been a rise in the demand for legally harvested sustainable wood in the Indian market.
This rise in demand is because of the low availability of wood fibre in India. Furthermore, the Indian market is progressively becoming aware of the several environmental challenges that the country faces. Therefore, Canadian wood has been on a mission to support the use of legally harvested sustainable wood in the Indian market. So, to meet the rising demand in India, Canadian wood has been supplying timber from sustainably grown forests. In this way, they have been playing their part to protect and conserve the planet for future generations.
Upcoming webinar on legally harvested and seasoned wood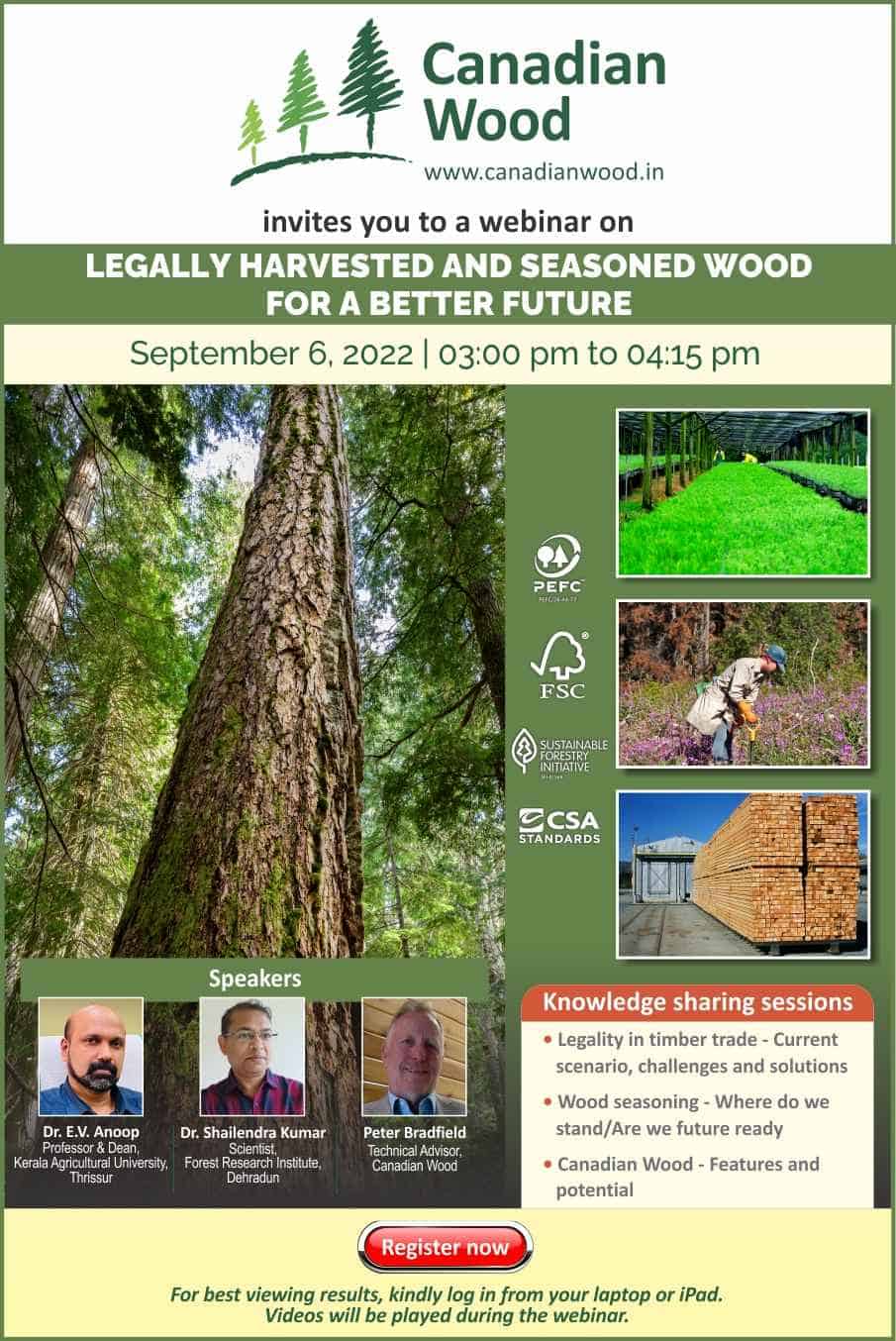 The seasoned wood webinar will be an informative session beginning with a welcome note by the Assistant Director, Technical Services of Canadian Wood. The welcome note will be followed by presentations from well-known speakers starting with Dr. E.V. Anoop, Professor and Dean of Kerala Agricultural University. He will be talking about the "Legality in timber trade: current scenario, challenges, and solutions." Dr. Shailendra Kumar, a Scientist-D at the Forest Research Institute, Dehradun will take the discussion ahead and speak on the topic "Wood seasoning: Where do we stand/are we future ready?". Finally, the Canadian Wood section will be led by Mr. Peter Bradfield, Technical Advisor of Canadian Wood on the 'Features and potential of B.C wood species'. Furthermore, the information-rich webinar will also host a Q&A session for the audience to answer any questions that might be raised during the presentations.
The seasoned wood webinar will be useful for manufacturers, contractors, interior designers, architects, builders, and forestry scientists all over India. Seeing that the webinar is going to be rich in information and knowledge, students of wood science, forestry, interior design, and architecture will also benefit from attending the same.
Registrations are open for the sustainable wood webinar. So, if you wish to bank on this knowledgeable session to enhance your knowledge, click on the link below!
Day & Date: Tuesday, September 6, 2022
Time: 3:00 PM to 4:15 PM
Registration link: https://us06web.zoom.us/webinar/register/2716614392704/WN_oNLBNmFHSP2SPaPDzMWCrg
Contact: +91 9771490199
For any further queries, contact Mr. Arif Moosa at arif.moosa@canadianwood.in    
[vvsmustread]