Villeroy & Boch's premium range Finion transforms the bathroom into a space where time appears to pause. Your everyday bathing routine will become a delightful pampering retreat thanks to elegant designs, quality materials, and subtle lighting. This whole bathroom collection offers customization in a multitude of colours and combinations. The collection includes modern and luxury washbasins, freestanding baths, and bathroom furniture with an integrated lighting concept.
TitanCeram – A material for sublime shapes
In designing Finion, famous designer Patrick Frey took advantage of TitanCeram's remarkable material properties. He says, "I took full advantage of the qualities of TitanCeram for the flowing, sharply contoured design of the washbasins as this material allowed me to build very thin and fine forms." Ten ceramic washbasin variants are the result, including wall-mounted and surface-mounted washbasins with wall thicknesses as low as 6 mm. Surface-mounted, wall-mounted, and vanity washbasins are available, with sizes ranging from a compact 43 cm hand-washbasin to a hefty 130 cm double washbasin. A built-in ceramic valve, available with the ViFlow overflow system as an option, merges seamlessly into the washbasin surface. Thus, it emphasizes the collection's high-end appeal.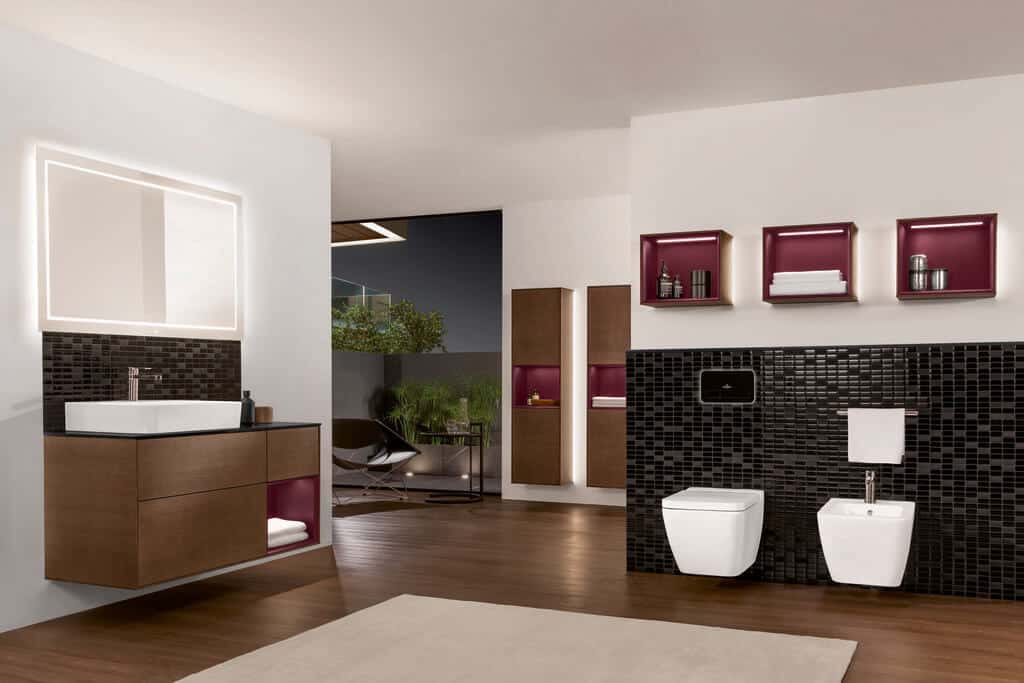 The simple linear design of the wall-mounted toilet and bidet complements the bathroom setting. SupraFix invisibly secures the rimless toilet, which is also equipped with DirectFlush technology. The SoftClosing function softly and silently closes the sleek 40 mm thick toilet seat, while QuickRelease allows the seat to be removed quickly and easily for cleaning. On request, the ViClean-I 100 shower toilet can be fitted into the Finion bathroom design to boost comfort.
Finion furniture

–

Exhibiting  diversity in colours and combinations
The Finion furniture range reflects the delicate design of the washbasins with edge and carcass thicknesses of just 8 mm. As the vanity washbasin is almost perfectly aligned with the base unit, the ceramic and furniture merge into a consistent visual entity. Handleless doors and push-to-open drawers complete the elegant effect. The collection comes with a choice of base units for vanity washbasins as well as for surface-mounted and wall-mounted washbasins in a wide range of sizes. Finion can now also be combined with surface-mounted washbasins from other TitanCeram collections: with Artis, Collaro, and Memento 2.0 providing new and exciting options.
The distinctive design of the modular shelves includes precise edges and borders with faceted detailing. Due to their high-quality, scratch-resistant surfaces, they are extremely sturdy and long-lasting. Additional storage space is provided by coordinating tall and side cabinets. The optional smartphone charging station for side cabinets and shelves is an intriguing feature. Two mirror models in various sizes complete the collection.
Quaryl® monolith for special moments

– Bathing in luxury
The free-standing Quaryl® bath, which boasts a delicate design with precise, extremely thin 15 mm edges, is another highlight of the Finion collection. The monolith, made from Quaryl®, boasts an impressive design and material quality. Despite compact outer dimensions of 170 x 70 cm, it still has a generous internal area, comparable to a traditional 180 x 80 cm bathtub, and ensures the best bathing experience. This feature also makes it ideal for smaller modern luxury bathrooms.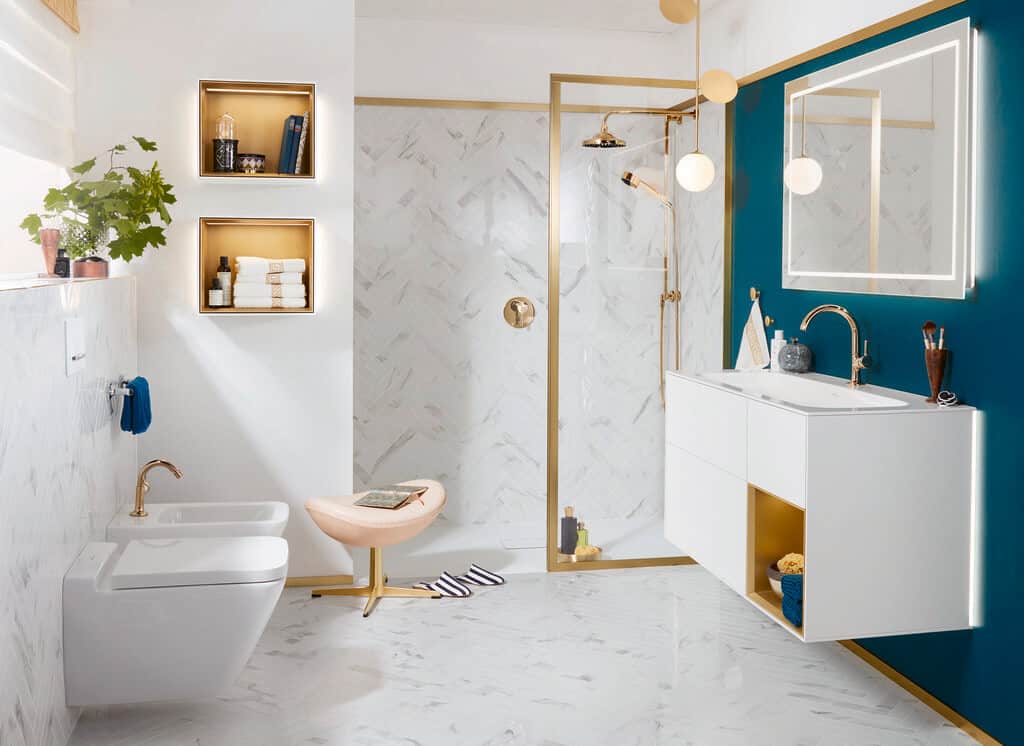 The Finion bathtub is available in a variety of configurations, including with and without a design ring around the bath's perimeter, as well as with or without an optional emotion light element. The chrome, champagne, or gold design ring adds a touch of elegance to the freestanding bath. The remote-controlled, dimmable lighting effect on the bath's bottom exterior surface comes in a variety of colours. It makes the tub appear to float on a light pedestal.
Finion – Modern luxury bathroom collection in many colours and combinations
Gesa Hansen, a German-Danish designer, created the colour scheme for the modern Finion bathroom furniture collection. One unique feature is the ability to mix and match the front, carcass, and shelves to suit personal preference – for example, a glossy white shelf unit with a matt gold interior. If you're not sure which colours go well together, Gesa Hansen has shared some suggested combinations to help you out. Classic colours such as matt or glossy white, fine grey, and deep black are among the options. The warm, dark walnut veneer offers a modern and natural element to the interior design, while the matte gold lends a stunning beautiful touch. To match the vanity units, the brand offers glass panels in White Matt or Black Matt.
The range also includes warm, minimalist colours in the matt shades of Sand, Olive, and Midnight Blue, as well as the shiny and intense Glossy Black. The veneer surface in the natural wood shade of Oak Veneer also opens up new design options.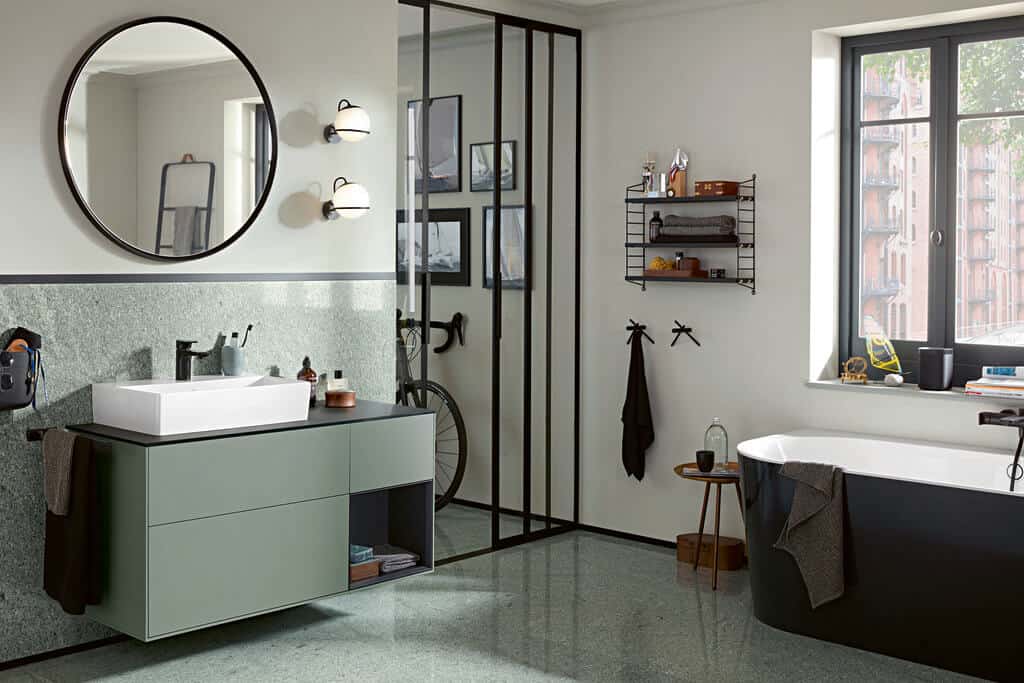 With or without the design ring in baths, the emotion function is available. A dual-color finish with a brilliant white interior and a coloured panel is also available. There are a plethora of colours to select from in this modern bathroom & furniture collection. In addition to the colours in Gesa Hansen's colour scheme, the brand offers the panel in any Sikkens or RAL hue (excluding metallics) — in either a matt or gloss finish, depending on your preference. The design concept is completed with a push-to-open valve and an optional colour-coordinated water inlet. Moreover, these elements match the metallic hues of the design ring.
The integrated lighting concept of Finion
Finion's lighting concept is a full-fledged solution that extends across the entire line, from furniture to mirrors and ceramics. The continuously dimmable emotion lighting feature is available on all modern bathroom furniture types. This allows you to adjust the room's ambience to fit your mood. Also, one of the two Finion mirror models comes fitted with an illuminated LED border and emotion feature. Optional extras include a sound system. The integrated lighting concept even extends to the freestanding Quaryl® bath. Therefore, it makes the freestanding bath appear to float on a pedestal of light. The optional design rings in Gold, Champagne, and Chrome amplify the effect. Individual light elements can be dimmed and operated using a remote control.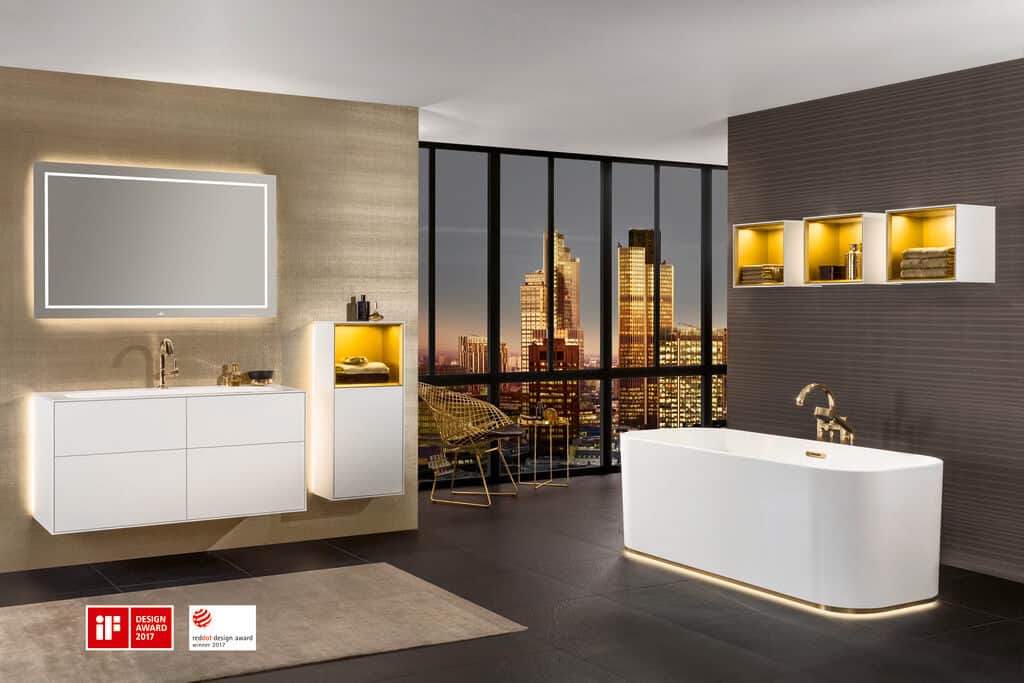 Finion has received the iF Design Award and Red Dot Award on several occasions; two of the most prestigious design accolades in the world. The products selected for awards include the freestanding bath, vanity washbasin with vanity unit, and toilet with matching seat.
To know more about the Villeroy & Boch modern luxury bathroom collection – Finion, contact on the following details:
E-mail: Surti.Hemangini@villeroy-boch.com
Telephone : +91 22 49050400 (Mumbai)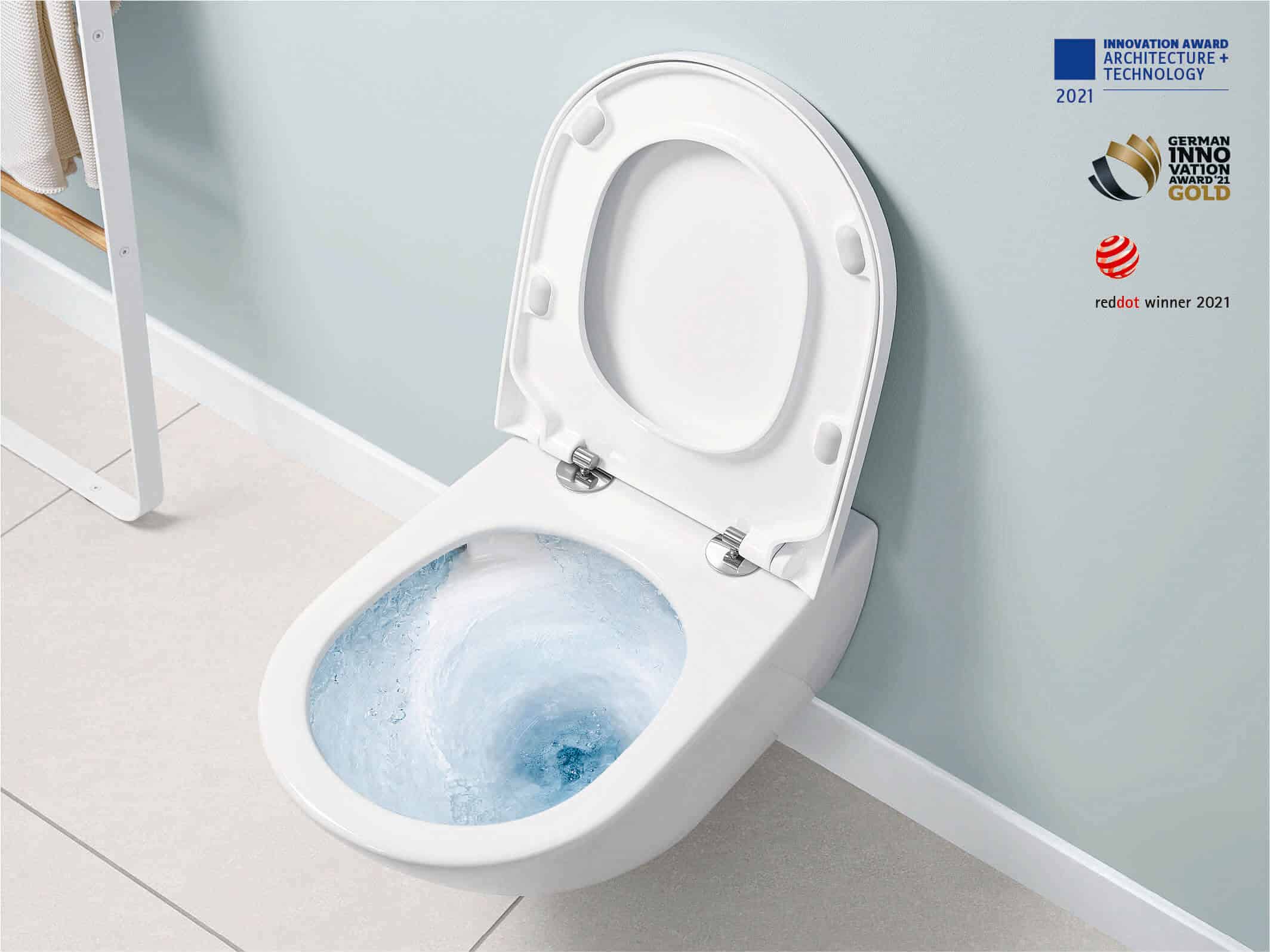 The revolutionary TwistFlush toilet flush system with vortex power is incredibly water efficient while providing extra clean