A timeless aesthetic that has endured generations of trends is wood flooring. It is organic, environmentally friendly, and highly robust. Therefore, it makes sense that people have been making floors using wood for so long. Wood flooring colours and textures used to be rather simple to choose from. However, now there are so many options that the task could be intimidating. While engineered tiles, laminate wood, reclaimed wood, and substitute materials that resemble wood are all good options, solid wood floorings are still one of the most popular choices. For this reason, we decided to dig deeper and give you a fundamental tutorial on wood flooring essentials and explore if they are still worth their expensive installation cost.
So, continue reading the article to know different types of wood flooring options, their pros and cons, installation, and easy maintenance tips. You can also browse through our recommendations section to send an enquiry for the best wood flooring materials from the top flooring brands in India.
If you want to buy top-quality wooden flooring from the best brands, click on the link given below to check your options and submit your inquiries:
For more details, contact below:
WhatsApp Number: +91-9967632127 (Only message; no calls)
Email: support@buildingandinteriors.com
Types of wooden flooring
Solid wood flooring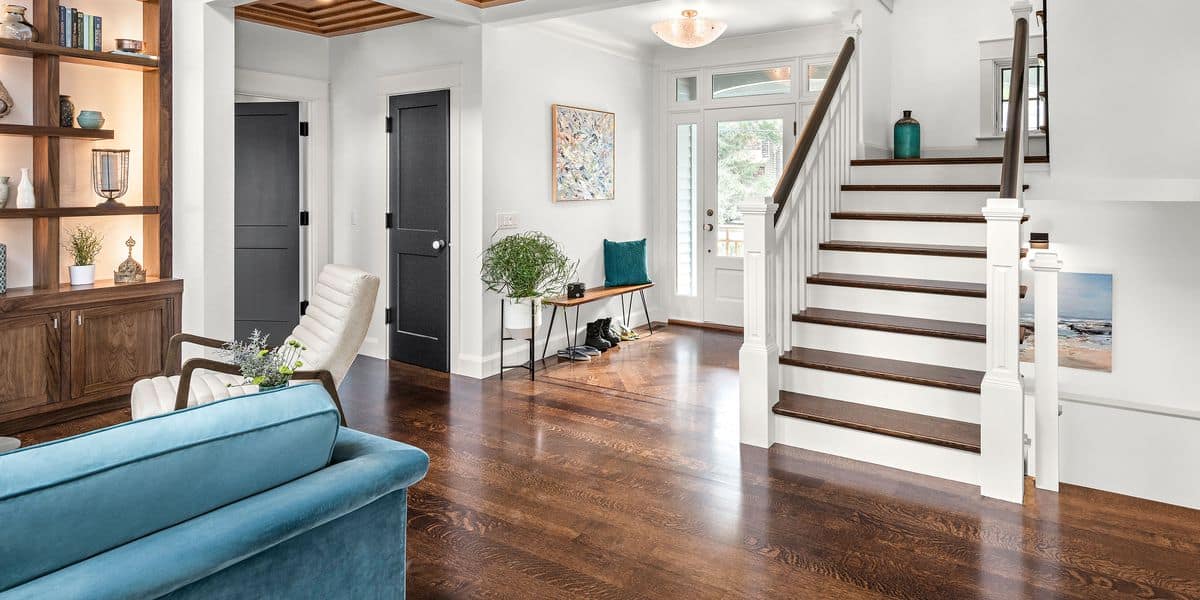 Image Source: This Old House
Solid wood flooring is constructed entirely of wood, including species like oak, walnut, and pine, which have been sustainably sourced. If properly cared for, solid wood is incredibly sturdy and will last for many years. Throughout its lifetime, it can be refinished multiple times. Even though the majority of hardwood is pre-finished or has a top protective covering, it should be kept dry.
Hardwood is an excellent choice for areas with a moderate climate, such as Bengaluru, Hyderabad, or even the North-Eastern states of India, because it does not absorb heat.
Engineered wood flooring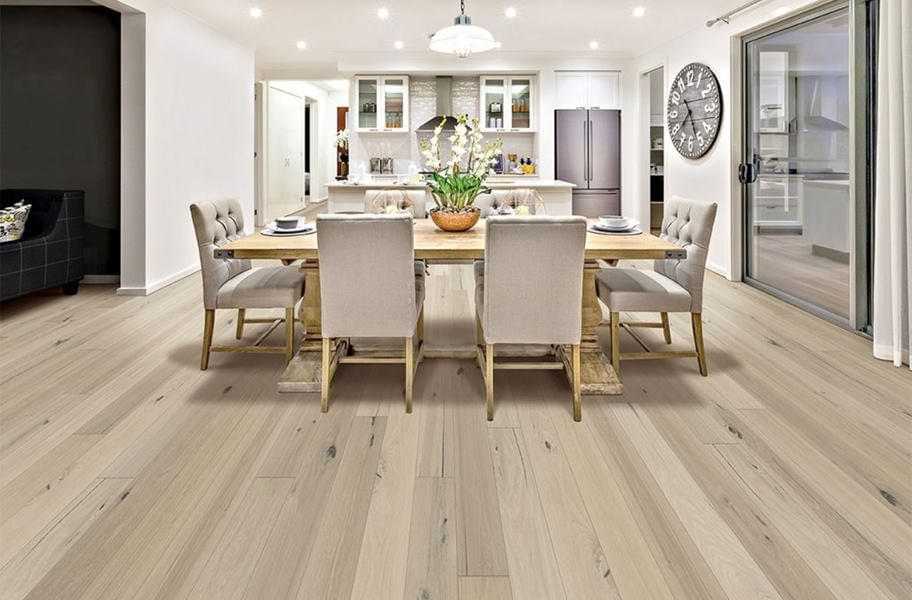 Image Source: Flooring Inc
Several layers of plywood or another type of wood are attached to a veneer of natural wood to create engineered wooden flooring. This offers the wood remarkable long-term stability. Also, it is an excellent option for any room in your home because it is highly durable. Additionally, it resists moisture better than hardwood varieties. Therefore, it is perfect for humid cities in India like Kolkata or Mumbai.
Reclaimed wood flooring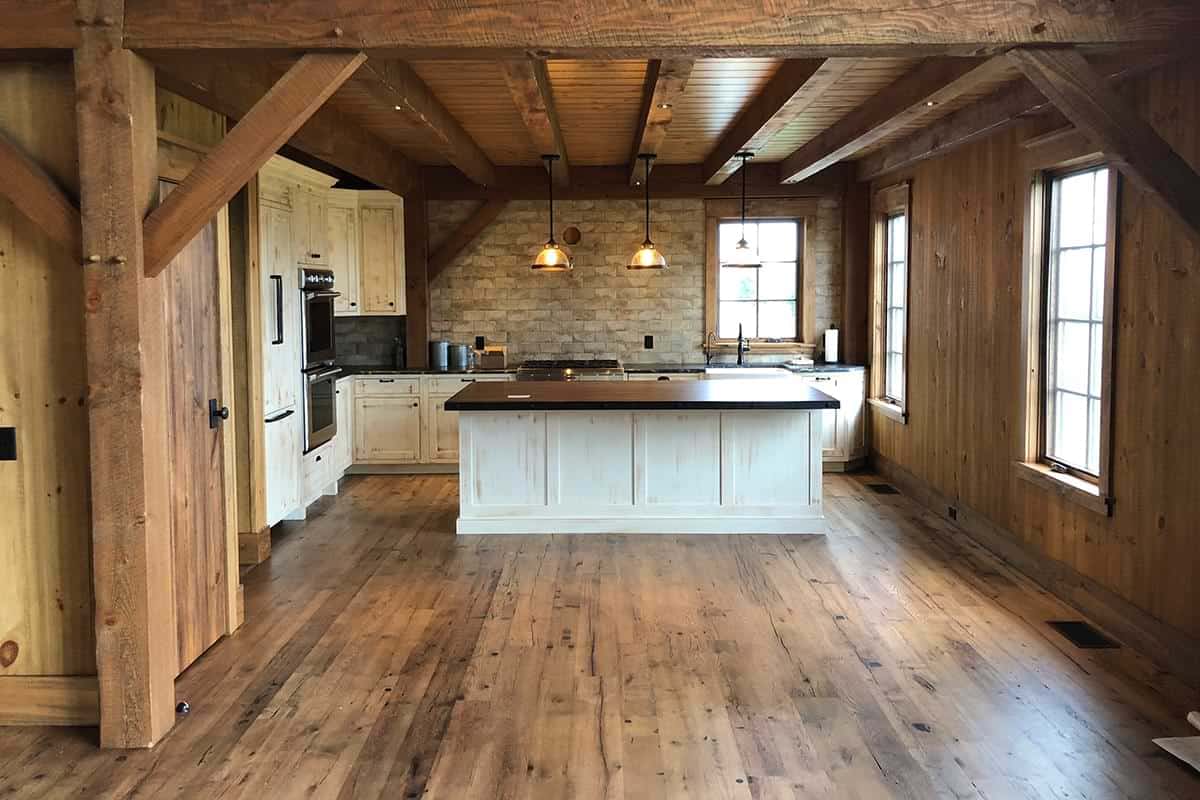 Image Source: Vintage wood and forged iron
The term reclaimed wood is used for any wood that has been recycled or reused from any previous construction. Needless to say, it is an environment-friendly option. So, in the current state of the market where sustainable wood is in high demand, reclaimed wood is becoming increasingly sought after. Also, floors made using reclaimed wood cost less in comparison.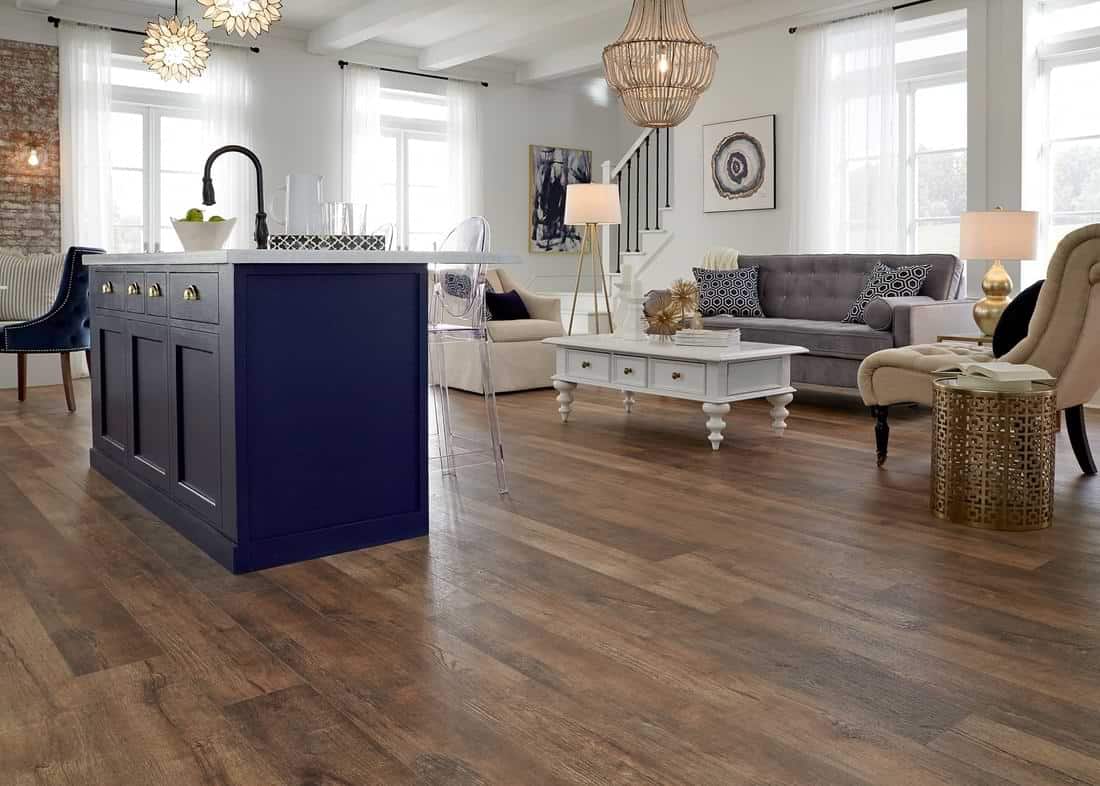 Image Source: LL Flooring
Laminate floors are made out of synthetic materials that are merged together through lamination. However, they are designed in a way that gives the appearance of wood or stone floors. Also, it costs less compared to authentic wood flooring. As a result, this type of flooring is generally preferred by those doing a DIY home remodelling project.
Veneer wood flooring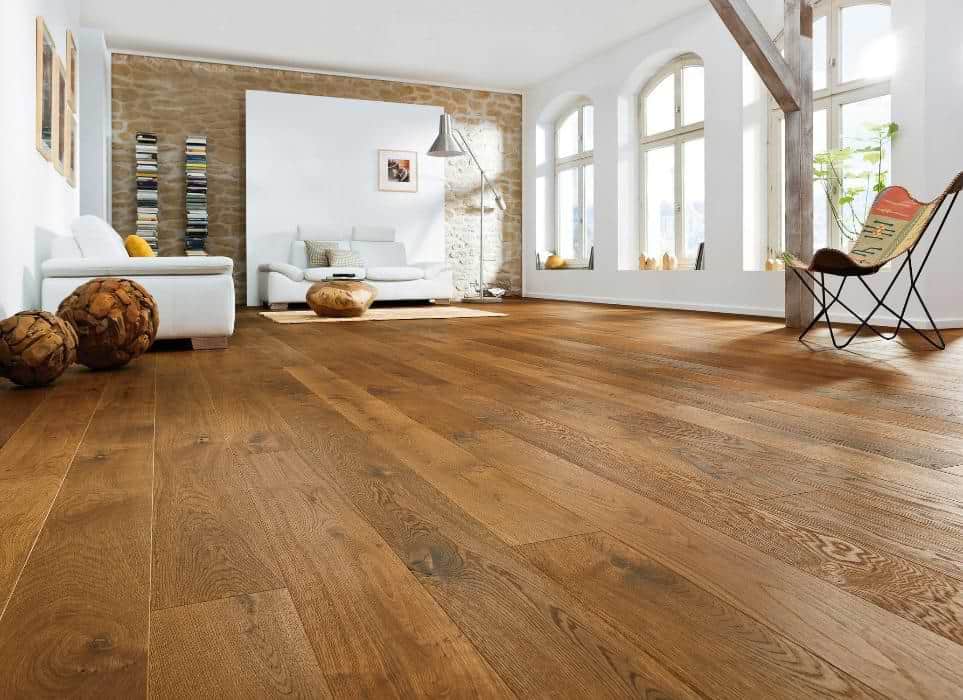 Image Source: SPC Flooring
Veneer flooring is manufactured by bonding numerous layers of ply together, creating an extremely stable core. Then, a solid wood layer, or lamella, is placed on top of that core board. Veneer flooring can be used throughout your home without causing any issues. Another great property of this type of flooring is that it can withstand the demanding environment of bathrooms and kitchens. These floors are highly immune to humidity and moisture making them great for areas that experience multiple seasons.
Parquet wood flooring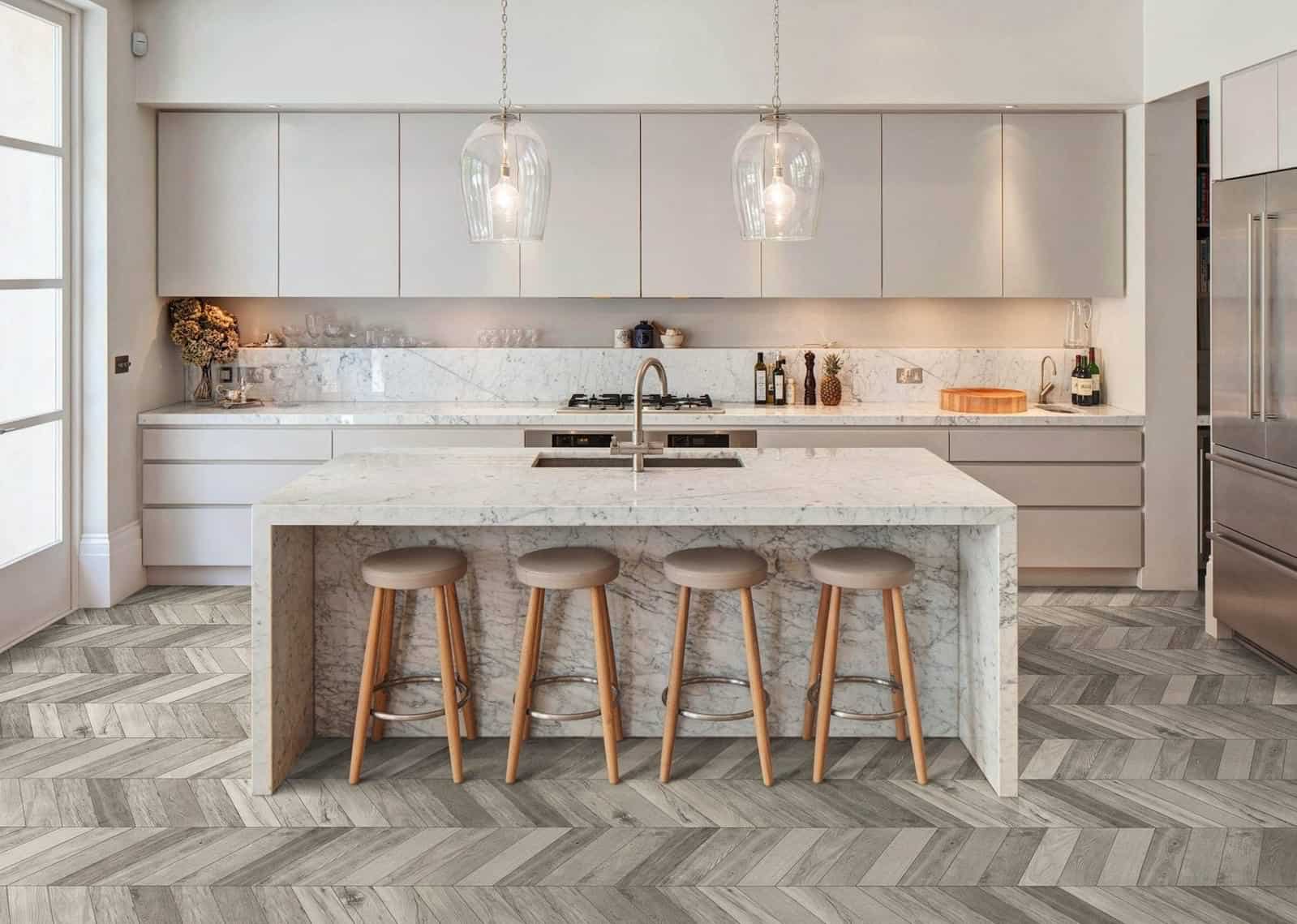 Image Source: Craven Dunnil
Parquet wooden flooring is created by positioning tiny wood tiles in distinct, recurring patterns. The majority of contemporary parquet comes in tile form, with the wood slats attached to a backing material, as opposed to traditional parquet floors, which were laid one piece at a time.
The tiles for parquet flooring are attached to the subfloor using glue, nails, or staples. Parquet flooring resembles classic solid wood strip flooring in texture and functionality because it comprises of hardwood.
Advantages of wooden flooring 
Extremely durable: With proper maintenance, wooden flooring can last a lifetime.
High resale value: Wooden flooring not only gives your house a beautiful, luxurious appeal but also raises the value of your house if you ever decide to sell it.
Attractive appearance: Wooden flooring's simplicity is a part of what makes it so beautiful. Despite its simplicity, it transforms the appearance of the entire space giving the room a lot of warmth.
Versatile: Wood flooring expands your possibilities for interior design because practically all home decor elements go wonderfully with it.
Disadvantages of wooden flooring
Prone to damage: High-heeled shoes, kids' toys, pets, and other objects can scratch wood floors easily.
Maintenance: Wooden floors demand comparatively more routine maintenance to avoid termite attacks. Also, they are required to be polished once a year and vacuumed every four to five days.
Costly: Compared to other flooring options, wood floors cost more. While they are highly durable and last long, the up-front investment they demand is still a factor to be considered.
Susceptible to moisture: Installing wood flooring in a home with a lot of moisture or in rooms like the bathroom is not a good idea. Wood exposed to moisture may expand or develop a mildew infestation. While carefully wiping wood floors with a wet cloth is acceptable, make sure that no water drips onto the floor.
Things to consider while installing wooden floors
Style and components of your home: The style of your house should be one of your top priorities when choosing wood flooring textures. Also, all interior components of your home, such as cabinetry, trim work, and other design elements need to be considered because they should match the floor.
Texture and staining: These are some of the most crucial factors to take into account when installing wood floorings. A stain can give the wood some colour, draw attention to the wood's grain pattern, and generally enhance the overall look. If you live with children or pets, your flooring may experience a lot more wear and tear. In that situation, you should pick a variety of wood that is more resilient.
Subfloor: Depending on your home's subfloor, which is typically made of plywood, particle board, or a concrete slab, you need to install a different kind of wood flooring. Both solid and engineered hardwood floors can be installed over plywood subfloors. However, before you install solid or engineered wood flooring tiles, you must replace any particle board subfloors with plywood.
Natural light: When installing wood flooring in a space with lots of natural light, dark wood floors offer a stronger contrast. On the other hand, you ought to pick a light-coloured hardwood floor if the space receives little natural light.
Cost of wood flooring in India
| | |
| --- | --- |
| Wood flooring type | Estimated cost |
| Solid wooden flooring | Rs. 700 to Rs. 5,000/sq ft |
| Engineered wooden flooring | Rs. 200 to Rs. 900/sq ft |
| Laminate wooden flooring | Rs. 120 to Rs. 1,200/sq ft |
| Reclaimed wooden flooring | Rs. 250 to Rs. 5,000/sq ft |
| Parquet wooden flooring | Rs. 600 to Rs. 5,500/sq ft |
Maintenance tips for wooden floors
The best method for removing the dust and grime from between the boards is to use a vacuum. Also, you can sweep it occasionally.
Avoid using soap or detergent on your floors, as it can ruin the finish.
Place a doormat outside the bathroom so that you can avoid making the floor damp every time you exit the restroom.
Blinds can protect your floor from fading induced by bright sunlight, which also causes them to age.
Polishing wooden floors occasionally (preferably once a year) will keep the termites away.
Our recommendations (With enquiry links)
Pergo Oak Herringbone Parquet Floors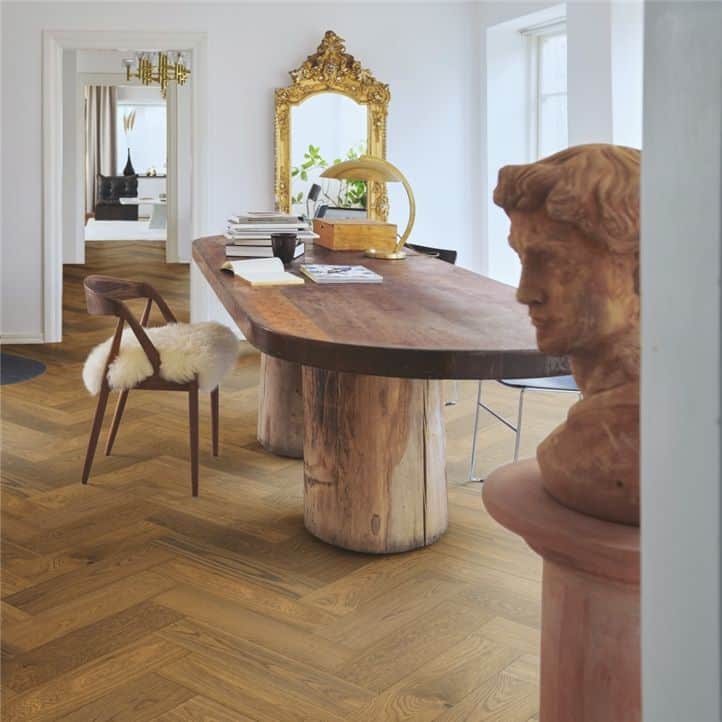 Armstrong Flooring Hand-Hewn Oak Rigid Core
Canadian Wood Western Red Cheddar
Merino Prime Tile Laminate Wood Flooring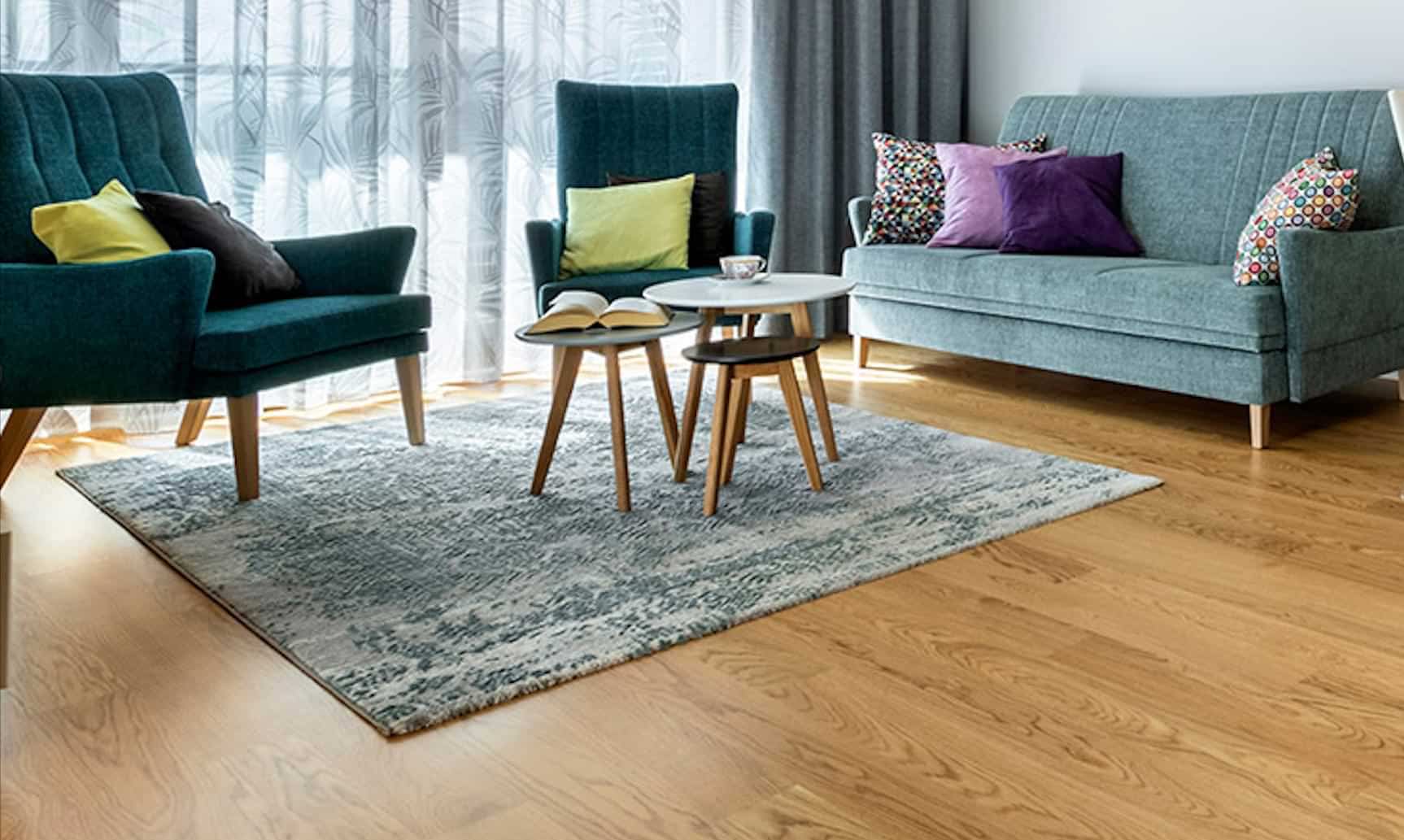 Glreenlam Mikasa Pristine Oak Winter
CenturyPly Natzura Woods Canvas Veneer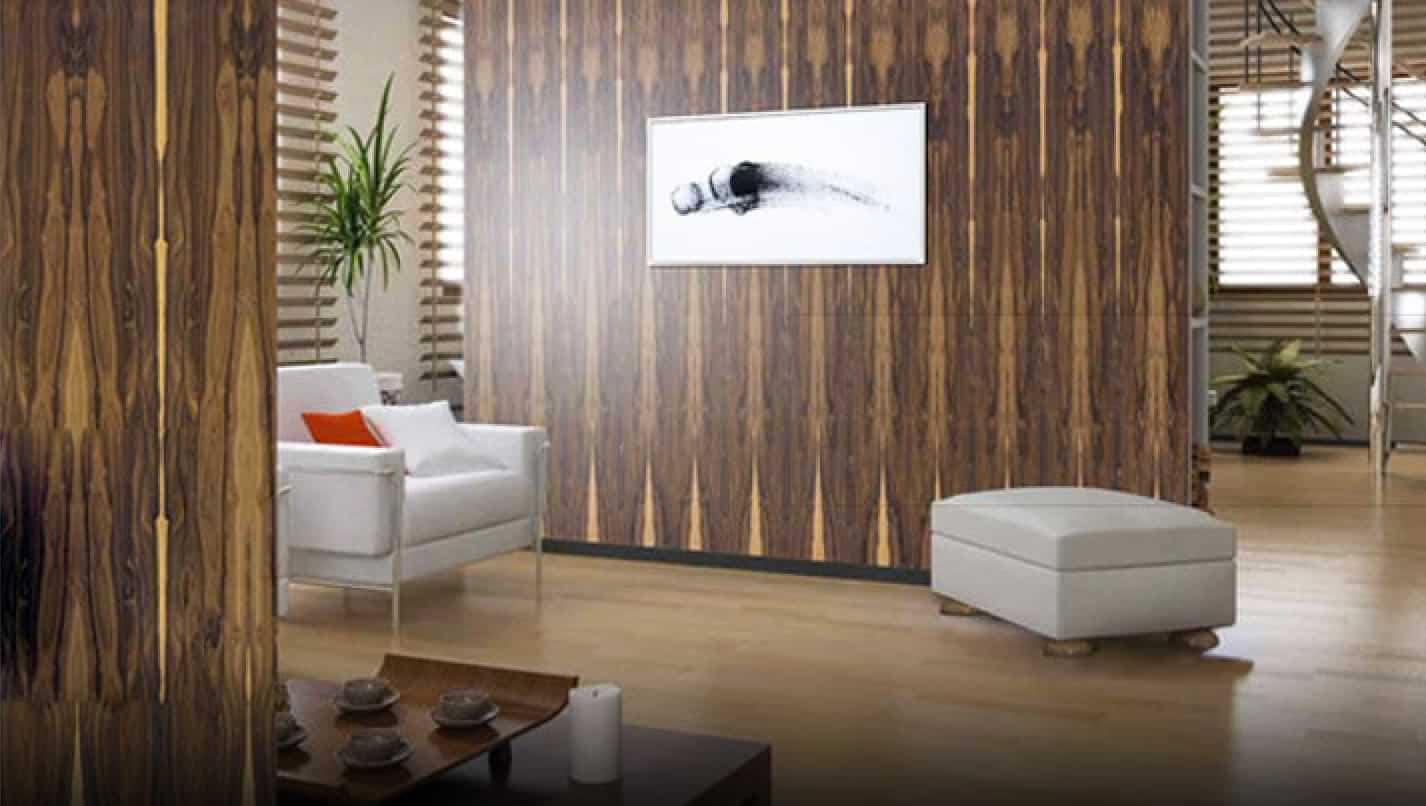 Action Tessa HDF Laminate Wood Flooring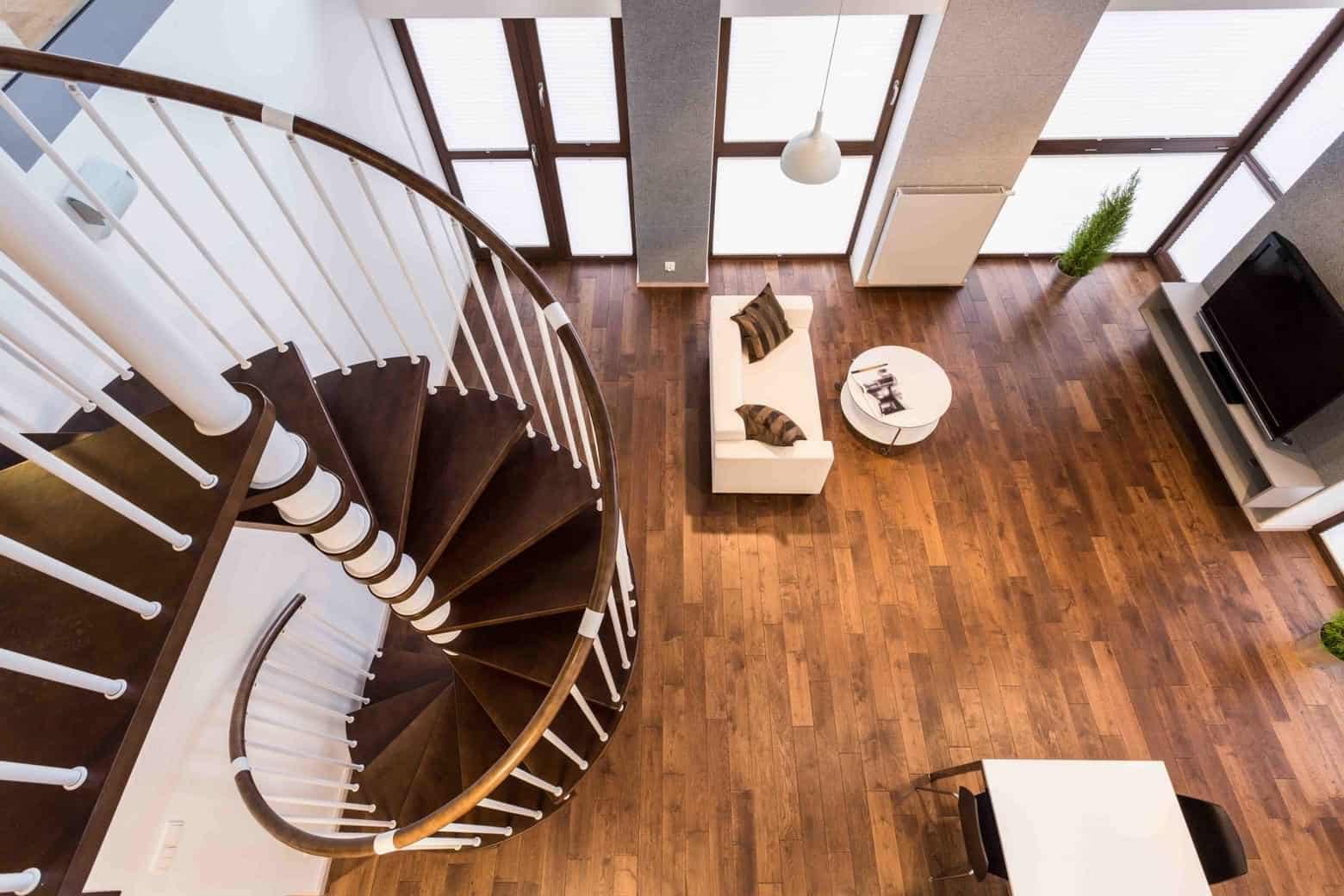 Quick Step Parquet Flooring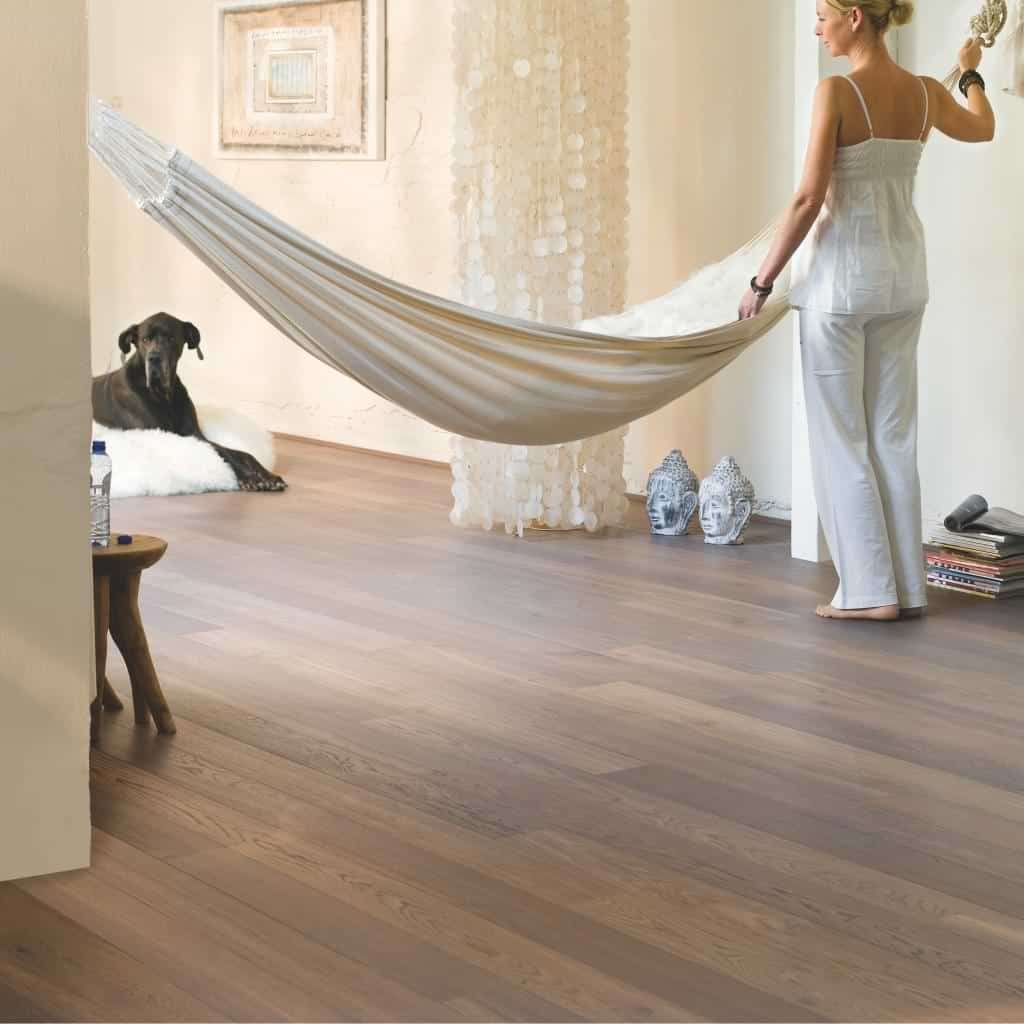 Pavimento Reclaimed Manor Wood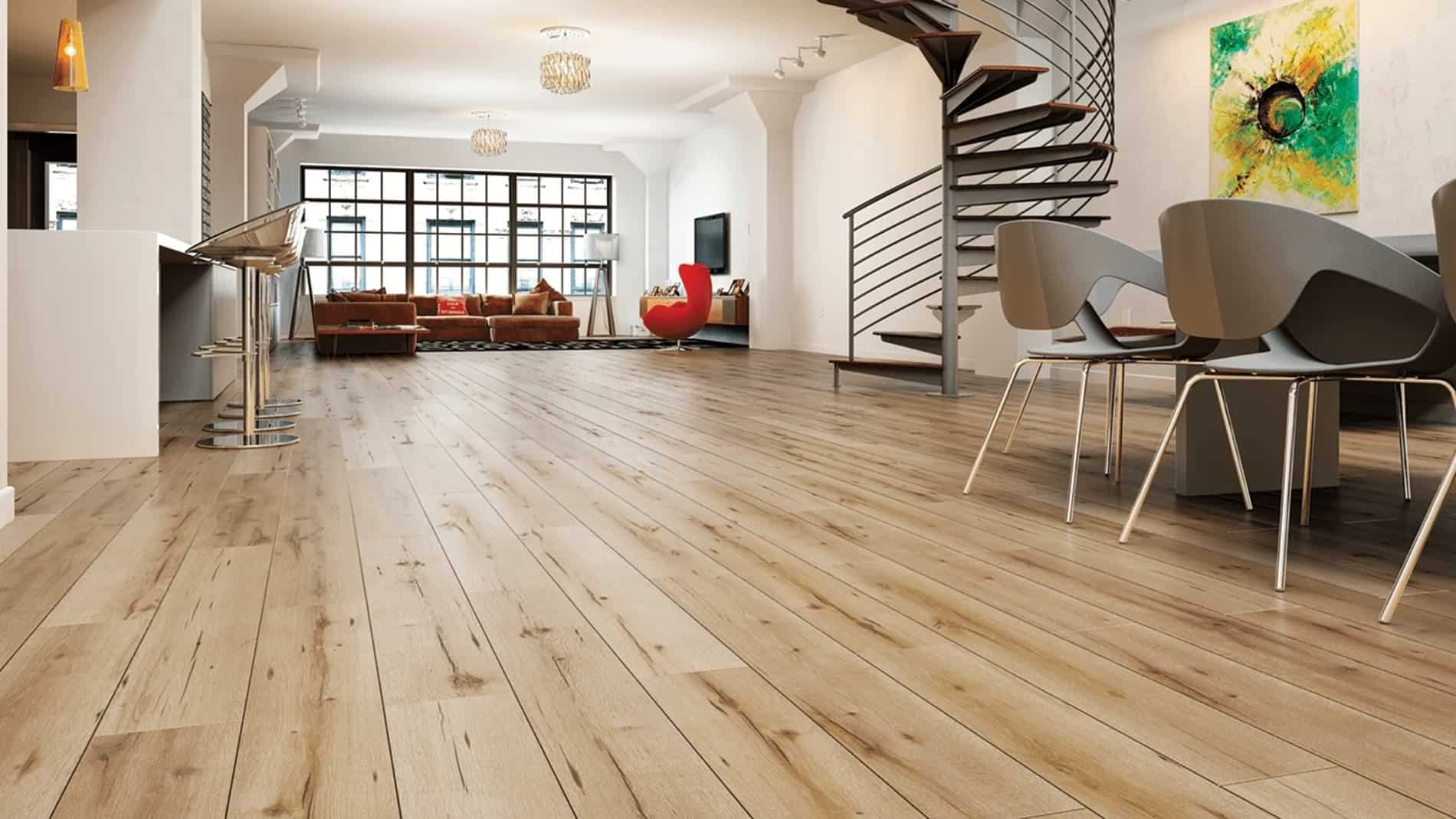 Notion Strip Texture Regal Engineered Solid Wood Flooring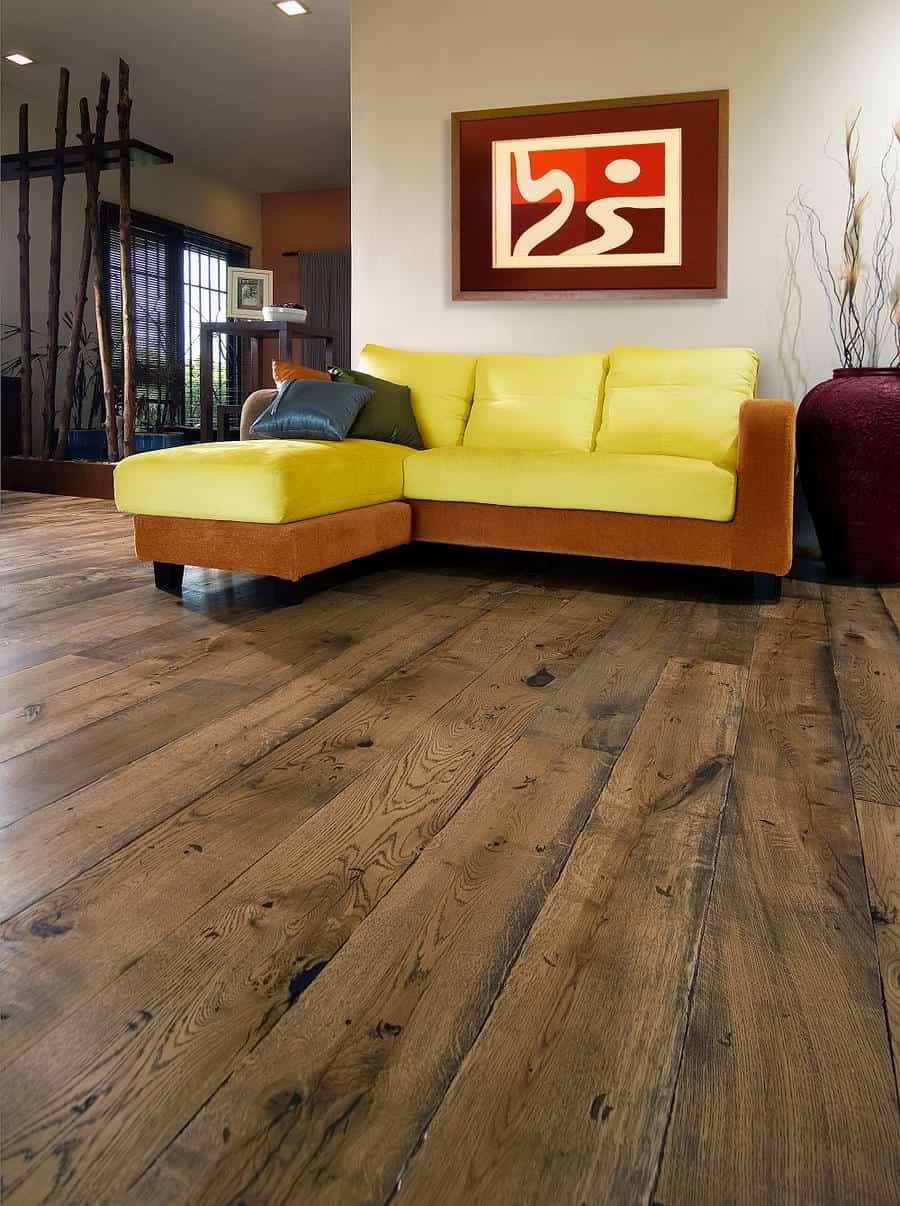 Conclusion
Historically, wood flooring has been associated with elegance and a high cost. However, since it looks so refined, more and more Indians are choosing this style of flooring. Along with its visual appeal, this timeless option is highly durable and versatile. All these attractive qualities contribute to the high demand for wooden flooring. So, if you want to incorporate wooden floorings, you can pick from the different varieties of wood available such as solid, engineered, reclaimed, laminate, veneer, and parquet wood. However, before making the purchase, beware that wooden flooring costs more compared to other options. Also, they require higher maintenance as they are more susceptible to moisture.
Before going for wooden flooring, factor in the cost and maintenance it demands. To select the right type of colour and texture of wood flooring, be mindful of the decor of the house, the general wear and tear it might experience due to your living conditions, and the amount of natural light it receives. Thereafter, refer to the estimated cost of your preferred type of flooring from the table displayed above. This will give you a rough idea of the estimated cost. Finally, you can choose and put an enquiry for your desired wooden flooring from the links given above and adorn your space with this timeless material.
If you want to buy top-quality wooden flooring from the best brands, click on the link given below to check your options and submit your inquiries:
For more details, contact below:
WhatsApp Number: +91-9967632127 (Only message; no calls)
Email: support@buildingandinteriors.com
*The featured image used in this article is from Terra Mater Floors