Your living room is one of the most used spaces in the house. It is the first impression any person will have of you and your lifestyle. So, to make a lasting impression, be mindful of the design and decor you choose to adorn your living room with. Also, ensure that the room is comfortable and practical as well. Therefore, having good quality and elegant sofa set is the first step towards an aesthetic and functional living room. If your style is elegant, classic, and sophisticated, a wooden sofa set is perfect for you. A simple wooden sofa set design can create a timeless aesthetic for your living room perfect for an Indian style home. In this article, we have displayed a photo gallery of how to style your living room to get graceful results with wooden sofa sets of different designs.
Additionally, we have included an information-packed selection guide to help you pick the right sofa for your setting. Finally, we have curated a list of the best wooden sofa sets available online so that you can start beautifying your living room today!
Top tips to select the right wooden sofa set       
Budget
The first step for every interior design project is to evaluate the amount of money you are willing to spend on it. Look at your income and expenditure and come up with a rough estimate. Since a sofa set is an asset you'll use for a long time, you can spend a little extra. So, don't compromise on quality because you will use it for a long time.
Dimensions
Measure the dimensions of your room and the entryway before you select a sofa set for yourself. This will ensure that the moving and installation process is not met with unnecessary hurdles. Also, the size of the sofa set should be proportionate to the dimensions of your room. So, buy a small sofa set if your living room is compact. This will ensure that the room doesn't look crowded or busy. Regardless of the size of the room, you can design your living room with wooden sofa sets by drawing inspiration from our photo gallery.
Type
The type of sofa you select would depend upon the number of members in your family and the size and shape of the room. A wooden sofa set comes in three-seater, two-seater or in L shapes. A three-seater sofa is ideal when you have a big family. However, if you have a big family but compact space, you should go for a three-seater sofa with two chairs. This will ensure that there are enough seats for everyone and the space doesn't look crowded. Also, an L-shaped sofa is ideal if you have a big family and company over at your house frequently.
When selecting any furniture item, you must ensure that it matches the existing decor scheme of your room. So, choose the right colours for your sofa by ensuring that it matches the existing colour scheme of the room. Therefore, look for colours which are complementary to the existing colours of your walls or other furniture. Furthermore, if your living room has a modern minimalistic vibe, a wooden sofa set with bold upholstery would look totally out of place. So, be mindful of it while purchasing a new sofa set. For further clarification, you can have a look at our photo gallery of wooden sofa sets that are harmonious with the overall design of the room.
Assess quality
Before buying a sofa, ensure that you have assessed its quality well. In a wooden sofa set, you should be able to feel the frame through the padding. Also, ensure that the legs and arms of the sofa form a part of the wooden frame and are not separately attached. Furthermore, check the quality of the padding and upholstery. Finally, knock at the back of the wooden frame, if it seems hollow, don't buy it. This is generally a strong sign that the sofa is not of good quality. Since a sofa set is a long-term investment, you will have to double-check its quality.
Buy trendy wooden sofa sets here!
West Elm Portside Outdoor Sofa (75″), Weathered Grey
This simple yet stylish wooden sofa set from West Elm comes in a minimalistic design. It sets the perfect outdoor vibes from the start. The minimalistic yet appealing design makes it an ideal addition for those who want simplicity and grace. The monochromatic grey colour scheme makes this option all the more appealing.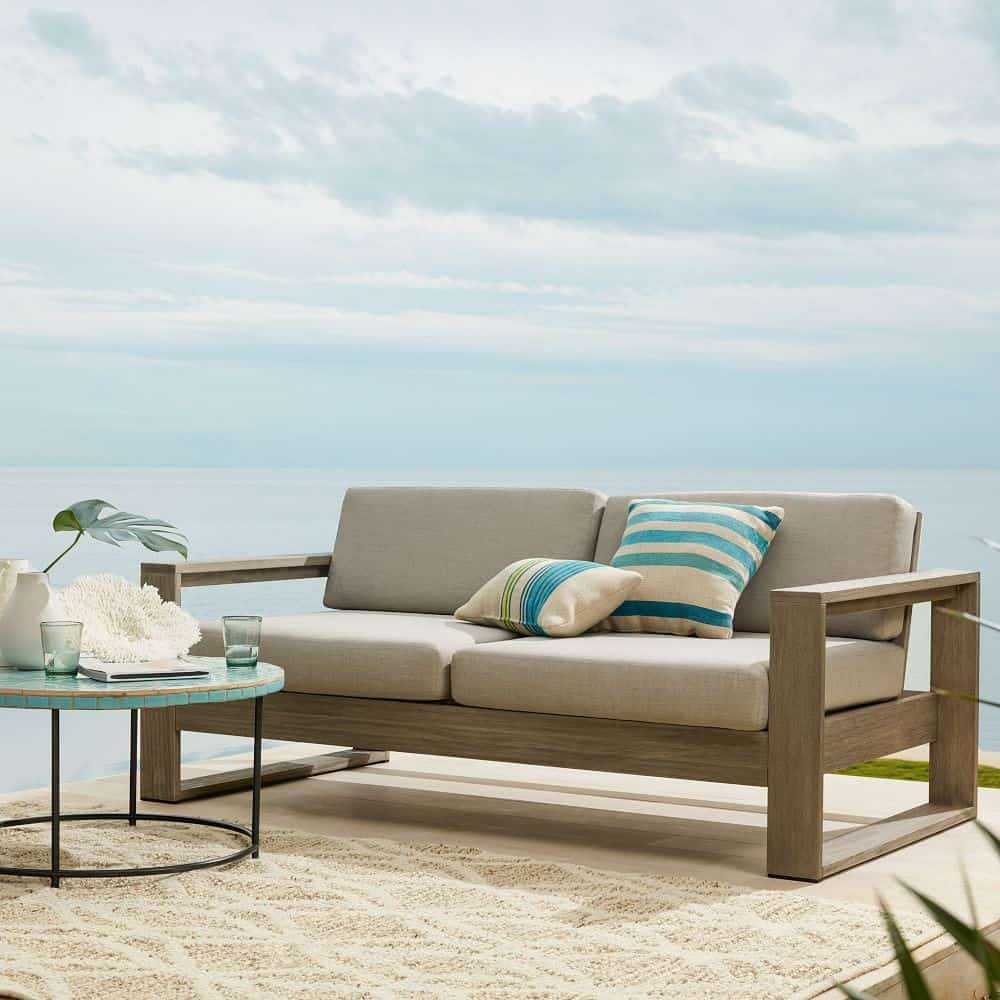 Fabindia Amer 2 Seater Sofa With Spindle Back
This sofa set is the manifestation of an Indian style living room set. Regardless of how much drama is going on in the living room, this sofa will continue to define elegance. So, if you wish to have a more timeless look, go for this sofa design without any hesitation.
Bram Woodcrafting Studio The Incense Collection – Living Room Set
The light brown wooden sofa set with light grey cushions gives the room an ultra-elegant appearance. The set is inspired by a Scandinavian design. Also, the low seating of the set is nicely paired with the thick cushions giving the room a comfy and cosy vibe. This look is perfect for those wishing for a minimalistic living room with maximum style.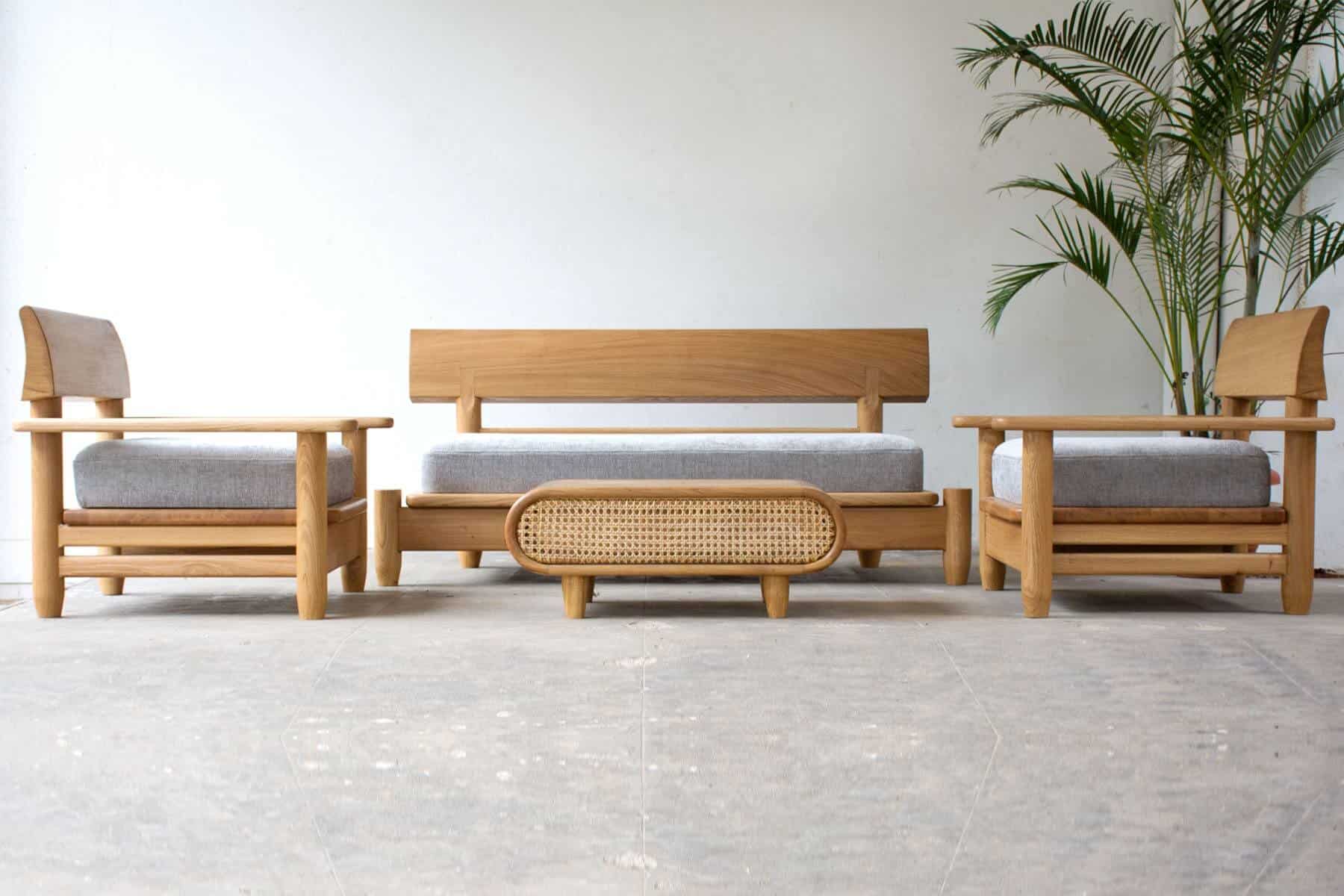 Teak Lab Teak Wood Sectional Sofa Set
This wooden sofa set in a minimalistic design is perfect for an Indian style living room. The colour is visually appealing and immediately soothes the eye. The set sports sleek wooden arms and comfortable padding support ideal for creating a comfortable living room.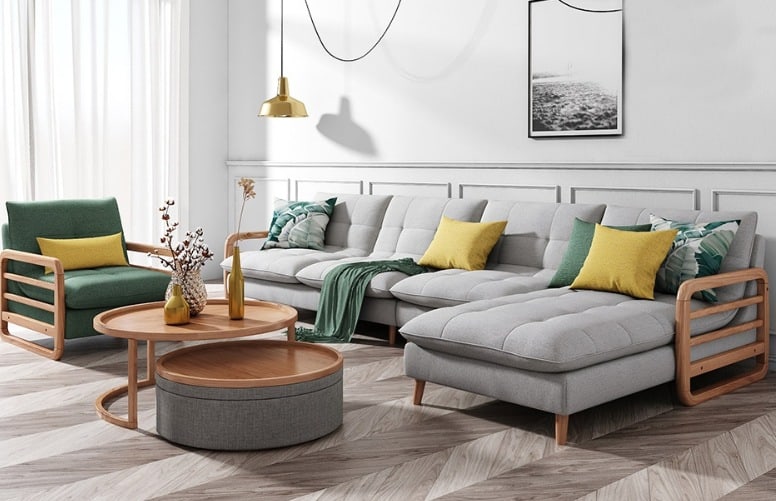 Damro Larry 3+1+1 Seater Wooden Sofa Set
The white sofa set with a brown wooden frame and thick comfortable padding makes for a perfect addition to a living room. Furthermore, the traditional design of this wooden sofa set makes it highly compatible with an Indian style living room.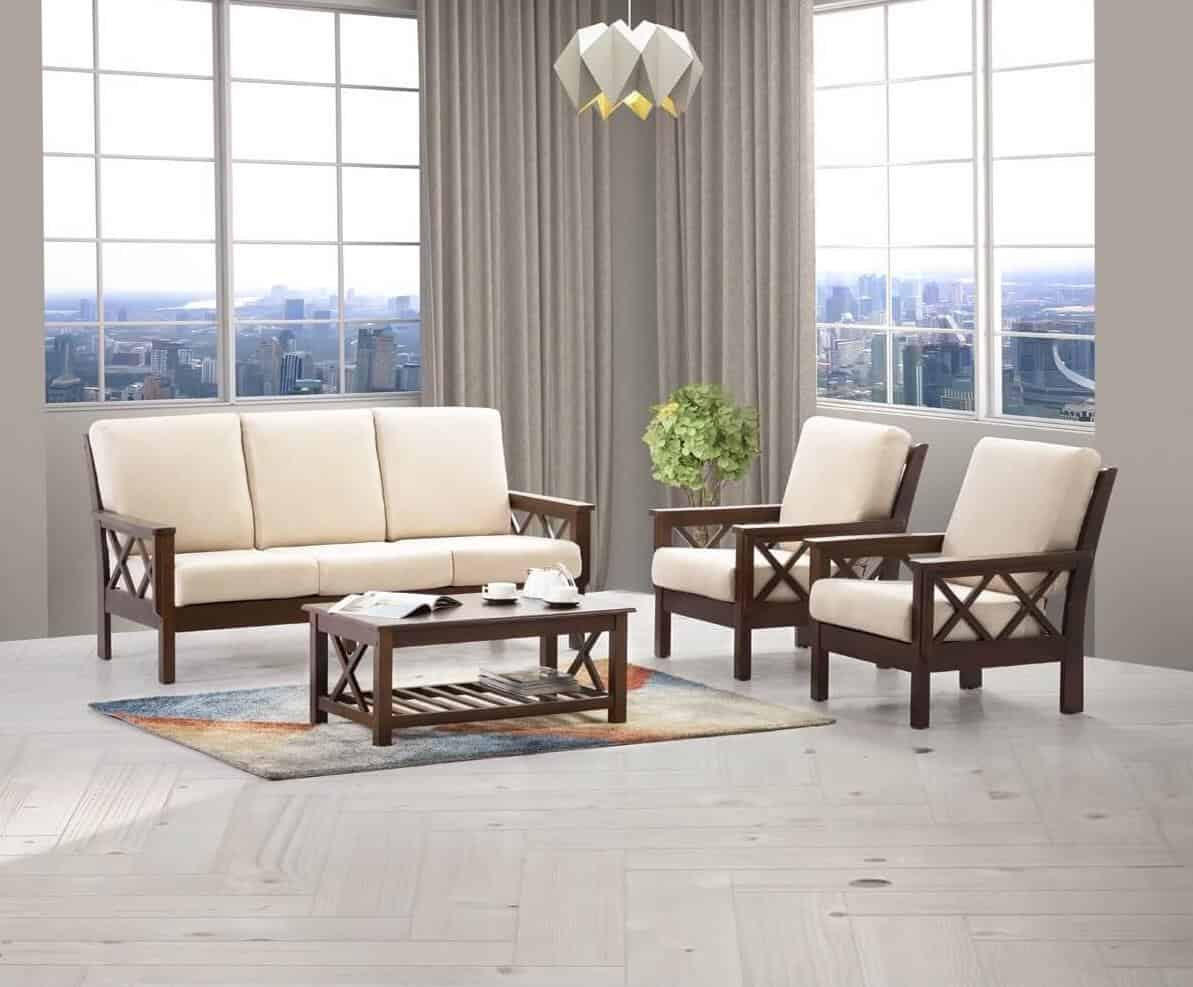 Furn Mill Minika Sofa
This effortlessly elegant sofa would blend perfectly in a minimalistic living room. Also, this two-seater design sofa is perfect for a cute and compact space adding even more charm to it.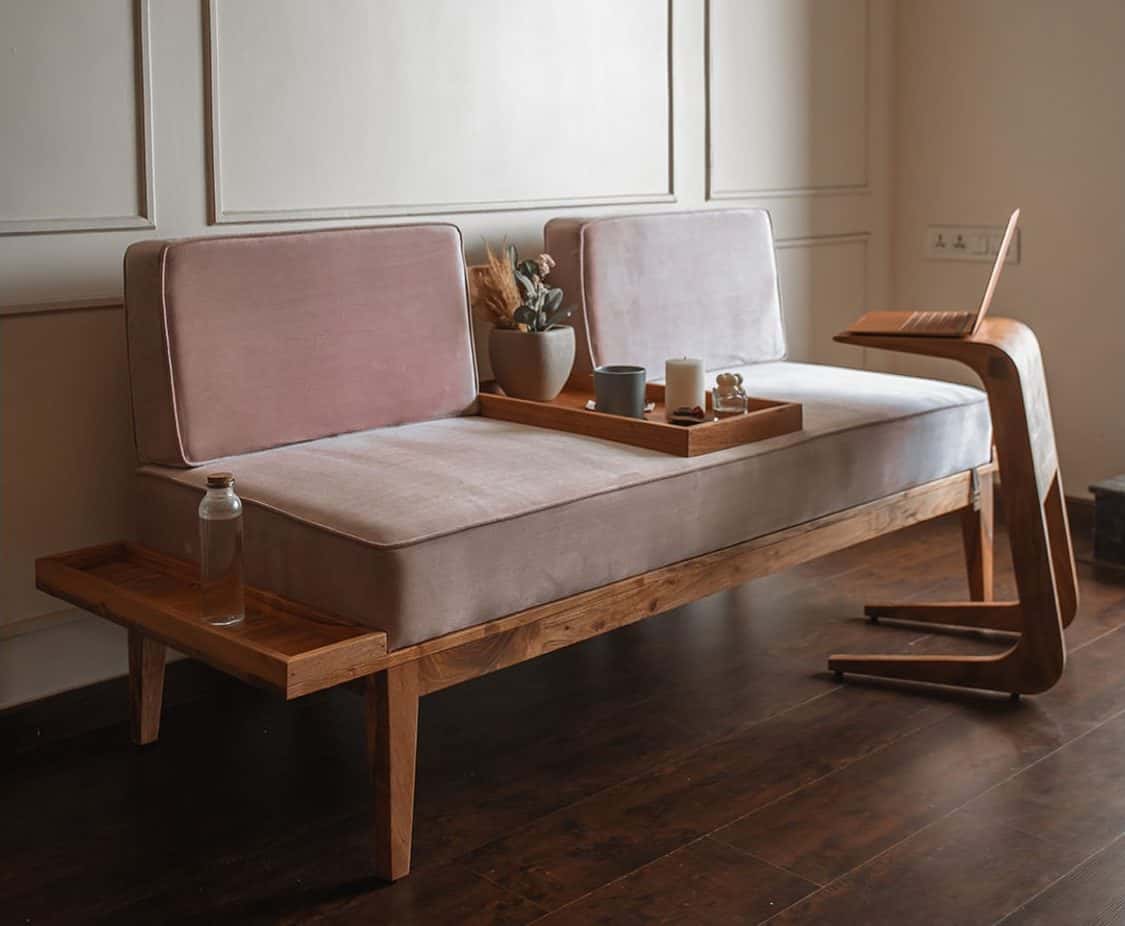 Karl Andersson

Ondule high-back wooden sofa
This bold and modern sofa set design is perfect for an elegant living room set up. However, it can just as easily blend into an office setting or can adorn a living room with a flamboyant vibe. Regardless of the space, it blends in well but also stands out with the aesthetic it creates.
Teak Lab Contemporary Teak Wood Sofa Set
This brown wooden sofa set is a perfect fit for a typical Indian living room with its timeless design and finish. It is perfect for you if you have a big family or have a lot of guests coming over.
Herman Miller EOOS Crosshatch Settee
This effortlessly stylish sofa is both simple and eye-catching at the same time. It can blend perfectly well in an elegant living room. In addition, it sets the right vibe for a minimalistic look.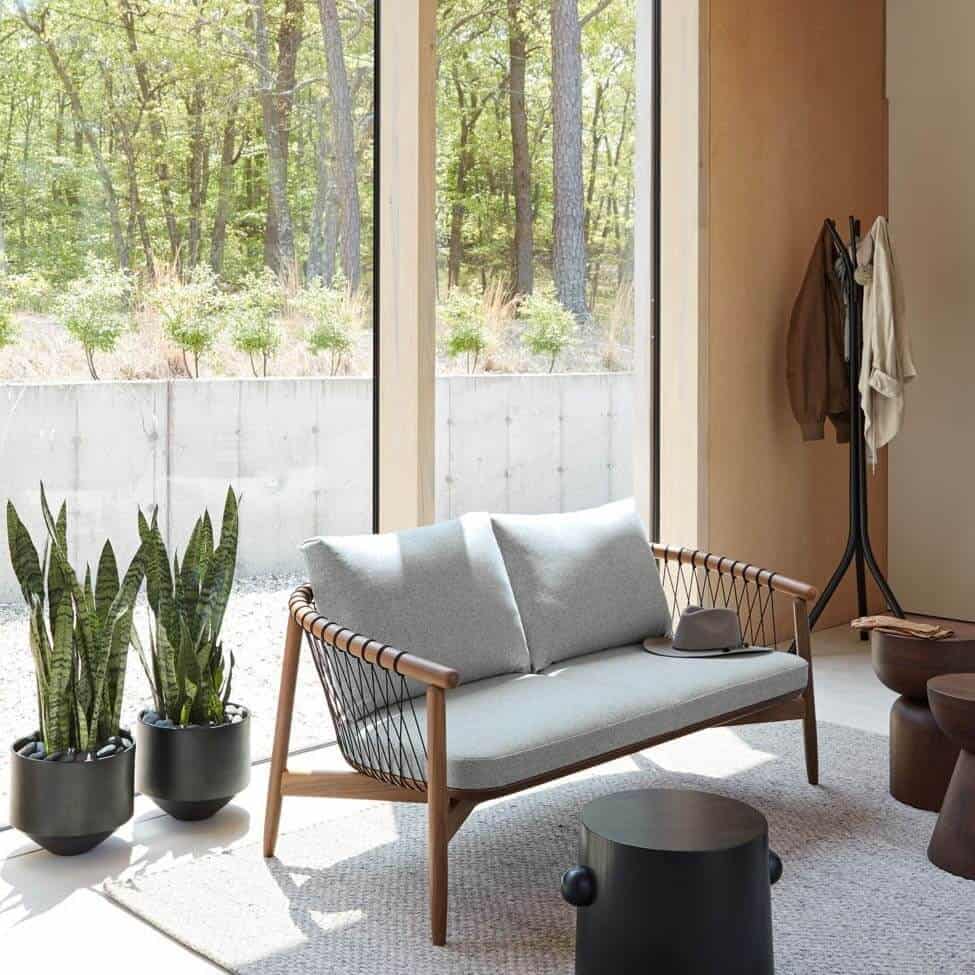 Zufolo Teak Cane Sofa
Modern sofa designs that are stylish might reveal a lot about your own taste. This simple yet chic sofa design is ideal for an Indian living room with its wooden frame and cushioned seats which are comfortable yet minimalistic.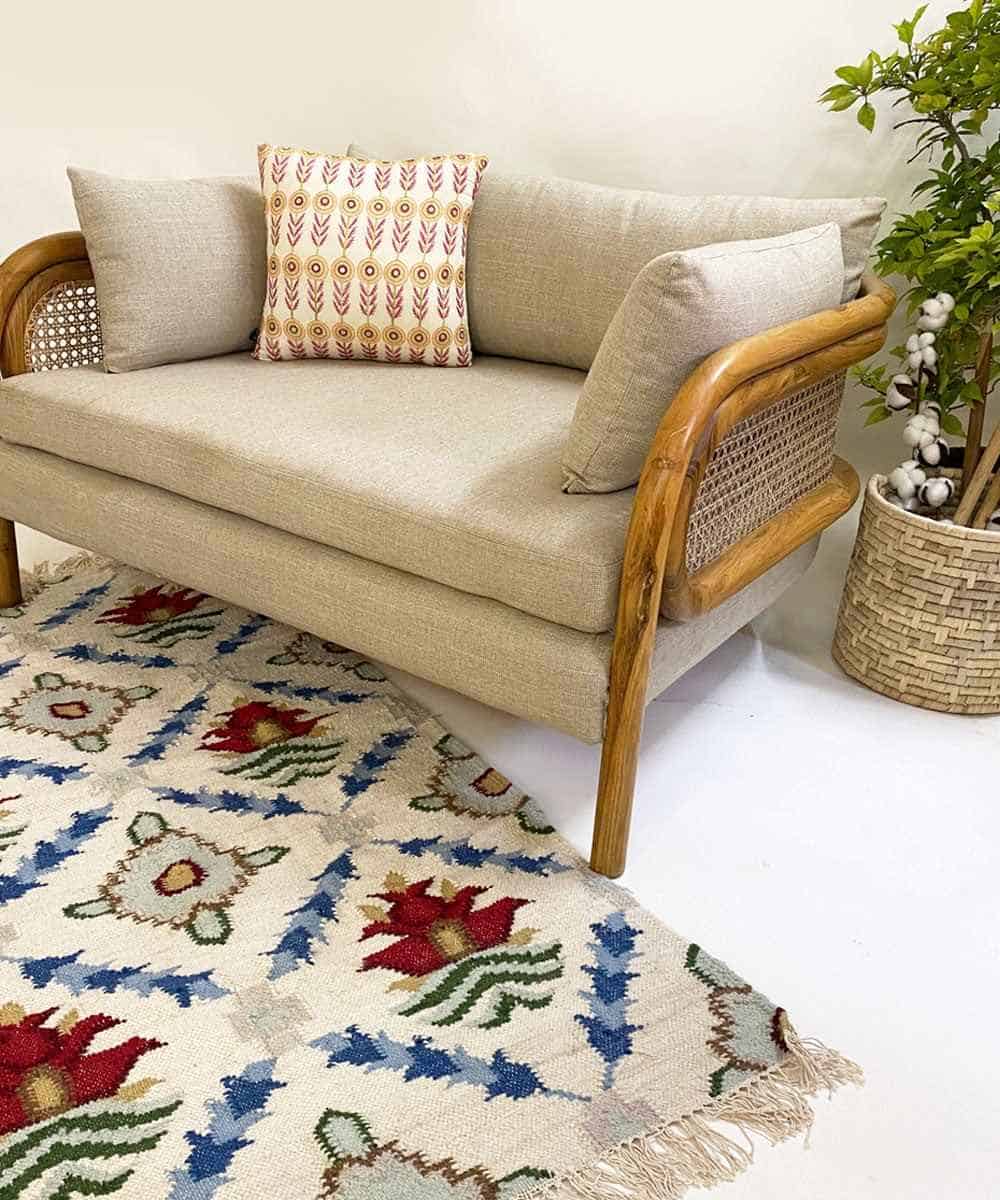 Freedom Tree Nara Sofa
This sofa set design is proof that wooden sofas can range from elegant to unconventional. The quirky patterns on the fabric of this wooden sofa are eye-catching and immediately attract attention. This buying option is a perfect fit for those with an eye for distinctive designs.
Stanley Benzer
This black wooden three-seater sofa is an ideal option for an official setting. It creates the right aesthetic for an office environment and can instantly enhance the look of a space with its elegant design.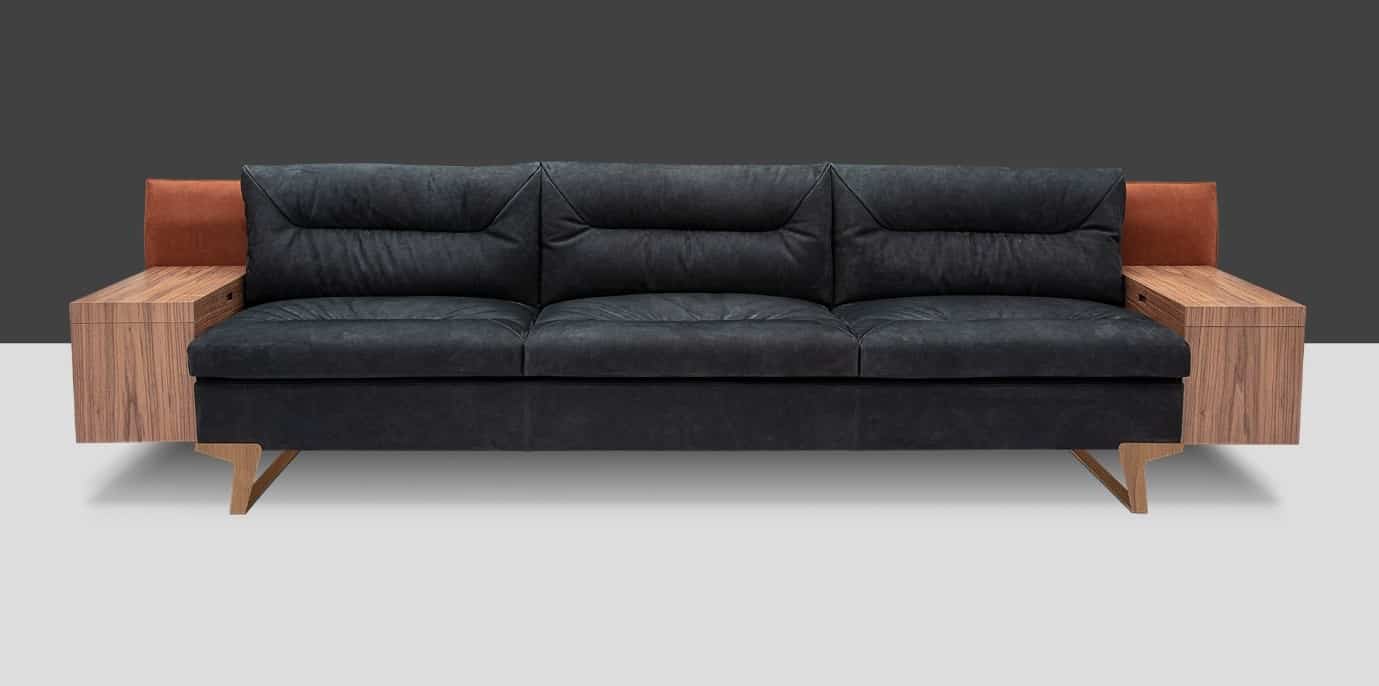 Synthesis Teak and Acrylic Fabric Wooden Sofa Set
This elegant yet simplistic design is ideal for a minimalistic setting. The sofa set blends in completely with the surroundings and gives off a very chic vibe with a very subtle yet unconventional design.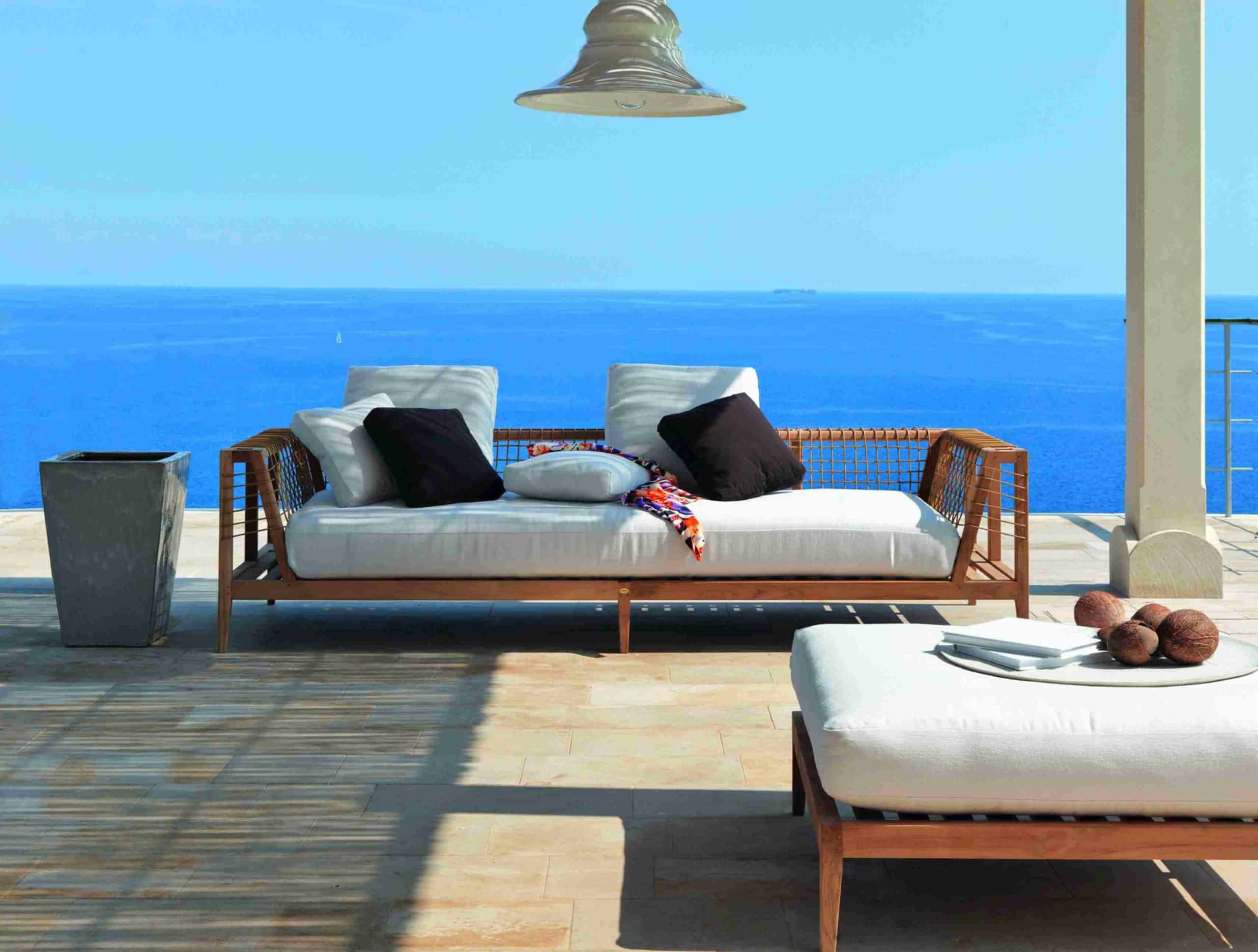 Urban Ladder Malabar Wooden Sofa Set
This effortlessly elegant sofa set with a light brown wooden frame and beige cushioning comes with a subtle edge. The unique design lends interest and character to the sofa set thereby making it an attractive option. The set is a perfect balance of chic and sophistication.
Pepperfry Anitz Solid Wood 2 Seater Sofa in Dual Tone
This wooden sofa comes in a rich dark brown wooden frame with beige-coloured cushioning. The traditional design of this wooden sofa set makes it ideal for an Indian style living room. Also, it is a great option if you have a compact space but refuse to compromise on style.
Styling inspiration to elevate your home with wooden sofa sets
Conclusion
Living rooms, in a way, are the focal point of your house. This is the place where your friends and family come together and spend time or where you host guests or visitors. So, it is vital to beautify your living room to make a lasting impression on your company. To make it a space that your guests wouldn't want to leave, take care of both comfort and beauty. That is where a simple wooden sofa set design becomes relevant; it is perfect for Indian style homes. So, it becomes important to understand how to select the right sofa set for your space. To do that, be mindful of the dimensions of the room and ensure that the sofa is proportional to it. Also, make sure that the sofa set is harmonious with your existing room colour scheme and decor. Finally, do a thorough quality check before buying.
It is a misconception that wooden sofas cannot be fun or statement-making as it's evident from the buying options displayed above. A wooden sofa with stylish fabric upholstery can be fun designer furniture for a living room. Apart from the buying options displayed above, the photo gallery of wooden sofa set designs is perfect for decorating an Indian style living room. So, take the plunge and invest in this timeless piece of furniture now!
*The featured image used in this article is from West Elm Work
[vvsmustread]