Mirrors are an inexpensive way to add depth and elegance to any room. The perfect one can boost the aesthetic appeal of a room by creating a focal point that is unique and elegant. Not only will they add a touch of modern glitz to your space, but they may also be used to create the illusion of more space by reflecting light. Apart from the decorative aspect, mirrors are also a utility product when it comes to bathroom walls, vanity, dressing table or even as a light source. Since, these are available in numerous styles, designs and types, we all can agree that there is a mirror for every budget. In this article, we have compiled some of the most beautiful mirrors that you can buy online, categorised based on their application. So, keep reading to find your perfect match to uplift your home interiors!
Types of Mirrors
As the name suggests, these mirrors are wall-mounted and are also the most popular type in Indian households. These come in a huge variety and applications, ranging from bathroom mirrors to dressing tables. When selected and positioned carefully, wall mirrors can provide the ideal blend of elegance and practicality. These are used as a versatile decor feature in addition to making a room appear larger and brighter. To put it in another way, they can serve to unite a room, provide character, and establish balance. These bring positive energy into a room, enhance its appeal, create a statement, and brighten dimly lit areas. If you surround the wall mirror with cool LED strip lights, it can act as a lovely centre point in your room.
Home centre, Catania Gold Solid Metal Oval Wall Mirror
Nestasia, Round hanging wall decor
Flair Glass, Autumn – Frosted Mirror with Rounded Edges
Wall Mantra, Vintage Venetian
Dressing table mirrors
The best dressing table mirrors are made with branded, high-quality premium glass. A thick dressing table mirror will last longer and sit precisely on the table. While purchasing a dressing table with a mirror, make sure to measure the size of the nook where you will be placing it. A mismatched vanity and mirror is the last thing you want in your room. The following are our best five picks for the dressing table.
Bent Chair, Round Pier
Allhomeliving, Venetian Curved Dressing Table
IKEA, IKORNNES
Ubuy, Bobening Vanity
Every bathroom needs a bathroom mirror. They are necessary for examining one's appearance, applying makeup, and shaving. Its significance, however, extends beyond that. It is capable of much more than simply reflecting your appearance. It improves the bathroom by adding style, light, and usually additional storage space for your cosmetics and medicine. Thus, these increase the overall functionality of your bathroom. A backlit bathroom mirror is one of the hottest trends right now. It lights up your sink area and also makes the bathroom look more put together. Not just that, now you can indulge in pure luxury with bathroom mirrors that have inbuilt speakers, Bluetooth & wireless operation. So, turn your bathroom into a mini-concert with an awesome mirror, lights and music.
Flair Glass, Moon Illuminated
Hafele, Aquasys Bathroom Mirror with LED Light
LED Mirror, Modern Round Bath Mirror
Fuao Sanitaryware, Multi-Functional Bathroom reflector with Storage
Decorative Mirrors
Decorative mirrors with exquisite frame carvings, whether large, full-length, or in pairs, may add jazz to any setting. They can also be used to conceal flaws such as paint scrapes or holes. The best part is, that you can choose from different styles and aesthetics ranging from gold rims, vintage wooden frames or asymmetrical Pinterest ones with neon lights. Furthermore, these can be customised to your personal taste to create a unique decor look in your living room. Below are some of the best decorative picks that will enliven your living room or bedroom wall.
Jaypore, Amara Natural Mango Wood Decor Set
Dekorcompany, Sofia Asymmetric Radiance Decorative Mirror
House of Ekam, Rattan Star Decorative Mirror
Tata Cliq, Orange Tree Gold Iron Marina
Mademoiselle, Mykonos
Full-length mirrors are incredibly useful for daily wardrobe checks, ensuring you look put-together from head to toe before heading out for the day – and they're also a must-have for taking selfies to showcase your look on social media. However, these aren't little trinkets that can be tucked away when not in use. As a result, it's critical to choose a floor-length design that complements your home's style. If you are looking for a floor-length mirror for your entryway or bedroom, the below-listed picks will complement your home flawlessly.
Orange Tree, Yoho
Fabindia, Glint
The House of Things, Renga Tall
Home Centre, Garnet Contemporary Standing Unit
Savana Living, Amara
An inspiration gallery with 30 beautiful decor ideas & designs
Conclusion
A mirror is an underrated part of everyday life. Thus, it is only fair to take a little plunge and invest fairly in them for your home interiors. Another important factor with this accessory is its positioning. Always place the mirror near a source of light to reflect more light in the room. Adding mirrors of different shapes and sizes can create a beautiful ambience in your home. Since these are fragile and made up of glass they are prone to shattering which can lead to serious accidents. Therefore, always pay a lot of attention to the strength of the hanging hook or leaning support at the back of the glass. Additionally, avoid placing them in areas that experience high activity as it can make the space seem chaotic and busy.
To summarise, we may say that mirrors are the ultimate home decor accessory. From wall hanging to floor-length, any type can add that wow factor with very little effort. This article will assist in identifying the right kind of mirror design for your home. So, choose any of the above-listed options and turn your home into a glamorous palace.
*The featured image used in this article is from Spacejoy (Unsplash)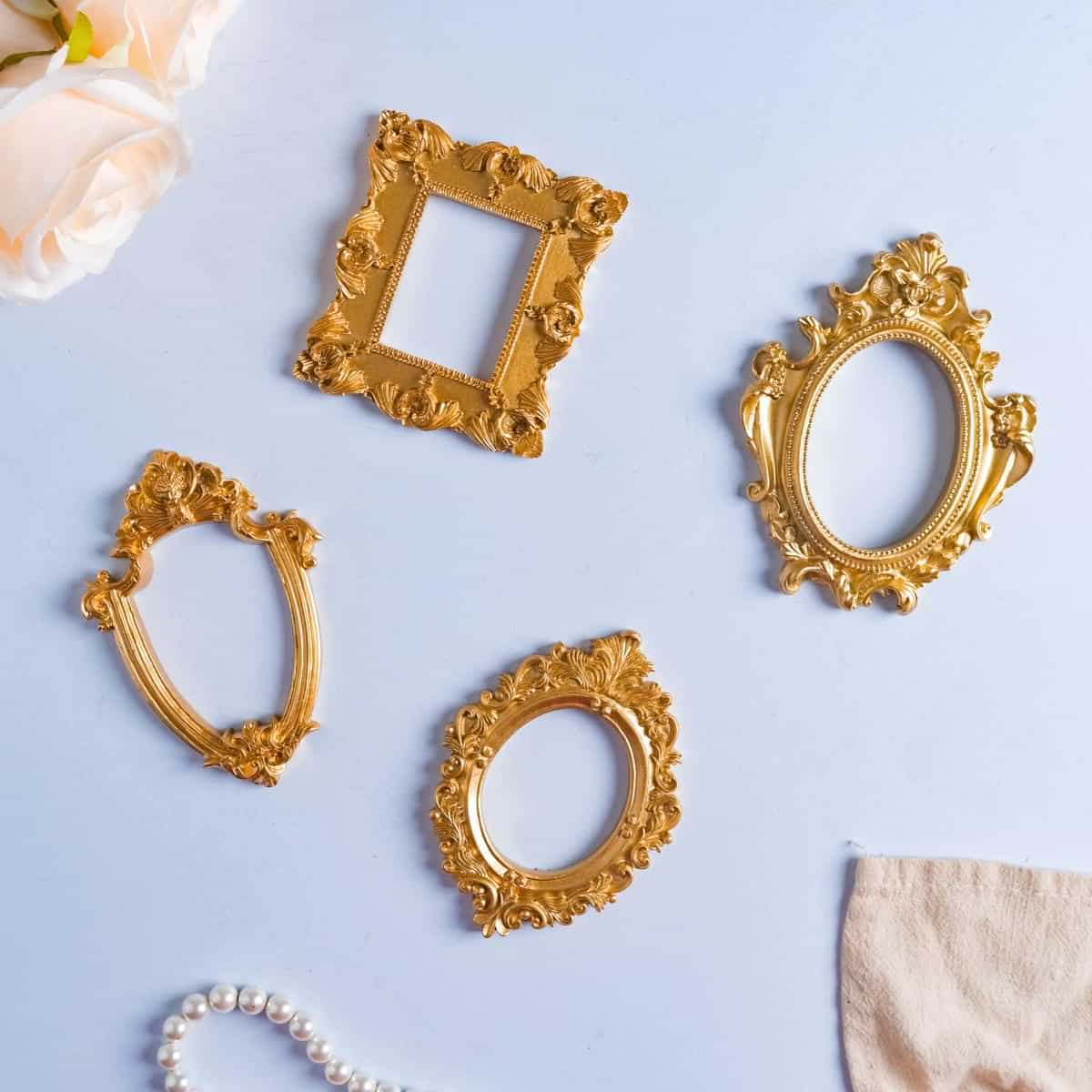 Photos are frozen memories printed on paper. Thus, each photo is special and needs the right treatment to survive the wrath of time. Even with the advent of digital technology, photo frames are still as relevant as they were decades ago. A photo frame is basically a framing structure that holds and encases our photos. Photo frames are one of the most popular decor items because they are available in a variety of designs, budgets, and sizes. Howev