Whether you're working on an empty space while designing or a crowded room while remodelling, knowing where to start can be difficult. Although professionals make designing and decorating a living room look simple, it's actually very challenging. A living room is a place where families and friends gather and create memories, so they deserve to be designed in a proper way. While planning any living room, the layout, furniture, flooring, decor, etc. must be considered to create an ambience of comfort, intimacy, and practicality. To put it another way, every single interior design and decor aspect of your living room counts a lot, from the false ceiling and wallpaper to the sofa and TV unit you choose.
We have provided a detailed guide on how you can design your living room layout. Furthermore, we have discussed some common mistakes you can avoid while planning your living space along with tips from experts. In order to provide you with some inspiration, we've put together an exclusive image gallery of our best living room design ideas. Continue reading the article to upgrade your home or give it a complete makeover. 
How to design a living room? 
Shape & size 
Shapes have a great impact on how your home feels. The shape of the layout greatly influences the arrangement of the furniture in a living room. So, the arrangement of fixed furniture is planned to complement the flexibility of the room.  
The size of a living room varies from a small to a large one.  
Small living room: This can be a 7 x 10 ft (about 2.1 x 3.0 m) space, which will allow a small 2-seater sofa to fit in your layout.  
Medium living room: The next size is roughly 10 x 13 ft (about 3 x 4 m). These living rooms can easily accommodate 4-5 people and allow a 2-seater sofa to fit in. If you want to add a TV unit to your living room design, this setup would allow 2-3 people to watch it comfortably. 
Large living room: This living room allows 6-10 people to fit in a space measuring 12 x 18 ft (about 3.7 by 5.5 metres). Additionally, 3-seater sofas, along with other pieces of furniture, can fit in large-sized living rooms. 
Layout

 
Open-plan

 
Create a living area enclave in an open-plan room that connects to a dining area and kitchen by separating the space with a large L-shaped sectional sofa. When selecting a sofa, keep the side of the L-shape in mind. Keep it next to the windows rather than blocking the path. If your room is large enough, leave a good 60 cm distance between your sofa and the window to make it feel more refined. Add a coffee table and side tables beside the sofa to complete the look. 
Conversationalist

 
This layout is ideal for people who like to host guests. It is suitable for living rooms where the fireplace is located across the entrance as it maintains harmony and balance throughout. 
Here, seating should be no more than 8 feet apart for face-to-face conversations. If there isn't much space in the room, pick sofas that are narrower to make room for movement. Place two sofas in the centre of a room, and at one end, place a group of chairs and side tables to create a separate conversation area. Moreover, there is plenty of room for a TV and additional storage when bookcases are placed on either side of the fireplace. 
Walk-through

 
There are several doors in the walk-through living room that you can use to move from one part of the house to another. There is more than one way to enter and exit this room. A pass-through space is another name for this kind of space.  
The TV is positioned in front of the sofa in this traditional living room arrangement. You can also place a set of chairs across the sofa or on one side of the room beside each other, depending on whether your space is more square or narrow. Add a stunning TV unit, a few side tables, and lots of mood lighting to complete the living room design. 
While planning this room, be careful not to obstruct the entrances to the other rooms. Also, consider the purpose of the space when arranging furniture. This could be a single-purpose room, such as a living room, or it could serve multiple functions, such as a living room & dining room combo or a living room office.   
When it comes to living room lighting, there are some things you should consider. Ask yourself what you would like your living room light to do. It can help you decide on the right type of lighting for the space. Do you want it to hang off the ceiling while serving as a lovely art piece? A chandelier will work perfectly in that situation. However, if you want the light to be ambient and brighten up your living room, you should choose a different type of lighting, such as wall sconces or concealed ceiling lights. 
Flow of traffic 
When designing your living room, keep traffic flow in mind. The way people enter, exit, and navigate the space will be influenced by your furniture arrangement. Is it challenging to enter and exit the space? When there are several people in the room, does the space feel crowded? Work with the size of your room by selecting the appropriate size of furniture to ensure an easy flow of traffic. 
Common mistakes to avoid and suggestions from experts
Common mistake #1: Avoid harsh lighting in your living room design
Image Source: Ralph Kayden on Unsplash
Proper lighting is essential when designing a space. The right lighting can turn your living room into a cosy, welcoming space. The wrong lighting, on the other hand, can make your living room feel gloomy. Also, adding too many lights to your living room will make your space look like a lobby. 
What do experts suggest?

 
Make a lighting strategy! Based on the area's dimensions and the lighting's purpose, consider working with a lighting specialist to identify the needs of your project when remodelling. Elevate your living room design with a false ceiling with recessed lights as they provide both direct and indirect lighting.
Common mistake #2: Overlooking the height of furniture in your living room design
Image Source: Overstock
The furniture in your living room has a big impact on how it feels and looks. But putting aside the appearance and feel, the size should be your top priority. After all, furniture that is too small will draw attention to empty space and give the impression that your living room is vacant, while furniture that is too large will make the space feel crowded. 
What do experts suggest?

 
There is no standard that dictates the height of living room furniture. However, a good rule of thumb is to keep furniture between 26 and 30 inches high so that most people can use it comfortably.  
Common mistake #3: Picking up a rug that's too small 
Image Source: Mohammad Yasir on Behance
A common problem in living room design is the inadequately sized rug. Since it's a focal point in your living room, it must be chosen carefully and styled properly. 
What do experts suggest?

 
Make sure your rug is at least 6 inches (ideally 8 inches) wider than your sofa on each side. Usually, the rug is placed along the entire sofa length. If your living room allows, leave a space of 30 to 36 inches between large furniture pieces; if not, leave at least 18 to 24 inches of space. This will help you determine the size of your rug. 
Common mistake #4: Ignoring clutter 
Image Source: Ikea
No matter how much you spend on planning your living room. If it's not organised, it will always stress you out rather than relax you. 
What do experts suggest?

 
Invest in wall-to-wall shelves for your living room. You have plenty of space to display your favourite finds if you line a wall in your living room with open shelving or glass-front cabinets. Combine them with low-level cabinets or drawers for quick access to items that are necessary. Additionally, choose a TV unit for your living room design; it will add aesthetics as well as storage space.
Common mistake #5: Leaving out prime wall space 
Image Source: The best wallpaper place on Twitter
When designing a living room, people always focus on the floor space and forget about the walls. However, it is important to consider vertical elements in addition to the horizontal floor space.  
What do experts suggest?

 
You can use wallpaper patterns to enhance your living room's proportions. For instance, a subtle vertical stripe can make a room look taller whereas horizontal stripes make it look wider. If you have an open-plan layout, go for a living room design with bold wallpaper that separates the living and dining areas. Paint can also be an easy-to-update option for living room walls. Consider hanging indoor plants or artwork to add to the aesthetic. 
Common mistake #6: Turning a blind eye to colours in your living room design
Image Source: Burrow.com on Pinterest
Inappropriate colour combinations can really drag down a room's aesthetic. Choosing the right colour palette is critical; otherwise, your living room's appeal will suffer. 
What do experts suggest?

 
When making this decision, consider the room's size and the height of the ceiling. If you have a small living room and want to make it look bigger and brighter, you should use lighter colours. If you have a larger living room, you can be more daring with colour. So, try a darker colour palette, add a striking feature wall, or get creative with bold paint colours. Opt for the 60-30-10 rule. It is recommended that 60% of the room should have a dominant colour, 30% should have a secondary colour or texture, and 10% should be an accent. 
Common mistake #7:  Dressing windows wrongly 
Image Source: Brillcurtains.com on Pinterest
Every window requires the perfect soft furnishings, whether it's elegant draperies or a simple swath of fabric. A space can be closed off by hanging curtain rods just above the window.  
What do experts suggest?

 
Depending on how you want to hang the window curtains, measure your windows and make any necessary adjustments. To give a taller impression of your room, hang curtain rods and drapes closer to the ceiling. Traditionally, the fullness of the drapes should be 2 to 2½ times the width of the window. For instance, if your window is 4 feet wide, the ungathered panels should be at least 8 feet wide or, ideally, 10 feet wide. 
Living room designs to revamp your space (Image gallery)
Conclusion 
The living room, more than any other room in your home, necessitates careful consideration in terms of interior design ideas and decorating items. It should be furnished with everything you need for a variety of activities since you spend most of your time there. Thus, it needs to be perfect and tidy at all hours. While planning your living room, there are many factors you should be mindful of, such as shape, size, layout, flow of traffic, etc. You can always improve your living room design by adding wallpaper as wall decor, incorporating recessed lights into the false ceiling, or adding natural elements such as plants to your space.
Now that you understand the fundamentals of living room design, you should avoid making common mistakes and follow the advice of professionals. Some of the tips include installing proper lights considering their purpose, designing and decorating your empty living room wall with wallpaper, utilising art pieces and paint, hanging window curtains at a height for a tall impression, and adding a TV unit for storage. Feel free to use design ideas from the image gallery above and get your space ready for fun gatherings. 
*The featured image used in this article is from Ebthal Soudy on Behance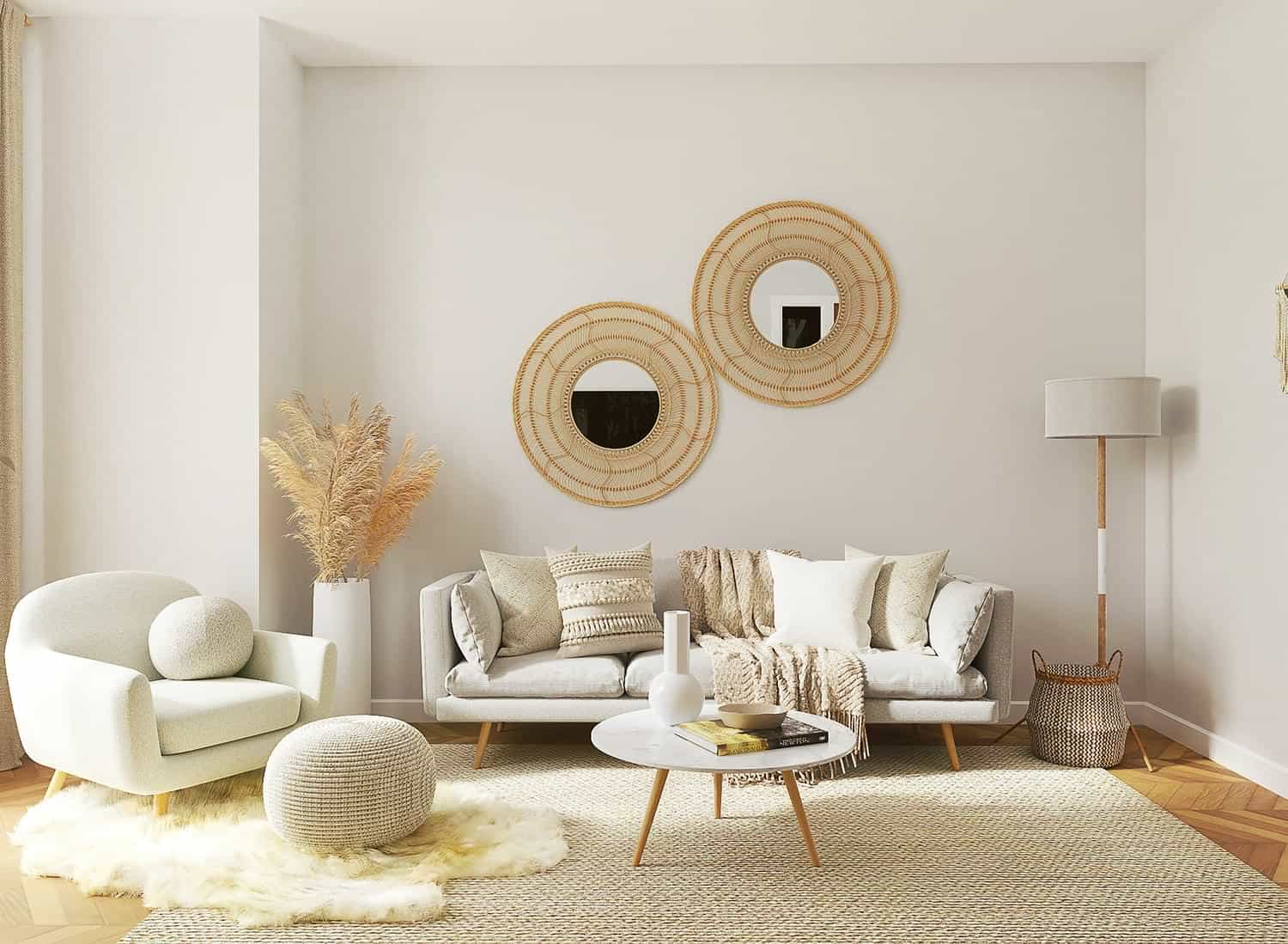 The living room, more than any other room in your house, demands consideration in terms of interior design ideas and decorating items. You spend as much time there as you do in your kitchen (if not more), so it should be well-equipped for a variety of activities. A living room requires a comfortable sofa for family movie nights, a suitable rug for playtime with children, and appropriate lighting for evening reading hours. To put it another way, f
[cbxwpbookmarkbtn]