Whether you're remodelling, updating, or building your kitchen from scratch, coloured cabinets are a fantastic option to consider. They are durable, easy to maintain, and give an expensive look to your space. Different kitchen cabinet colours have distinct benefits that you might want to take advantage of while designing your space. Some can give the illusion of a brighter and larger space, while others make cleaning a less frequent necessity. There are many colours that look good on kitchen cabinets or cupboards and the best colour combination ideas can literally transform the space. However, selecting the right colour can be challenging. While it can seem appealing to go for unusual hues, always consider the other items and colours in the space before finalising a colour. Take a close look at your floors, cabinets, backsplash, walls, and appliances to ensure that you create a harmonious space.
When selecting cabinet colours and appliances for your kitchen, take into account your own preferences, the existing colour scheme, and your design style. While white is the simple and safe option that blends into any space, there are a number of colours you can explore. Colourful kitchen cabinets can subtly draw attention to the architectural features or update the look of old cabinetry. So, in this article, we will explore how to choose appliances, the best colours for kitchen cabinets, and the colour combinations you must avoid.
How to choose appliances based on the style of the cabinet?
Contemporary kitchens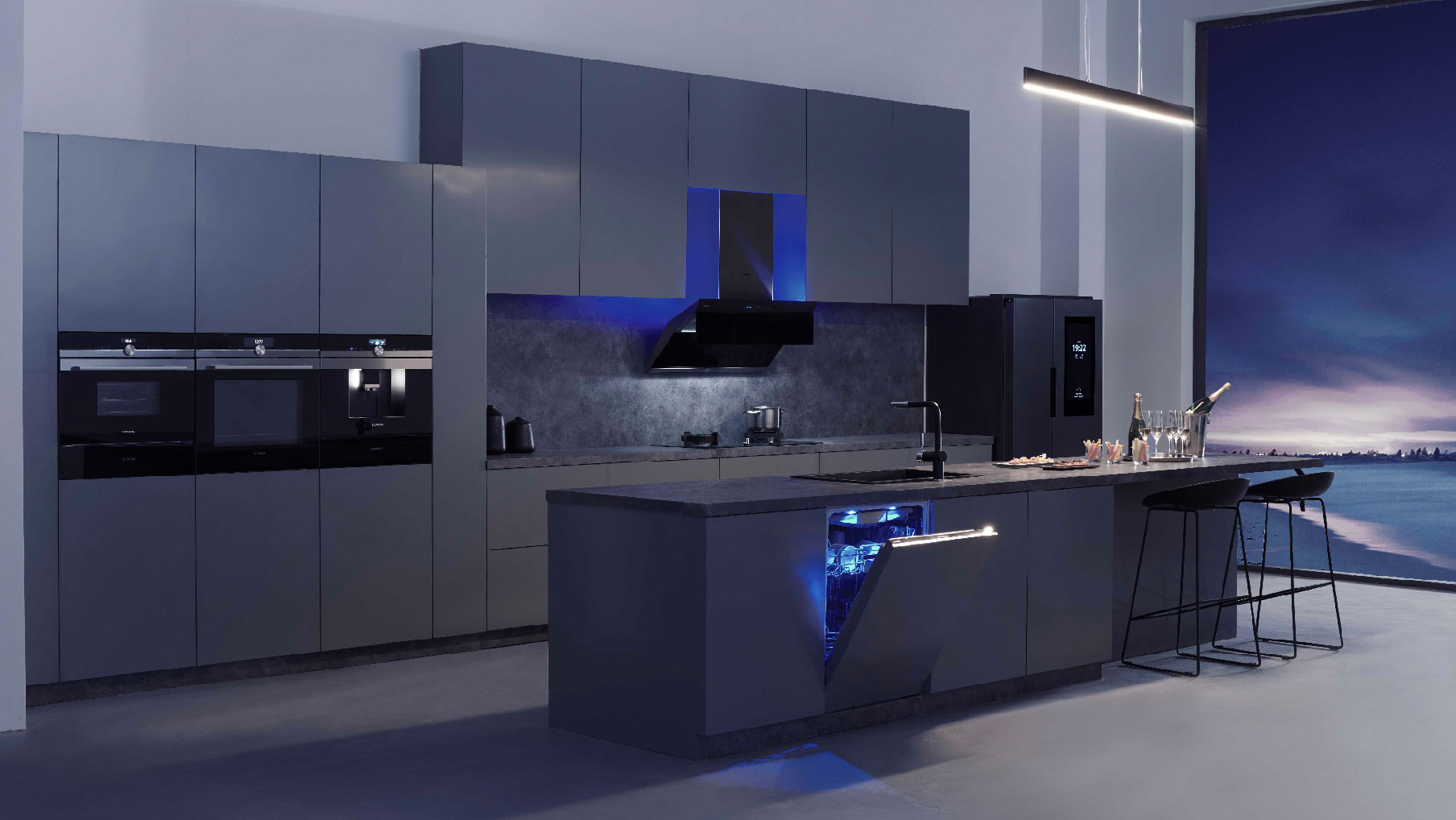 Image Source: Siemens
Contemporary kitchens feature a sleek design and an uncluttered aesthetic. A basic black-and-white colour scheme injected with grey accents instantly gives a more modern and contemporary look. Always remember that those colour combinations which complement each other will be the best option for your kitchen cabinets and cupboards. For example, jet-black kitchen cabinets contrast wonderfully with white walls. However, if you want a more subtle look, you can go for kitchen cabinets in grey colour that add less contrast and create a cosier space. Another great colour option for kitchen cabinets is steel grey; it gives a very modern appearance to the space. To get the complete modern aesthetic, go for matching stainless-steel kitchen appliances.
Tuscan kitchens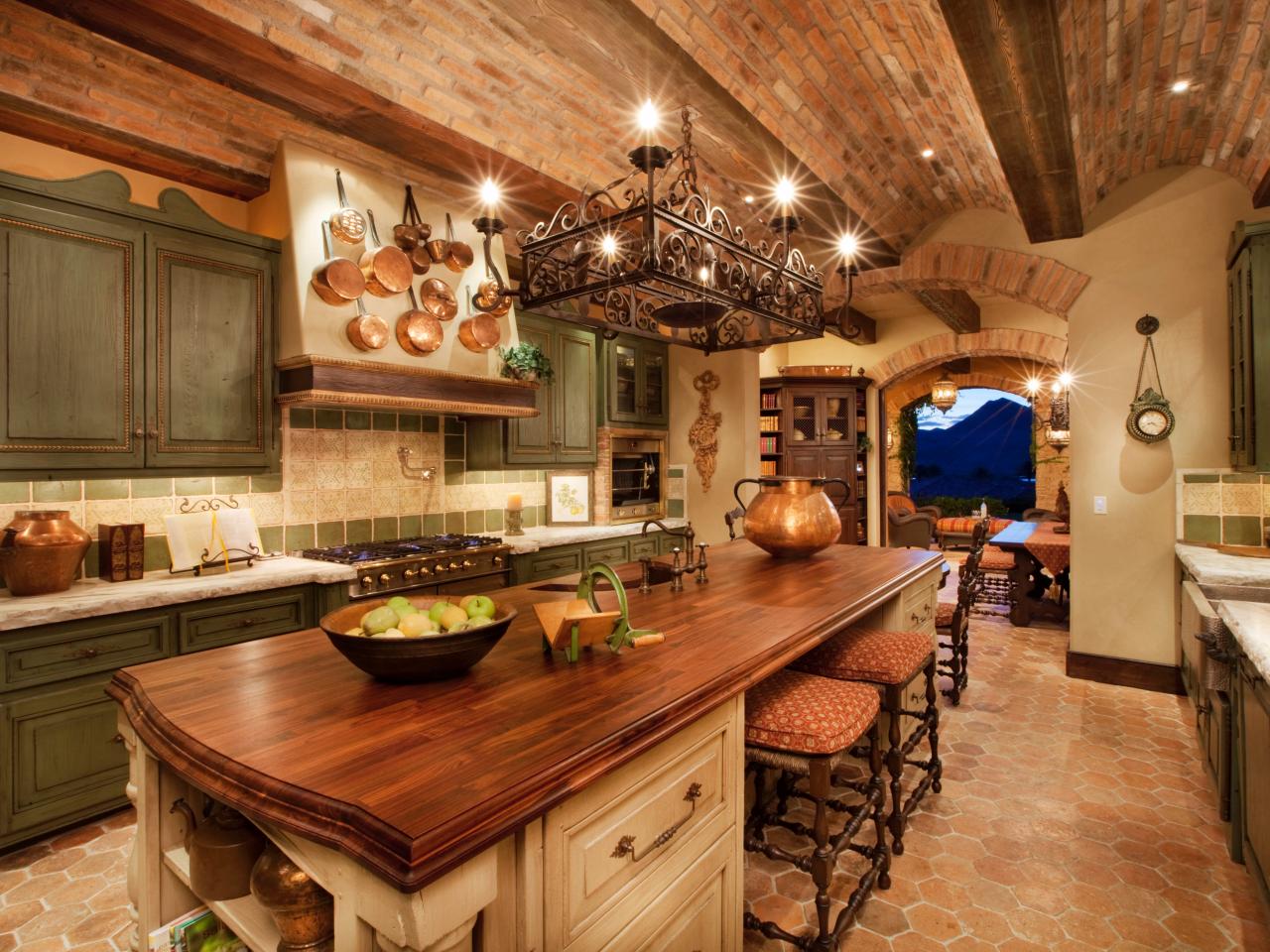 Image Source: Farmhouse Furniture on Facebook
Tuscan decor can be identified by its rustic and sun-baked appearance. So, when selecting colours for a Tuscan-style kitchen, picture aged and weathered cabinets. You can enhance your Tuscan kitchen by using distressed black or brown wooden cabinets with exposed wood showing through at corners. If you have a compact kitchen, you can make it appear larger by going for cabinets in light colours for a weathered look. For cabinet doors and drawers, you can select hammered copper or black handles and knobs. Appliances in either black or stainless steel also go nicely with a Tuscan-style kitchen design.
Cottage-style kitchens
Image Source: Jhinteriordesign.com
Draw inspiration from nature to effectively create a soft and cosy cottage look. Taking colours found in nature can give the space a calm and pleasant appearance. For example, having kitchen cabinets and cupboards in a combination of white, sea green, and sandy beige colour efficiently creates a nature-inspired decor. Ceramic green or blue are beautifully serene hues that can add a pop of colour to your kitchen cabinets. You can also choose knobs and handles for your kitchen in contrasting colour combinations for added charm.
Transitional kitchens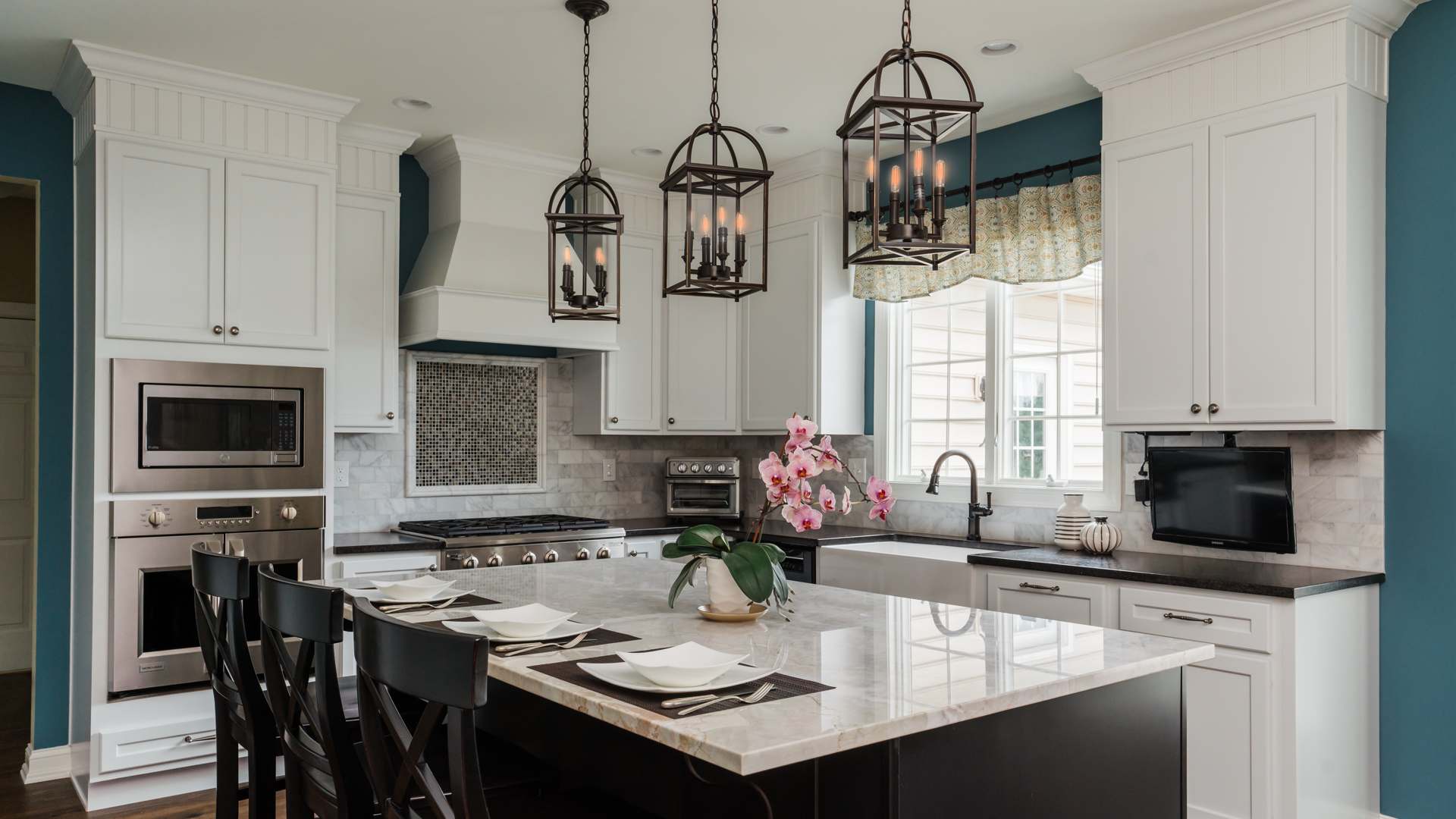 Image Source: Aslaninteriors.com
The transitional design style features a blend of both traditional and modern kitchen design elements. To achieve this look, you can choose colours like deep mocha or dark expresso cabinets built with straight lines for a modern feel with a traditional touch. To your cabinets, add brushed-nickel hardware and mount matching stainless steel appliances with splashes of black to give a modern look.
Top trending kitchen cabinet colours to match black appliances & stainless steel appliances
Adding colour to your kitchen cabinets gives them a more inviting and personalised look. You can give your kitchen a chic and modern vibe with black and stainless-steel appliances. To match your appliances, you can go with kitchen cabinets and cupboards painted in strongly contrasting colours, neutral hues, or complimentary tones.
The following are the most widely used colour schemes for black and stainless-steel appliances in Indian modular kitchens –
Bold black
If you want to give your space a modern yet rugged look, you can go for bold colours. For example, black in combination with earthy hues such as brown for your kitchen cabinets and cupboards gives a contemporary look. When it comes to black, one of the best ideas is to go for a monochromatic colour scheme, which means having black kitchen cabinets, sinks, countertops and appliances.
In the above picture, black appliances by Siemens in combination with black cabinets beautifully show that having everything in monochrome really can make a kitchen look clean and contemporary.
Deep brown and wood tones
Kitchen cabinets in natural earthy tones such as deep brown or wooden hues in combination with black are the easiest way to create an aesthetic and inviting space. These colours, when used together, create gorgeous contrast and texture whilst giving a contemporary feel to the kitchen. For this look, you can use cabinets made with dark wood or you can use stains and veneers to achieve the same effect.
Dove grey
Dove grey is a beautiful hue that can effortlessly create a minimalistic aesthetic for your space. This subdued colour, when used in combination with black, can transform the look of your kitchen cabinets and cupboards. You can rely on this stunning shade to give your modular kitchen a fashionable and modern look with timeless appeal and sophistication.
Pure white
White is one of the safest options to go for while designing a kitchen; it is simple yet elegant. It provides a striking contrast against silver which draws attention to the appliances making them stand out. White creates a contemporary vibe when mixed with silver appliances and also makes the room appear larger and more open. So, opt for a white and silver colour combination for your cabinets and cupboards if you want to give your kitchen a seamless, immaculate look.
As shown in the image above, the stark contrast between the all-black Siemens appliances and the white cabinets gives the room a beautiful, classy appearance. This combination is perfect for any modern and luxury kitchen design.
Teal and soft blue
Teal and soft blue are considered to be soft and pleasant colours. Therefore, incorporating them into your kitchen colour scheme can give you a serene look. Soft blue cabinets will add a splash of colour to your kitchen without overwhelming the decor. Furthermore, teal will create a pleasant space that instantly enhances your cooking experience.
Rich yellow
Stainless steel appliances are so popular because of their versatility. They can pair well with both cool and warm colours. Yellow cabinets, when paired with black appliances, can give your kitchen an eccentric, eye-catching look. There are numerous shades of yellow you can go for here. Select a bright yellow for enhanced contrast or go for a richer shade for a refined look.
Olive green
Olive green is generally considered to be an unusual hue to use in kitchen cabinets. However, it can really give a classy appearance and enhance the overall kitchen decor. It looks beautiful when used in combination with silver or black appliances, amplifying the kitchen cabinets and creating an inviting ambience.
Black and stainless steel appliances by brands like Siemens offer a striking and bold finish, becoming a popular choice for contemporary kitchens. Siemens offers several kitchen appliances with innovative product features that give their appliances an intelligent edge. They all have a consistent style with glossy black glass, smooth stainless steel surfaces, and matching control elements.
BONUS IDEA: Custom-panelled built-in appliances
Panel-ready appliances have a customized door front that matches the surrounding cabinets creating a more cohesive space. This creates a seamless look that camouflages the appliances. In addition to blending in smoothly with your new kitchen remodel, panelled built-in appliances give off a more upscale appearance. This enables you to match not just the cabinet material but also the door profile (such as Shaker style) and even the hardware for complete harmony. Appliances can be panelled individually or in groups depending on your preference. Also, one of the best ideas to create a cohesive kitchen colour scheme is to panel dominant appliances like refrigerators and dishwashers to ensure they blend into the cabinets.
Some colours to avoid with black and stainless steel appliances
While black and stainless steel gives an evergreen versatile look, there are certain hues that don't work well with these beautiful shades. For example, earthy tones and muted shades may not give a flattering look when paired with black; the combination can give a rather bland and dull appearance. So, beware of the shades that lie in the middle of the spectrum because seasoned designers have noticed that these do not complement the vibrancy of black or stainless-steel appliances.
Conclusion
The kitchen is considered to be the heart of the home and lately, it has evolved into much more than a cooking space. Therefore, taking care of its aesthetic has become more commonplace. The latest trend in kitchen design is to go for the best colour combination ideas for cabinets, cupboards, and appliances to make the kitchen stand out.
While selecting colour combinations for your kitchen cabinets and cupboards, keep in mind the style of your kitchen design and the colour of the appliances. Different styles, such as Tuscan, contemporary, cottage-style, and transitional have distinct looks and appeal. Therefore, the colours you pick for each style may differ. After going through the article and knowing the trendiest colour combinations, what colours to steer clear of, and the best approach to panel appliances, you have been armed with top kitchen design tips. So, pick any colour combination for your cabinets and cupboards from the ideas mentioned above and transform your kitchen space today!
*The featured image used in this article is from Siemens
[vvsmustread]