Architecture in India has been witnessing an upward trend in the use of wood in buildings. And, Canadian Wood – a brand owned by Forestry Innovation Consulting India (FII) Pvt. Ltd., has been at the forefront of spreading awareness on the subject.
At the recently concluded webinar titled 'Architecture in India and Canadian Wood', eminent Architects and Designers presented their latest works in wood.
Moreover, their first-hand experiences working with Canadian Wood species showcased the creative possibilities for the Indian building materials market.
This webinar was the 9th in a series organised by Canadian Wood. It highlighted the numerous applications that can be accomplished using Canadian Wood species.
The major wood species from Canadian Wood include – Douglas-fir, Western red cedar, Western hemlock, Yellow cedar and Spruce Pine-fir (SPF).
In addition to that, the webinar presented in association with FOAID (Festival of Architecture and Interior Design), featured engaging presentations and panel discussion by leading lights of architecture in India – Ar. Ketan Jawdekar from Studio K-7, Ar. Sidharth Talwar from Studio Lotus and Ar. Sönke Hoof from Vastū Shilpā Consultants. The event commenced with an introduction of FII and a welcome address by Ms. Nirmala Thomas – FII Director Market Development and was moderated by Mr.Peter Bradfield – FII Technical advisor.
Ar. Ketan Jawdekar from Studio K-7 presented amazing architecture in India
A born artist and an architect by profession, Ar. Ketan Jawdekar is the winner of at least 45 international awards. The initial slides of his presentation captured his tangential thinking and abstract approach through snapshots.
One main example of this – 'Pallet – Brewery and Kitchen' a premium pub in Bengaluru, formed the core of his session. Bengaluru being the manufacturing hub of pallets inspired the design thinking of the space. The search for high-quality wood and design flexibility lead to Canadian wood species SPF (Spruce-pine-fir).
SPF is known for its high dimensional stability globally and highly recommended for making wooden houses, structural framing and interior fit-outs.
Therefore, false ceilings room, dividers, backdrops, bottle racks, mouldings and finishings in the project were made with SPF along with plank walls and end cut wall of a private tasting room. The project won multiple accolades like the International A'Design Award & Competition and the International Design Awards in the sustainable/ green interiors category.
Ar. Ketan Jawdekar's presentation was followed by a demonstration by Ar. Sidhartha Talwar – a believer of conscious design which means an inclusive approach that celebrates local resources, cultural influences and attention to details.
As a result, his presentation on explorations in wood included several premium residential and hospitality projects entailing multiple applications of Canadian wood species. The main focus of his presentation was an on-going project labelled 'Villa in the woods' located at Kumaon in Uttarakhand.
The 88-acre residential project spread includes a flexible nature of construction that allows for the structure to remain bent towards the contours of the hills.
Moreover, the villa remains one part of the project incorporating the use of Canadian Western red cedar for exterior cladding, shingles and Douglas-fir for doors, door frames, panelling and ceiling work. Western red cedar's exceptional working properties and natural resistance to termite, rot and decay make it ideal for outdoor applications.
The work is a good example of sustainable architecture in India.
On the other side, Douglas-fir remains highly valued for its strength-to-weight ratio making it the ultimate choice for doors, door frames, windows. Additionally, it remains in use for heavy structural purposes like post-and-beam constructions, glue-laminated beams (glulam) etc.
In addition to this, he also briefly introduced the audiences to his other wood-based projects like Taj Theo (Simla) RaasChhatrasagar (Nimaj), Hyde Park residence (Delhi) etc. highlighting the use of Canadian wood species in some and local 'nakashi' (carving) work/ craftsmanship in others.
Ar. Sönke Hoof, Vastū Shilpā Consultants on the revival of traditional architecture in India
Well-known Ar. Sonke Hoof whose impressive work finds special mentions in several prestigious books and magazines presented the last session. His presentation included a residential project in Ahmedabad. As a challenge to extend the living space-restricted on sides a box like a perch was placed on the rooftop of the bungalow with louvres surrounding the space.
Canadian Yellow cedar remains chosen over many other types of wood species and charred for a shining charcoal-like finish. Highly durable and naturally resistant to decay, Yellow cedar remains an ideal choice for making doors, door frames, windows and outdoor applications (furniture, pergola and more). The adjustable louvres enhanced aesthetics and lent the functional advantage of manoeuvring harsh sunlight entering the space.
Additionally, a very engaging panel discussion, well moderated by Mr Peter Bradfield followed the three presentations. The event finally concluded with an insightful Q&A session of the panellists with the audience.
Commenting on the success of the webinar Mr. Pranesh Chhibber, Country Director at FII said, 'It remains an honour for us to have our ninth webinar as the common ground for such outstanding professionals to share some of their best work. We feel privileged that they have considered us worthy of associating with their projects and sharing their experience of working with Canadian Wood species.
We thank these eminent architects and their clients for choosing Canadian Wood over many options available to them. Not to mention that we remain ever keen to support their projects. We do this by helping arrange the required species and grade of Canadian Wood lumber. We can also do the handholding and provide technical support to their contractors whenever and where required'.
To watch the webinar, click here.
About FII India
FII is a crown agency of the government of British Columbia (B.C.), the westernmost province of Canada.
It's mandate is to promote wood products from B.C. Canada in the offshore markets and to position it as a global supplier of quality, environmentally-responsible wood products from sustainably managed forests.
FII does this by creating awareness, spreading education through information on the wide variety of timber products available from B.C. Canada and by offering technical support. Established in 2013, its brand/logo Canadian Wood reaches out to and facilitates the understanding of its activities to its target audience.
Over the years, Canadian Wood has worked with a cross-section of reputed Architects, Interior Designers, Builders & Developers across India by assisting them on their projects both in re-man and structural applications by handholding and arranging technical support.
Moreover, Canadian Wood offers Architects/Designers and Contractors/Manufacturers in India several legally harvested wood species for various applications. Certified and sustainably managed forests in B.C. Canada source the Canadian Wood lumber that remains duly sized, graded and seasoned, almost ready to use.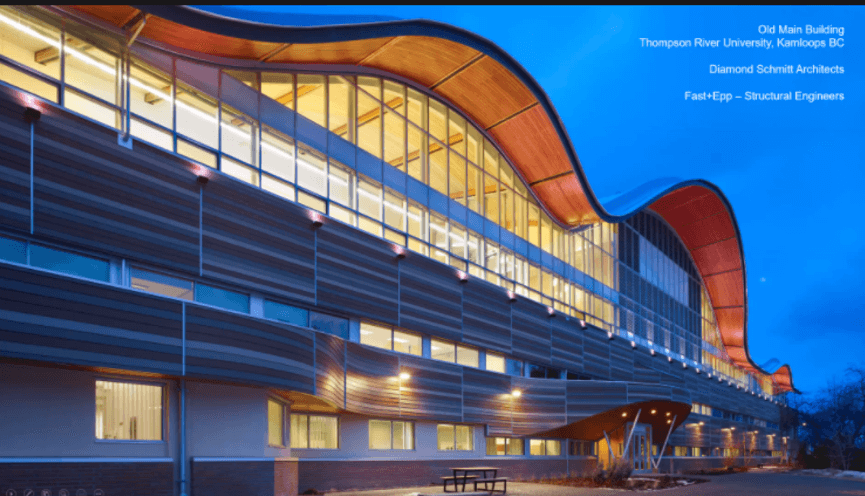 Continuing with its educational and training objectives, Canadian Wood conducted another successful webinar titled 'Developments in mass timber architecture – Canadian perspective'. Canadian Architect and industry stalwart Derek Newby was invited specially to deliver this webinar. Canadian Wood - a brand of Forestry Innovation Consulting India Pvt. Ltd. (FII India) continues its fruitful engagement with Architects, Developers, Contractors,