In our fast-paced lives, we have lost connection with nature. Today, our urban cities are called concrete jungles. Hence, there is a need to bring back natural elements to our residential and commercial spaces. Modern wooden false ceiling designs for living rooms, bedrooms, halls, etc. are one interesting way to do that.
We should creatively break the monotony caused by dull interiors by using wood in our homes. Wood is a natural element that can enhance the beauty of any room.
Wood is an extensively used material in the buildings and construction industry. It is used to construct floors, walls, and ceilings. Wood is also an essential material in the furniture and home décor industry.
Humans have been finding applications for wood since time immemorial. Due to the flexibility of wood, the variety of designs and functions it offers is unlimited. Wooden false ceilings are one of the applications of wood in the present time.
This article will give you an insight into the major aspects of designer wooden ceilings.
Why should you opt for wooden false ceiling designs?
Before we begin to explore the designs, we want to assure you that false ceiling designs in wood are the right choice for you.
Wooden false ceilings are one of the best design options for living rooms, modern bedrooms, and halls. POP false ceiling and Gypsum false ceiling are more popular choices in India because of affordability. However, wooden false ceilings are expensive for good reason.
Besides offering great modern aesthetic advantages, there are many practical advantages of using wood for your false ceiling for your living room, bedroom, or hall.
Wooden false ceilings are durable and last a long time. They require only retouching of the finish once in a while. Solid wood tiles and planks are the most durable options. You can also go for a plywood false ceiling.
However, wooden ceilings may be susceptible to termite infestations. In order to avoid that, make sure to use high-quality material for false ceiling from trustworthy brands like Armstrong.
Installing a wood false ceiling offers great acoustic advantages. Use sound-absorbent wood acoustic panels. These wood panels are ideal for controlling reverberation effectively.
Another great advantage of installing a wood false ceiling is that you can easily remove or disassemble it. Cables and wires are easily accessible. It also makes it possible to quickly replace damaged panels.
Wooden false ceilings add a rustic charm to any room. They are most suited for wide-open spaces. However, with a creative bent of mind, they can be optimized for closed and narrow spaces as well.
Residential as well as commercial spaces look great with wooden false ceilings. The presence of wood adds depth and warmth to our spaces. Therefore, one should seriously consider wooden false ceiling designs while planning to design a false ceiling for a modern living room, bedroom, or hall.
Wooden false ceiling designs you can take inspiration from
Wooden false ceilings give a luxurious feel. The designs should be chosen carefully according to the requirements of your space. Also, if you are confused about wooden false ceiling designs for your modern living room, bedroom, or hall, this is the right place to be!
The aim of this article is to guide you in your quest for the best wooden false ceiling designs. You will surely gain a lot of inspiration here.
Happy designing with these world-class false ceiling wood design ideas!
A coffered ceiling is one of the most popular false ceiling designs. It looks even better when it's a wooden false ceiling.
Coffered wooden false ceiling designs make living areas look stately and stylish. Also, they offer luxurious warmth to the room.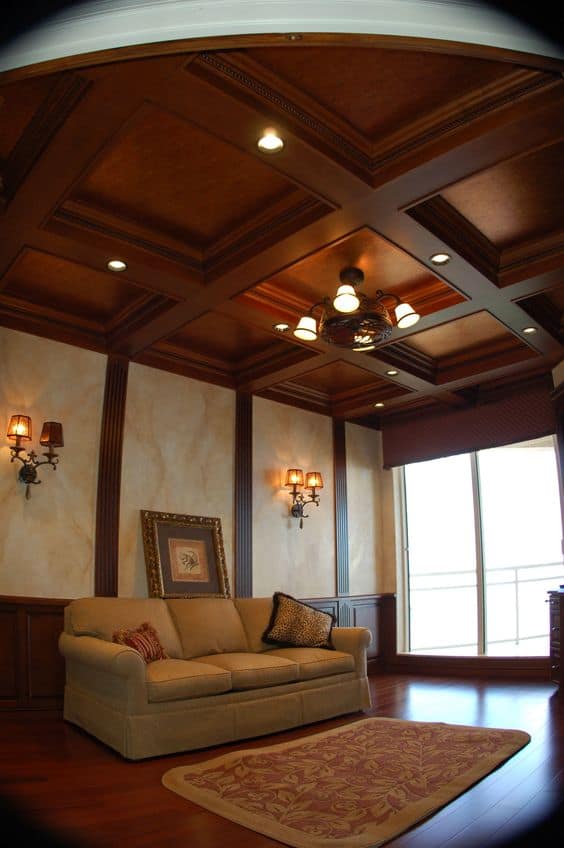 Image source: amzn.to
Speaking of skylights, there is no better way to wake up in the morning than the sunlight slowly creeping into the bedroom.
For a room on the top floor, construct a slanted wooden false ceiling, and watch it add an interesting twist to a home. Furthermore, add a skylight for natural light.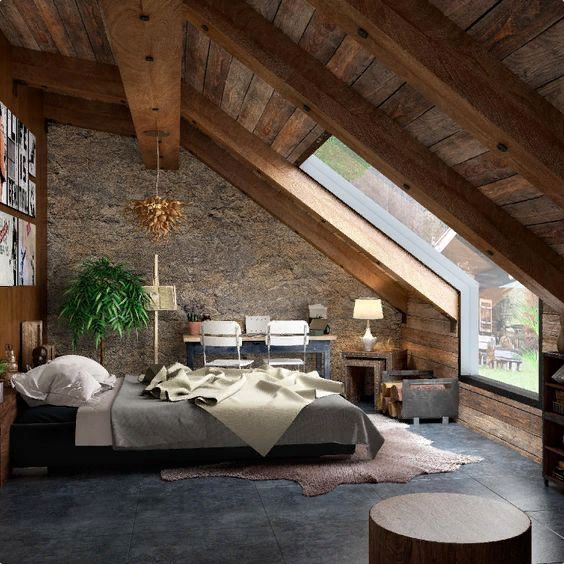 Image source: zen.yandex.ru
Extended panel 
Create a statement wooden false ceiling with an extended panel for the wall. Accentuate it by cove lighting. This kind of design can be used in any room for a dramatic atmosphere.
This wooden false ceiling design attracts attention. Hence, the wall and the furniture are in lighter colors.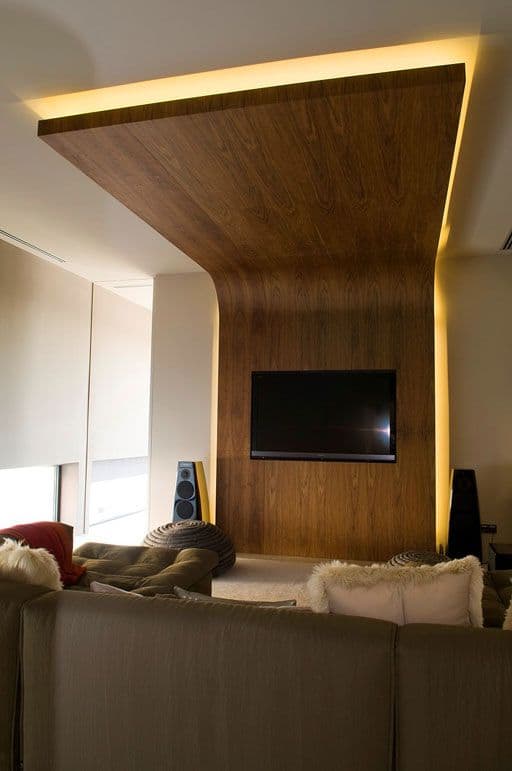 Image source: bilbolamp.blogspot.com.es
Wooden false ceilings allow a lot of scope for experimentation. Take for example this extravagant dining space. What is the defining feature of this space? What separates the dining room from the hall? You guessed it right. It is the wooden ceiling design that gives this dining area its character.
Wooden planks have been arranged in a circular manner resembling a ship anchor. This design is perfect for a hall. Recessed lighting adds to the overall charm.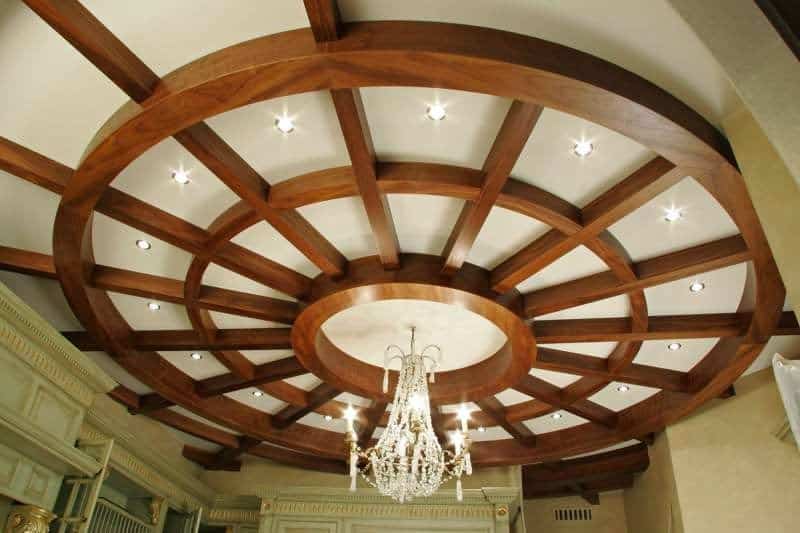 Image source: pinterest.com
While smooth wooden surfaces look sleek, a textured wooden false ceiling design looks equally (if not more) beautiful.
Wooden panels with grooves and ridges are stylish. So, take it a step further by alternating the horizontal and vertical panels. Create false ceiling designs in wood that look like a chessboard and are as interesting as a chess game!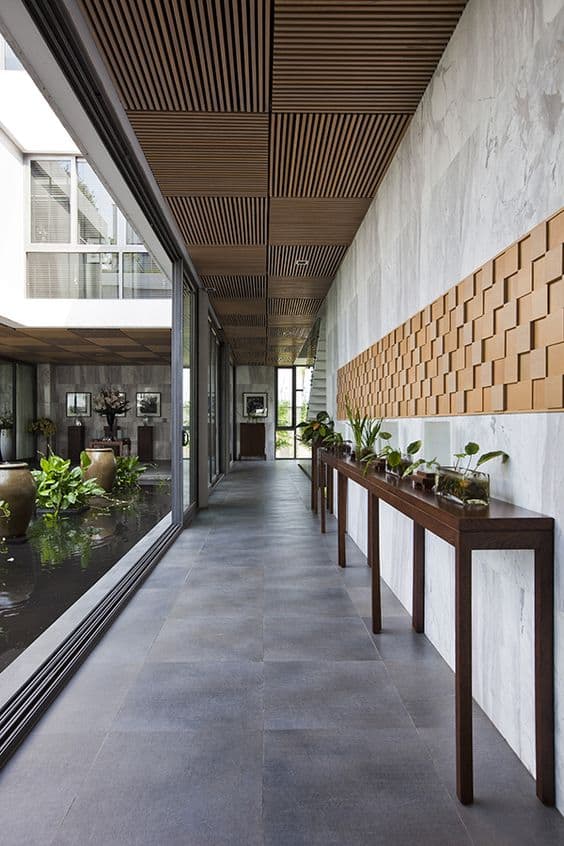 Image source: nhadan.com.vn
Ditch the popular designs and make your wooden false ceiling design stand out. It will require out-of-the-box thinking and a lot of expertise.
For instance, in this reading nook, the wooden false ceiling gives the impression of the ceiling cracking open through the middle. Also, the extended panel along with the unique false ceiling design is for those who love to experiment.
The gaps in the ceiling also provide ample natural or artificial lighting to flow through the room.
Give the impression of an artistically distorted ceiling with this wooden designer ceiling.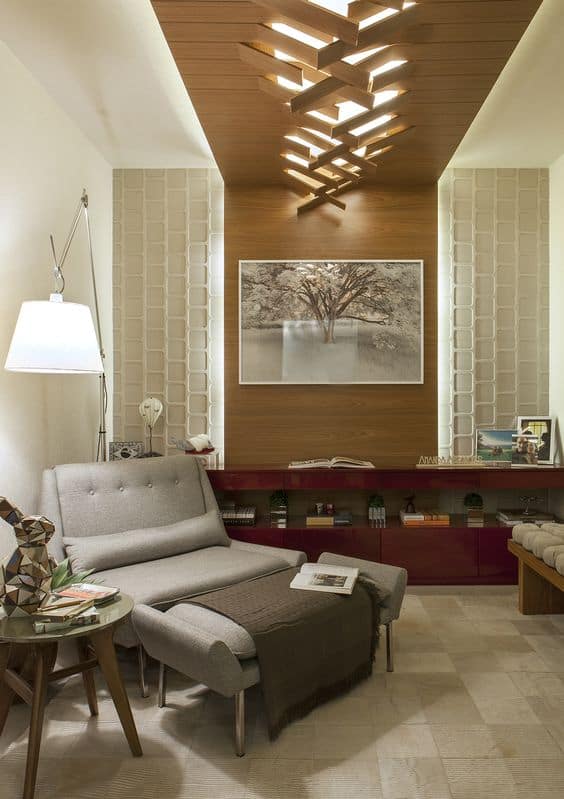 Image source: casa.abril.com.br
Suspended Blocks
Suspended ceilings always look futuristic. So, level up by suspending a modern geometric wooden false ceiling design for the living room, bedroom, or hall.
Hang pendant lights from this wooden false ceiling for maximum aesthetic effect.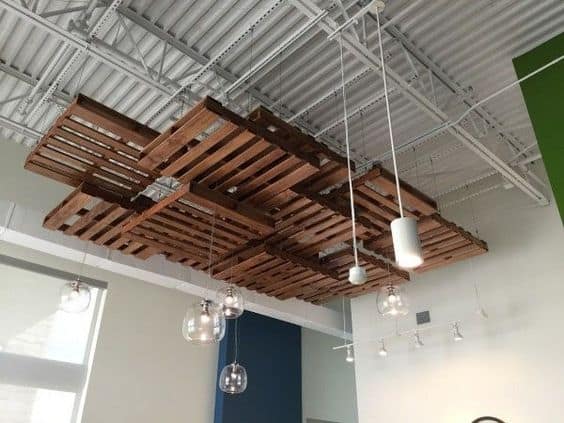 Image source: pinterest.com
Touch of greenery
Hang creeper plants from a suspended wooden ceiling to capitalize on the natural look.
Either artificial or natural plants will work. Natural creepers will freshen up space more than artificial ones. Complete the ceiling by adding hanging bulbs from it.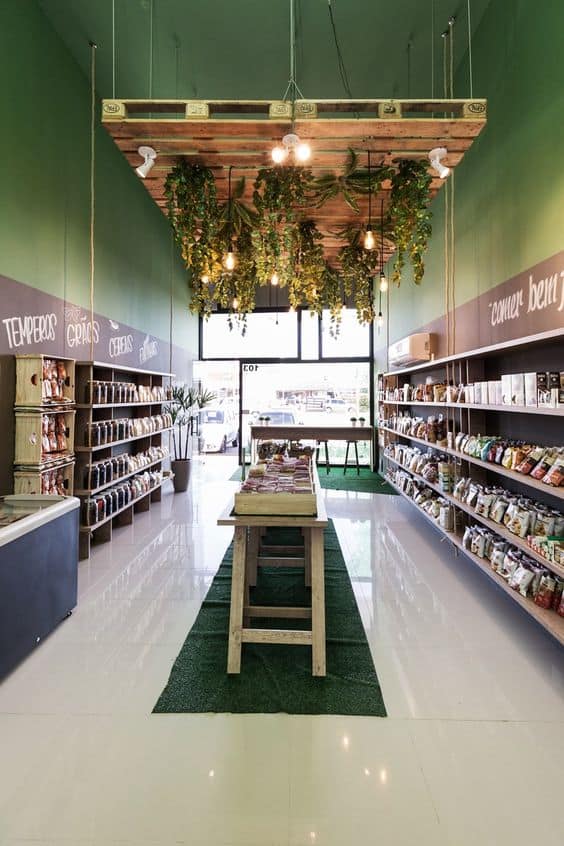 Image source: pinterest.com
Turn your space into an ancient architectural marvel by using dramatic arched wooden false ceiling designs.
The arch can be conical or dome-shaped. Curved wooden domes work best for corridors. Pointed arched wooden false ceiling designs suit living rooms and bedrooms.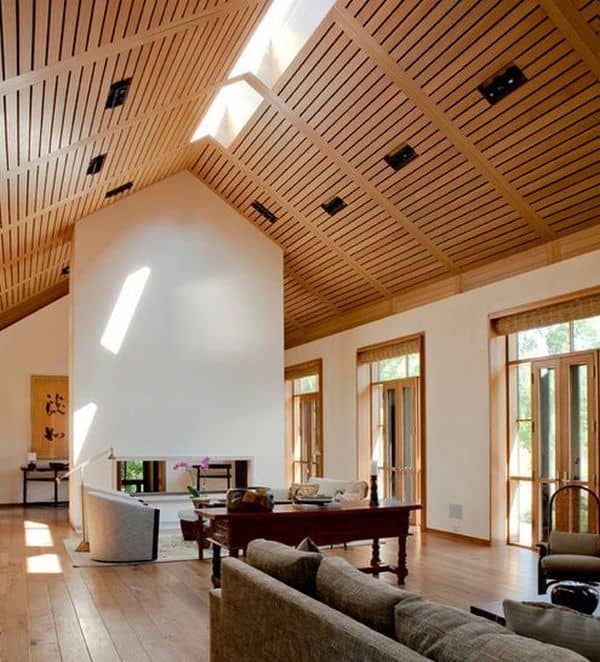 Image source: pinterest.com
Fans of minimalism will love this simple wooden ceiling design. Alternating narrow and wide wooden panels are set horizontally on the frame. Simplicity is key in wooden false ceiling designs for bedroom.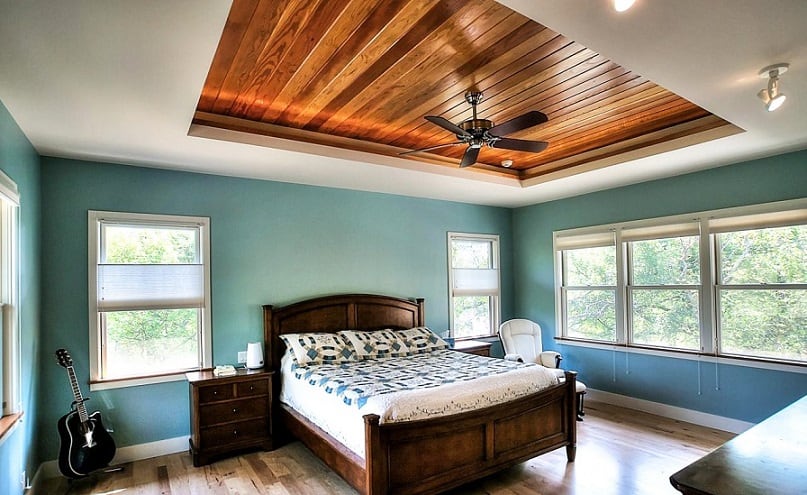 Image source: apppie.org
Latticework
On the other end of the spectrum is intricate latticework on wooden false ceilings. Also, lattice designer wooden false ceilings give an old-world charm.
The detailing makes the false ceiling look more attractive. Lattice's false ceiling work on the entire ceiling looks majestic. Nevertheless, you may design just the corners and borders with lattice for a subtler look.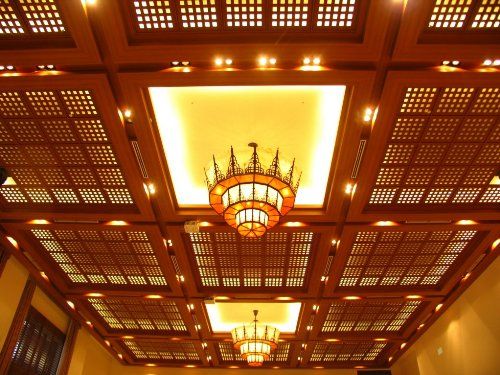 Image source: pinterest.com
Area-specific wooden false ceiling designs
False ceiling designs vary depending on the room they are for. Therefore, it is important to determine which design works for what kind of space.
Wooden false ceiling designs for bedroom
Wooden false ceilings are a valuable addition to bedrooms. Instead of using wood as the primary material for a false ceiling, the wooden false ceiling can be used on the periphery of the bedroom.
One corner or one side of the ceiling can be wooden. This demarcates different spaces in the bedroom. For inspiration, look at the designer wooden ceiling design below.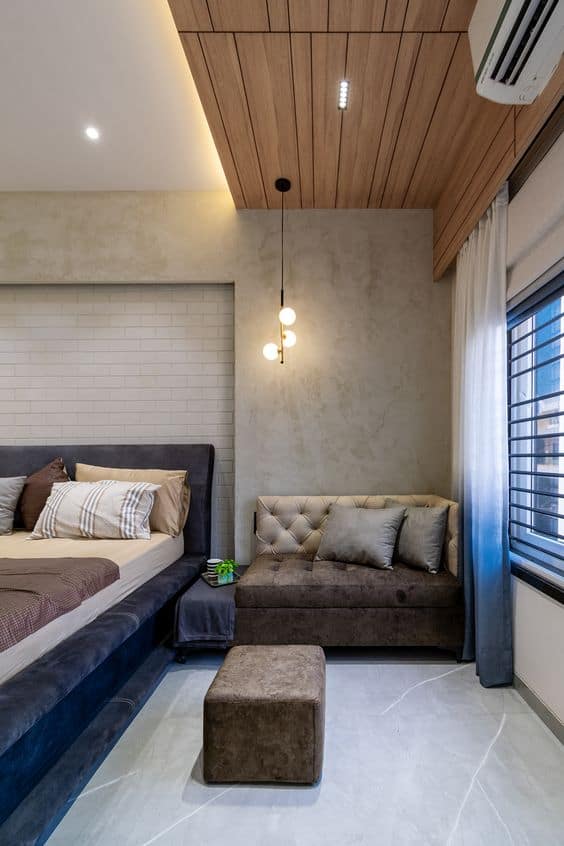 Image source: behance.net
Wood is an underrated material when it comes to bathrooms. But it's highly functional and has an undeniable aesthetic appeal. Flood your bathroom with natural light. Also, use a glass skylight in the middle of your wooden false ceiling. Such a brilliant combination of natural elements is calming.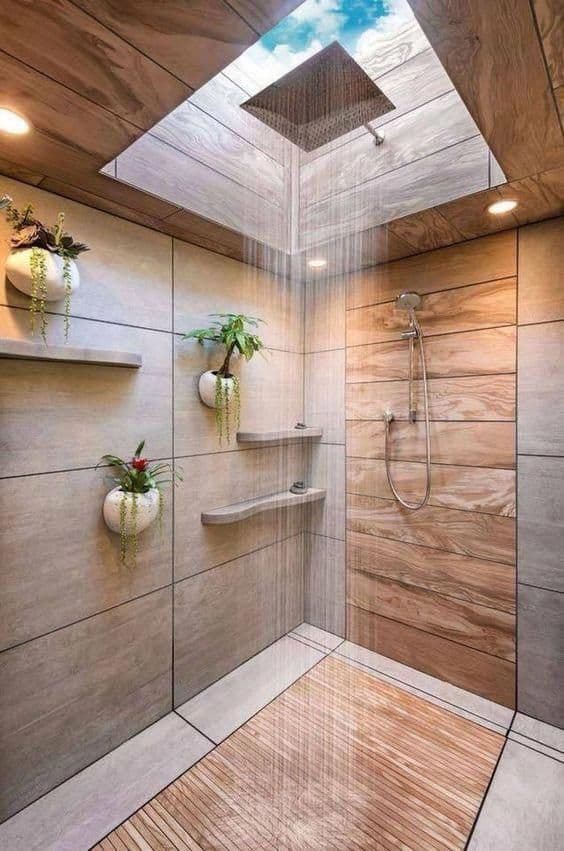 Image source: pinterest.com
Wooden false ceiling designs for corridors
Corridors are the in-between spaces in any residential or commercial building. Yet it is important to design them tastefully because everyone uses them.
If you have got a wooden theme going on in the main areas, a wooden ceiling design will work so well in the corridor.
Vertical and narrow wooden panels accentuate the length of the corridor. Also, recessed LED lights in a straight line look great while lighting up the space well.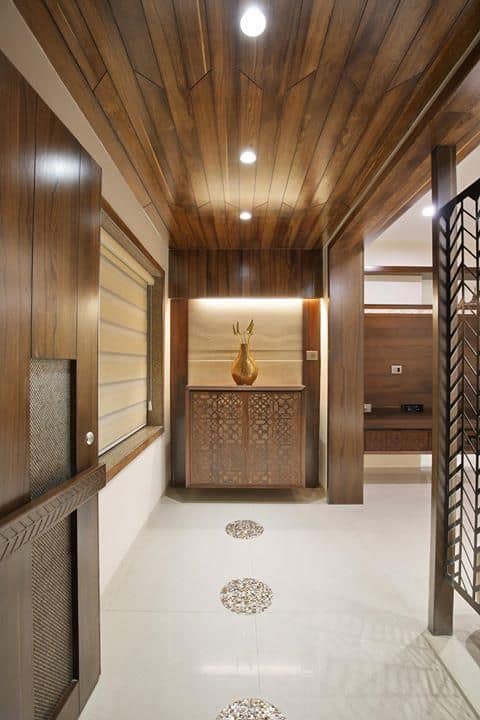 Image source: pinterest.com
It is important to be careful in choosing the kitchen's false ceiling wooden design. Also, the ceiling has to be built at a significant height from the hob. Use wooden panels with a class A fire performance to protect the ceiling from fires.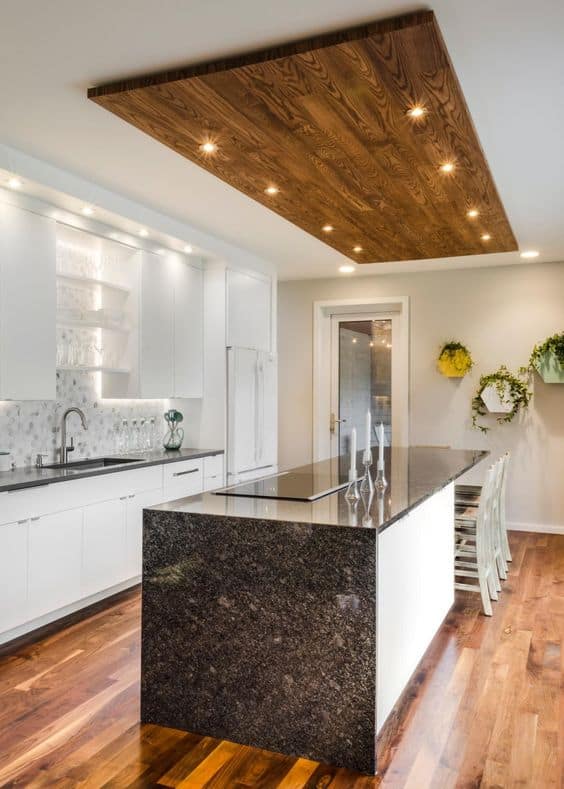 Image source: pinterest.com
Homes are not the only places where wooden false ceilings are used. They can also beautify commercial spaces.
The wooden false ceiling design in this commercial lobby aims to impress. It brightens up an otherwise dull space. Also, the suspended art installation is grand. The simplicity of the wooden false ceiling balances it.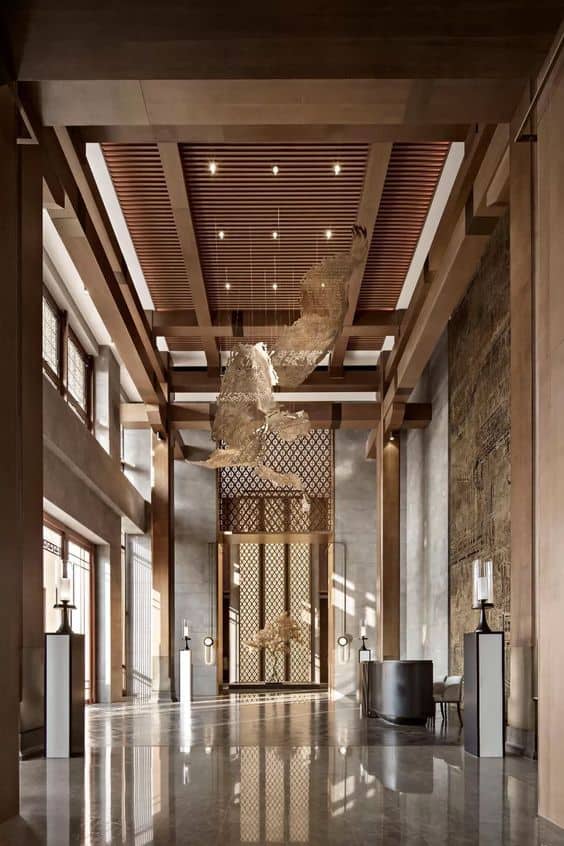 Image source: delightfull.eu
Designer wood ceilings in the dining room
A wood false ceiling in a dining room matches well with the usual wooden dining room furniture. Also, simple wooden false ceiling designs work well in dining rooms.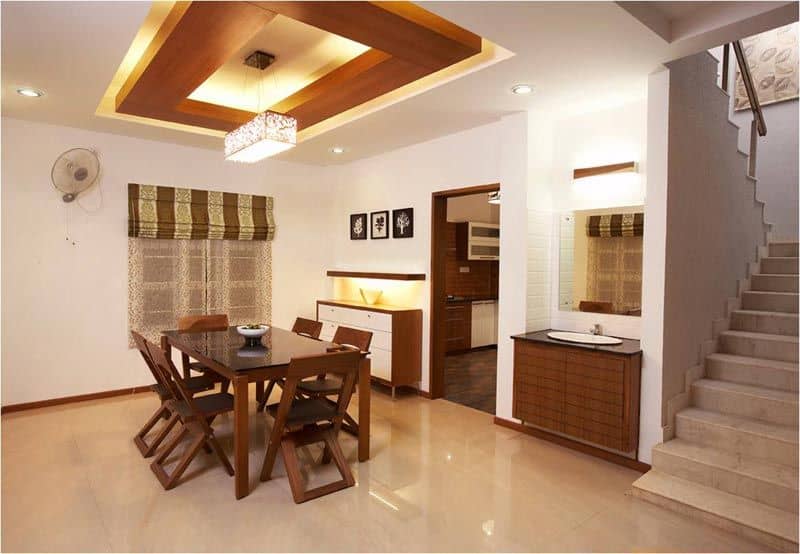 Image source: savioandrupa.co
The common belief is that wooden false ceilings are better suited for homes. However, an office space that has wooden furniture will become much more interesting with sleek wooden designer ceiling designs.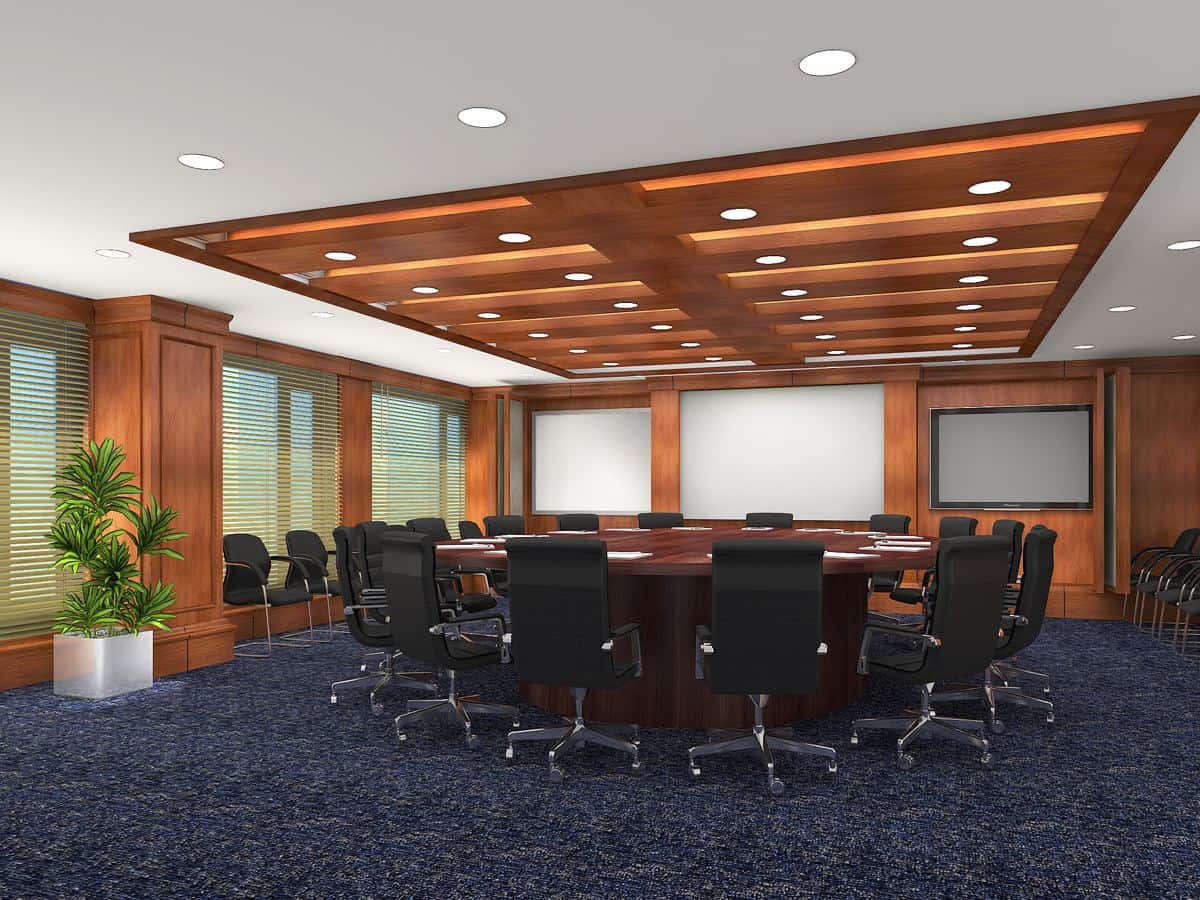 Image source: 1001homedesign.com
How is a wooden false ceiling installed? 
Firstly, install a wooden frame that accommodates the structure planned.
Mark the height at which the ceiling will be installed from the floors.
Add wooden struts to support the structure.
Install the wooden panels with proper equipment.
Leave adequate space for lighting and insulation.
Make sure to finish the wooden false ceiling with numerous options and combinations of finishes like melamine, natural varnished wood, lacquers, laminates CPL, HPL, etc.
Conclusion
A wooden false ceiling is your ultimate go-to when it comes to getting a natural look for buildings. It has a warm and rustic touch. Thus, it appeals to our aesthetic sensibilities.
The advantages of wooden ceilings are plenty. Although the cost of a false ceiling is more expensive, these wooden ceilings offer great looks along with functionality. Also, the best part is that you can easily dismantle them for repair purposes.
Wooden false ceiling designs come in every shape and size. There is a range of design options to choose from, for both residential and commercial spaces.
Through this article, we brought forth the best design ideas for wooden false ceilings for you. The wood false ceiling designs- coffered, arched, and more, are great ideas for interiors. Also, design add-ons like skylights and extended panels look stylish.
The area-specific wood false ceiling designs are a collection of brilliant design ideas depending on the room they are for.
The installation of a wooden false ceiling should be done by an expert. Also, wooden false ceiling designs are only as good as the skills of the people working on them. Make sure to use a good finish.
Wooden false ceiling designs are always a good option. They are a spectacular way to make any space worth spending time in.
All images sourced from pinterest.com
If you want to buy top-quality ceiling solutions from the best brands, click on the link given below to check your options and submit your inquiries:
For more details, contact below:
Email: mukul.jain@buildingandinteriors.com
Mobile: +91 99676 32127
[vvsmustread]