Canadian Wood is noted for hosting a series of webinars on a variety of topics relevant to the Indian woodworking sector. Keeping up with the tradition, its upcoming webinar, 'WOODINNOVATIONS Door Industry – what's new, what's next?' will host knowledge-driven sessions.
T R Krishna Murthy (E Door Solutions – Hyderabad), Jitendra Goyal (Dormak Interio – Jaipur), and Capt. Edwin Saldanha (Doors & Doors Systems – Mumbai) are the renowned figures from the Indian door manufacturing industry and woodworking sector who will speak at the forthcoming webinar.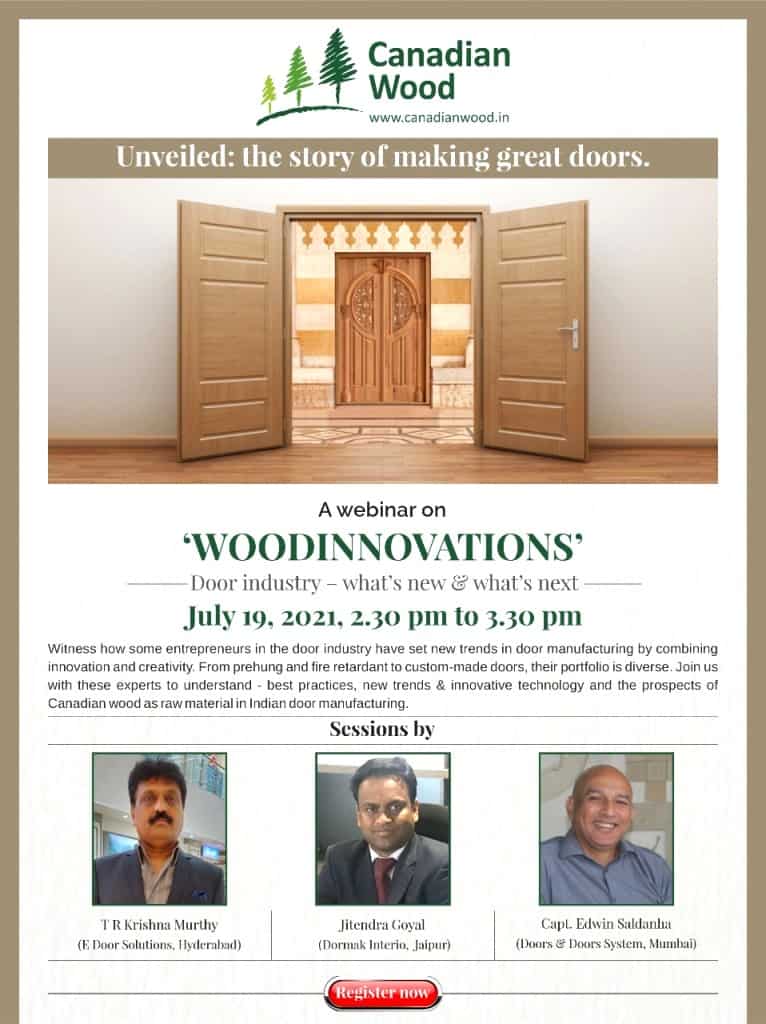 The webinar will highlight the notable integration of Canadian Wood species in the product ranges of reputable manufacturers, with an emphasis on benchmark door solutions by reputable manufacturers.
The 'WOODINNOVATIONS Door Industry – what's new, what's next?' sessions will highlight:-
1. Trends, innovation, and creativity in the door manufacturing industry.
2. An impressive door range that includes prehung, fire retardant, custom-made styles, and more.
3. Best practices in and effective use of Canadian Wood species for solid wood door manufacturing.
Registrations for the webinar are now open.
Reserve your spot and be a part of this enriching experience.
Day & Date:Monday, 19th July 2021
Time:02:30 PM to 03:30 PM
Contact:+91 22 492211600
REGISTER NOW!