Smart appliances are becoming increasingly ubiquitous in modern kitchens, and it's difficult to picture one without them. Consumers – especially luxury homeowners – demand appliances that are more than just utilitarian. They want their homes to be equipped with the latest, state-of-art technologies. Millennials in particular want touchless fittings, easy-to-clean surfaces, and HomeConnect app-controlled appliances that support healthy cooking. Regardless of whether you're searching for the next-generation refrigerator or want something that makes life a little easier, creating a smart kitchen is the ideal approach to revamp your space.
As per the National Kitchen and Bath Association, 2022 brought in a plethora of new design trends in kitchen appliances. Considering that the pandemic has reemphasized the value of leading a healthy lifestyle, a modern and cutting-edge category of appliances has emerged as the "need of the hour".
Today, when consumers are increasingly seeking personalized and easy-to-use products and/or experiences, the 3Cs – convenience, connectivity, and customization – must be the emphasis of product or technology-based innovation in home appliances. This can be achieved by integrating novel technologies such as IoT (Internet of Things) or AI (Artificial Intelligence) into products/ solutions. With the help of new technology, such as voice-activated coffee makers and Wi-Fi-enabled microwaves and refrigerators, managing daily tasks has become much simpler.
Here is all the information you need about smart appliances to assist you in creating the ideal kitchen design.
Factors driving the growth of smart appliances and current market dynamics
People are now staying at home much more than they did before the pandemic. As a result, there is a greater reliance on the internet and digital devices.  Since people are going out less often, the cost of living has substantially decreased. People's disposable income has increased as a result.
The demand for smart appliances has experienced rapid growth over the years. This is mostly a result of rising smartphone demand and increased internet usage. In the upcoming years, increased wireless solution availability would substantially boost the customer base for smart appliances. Users are drawn to embrace smart appliances because they are convenient to monitor on smartphones and tablets. Being able to access all the appliances at home through a single interface is another major benefit.
Due to the growing number of home improvement projects in western countries, a wide variety of smart appliances is surfacing. Additionally, quick breakthroughs in wireless communication and IT infrastructure make it simple to integrate household appliances that work with smartphones, laptops, and tablets. The main factors driving the expansion of smart appliances are the rising demand for technology adoption and growing concerns about home security.
The rising technical advancement towards the design of sophisticated homes and the need for luxury is boosting the need for smart appliances. Additionally, the promise of increased comfort when using these appliances, the time saved compared to operating them manually, and the reduction in power and energy consumed are factors responsible for the increasing popularity of smart home appliances.
In a nutshell, smart appliances are the IoT's household identity. One can control things like the temperature, lighting, and appliances in a smart home because all of the devices are connected to the internet. The self-learning capabilities of smart appliances allow them to rapidly adapt to the homeowner's work schedule.
Smart appliances – The need of the hour
The majority of people think that smart equals automatic. This is partially true, but not entirely. When something is smart, it can foresee your demands and respond appropriately to provide you with the best and quickest solution. When all the elements of a kitchen – lights, electronics, soft-close mechanisms, and countertops – are intelligent, the place might be referred to as smart.
Just a few years ago, voice assistants like Amazon Alexa and Google Assistant weren't commonplace items to have in your home. However, today, apps and voice assistants can now manage anything in your home, from lighting to the refrigerator. A smart machine that remembers your specific coffee preferences can completely change the way your mornings unfold. From your phone, you can communicate with your blender and microwave. Therefore, it's safe to say that even the most basic items we use on a daily basis have become pretty advanced.
Key features of smart appliances
What is the purpose of a smart kitchen? The obvious response is that it simplifies your life. But a smart kitchen offers many additional advantages. These include:
Hands-free cooking
After a long day at work, the last thing we want to do is spend an hour cooking dinner, even though we enjoy being engaged in the kitchen creating new Instagram-worthy dishes. Smart kitchen appliances can help in this situation.
Time-saving
Smart appliances will undoubtedly save you time, which is something we could all use more of. It can be difficult to get everything done in a day while juggling work obligations, online lessons for the kids, and keeping up with friends. With high-performance cooking modes and a dedicated mobile app that may enable smart functions, you always have a sous chef by your side.
You have nothing to worry about if you own a smart appliance! Now compatible with Google Assistant, Google Home, and Alexa, smart appliances respond to basic voice requests and instructions. It's simpler than ever to interact with smart appliances, and voice command technology is continually being updated and enhanced. Asking your oven or dishwasher to switch on/off is now simple and can be done from the comfort of your seat!
A guided cooking experience
More intelligent than ever, smart appliances collaborate with apps that employ picture recognition technology to suggest recipes based on the ingredients you already have in your pantry. Special diets, food allergies, etc. are all taken into account by the smart appliance integrated apps of today.
Wi-Fi connectivity
Technology makes it possible to create an ergonomic kitchen design. For improved functionality and a more interactive experience, these appliances, like other smart technologies, are integrated with sensor technology, a certain amount of computing power, one or more actuators, and communication capabilities like Bluetooth or Wi-Fi. So, you may access them from a distance. Moreover, smart technology can send alerts in the event of a breakdown, preventing any mishaps or accidents.
Kitchens of the future
What's trending in the kitchen sphere? A lot, turns out. In the upcoming years, your kitchen may become quite high-tech thanks to AI, connected appliances, and robotics. The kitchen of the future will be an extremely versatile, hyper-connected, and health-focused area. With smart appliances and connectivity, it will enable its use as a space for unwinding and well-being.
Following are a few kitchen technology innovations that we may see in the next 5-10 years:
Rise of IoT
In the future, more appliances in your kitchen might be able to talk to one another over both short and long distances, but not just through smartphone apps. They will have varying levels of intelligence enabling them to report, react, interact and make decisions. Future smart appliances will be able to speak with one another without any issues and have a greater understanding of their own capabilities. Many of the interactions will be so natural that we will be unaware of them. Semiconductor players will be at the forefront of innovation, driving the rise of the Internet of Things both globally and in India. This is true whether you're talking about the intelligent "things" or the network that allows them all to connect, share, store, and analyze data. New degrees of ease within and outside the home will be possible thanks to data sharing between appliances.
Interactive cooking surfaces
Interactive induction hobs are unquestionably the technology of the future for stove cooking. Additionally, technology doesn't stop there. Synced hoods will project recipes, culinary tips, and other useful notes directly onto the counter surface from above. The Virtual User Experience (VUX) technology, created by light projection on different areas of the worktop, is soon going to be a standard in kitchens.
Smart refrigerators to keep track of what's inside
Brands like Siemens are making great strides to provide individual cooling zones so that refrigerated goods can be kept at the optimum temperature. Future refrigerators probably will be able to monitor what is stored within as well. Future refrigerators will be able to identify what's inside without any user participation. Barcode scanners or pressure sensors embedded in the refrigerator shelves are likely to be used for this.
Automated appliances
The user can receive recipe recommendations from smart appliances based on meals they've previously prepared and enjoyed. In addition, kitchen appliances might become so automated that they could advise you on what to eat depending on your dietary or medical requirements. A robot appliance will handle everything from choosing the recipe to locating and delivering top-notch ingredients to preparation and cooking.
Must-have smart appliances to transform your kitchen
In order to satisfy consumer demand for cutting-edge smart products, premium brands like Siemens are concentrating on growing their product lines and blending luxury with functionality. Siemens' innovative technologies will make your kitchen smarter and more self-sufficient than ever before.
Following is a list of the appliances you need in your kitchen for the next level of connectivity.
Wi-fi enabled induction
Enthusiast chefs will find smart hobs to be a great option because they allow you to prepare multiple dishes. Many smart hobs automatically connect with your extractor hood as well, enabling communication between these smart appliances. With auto-connectivity, your extractor turns on when your hob is turned on, saving you time while you're cooking.
Siemens induction hobs make cooking more flexible and convenient. Offering audio signalling and connectivity with smartphones, these induction hobs can be made zone-dependent or turned on/off, even when you're away. Another advantage of Siemens induction hobs is the hood-hob sync function which makes the cooking experience even more intuitive.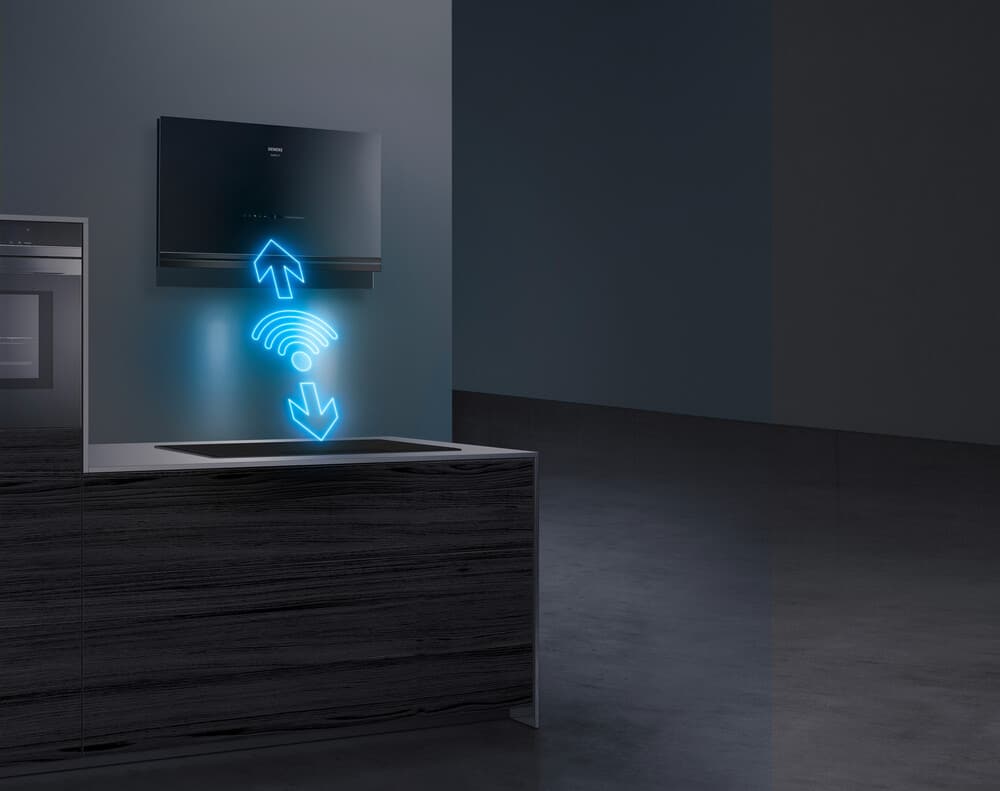 Siemens StudioLine kitchen hoods feature the latest innovations to enhance the cooking experience. Equipped with the CookConnect System, they allow you to control the hob while the hood sensors monitor your cooking technique and adjust the settings for you. Another showstopping feature of the range is EmotionLight. It allows you to select your preferred background light from a palette of 256 colours. In addition, other features such as easy monitoring with smartphones and timely maintenance notifications make the appliance smarter.
Intuitive oven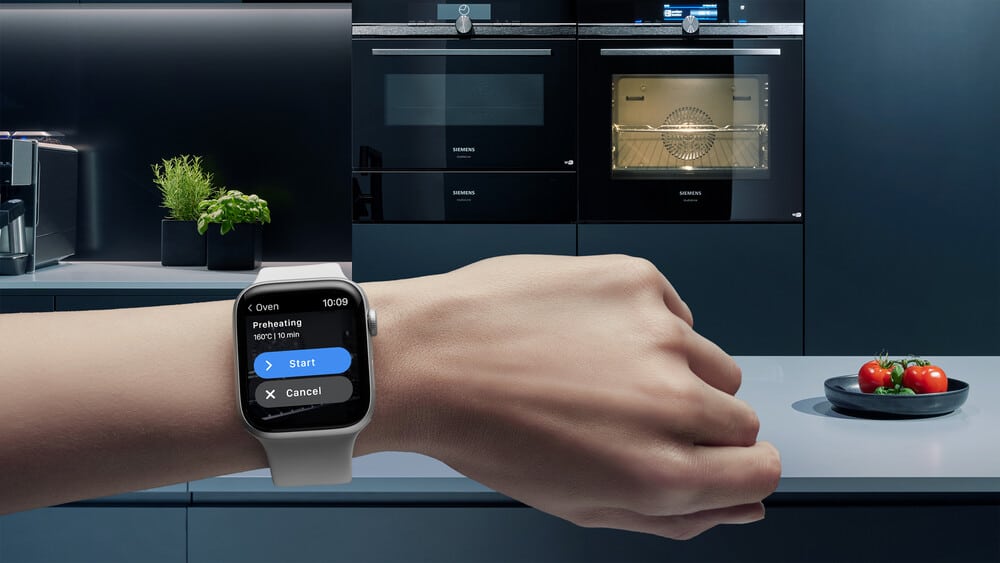 A smart oven that combines the latest technology and superior performance is the need of the hour. The iQ700 range by Siemens features ovens with hands-free operation. It allows you to start and stop cooking programmes and change settings like heating mode, temperature, and running time with the help of an app. Additionally, for an effortless cooking experience, use the extensive collection of recipes that you can share with your oven through your Wi-Fi along with the ideal settings for the dish. Moreover, the app allows you to wirelessly check the running time, temperature, and other settings even when you're not home.
Dishwasher with voice assistant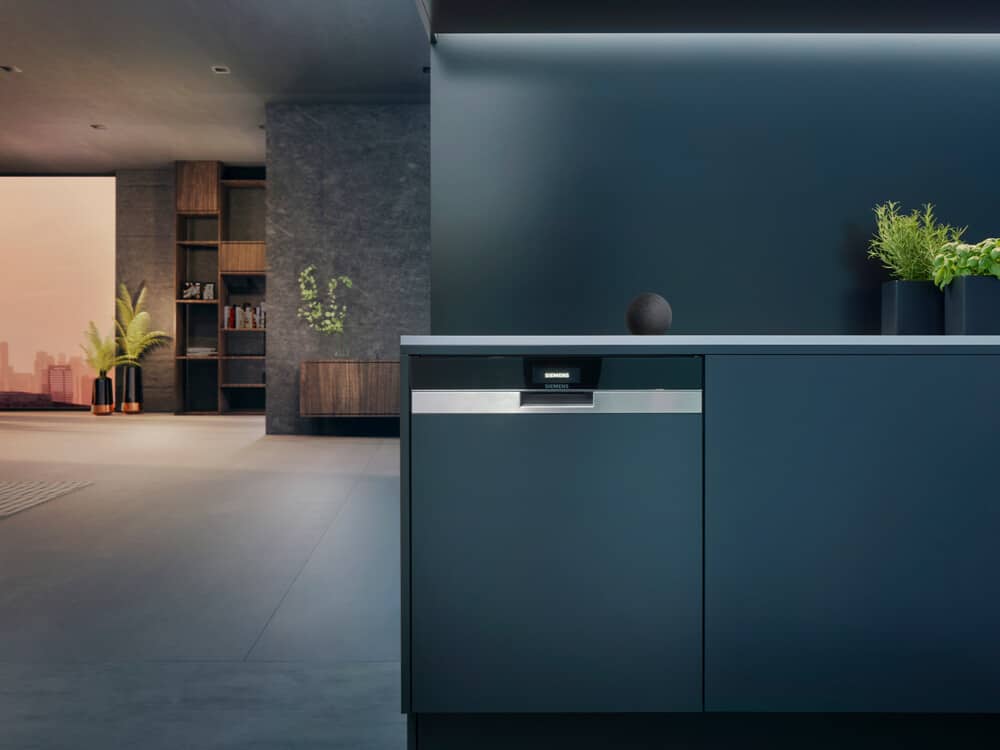 Discover a clever way to follow every action made by your dishwasher with remote monitoring through the HomeConnect app. With Siemens dishwashers, you can easily access the status of your dishwasher with just a few touches, even remotely. The HomeConnect app notifies you of all the crucial updates on your smartphone or smartwatch. Also, it periodically prompts you about low rinse aid, salt levels, and low detergent levels. It effortlessly interacts with Google Assistant and Alexa for voice assistance. Therefore, it allows you to turn your dishwasher on/off or check the length of the washing cycle. Moreover, the HomeConnect app gives you the ability to save all of your favourite programs on the home screen. This guarantees quick access and improved navigation.
App-controlled refrigerator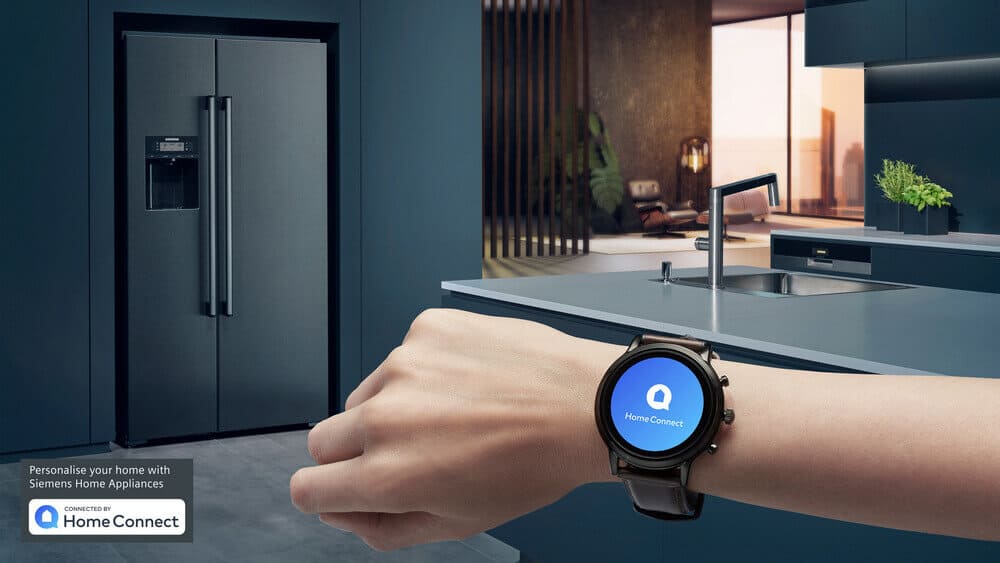 For several years now, smart refrigerators have sparked a lot of buzz. Not only do they cool your food items, but also allow you to make recipe indexes, watch TV on the display, write quick notes and reminders, set expiration dates for what's inside, and do many other things.
Siemens smart refrigerator with HomeConnect is the ideal way to keep your food at its best. It allows you to adjust the cooling settings even when you're away. Moreover, you may configure push notifications to alert you whenever the door has been unintentionally left open or when the temperature threshold has been exceeded.
Siemens HomeConnect – Redefining comfort living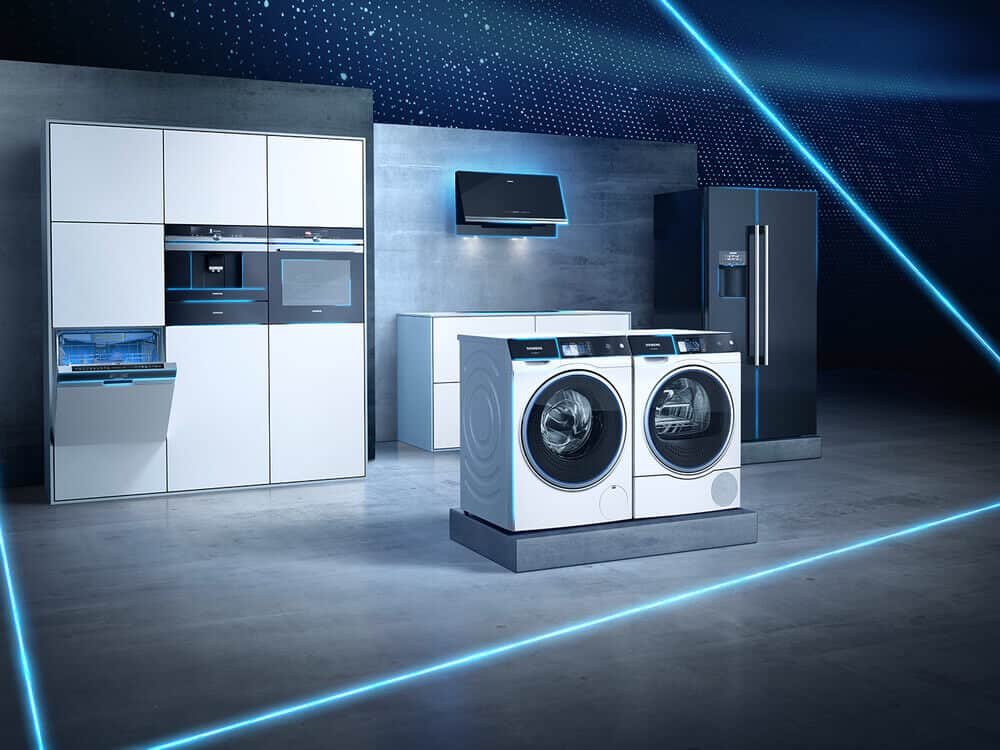 Discover how connectivity transforms daily life with Siemens HomeConnect! Manage your Wi-Fi-enabled Siemens Home Appliances on your smart devices with the HomeConnect app. As a result, this technology allows you to create a connected home.
The ground-breaking HomeConnect app provides a number of unique & innovative features – from researching fresh recipes to remote refrigerator diagnosis. For example, you might use Amazon Alexa to set up your oven. Also, you might use the same to change the colour of your hood to alter the mood in the kitchen. Technology by Siemens gives you more time and flexibility while also enhancing your life.
Available on the Apple App Store and Google Play Store, HomeConnect app is compatible with Amazon Alexa, Google Assistant, IFTTT, Kitchen Stories, and Fitbit.
Conclusion
Modern kitchens are a reflection of how our habits and lifestyles have changed in tandem with the ongoing innovation in appliances and shifting global preferences. In India, the market for smart kitchen appliances is growing due to a number of reasons. Smart appliances are evolving to improve the utility and standard of modern kitchens in an effort to make spaces smarter.
Nowadays, ovens with Wi-Fi connectivity to adjust the temperature and cooking mode in accordance with a specified recipe, inductions cooktops with cooking zones that adjust to the size of your pan, auto-connected hobs and hoods, and app-controlled refrigerators featuring smart displays are becoming increasingly popular. While there are many other types of smart kitchen appliances available, these are a must-have in your house.
Have we yet persuaded you to replace the outdated appliances in your kitchen? If yes, bring home smart appliances by Siemens and upgrade your kitchen to the next level. Siemens kitchen appliances offer the ideal mix between contemporary design and cutting-edge technology. So, create the ultimate kitchen with Siemens!
[vvsmustread]