Tiles are a great asset to home decor as these breathe character into a space. These tiles come in a wide range of designs and textures suited for walls and floors of bedrooms, kitchens, bathrooms, commercial spaces etc. Tiles are durable and easy to maintain which has made them popular among homeowners. With an increase in demand, top tile manufacturers in India are producing new-age designs with the help of innovative technology and strict quality control. Among these tile makers, Kajaria Tiles has emerged as the market leader, being the largest manufacturer of tiles in the country. Kajaria Tiles has a wide array of tiles in different finishes and price points for the walls and floor, with individual collections dedicated to wet areas like the bathroom, pool deck and outdoors. Moreover, with the well-developed network of Kajaria dealers in the India, one can easily find Kajaria tiles 'near me'.
While selecting tiles you can choose from glazed or polished vitrified tiles and different styles of ceramic tiles. Keep reading to learn about the wide range of tiles made by the company. Also, you can send in your enquiries to buy tiles at the best prices. 
About the company
Kajaria Tiles also known as Kajaria Ceramics is one of the biggest manufacturers of ceramic/vitrified tiles in India. The 9 manufacturing units spread across the country use new-age cutting-edge technology like robotic car applications and automation to produce durable products.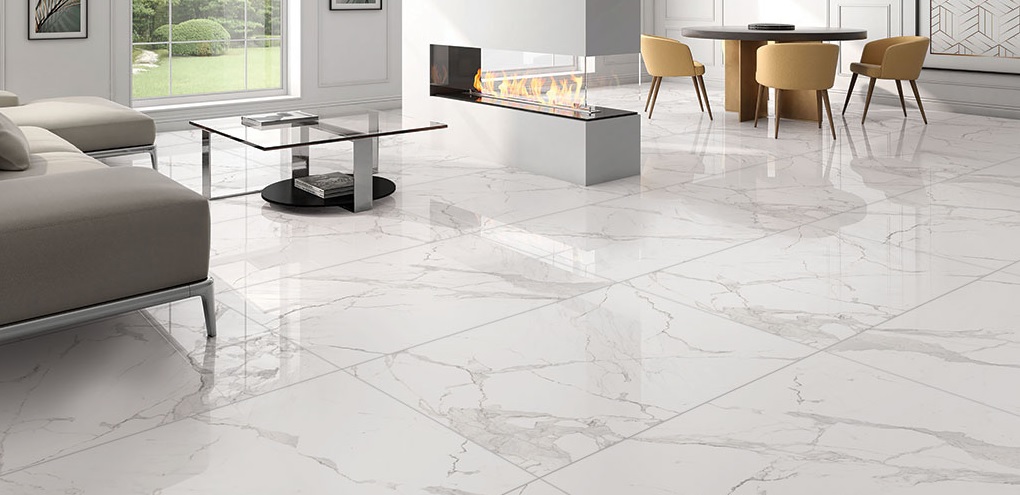 Image Source: Kajaria Ceramics
The Eternity Glazed Vitrified Tiles from the company are known for their beauty. Made with the unique Nano Polish technology, these tiles are scratch-proof and stain resistant. The vitrified tiles collection at Kajaria ceramics is made of a wide variety of designs like The Ultima range which offers expansive and elegant designs. Similarly, their Delphi range has eco-friendly tiles designed in natural patterns. Other exclusive ranges include The Megalith and The Slim. The price range for the Kajaria Eternity Glazed tiles starts at Rs. 65 per sqft.
View full catalogue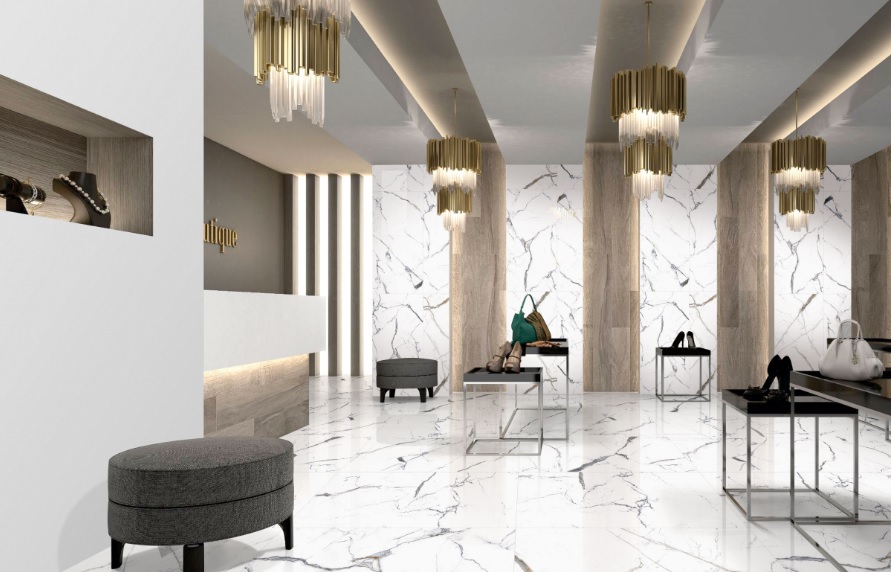 Image Source: Kajaria Ceramics
Kajaria Tiles has an ultra-luxurious range of ceramic wall and floor tiles. Made with high-end technology, these ceramic tiles give an upscale look to the space. The ceramic tiles are durable and easy to maintain. The ceramic tiles made by the company include The Italian collection which is a mix of Indian design and Italian work ethics. Another famous range by the company is DuRock which has sturdy outdoor tiles in a wide array of colours and styles. Gres Tough and Royal are also popular Ceramic tile ranges by the company. The price for Kajaria ceramic tiles starts at approximately Rs. 70 per sqft.
View full catalogue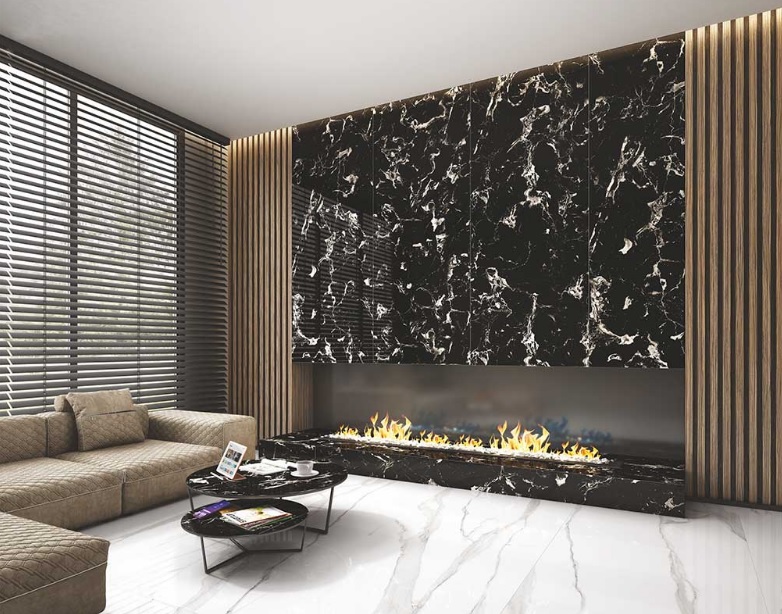 Image Source: Kajaria Ceramics
An epitome of strength and splendour, the polished vitrified tiles exhibit the expertise of the team at Kajaria Tiles. The vitrified polished tiles have a mirror-like finish, which gives a look of grandeur to a space. Their collection includes Vitronite, which is designed to help customers create glamorous surfaces. On the other hand, the Duratech line is made of textured tiles influenced by the Indus Valley civilization. Other top-rated ranges in the polished vitrified tiles category include Solitaire Plus and StepStone. The price for Kajaria Polished Vitrified tiles is around Rs. 86 per sqft.
View full catalogue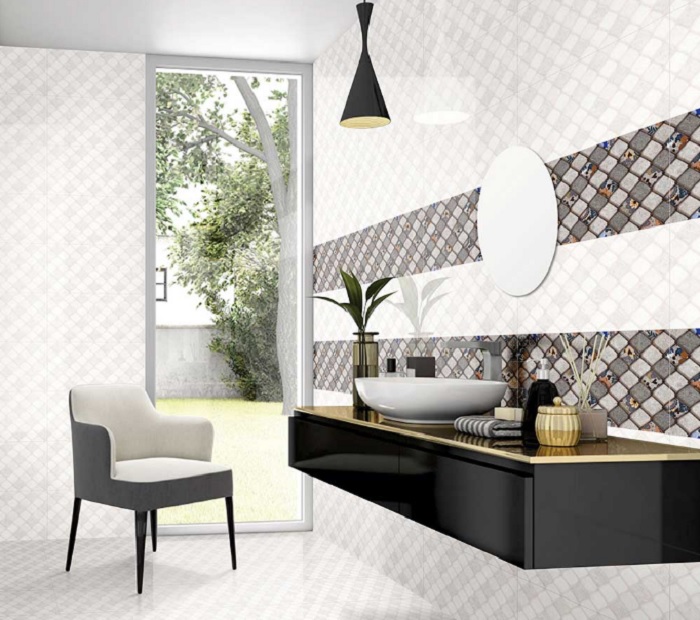 Image Source: Kajaria Ceramics
The bathroom wall tiles range at Kajaria Ceramics consists of ceramic tiles, glazed vitrified tiles, and polished vitrified tiles. An epitome of class and luxury, these tiles are perfect to give your bathroom a makeover. The Kajaria bathroom tiles are available in different styles, patterns, colours and finishes. 
If you're looking to transform your living room into a stylish and trendy space then the wall tiles by Kajaria are perfect for you. Available in a wide range of eye-catching designs and unique patterns these tiles have been crafted using new-age methods.
The exquisite range of kitchen tiles has innovative designs. These tiles are known for their durability and the team of experts at Kajaria Tiles ensures that their products undergo a series of quality checks. The designer kitchen tile range comprises mesmerising motifs, patterns and colour schemes. The wide variety of tiles caters to the tastes and preferences of each customer. 
The collection of robust outdoor wall tiles offers stain and moisture resistance. Perfect for stylish interiors, these exterior tiles are made using new-age methods to guarantee durability. These tiles are available in different designs, sizes, and colours to help the homeowner create a tailor-made look as per their needs.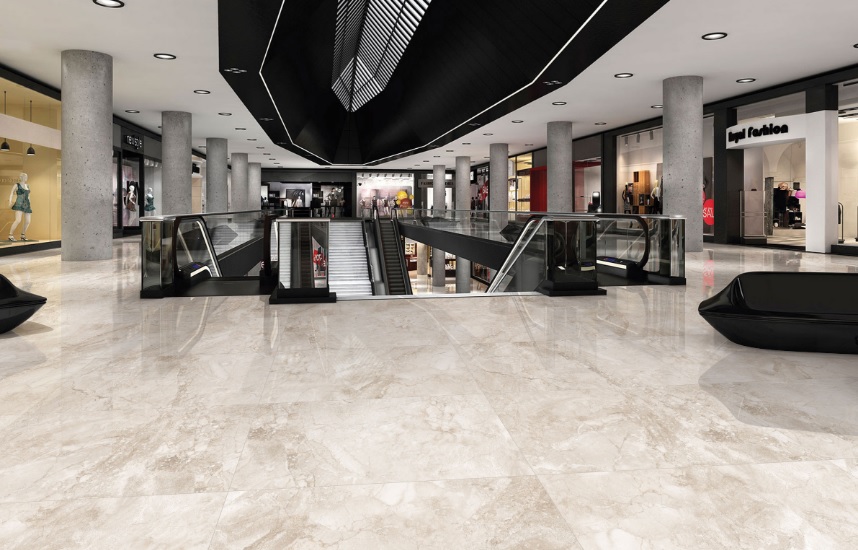 Image Source: Kajaria Ceramics
Kajaria's grand range of kitchen tiles is a perfect mix of appealing colours, stylish finishes and artistic designs. Made using state-of-the-art technology, these tiles are a feast for the eyes. A team of experts ensure that each tile represents the company's mission of providing high-quality products to customers.
The company makes a massive range of tiles catering to commercial spaces. Each tile is manufactured using the most advanced equipment. These exquisite floor tiles are suitable for offices, shopping malls, restaurants, hotels, and boutiques among others.
If you are looking to revamp your bedroom, then Kajaria Tiles has an eye-catching range of bedroom floor tiles. These durable tiles will instantly brighten up your space. You can choose from wooden rustic designs or glossy marble patterns. These tiles are available across different price points, dimensions, and textures. 
Kajaria Ceramics is known for its anti-slip floor tiles which are suitable for bathrooms, pool decks, kitchens, ramps, etc. These tiles are made in a wide range of designs, colours, and sizes, with an emphasis on the safety needs of the customer. Durable and stylish, these tiles are perfect for homeowners looking to add that extra zing to their spaces.
Finishes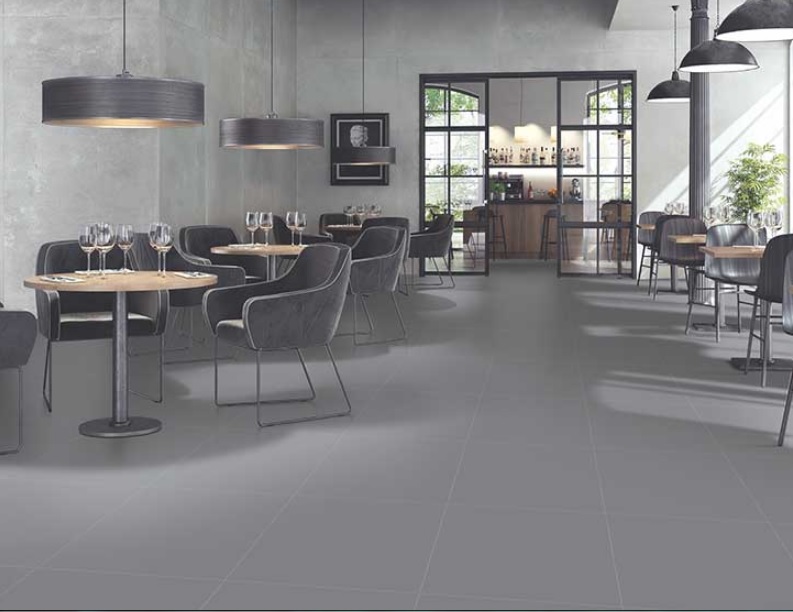 Image Source: Kajaria Ceramics
The unique tiles by Kajaria Ceramics are available in an unmatched range of finishes. The types of exclusive finishes include Polished, Matt, Gloss Matt, Metallic, Marbletech, Superwhite, Carving, and Rotomatt. The Marbletech finish copies the look of natural marble, while the Superwhite finish gives an illusion of pure white spaces. Additionally, the Carving finish enhances the crevices and grains of the surface to give a rustic feel to the space. The  Gloss Matt and Metallic finishes are emerging as top choices to create a classy and timeless look and feel for the home.
Kajaria tiles price list
The team at Kajaria Ceramics designs tiles keeping in mind the needs of the user. Their aim is to provide artistic designs at budget-friendly prices. Here is a price list with the starting range of all types of tiles offered by Kajaria:
Kajaria Tiles 'Near Me'
The company has produced over 3000 designs, suitable for residential and commercial spaces. With over 34 years of expertise in the tile manufacturing segment, Kajaria Ceramics has an unparalleled distribution network throughout the country. These Kajaria Tiles dealers 'near me' ensure that customers can transform their spaces into luxurious abodes. 
Conclusion
Tiles are the perfect addition to your walls and floors while constructing new spaces or redoing old ones. Tiles are slabs made using a mixture of sand, clay, and quartz. Moreover, with the changing design trends, tiles are being used to add a luxurious touch to spaces. Therefore, top tile brands like Kajaria Tiles are making innovative and high-quality designs at a budget-friendly price which has made them the biggest tile manufacturer in India. You can choose from a wide range of tiles that can be used as alternatives for marble and wood flooring.
Now, you have all the information about the styles, textures and designs of tiles by Kajaria Ceramics. So, go ahead and submit your enquiries for the most suitable tiles for your space.
*The featured image used in this article is from Kajaria Ceramics
[vvsmustread]