Merino Plywoods- Tuff | Plywood boards
Merino is one of the world's biggest manufacturers of decorative laminates. Its vast range of architectural products opens infinite design possibilities for the buildings. Merino believes in constant innovation for a more promising future of the construction and interiors industry. It ensures the manufacture of laminates and plywood that match the global competitiveness in terms of quality, durability, and strength. Merino Plywood uses the leading technology to give maximum strength to the plywood. Merino Tuff Plywood is one such product that has remarkable strength and weather resistance.
About the Product
Merino Tuff Plywood is superior quality plywood that performs exceptionally in adverse conditions. It is a BWP plywood which means that it is resistant to water and moisture damage. Merino Tuff Plywood is made from the best quality hardwood layers for its core, top and bottom. It goes through heat treatment to make it extremely durable and completely calibrated.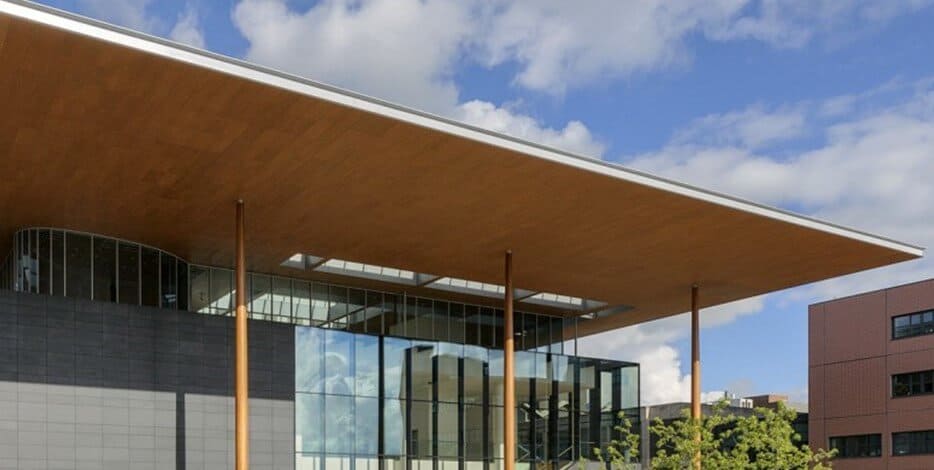 Hunter Douglas Veneered Wood Exterior Ceilings are commercial ceilings. These are all-rounder wooden ceilings design will flatter any setting or theme and it packs strength against heat, wind, UV rays. The specifications of the ceiling solutions The ceiling combines the organic aesthetics of natural wood veneers with the design flexibility of the Medium Density Fibreboard core. As a result, the ceiling solutions become extremely v
Product Description
Merino is one of the leading brands in India dealing with decorative and designer laminates. Moreover, Merino's Tuff BWP plywoods are one of a kind, they are beautifully crafted laminates in the best quality wood and finished with premium wood veneers. Also, these all-rounder plywoods are versatile in their application, can be used for doors, counters or headboards in your bedroom, all in a budget-friendly price range.
Merino Tuff plywood specifications
1. Firstly, it is BWP plywood engineered to resist water damage.
2. Secondly, the Merino Tuff laminates are biologically and chemically durable due to the phenolic formaldehyde resin component made in-house at Merino.
3. Thirdly, top-quality wood veneers are selected for a quality finish of Merino boards and laminates.
4. The Dual Hot Treatment makes the plywood laminates fully calibrated for a smooth and even finish.
5. Also, Merino laminates are highly resistant to termites and fungal attacks.
6. The fully calibrated boards has a uniform thickness throughout the length.
7. Additionally, made from high-quality wood, the plywood is termite and borer proof.
8. Merino laminates come in the following thicknesses- 6 mm, 9 mm, 12 mm, 16mm, 19 mm, and 25 mm.
9. The product comes with a 25 years warranty from Merino.
10. No delamination takes place.
11. Finally, these do not have any cracks or tears.
So, call us now to know more about  Merino Tuff plywood range and price details!
Contact Details
M: +91-9967632127
Email: support@buildingandinteriors.com
Brand Info
Merino
https://www.merinolaminates.com/en/