Like any other piece of furniture, entertainment units or modern TV units are often huge and take up a lot of space. A TV unit adds visual appeal and storage space. They're ideal for establishing a focal point in large open-plan homes. When it comes to TV stand design, we all have distinct tastes and preferences. However, recently the need for minimalist and contemporary TV unit designs in a variety of shapes and sizes have increased. Now, we require TV unit designs that complement our modern apartment halls, living room walls, or compact bedrooms. This trend may be seen in the recent TV unit designs on the market. Additionally, the TV unit decor aesthetic should complement the rest of your home design. So, in this article, we have handpicked the most popular types and designs of TV units in India. 
6 Types of TV units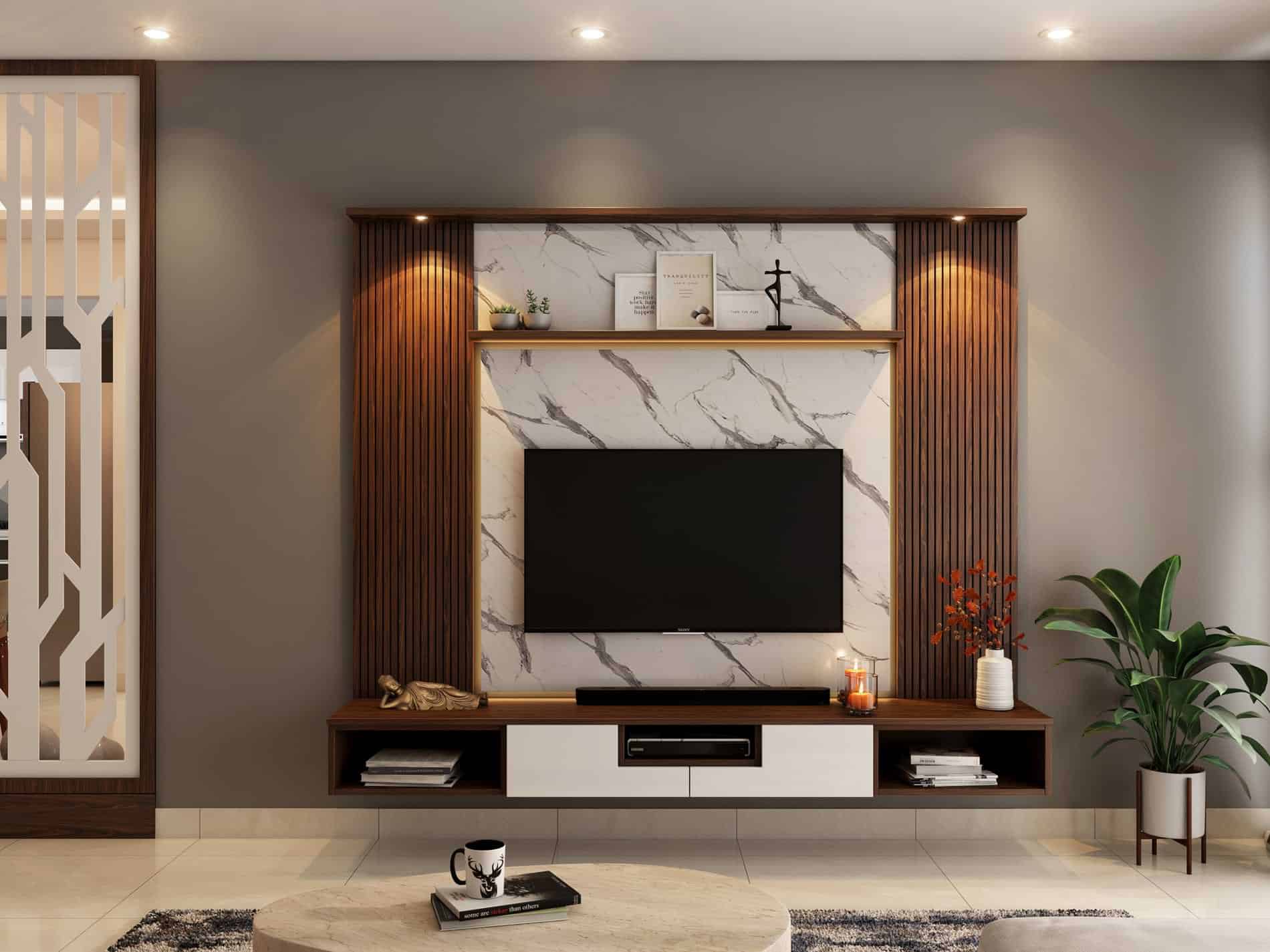 Image Source: Timber Carve
One of the most common styles is a TV stand with an open shelf. The most common types of wall-mounted TV units are straightforward pieces of furniture in the shape of a low bookshelf with two or three shelves beneath the top surface, on which the television will be mounted. More elaborate types of wall-mount TV units may come with a bracket for mounting the television. These TV stands can look excellent if they're kept tidy and the shelves aren't crammed with too many objects. They're ideal for compact spaces since they're open piece of furniture that draws the eye to the rear of the shelves, giving the impression of a bigger space.
Urban wood, Ource Wooden Wall Mount TV Unit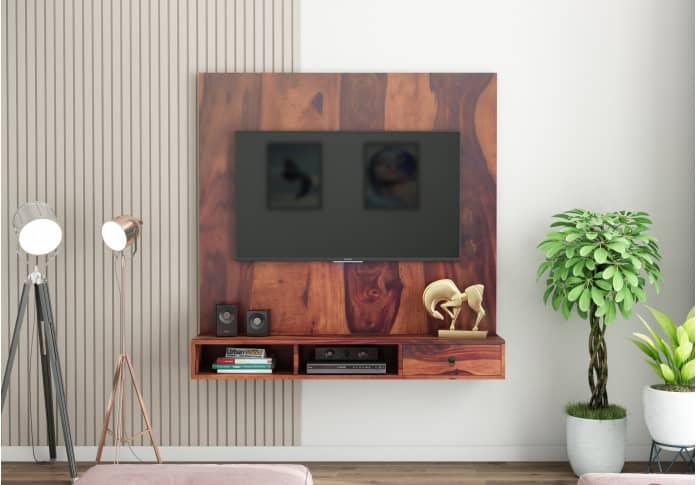 Home Centre, Quadro Wall TV Unit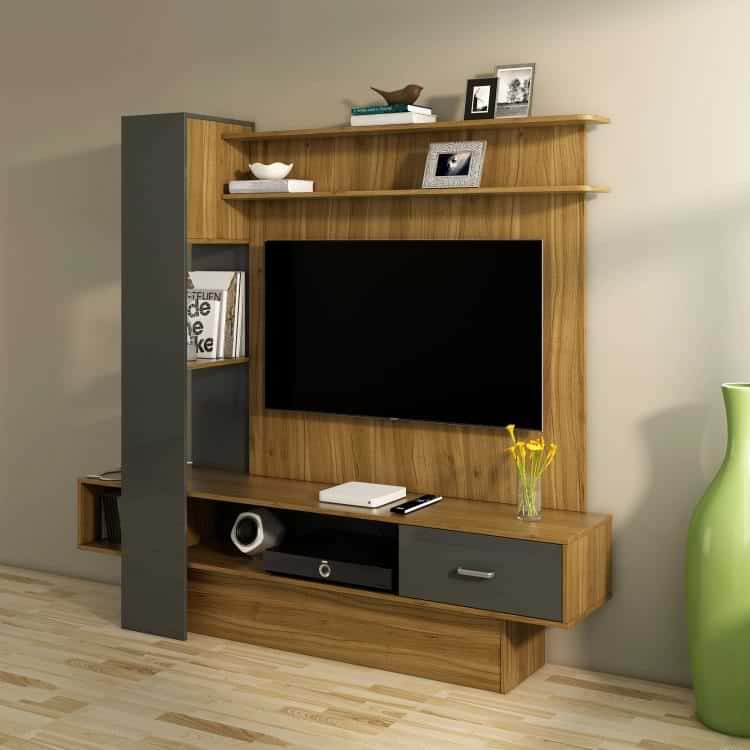 Heera Moti, Boat TV Wall Mount Unit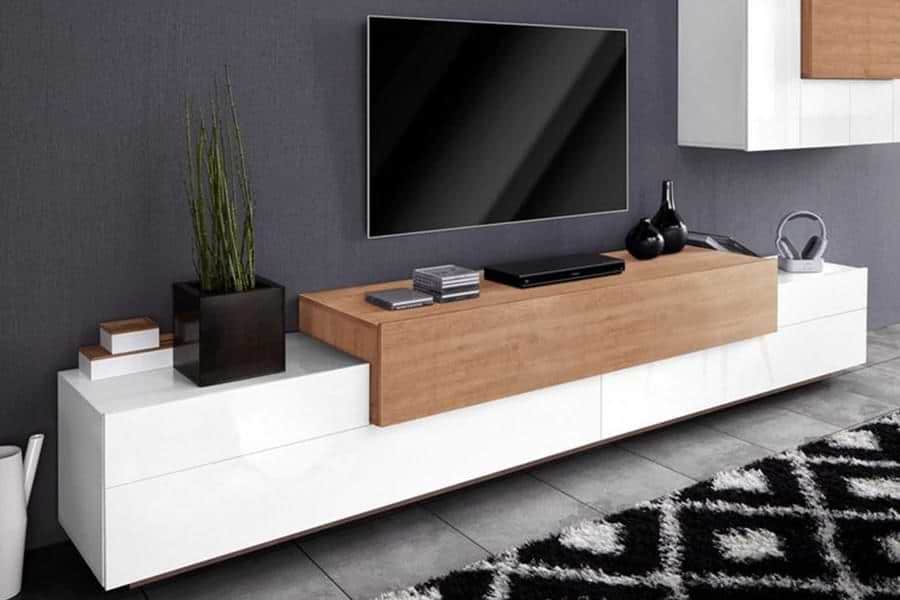 BoConcept, Lugano modern TV unit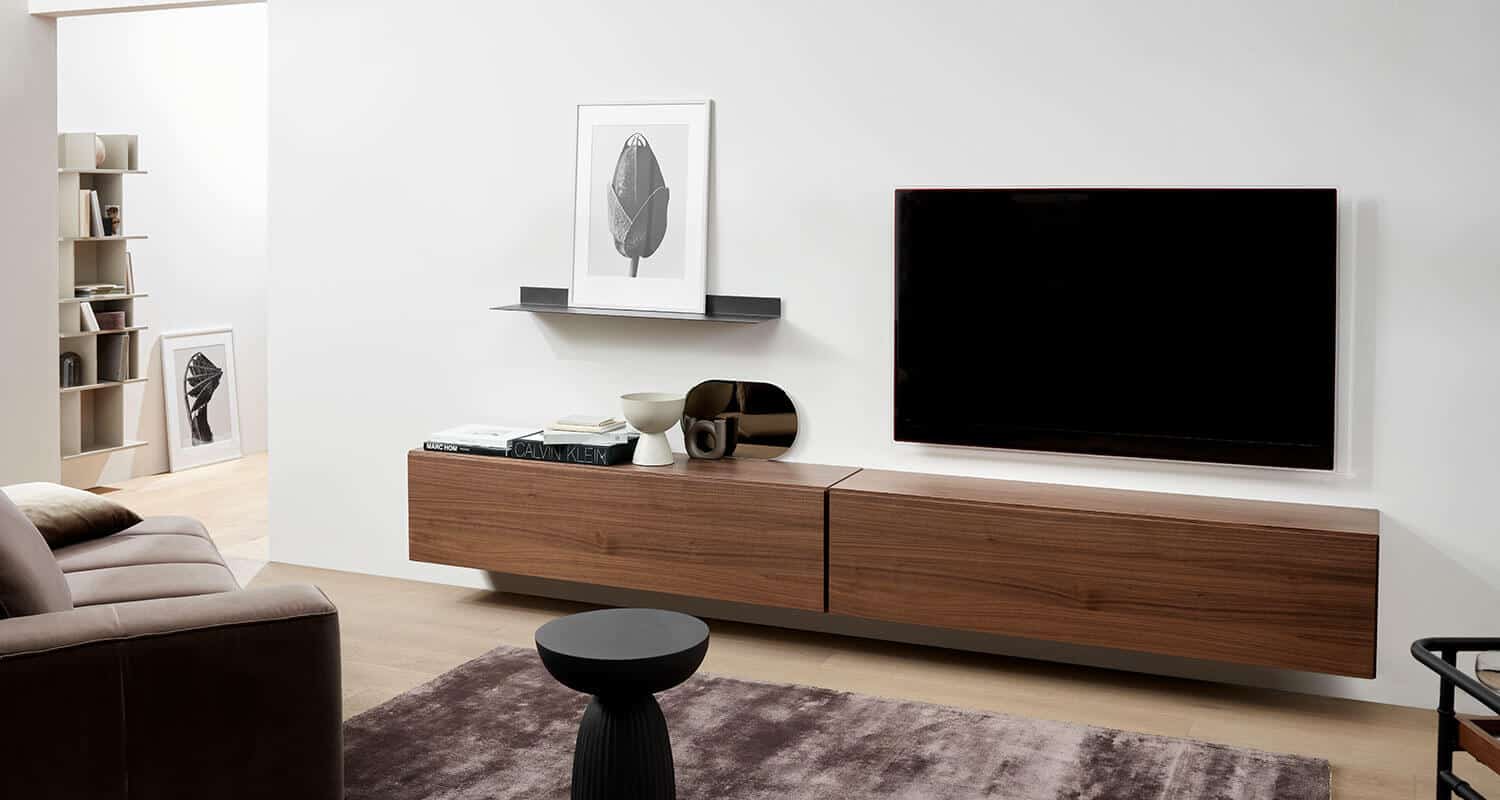 GKW Retail, Floating TV Stand
Console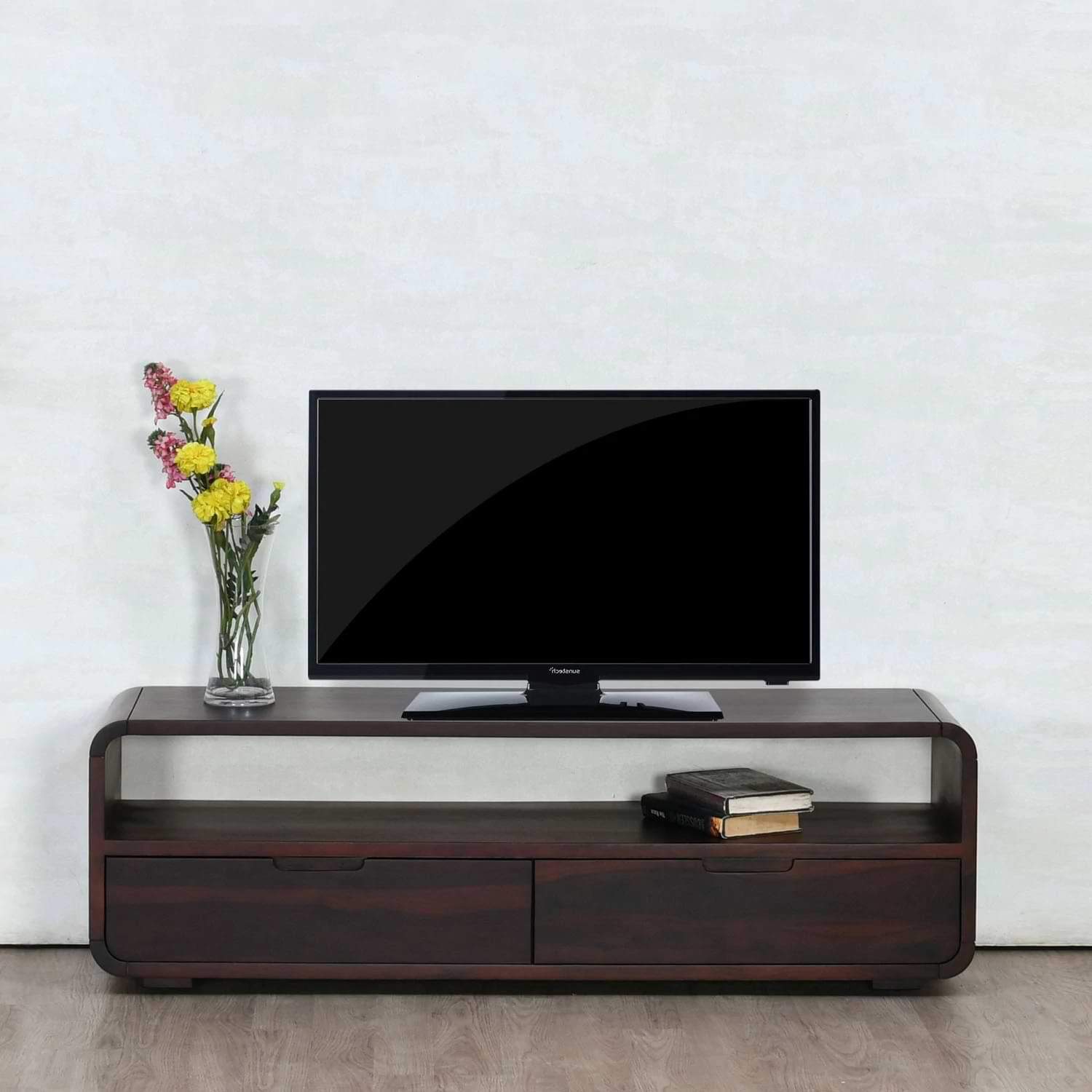 Image Source: Home by Nilkamal
TV stands with closed shelving underneath are more commonly known as console tables. Console tables often come with a plain, flat surface to place your television. Below are hidden shelves that provide lots of storage space. The benefit of closed shelves, which are normally hidden behind a sliding door or a cabinet-style hinged door, is that any clutter is hidden from view. Thus, giving your living area a cleaner and more modern appearance. The doors also help in keeping your belongings clean by preventing dirt and dust from getting onto them. 
Godrej Interio, Cesar Media Console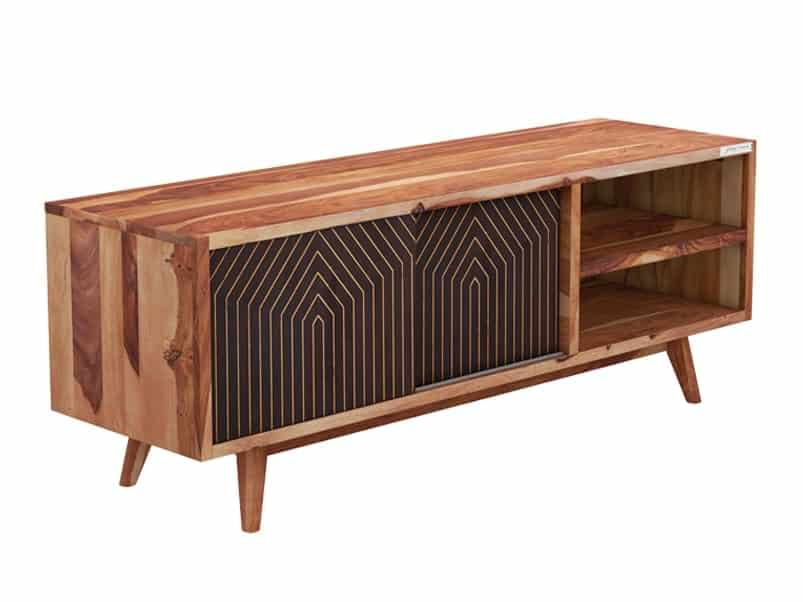 Gulmohar Lane, Colaba Leather TV Console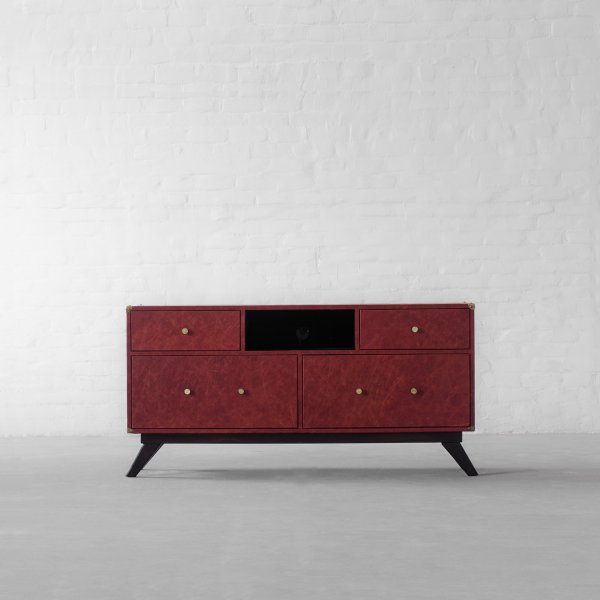 West Elm, Rosanna Ceravolo Media Console Table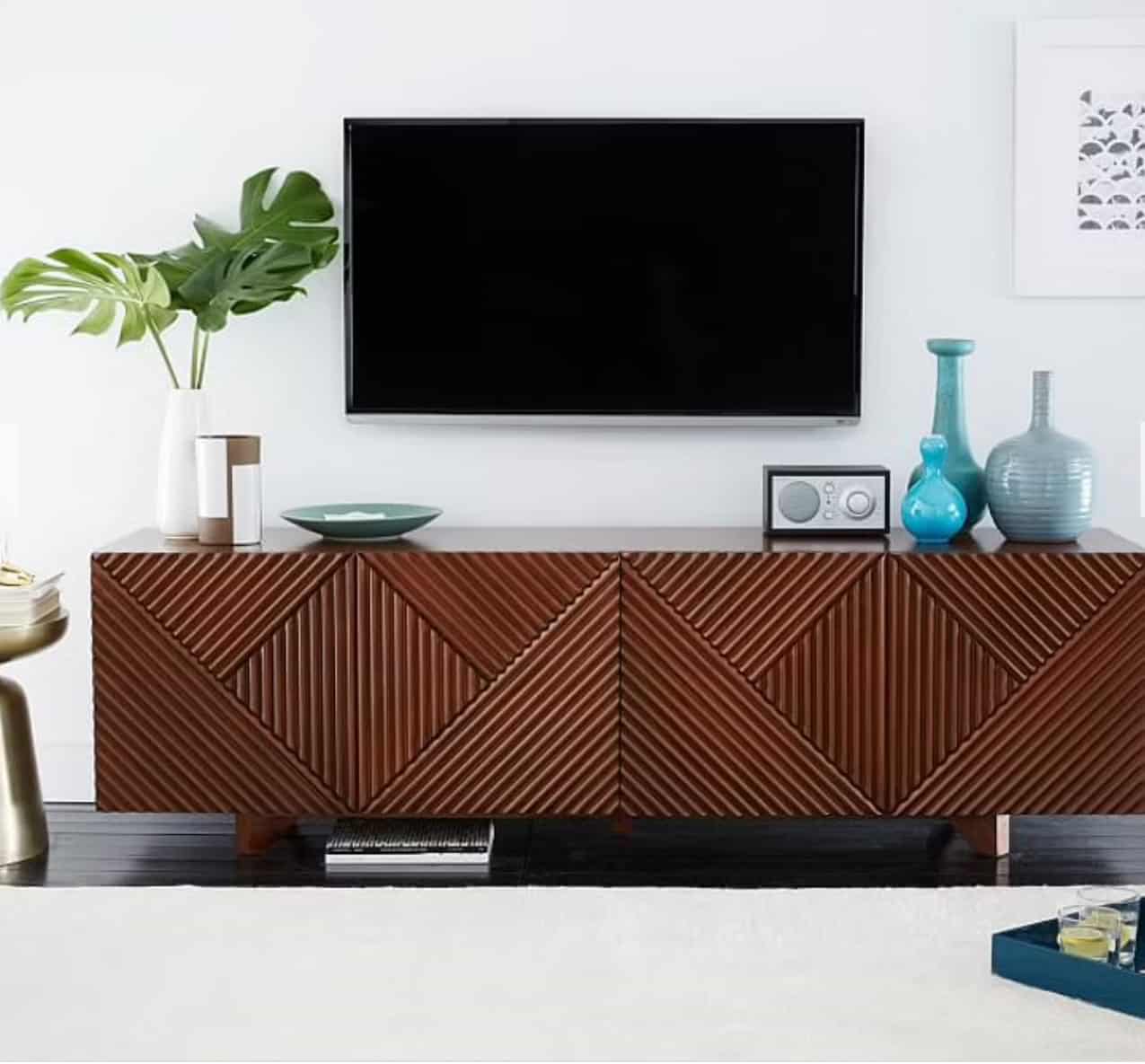 Orange Tree, Toshi TV Console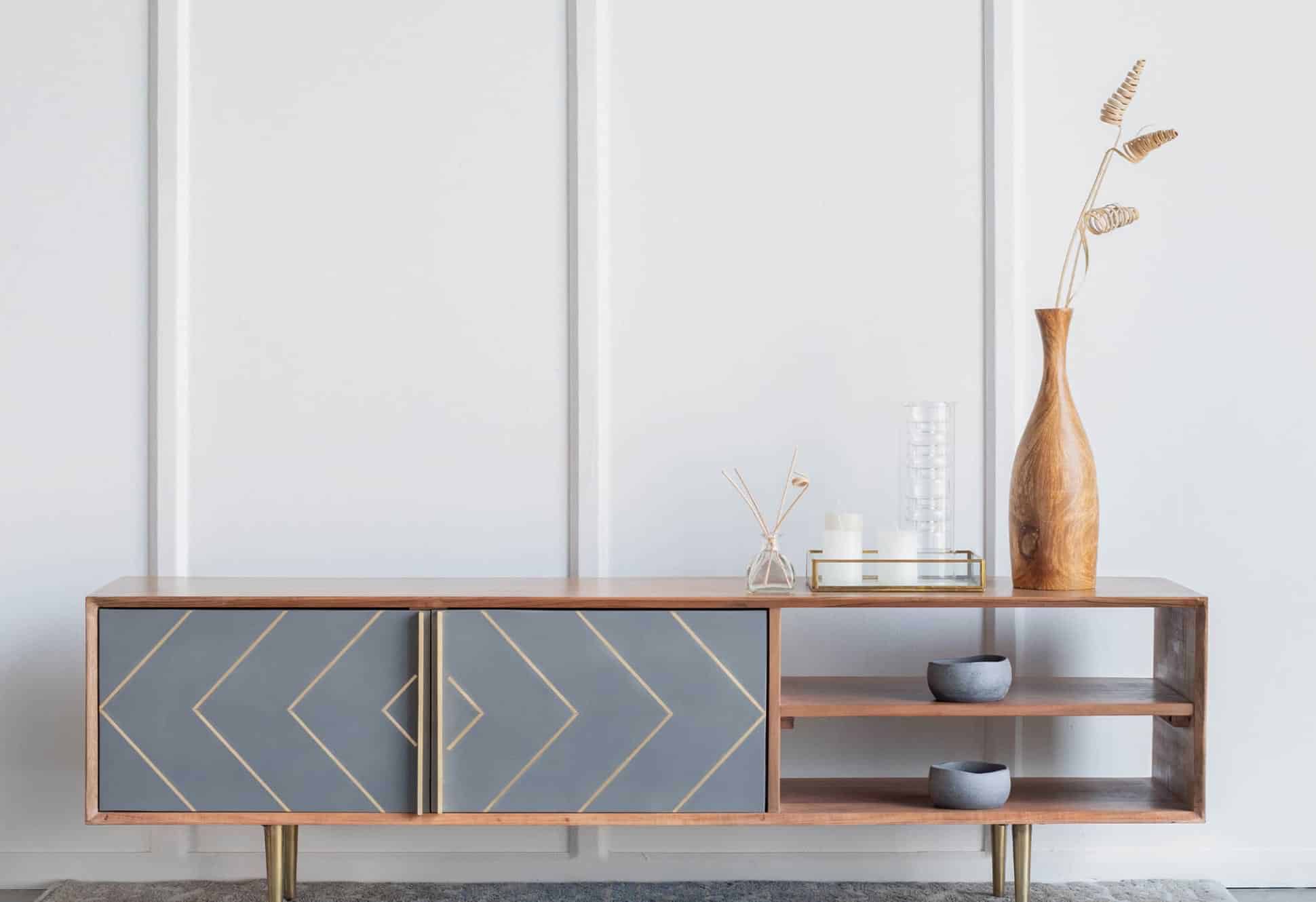 Lakadhaara, Rattan Webbed TV Console Unit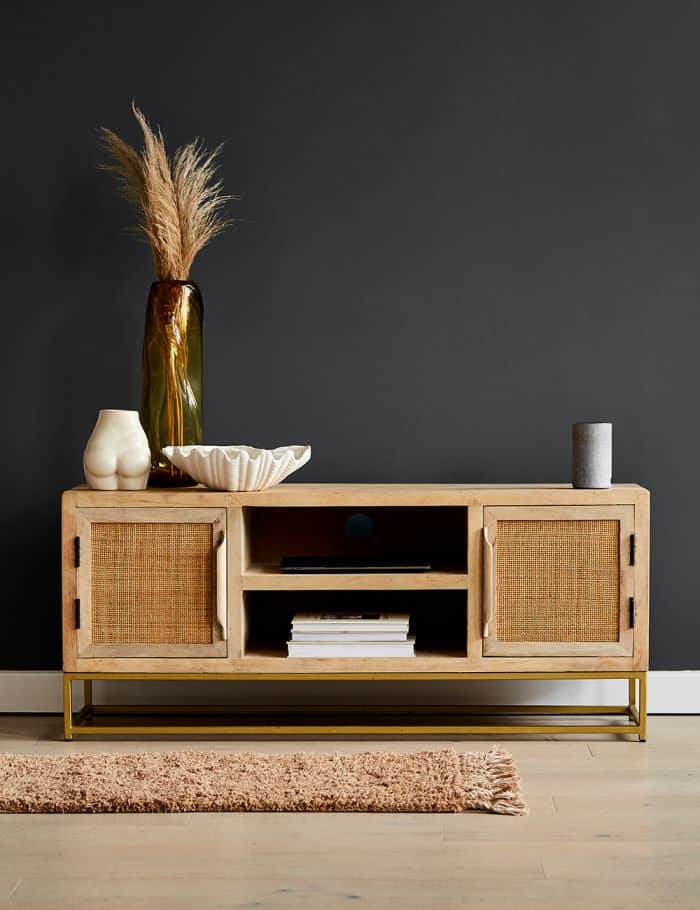 Cabinet
Image Source: gruposincom.es
When it comes to cabinet-style TV stands, there are two options. One type will feature storage on the lower half, with an enclosed cabinet, and an open unit on the upper half, where the television will be placed. The second type will have a lower part featuring cabinets or drawers, while the upper half will have a huge cabinet that will cover the TV when closed. Both of these alternatives are excellent for storage because they provide lots of space for storing items that you don't want on display. TV stands with hinged doors that enclose the TV are ideal for formal areas where you don't want the TV to be the focal point.
Nilkamal, Jonas Low Height TV Cabinet
Godrej Interio, Celestine TV Cabinet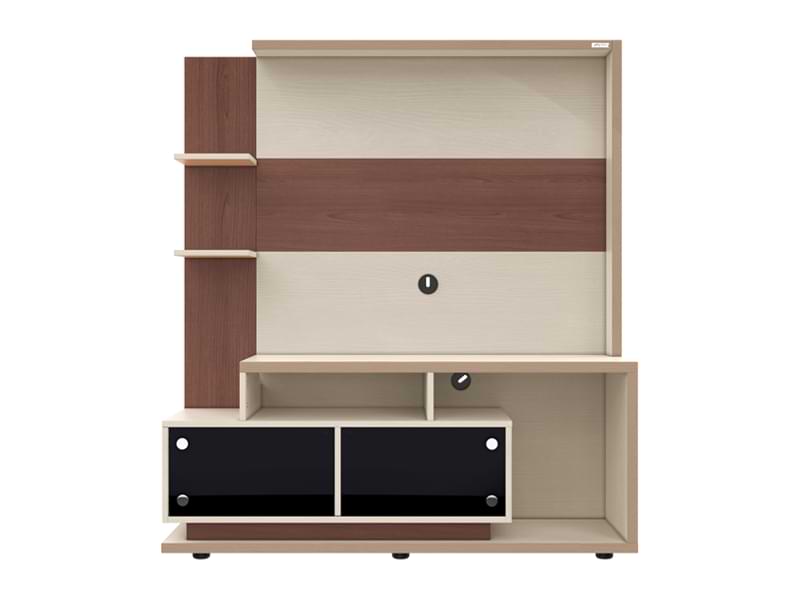 Lakadhaara, Rattan Solid wood TV cabinet
Evok by Hindware, Laurin Solidwood Cabinet
GKW Retail, Cabinet Table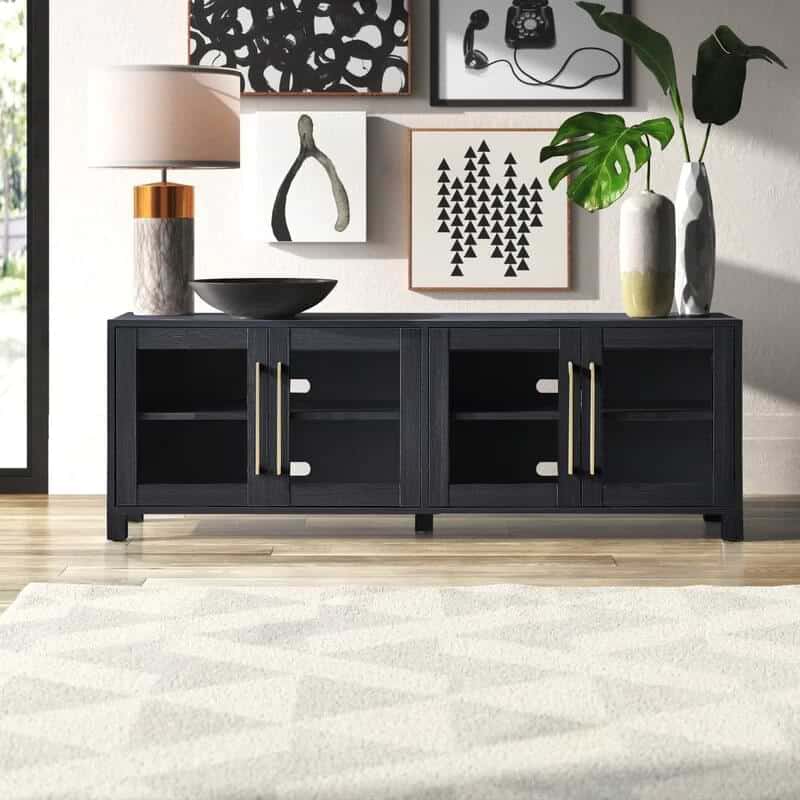 Hutch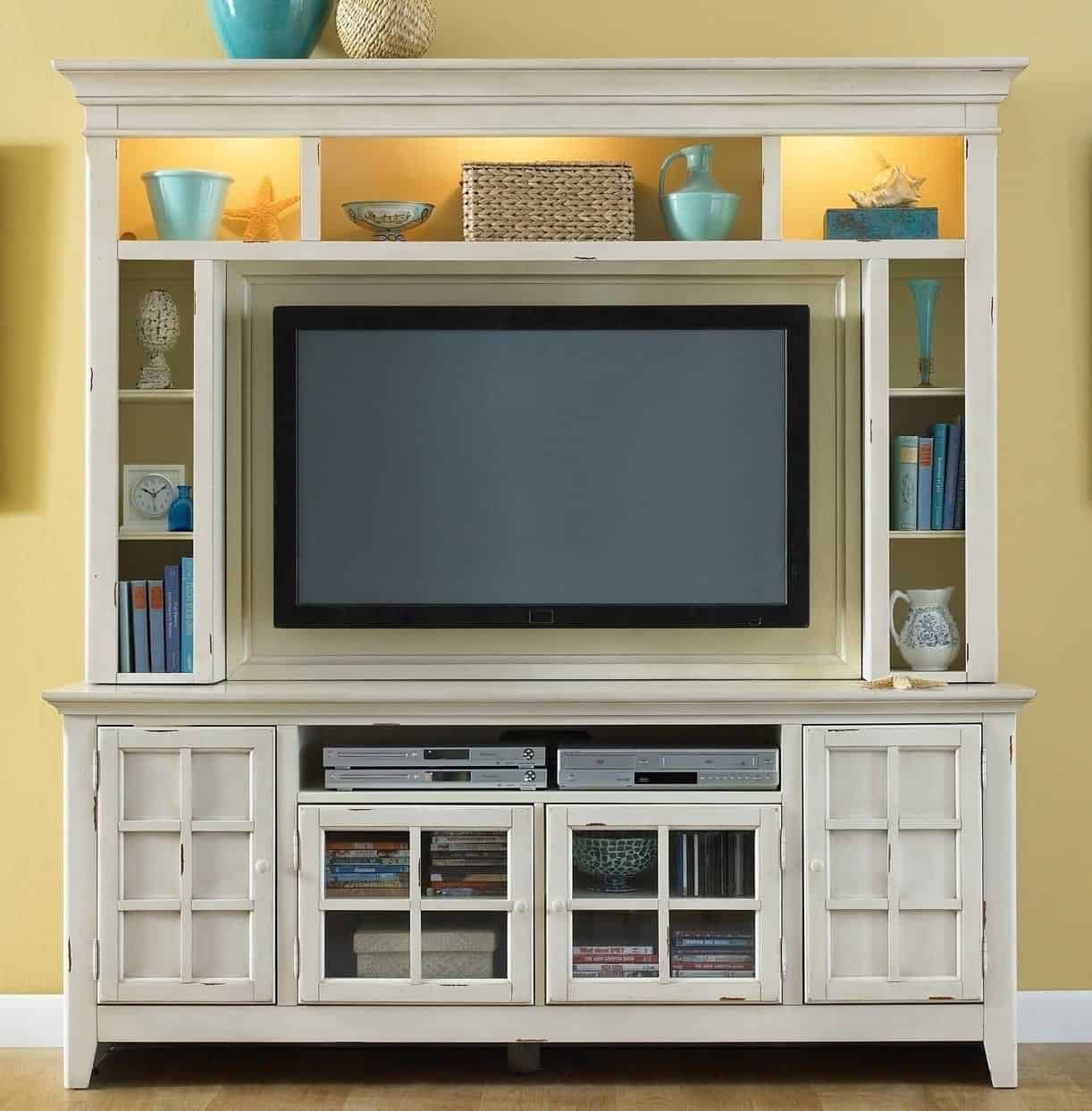 Image Source: Foter.com
A hutch is a spacious piece of furniture with multiple shelves, cabinets, and drawers. The unit often has a central place for a television that is surrounded on all sides by shelves. This style of TV stand may hold a lot of stuff and can serve as bookshelves, crockery displays, or a place to store family board games. A hutch is often made of wood, and it can be fashioned in a modern or classic manner. For a hutch TV stand to be the focal point of the room, you'll need a huge wall. If your living area lacks a focal point, such as a fireplace, this can be a good option.
Godrej Interio, Meraki Hutch TV Unit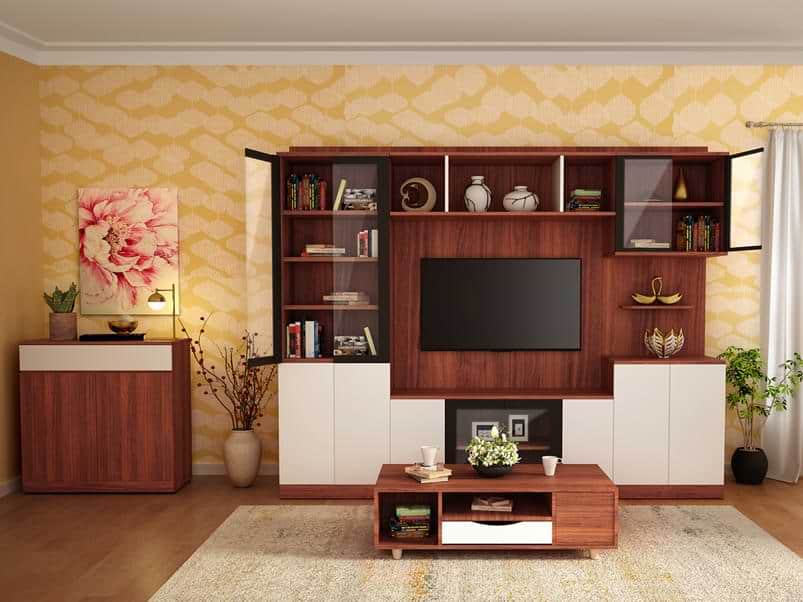 Nilkamal, Leron Wall TV Hutch
Ekbote Furniture, TV Unit with Glass cabinets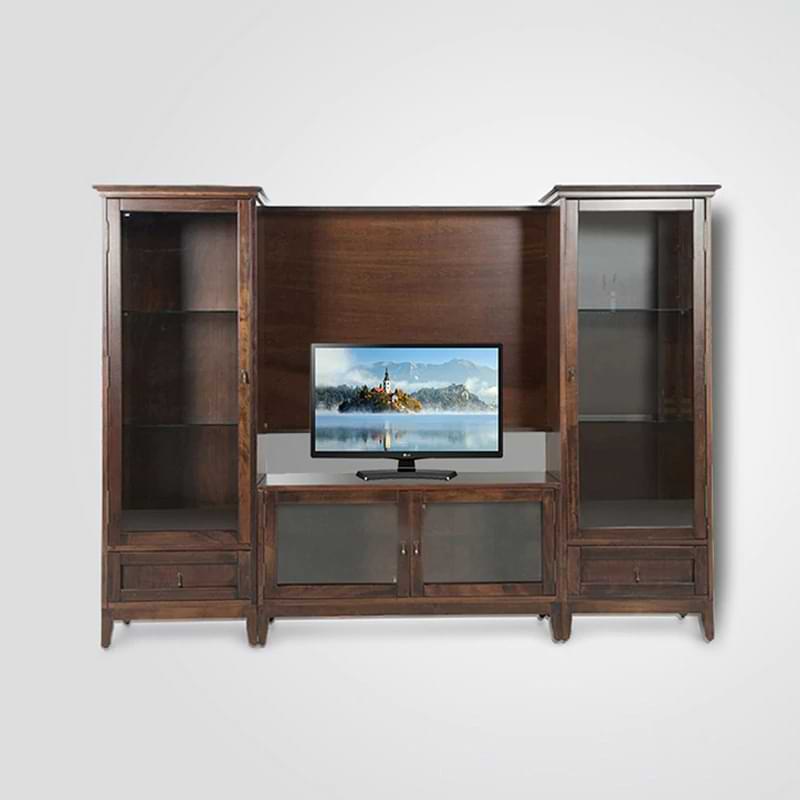 Woodbuzz, Casper TV Unit 
Entertainment centre
Image Source: Visual Hunt
The largest sort of TV stand is an entertainment centre, which can take up an entire wall from floor to ceiling. It will normally include a central space for the television, with storage, cabinetry, and drawers making up the rest of the furniture. Speakers and other media items such as gaming consoles or music players may also be installed within the entertainment centre. Entertainment centres are among the most expensive types of TV stands, but they can be functional and have a significant visual impact on a room. If you have a family that enjoys watching TV together, you might consider an entertainment centre as a good investment.
The Pengu, Marble Entertainment TV Unit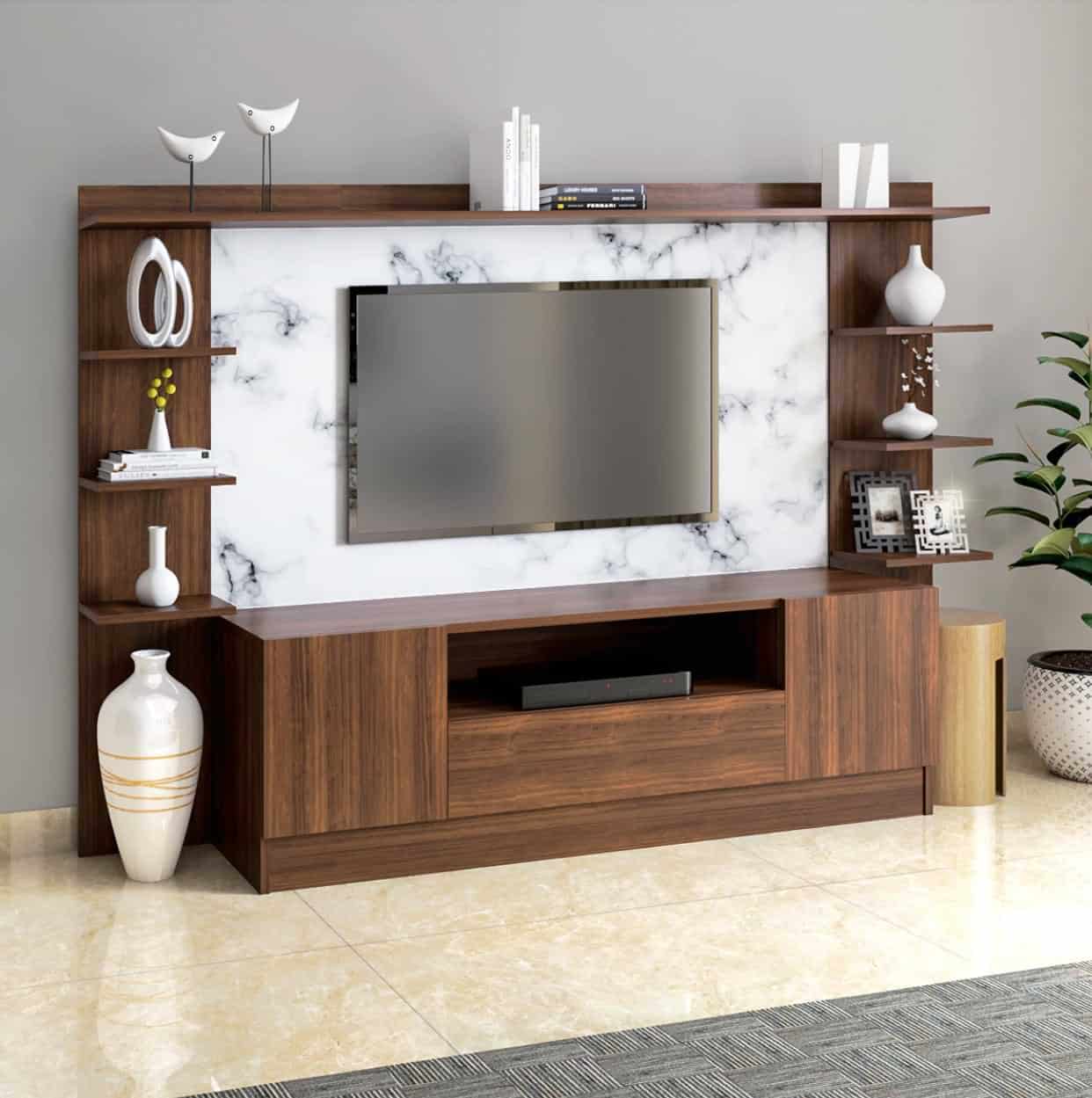 Heera Moti, Moon TV Entertainment Unit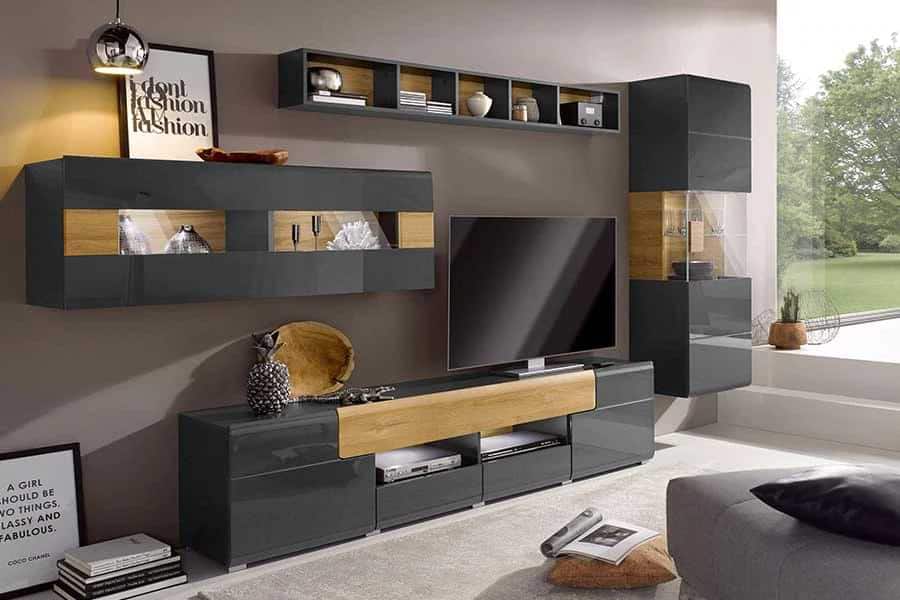 Bent Chair, Artin TV Units
Wise Art Online, Kencil Contemporary Entertainment Unit
Wooden Twist, Max Tilfizyun TV Entertainment Unit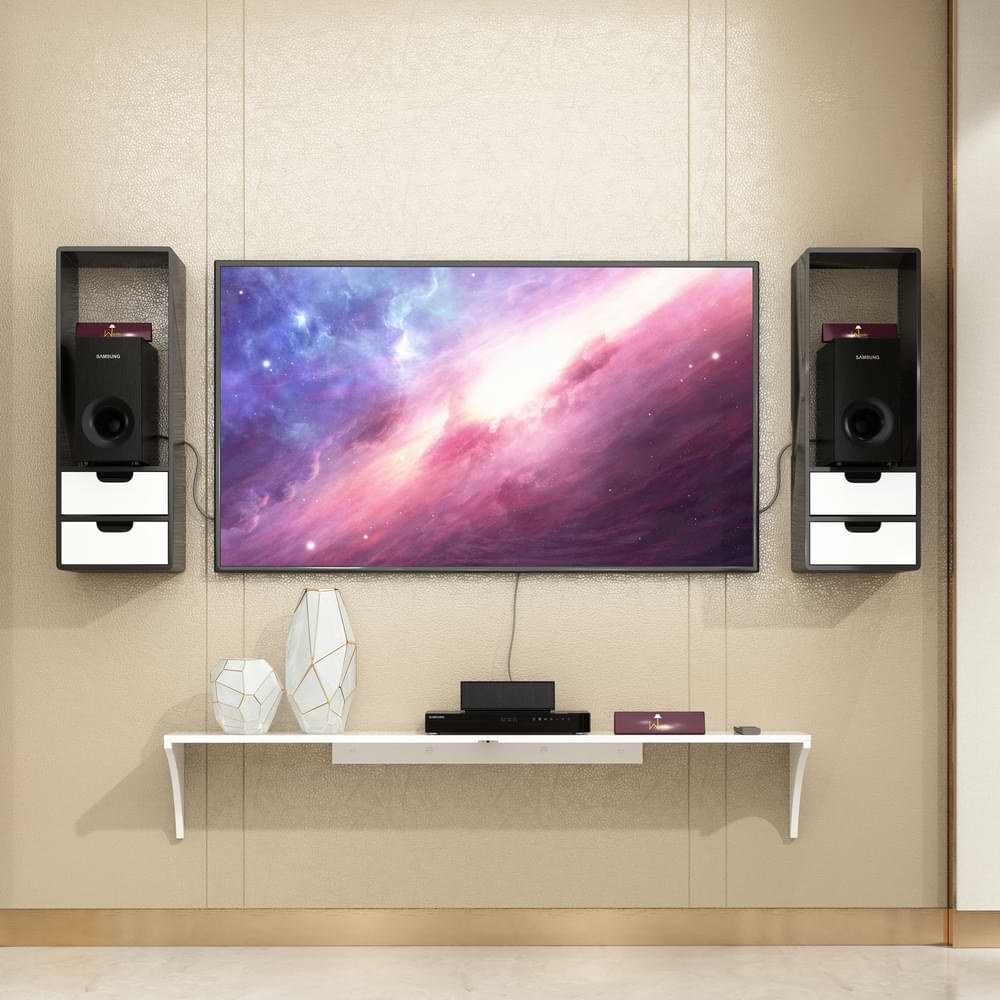 Corner TV unit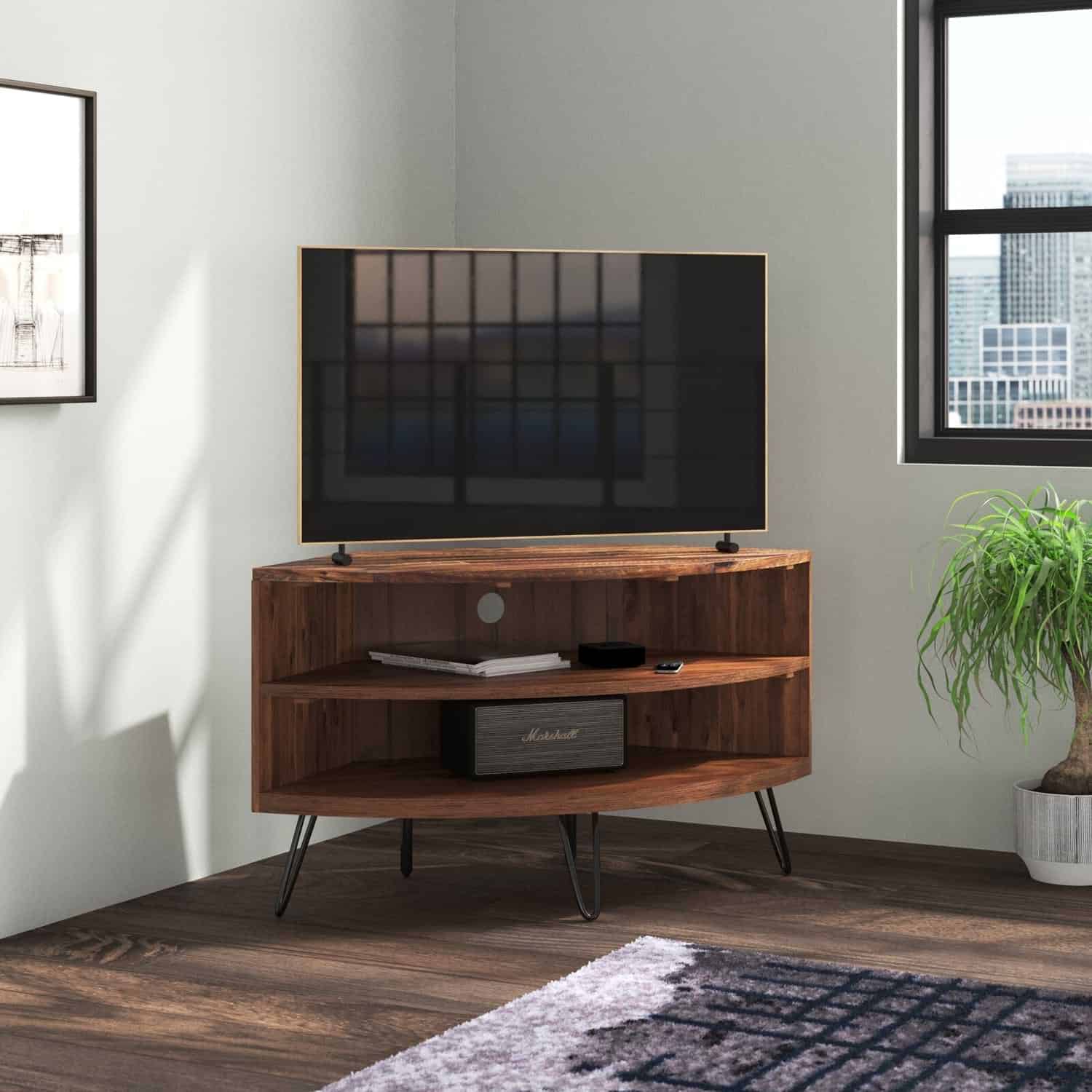 Image Source: Foter.com
A corner TV stand features a right-angle back. This allows it to sit comfortably in a room's corner rather than flat against a single wall. It's a terrific technique to save room if you want to put your TV in a corner rather than wasting space by installing a normal TV stand at a diagonal angle. By pushing the furniture right into the corner and then having a corner storage area below the TV, you can make the most of the available space with a corner TV stand. Corner TV stands are available in a range of styles and types, such as corner cabinet TV stands and corner-shelved TV stands.
Evolvekart, Wooden TV Corner Unit
Atmosphere, Sigma White TV Corner Unit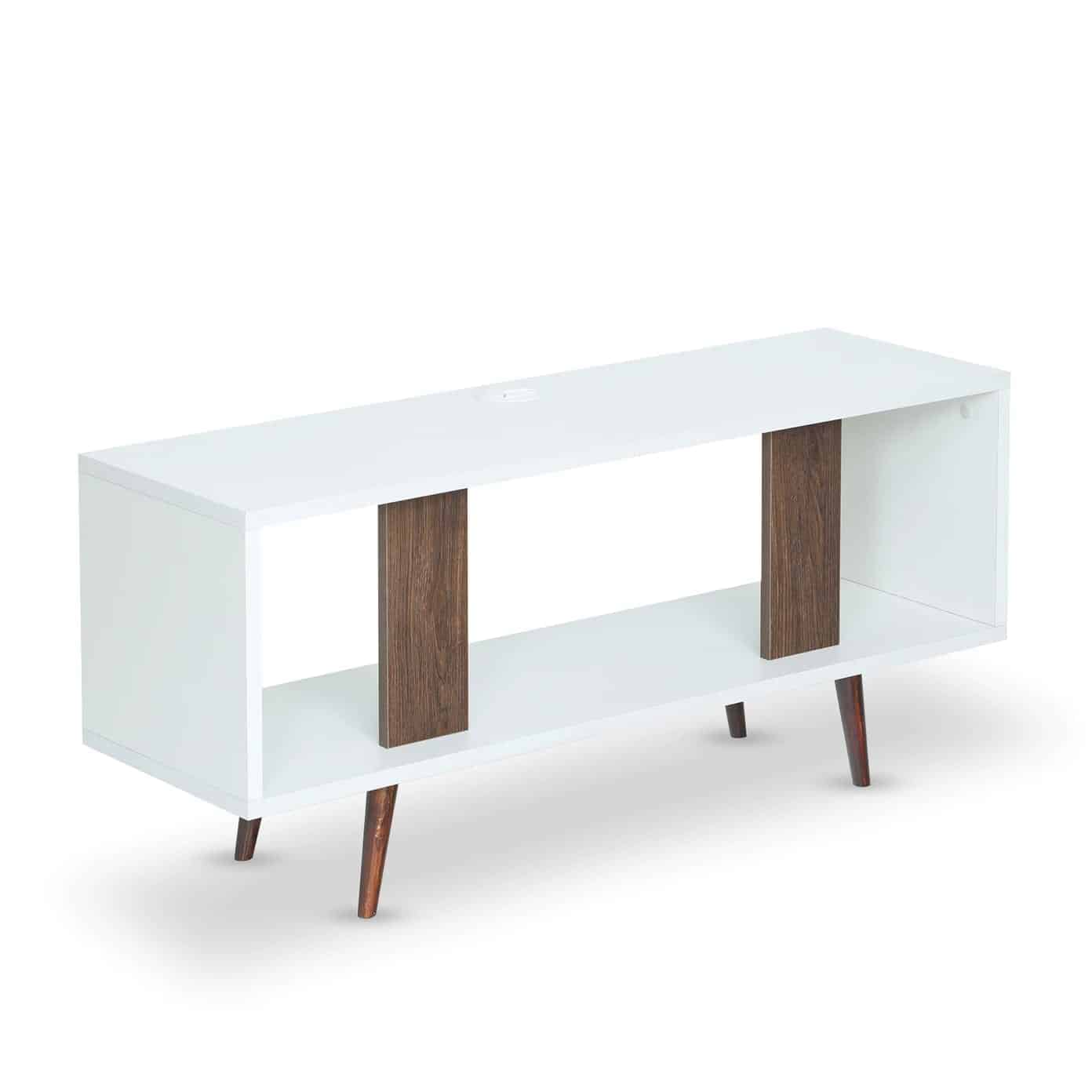 Teaklab, Large Corner TV Unit
The Home Dekor, Devi TV Corner Cabinet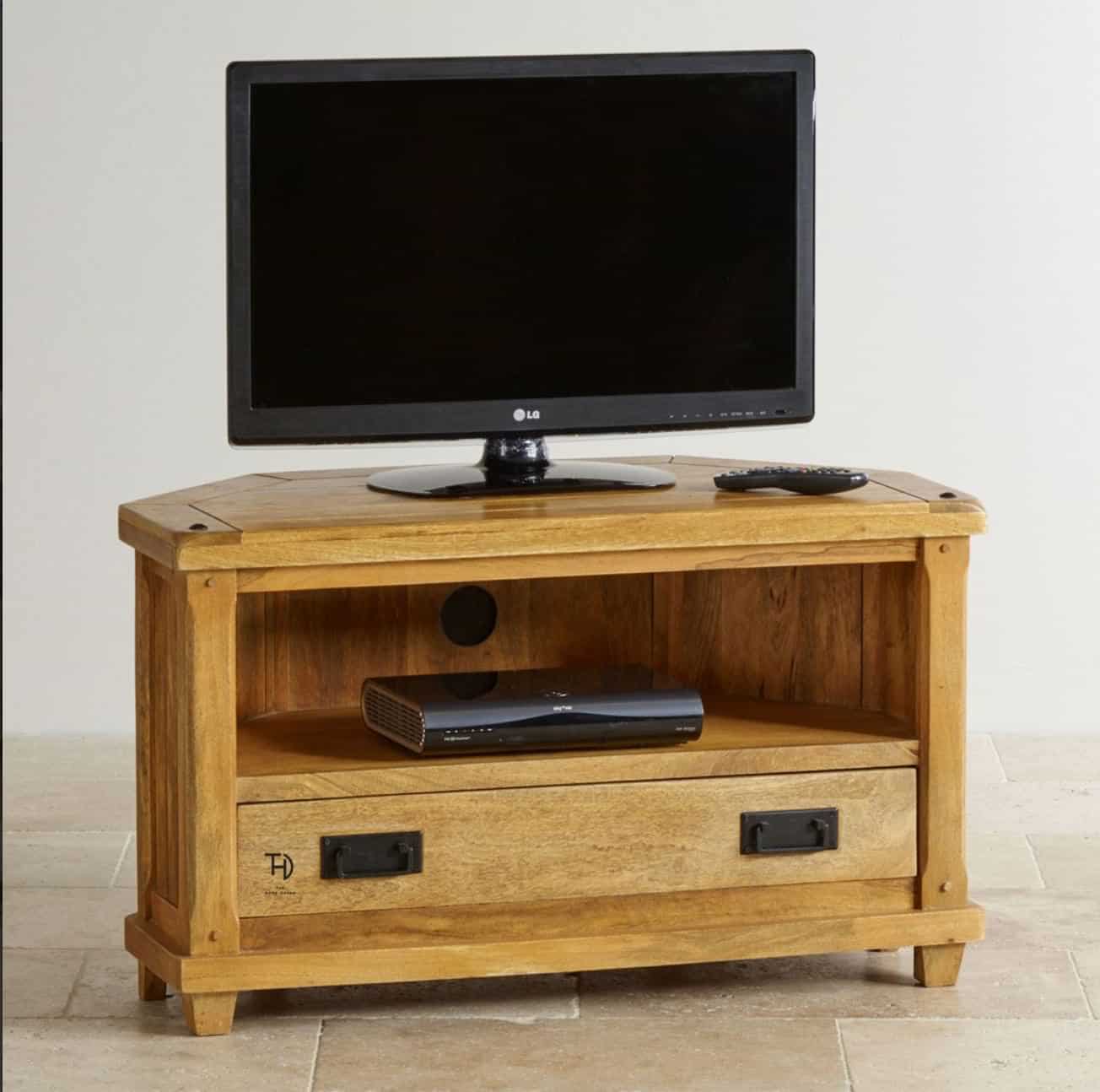 Ubuy, Fireplace Corner TV With Power Outlet and LED Lights
7

  M

odern TV unit design ideas for your hall & living room
Contrasting laminate and cabinets for a chic look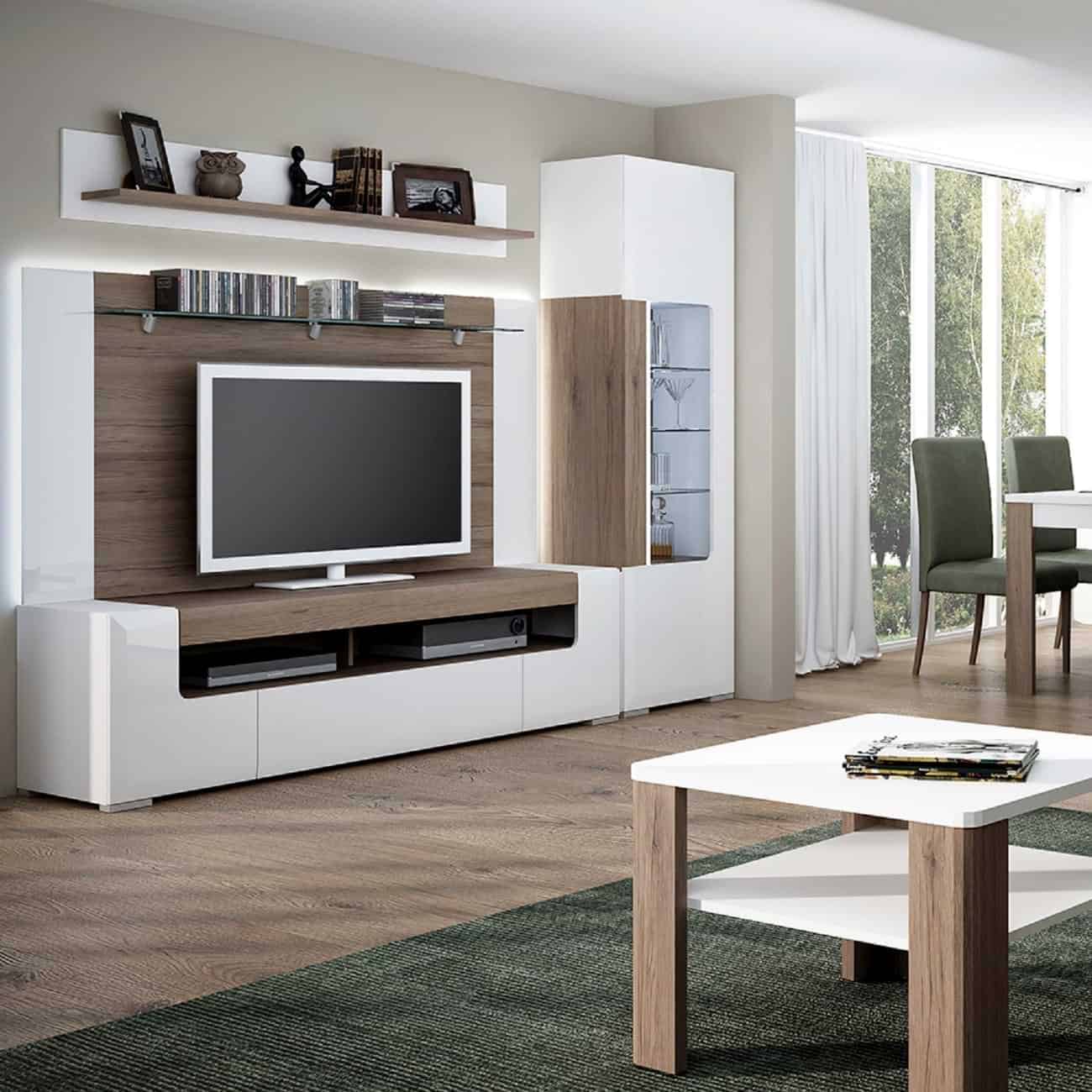 Image Source: The Range
This modern TV unit design is sleek, stylish, and gorgeous, with all the right ingredients for a show-stopper. A dark wood vertical laminate with white cabinets is a chic combination! This type of TV cabinet design with a backlit panel makes the simplest entertainment box stand out.
Back to basics: All-white console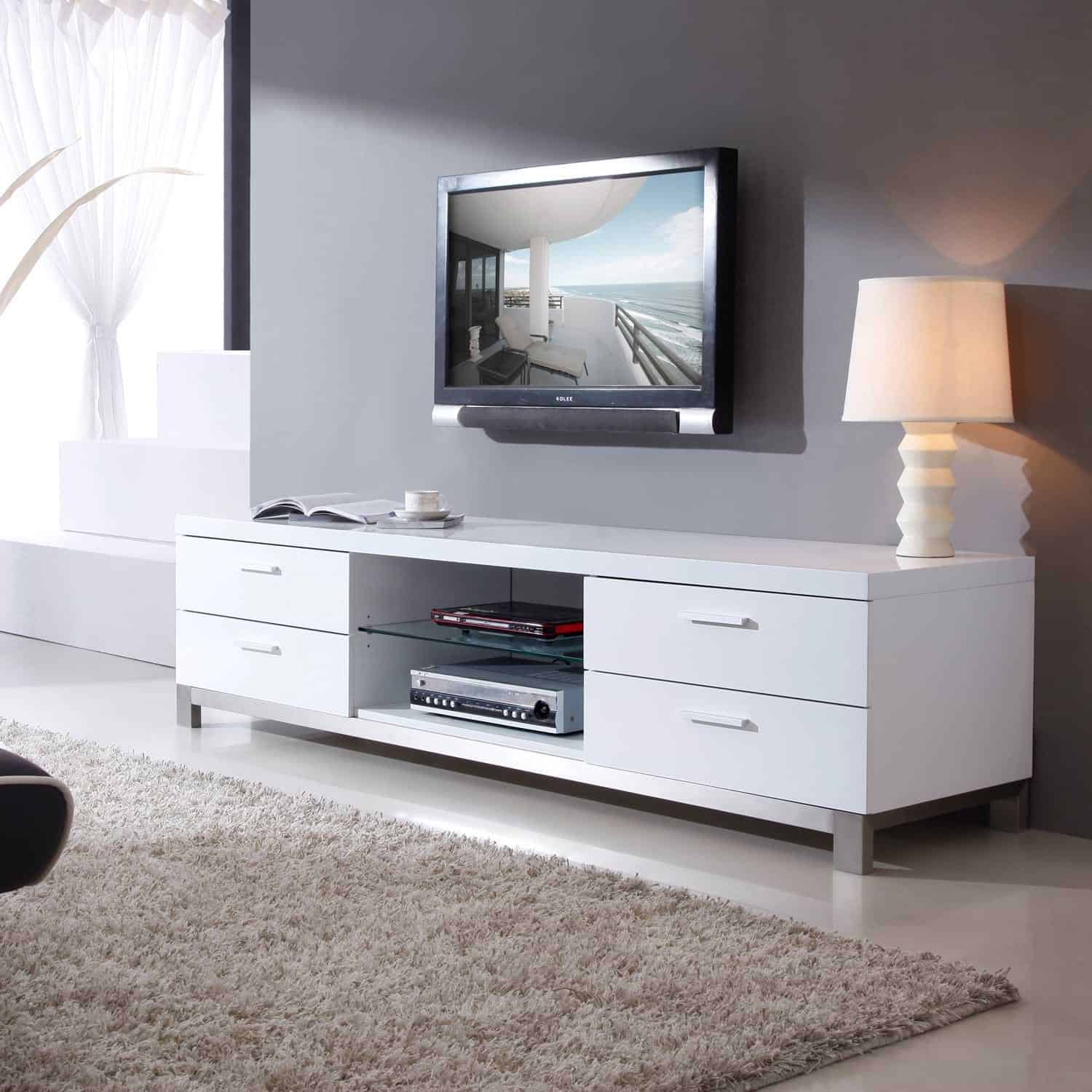 Image Source: Foter
Are you a lover of all things white? Then go all out with the white TV furniture. Modern white TV unit designs can look a little flat, so add some wood tones to break up the monotony.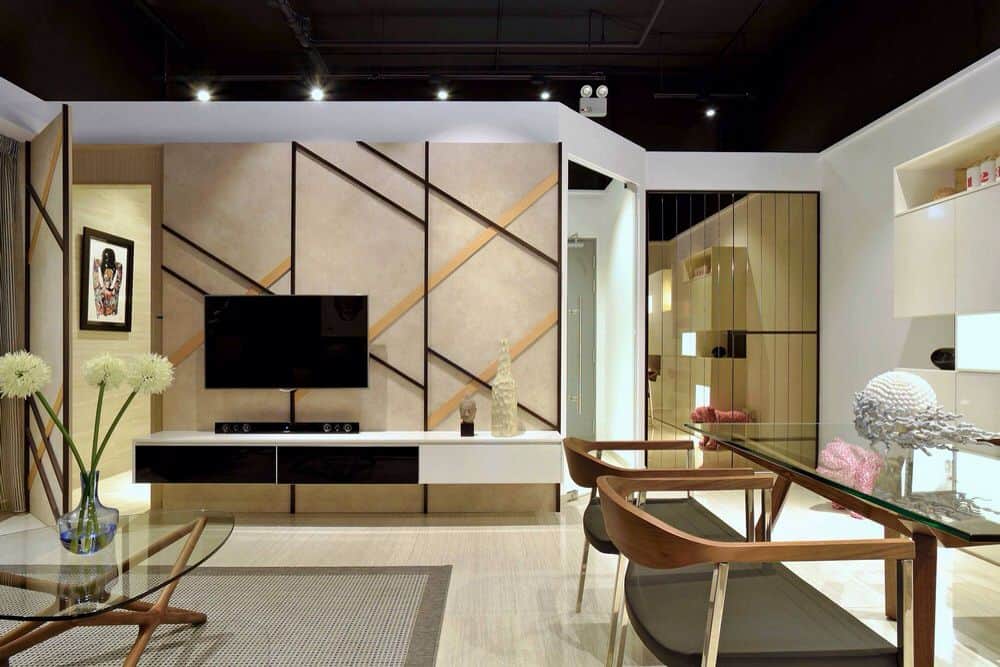 Image Source: Pinterest (Garima Goel)
Optimise space and create a unique design in your living room or hall by installing a TV unit on the partition wall. Partition walls are in vogue right now, so installing your TV and cabinets around them not only saves you space but makes your room look interesting and unique. You can use the above image as an inspiration to design your TV unit partition wall. 
Save space with the modern floating entertainment TV unit designs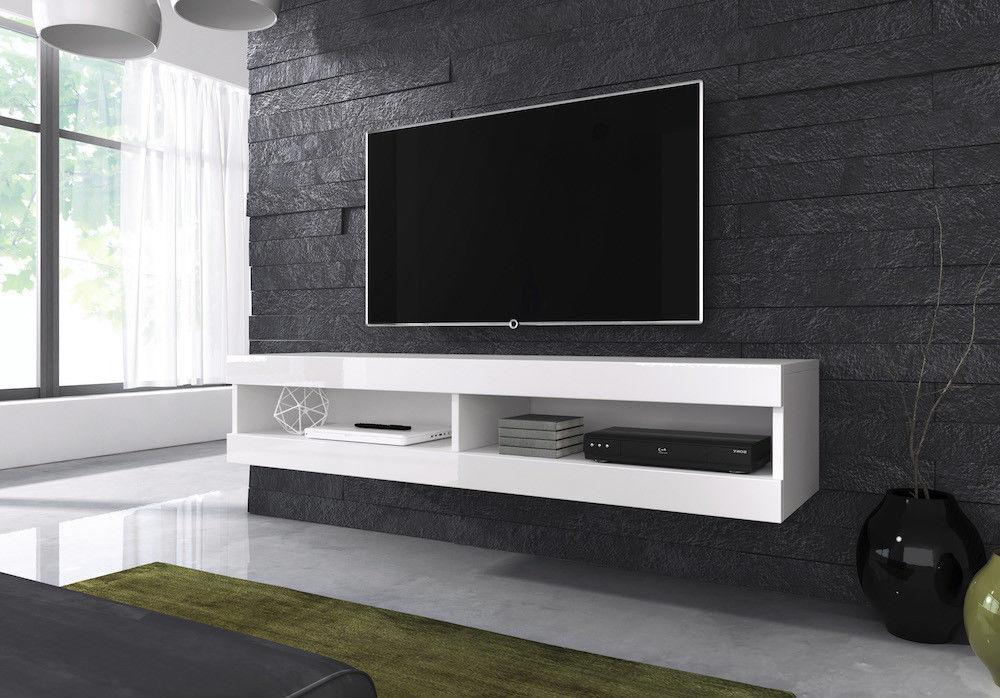 Image Source: Emanagreen
A floating entertainment unit like this can be a game-changer for your living room. These look so aesthetic and minimal while also providing ample functionality. A floating TV unit in light colour shades gives your room a modern and lively look. These are also great for bedrooms since they do not take up much space.
Revolving TV units for the ultimate luxury experience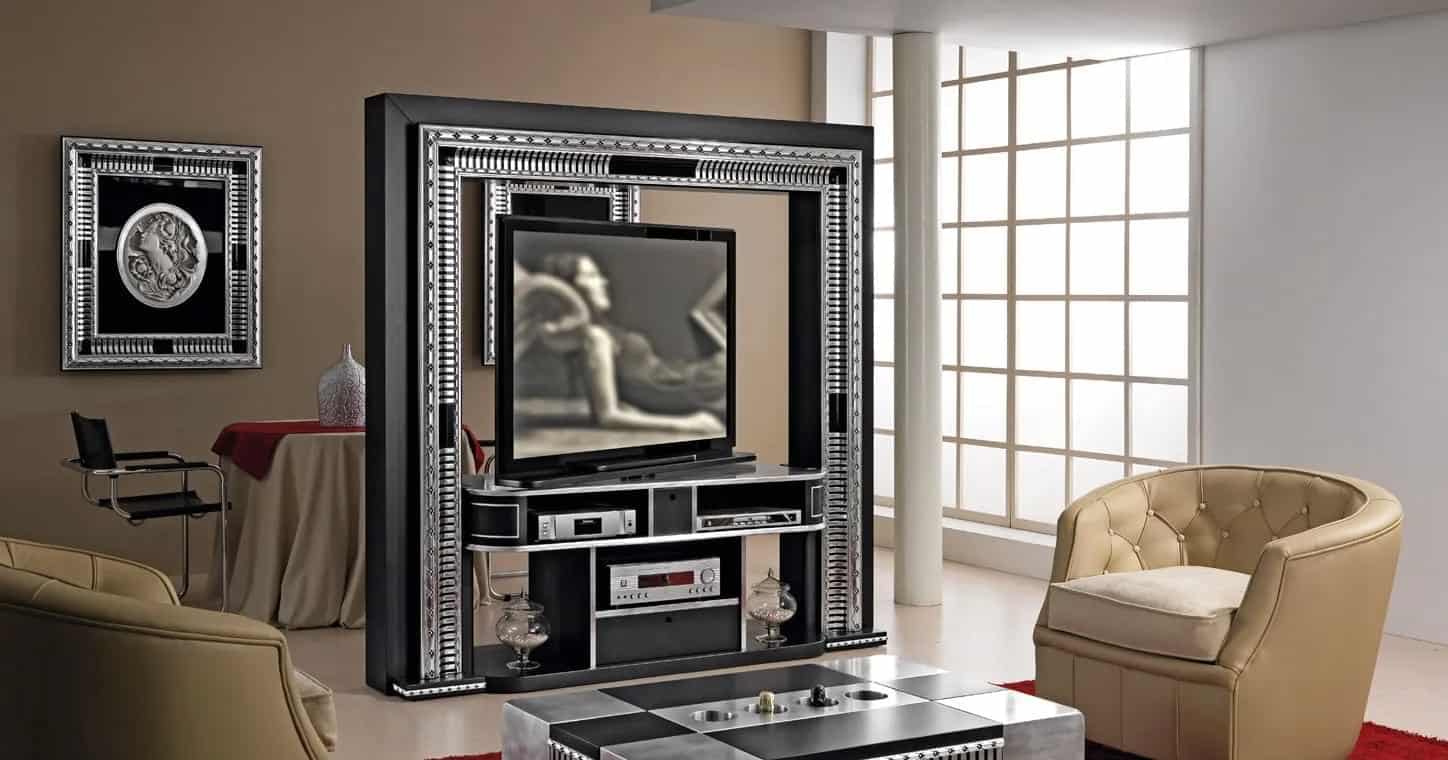 Image Source: Vismara Designs
A television that can be viewed from your living room and your bedroom! What can possibly beat a TV unit like that? Revolving TV units are the hottest trend right now, with many luxury apartments installing units that let your TV revolve 360 degrees so you can view it from two rooms separated by the unit itself.
Go classic with a standard wooden TV cabinet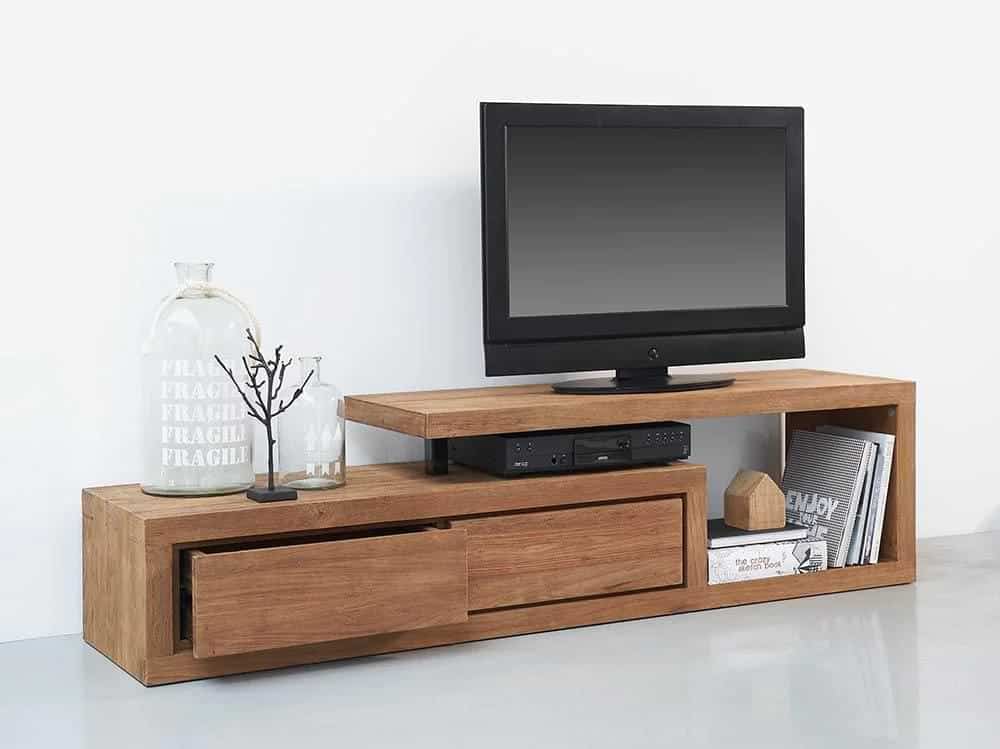 Image Source: Just Dial
Traditional wooden furniture never goes out of style. Thus, if you are not looking for anything crazy, it is smart to invest in an all-time classic piece like the one above. Wooden TV cabinets are standard and timeless.
Modern TV units with floating shelves for storage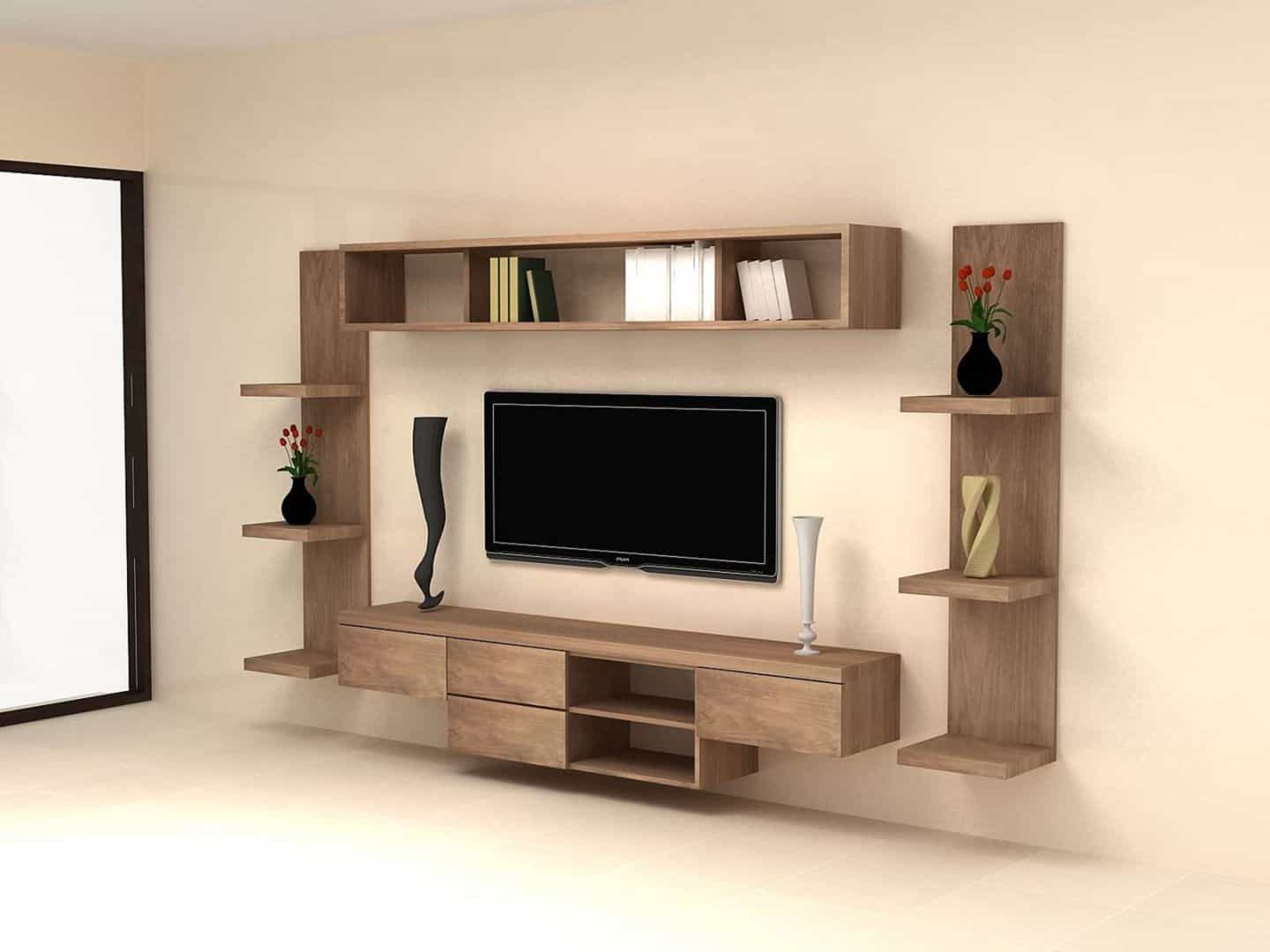 Image Source: Pinterest (Freshouz)
Floating shelf TV unit designs are a bit unusual, but it's worth a try if you have a large blank wall. The base unit is noticeably missing here because the unit itself is made up of a wall-mounted TV cabinet and a beautiful spread of floating shelves.
Conclusion
More and more people are exploring new ideas and designs for their furniture. TV units have been a staple in Indian households since the advent of the television age in India. Thus, they have undergone a significant change in appearance and function with time. So, choose a TV unit while keeping in mind your requirements. Firstly, you need to ask yourself if you want to conceal your gadgets or showcase them. Next, a wall-mount TV station or a stand-based unit and finally if you are looking for a minimal vibe or want to go all out? Other factors that matter when buying a TV unit are the size of the room, the desired material finish, and the height of your seating.
The handpicked TV units listed above are all-rounders in design and utility. Also, these are available at great deals! So, choose any of the TV unit designs listed above and make your living room, hall, or bedroom the ultimate zone for recreation.
*The featured image used in this article is from Insaraf.com
[vvsmustread]