A compound wall refers to a structure that has been built to divide an area into two distinct plots. Nowadays, exclusive compound wall designs with unique accessories have become the latest fad. Compound walls provide a layer of security and privacy to a home. These wall designs also reflect the tastes of the homeowner.  In this article, we discuss the different types of designs for the compound wall like simple masonry walls, modern cladding walls, etc. We have also listed the different materials used to make compound walls and some unique tips to make your house stand out. Keep reading to get inspired by stunning pictures of the compound wall design. 
Different types of compound wall designs have been gaining popularity based on their appearance and functionality. For example, ornamental walls look fancy and uplift the design of a house while grilled metal walls provide security. 
To up the style quotient of your home, you can also design a vertical garden wall or a peek-a-boo wall and add accent lights and decorative niches to make your home a talking point.
Whether you're moving into a new home or are looking to redo your existing compound walls, we have got you covered. So, read along!
Types of compound walls
For a long time, simple masonry compound walls have been a trusted choice with their solid foundation. However, in recent years precast walls have gained popularity. The different types of compound walls based on their appearance are:
Simple masonry compound wall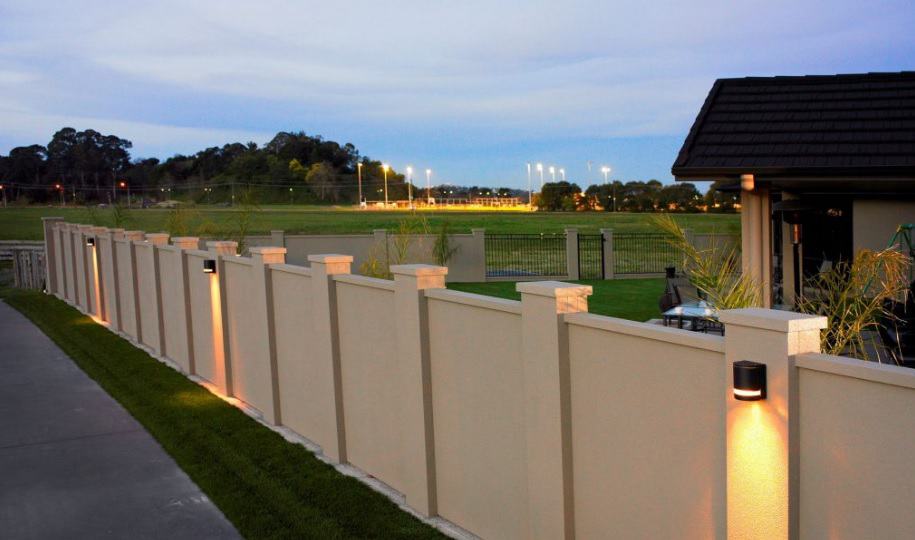 Image Source: Happho
Simple masonry compound wall designs help give houses the chance to veil themselves from trespassers, dust, and noise pollution. Mostly constructed using stones, red clay bricks or fly ash bricks, steel, and cement mortar, these wall designs have evolved significantly. Generally, the construction of such walls starts from 2 feet below ground level to ensure that they have a solid foundation. 
Ornamental wall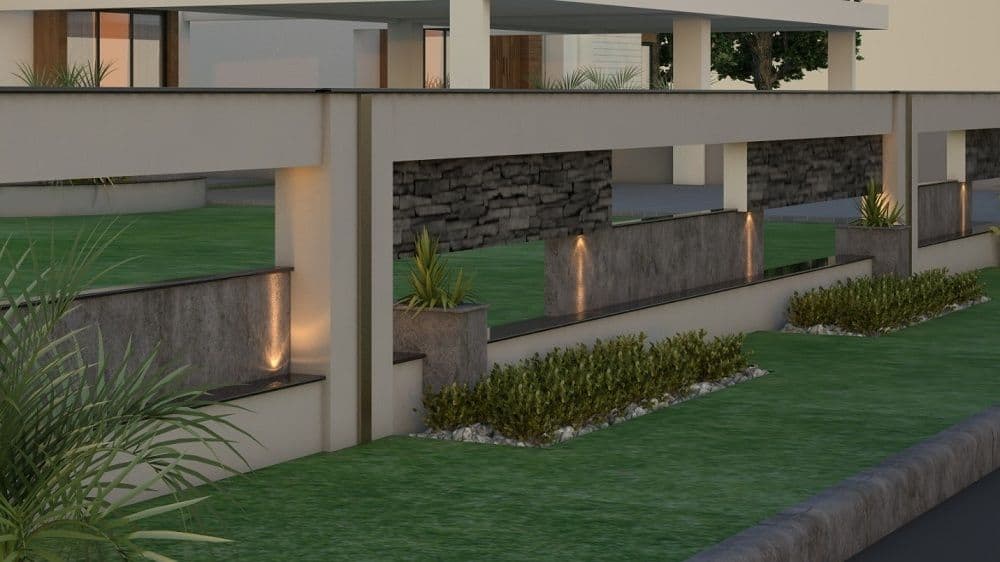 Image Source: Bilarasa
In modern times, new compound wall designs boasting trendy patterns and cut-outs are being used. The ornamental wall is a combination of a masonry wall and mild steel/stainless steel grills. In this type of wall, a masonry wall of 3-5 feet is constructed. Since these are customized as per need, grills or stainless-steel grills are also added for design and security purposes. These ornamental wall designs also feature latticework and animal print sceneries made of moulding metal.
Modern cladding compound wall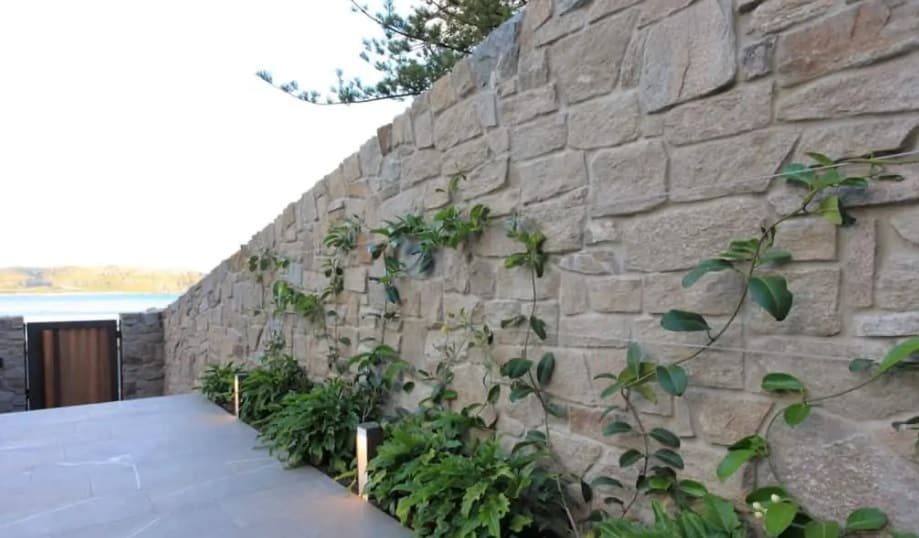 Image Source: Pinterest
Modern cladding compound wall designs use cladding materials such as vitreous tiles and marble panels. These are fixed over simple masonry walls to give them an aesthetic appeal. These walls are suitable for high-end properties and are used mostly in metro cities in India.
Image Source: Exporters  India
Precast walls are usually a mix of steel and concrete. These are ideal compound wall types for residences. Made in factories across the country, these are easy to install. Also, since these are made in factories the cost is relatively lower due to economies of scale.
Security compound wall
Image Source: Garden Site
Security is always a priority, therefore the construction of security compound walls has gained popularity. These wall designs with grills are used mostly in apartments and residential complexes. Additionally, this type of wall design is common in gated communities. 
Materials used for compound wall construction
Bricks
Image Source: Zameen.com
One of the most preferred materials for compound wall designs, bricks are laid in many different angles, patterns, and styles to create different designs. Exposed brick walls are sealed with a weather sealant to preserve them for years. Also, these add a rustic look and feel to the wall design.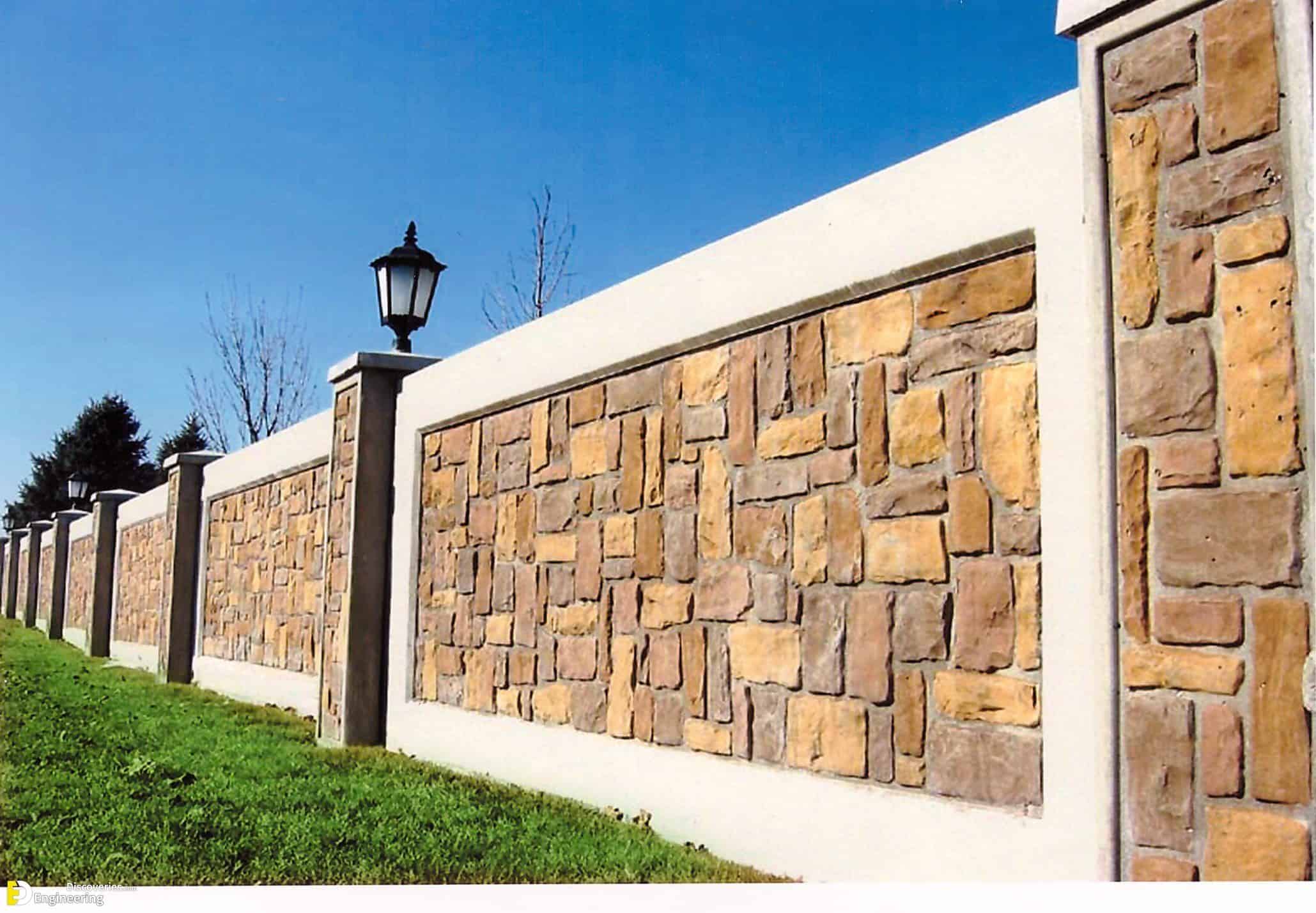 Image Source: Engineering Discoveries
The structural frame of an existing wall is clad with thin stone slabs and ledges with the help of cement plaster and other binding agents. Since stone is a very tactile material,  it comes in different colours and textures.
PVC boards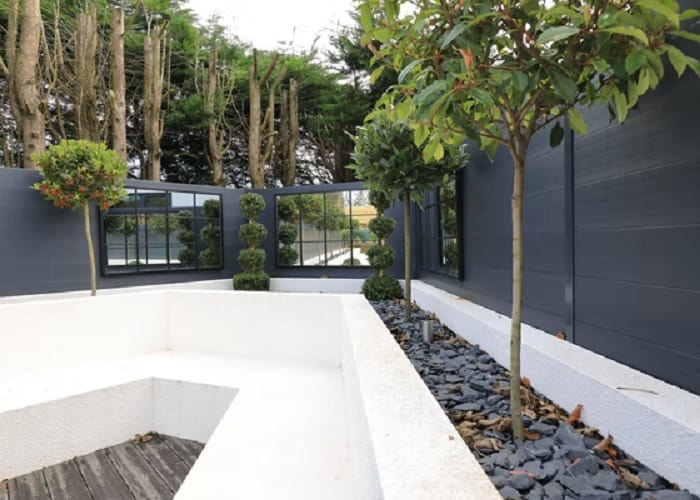 Image Source: Birkendale Sales
Installing ready-made boards made of PVC is an easy alternative to creating patterns and weaves on the compound wall. These boards are to be fixed to the base wall with screws. The boards are styled in different designs for an innovative look.
Cement plaster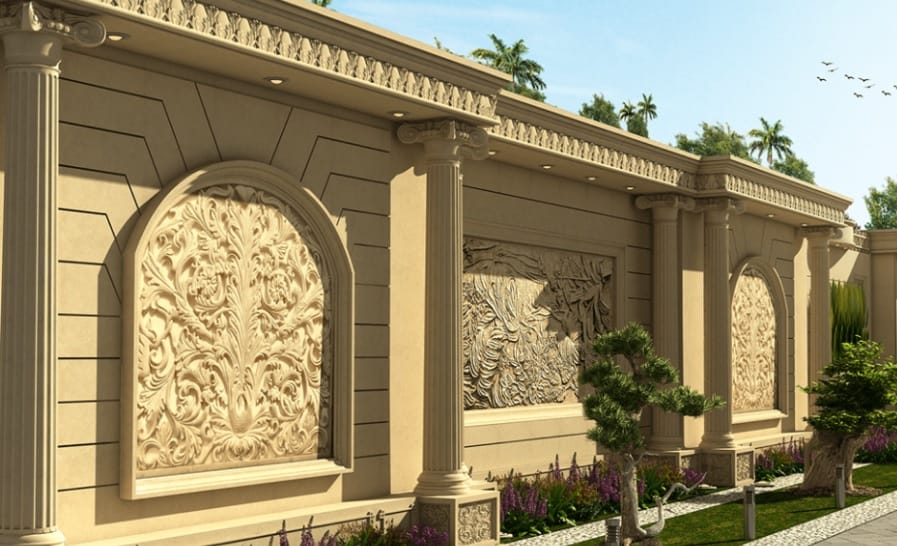 Image Source: Tricity Properties
Wet cement plaster can be carved into motifs, patterns, figurines, and murals. If you wish to create designs on-site, buy from the readymade cement boards available in the market. Also, these create a modern front wall design for your house.
Wood planks
Image Source: Pinterest
In urban homes, wood is being used to create new wall designs. Seasoned wood is fixed to the simple masonry compound wall as a cladding. Additionally, treated wood planks are available in different shades and grains for the wall facades. With the many design options, wood panels are a great way to spruce up your home.
Metal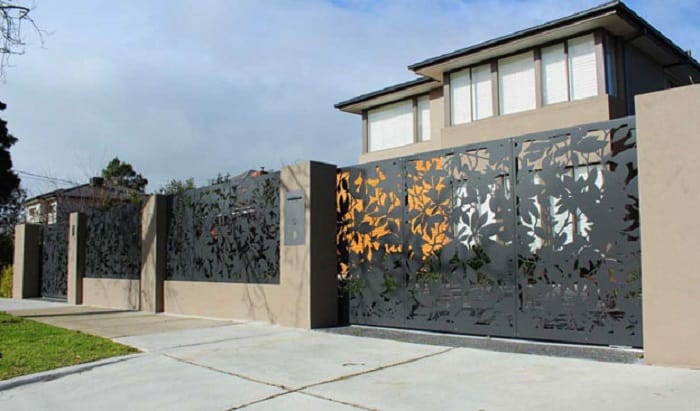 Image Source: Then Home
Metal sheets in grill and jaali patterns are used to create innovative vignettes for the compound wall. These ready-made metal jaalis are easy to install and are available in different designs
Home compound wall designs with photos
Japanese garden wall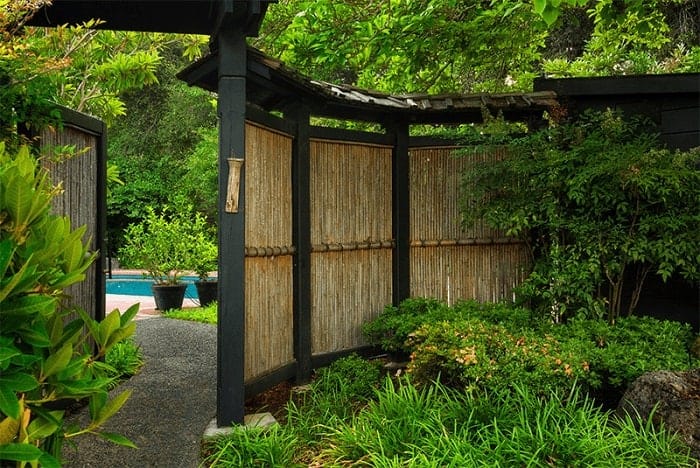 Image Source: Kikuch and Kankel Design Group
Typically made from wood and stone the Japanese garden wall has intricate and ornate designs.  
Peek-a-boo wall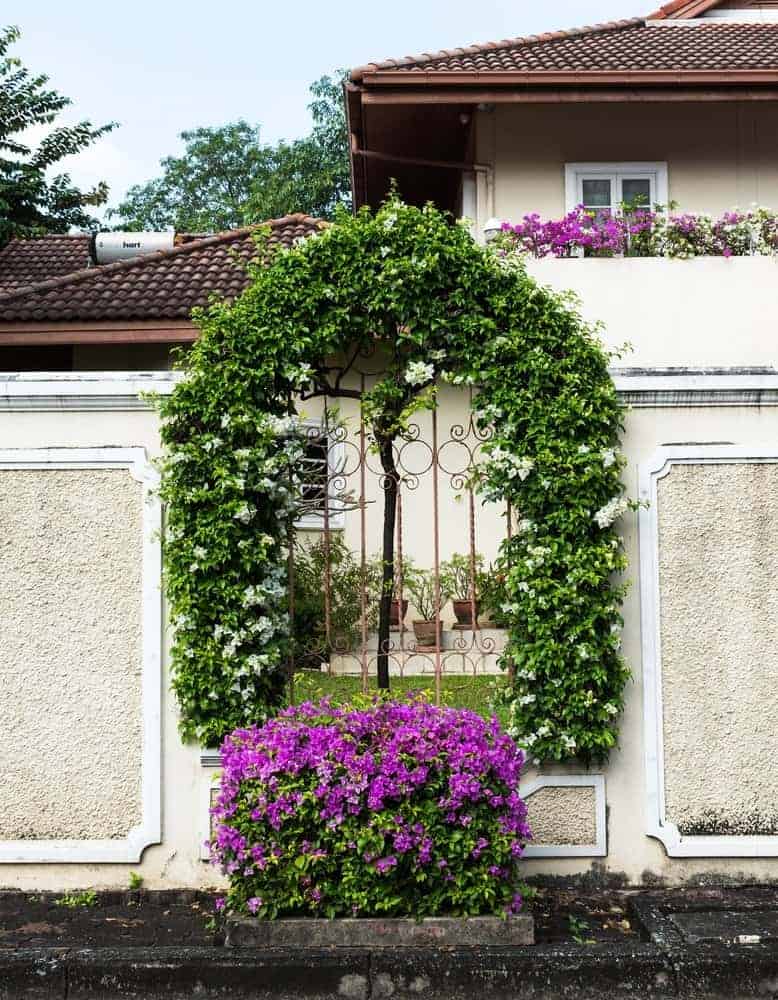 Image Source: Shutterstock
A peek-a-boo wall is made of panels with openings between them. These openings are round or square and of different sizes. The main purpose of this wall is to provide privacy while allowing natural light to pass.
Stucco concrete wall
Image Source: Aftecs
Stucco is made of a combination of cement, sand, and water so that it can be applied in a way that creates a thick coat on the surface of the wall.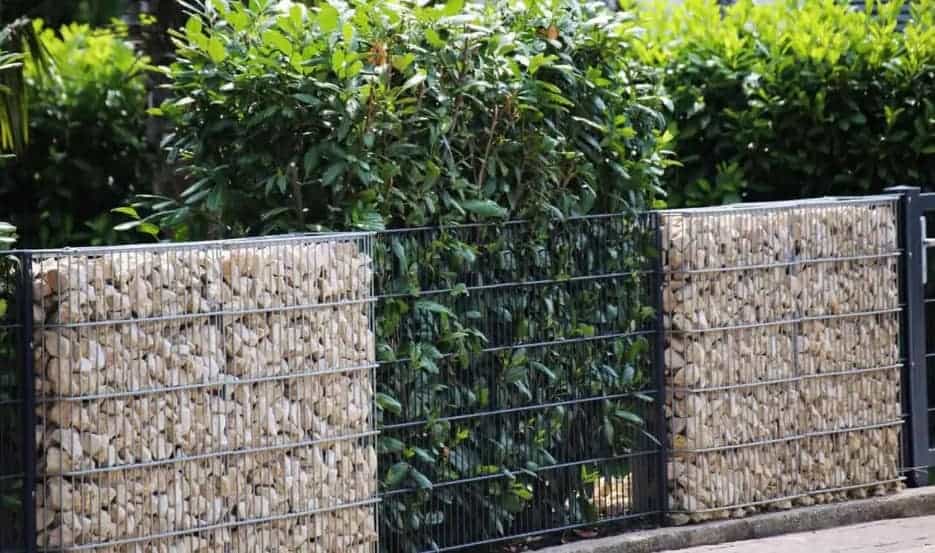 Image Source: Bitsathy Blog
Gabion walls made of galvanised steel, aluminium, and PVC use modular boxes or cages. Rocks and other materials fill the cages. These are then welded together to create durable walls.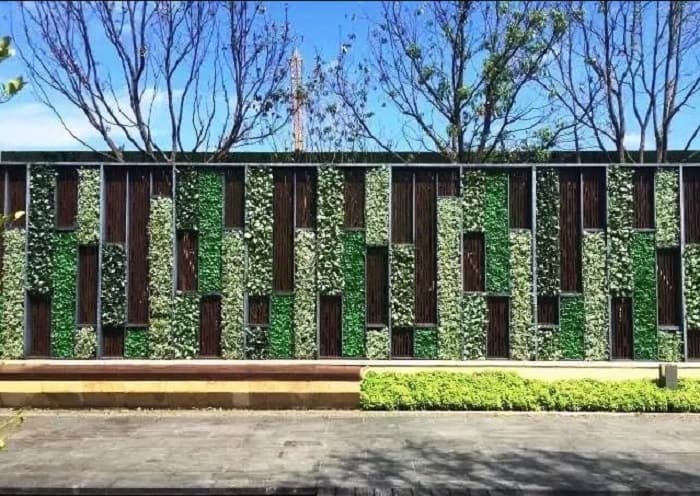 Image Source: Pinterest
A green wall is a vertical garden wall made out of plants. These walls add a natural look and also help in purifying the air.
Metal fence wall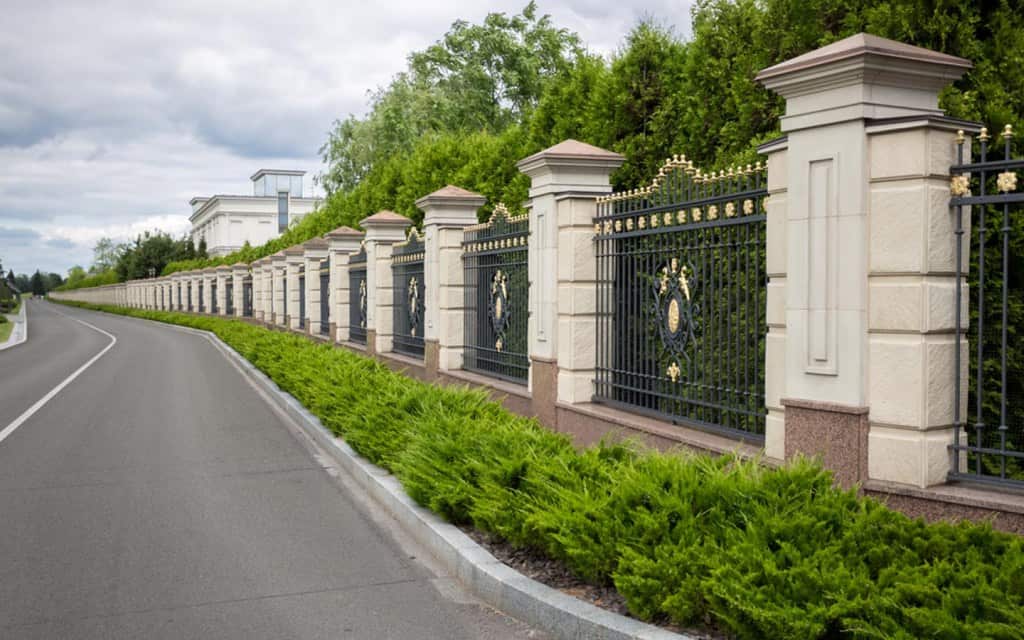 Image Source: Zameen.com
One of the easiest ways to give your home a modern look is by adding a metal fence wall near the main gate. Made of materials like mild steel or stainless steel these offer security and also blend well with most exterior designs.
Exposed brick wall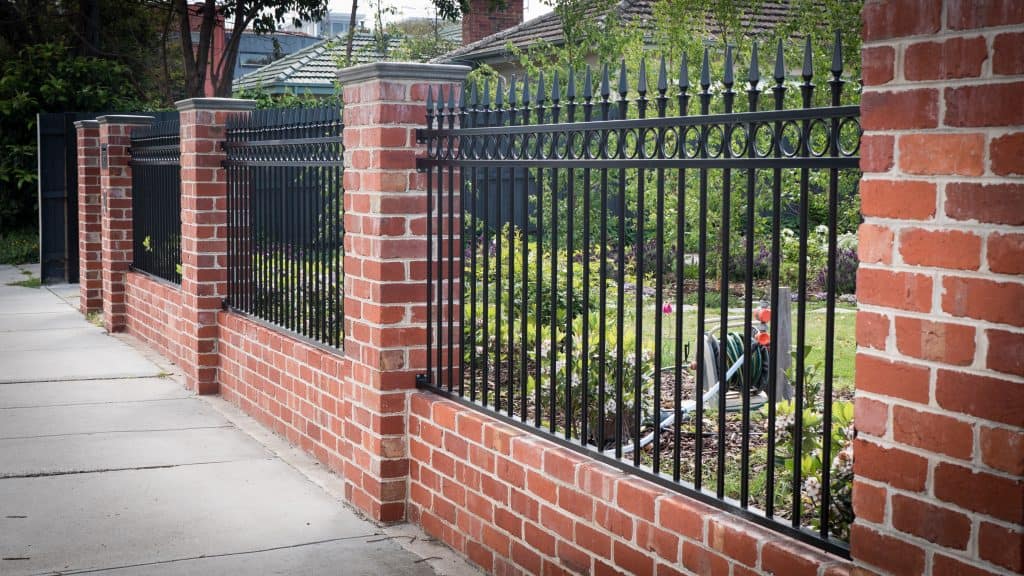 Image Source: Dwyer Brick Fences
Exposed brick walls bring an old-world charm to them. These walls are suitable for residences and offer a new look every time you repaint them. 
Stone clad wall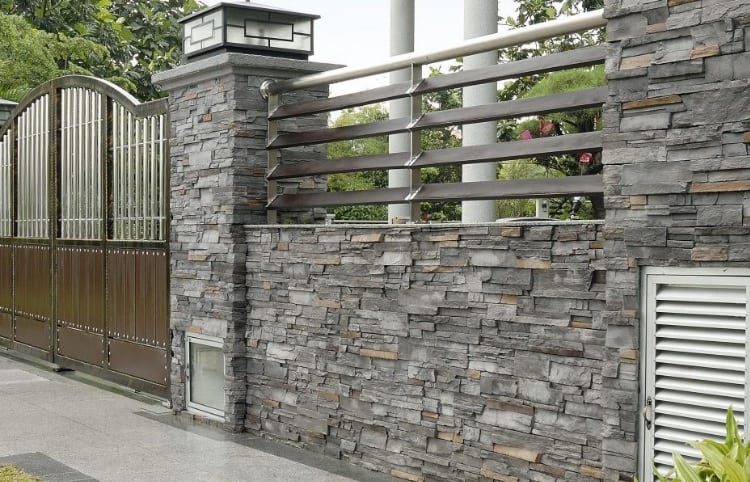 Image Source: Hire and Build
Stone cladding in the form of granite and limestone is used to make the wall aesthetically appealing.
Ornate jaali wall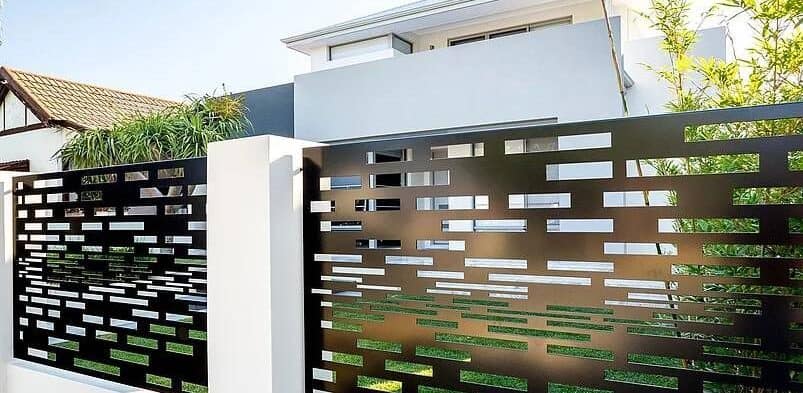 Image Source: Tricity Property
3D Metal cuttings in ornate jaali design have countless design options. These are fixed to the base wall with the help of screws.
Heritage-inspired wall
Image Source: Shared 4 Info
These wall designs take inspiration from old Indian architecture. They have intricate detailing and patterns.
Sustainable fence wall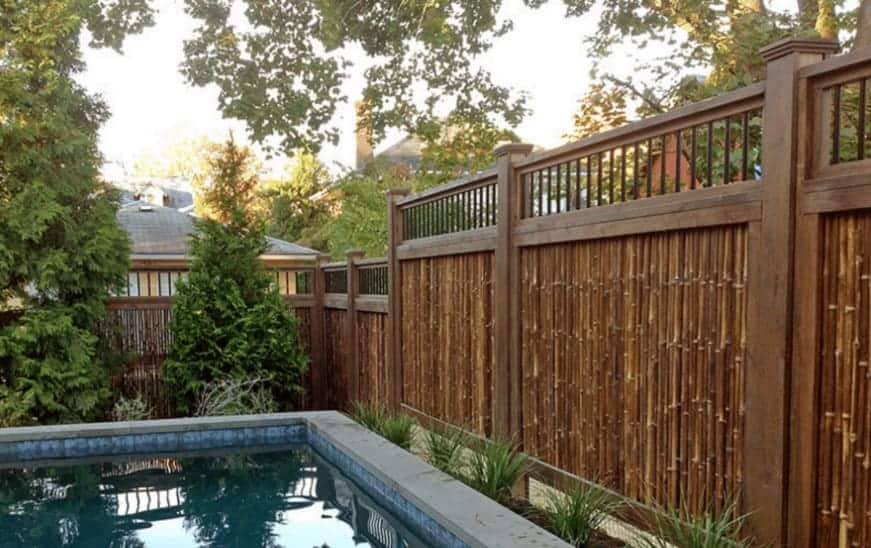 Image Source; Elemental Green
Sustainable fence walls made of recycled materials like bamboo, reclaimed wood, and old scraps have gained popularity.
Frequently asked questions (FAQs)
What is the ideal height of a compound wall?
Local municipality rules govern the height of a compound wall. The compound wall is generally four to six feet in height.  The height of the wall should not obstruct natural light. 
What is the ideal thickness of a compound wall?
The ideal thickness of the compound wall should be 8 to 9 inches or 200 to 230mm.
How much does it cost to construct a compound wall?
The cost of a precast compound wall generally starts from approximately Rs 600 per RFT. While the average cost of building a masonry wall with a grill would cost approximately Rs. 1400 per RFT including an MS gate.
Do we need permission to construct a compound wall?
You do not need permission to construct a compound wall as it is not an additional construction if it is already in the plan of the building. However, it is always advisable to check with the local civic authorities.
Why do we need columns for a compound wall?
Columns provide lateral stability to the wall against overturning. These are also architecturally pleasing and help in breaking the monotony. 
Conclusion
Choosing the best compound walls for your home is an important task as they provide privacy and safety to a house. The style of these walls should reflect the architectural design of your home. There are plenty of ornamental and modern designs to choose from. 
Compound walls differ based on their appearances like simple masonry walls and precast walls. A range of materials like brick, stone, and wood are used to make innovative wall designs. Most people want to create statement walls that are unique like a vertical garden wall or a gabion wall, that will add to the beauty of their house.
Our curated list of unique tips will help you select the most suitable wall design. Additionally, we have also answered a few frequently asked questions about the ideal size and thickness of a compound wall.
Now that you have all the information regarding compound wall design, you are ready to enhance the aesthetic appeal of your home.
* The featured image used in this article is from Pinterest
[vvsmustread]