Choosing a perfect interior decor item for your house which blends well with other components is a challenging task. There are countless decor elements available for you to choose from. Today, we have decided to focus on coffee tables. A coffee table enhances conversations at home and serves as a key piece in interior design. Apart from its aesthetic value, it can be an excellent centrepiece and a source of storage in your living area. However, choosing the right one can be tricky. Coffee tables come in a variety of colour schemes, shapes, sizes, and styles. In addition, coffee tables are available in combination with ottomans and are made of different materials like glass, metal, reclaimed wood, etc.
To provide you with a little inspiration, in this article, we have compiled comprehensive information on various types of coffee tables, the best design ideas, and online buying options. So, if you are looking at making your coffee talks comfortable and decorating your home with this staple design element, you are at the right place. Keep reading!
Our top coffee table recommendations (Buy here!)
West Elm Anton Marble Table
Bent Chair Sherlyn Table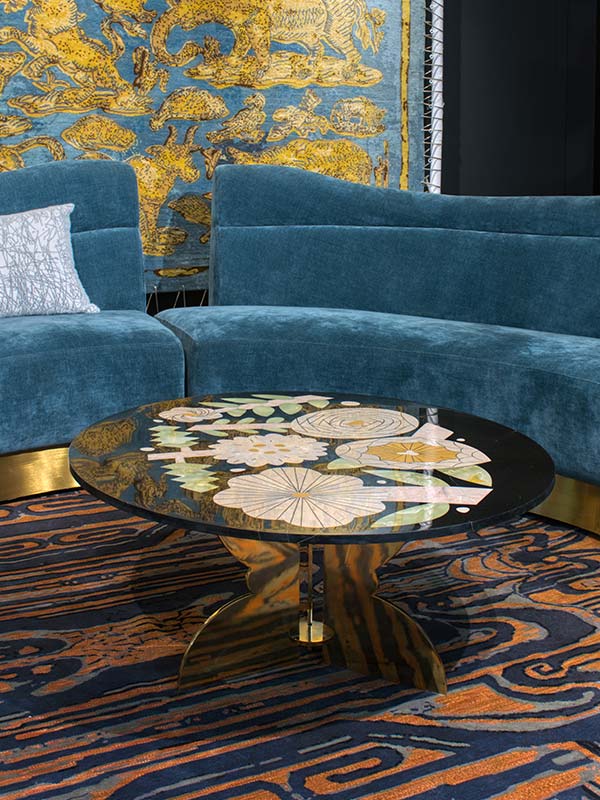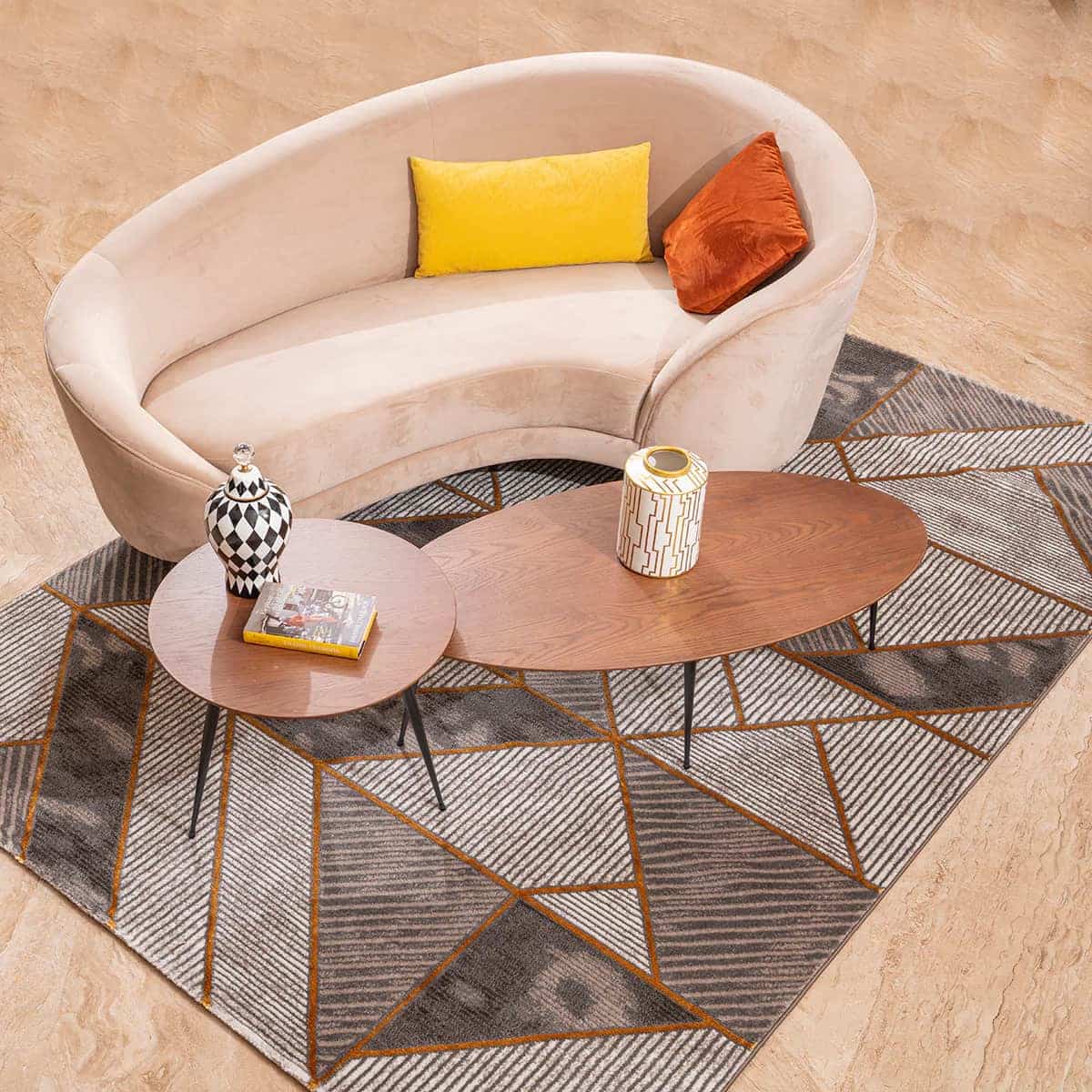 Durian Thompson Marble Coffee Table in Smoke Grey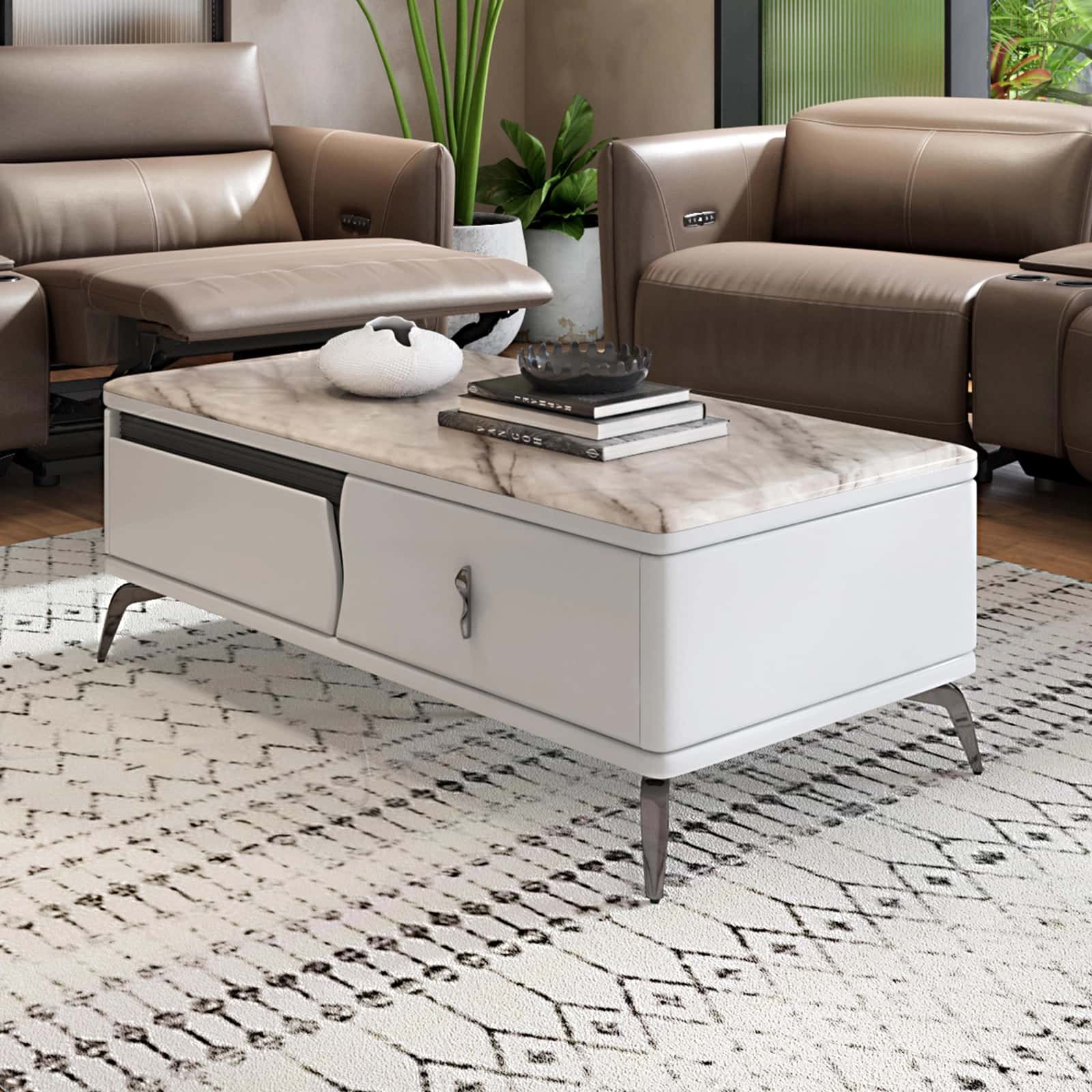 Ellementry Palace Window Table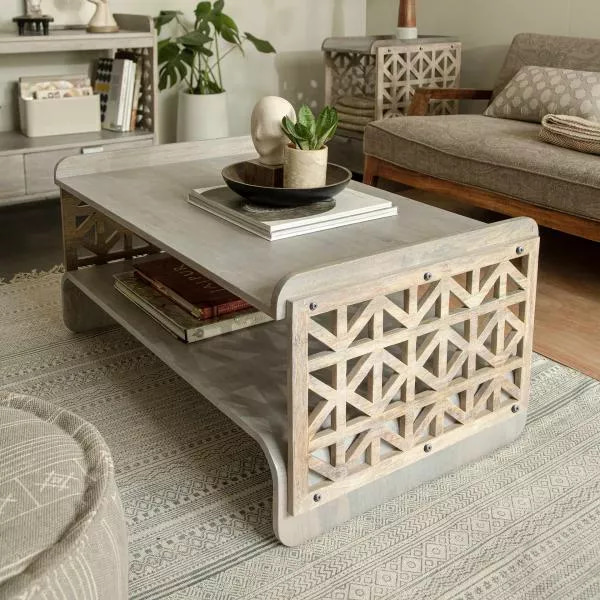 Natuzzi Kendo Table
Sleeppyhead Twosome – Solid Mango Wood Coffee Table
Wall Mantra Ornate Round Golden Table
West Elm Drum Storage Table, Walnut/Antique Brass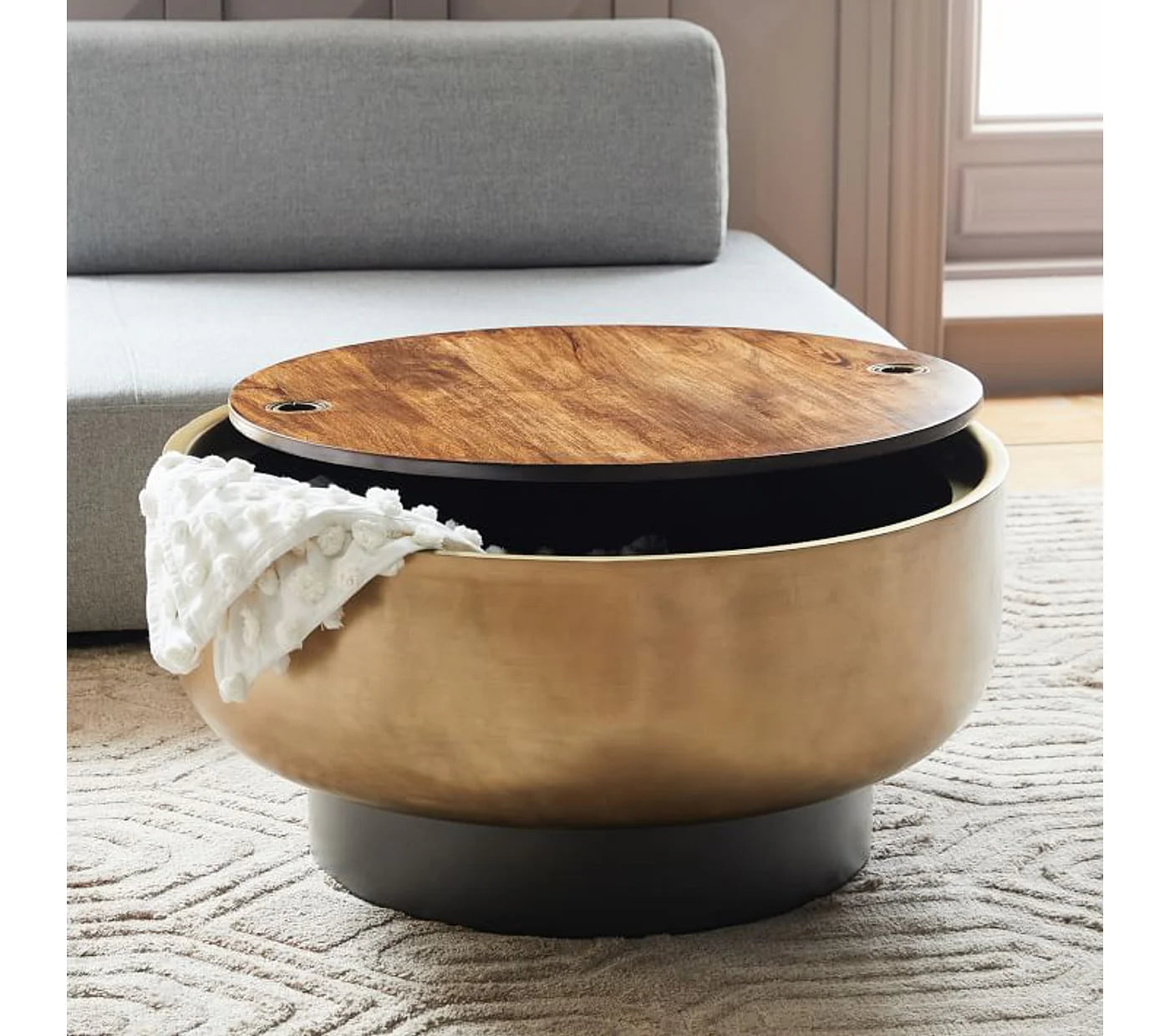 BoConcept Madrid Table
Price list of coffee tables available online – An overview 
Brands

 

Product

 

MRP

 

West Elm

 

West Elm Anton Marble Table

 

85,000

 

Dekor Company

 

Dekor Company Scandinavian Design Birch Table Set

 

17,999

 

Durian

 

Durian  Thompson Marble Table in Smoke Grey

 

68,000

 

Ellementry

 

Ellementry Palace Window Table

 

28,700

 

Sleepyhead

 

Sleepyhead Solid Mango Wood Table

 

6,999

 

Wall Mantra

 

Wall Mantra Ornate Round Golden Table

 

19,999

 

West Elm

 

West Elm Drum Storage Table

 

50,000

 

BoConcept

 

BoConcept Madrid  Table

 

2,29,950

 
Types of coffee tables
Based on material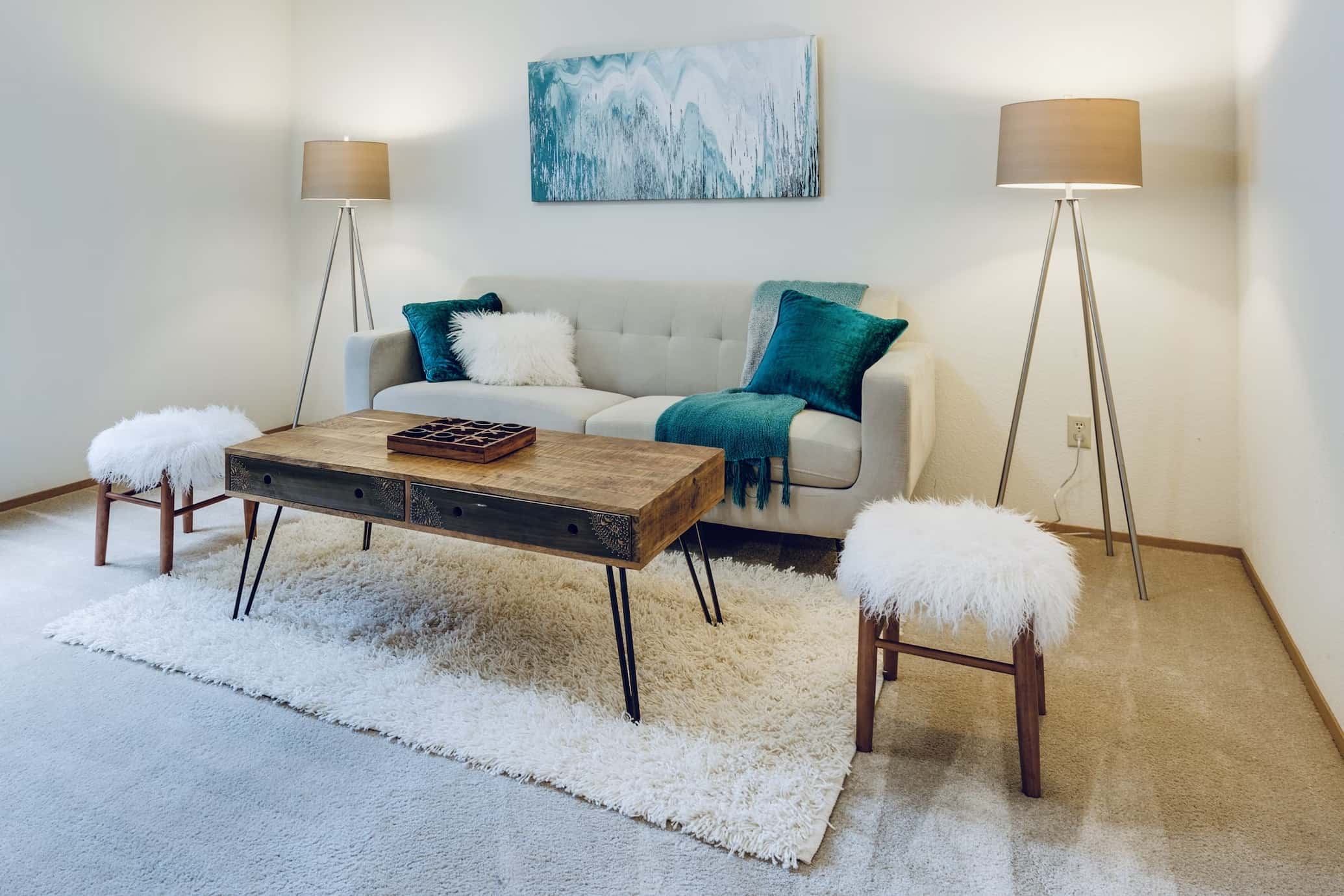 Image Source: Francesca Tosolini on Behance
Reclaimed wood is more durable and resistant to moisture than new wood. It is an adaptable material that can be stained and finished in a variety of ways. As a result, reclaimed wood coffee tables come in a variety of shapes, sizes, and designs, giving you a bunch of choices as well as a rustic appearance to your space. 
Glass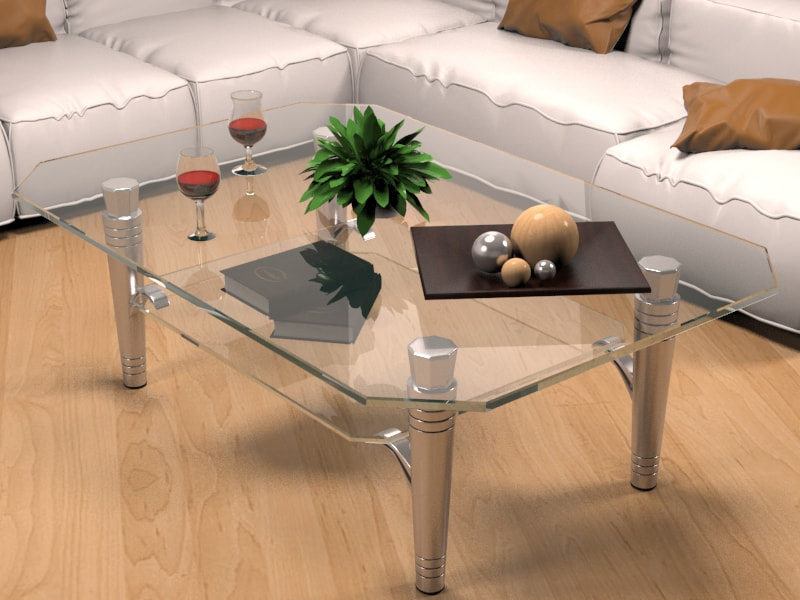 Image Source: Jennifer Stoop on Behance
A glass coffee table is perfect for a wide range of decor styles and can help tie the living room design together. Incorporating the right glass table not only gives you a place to rest a cup of coffee but also makes your interior design look more sophisticated than ever. 
Metal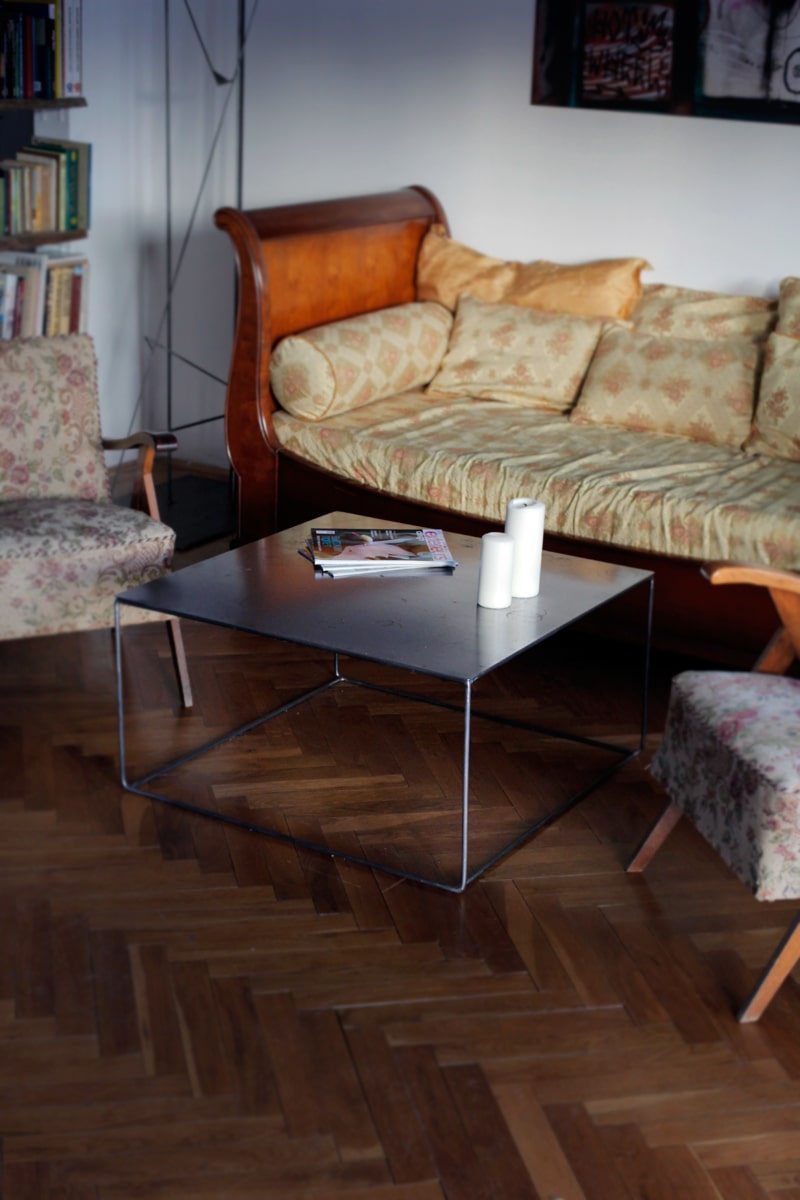 Image Sources: Ana Djordjevic on Behance
Metal centre tables are more robust and long-lasting. The style of your table is influenced by the type of metal used to manufacture it. The best thing about metal coffee tables is that they are available in a wide range of designs, finishes, and shapes. You can also choose painted metal coffee tables which are currently very popular. 
Stone
Image Source: tabledusud.nl
There's something about stone-topped tables that makes them look elegant. If you are chasing an expensive look, you can go for agate, malachite, or marble. These are sturdy and beautiful rocks which can be sculpted into any required shape. As a result, these are widely used to create furniture, countertops and other decorative objects. Marble also emits a highly smooth, rich finish that makes it appear luxurious. Also, travertine can be a smart choice for your table as it's prone to staining and etching. Apart from this, other stones such as granite, quartzite, etc. can also be used to design your coffee table. 
Fabric
Image Source: Francesca Tosolini on Unsplash
Fabric coffee tables are popularly known as Ottoman coffee tables. These gorgeous ottoman tables can save space in your lounge by serving multiple functions, making them the ideal place to rest your feet, breakfast, or laptop. Want to cater to your kids' creative side? Go for double-stitched ottomans in the shape of elephants or cows.  
Pro Tip: Have storage concerns? No worries. Ottoman coffee tables are also available with a storage space where you can stash your stuff, making your living room look clutter-free.
Based on shapes
Oval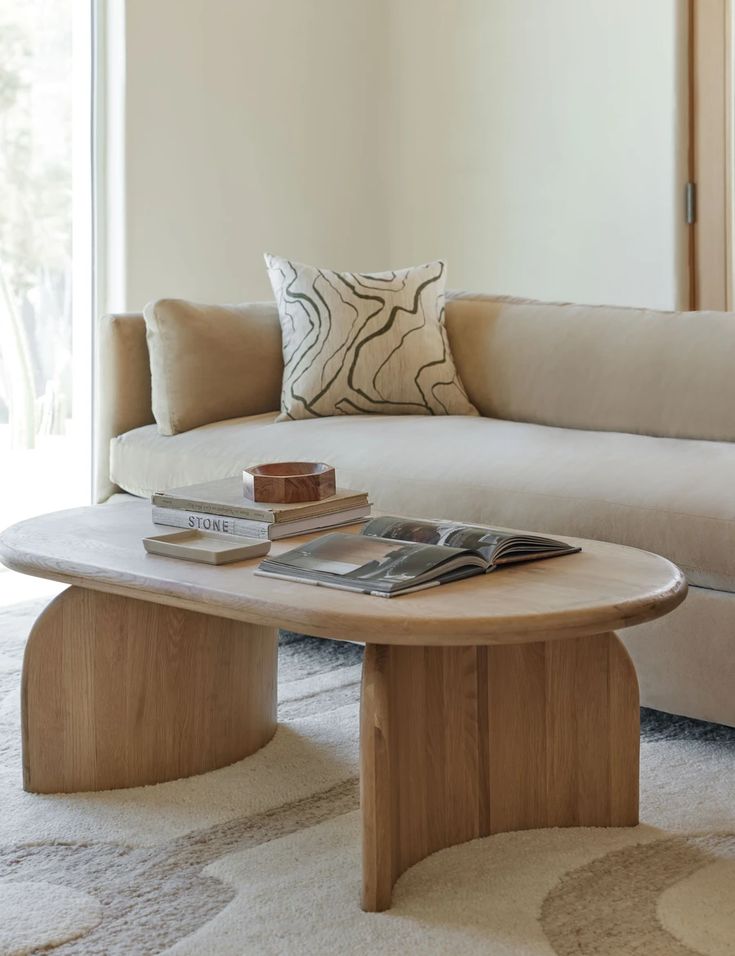 Image Source: Lulu and Georgia on Pinterest
Going contemporary with an oval-shaped coffee table can be a wise choice for a mid to small-sized living room. Why? This is because the elongated design will give you extended space to place your beverages, snacks, or magazines. 
Rectangular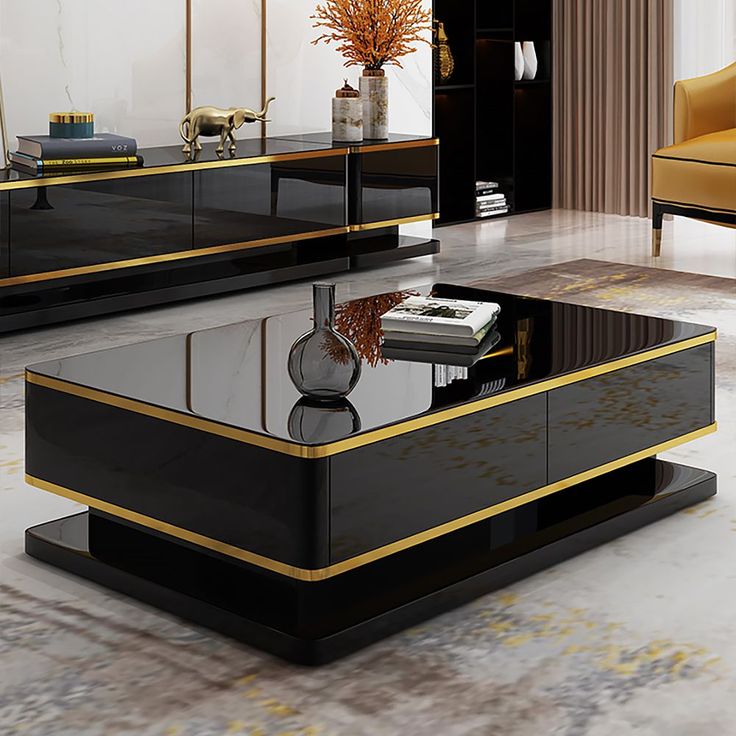 Image Source: Homary.com on Pinterest
For decades, rectangle tables have been a classic choice for living rooms and are ever-evolving. As a result, it's now easier to find something that differs from the standard designs. Whether it's a modern table for a minimalist office or a mid-century piece to cast a vintage look, these rectangular coffee tables add a creative twist to a basic form. 
Round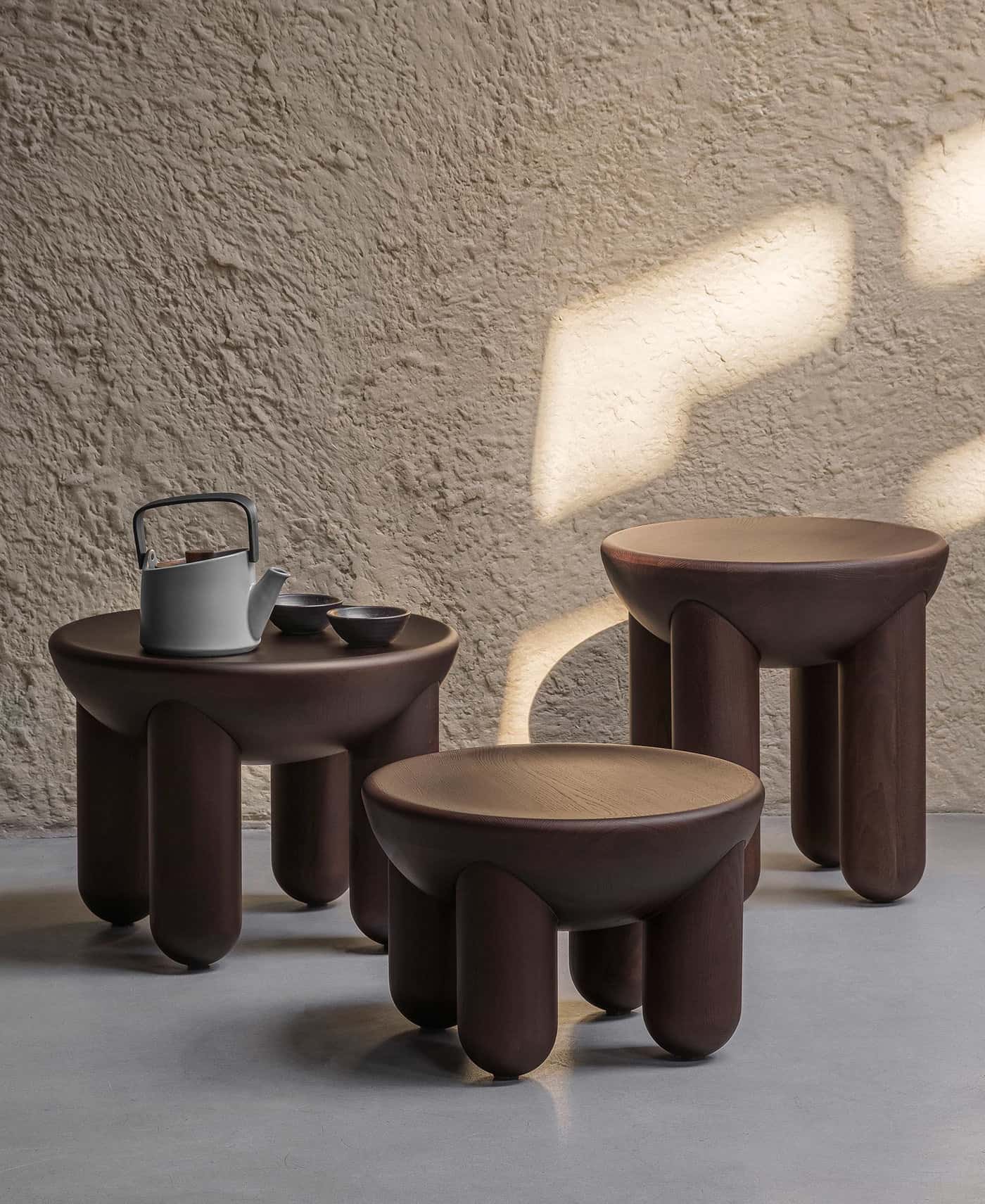 Image Source: Freyja coffee tables by Noom on Behance
A round coffee table is a stylish and functional addition to your living space. Its soft appeal works well with any decor style and is a perfect accent for small rooms. A round table works well in a room with a sofa and chaise lounge or even a full sectional sofa. 
Square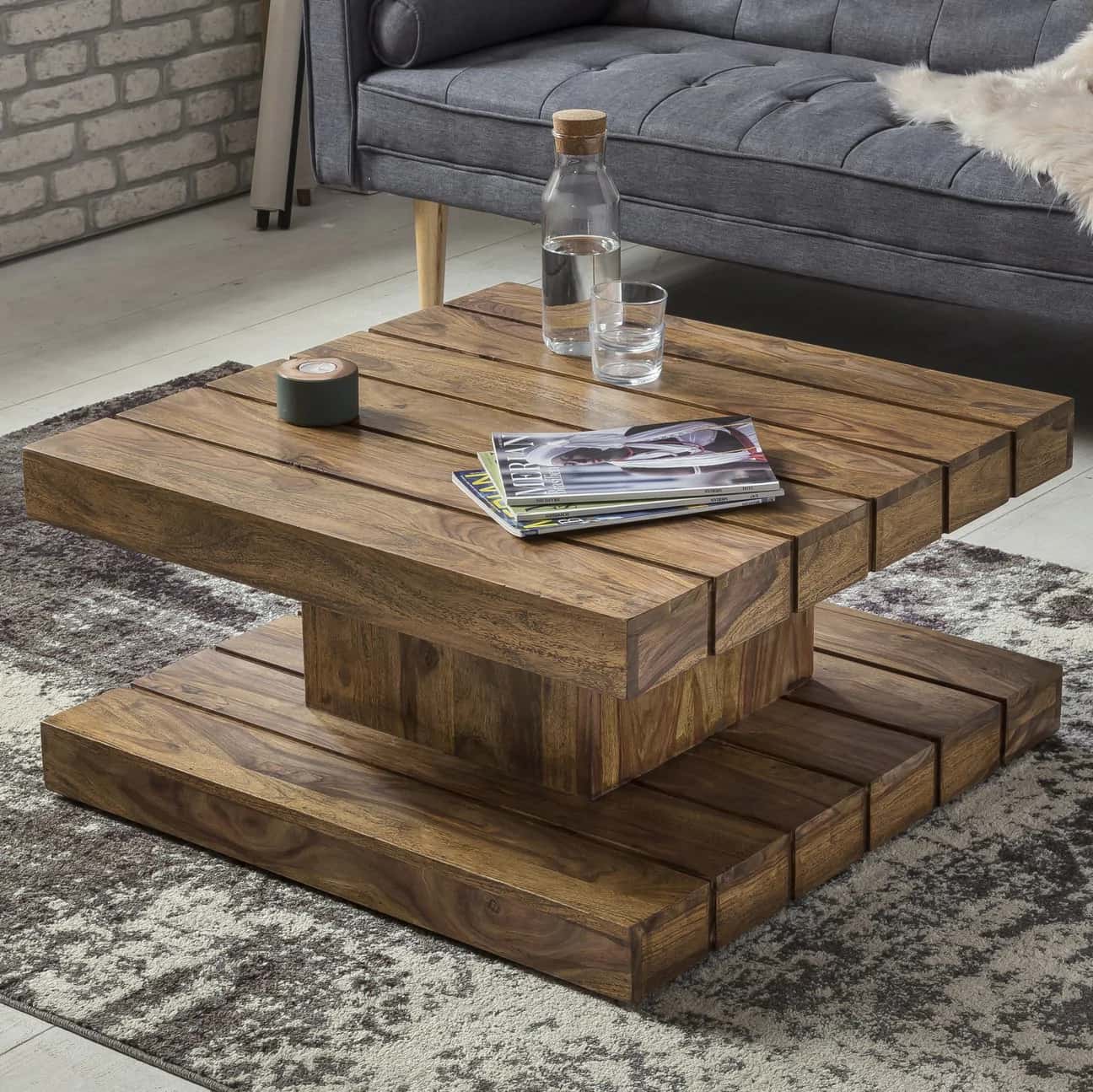 Image Source: Saraf furniture
Sleek lines, smooth edges, as well as high style, are what a square table provides you with. These coffee tables add beauty and style to both your indoor and outdoor spaces. A piece of furniture can sometimes make a room appear cosier and anchor the space. A large square coffee table is an ideal pick for any space and looks super gorgeous in a black or espresso finish. 
Free-form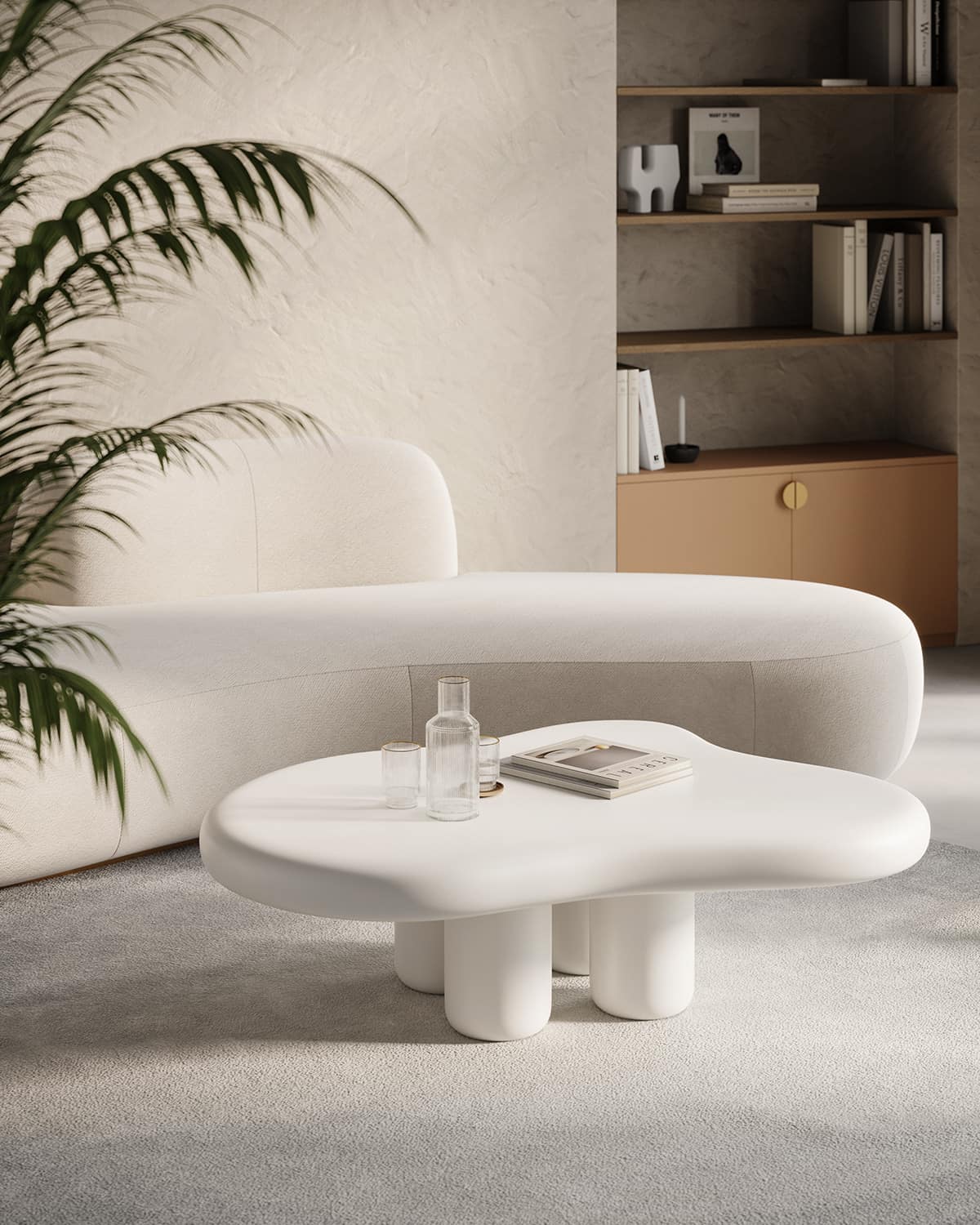 Image Source: Alvina Kravet on Behance
The free-form coffee tables are a unique and eye-catching way to add a cool touch to your space. They are available with an edge as well as without an edge. The without-edge type is a perfect toddler-friendly decor element for your living room. With the free-form table, you can impress your guests by boosting the appeal of your room. 
How to choose a suitable coffee table for your space? 
Size
Along with the shapes, you must also determine the size of the table. Two major factors influence the size of the coffee table: the layout and size of the room. The size of the sofas and the ideal distance to the television or the opposing sofa must be taken into consideration when choosing the length and width of the coffee table. 
The height of the table is equally important; it should not be lower than 1 to 2 inches from your sofa seat. As a general rule, the coffee table should be at least 16 to 18 inches tall for a standard-sized sofa and 20 to 21 inches tall for a larger sofa.
Space
The most important thing to consider while selecting your coffee table is to determine the available space in your room. The table should be placed at such a distance from the couch or sofa that it can be easily reached yet it is far enough to stretch your legs. The perfect distance between your coffee table and the sofa is 12 to 18 inches; any closer or farther will feel uncomfortable. 
Material 
Material is an important factor you should not overlook while buying a coffee table. When it comes to choosing the right material, wood is a sound choice. It has a classic charm that never fades away. No matter what material you choose for the coffee table, make sure it matches with other furniture in your living room. 
Room decor
Your living room is a place where you want to chill and enjoy your time, so there are no specific colour codes to follow. Living room furniture such as couches and tables is an investment. So, be mindful when it comes to picking colours for your sofa and centre tables. 
You can match the colours, make use of contrast colours, or choose shades that are similar but not identical. 
Storage
Clutter is a design killer for the majority of homes. Fortunately, coffee tables with storage act as a boon in such cases. These are perfect to keep remotes out of the couch and make tabletop space clear. These enable the organisation and hide the odds, helping your space look organised. Moreover, coffee tables are highly stylish and come in a variety of designs. 
Budget 
The first question you should ask yourself before purchasing anything is – What is your budget? The shape, material, size, etc. depends on your budget range. So, decide the range then filter out the coffee table designs as per your taste. 
Coffee table designs to style your space aesthetically 
Ottom

an coffee table with storage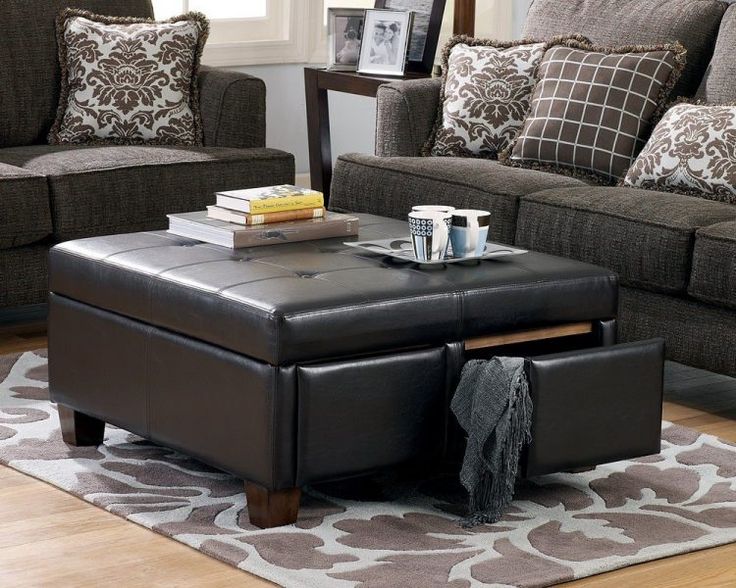 Image Source: Homesfeed on Pinterest
Providing extra room for guests to sit comfortably, this square leather ottoman coffee table with storage is a great choice. This ottoman coffee table with storage also gives you a clutter-free space. It works very well with the couch. Plus, the black leather of this ottoman coffee table with storage gives a classic touch.  
Modern square rotating coffee table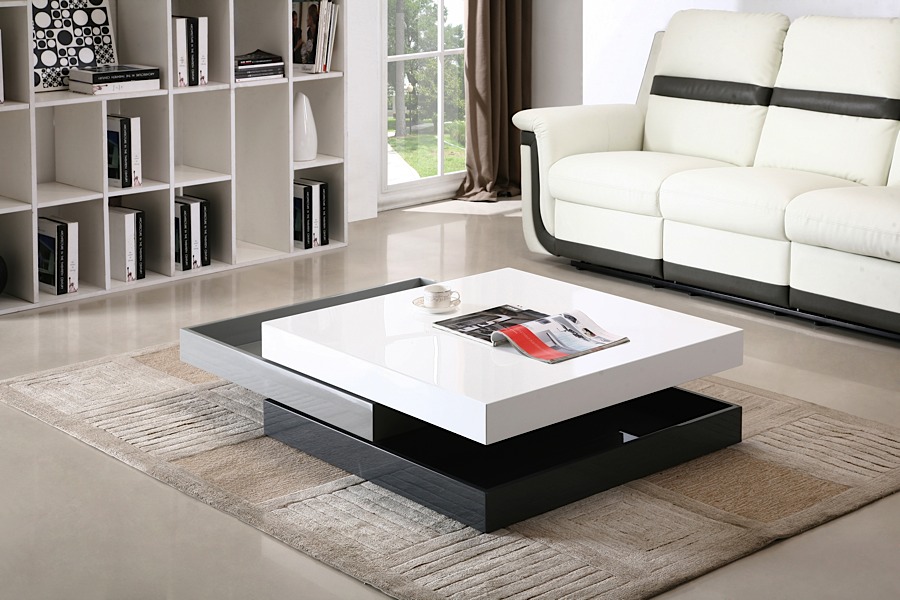 Image Source: Modern Digs
This rotating table has a retro vibe and comes with a high gloss surface finish. Its unique design is sure to catch everyone's attention. 
Dual-tone slide-open table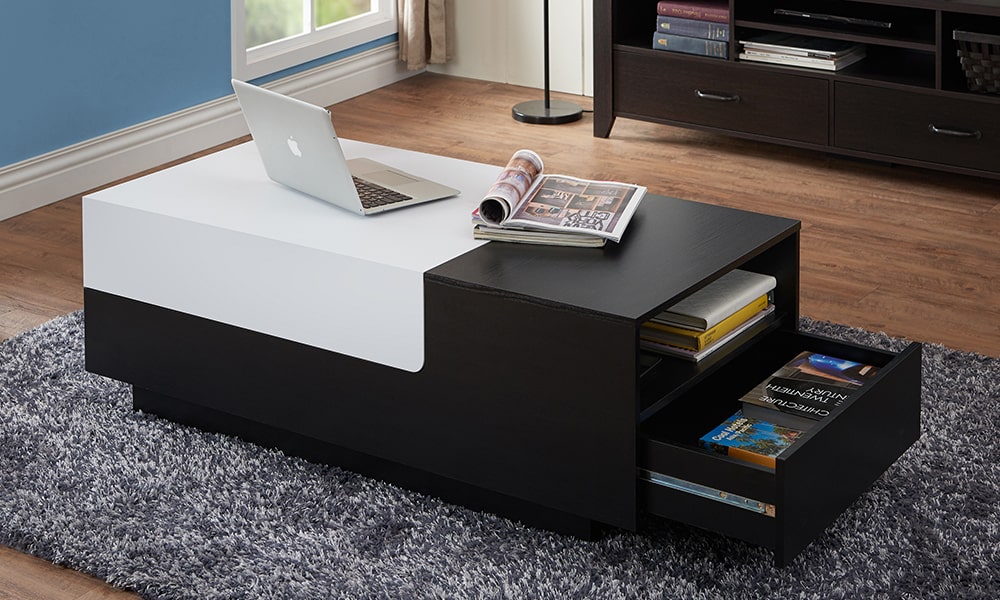 Image Source: AtoZ furniture
Ideal for stashing your books, magazines or other stuff, this dual-tone design has sliding hardware and opens up giving you large storage space. 
Mirrored coffee table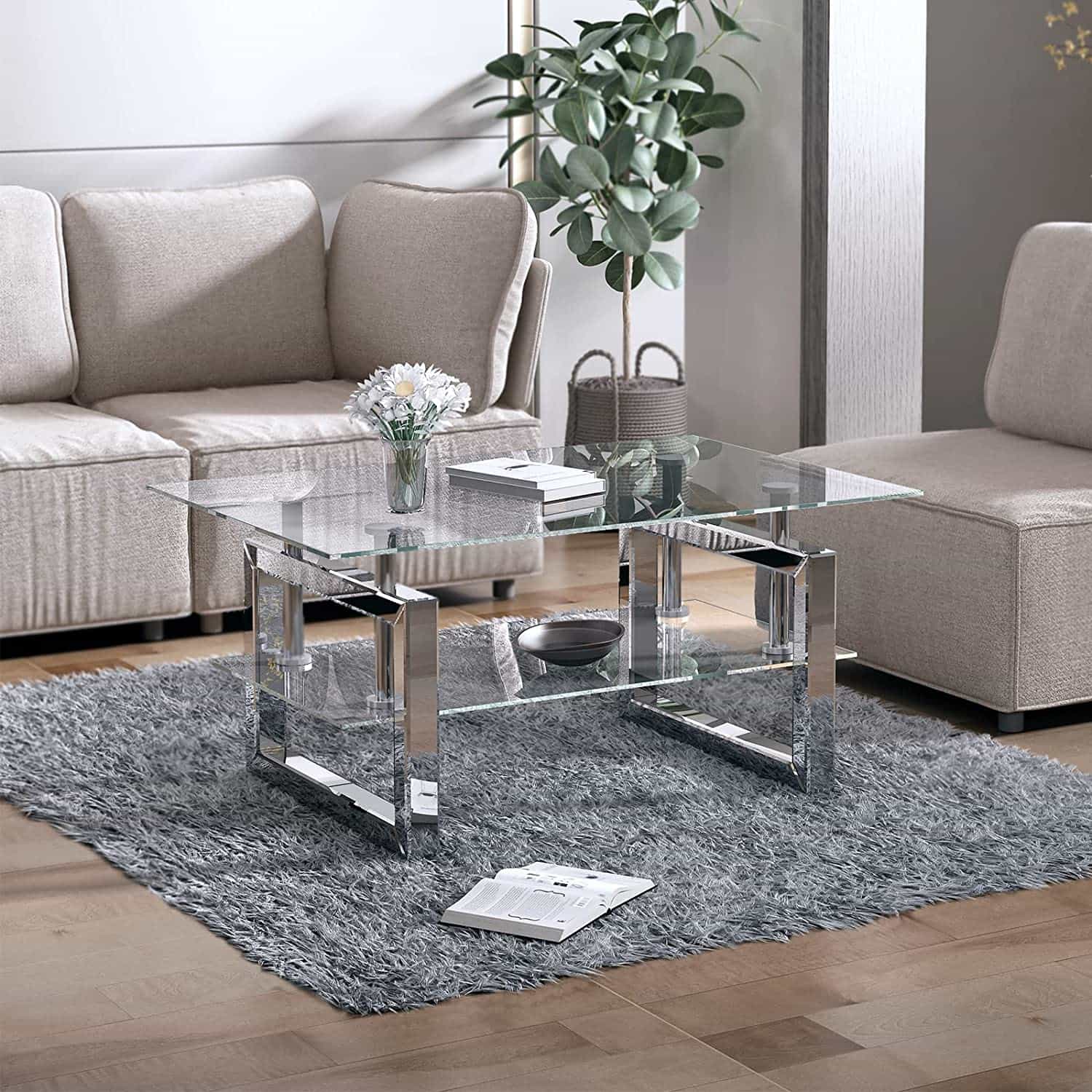 Image Source: Ubuy
This modern mirrored table gives you a glamorous reflective finish. With its silver-plated legs and mirrored tabletop, it sparkles its beauty.  
Rustic coffee table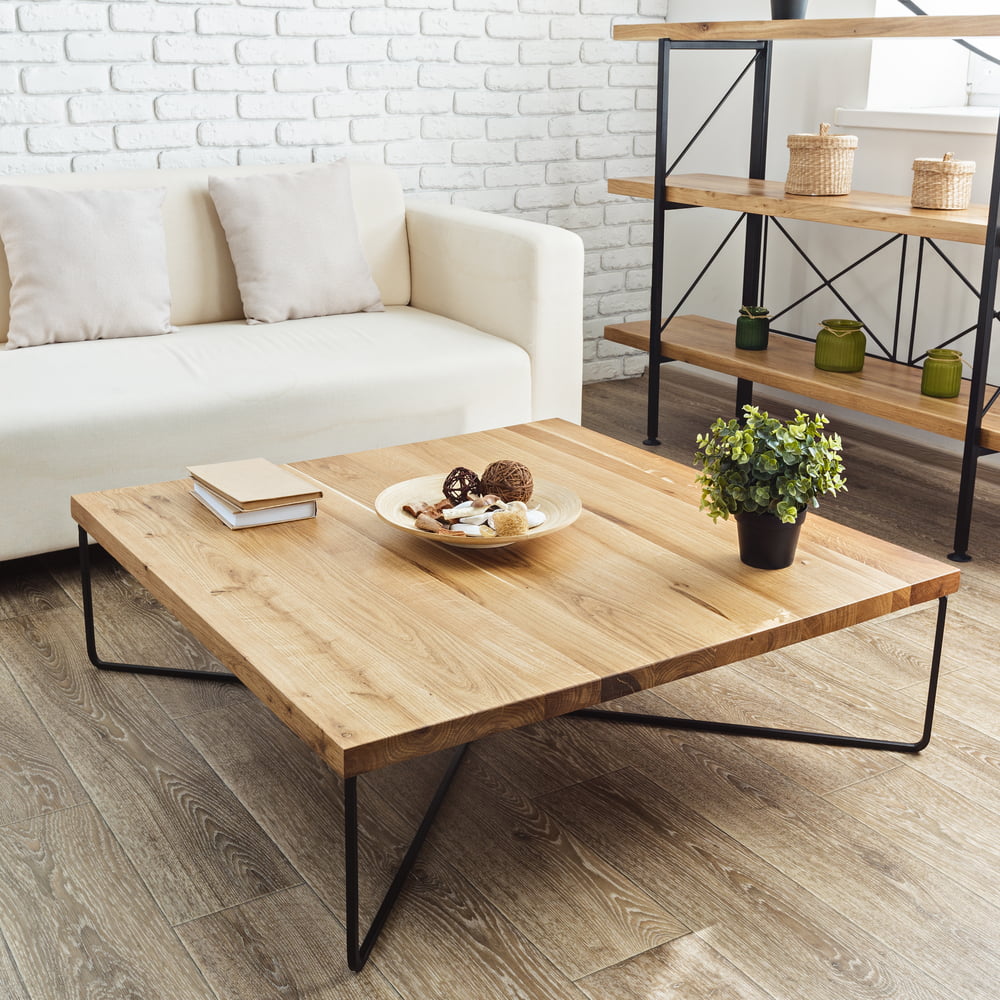 Image Source: FabrikaSimf on Shutterstock
Love the concept of vintage-styled tables but looking for something more than the usual wooden table? This square wood and metal table is a perfect fit for your living space. 
Image Source: Bentley Designs
This Scandinavian-style table is a perfect decor element if you want to opt for a minimalistic look for your living room. The use of reclaimed wood gives this coffee table a natural touch.
Multi-functional lift-top table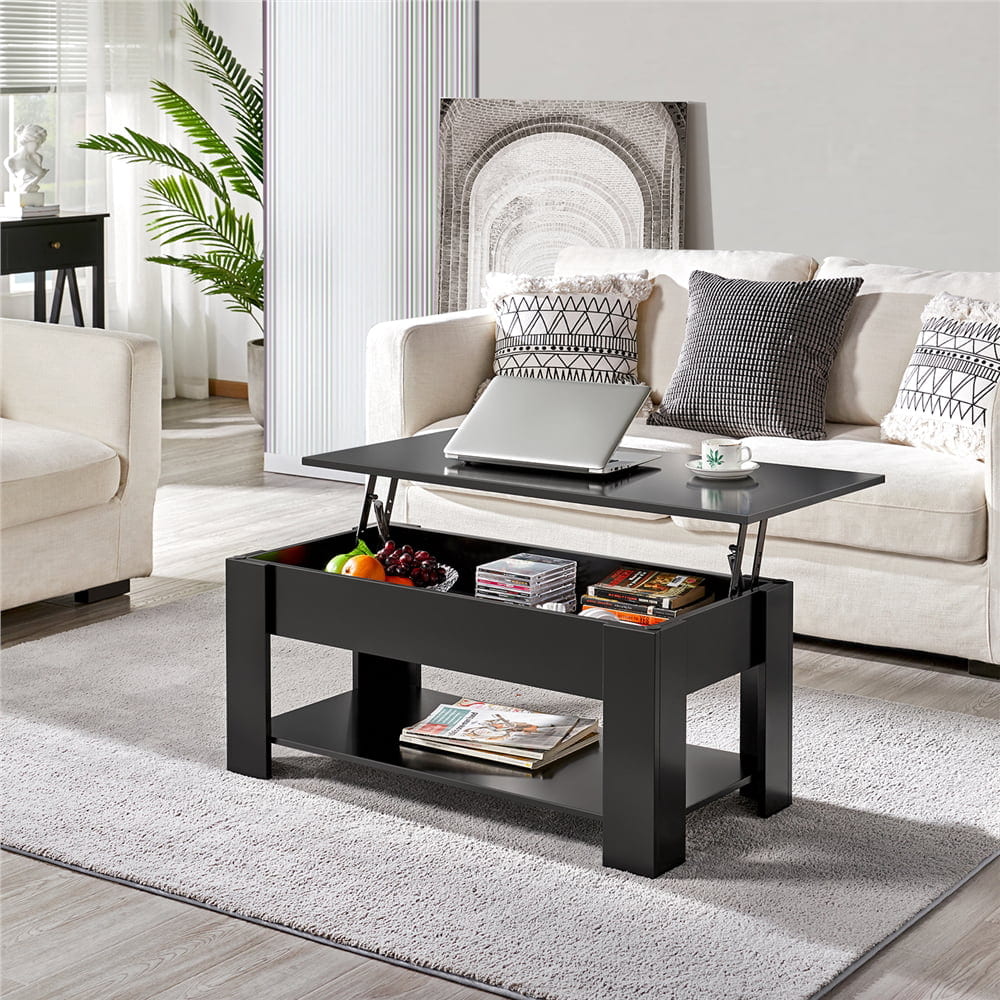 Image Source: Walmart
Whether you wish to work on the couch, stow your clutter, or have a cup of tea, this lift-top table is a fantastic choice with roomy storage underneath. 
LED table with storage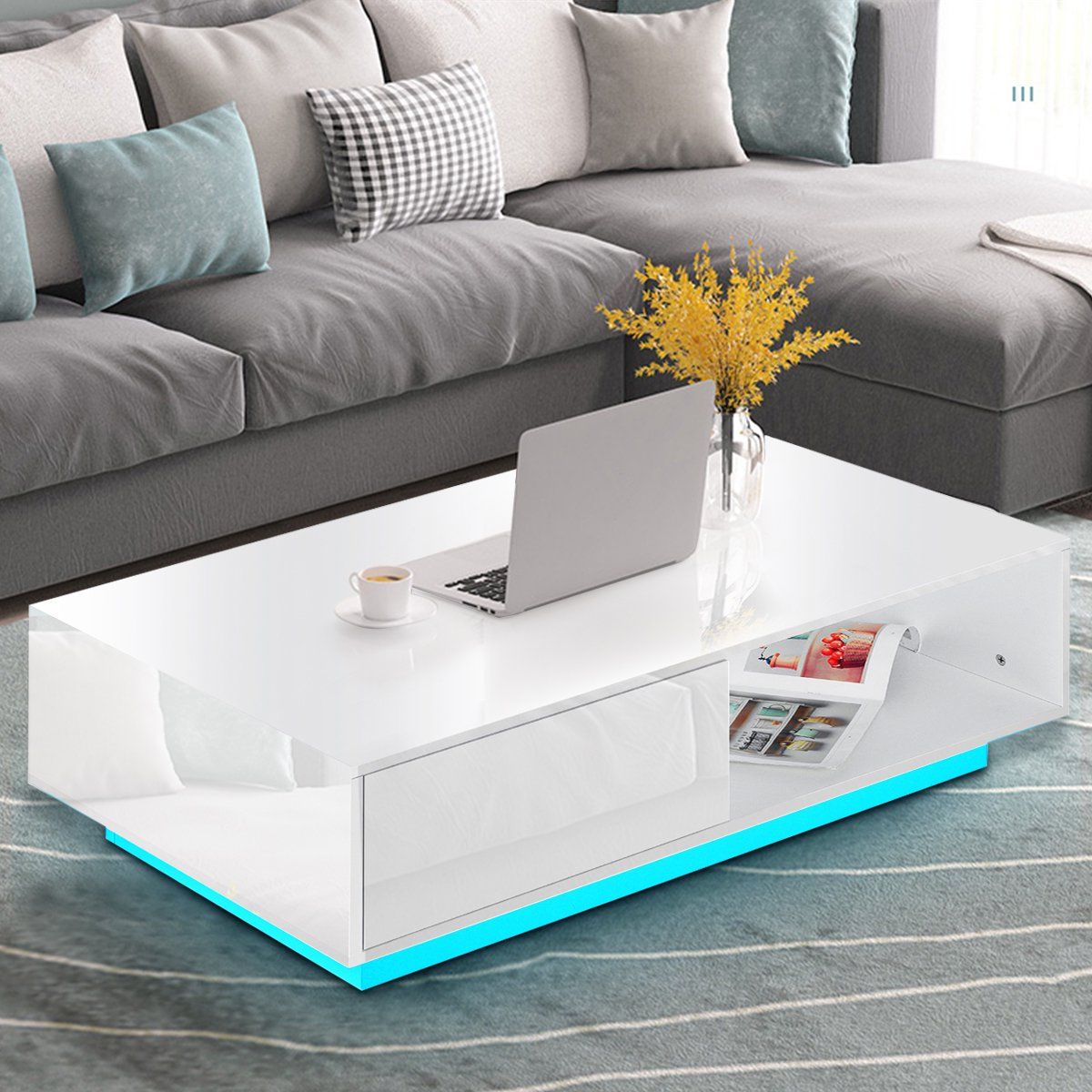 Image Source: Walmart on Pinterest
The high gloss surface of this table adds a modern touch to it and the built-in LED lights are eye-catching. Additionally, it has a couple of side shelves ideal for storage. 
Round coffee table with golden faux frame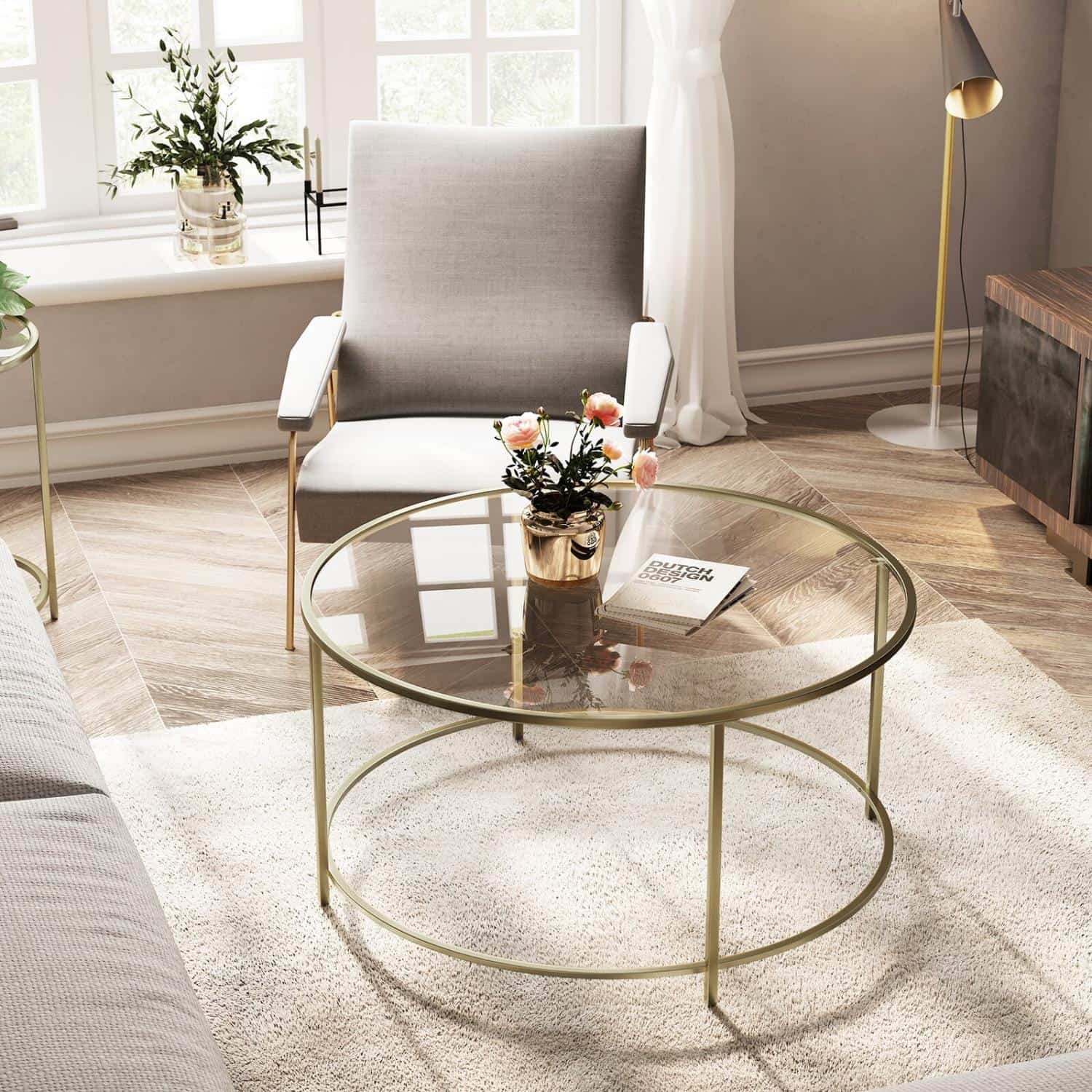 Image Source: Bestbuy.com
The shiny glass and smooth curves of this sleek round table give it an elegant appearance. What is the most appealing aspect of this design? Its golden imitation adds a rich impression. 
Bold black free-form coffee table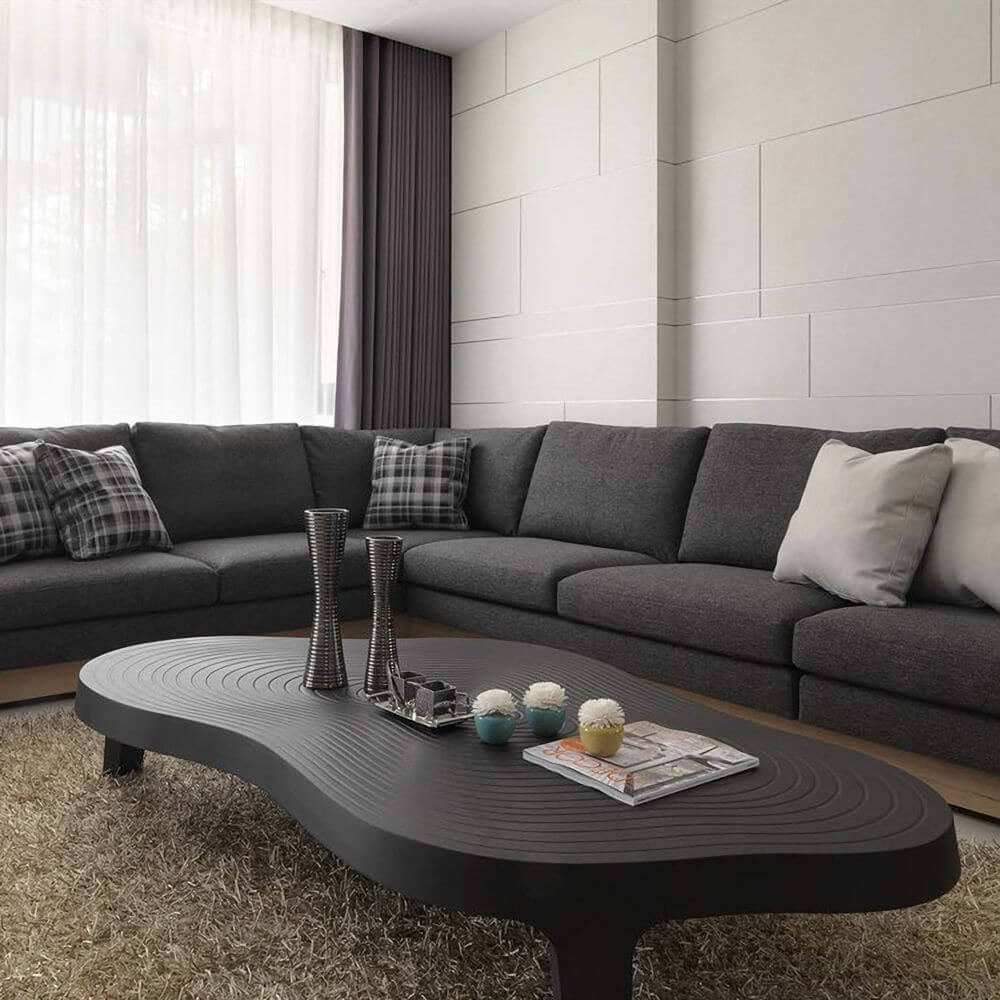 Image Source: Homary.com on Pinterest 
Unique and eye-catching, this free-form table is an easy and proven way to add a trendy accent touch to your living space. 
Pro Tip: If you are looking to add a rustic element, a free-form coffee table designed using reclaimed wood or hardwood can be an excellent choice.
Watch this video: Design hacks! Top 9 ticks to style coffee tables (14 mins 53 secs)
Benefits of buying a coffee table online 
Nowadays, online shopping is preferred by consumers as it's more convenient than shopping in store. Here are some of the benefits of buying a coffee table online: 
You can find the perfect coffee table for your home without leaving your home.

 

When you shop online, you get a wide array of options to choose from.

 

Online sellers often give you better deals on the product.

 

You get the product delivered to your doorstep.

 
Why buy from B&I's list? 
Want to elevate your living room aesthetics? With the unique coffee table designs listed above, you can add not just style but also functionality to your space. We have picked expert-recommended designs that will suit your taste as well as your budget. Whether you prefer a round, glass, or modern table design, we have a wide array of options for you. So, browse through our hand-picked collection of the most reliable brands and redefine your decor! 
FAQs 
What coffee table goes with a leather sofa? 
You can pair the leather sofa with a wooden coffee table as the combination of wood and leather adds warmth to your space. Pick a stone or marble top for the table and try contrasting the colours; it will go well with your leather sofa.
How high is a standard coffee table? 
The standard height of a coffee table ranges from 16-18″ or 40-46 cm. However, you should not go for these measurements blindly. Ensure that the height of the table goes well with that of your sofa. 
What is the ideal size of coffee table that you should buy? 
The size of a coffee table should be approximately two-thirds the length of your sofa or focal point. For example, a sofa whose length is 84 inches would need a table that's around 56 inches long. 
How to style a nesting coffee table?
You can layer them on top of each other to form a single table or can place them in different corners of the room. To enhance the decor, you can display candles, flowers, or any other decor items on them. 
Is a 12-inch coffee table too low? 
Yes, 12 inches is too low for a coffee table as the standard height ranges from 16-18 inches. The height of a centre table shouldn't be any lower than 1-2 inches from your sofa seat.  
Is a 90 cm round table big enough? 
The diameter of your round table is determined by the number of people who will be using it. If you need a table for 4-6 people, the diameter should be about 90-150 cm.  
How do you style a coffee table using the rule of three? 
You can display a matching set of decors (3 different sizes of the same object). This is the easiest way to use the rule of three to style a coffee table.

 

If you don't want to go for matching objects, mix and match the sets together which will create multiple arrangements yet a coordinated room decor.

 

The rule of three works great when creating an odd-numbered arrangement like 1/5/9, etc.

 
Conclusion
A coffee table is an investment you make in your living room for added comfort. It uplifts your interiors making an outstanding statement. This living room centrepiece has evolved with time. Whether you want to go traditional or trendy, there are endless options for you to pick from as these are available in a variety of styles, finishes, and shapes. To find your perfect table, consider your room's size, space, and storage requirements. Also, picture your final selection in your living room to know if it blends with your existing room decor. Feel free to use your favourite table designs and ideas from this article to elevate your living room. Also, shop from our expert-approved picks mentioned above if you need an instant decor remedy! 
*The featured image used in this article is from BoConcept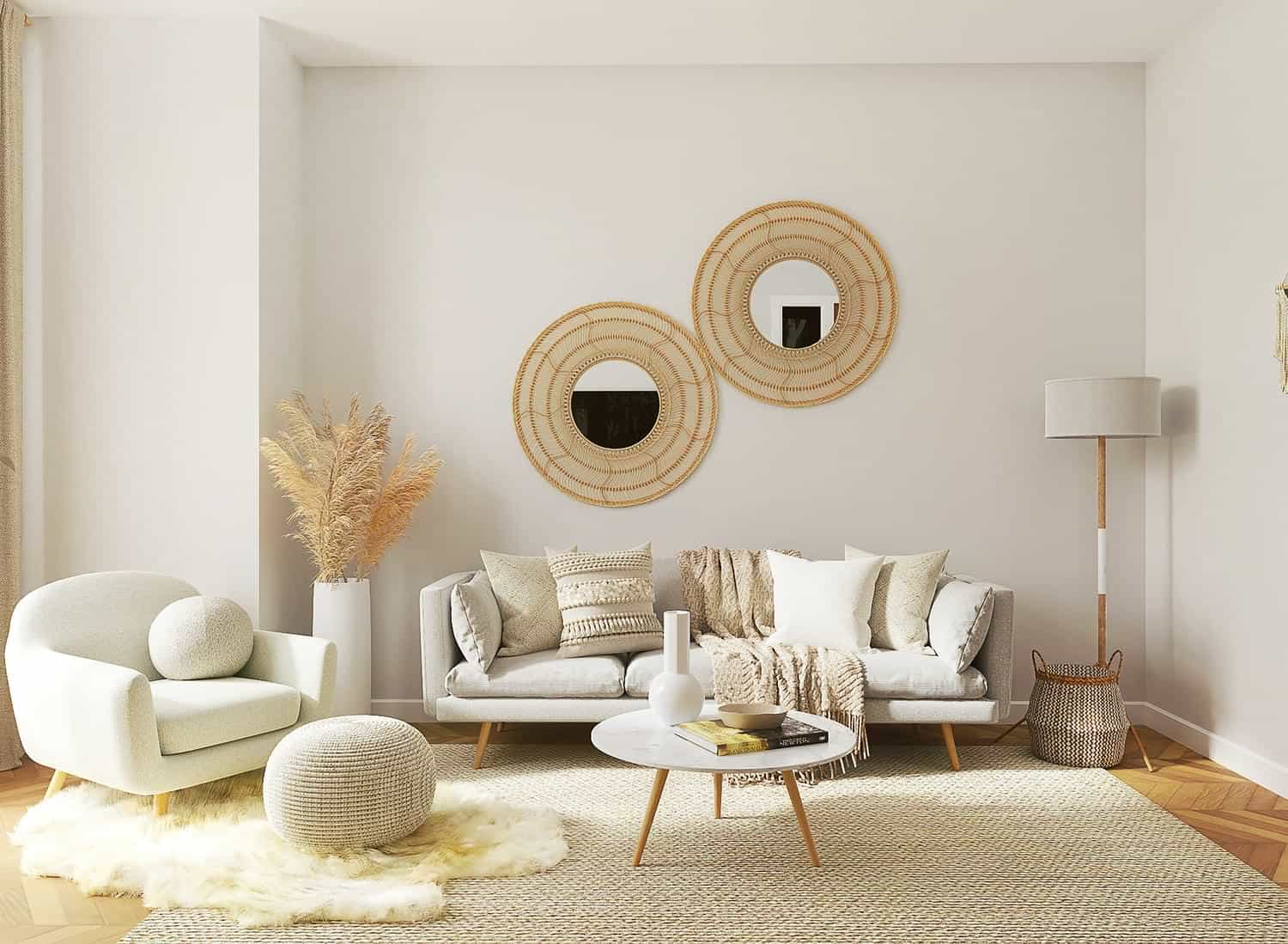 The living room, more than any other room in your house, demands consideration in terms of interior design ideas and decorati