Building with wood is gaining momentum in India. As an outcome, Forestry Innovation Consulting Pvt. Ltd. popularly known as Canadian Wood is creating an ecosystem where woodworking professionals come together to promote the adoption and use of sustainably sourced wood species from B.C. Canada. Keeping up with its tradition of hosting educational webinars, the recent webinar focused upon different styles of building with wood, their overall advantages, and their contribution to sustainable design and building.
The webinar titled 'Woodinnovations – what's new & what's next' included sessions by three leading wood industry entrepreneurs who shared their in-depth experiences with Canadian Wood species applied in noteworthy projects across India.
The first session was conducted by Ankush Seth from Build Kraft India. His presentation began with an overview of a range of residential, hospitality, and retail projects incorporating Canadian timber in interior fit-outs. With respect to structural applications, he deep-dived into a private villa project located in Himachal Pradesh built using the hybrid style of construction (use of wood along with local stones and bricks). The project optimally utilized the versatility of Canadian Douglas-fir for all structural purposes including trusses and posts-and-beams. It was also used in other applications like doors & windows and rustic flooring. Douglas-fir is valued globally for its extraordinary strength-to-weight ratio, making it the ultimate choice for heavy structural purposes.
This session was followed by an engaging talk by Sanjay Sharma from Woodbarn India. Sanjay's presentation brought alive his experience of building more than 600 wooden structures across the country, with a specific focus on hallmark projects integrating Canadian Wood species. He elaborated on a double laminated T&G style of construction put together in about 12 hours in the IndiaWood 2020 exhibition. The prefabricated house was built with Canadian Spruce-pine-fir (SPF) – known the world over for its high strength-to-weight ratio and dimensional stability making it popular for structural applications. Also, the houses' laminated wall structure increased the wall thickness to 70mm adding to its strength, stiffness, and insulation values. This property is currently on display in Goa and is an ideal option for the hospitality sector looking at developing resorts in locations with permits for temporary housing.
Next, Akarsh Tiwari from WoodNiido shared his experience of building a WFC single-story house in Chennai with Canadian Wood. A believer of sustainable architecture, his presentation was laced with optimism given the rising preferences in the second homes category for Country Homes, Farmhouses, and Villas built with wood. The WFC house built by WoodNiido well utilized Canadian SPF to present an ideal model to meet this need gap amongst HNWIs (high-net-worth individuals).
Together, the sessions demonstrated diverse capabilities and strengths of Canadian Wood species as suitable building materials for projects executed across a range of locations with varying climatic conditions and architectural needs. All the projects were backed by material and technical assistance from Canadian Wood.
The structures displayed in the webinar also demonstrated the use of other Canadian Wood species in their ideal forms. Some examples of these were:
"Building with wood in India is at a nascent stage and Canadian Wood is conscious of the lack of local expertise and experience. Our strategic interventions like organizing training colleges and sharing best practices with the stakeholders are aimed at supporting them to tackle this challenge better. They also help back local contractors and builders in successfully executing projects and thus make them commercially viable. Some of the projects showcased during the webinar were an outcome of our efforts in this direction. We are happy to see that increasing number of architects, builders & developers, interior designers are now making a responsible choice of incorporating our sustainably sourced wood species in both reman and structural applications."
About Forestry Innovation Consulting Pvt. Ltd.
Forestry Innovation Consulting Pvt. Ltd. is a crown agency of the government of British Columbia (B.C.) – the westernmost province of Canada. It mandates promoting its woodworking products in offshore markets. It focuses on promoting five distinct wood species in India, namely: 1) Spruce-Pine-Fir (SPF), 2) Western hemlock, 3) Douglas-fir, 4) Yellow cedar, and 5) Western red cedar. These species have unique properties making them suitable for a range of reman and structural applications. Canadian Wood lumber is available duly seasoned, sized, and graded, almost ready-to-use across the country through a network of 41 stockists in all major towns.
Click here to watch the webinar!
Click here to know more about Canadian Wood.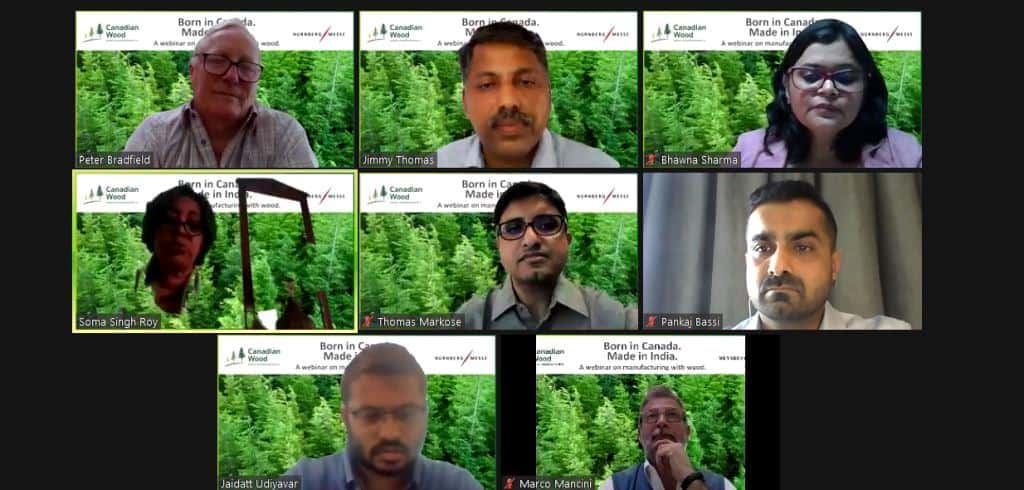 The love for nature has been a growing trend in the post-pandemic world. With people…