Diwali celebrates new beginnings and change. The festival of light brings an array of colourful decorations, a warm atmosphere, delicious food and lots of joy. People celebrate the triumph of good over evil and pray for prosperity. In India, preparations for the festival begin well in advance. Therefore, we have curated a list of the best Diwali decor ideas and decorative items for your home. Create a unique celebration this Diwali, decorating with the help of our collection of home decoration ideas.
These simple hacks are a mix of traditional rituals with a modern twist but they also involve the usual bling, colours and lights which are synonymous with Diwali.
Festive Diwali decorating ideas for home 
Diwali decoration ideas #1 – String up lights around your home
Image Source: Instagram
When we think of Diwali, the first thing that comes to mind is lights. Glittery string lights are a great way to light up your home. String LED lights are popular Diwali decorative items as they are easy on the pocket and complement the colourful nature of the festival. Start by lighting up the outdoors, string some fairy lights along the elevation of your home or across the patio to add warmth to the exteriors. These lights are used indoors as well, all you need to do is pair the lights to match the decor of the house.
Diwali decoration ideas #2 – Add Real and Faux Flowers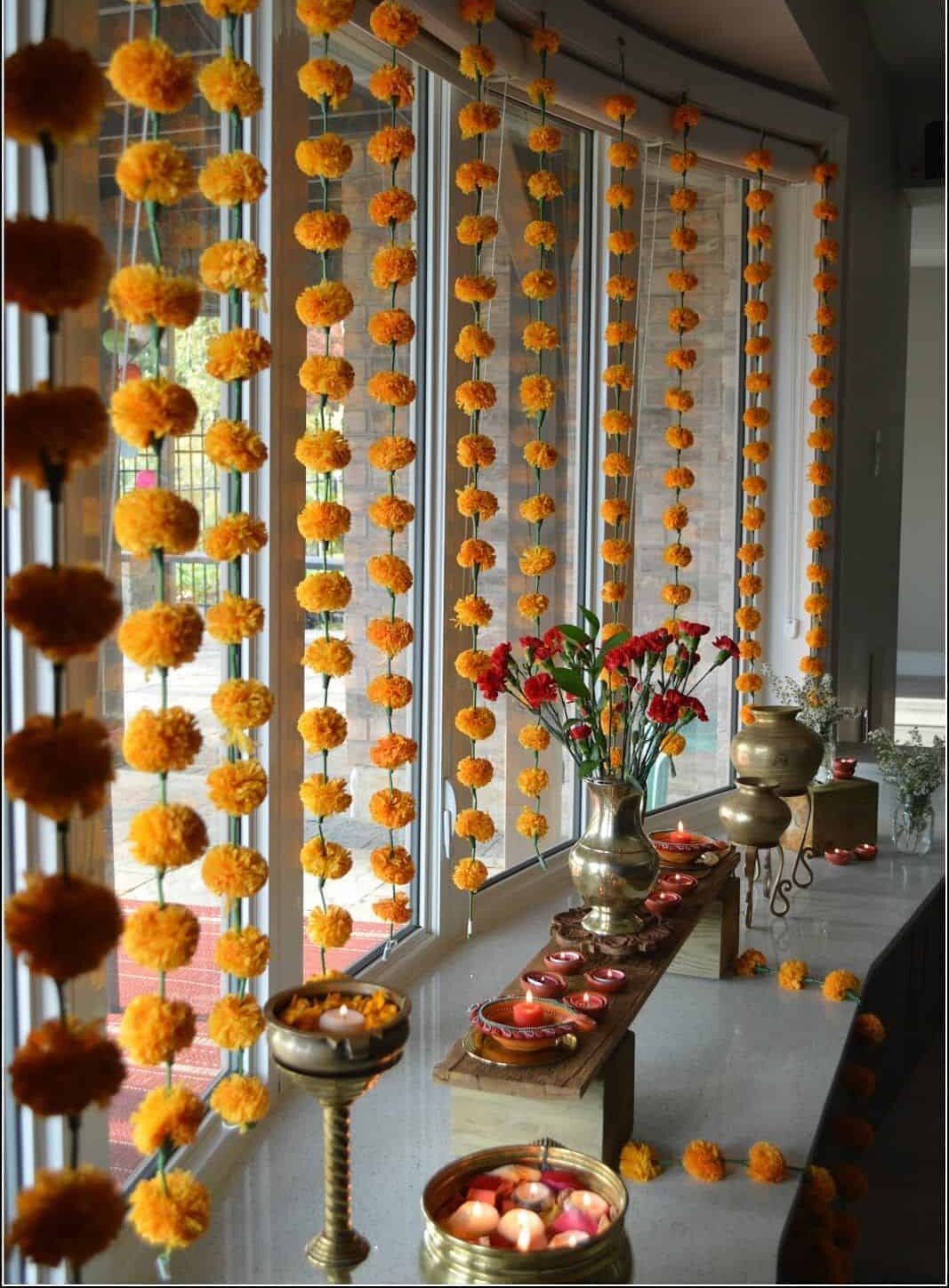 Image Source: Magic Pin
The most commonly used flowers for Diwali decor are marigold flowers. These are also known as the herb of the sun as they are said to ward off stress and improve your mood. You can decorate the doors and walls with garlands of marigold flowers. Jasmine, Rose, Rajnigandha, Lotus stems, and carnation flowers are also famous in Indian households. Many people prefer artificial flowers when they don't have time to create personalized Diwali decor. You can use both natural and artificial flowers to create centrepieces for your tables or make gorgeous wall and door hangings. 
Diwali decoration ideas #3 – Use Paper lanterns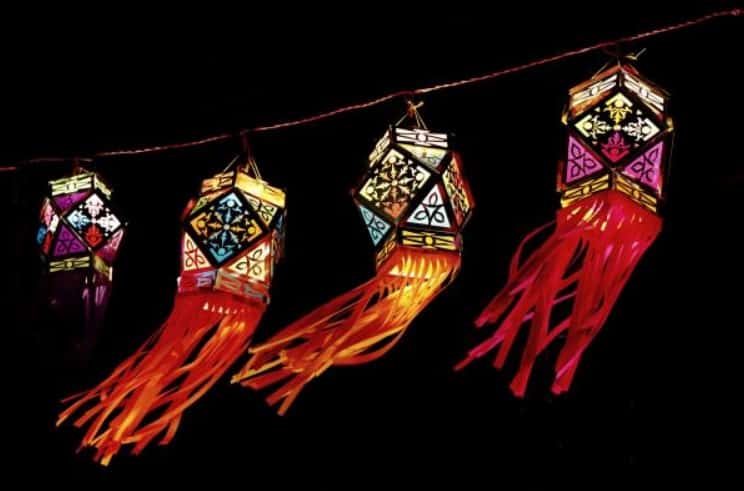 Image Source: Pinterest
Bright paper lanterns are used to enhance the beauty of your home. These vibrant decorative items add glamour and can transform the look of the decor. These are generally available readymade in the market. If you don't have time to buy readymade lanterns, make your own fringed lanterns with coloured paper, cardboard, sequins etc. So go ahead and decorate your balconies or the living room with these colourful decorations.
Diwali decoration ideas #4 – Make beautiful Rangolis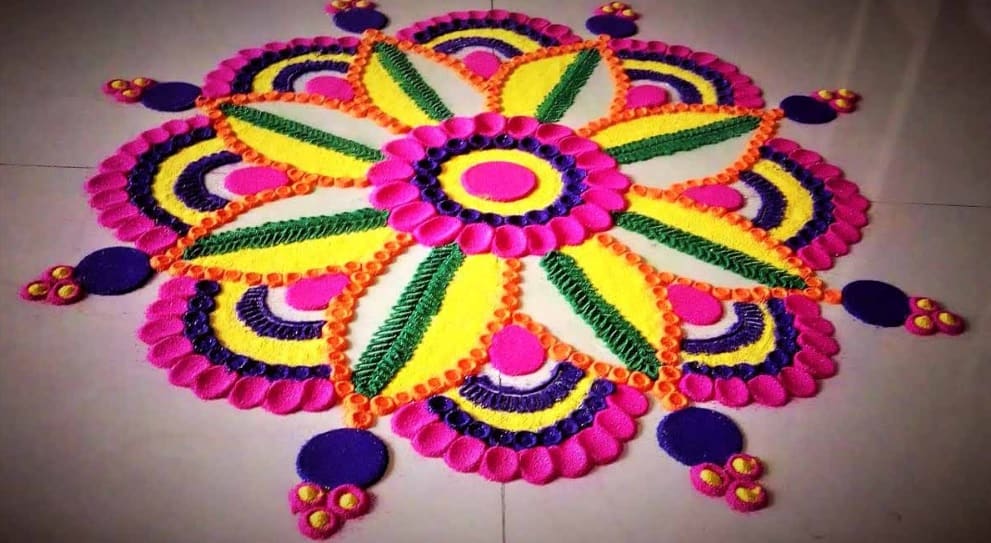 Image Source: Simple Help
Rangolis add a festive look and feel to the home. Although you can make colourful rangolis anywhere in the house, these are usually made to decorate the entrance of a home. A wide range of stencils is available in the market for people who haven't perfected the art of making freehand designs. Eco-friendly non-toxic colours like henna, turmeric, and rice powder are gaining popularity in recent years. You can also add flower petals or Diyas to make the rangoli designs stand out.
Diwali decoration ideas #5 – Torans
Image Source: Subhams
Torans also known as Bandanwars, refer to an ornamental door hanging used for festivals in India. These hangings add a colourful essence to the festive decor. Adorned with real flowers and mango leaves, these auspicious decorative items can also be made with faux flowers, thread and embroidered laces.
Diwali decoration ideas #6 – Decorate with Diyas and candles
Image Source: 7 Eventz
Diyas are a must for Diwali decor. The small earthen oil lamps act as a source of light and can be decorated in many different ways around the house. You can decorate them simply or paint them in different colours to give a warm glow to your Diwali decor. Nowadays, battery-operated Diyas are also available which imitate the earthen ones with flickering flames. You can use tea lights to add to the decor element by placing these along the coffee tables or corners of your home. Additionally, you can decorate a space using floating candles in glass or antique brass bowls with flower petals.
Diwali decoration ideas #7 – DIY Handmade decorations
Image Source: Photo Jaanic
One of the easiest Diwali decor ideas is to make paper decorative items. Make paper flower torans which are used as door hangings for decorating the entrance of your home. These can also be handmade using flowers and mango leaves. Another easy and quick festive idea is to make Diya danglers with cardboard. You can wrap washi tape around tea lights to create colourful candle decor.
Diwali decoration ideas #8 – Hang Unique Wall hangings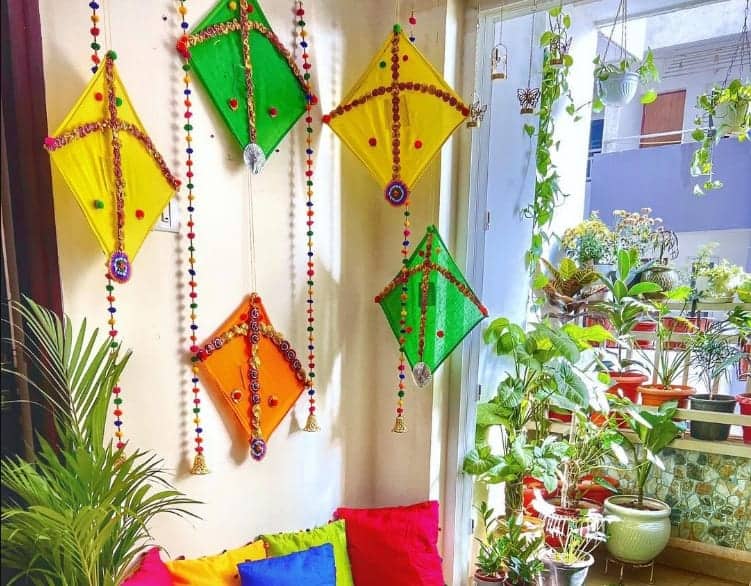 Image Source: A House to my Home
Many different varieties of traditional ornaments and motifs are available in the market which can be used as wall hangings. You can also use DIY lotus and beads hangings to decorate your walls for Diwali. To create new-age designs use dreamcatchers and seashell hangings to the decor.
Festive decor #9 – Add accessories
Image Source: Pinterest
One of the simplest ways to add bling to your house is decorating with small embellishments. Diwali is the perfect time to bring out those gold-rimmed photo frames and Zardosi cushion covers. Unpack your favourite vintage candle holders and colourful furnishings. Showcase the antique decoratives that may have been passed down through generations. 
Festive decor #10 – Modern Table setting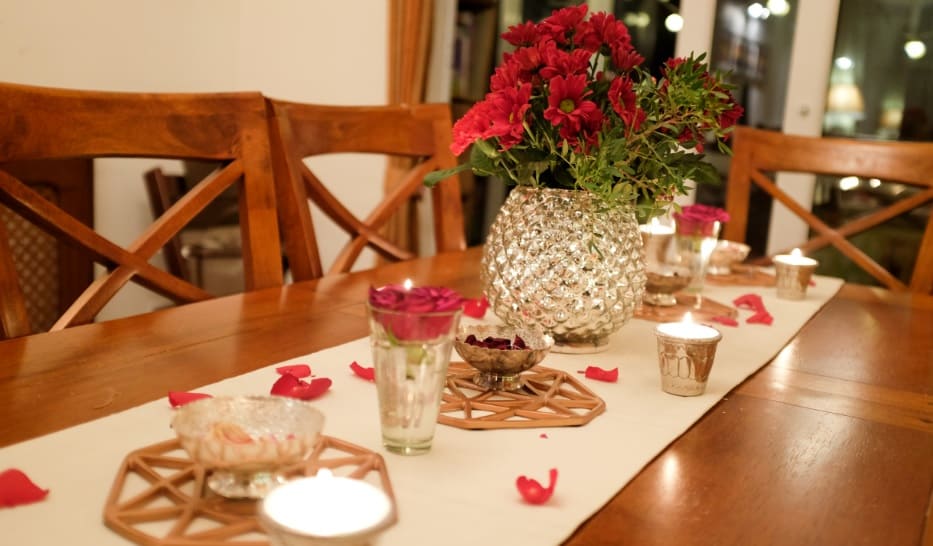 Image Source: Red Notebook
Festivals often mean an influx of visitors. Therefore, you must ensure that the coffee and dining tables are well-set to host your guests. Decorating with flower vases, glassware, decorative plates and silverware will not only look aesthetically appealing but will be useful for functional purposes as well.
Festive decor #11 – Use Sustainable decor 
Image Source: Property Xpo
With increasing environmental consciousness and zero-waste policies, you can opt for sustainable decor. Recycle old fabrics as table runners, and transform the old cane baskets, tins, bangles, and PVC pipes into fancy lights. Also, you add an earthy look to your Diwali decor by using coconut shells to create wall hangings.
Conclusion
Diwali, the festival of lights is known for its parties, get-togethers and decorations. To make this occasion even more special, you can use a range of decoration ideas ranging from the traditional torans to recycling old CDs and tins to make lights. You can choose any one of these ideas or mix as many as you like to be festival ready.
So, go ahead and create the wow factor for your guests with innovative Diwali decor ideas. Glam up your home with the mix of old and new decoration ideas this festive season. Hopefully, this Diwali celebration will be a memorable one with your loved ones.
* The featured image used in this article is from Wooden Street
[vvsmustread]