Why does it happen that newly constructed buildings develop problems of seepage, loose joints, or cracks over time? This happens usually because of the lack of proper grouting or the use of mortar instead of grout. Epoxy grout for tiles and injection by grouting machine are some common uses.
Building construction remains an extremely complex and challenging task. It comprises several complicated steps and processes. Moreover, the versatile range of building materials required in construction demands immense technical knowledge. Similarly, processes such as the application of grouts with or without a grouting machine need undivided attention. We have put together all the information in a sequential format for the professionals so that they get a detailed understanding of various aspects of grouting.
 Grouting
Image Source: The Home Depot
Let us start by understanding the meaning of Grout and Grouting.
Grout is simply a mixture of cement, water, sand, and construction chemicals. This mixture is used in filling gaps during construction. The process of filling grout in the gaps and other such applications is called grouting.
Moreover, the purpose of grouts remains the repairing of concrete cracks, filling of seams and gaps in tiles with grout, waterproofing, and also soil stabilization.
Furthermore, it also gives the foundation's load-bearing capacity some additional strength. Therefore, grout is preferred to mortar in building construction.
Let's watch this video to understand the difference between mortar and grout:
Features of grout
Non-corrosive, non-toxic, and non-flammable
Shrinkage compensated: The cement mixed in the grouting powder gradually expands, once it sets. However, this expansion can be contained with the right preparation of the grouting mixture.
Excellent concrete bonding: Grouts join both old and new concrete surfaces with the same strength.
No segments: The application of grout leaves no segmentation in the structure.
Easy application: Grouting is quite a simple process. It doesn't take much time or hard work. However, it becomes extremely important to prepare the grouting mixture with accurate measures.
Vibration and impact resistance: As a result, the building remains compact and firm in case of minor ground vibrations. Moreover, grouts hold the structure together. Therefore, external shocks do not break it.
Advantages of grouting
Application of grouts can be done on any ground condition
It does not cause any structural damage
Moreover, it doesn't induce vibration
You can measure the improvement in ground structures with grouting
Grouts remain a perfect retrofit application. Therefore, you can install grouts adjacent to the existing walls as well.
Additionally, it controls seepage, hazardous waste materials, and also the groundwater flow.
Disadvantages of grouting
Grout does not work in decomposable building materials.
Filling underground pipes remains dangerous.
Its effectiveness remains ambiguous in saturated clays.
The grouting proves ineffective when done adjacent to unsupported slopes.
Grout mixture
Image Source: CBS bahamas
Grouting requires different grouting materials.
All grouting mixtures use cement. However, the pumpable grouting materials vary depending on various factors such as soil type and the area.
Different compositions of some common grouting powders:
Cement & water
Clay, cement, & water
Rock flour, cement, & water
Sand, cement, clay, & water
Clay & water
Asphalt
Chemicals
Standard grout mixture:
For flowable water:
Powder= 0.14-0.16 by weight (4.2- 4.8 litres of water/ 30 kg bag)
For pourable water:
0.12-0.14 by weight (3.6-4.2 litres of water/ 30 kg bag)
How to prepare the grouting mixture?
The grout powder must be mixed in extremely accurate proportions. Moreover, grout cement must not become too pasty or too watery.
In addition to that, the grout mixture must not have too much air.
Therefore, the grouting powder must be mixed with a low-speed electrical drill. The maximum speed of the drill must not increase 500 rpm.
Additionally, you must pour about 85% of water into the mixing drug initially. And then add the balance water later.
DO NOT use a solid or concrete tilt mixer to mix the grout powder.
How to apply the grouting mixture?
It must be ensured that the grouting machine pours the powder immediately after mixing. Furthermore, you must also make sure that the displaced air can fully escape. This will promise full-contact grouting.
Moreover, ensure that the grouting machine maintains a continuous and consistent head of pressure.
Also, ascertain that the grouting machine manages to finish the grout application within 15 minutes of the preparation of the grouting mixture.
Now that we know how to prepare the right grouting mixture in the machine, let's understand how to inject it in between the voids, cracks, or honeycombs.
Grout injections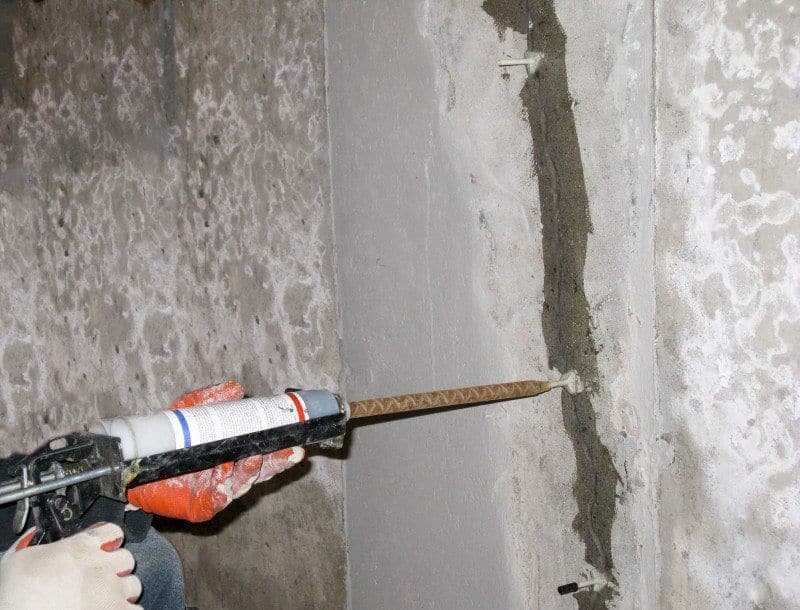 Image Source: Raider Painting
Since grout remains a flowable plastic material, it becomes extremely important to ensure that it remains stable while filling the gaps. Moreover, it must not crack, crumble, or de-laminate. Grout injections are considered the best way for applying grout mixtures as they ensure that none of these inconveniences occurs.
The grout injections fill the voids and cracks that happen under pressure in a building structure. Moreover, the grout injections also strengthen the damage caused by deteriorating masonry structures.
Advantages of grout injections
It is easy to use grout injections.
Grout injection makes for an environment-friendly process.
Masonry structures get enhanced stability and strength with grout injections
Grout injections are economical
No wastage of grout materials takes place in grout injections.
Types of grout injections:
Polymer grout injections
Grout Cement sand grout injections
Gas-forming grout injections
Process of using grout injections
1 Step- Drill the holes on the surface with a grouting machine.
2 Step- Clean the holes and cracks.
3 Step- Seal the cracks with the grouting machine.
4 Step- Grout the hose connections using the grouting machine.
5 Step- Grout injections in the cracks with the grouting machine.
Applications of grout injections
To fill cracks and voids.
For repairing wall columns
To offer finishing to the wall
For honeycombing
To repair damaged areas
For waterproofing the walls
Grout has varied application areas. Therefore, each area needs different grouting materials.
We have several types of grouts in the building industry:
Also known as cementitious grout type, this grouting material uses a clean grouting mixture of grouting cement and water or sand to grouting cement mixture (4:1) and water.
Additionally, high-permeability ground uses this grouting cement mixture.
Chemical grouting
Medium to coarse grade soils uses chemical grouting.
Moreover, the liquid form of sodium silicate and calcium chloride when mixed together solidify to form a gel.
Two processes of chemical grout:
One-shot process: The chemical mixing takes place before the grouting injection. As a result, wider borehole spacing becomes possible.
Two-shot process: Grouting pipes are driven into the ground. Furthermore, the chemicals get injected into the pipes via grouting injections simultaneously. Thus, it enables rapid soil strengthening.
Bentonite grouting
A specific type of clay that has thixotropic properties (viscous properties) produces bentonite.
This substance forms a highly water-resistant gel. Moreover, when we mix it with additives, it creates a permanent block for the water flow.
Therefore, its use remains common where soil particles are extremely small. Moreover, it also fights seepage issues in alluvial soils.
Bituminous grouting
Although bituminous grout does not increase the soil strength, it acts as an impermeable barrier to water when applied using grout injections.
Moreover, this grout material suits best when injected into fine sand.
Resin grouting
Unlike chemical grouts, resin grouts come with low viscosity. Therefore, they can penetrate into fine sands.
Grout Application Areas
The application of grout is done in various areas. Some common application areas are:
Stopping heavy water inflow in underground structures, tunnels, dams, etc.
Protective coating for concrete structures, reservoirs, floors, etc.
Treatment of deteriorated, cracked, or leaking masonry and concrete structures.
Special foundations such as micro piles (deep foundation elements) and slurry walls (concrete walls in areas close to open water and soft earth).
Rehabilitation of structures damaged by fire, explosion, earthquakes, etc.
One of the most common applications of grout remains on tiles. Grouts on tiles are used to fill up the gaps between the tiles so that they become compact and void-free.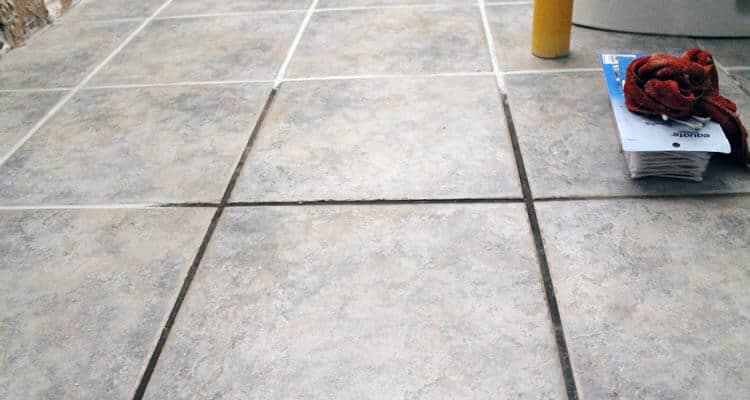 Image Source: MyJobQuote
There was a time when the space between tiles would be filled up with white cement. Although it still remains a common preference among people, tile with grout has emerged as a newer and more aesthetic trend.
The purpose of grouting of tiles remains to fill up the spaces and gaps between tiles so that they remain secured to their base. Grouting for tiles works on both, wall and floor.
Watch this video to find out how to grout a wall:
The grout for tiles comes in both sanded and unsanded varieties. Moreover, the grout cement used in sanded grout types for grout on tiles contains finely ground silica grout sang. On the other hand, the unsanded grouting of tiles is finer. Additionally, it offers a non-gritty surface.
From the different grout types, you have to pick the grout type based on the load. For instance, in a space like a garage, you can expect around 7.5 tons of load would need a different grout type from that of a cobbled garden track.
Different grout types for grouting of tiles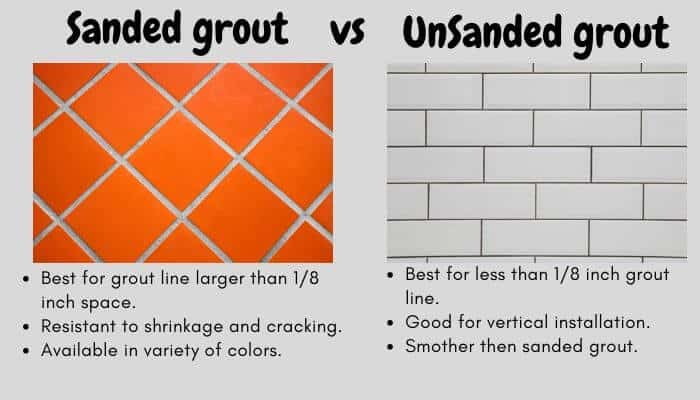 Image Source: Floor Techie
Sanded grout for tiles
This kind of grout in tiles is ideal for any grout to join greater than 1/8" of an inch.
Moreover, the sand mixed in the grout mixture holds the grout powder in the joint firmly.
Additionally, it should be mixed in the consistency of peanut butter. However, this kind of grout for tiles forms a sand-like texture later.
In addition to that, you must ensure to remove the additional grouting mixture before its drying up.
It can be used as a grout for floor tiles, wall grout tiles, and ceilings tile with grouts. However, the grout tiles must be sealed for protection against spills, dirt, and discolouration from UV lighting and wearing.
NOTE: Do not use marble tile with grout. The sanded grout for tiles will scratch the marble.
Unsanded grouting of tiles
This kind of grouting of tiles remains ideal for measures 1/8" of an inch or less.
Sanded grout for tiles with small joints results in too much sand and too less space. Therefore, unsanded grout tiles are preferred.
Moreover, unsanded grouting of tiles may need a little more work and pressure, but it fits completely. As a result, your grout tiles will never collapse.
Unsanded grout for tiles remains stickier than the sanded grout tiles.
It can be used as a grout for floor tiles, wall grout tiles, and countertops tile with grouts.
Image Source: Kater Adhesives Industrial
Epoxy grout differs from sanded and unsanded grouting for tiles. It does not come with the need to be sealed. Moreover, grout with epoxy is not porous.
Additionally, tile with grout epoxy prevents bacterial growth. As a result, tile with grout epoxy does not crack over time.
Epoxy grout remains ideal for water line pool time with grout epoxy, outdoor patios, countertops, pool deck, etc.
However, epoxy grout comes with certain limitations. Firstly, epoxy grout makes for expensive epoxy grouting of tiles. Secondly, the 'open time' or the 'working time' remains quite short because the epoxy grout for tiles becomes hard very soon.
Find out the difference between Epoxy Grout and Cement Grout
Choosing the right colour for grouting of tiles
Grout for tiles come in various colours.
Moreover, two major options, rather schools of thought for choosing the colour for grout in tiles:
Monochrome: The grout for tiles matches with the tile colour. This pattern is best for people who prefer a minimalist monochromatic look.
Example: white grout tiles with white grouting for tiles.
Dichromatic: Use contrasting tile with grout. Additionally, you can go for a lighter or darker shade of tile with grout to pop up the grout tiles and give a beautiful pattern.
Example: black grouting with white tiles.
Grout brands in India (with their product range)
| | | |
| --- | --- | --- |
| Sr. No. | Brand | Products |
| 1. | Asian paints | Smartcare tile grout cement-based, Smartcare tile grout epoxy-based, Tile Seal |
| 2. | Myklaticrete | Stainfree Grout, Cementitious Grout, Grout Admix, Speciality Grout |
| 3. | Sika | SikaGrout Cementitious, Sika Epoxy grouts |
| 4. | Roff (Pidilite) | Roff Rainbow Tile Mate, Roff Rainbow Tile Mate Epoxy, Roff Rainbow Tile Mate Wide Additive |
| 5. | Dr. Fixit (Pidilite) | Dr. Fixit Tile Grout |
| 6. | Endura | Polyester resin anchoring grout, non-shrink cementitious grout, structural precision cementitious grout, sparkling effect tile joint grout, night glow epoxy grout, |
| 7. | Basf | Basf MasterFlow Precision Grouts, MasterFlow Turbine Grouts |
| 8. | Fosroc | Cementitious Grouts, Epoxy Grouts, Underwater Grouts, Cable Duct Grouts, High Early Strength Grouts |
| 9. | Mapei  | Fix and Grout Brick, MapeGrout, MapeGrout Colabile, MapeGrout Gunite |
Grouting Products and their Prices
| | | |
| --- | --- | --- |
| Sr. No. | Product | Price |
| 1. | Sika Grout 214 | Rs. 17/kg |
| 2. | Roff Pidilite Epoxy Grout (rainbow) | Rs. 1,130/ kg |
| 3. | Berger Paints Home Shield Tile Grout (white) | Rs. 80/kg |
| 4. | Asian Paints Smartcare Tile Grout | Rs. 200/kg |
| 5. | Ardex Endure Epoxy Grout for tiles | Rs. 1,125/ kg |
| 6. | Grout laticrete epoxy grout | Rs. 750/kg |
| 7. | Dupont 1 Quart Grout Sealer | Rs. 1,511.17/ kg |
| 8. | Fosroc Conbextra Gp2 | Rs. 499/25 kg |
Conclusion
The process of grouting allows the buildings to become stronger and more compact. Grouts not only work in masonry structures of residential buildings but also in tunnel work, concrete walls, and so on.
Moreover, the application of grouts remains an extremely technical process. Therefore, it becomes even more important to understand the process well.
You have been guided through the applications of grouting such as preventing the strong water inflow in various structures, acting like a protective layer for concrete structures, and sealing gaps in tiles
Furthermore, you can find out how to make the right grout mixture for the perfect application.
In addition to that, the application of grout for tiles has been discussed.
The most important part of knowledge in construction chemicals remains the availability of the products and their prices. Therefore, the leading grout brands in India with their product ranges and price list mentioned above would save a lot of time for your team while preparing quotes and BOQs.
All of this detailed information is likely to equip the professionals to prevent making any errors in selection and application areas w.r.t to grouts.
[vvsmustread]