Canadian Wood, a crown agency of the government of British Columbia (B.C.), noted for hosting a series of webinars on various topics of interest and importance to the Indian woodworking industry, will host another informative webinar on Wood Coatings and Best Practices. The session will focus on wood finishing, surface preparation, interior, exterior, and sustainable coatings for export market destinations.
The Canadian Wood webinar remains a testament to Canadian Wood's ongoing efforts to disseminate information about sustainable forests, & their impacts on the wood industry. It also promotes the usage of softwood to all stakeholders.
Wood coating is critical for keeping wood at its best and increasing the performance of wooden applications because it provides surface protection. The coating helps the wood to stay protected from UV radiation, abrasion, moisture, chemicals as well as weathering. In addition, it protects wood from microbes such as fungi and mould.
Upcoming webinar on wood coatings
Keeping up with the tradition of imparting knowledge and best practices, the upcoming Canadian Wood webinar will highlight the importance of surface preparation, interior & exterior coatings, and sustainable coatings.
The speakers, representing the wooden industry, will delve even deeper into the benefits of coating, as well as the procedures and techniques relevant to the themes of discussion.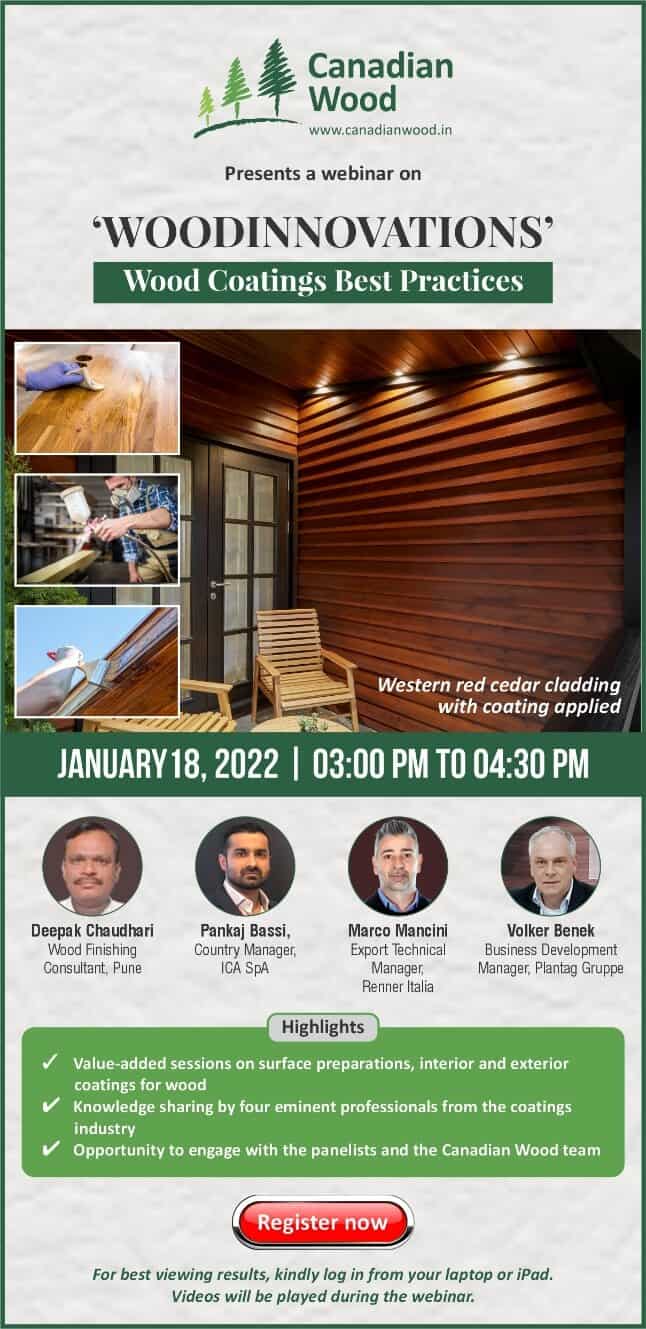 Industry experts, Mr. Deepak Chaudhari – Wood Finishing Consultant, Mr. Pankaj Bassi – Country Manager, ICA SpA, Mr. Marco Mancini – Export Technical Manager, Renner Italia, and Mr. Volker Benek – Business Development Manager, Plantag Gruppe, will share their experience as panelists, with the session being moderated by Mr. Jimmy Thomas – Business Development Manager, Canadian Wood.
Registrations for the webinar are now open for the Indian woodworking industry. So, register now to confirm your participation in this enriching experience on wood coatings!
Day & Date: Tuesday, January 18, 2022
Time: 3:00 PM to 4:30 PM
Contact: +91 22 49221600
So, register for the Canadian Wood webinar on Wood Coatings and Best Practices at: https://zoom.us/webinar/register/5716418064148/WN_9V_UfhBsTdyYPCd9NHkueA
Click here to know now more about Canadian Wood and its ready-to-use, sized, graded, seasoned as well as certified lumber from sustainably managed forests in B.C. Canada for the wooden industry.
For additional inquiries, please contact:
Arif Moosa- arif.moosa@canadianwood.in