Canadian Wood is a fully owned subsidiary of Forestry Innovation Investments (FII), a crown corporation of British Columbia. It has been charged with the duty of promoting the nation's forest products abroad. Therefore, Canadian Wood has been consistently working towards increasing awareness about the five unique wood species of British Columbia in India. Consequently, the brand is organising a webinar on 3rd October, World Architect Day, at 3:00 PM to promote global awareness in the field of architecture. The topic of the webinar is "The role of wood as a material in architecture" and it will explore the use of wood in building and construction.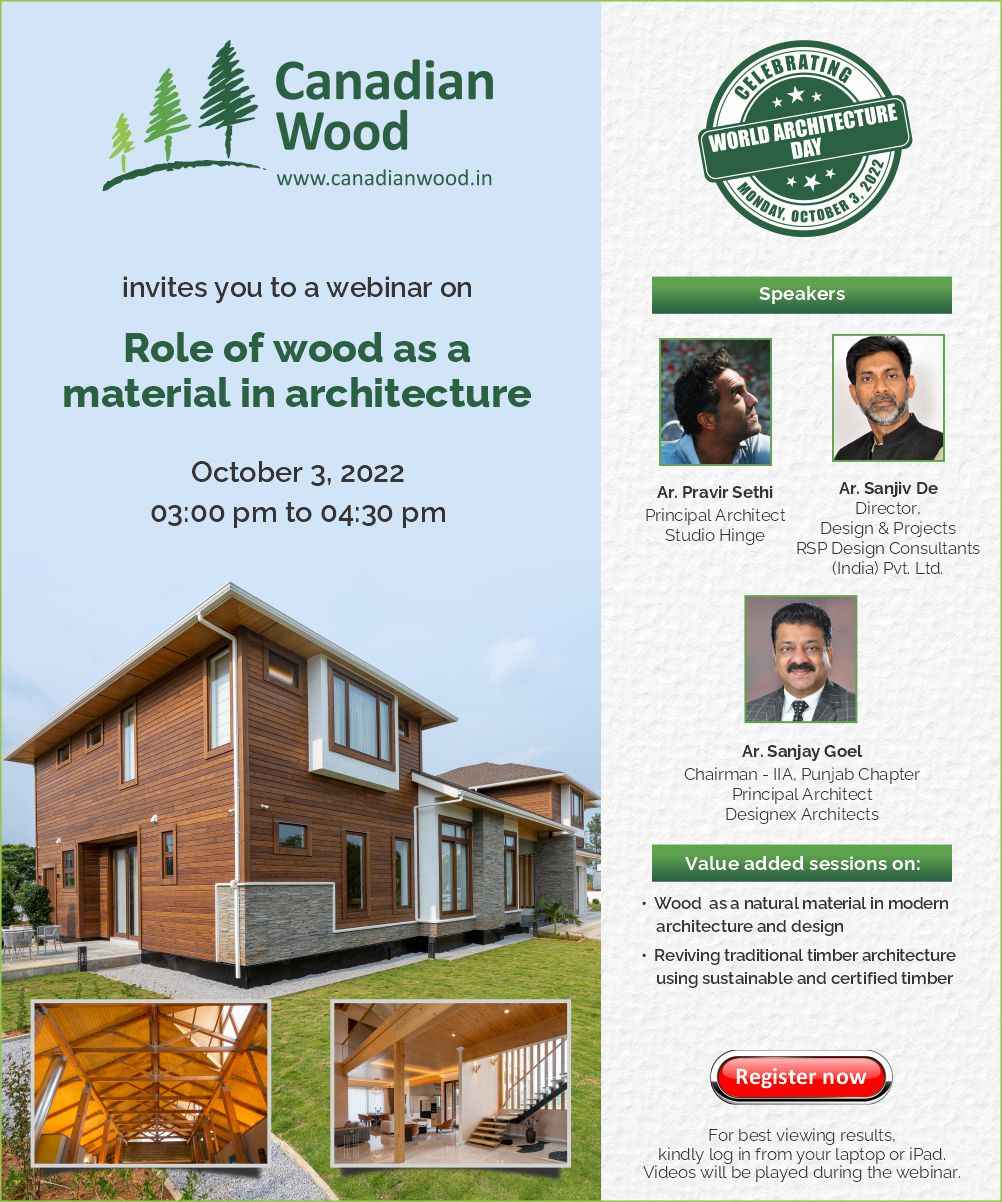 About the speakers
The World Architect Day session will commence with a welcome address by the Country Director of Canadian Wood India, Mr. Pranesh Chibber. The address will be followed by presentations from eminent speakers. The first speaker is a renowned name in the industry, the Principal Architect of Studio HINGE, Ar. Pravir Sethi. He will be followed by the Director of Designs & Projects of RSP Design Consultants, Ar. Sanjiv De. The final speaker of the session will be the Principal Architect of Designex Architects and the Chairman of the Indian Institute of Architects, Punjab Chapter, Ar. Sanjay Goel. The webinar will also host a Q/A session with the esteemed speakers. The session will encourage better understanding and communication between the speakers and the audience. The Assistant Director of Technical Services from Canadian Wood, Dr. Jimmy Thomas, will act as the moderator of the session.
Intent of the webinar on World Architect Day
The intent behind organising the webinar is to inform the audience about the significance of their sector. Hence, it will be a great opportunity for industry professionals to exchange expertise and network. This World Architect Day session will show the role of wood as a building material in architecture. Furthermore, it will be a platform for the speakers to share their experience with using wood in their designs. Therefore, the session will promote global architectural education.
Registrations for the webinar are now open. So, if you want to participate in this amazing educational and networking opportunity to enrich your knowledge and contacts in the industry, register using the link below!
Day & Date: Monday, 3rd October 2022
Time: 03:00 – 04:30 PM
Registration link: https://us06web.zoom.us/webinar/register/3516643481076/WN_qg63EDd5SdiReCRfSFEYTQ
For any queries, please contact the following-
Aarushi Gaur: +91 9771490199
Arif Moosa: arif.moosa@canadianwood.in
[vvsmustread]