The Background
This is a revolutionary time in our country where the demand for factory-built wardrobes, cupboards, almirahs are on the rise. While there is a great deal of resistance from the traditional professionals and contractors. Let me take you'll back the to late '90s and early 2000, when modular kitchens were rebuked and shouted out, today we have 95% people only asking for it. If you look around almost all international brands from Europe are here in multi-city showrooms and a huge number of local manufacturers working to make it a success and convenience to end-users. It's also a natural shift due to artisan shortage, availability, spiralling labour costs and pressure on timelines, time is money!
What is the client looking for?
The client looks for machine finished, efficient handling, contemporary looks and finishes. The right balance of proportions and sizing which brands offer is the demand. Upon opening the door one wants the feel, organized storage and comfort of operation.  Therefore the shift towards factory-made contemporary designs is happening. The discerning clients who travel and experience the comfort of well-organized wardrobes to wear and the store are on the rise.
The world is now one large country, people are travelling to different time zones and seasons. One has to be ready with all types of clothing year-round. Given this situation, organized storage is required within the wardrobes and ease of retrieval comes on top. The extent of organizing is wide and with many companies specializing in assisting with great ideas which attract the end-user.
Customization is a major attraction when it comes to local manufacture, which is a well-accepted norm in our conditions. People come looking for solutions and our job is gving them the needed help within reason of the asking and the suitability of the hardware being used. Its being in the bespoke category when customization is asked. The skill here is to design and manufacture and install flawlessly as opposed to creating a site by carpenters.
Input product companies like the surface material innovators aren't lagging behind either. They are bringing out newer finishes and methods to apply. Hardware and accessorizing options are racing too. Wardrobes are not limited to just storage cupboards. Designing them requires a well thought and planing for designers. That's where focussed people like me come in.
Caution to observe …
The challenge,  when one opts for a factory-made product, the civil work at the site has to be to the T. Geometry hits you hard and handling the same subsequently is very difficult. So, good site supervision can lick this problem. Timelines will be controlled and favourable. The end product is superior in the finish, feel and longevity isn't compromised.
All factory-made wardrobes are placed and we don't anchor them to the wall. So, when the same is placed, the sides if in a niche, the top will have a clearance margin. This is a matter of detailing, you can address it. Or a groove too can be shown, there are solutions.
With sliding systems, for top hung mechanism, one has to leave service gap of 60mm plus above it and bottom guide to requires space.  You can fix a filler behind the slider to avoid dust accumulation. Basically, when a carpenter builds a wardrobe on-site the errors of the civil work get hidden, camouflaged and on spot, decisions are made. Once fixed, the carpentered wardrobes can be only broken and taken out and have zero salvage value.
Raw material needs a sense of confidence that the product has quality. This is just a myth, manufactures will specify everything and put it on paper and use the same and also offer a warranty with service for a period, 7 to 10yrs.
However, to fuse and merge factory-made wardrobe with the rest of the furniture, wall panelling, beds, study and dresser requires a keen eye and prior understanding, that's where our role comes in. All it requires is a discussion prior to closing the job.
1.Openable doors with soft-closing hinges
2.Sliding, with two-three and four doors
3.Walk-in concepts
4.Full glass in aluminium profiles on hinges
5.L shaped wardrobes with a corner
Basic Construction
When one opts for 4 options out of 5, the structure is plywood of requisite thickness, 18 mm or 25mm duly finished with a laminate of your choice on both the sides and edge band on the sides. Levellers too ensure it is placed in water level. All partitions, shelves too will be in one of the two thicknesses fixed with hardware, one can remove it and move it up or down. The back panel is 6/8mm ply. The drawer will have under-mounted rail soft-closing, bottom, back and sides and front in plywood. The 5th option is all sides glass wardrobes with structural side profile Tetrix and Glix doors and glass back panel.
Organizing, Internal Accessories and other features
LED lights, with and without sensor
Digital locking
Hanging rods
Pull down hanging, manual and motorized
Trouser pull-out
Top-mounted hanger
Side-mounted tie rack
Drawer storage box (inserts)
Metal box Drawer
PVC Rattan Baskets Drawer
Tray and rack pull-outs
Belt hangers/rack
Mirror slide out
Shoe rack pull-out
Rotating shoe rack
Side storage pull-out racks
Safety locker
Slide-out mirror
Valet rods
Anti-skid mats
Special features
1.Preventing mildew, fungus, mould, moisture, odour on your clothes and any stored items by installing dehumidifiers. Low on electric consumption and maintenance-free with no noise.
2.Air Purifier which is an ionizing process combined with air freshener.
1. Openable doors with soft-closing hinges for Wardrobes
1.1 The core material will be plywood and surface of one's choice, such as laminate, acrylic, veneer with high gloss, veneer with matt finish, ceramic, lacquer in high gloss, matt. They will be lockable.
1.2 Aluminum profile with glass, back painted, tinted, rimless or with edge duly anodized in a standard range
1.3 Aluminum profile duly anodized in few options doors with glass
Heights- up to 2700mm
Depth – 600mm
Width 450-600mm
Hinges – Clip Top soft closing
2. Sliding, with two-three and four doors/Inline doors (Coplanar system)
2.1 Sliding doors of plywood, the surface can be laminate, acrylic, veneer with high gloss, veneer with matt finish, ceramic, lacquer in high gloss, matt.
2.2 Sliding on aluminium profile, the surface can be laminate, acrylic, veneer with high gloss, veneer with matt finish, ceramic, lacquer in high gloss, matt
Heights – up to 2700mm
Depth – 600mm
Width – depends on the number of doors and the sliding system selected.
Hardware – we use only European sliders
3. Walk-in concepts
3.1 Walk-in concepts work on broadly three options, full carcass in plywood and movable shelves, drawers, hanging rods
3.2 Walk-in with aluminium structures (Tetrix Structural side profile) by few brands and you build your configuration of shelves, drawers, hanging, shoe racks, open baskets. The structure uses floor, wall or ceiling fixtures.
3.3Walk-in concepts (Boiserie ) with back panel fixed on a wall with a profile which has slots to hang shelves, units, hanging rods and make organized storage.
Height – up to 2700mm
Depth – since it opens the shelves can be 450 to 550mm
4. Full glass in aluminium profiles for Wardrobes
4.1 Glass wardrobes with structural side profile Tetrix and Glix doors and glass back panel. Glass on all four sides or three depending on where you place them. Many a time they serve as room dividers.
It comes with accessories, hanging rod, glass shelves, shoe rack, set of drawers, trouser holders, raster module.
Height – 2649mm max
Depth – 578mm
Width – 468/660/960mm modules
Hinges – Soft closing
5. L shaped wardrobes with a corner
5.1 This when a corner has to be utilized, you can do the hinged door, hinged combined with sliding. All other features will be as per the above-described options except the full glass wardrobes. Long hanging or just two levels of hanging or even to park a trolley bag in the corner. A lot can happen in the corner, its sheer space
Conclusion
With the above, we can additionally make beds, TV Units, dressers, chest of drawers, shoe storage units to maintain the language of design, colour, feel and finish. We can also make bathroom vanities with them. You can shorten the timeline and achieve a given targeted date. No more stress for the client, designers or architects with a factory-made range of furniture. I am sure we are all moving in that direction, finally!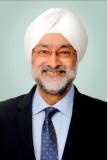 The author – Mr Balbir Singh (www.balbirsingh.in) has over 20 years of experience in designing for multiple international brands in India. He is based out of Mumbai and can be reached on info@balbirsingh.in
How do you distinguish between a good and a poor furniture item? Your first thought…