Are you planning a kitchen remodeling? It is obvious that you're looking forward to creating a kitchen exuding class, style, and sophistication to transform your cooking experience. Regardless of whether you choose a new sleek color scheme, kitchen backsplash, open shelves in the kitchen, or modern appliances streamlining and focusing on your layout, you need to make a few changes for your kitchen renovation. You have to consider upgrading your modular kitchen using luxury kitchen makeover ideas to make it more impressive.
Since the kitchen is your home's focal point, you have to invest time, money, and effort in enhancing its aesthetics and practicality. Fortunately, there are various interior trends you can consider although this might be difficult if you don't know where to begin from.
1. Choose a stylish under-mount sink for your designer modular kitchen
Image Source: BLANCO
The sink is undeniably the most functional accessory in a designer modular kitchen. However, this is often overlooked when planning a kitchen renovation. To give your cooking space a luxury appeal, an under-mount sink is a wonderful addition. This will streamline your countertops while clearing the space on the surface. Additionally, installing an under-mount sink will give your kitchen a practical and contemporary flair.
Under-mount porcelain kitchen sinks are highly durable to ensure that your designer modular kitchen looks pristine much longer. Proper maintenance of this sink might make it last for about 15 years. These sinks don't much maintenance although you have to look out for left food scraps that might cause stains.
To enhance your kitchen remodeling, including a touch-less tap to your sink to create a modern dream kitchen
Image Source: Pinterest
The simplest and best kitchen renovation idea to make your kitchen look luxurious is by giving it a fresh coat of paint. A new color scheme will refresh the appearance of your kitchen. Opt for a monochrome scheme to make your kitchen get a premium appurtenance.
Update the classic white walls with an accent wall in black. Perhaps you are worried that black might introduce darkness into your cooking space. Opt for shades including royal purple in your kitchen remodeling plan.
You should also add neutral tones to your cooking space to give it a trendy aesthetic look. Choose from a range of highly anticipated shades including taupe, coffee brown, and grey to give your designer modular kitchen a modern appearance.
To give your cooking space an amazingly stylish look, include some metallic accent pieces. These will complement the overall look of your color scheme to give your modular kitchen the luxury look you desire.
Image Source: Pinterest
Getting a luxury and designer modular kitchen is more than including top-of-the-range fixtures and fittings. Therefore, you have to include some integrated appliances to get a minimalist appeal in your cooking space. This is possible without compromising organization in the kitchen.
A wonderful idea is to select appropriate cabinetry with the help of a professional to get the desired look in your designer modular kitchen.
Image Source: Pinterest
To give your kitchen an ultra-modern look, handleless cupboards from glossy laminate are a great choice. Although white cabinets have a timeless appeal, opt for black gloss to add depth to your cooking space. To achieve a sleek look in your traditional kitchen, opt for mahogany wood cabinets. These come with a luxury look and dark colors that will keep your kitchen always look trendy.
4. Incorporate glass fixtures- a great kitchen makeover idea
Image Source: Flickr
Glass is a delicate and wonderful material to accessories your designer modular kitchen to give it a luxury appeal. The best is that glass is highly versatile and you can use it in various ways. For storage shelves, add a sliding glass door to elegantly display your fine teacups to be admired by guests.
You can add glass cabinets to make your kitchen seem brighter. Glass shelves will create a roomy feeling in your cooking space. These create storage space while allowing light to pass through.
Another cool glass feature to include in your kitchen is a glass front fridge. This will give your cooking space a modern and sophisticated look. Other features to add a luxury touch to your kitchen include:
Photo frames
Glass candelabra
Display wine glasses
5. Make good use of the backsplash slab in your kitchen remodeling
Image Source: Pinterest
Consider including a backsplash in front of the hob to give your kitchen a luxury appeal while maintaining your newly painted walls. A single backsplash slab is better than standard tiles for being more functional and looking great. Marble is durable and versatile to fit any traditional and contemporary cooking space. It seamlessly fits into any kitchen design.
You can also opt for a statement backsplash with a pop of color in your designer modular kitchen remodeling idea to draw guests' attention while introducing them into your kitchen.
6. Add a statement lighting fixture to your kitchen remodeling idea
Image Source: livingetc
Although natural lights work fine during the day, proper lighting is required in the kitchen. A combination of feature and task lighting uplifts the feel of the kitchen and the mood of the user. However, adding a statement lighting fixture to your kitchen remodeling plan remains a challenging affair.
A simple LED light in a geometric pattern or multiple small pendants with brick pattern backsplash above the counter looks delightful. Keep the design simple and ensure that the room is properly lit. Additionally, undercabinet lights, shelf-lighting, and overhead lighting enhance the aesthetics and functionality of the kitchen. Therefore, do not skip on the lighting aspect when you consider kitchen renovation
Image Source: Backspalsh
A countertop remains an element of the kitchen where the major actions take place. Therefore, it must be given careful attention. A countertop serves multiple purposes. This horizontal work surface generally remains supported by cabinets.
If you want to work on kitchen remodeling and want to get an exciting kitchen makeover idea, look for a stylish kitchen countertop design. Kitchen countertops come in a wide variety of options.
Gone are the days when we only had granite countertop materials. Today, we can choose from an endless range of countertop design options such as marble, quartz, quartzite, stainless steel, wood, and more. If the colour schemes of the countertop match with the backsplash, the kitchen looks even more impressive.
8. Jazz up your kitchen remodeling with flooring design 
Image Source: hunker
Strong, beautiful, and zero maintenance flooring tiles make the perfect kitchen flooring design option. Moreover, you can also work on your kitchen remodeling with other flooring types such as wood, marble, linoleum, and more.
When it comes to designer modular kitchen makeover ideas, you need to ensure that your kitchen design remains classy and impressive. Therefore, you must give proper consideration to the theme of your kitchen design. If you are going for a minimalist kitchen, go for white-colored flooring tiles or marble. However, if you want a colorful kitchen, go for mosaic or wood flooring.
9. Choose new cabinets for kitchen remodeling idea
Image Source: Style by Emily Henderson
Cabinets are heavily exploited modular kitchen elements. Therefore, careful attention should be given to them when you consider your kitchen makeover ideas to avoid kitchen remodeling mistakes. Kitchen cabinets come in a variety of material options. From MDF to hardwood and solid wood, they come in endless choices.
You can choose your preferred cabinet material and finish based on your requirements, expectations, and budget. Moreover, you can choose efficient hardware systems and designer door handles.
Cabinets up the aesthetic game of designer modular kitchen remodeling. Therefore, never take them lightly!
10. Open shelves in kitchen makeover idea
Image Source: Coco Kelley
The sight of cutlery no longer invites frowns from people. On the contrary, open shelving has become a major trend among experts as well as consumers. Open shelves for kitchen give a sense of largeness to the kitchen. Therefore, it definitely goes well in small modular kitchens. So, do consider open shelves in kitchen remodeling.
Furthermore, the open shelves for kitchen also let you be more creative and play around with the styling. If you have dark-colored wallpaper or wall paint, install white open shelving to highlight the wall. You can add small open shelving on the wall near the windows or in the kitchen corners.
You can decorate the open shelves in kitchen with succulents, teacups, cutlery, cookbooks, and more.
11. The take-home
The kitchen is the most used room in a home. When planning your kitchen remodeling, consider the above ideas to ensure that you end up with a luxury dream kitchen. Adding an under-mount porcelain sink gives your cooking space a pristine look for years. Lighting remains an essential kitchen remodeling element there it should be avoided.
Furthermore, countertop designs must not be overlooked in kitchen renovation either. Similarly, new cabinet materials, handles, and hardware, and kitchen ceilings make great kitchen makeover ideas as well. The kitchen backsplash also enhances the look of the kitchen.
The minute details and kitchen makeover ideas given in this article will definitely help you make better, quicker, and smarter decisions when you decide to renovate a kitchen.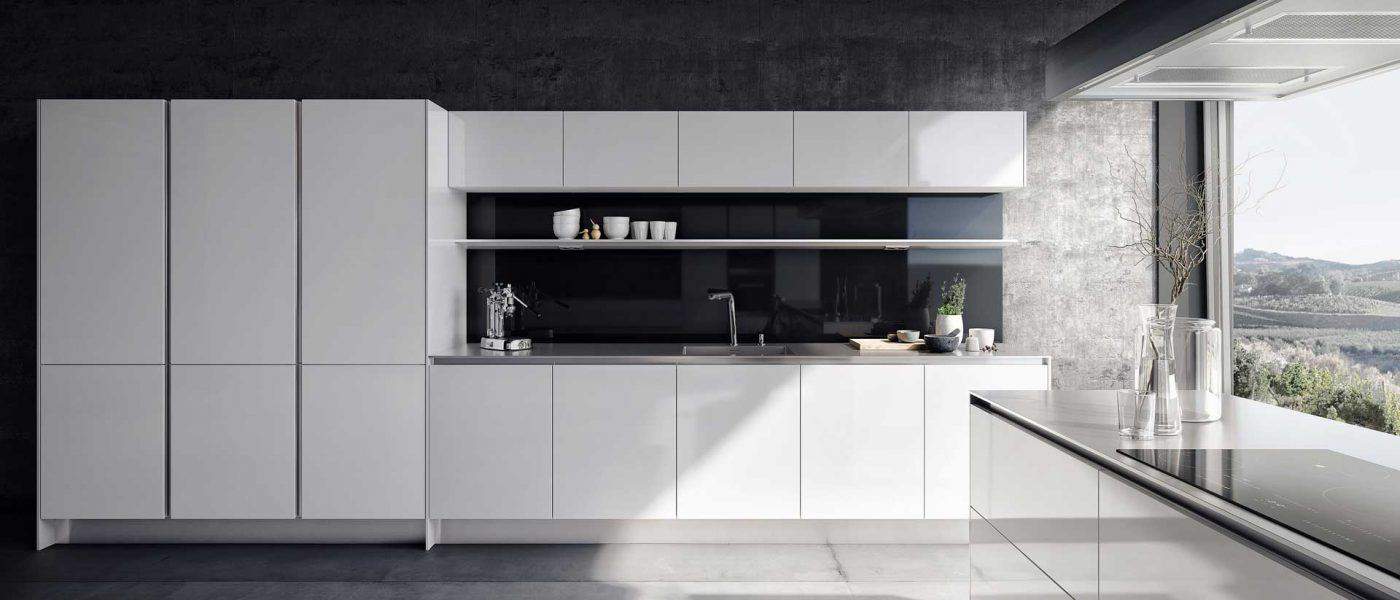 In the building and interiors industry, we often hear the word 'Minimalism'. What does this…