Who doesn't want to retreat to a soothing, relaxing and calming space after a long day? Whether it's the master bedroom or a guest room, the bedroom must exude restful and happy vibes. To get this atmosphere in the bedroom, it's important that the interiors complement the mood. This is the reason why the paint colour combination of the walls, ceilings, and even flooring design should be carefully planned while designing your bedroom.
Colours also become pivotal when you want to revamp your bedroom without burning your pockets. Also, if you don't want a major dramatic change with new bedroom furniture, flooring etc., colours definitely come to the rescue. Simply recolouring the bedroom gives a major facelift to the space.
Through this article, we aim to assist professionals such as Architects, Interior Designers, Decorators, and even homeowners understand the right colour scheme, shades, designs, and combinations for their bedrooms.
How to pick bedroom

colours?
Choosing the right bedroom paint colour is not as easy as it seems to be. A wrong choice of colours can be disastrous for the look and feel of the room. Thus, you must remain extra cautious and aware of the nuances associated with bedroom colour combinations & designs for walls.
Here are some tips that can help you choose the right colours for all bedroom designs.
Colour psychology
Colour
Mood
Warm colours
Red

Raises a bedroom's energy level.
Can stimulate feelings of love, passion, anger, and power.
Suggested to raise blood pressure, speed respiration, and increase heart rate.

Orange

Evokes excitement and enthusiasm.
Promotes activity.

Yellow

Captures the joy & warmth of sunshine.
Communicates happiness.

Pink

Associated with love and kindness.
Boosts creativity.

Cool colours
Green

Offers a calming effect.
Relieves stress.
Said to improve fertility.

Blue

Soothing.
Lowers blood pressure.
Slows respiration and heart rate.

Purple
Neutral colours
Brown

Adds warmth.
Common with traditional decor.
Brings elegance, beauty, and sophistication.

Grey

Brings comfort and warmth.
Highly versatile.
Timeless and classic in lighter shades.
Edgy and modern in darker hues.

White

Brings calming effects.
Makes the room feel more open and spacious.

Black

Best used in a small amount as an accent bedroom colors design.
Grounds your colour scheme.
Gives depth.

Metallic

Gives instant style.
Adds extra durability.
Promotes excitement and creativity.
Size of the bedroom
The right bedroom colour combinations and designs for walls can easily help you unwind and relax. However, a poor choice of shades can make it look damp, dingy, and claustrophobic. Colours have the ability to invoke positivity in the room but when put badly, they can make it distressing.
Moreover, the size of the room also governs the choice of colours. So, the first step towards choosing the right colour for your bedroom is by knowing the size of the room.
A bedroom less than 200 sq. ft. is small.
If your bedroom's size lies between 200 sq. ft. to 300 sq. ft., you have a medium-sized bedroom.
A bedroom above 300 sq. ft. is large.
Small bedrooms need light colours that make them look larger and more accommodating. Thus, white is the favourite colour of designers for small bedrooms. However, you can mix and match your bedroom walls with a combination of light and dark paint colours too. You just have to make sure that your small bedroom only has one accent wall in a darker shade. Failing to do so might make your room look smaller and suffocating.
Medium-sized bedrooms offer flexibility when choosing paint colours. That said, do not overdose on dark colours otherwise, you will end up making your room look cramped up. Try balancing colours by complementing dark shades with soft hues.
The sky is the limit with larger bedrooms. You have enough space to experiment and go crazy in a big bedroom. However, using too many bright colours can make the walls feel harsh on the eyes. So, balance is the key! Layer it up and give your bedroom a beautiful makeover with multiple colours, textures, and designs.
Location & direction of the bedroom
In addition to the size of the room, the direction that the room faces, and the entry of natural lights must also be taken into consideration while choosing a paint colour and design scheme for the bedroom.
Read along to know how all of that affects the colour designs and combinations for your bedroom paint.
Colours for North-facing bedrooms
Generally, North-facing bedrooms are cool. These rooms receive indirect sunlight that keeps them cool even on sunny days. So, use warmer colours to balance out the cold temperature. Avoid using shades like grey, blue, lavender, etc. colours for your bedroom design.
Colours for North-facing bedrooms with ample sunlight
Even though North-facing bedrooms do not receive direct sunlight, it doesn't mean you cannot fix the challenges with huge windows. Having multiple windows in such rooms allows plenty of sun exposure to keep it warm. So, in such bedrooms, you can go with neutral shades such as Malted Milk, Warm Tan, etc.
Colours for North-facing bedrooms with less sunlight
If your room doesn't have enough windows to light it up, feel free to opt for bolder colours such as Crimson, Brick Dust, etc.
Colours for East-facing bedrooms
The hues of the bedroom change with the passage of sunlight over time. So, for East-facing rooms, go with clear, sunny, and bright colours that gel well with the morning sunshine and evening dimness.
Colours for East-facing bedrooms with ample sunlight
If your east-facing bedroom has plenty of windows, light and neutral colours will do well in it. For instance, you can pair a duck-egg blue colour with a bright white accent wall paint in your bedroom for a classic look.
Colours for East-facing bedrooms with less sunlight
If your room has fewer or small windows, maintain the right balance of bright paint colours with complementing decor items for a pleasant vibe.
Colours for South-facing bedrooms
We all love South-facing bedrooms for their warmth and sunlight. However, choosing the right paint colours for such rooms can be daunting. Since such bedrooms experience more changes in natural light than any other space, selecting paint colours feels difficult. So, you must look at your choice of colour during a different part of the day to understand all the hues in a full spectrum of sunlight.
Colours for South-facing bedrooms with ample sunlight
You want to avoid bright colours if your room has too many windows. So, go for pastel colours or slightly darker shades as these will make the room comfortable for the eyes.
Colours for South-facing bedrooms with less sunlight
If your room doesn't receive enough sunlight, use warmer colours. Bright hues will make your room more livable and cheerful.
Bedroom colour designs
Nothing radiates joyousness like coral colours in a beautiful room. In darker rooms, it brings brightness. While in dimmer settings, it mimics the muted shade of terra cotta.
Cream
Who says this shade is out of fashion? This neutral shade exudes a versatile, warm, and subtle vibe in the bedroom. Also, it brings to mind relaxing long walks on a serene beach vibe.
Green
Linked with the goodness of the natural world, green remains a top choice for bedrooms as it impresses the nurturing qualities of nature in the room and makes it feel soothing and relaxed. Also, a combination of pastel and bright green paint colours in the bedroom makes the space look cheerful and calm.
Purple
All shades of purple, such as lavender, lilac, etc. make the bedroom restful. Also, elegant purple has recently witnessed a revival in the interior decor world. So, now's the best time to paint it purple!
Orange
Speaking of a welcoming vibe, there is no better and warmer colour than orange for it! The joyful tone of orange guarantees an appealing look. However, if you use it wall-to-wall, the colour might look too overpowering. So, it's advisable to use the orange colour with a paler paint combination for an exciting yet comfortable bedroom.
Blue
Blue bedroom ideas are a big favourite since they have been shown to have a calming impact on the brain, assisting in the preparation for sleep. Don't hesitate to utilise deeper colours on the walls, even though brighter blues or dramatic accents are more instinctual choices.
Neutral
Natural colours are a versatile palette that you can use in any setting. The enticing and naturalistic tones of a bedroom add warmth and homeliness to the environment.
Though the name 'neutral' is a bit vague, creams, browns, and beiges are hues that come and go with design trends – think Nordic aesthetics and rustic bedrooms – and as a colour combination, they're unrivalled.
Yellow
Bedroom paint colour combinations and designs for walls don't have to be very reasonable! There's no getting around it. So, to pull off a yellow bedroom, you must be self-assured. This cheerful tint of yellow will light up your mornings.
Invest in a variety of affordable patterned pieces that you can switch out over the seasons to make this colour work for you. In the spring, go for Daffodil hues, then transition to spicy mustards and ochers in the fall.
Mustard
Consider mustard—a rich, warm, zingy shade with lovely undertones that may seem both earthy and muted or powerful and inviting—before you delete yellow from your interior colour scheme. While many people avoid using yellow in their houses, a clever application of mustard can produce a unique, reinvigorated look.
Grey
Grey bedroom colour combinations and design schemes for walls are a common choice since we frequently want to have the same colour palette across our houses.
Bedroom colour combination designs
Lime, green & yellow bedroom colour combination #1
Image Source: Nippon Paint
Light brown and muted green bedroom colour combination #2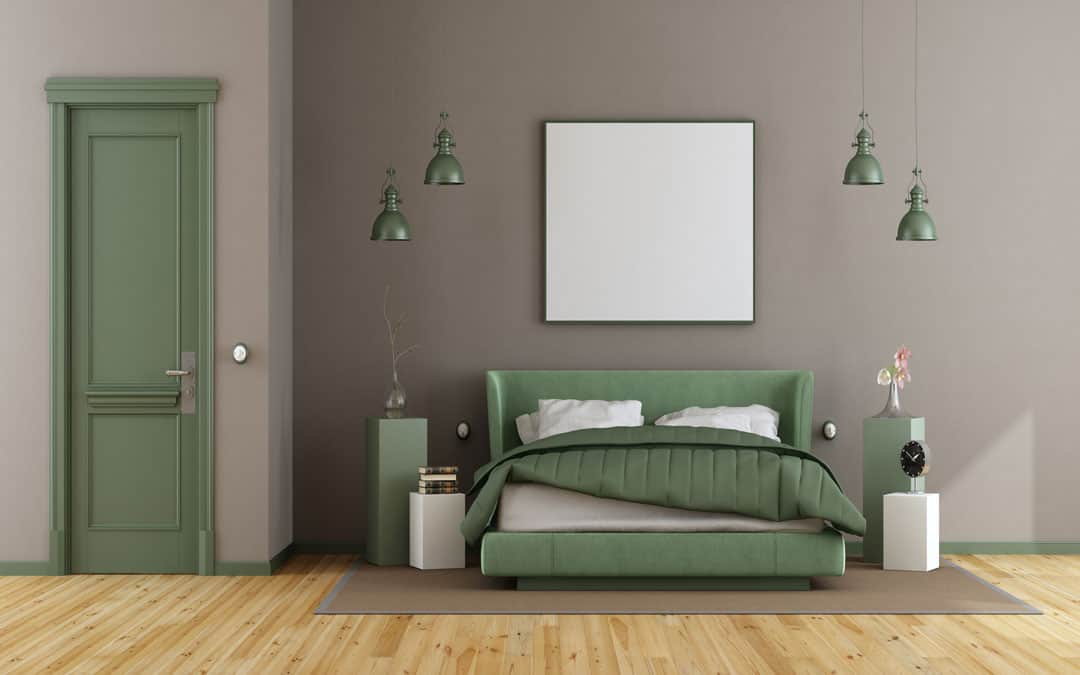 Image Source: Nippon Paint
Light blue and radiant yellow bedroom colour combination #3
Image Source: Pinterest
Indigo and white bedroom colour combination #4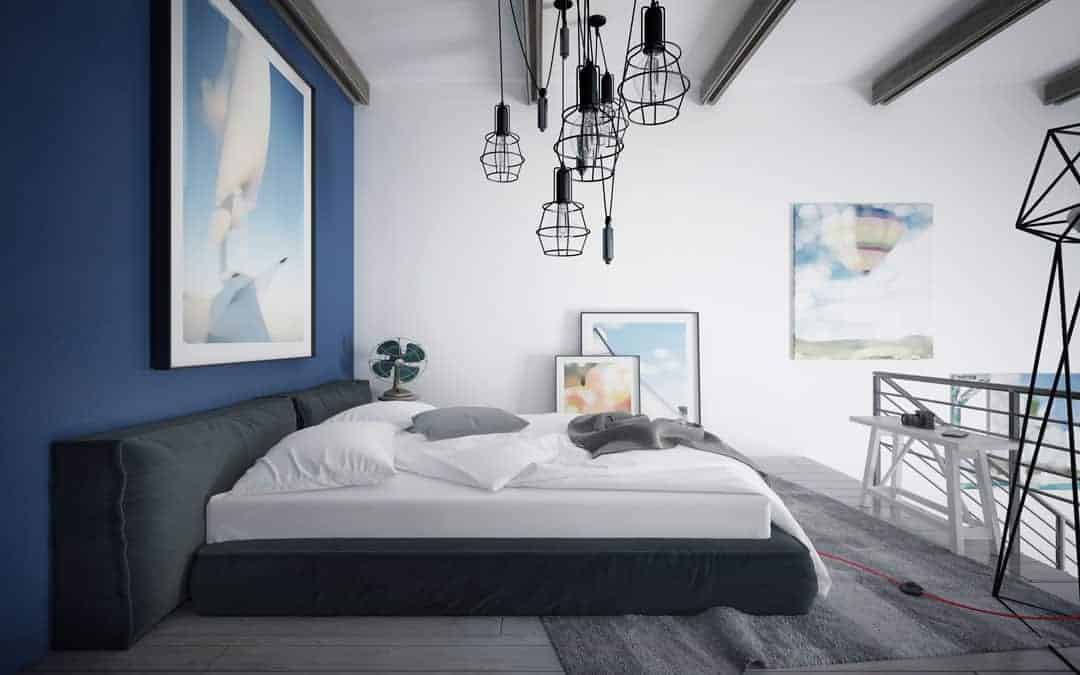 Image Source: Nippon Paint
Green and mellow yellow bedroom colour combination #5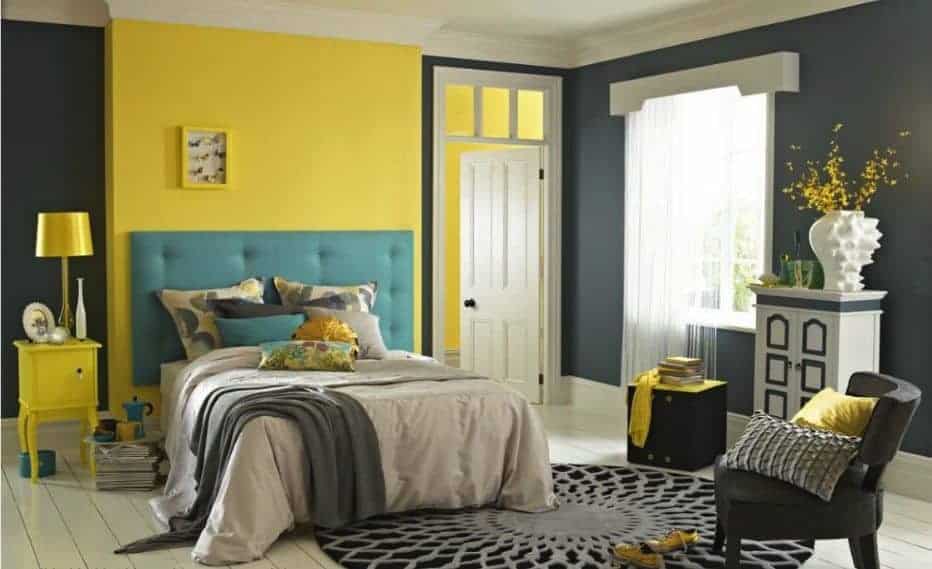 Image Source: Nippon Paint
Beige pink with a cool grey bedroom colour combination #6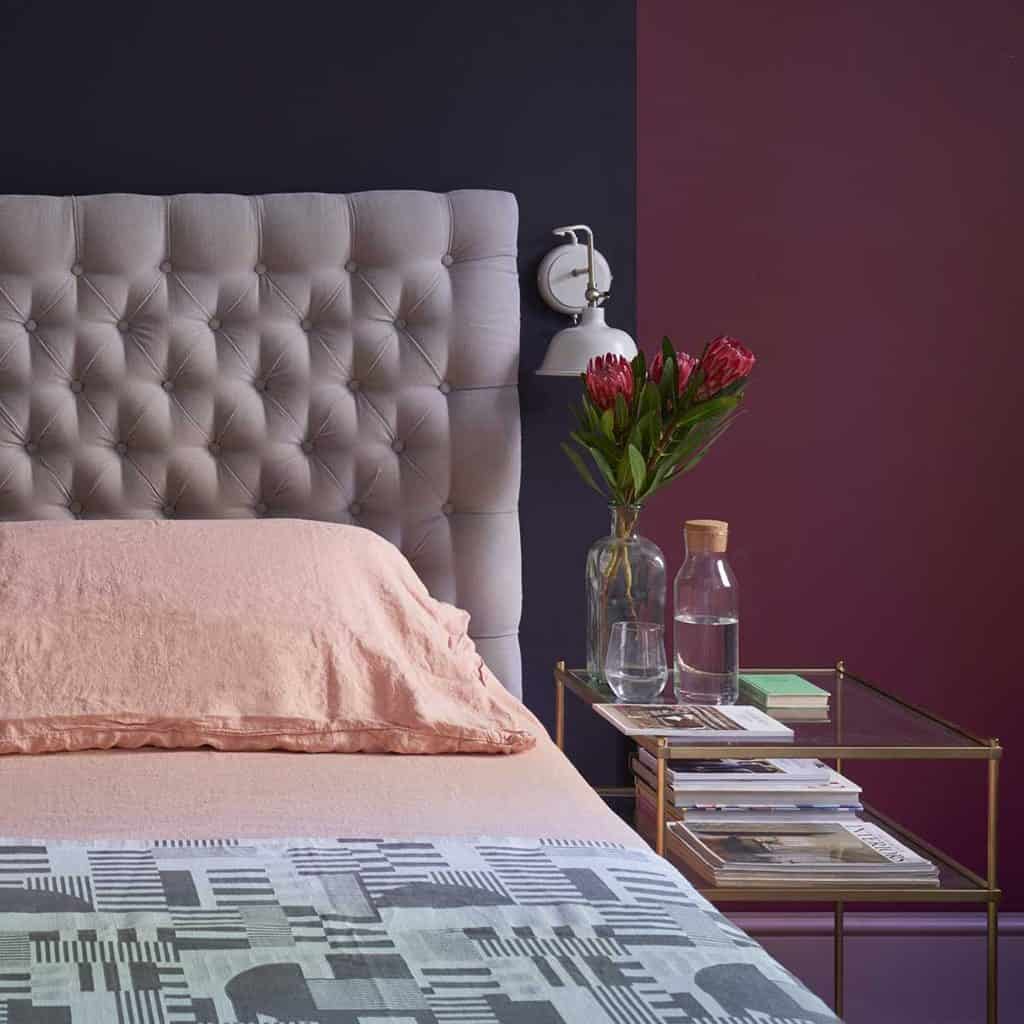 Image Source: Family handyman
Brown and cream bedroom colour combination #7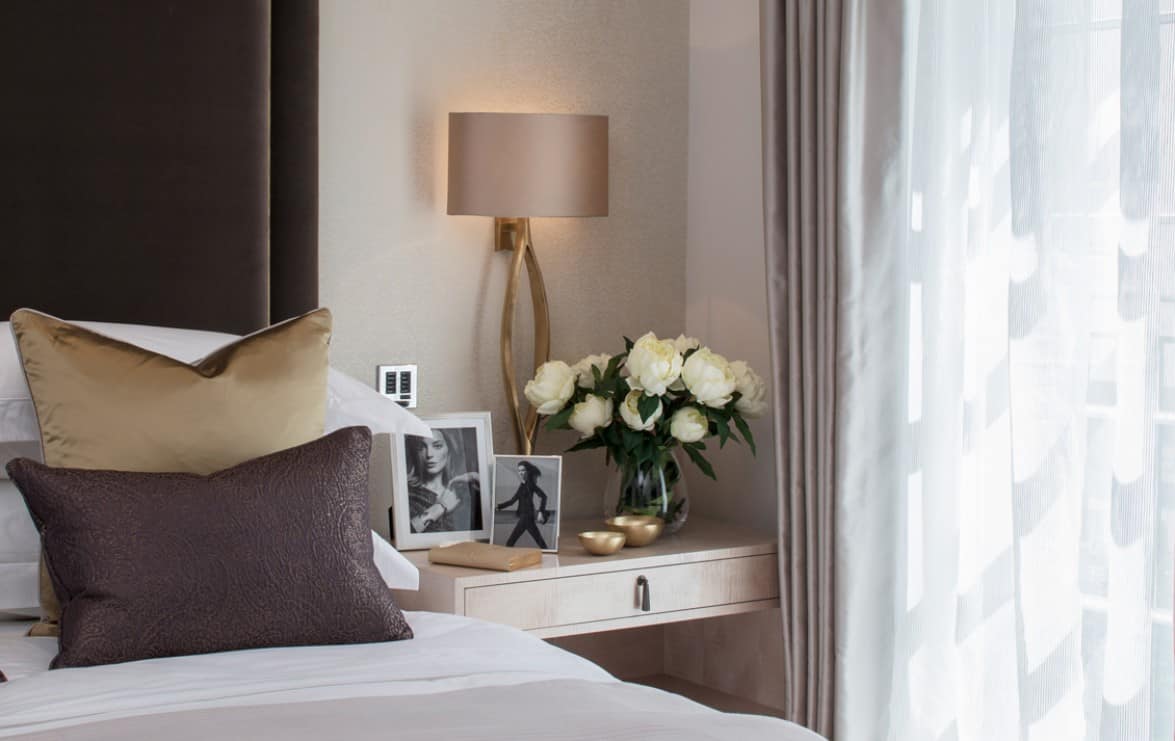 Image Source: Boca do lobo
Red and white bedroom colour combination #8
Image Source: Wallpaper Safari
White and orange bedroom colour combination #9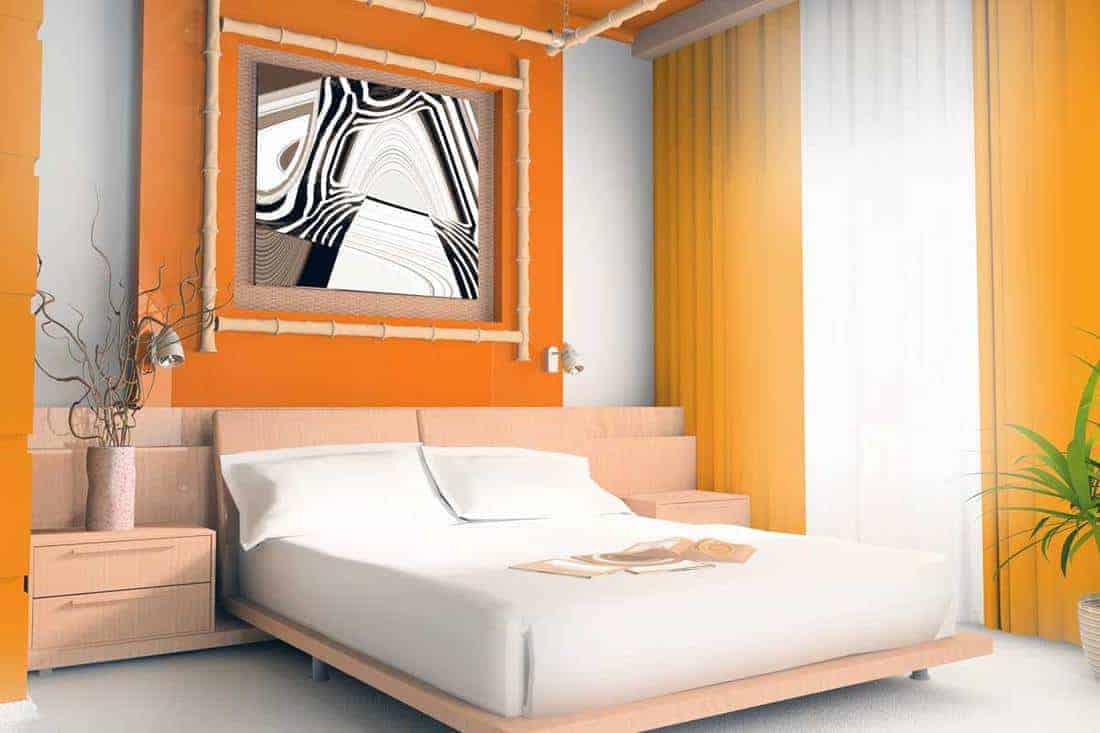 Image Source: Property Geek
Light and dark violet bedroom colour combination #10
Image Source: Nippon Paint
Conclusion 
The right shade makes the bedroom look serene, comfortable, and beautiful. No matter how many decorative elements you put in the room, the walls, floor, and ceiling still remain the major design elements. So, choose your paint for the bedroom wisely and do not settle for anything less than what you desired.
The knowledge of choosing the right paint colours goes a long way! So, understand the requirements of your bedroom. Study the location, size, and brightness of the bedroom before finalizing its colours. In fact, understanding these nuances will not only help you in making the right colour choice but will also help you select the right bed, wardrobe, lighting, and other furniture for the room.
With the above-mentioned detailed information on selecting the right bedroom colors, you are now ready to make a smart decision. So, what are you waiting for? Get started on picking the right colour combinations for your bedroom to make it ethereal.
 *The featured image used in the article is from Serg Ushakov (Behance)
[vvsmustread]