A crown corporation of British Columbia, the westernmost province of Canada, Forestry Innovation Consulting Pvt. Ltd. (FII India), commonly known as Canadian Wood, has the responsibility of promoting certified wood from B.C. Canada's sustainably managed forests. As part of FII's plan to raise awareness of these wood species in the Indian market, the corporation collaborated with Indian designers, architects, and manufacturers to incorporate Canadian wood species in hospitality sector projects. For a restaurant project in Pune named Celesto Bar & Restaurant, FII worked with an architecture firm called Wings the Design Studio and an interior design company called Minimal Stroke.
FII India's major goal is to encourage the use of five different wood species from B.C., Canada, known mostly as SPF (Spruce-Pine-Fir), Western hemlock, Douglas-fir, Yellow cedar, and Western Red Cedar, in the Indian market. Due to their distinctive qualities, these wood species are appropriate for a variety of uses. Canadian Wood lumber that has been seasoned, sized, and graded is readily available across the country from a network of 41 stockists in major cities.
About the collaborators
'WINGS' The Design Studio: 'WINGS' The Design Studio is an internationally recognized architecture and interior design firm based in Pune. Wings the Design Studio has worked with a variety of clients in the Indian hospitality sector since its inception in 2001, each with specific needs and demanding requirements.
Minimal Stroke: Minimal Stroke is known as a brand that offers high-quality "Made In India" lifestyle products. These include specially designed outdoor solutions, a variety of custom interior furniture, art, and accessories. With 18 years of experience, the company is passionate about achieving the best standards of product design.
Celesto Bar & Restaurant
Celesto Bar & Restaurant has a seating capacity of 300 guests including both outdoor and indoor dynamic seating arrangements. The architects and designers chose Yellow Cedar wood for the outside table, chairs, and ceiling. It gives the restaurant a cozy as well as welcoming appearance. Moreover, it is easy to work with and has a good moisture absorption ratio if the surface is thoroughly polished. Due to its exquisite grainy texture, Western Hemlock was chosen for the interior dining table, seats, and panelling.
The two goals of FII India's ongoing collaboration include Building partnerships and showcasing the benefits of using B.C. wood in the Indian hospitality sector. Based on their prior collaborations with FII India, which included notable architectural and design achievements, 'WINGS' The Design Studio and Minimal Stroke agreed to team up with the company on this project. They chose Western hemlock and Yellow Cedar to create a warm and welcoming atmosphere within the space. This was due to their familiarity with Canadian wood from previous projects and precise knowledge of B.C. wood species.
The FII India team introduced the designers to a local Canadian wood stockist. In addition, the FII India team also offered technical assistance throughout the project. FII India has previously collaborated with designers and architects to spread the word about sustainable wood from B.C. Canada.
Application of Canadian Wood in Celesto Bar & Restaurant – A grand success in the Indian hospitality sector
The Celesto Bar & Restaurant's use of B.C. wood species was a huge success. The Western Hemlock and Yellow Cedar wood's overall quality pleased the design team. It gave the restaurant a distinctive and contemporary ambiance. Showcasing wood design and products in busy establishments like Celesto Bar & Restaurant, Pune builds on ongoing market development activities in India and spreads the knowledge of the variety of uses for B.C wood species. FII aims to further emphasize the advantages of using Canadian Wood and deepen its commitment and participation in the industry. For this, FII India seeks to expand the number of collaborations with designers and architects.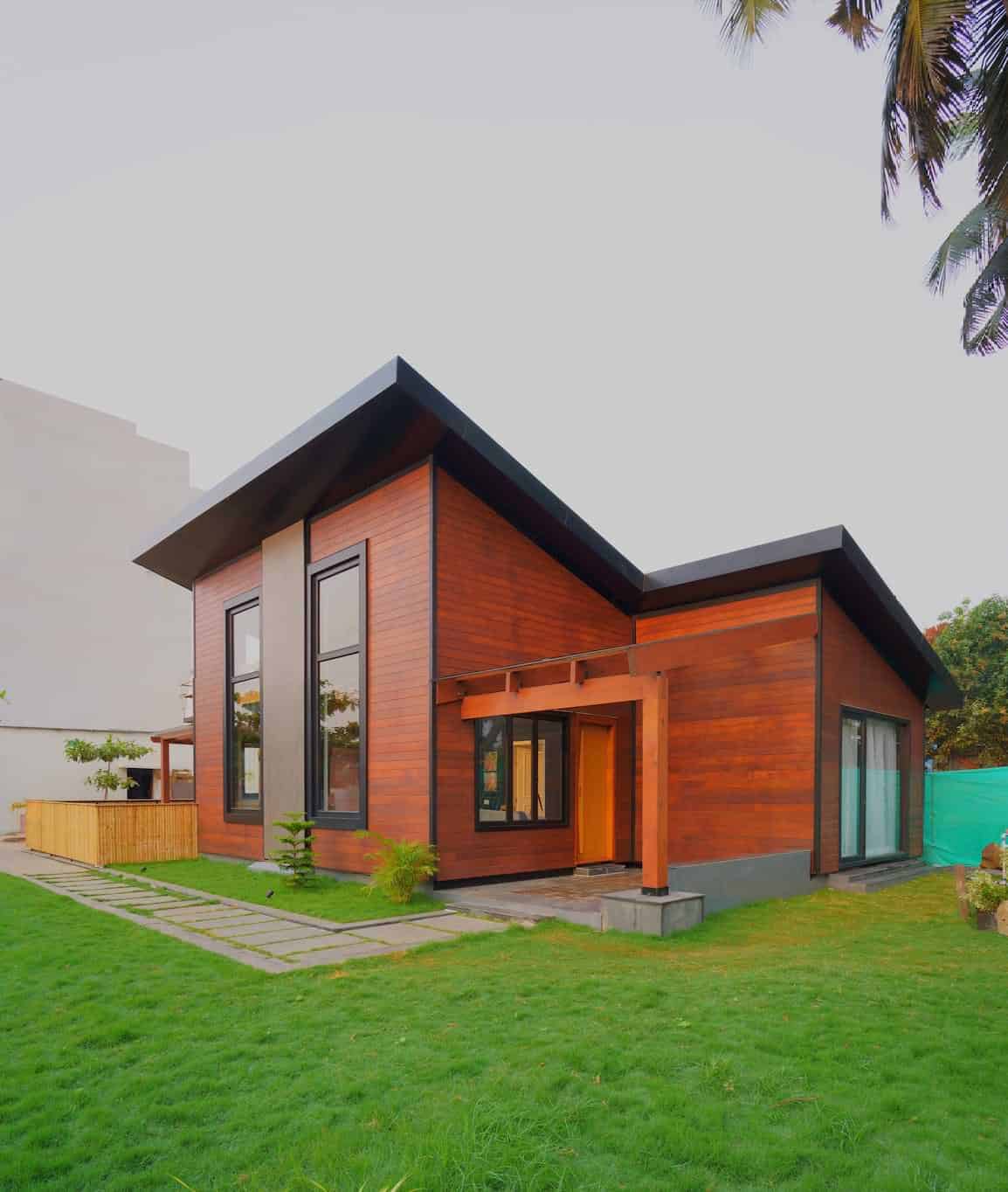 Canadian wood the crown agency of the British Columbia government conducted a successful webinar on 2nd March 2022 to announce the launch of WoodNiido House in Chennai. In the webinar, Mr. Pranesh Chibber, Country director, Canadian wood, Mr. Akarsh Tiwari, CEO, WoodNiido and Mr. Peter Bradfield, Country Director, Canadian wood, discussed the scope of using wood as sustainable construction material and the benefits of wooden housing structures in