A dressing table is your go-to place to dress up and feel confident about yourself. Modern and stylish dressing table designs serve as great aesthetic room decor items for your bedroom. However, your dressing table can become an aesthetic element only if its design, size, shape, and material are in perfect sync with the other elements of your bedroom, such as the theme, colour, and wooden furniture (beds, wardrobe, etc.).
Your dressing table's features are mostly what makes it unique. A dressing table with storage drawers, mirrors, and built-in lights is always a better pick than one with an irresistible design. For instance, a wardrobe dressing table design would be great if you are someone who loves to horde makeup or accessories and wants space to keep them safe.
You will discover thousands of dressing tables from top furniture brands on the Internet while looking for stylish and modern dressing table designs for your bedroom. So, choosing the best dressing table becomes a bit overwhelming.
The most challenging part of picking a dressing table can be matching it with your bedroom's interior. You can have one of the most stylish and modern dressing table designs for your bedroom, but if it doesn't correspond to the other furniture items or wall colours, then it's not perfect for you. For instance, if you have bright-coloured interiors, then opting for wood or vintage-style dressing table designs is not a great idea.
In this article, we have brought together some of the most mesmerizing standalone and wardrobe dressing table designs, from minimalist to vintage, for your bedroom. Our goal is to help you make a well-informed purchase decision as per your overall requirements. If you're still here and you loved what you read, then check out our recommendations for buying your perfect dressing table.
Factors to consider before finalizing a dressing table design
Features
A normal dressing table generally comes with a mirror and some storage racks. However, there can be more to it, as per your choice and requirements. You may want to have a bigger and more organized space, in-built LED lights, a large mirror, a matching stool, or simply a wardrobe dressing table design. The main aim is to pick a dresser that serves the purpose of storage as well as display.
Style
From vintage to minimalistic, different kinds of dressing table styles add a lot to the aesthetics of your bedroom. You may want to have a wardrobe dressing table design if you prefer storage space and big mirrors, or a floating style if you have space constraints. Any dressing table style can be a great design for your bedroom if it mingles well with its overall decor and theme.
Size
While selecting a dressing table, keep in mind its dimensions. Generally, an ideal dressing table is 30–35 inches in length, 14–18 inches in depth, and 30-32 inches in height. So, it's very crucial to shop for a compatible size and finalize the area where the dressing table will be kept. Always remember, having a bigger-sized dressing table designed for a small bedroom will end up making it look clumsy, while a smaller-sized dressing table in a big bedroom may fail to serve its purpose. So, choose wisely!
Material
Great dressing table designs generally depend on the material used in their making. Needless to say, the type of material used also determines the durability and longevity of the dressing table. Solid wood and metal are considered to be the toughest, and they also provide a good base to make different dressing table designs and patterns.
Placement
The placement of your dressing table in your bedroom should not affect the overall open space and incoming natural light to a great extent. Similarly, you should allow some free space around the dressing table for your own movement. However, if you are really confused about the placement, you can add your desired dressing table design to your bedroom wardrobe. It is also a great idea to place your dressing table near a window or below a light source.
Budget
A perfect dressing table is also one that doesn't burn a hole in your pocket. You can do that by focusing on filtering out pocket-friendly dressing table designs from the vast collection available online. You can also opt for some specific budget-friendly base materials like plastic, engineered wood, rubber wood, etc. However, if you are really stuck on one specific over-budget design, then wait for a sale.
Apart from whatever is discussed above, you can still have some more requirements or simply want to incorporate more features for the overall look and feel, and that is absolutely normal. So, to make your job easier, we have a checkbox to help you finalize your dream dressing table design for your bedroom.
| Requirement | Yes | No |
| --- | --- | --- |
| Make-up storage | | |
| Jewelry box | | |
| Double mirror | | |
| Triple mirror | | |
| Full-size mirror | | |
| Built-in lights | | |
| Matching seat | | |
| Locker | | |
| Extra accessories (brush stand, necklace hook, drawers, etc.) | | |
Types of dressing table designs
Dressing tables based on material
The material of the dressing table is a vital aspect because important factors like style, price, and care rely on it. You can find stylish dressing table designs made up of the same material throughout or with various materials.
Solid/ Hardwood
Image Source: Furniture Wallet
Solid wood dressing table designs are very popular as they are strong and durable enough to last a lifetime. Wood provides the best base to carve ornate dressing table designs, patterns, and shapes. The most valuable and expensive hardwoods are oak, rosewood, teak, and maple. The elegant touch of hardwood dressing tables adds to the overall beauty of the room.
Engineered wood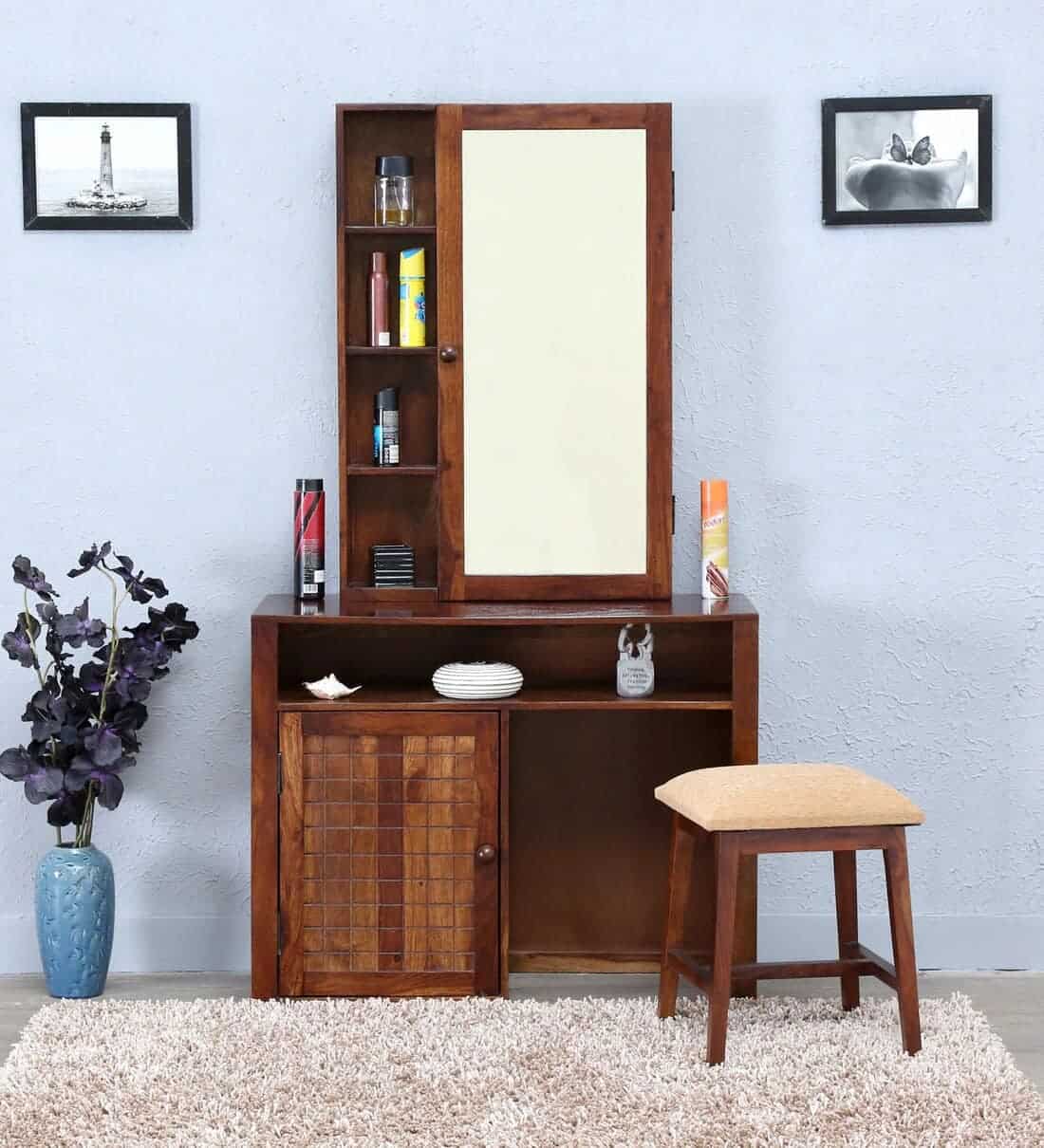 Image Source: Pepperfry
Dressing table designs made of engineered wood are durable, easy to maintain, environmentally sustainable, and pocket-friendly. The material provides a wooden finish, which can be maintained by polishing it frequently. Plywood, MDF, and HDF are some of the most popular engineered woods. The modern look and stylish finish of this material give a touch of sophistication to all dressing table designs.
Metal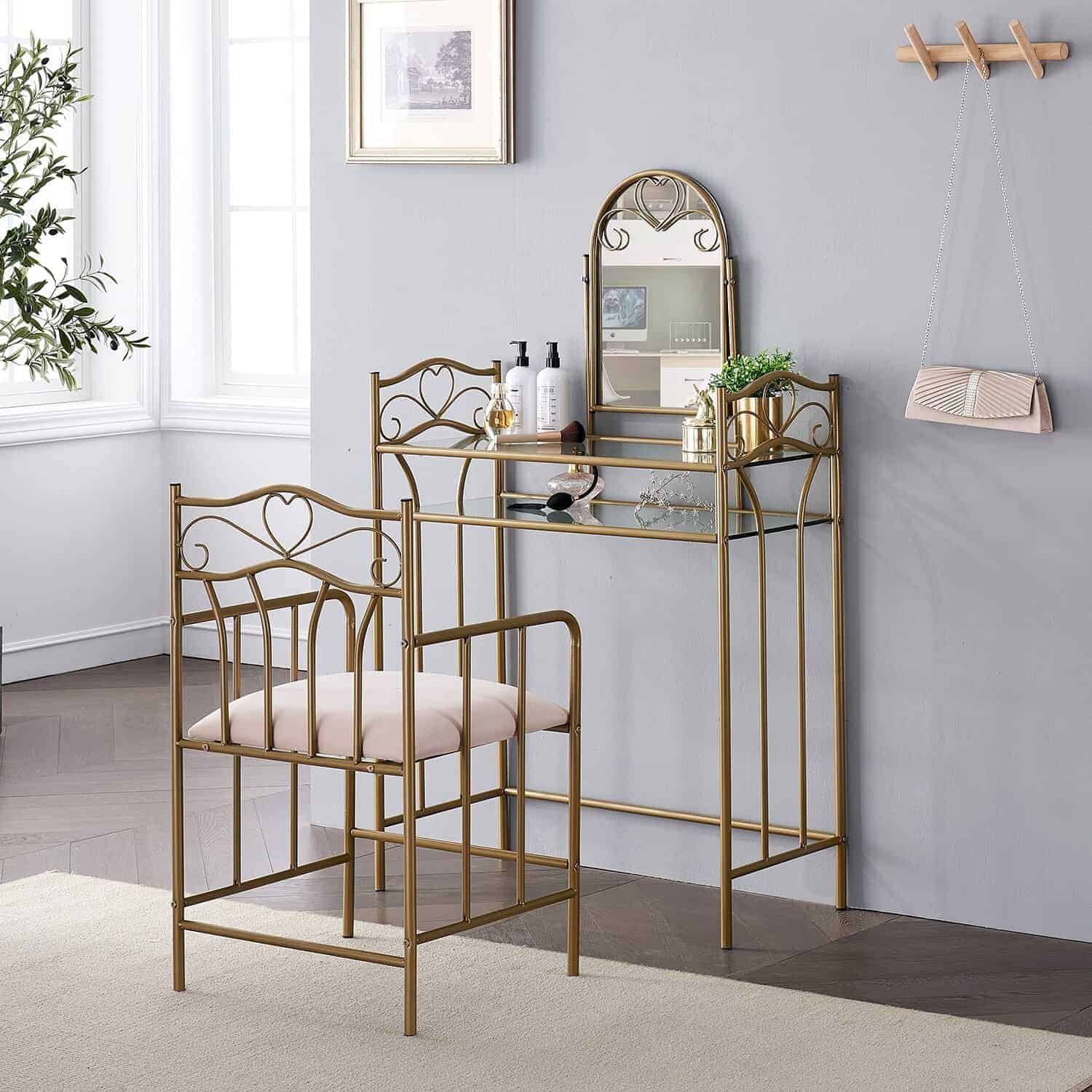 Image Source: eBay
Dressing tables with metal frames are very strong and durable. Metals are often used to hold tabletops made up of glass, marble, granite, etc. Brass, aluminum, and stainless steel are some of the metals widely used to make furniture items. A metal dressing table fits perfectly, therefore giving a modern look to the room.
Glass
Image Source: Homes Direct 365
A glass dressing table is very fashionable and unique and can become a statement piece in a well-lit room with white walls. Glass is easy to clean and has the capability to make a small room appear bigger and livelier. A glass dressing table gives a classy and chic effect to any bedroom.
Plastic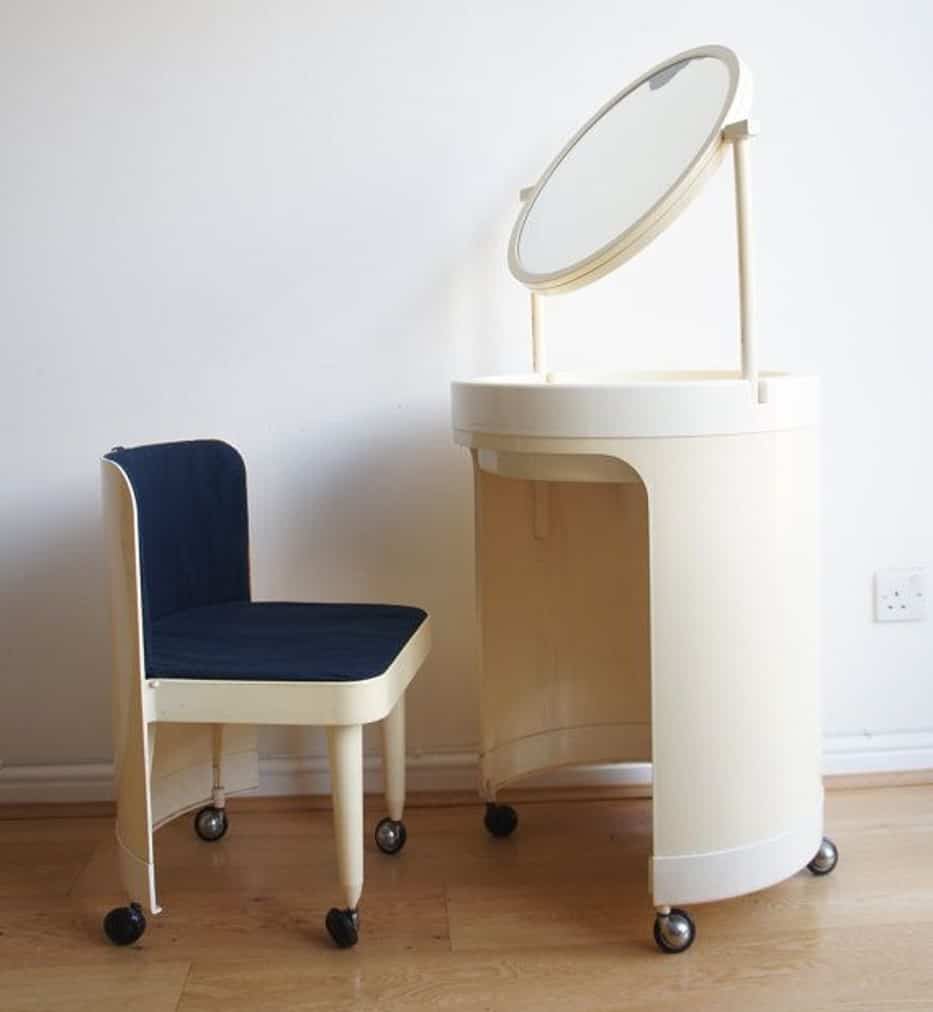 Image Source: Pinterest
Plastic dressing tables are lightweight, durable, easy to maintain, and cost-effective. This material provides a wide array of bright colour options for a dressing table and is hence loved by kids. It provides a fun and minimalistic touch to the dressing table.
Dressing tables based on the shape
While hunting for a dressing table, the shape and the mirror design of the dressing table should be kept in mind. The size, colour, and theme of the bedroom should be in harmony with the overall configuration of the mirror on the dressing table. Here are some popular mirrored dressing table shapes for your inspiration:
Round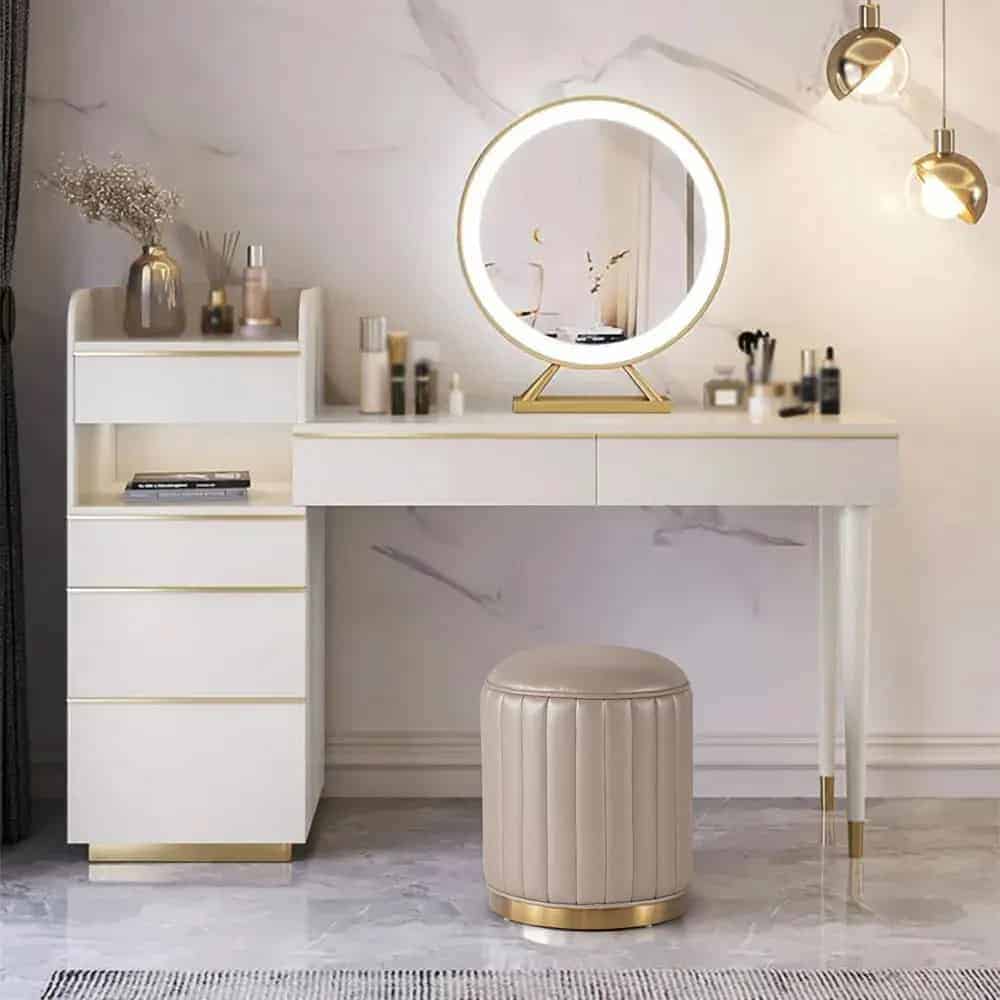 Image Source: Homary
A round mirrored dressing table gives a straightforward yet classy look to a bedroom. Moreover, it is a great pick if you have a dark bedroom. It can be placed right opposite the source of light to enhance brightness.
Square
Image Source: Glvee
A square is a basic shape that provides a sleek finish to all items it is used for. The beauty of square mirrors is that they come with fancy frames and can enhance any interior design. A square dressing table is perfect for small and closed bedrooms.
Rectangle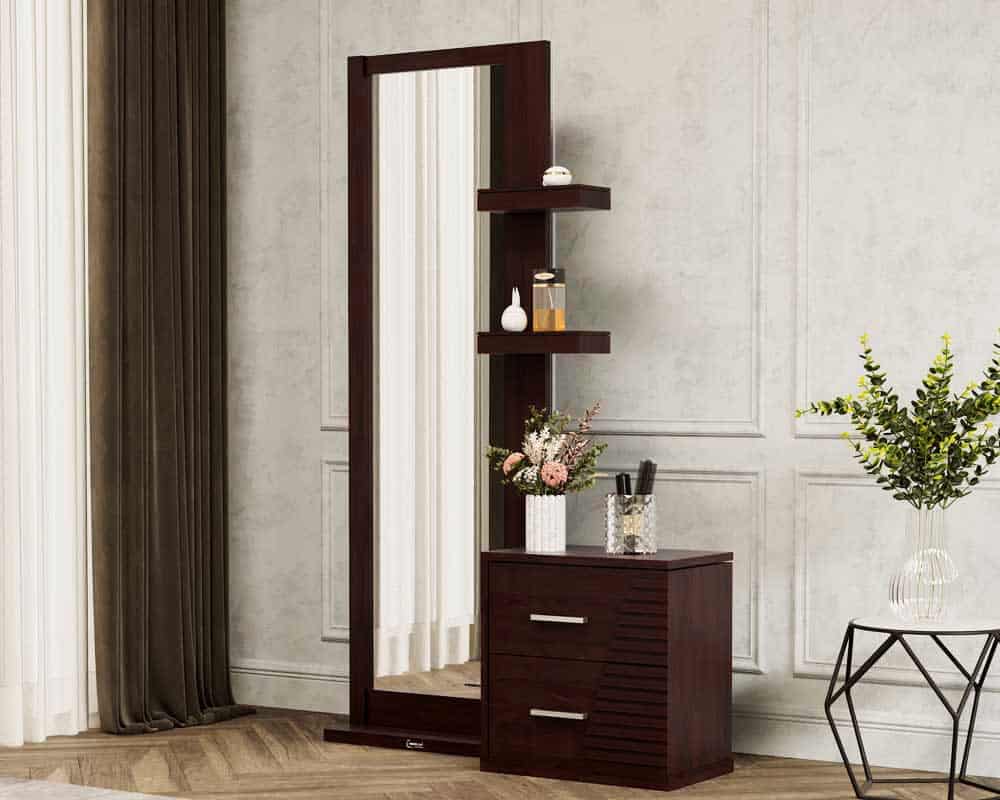 Image Source: Hokybo
Rectangle or full-sized mirrors are great for having a head-to-toe look at yourself. This shape is frequently used in the design of a wardrobe dressing table. A rectangular dressing table is a great option to enhance the layout of bedrooms with low ceilings.
Oval
Image Source: Pepperfry
Oval-shaped dressing tables with no frames create a great chic effect in the bedroom, where most of the furniture is either square or rectangular in shape. An oval mirror works best with a geometric-style dressing table and provides the feel of a French-style boudoir.
Freeform
Image Source: Lilyfield Life
A freeform-shaped dressing table does not follow the common standards of any shape and can be asymmetrical. This style works best in a room with minimal decor items. The striking shapes stand out and add a focal point to a bare and unadorned room. Freeform shapes can be any polygon or any shape with uneven finishes.
Dressing tables based on style
The style of the dressing table is the most important aspect when it comes to selecting modern and stylish dressing table designs. However, picking up the perfect one can become challenging if you don't have an idea about your overall home decor, theme, and interiors. So, to make things easier, we have curated some spectacular dressing table styles for your bedroom:
Contemporary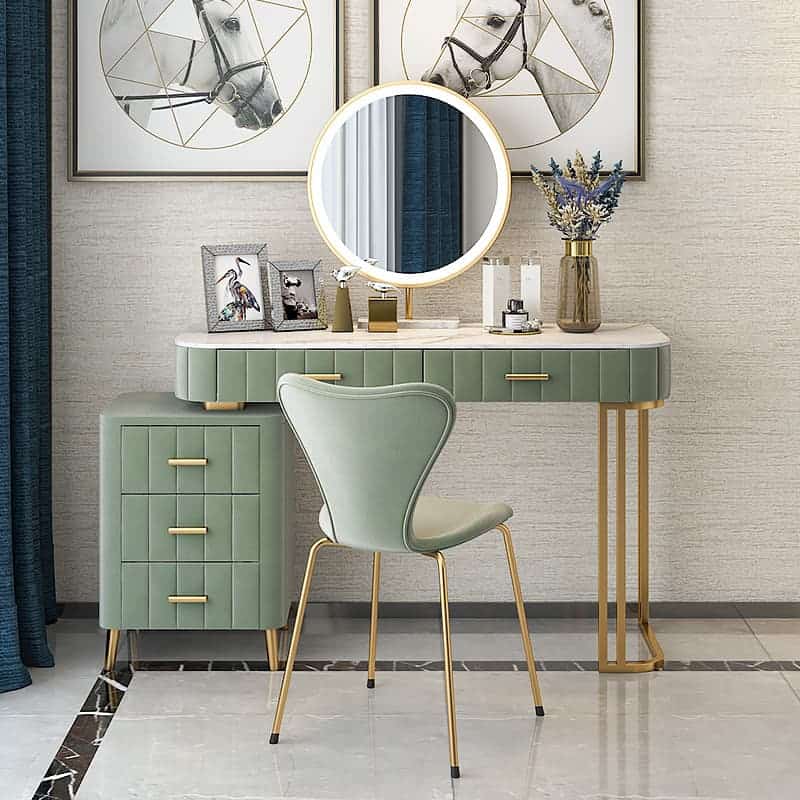 Image Source: Bculinarylab
The contemporary-style dressing table comes in a wide range of looks and designs. Most of these designs give a modern touch to your dressing table with bold details, styles, and finishes. This particular style helps you to simultaneously showcase your personal care items with a touch of elegance.
Vintage
Image Source: Malls-12.top
A vintage-style dressing table can be a perfect pick for those who love the vibes of the golden era. These dressing tables are mainly made of wood, with ornate designs that never fail to attract attention. You can make these look more chic and elegant by placing small decor items like glass bottles and silver jewellery boxes.
Floating/ Wall-mounted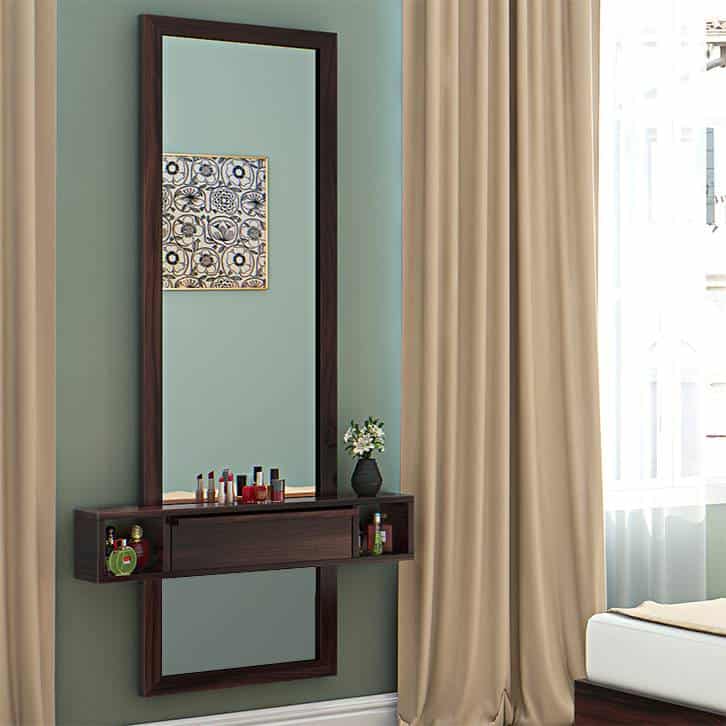 Image Source: Urban Ladder
Floating or wall-mounted dressing tables are a very reliable option if you have a tiny room. Both the mirror and the storage unit are hung on a wall, which saves the carpet area. If you prefer to stand while facing the mirror, then this style is for you.
Minimalist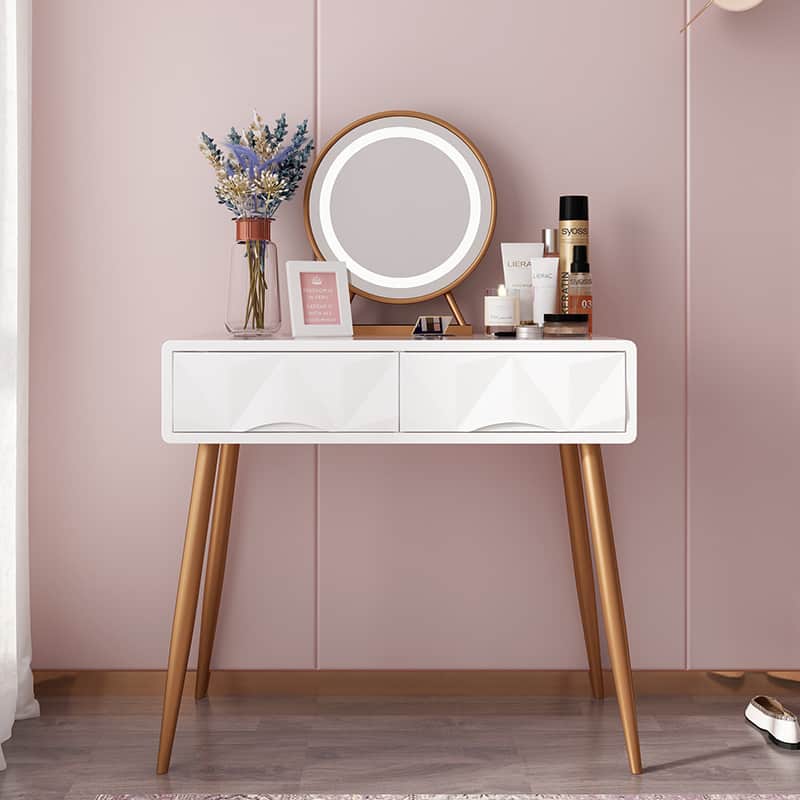 Image Source: AliExpress
Minimalistic dressing tables are the ones with simple yet sleek designs. These dressing table designs are very stylish and often come with built-in lights and drawers with hidden handles or push buttons. Therefore, this particular style is a good pick for a room with rich decor.
Ladder
Image Source: Futon Company
A ladder-style dressing table is a narrow piece and provides storage space for both make-up and decor items. This style works best, especially with small rooms or rooms with high ceilings.
Compact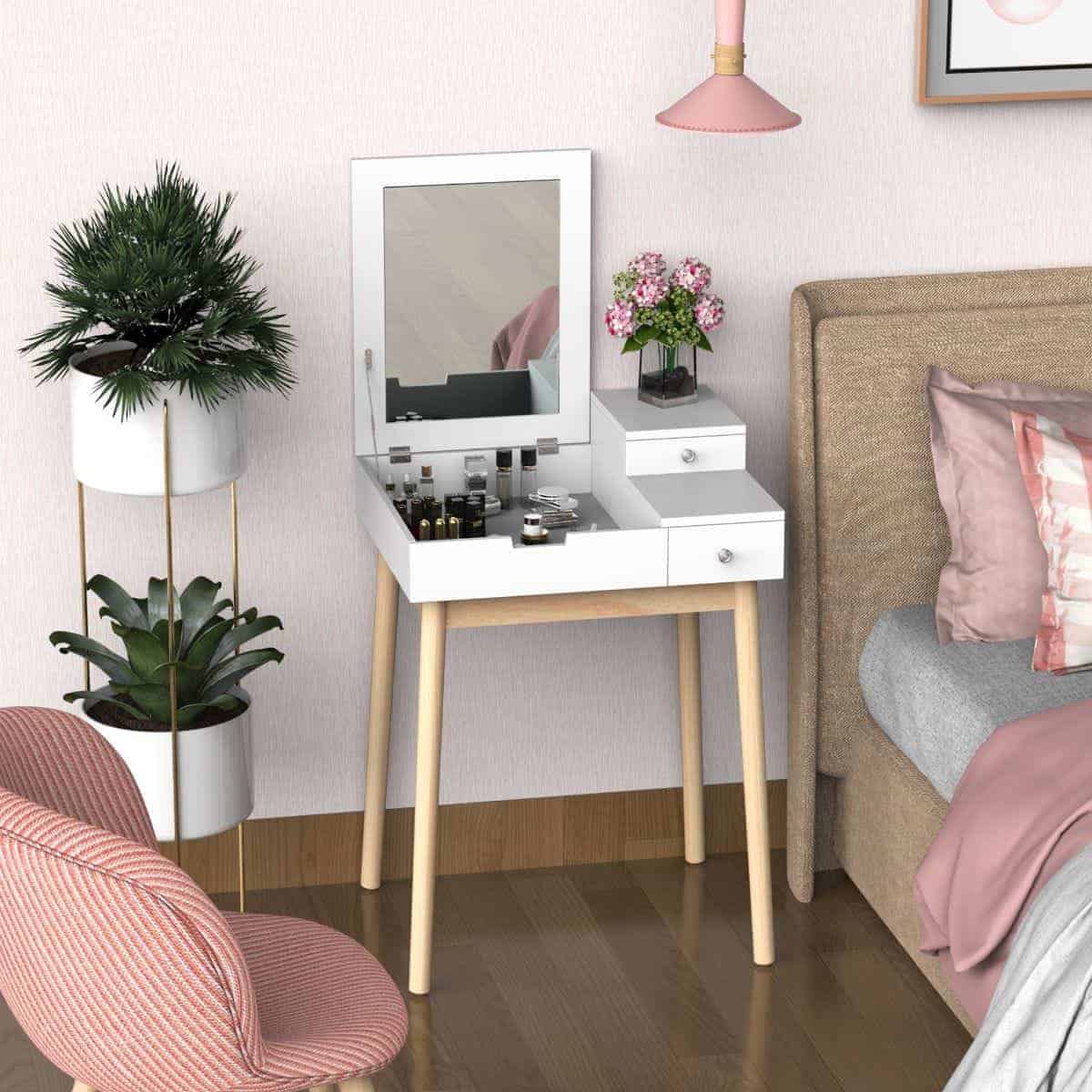 Image Source: Deal Feed
The compact-style dressing tables significantly provide a small, tidy, and organized dressing solution in a small room. This style gives minimal decor to an otherwise small room in the trendiest way possible.
Outsize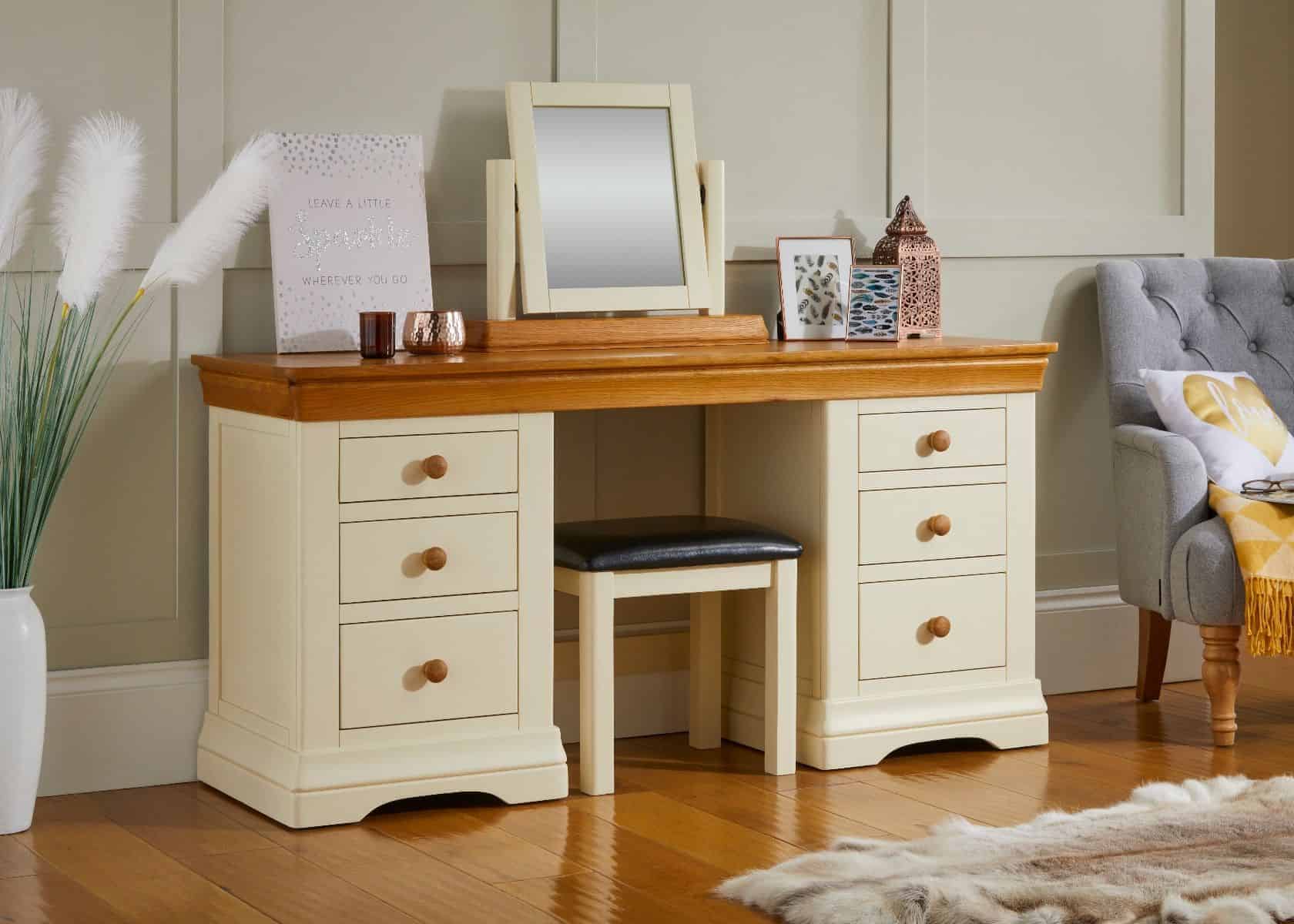 Image Source: Top Furniture
The outsize-style dressing table is a huge one on account of its size. This style provides more countertop space, storage shelves, and a huge mirror. Evidently, this style is a great addition to a large bedroom.
Corner
Image Source: DHgate
A corner-style dressing table is a great way to specifically use corners. If you have a narrow bedroom, then this style is a great way to use floor space meticulously.
Image Source: Urban Company
Wardrobe dressing table designs are quite popular because they provide huge storage space and a dresser in one place. If you want a spacious room and an eye-catching dresser combined with a wardrobe design, then this style is for you.
Our top dressing table recommendations (Buy Here)
Wooden Street

Adolph Dressing Table With Storage Stool (Walnut Finish)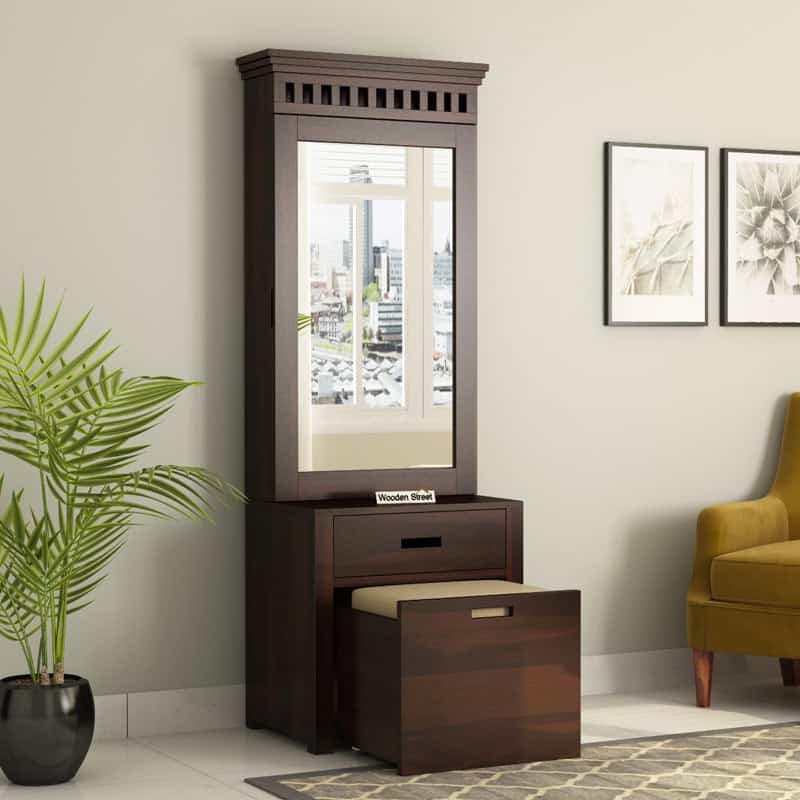 Urban Ladder

Baltoro High Gloss Dresser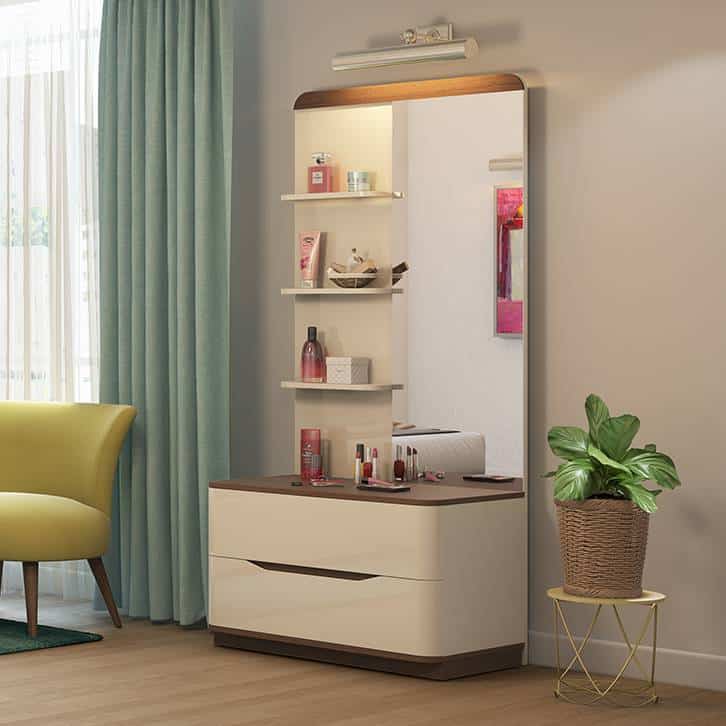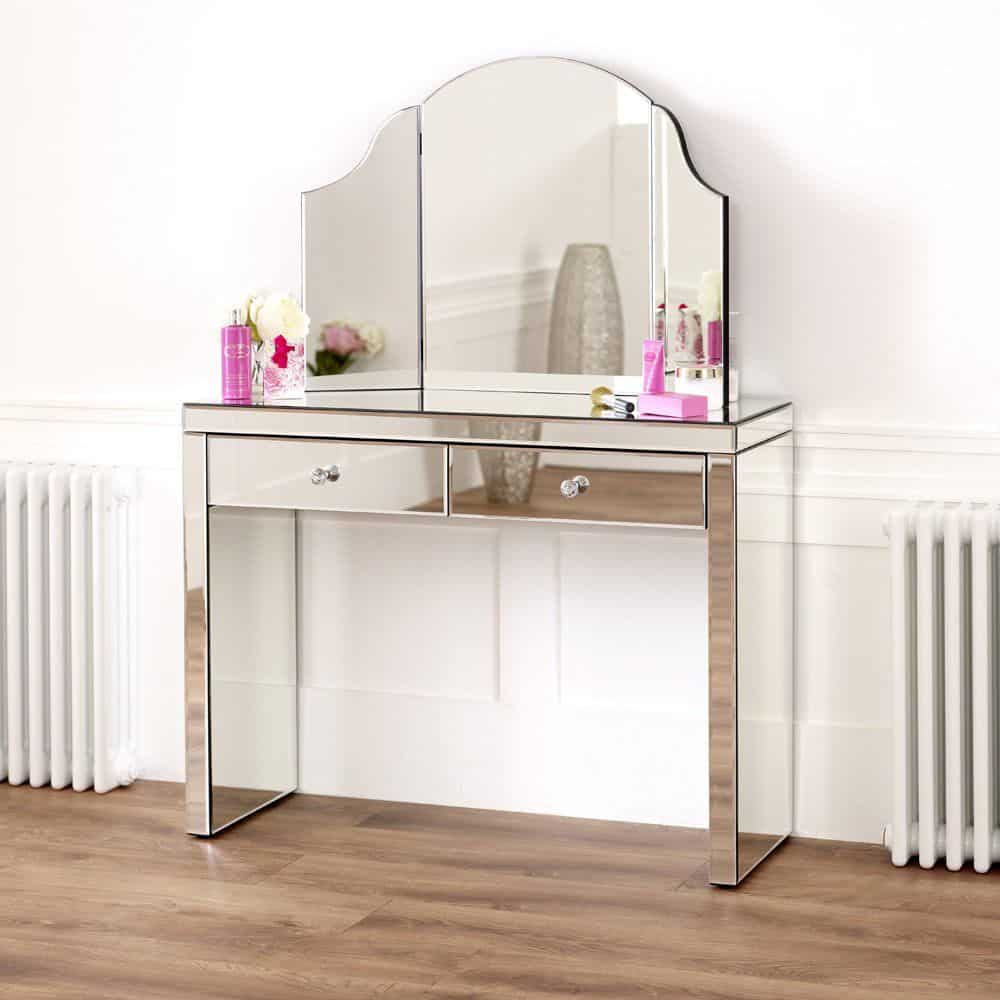 Ubuy India

Vanity Table Set with Lighted Tri-Folding Mirror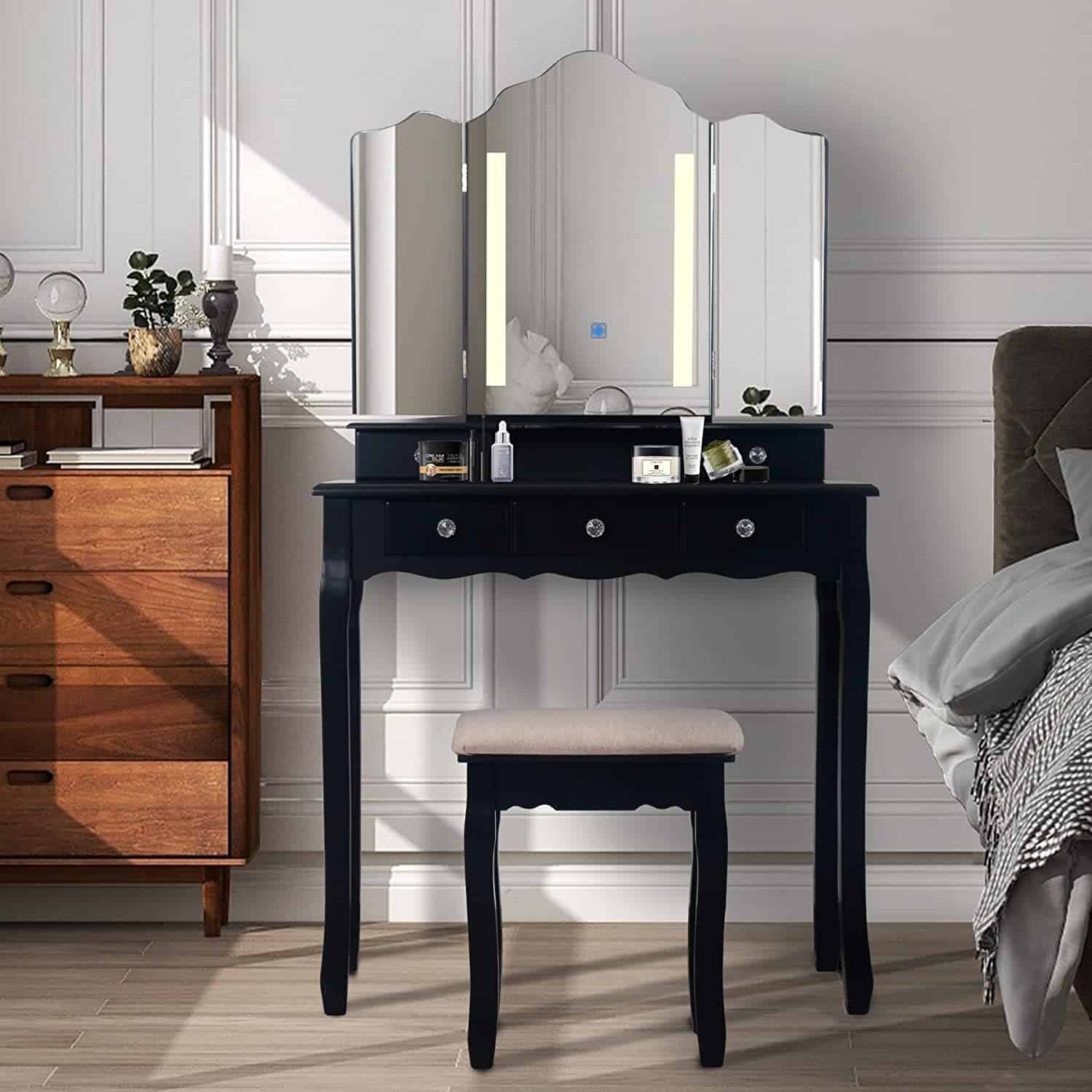 Royaloak

Mourya Dresser in Sheesham Wood
Nilkamal Furniture Ignis Dressing Table – Dark Brown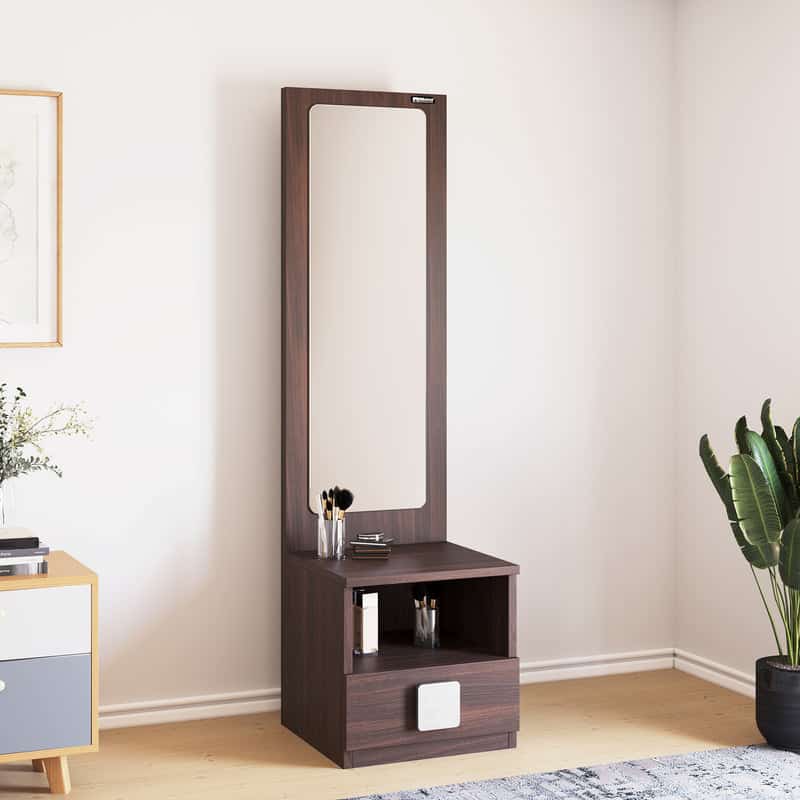 Homecentre

Cane Connection Brown Mango Wood Dresser With Mirror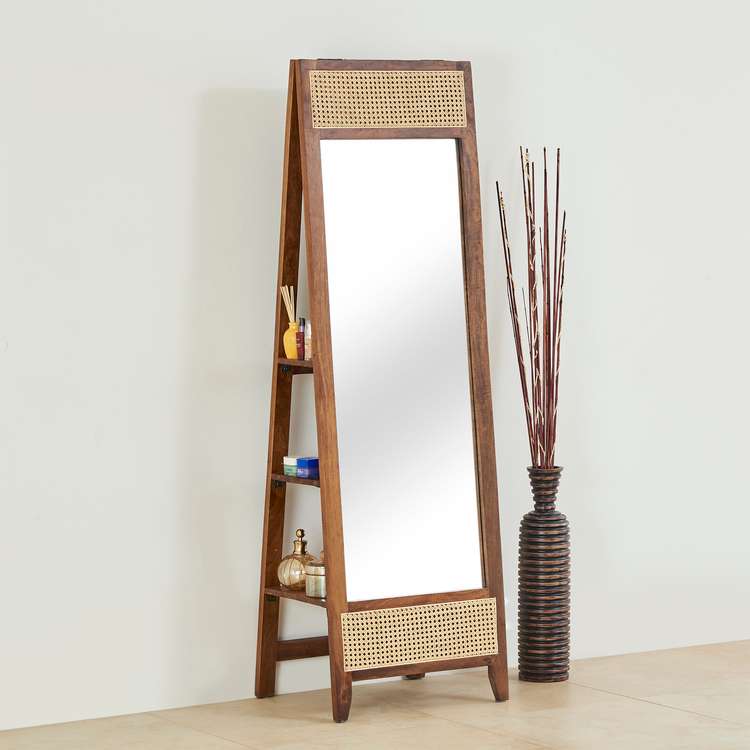 Taylor Dressing Table (Honey Finish) by Urban Wood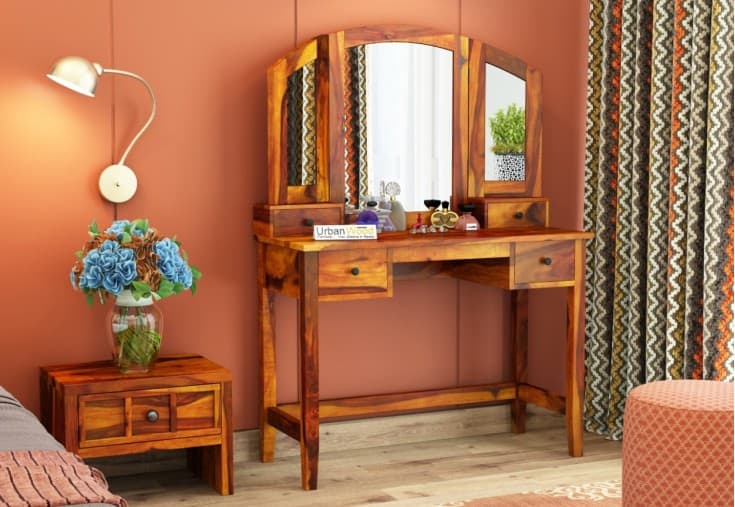 Fabuliv

Athens Hand-painted Solid Wood Dressing Table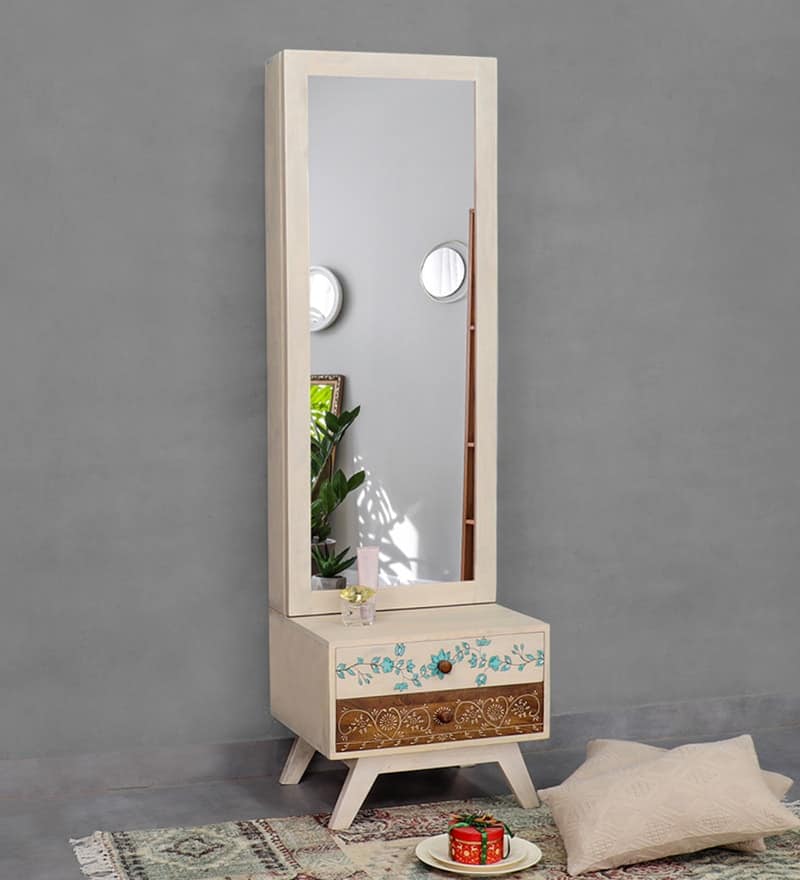 Pepperfry

Astron Dressing Table in Walnut & White Finish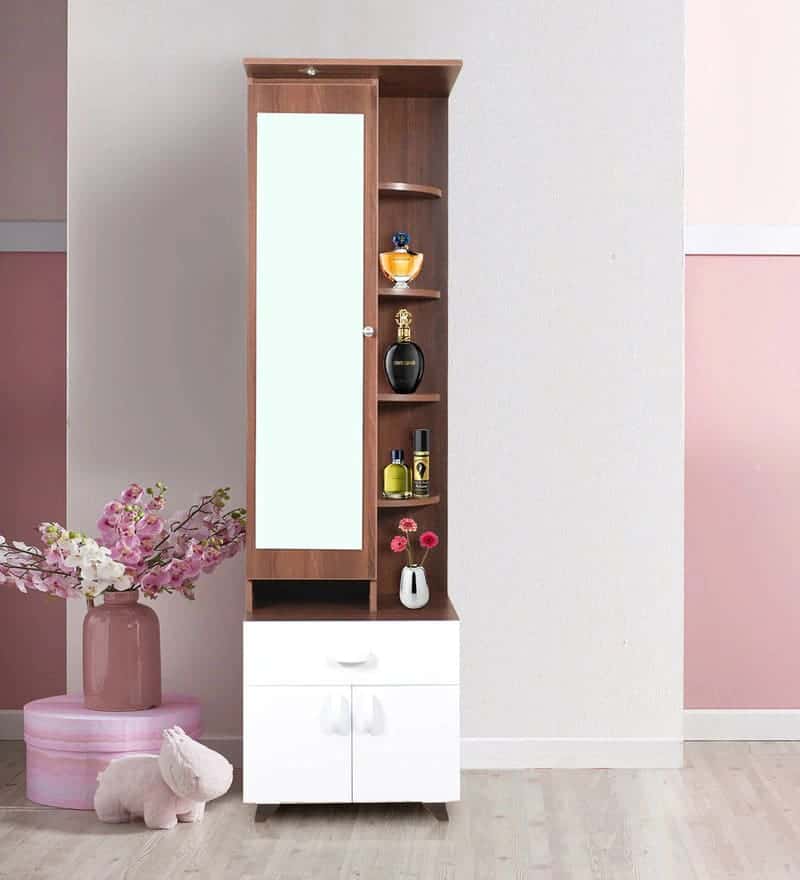 WallMantra

Modern Classic Premium Wooden Dressing Mirror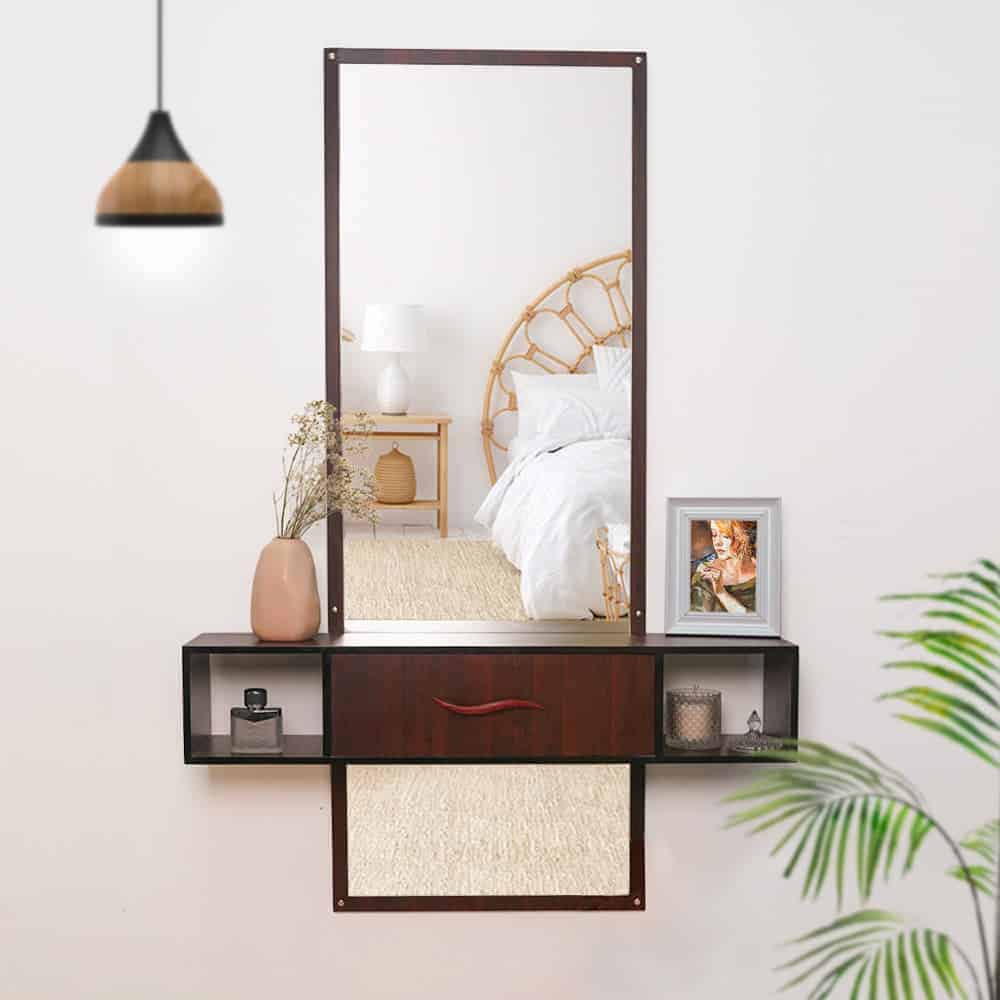 Teaklab

Modern Dressing Table with Stool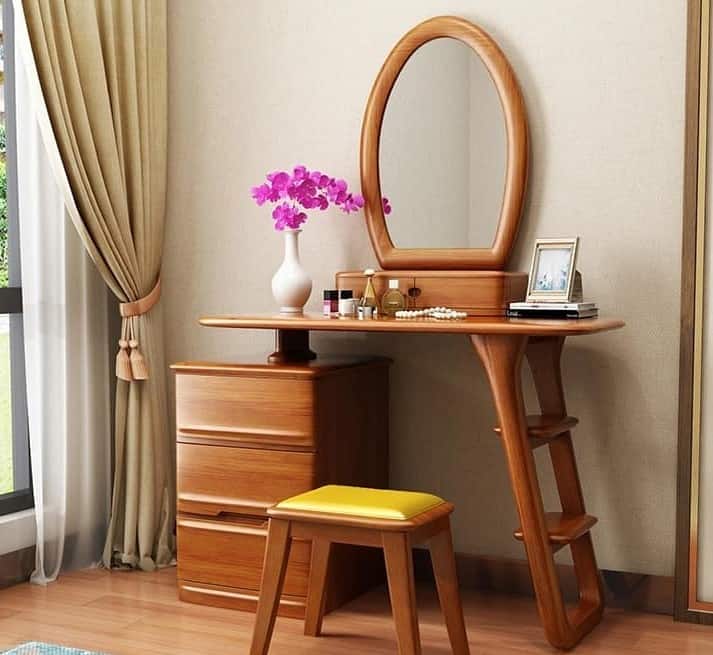 @Home by Nilkamal

Ankara Engineered Wood Dresser With Stool (Walnut)
Hometown

Electra High Gloss Dresser with Mirror in White Colour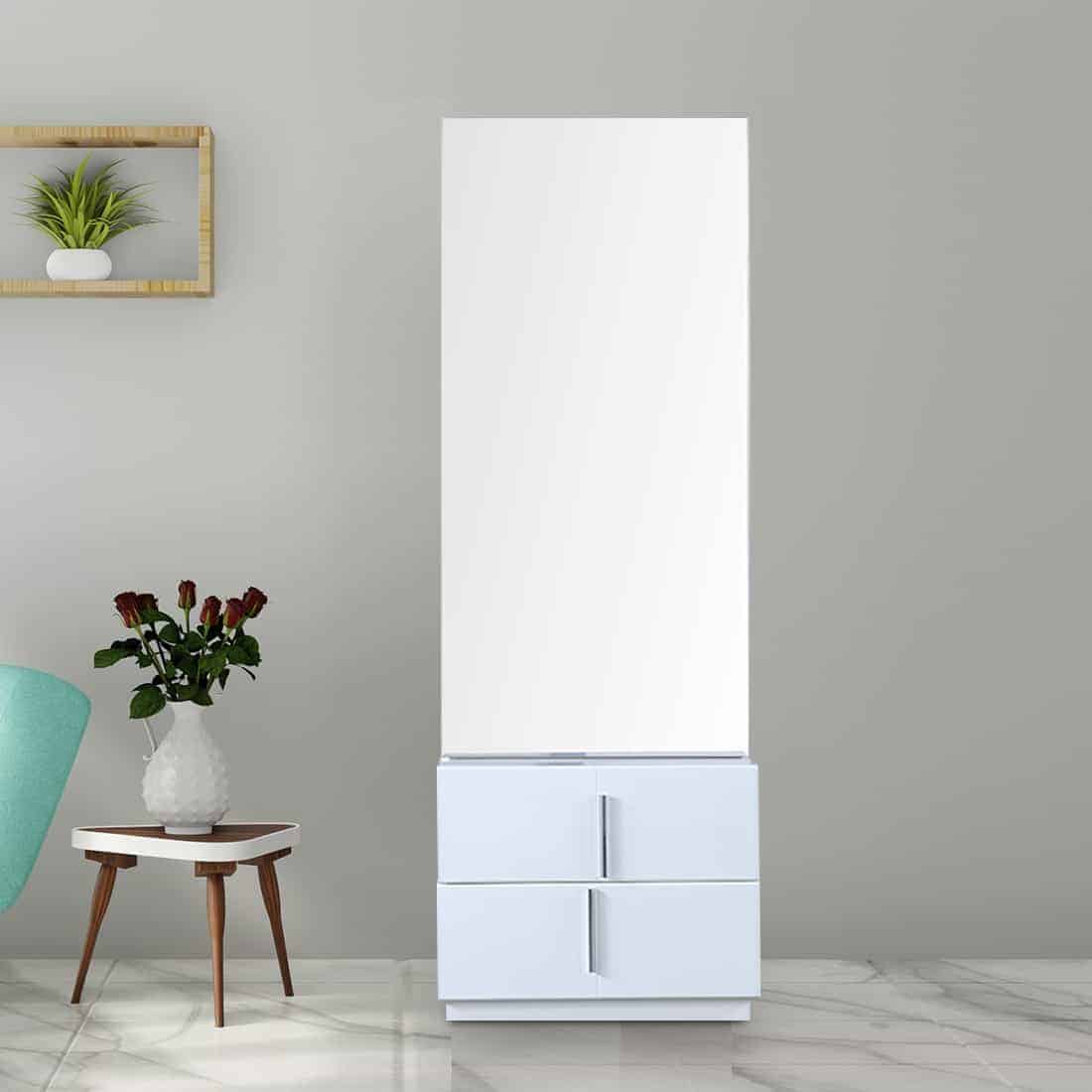 GKW Retail

Dressing Table-Modern Blue Dressing Table with 4 Drawers and Cushion Stool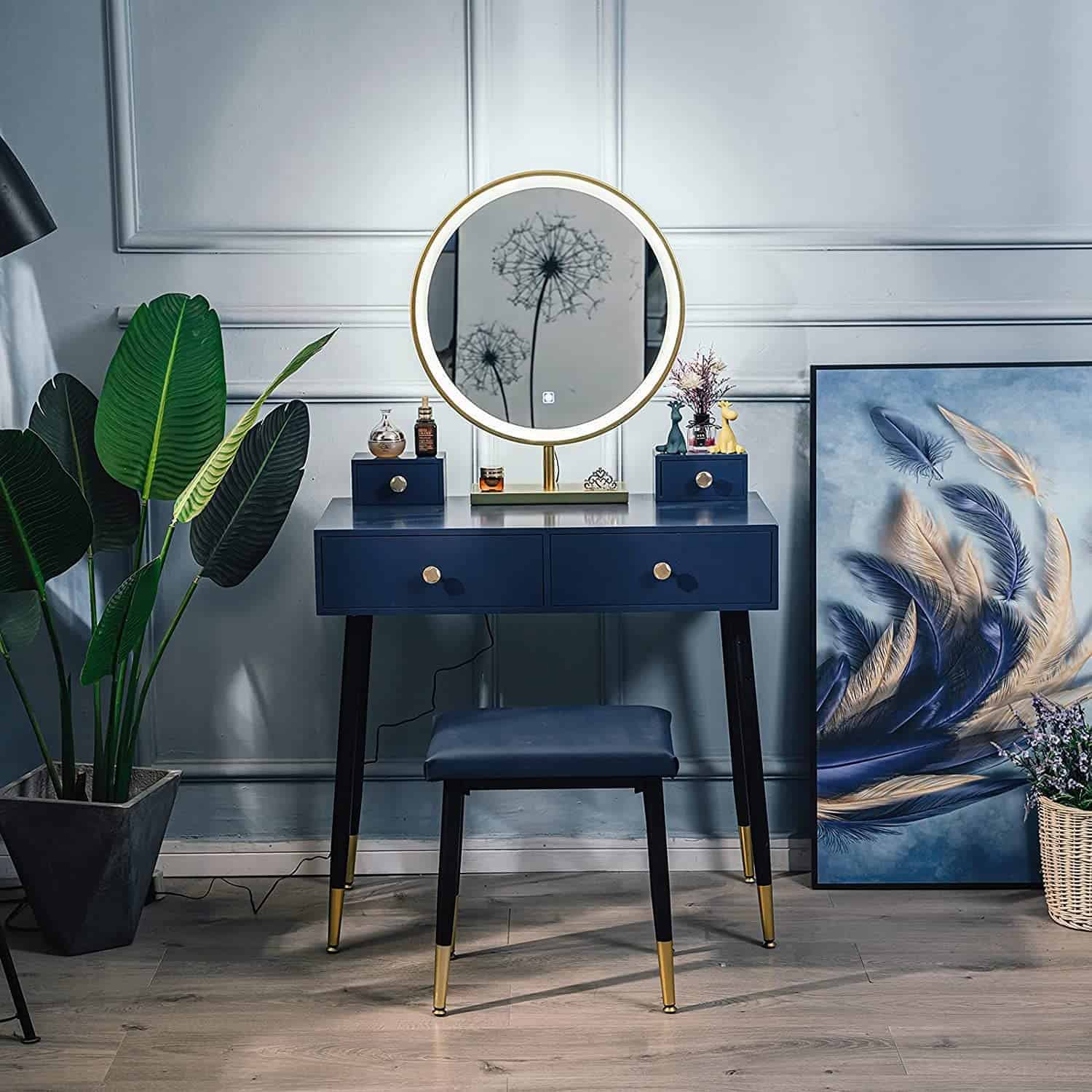 Royalzig Luxury Furniture

Anne Italian Style Luxury Dressing Table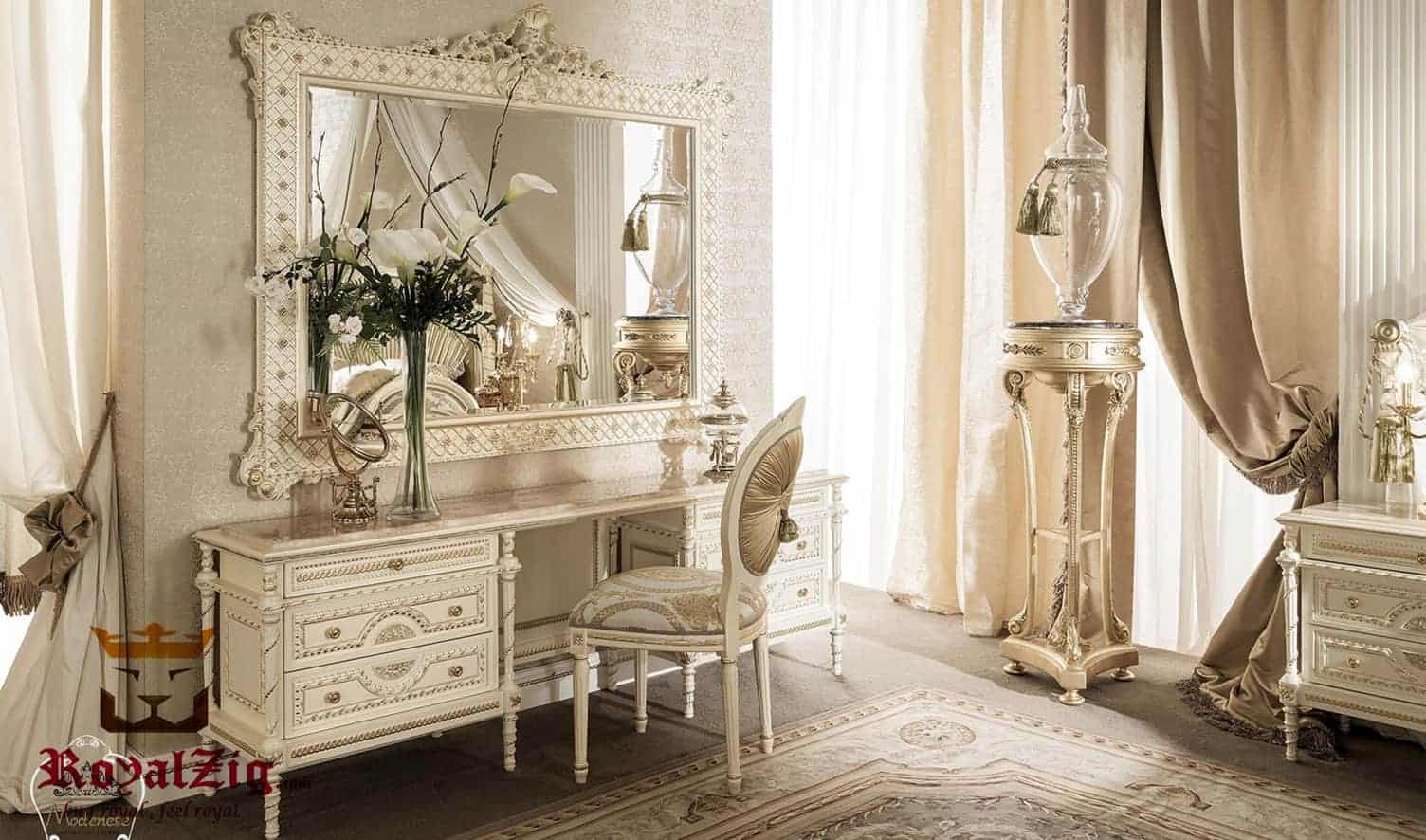 IKEA KORNSJO Cabinet with Mirror (Black)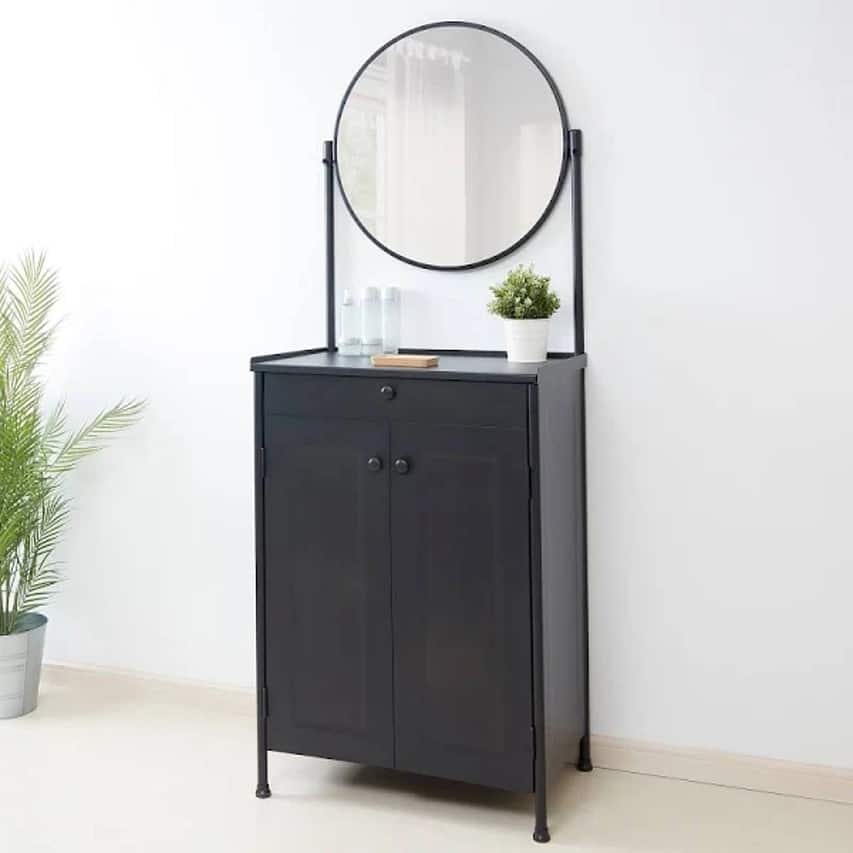 Conclusion
The dressing table area is where you feel the best about yourself while trying on a new outfit or applying makeup. So, the dressing table is an integral part of the bedroom, and its style, shape, and size should blend well with the bedroom.
The overall look and feel of the dressing table depend mostly on selecting the right features: shape, size, material, and style. Certainly, a large dressing table cannot be used in a small bedroom, and vice versa. A dressing table can lend a contemporary or vintage look to your bedroom only when you have a detailed idea of your home environment and theme.
The placement of the dressing table is also important. You would be amazed to know that the intelligent placement of your dressing table can significantly make your room appear big, well-lit, and cheerful.
From wood to glass, a wide range of dressing table designs is available all over the Internet, which eventually makes it difficult to make the correct choice for your room. This article, taken altogether, brings out all the modern and stylish dressing table designs as per your requirements and helps you make a hassle-free decision.
Now that you know all about the types, materials, and dressing table designs, you are surely ready to buy an elite-looking dressing table from our list of recommendations. We hope you can incorporate both grace and utility into your dressing table through our article.
*The featured image used in this article is from Urban Ladder
[vvsmustread]