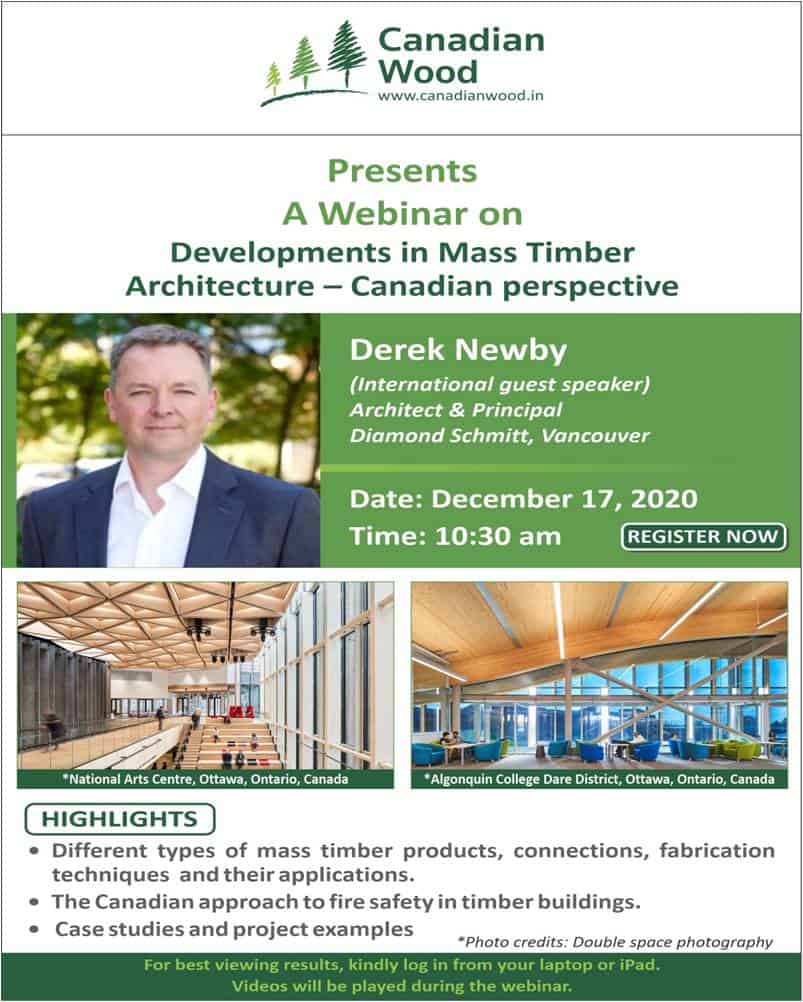 Global best practices in mass timber architecture, now in India
Mass timber architecture is a well-known subject worldwide. Also, we soon expected it to become the next breakthrough in building with wood in India. Moreover, mass timber architecture remains infancy by building materials industry in India. Canadian Wood (FII India) stays involved in innovative projects on building with wood. Some of the leading Architects across India design these projects.
Consequently, Canadian Wood has been involved with many initiatives on 'Building With Wood'. And especially in the present times, webinars have been part of the company's strategy to disseminate practical information on the use of wood in building materials industry in India. In addition to that, people from all across the entire value-chain in the building materials industry have attended this information-packed webinar series.
Canadian Wood is now coming up with its 7th webinar in the series. It is titled 'Developments in mass timber architecture – a Canadian perspective'. Mr Derek Newby* – a stalwart in the international wood industry circuit will present this webinar scheduled for December 17, 2020 at 10.30 a.m. Furthermore, the webinar will be attended by well-known Architects, Designers, Developers, Builders & Contractors.
The content of the webinar includes different types of mass timber products, connections, fabrication techniques and their applications. As a result, people from around the globe will discuss these details through case studies. In addition, the attendees can interact with Architect Derek Newby and technical experts at Canadian Wood!
To register for 'Developments in mass timber architecture – a Canadian perspective', click on the link below:
https://zoom.us/webinar/register/WN_6BKi0x0VQ4yeCenJuft9Eg
*About Architect Derek Newby:
Derek Newby is an Architect and Principal in the Vancouver studio of Diamond Schmitt Architects (https://dsai.ca/). With decades of practice, he has extensive experience with mixed-use, office, and academic facilities, working effectively with private and public-sector clients. In addition to that, Derek Newby, LEED accredited professional and a Certified Passive House Designer also remains a member of the Architectural Institute of British Columbia and the Royal Architectural Institute of Canada. He is a
About Canadian Wood
FII (Forestry Innovation Consulting India Pvt. Ltd.) better known as 'Canadian Wood', is a crown agency of the government of British Columbia (B.C.) with a mandate to promote B.C. forest products in the offshore markets. B.C. remains a global leader in sustainable forest management.
Canadian Wood has been actively promoting building with wood in India through five legally sourced wood species from B.C.. These include Spruce-pine-fir, Western hemlock, Douglas-fir, Yellow cedar and Western red cedar. All these species are available in India as seasoned, sized, graded and certified lumber applicable to a range of structural (wood frame construction houses, post-and-beam method, double Tongue& Groove) and re-man (indoor & outdoor furniture, doors, door frames & windows, interior and other) applications.