Indisputably, the passageway is one of the most important parts of the house. The hallway serves as the entrance to the home's interior. The hallway connects the hall to other parts of the home; thus, it is essential to decorate it beautifully. False ceiling designs for hallways that are lovely and appealing to the eye add class to your house. Finding the ideal design might be challenging because there are so many options available for an elegant hallway false ceiling design. So, we bring to you the latest hallway ceiling design ideas for both small and large modern hall and entrance spaces. To pick a design alternative for your hallway, look through our selection.
Latest hallway ceiling designs and ideas
Hallway ceiling idea #1 Tray-style ceiling
Image Source: Wild Creek
A tray passage ceiling is a rectangular ceiling having the appearance of an upside-down tray or recessed tray. These ceilings are also called recessed ceilings. These ceilings add depth and creativity to the passage. The shape of a tray passageway ceiling often follows the contour of the hall. A low ceiling can be made to look higher when you use this ceiling design.
Hallway ceiling idea

#2 Wooden ceiling pattern
Image Source: Infinite Uploads
Using a wooden texture on the passage ceilings is a unique idea in itself. Different stains, plank sizes, and finishes can be used when installing a wooden passageway ceiling. These ceilings add elegance to hallways. Wooden texture ceilings are an inexpensive and environmentally responsible method to give your house or place of business a distinctive look.
Hallway ceiling idea #3 Floral texture ceiling
Image Source: Asian paints
Floral designs on passage ceilings have been popular in recent times. If you prefer vibrant themes, these can be on your "must-try" list for passage ceilings. Floral design can immediately catch anyone's attention. These designs are lovely suggestions that never fail to leave a lasting impact!
Hallway ceiling idea #4 Exposed beam ceiling style
Image Source: Las Vegas Journal
Do you prefer the country look for your home's interiors? If yes, then exposed beam ceilings can be the first choice for your passageway. This ceiling design resembles strength. You can use this design to give your passageway a vintage look. If your house already has a vintage theme, this design will take your interior design to the next level. Simply maintain a contrast between the design of your hall and the colour of the exposed beam hallway ceiling.
Hallway ceiling idea#5 Stenciled Ceiling
Image Source: Unika Vaev
The stencilled pattern on passage ceilings is a modern idea. Whatever pattern you prefer, apply it to your passage ceilings in your preferred colours and watch the magic happen. You can also mix certain patterns one by one to create a distinct look for your passage ceilings. The popularity of stencil design on hallway and hall ceilings is at a different level nowadays.
Hallway ceiling design#6 Coffered style ceiling
Image Source: Pinimg
A coffered ceiling adds a wow factor to your passageway. This ceiling is made from wood, forming grid-like patterns on hallways. The coffered ceiling has been in use for over 100 years and is an all-time classic. Coffering on passage ceilings provides a visually stunning and opulent appearance. Additionally, this type of ceiling aids in hiding the peculiarities of a passageway ceiling's structural components from view.
Hall way ceiling design

#7 Cathedral or vaulted ceiling
Image Source: Asian Paints
If you want your passageway to appear spacious, go with the tried-and-tested cathedral passage ceiling design. These look aesthetically amazing and give off a sense of luxury. Cathedral hallway ceilings give the room a dramatic and expansive feel. These give your hallway ceiling a majestic appearance. Cathedral passageway ceilings are not the latest in the market, but if you use them for the hall or hallway, this design looks modern.
Hall way ceiling design

#8 Tile ceiling
Image Source: Image Engine
Tiles, when used on ceilings, give a unique look to your passageway. If you wish to have grand passage ceilings, you can prefer this. You can use tiles creatively to show a specific theme. It would be even better if you matched the theme of your passageway ceiling with the theme of your home. Tiles, if used properly on passage ceilings, can be your next favourite for life.
Image Source: Unika Vaev
Is there any substitute for the glass passage ceilings? It's worth observing the beauty that glass hallways deliver. One can simply transform their hallway with this ceiling design. Hand-blown fixtures that function as textural art pieces are another option to incorporate glass into the styling of the ceiling. For a genuinely distinctive ceiling design without the commitment of painting or installation, glass is the best choice.
Hall way ceiling design#10 Wallpaper-styled ceiling
Image Source: The crafty decor
If you wish to cover up the fifth wall of your hallway with elegance, go for sophisticated wallpapers. This addition can range from retro styles to energetic neon looks. Make your choice and add flawless wallpapers to the passage ceilings. While selecting the perfect wallpaper texture for the hallway ceiling, keep in mind the overall look of your home.
Hall way ceiling design#11 Fabric ceiling
Image Source: Unika Vaev
Do fabric textures look good on ceilings? The answer is an absolute yes. Fabric textures soften up the hard lines of passage ceilings and give them a distinct look from other walls. To increase the charm of your hallway, you can add a unique fabric texture of your choice to the hallway ceilings. These ceilings can be both glossy and rough.
Hall way ceiling design

#12 Nature-Inspired ceiling
Image Source: Unika Vaev
We are all inspired by nature in some way. What if you used this inspiration to design your passage ceilings? Blow the minds of your visitors by suspending a number of planters with beautiful plants from your hallway ceilings. This will be a design idea that suits the hall and passage better than any other latest or modern ceiling.
Image Source: Pinimg
If you are in search of a cost-effective and minimal look for your passage ceilings, the POP ceiling can be your choice. This is easy to maintain and much more adaptable than other ceiling designs. Experiment with POP on your ceiling and change the feel of your passage ceilings. You can choose between different types of POP ceilings, like curved ceilings, carved ceilings, or double-layered ceilings.
Hall way ceiling design #14 Artistic ceiling
Image Source: Britanica
Another popular trend nowadays is covering your fifth wall with the graphics or art of your choice. This can work like magic for your hallway ceiling. Hire a professional and let your favourite art shine on your passage ceilings. The aesthetics with which you can decorate your passage ceilings are as varied as the art itself. Give your hallway ceiling what it deserves.
Hall way ceiling design

#15 Stripped ceiling
Image Source: Unika Vaev
Stripes are eye-catchers when it comes to interiors. If you want an easy but creative way to style your passageway, you can select stripes. One thing to keep in mind while using stripes is to choose equal widths for each stripe. For smaller rooms, stripes that run perpendicular to the floor may be the best option, though any direction is acceptable. It can be effective to use the same hue in several finishes as well as strong, contrasting colours. The finished product will be a distinctive ceiling design that nobody can overlook.
Hallway false ceiling ideas (Inspirational image gallery)
Conclusion
Ceilings have historically been regarded as an undervalued component of a home. However, nowadays, people have developed an understanding of how important it is to design their fifth wall. One may enhance the attractiveness and leave a lasting impact on their home with unique passageway ceilings. Moreover, each corner of your home depicts a different story, and so do ceilings. We have shown you some of the newest passageway ceiling designs along with related information. Whether it's glass or art, the main thing is to take a step toward designing the passageway ceilings as it can affect your perception of your home. It's time for you to choose a ceiling design for your hall and hallway from the above-mentioned modern choices.
*The featured image used in this article is from Jeff Landry Design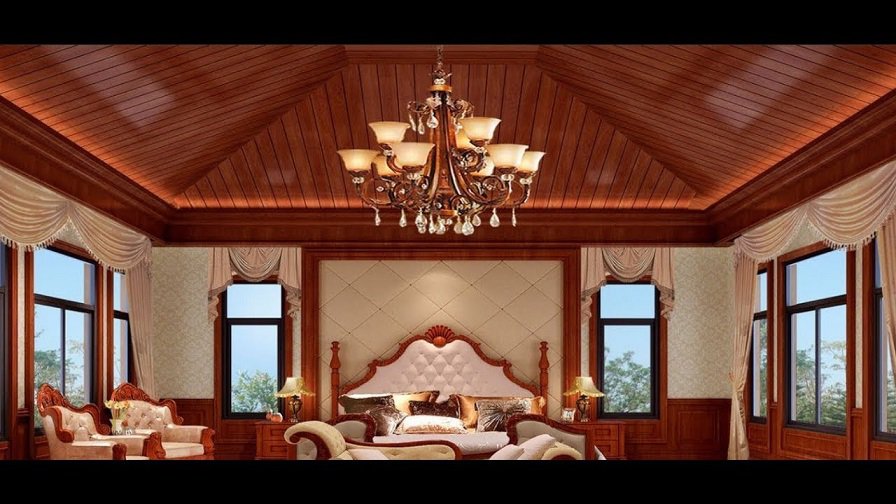 Everyone dreams of making the perfect home for themselves one day. So, choosing the right interior design is a crucial task. Also, there are a thousand decisions to make while building or renovating a room, including the choice of simple false ceiling designs for hall with or without one or two fans in modern & simple styles. We understand your confusion regarding interior design. Hence, we always strive to bring to you the best interior des