Welcome! Your quest for beautiful yet cheap false ceiling ideas for bedroom, living room, hall, kitchen, etc. has brought you here and you are in for an aesthetically-pleasing experience of a lifetime! All right, that might have been a bit overboard but you get what we mean. Also, interior designers or homeowners, everyone will find practical and beautiful false ceiling designs in this post.
The reason why false ceilings are important is that they make any place look otherworldly. Some people ignore the ceilings of their homes or commercial space. Instead, they focus more on their walls and décor items. That's a huge error in judgment. Nothing provides a drastic facelift to a place as much as a tastefully designed false ceiling does.
Look into false ceiling designs to feel completely satisfied with your interiors. After all, perfectly executed false ceiling ideas are a great source of happiness to the homeowner. Furthermore, the way to your guests' hearts (either out of admiration or envy) is definitely through an impressive false ceiling.
Therefore, in this post, we have diligently put together 31 false ceiling ideas to jazz up your place. So what are you waiting for? Just dive right in!
Intricate carvings
Carvings are an ancient technique in architecture and design. Also, the urge to decorate is a basic human instinct. Centuries of evolution have made us better at artistic skills.
Carving requires a lot of expertise. The skilled labor uses a cutting tool to carve out a design on a solid material.
POP false ceilings are perfect for a carved false ceiling design.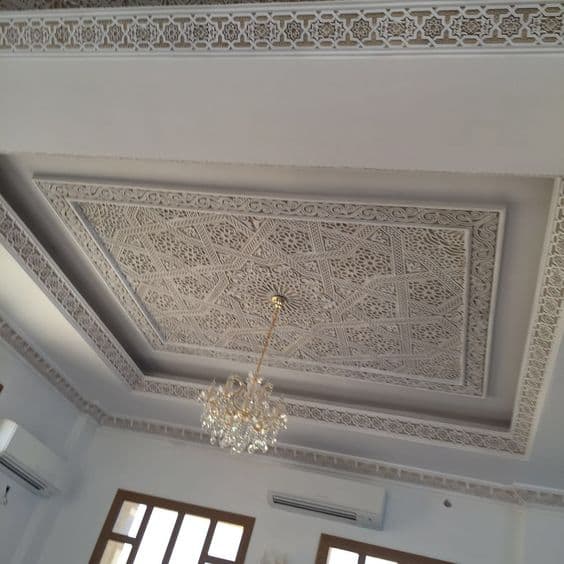 Image source: pinterest.com
This inverted tray false ceiling's simple shape is balanced by the detailed carvings on the innermost panel. Also, the outlining of the false ceiling with carved borders are perfect. The crystal chandelier adds to the delicate look of this false ceiling.
Coffered false ceilings designs are quite in vogue. They add depth and style to the false ceiling.
Pastel shades of pink, blue, and green are good false ceiling painting ideas. Outline the grids with white paint. This design also highlights the intersection of vertical and horizontal lines.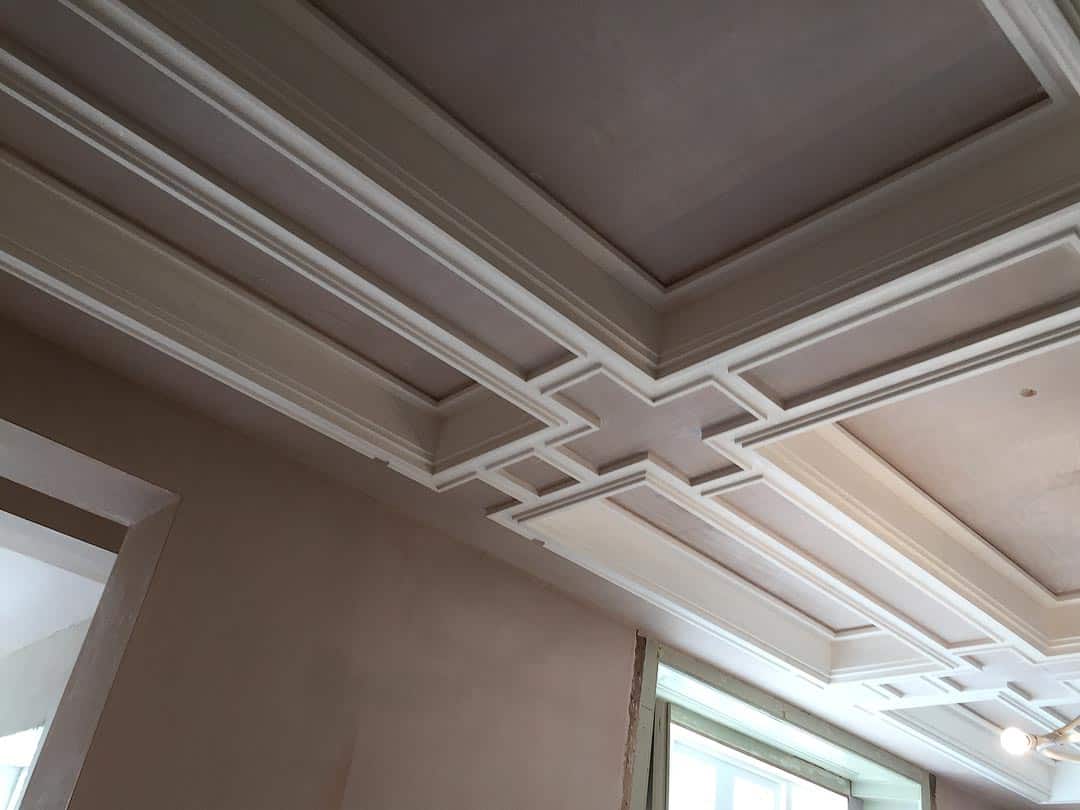 Image source: cornicescentre.co.uk
Layered false ceiling with an extended panel
A layered ceiling is a popular choice in false ceiling designs. So, take it up a notch and make a layered extended panel along with the ceiling. It looks innovative and impressive. Also, LED strip lights brighten up the room from ceiling to wall.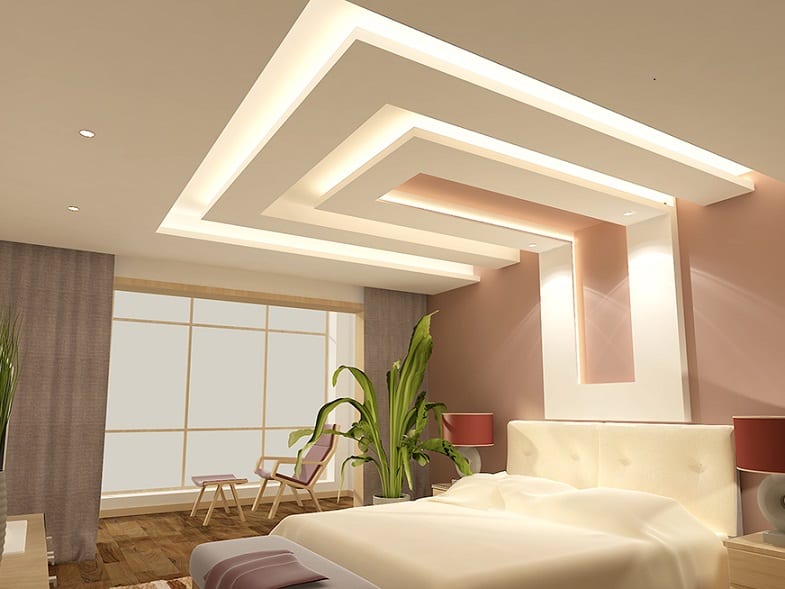 Image source: Saint-Gobain Gyproc
False ceiling lighting ideas like LED strip lights and recessed lights make for a well-lit bedroom.
Seemingly random shapes are excellent false ceiling ideas for bedrooms. Also, they make your false ceiling design stand out from the other basic designs.
While the extended panel on the wall is straight, the ceiling panel is tilted to the right. Also, the rest of the false ceiling leaves a gap for the isolated panel to fit in.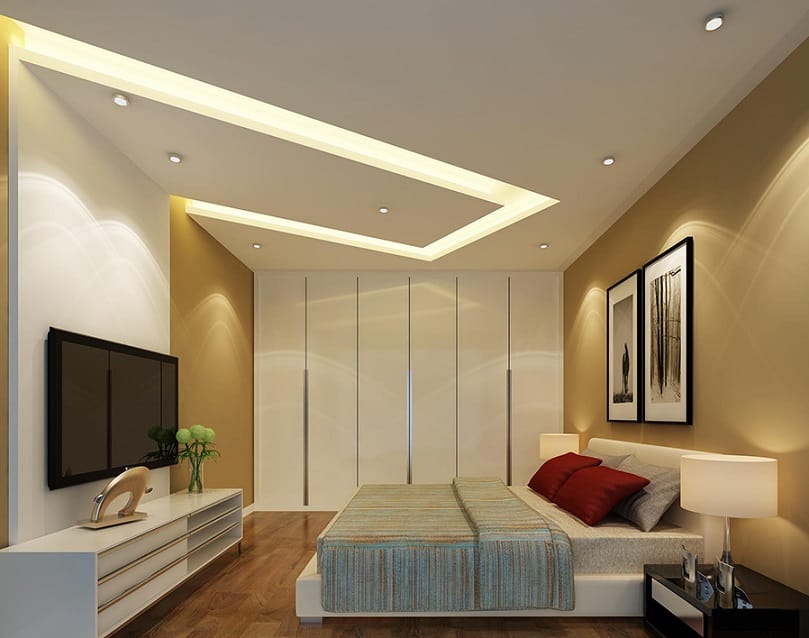 Image source: Saint-Gobain Gyproc
For people whose top priority is peace, chaotic false ceilings are a bad idea. What can you do then? A simple, plain ceiling that's functional and looks contemporary is the answer.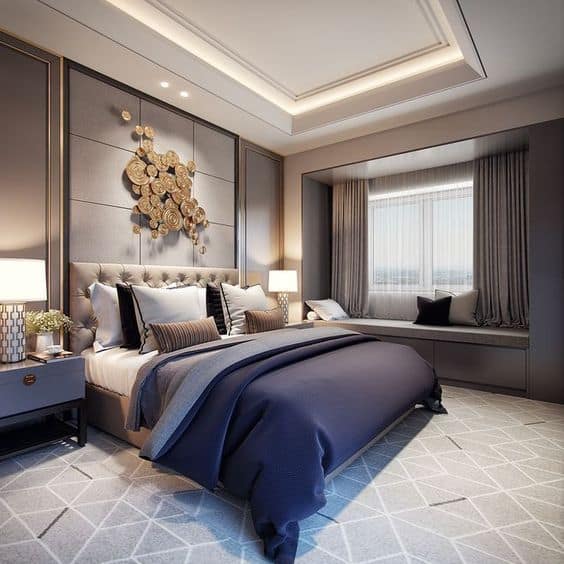 Image source: euroo.com
Here is a simple tray ceiling, serving all the acoustic and insulation functions of a false ceiling while being voguish.
Wallpapers are underrated in false ceiling designs. They are more commonly used as wall coverings. However, their potential is criminally untapped when it comes to false ceilings.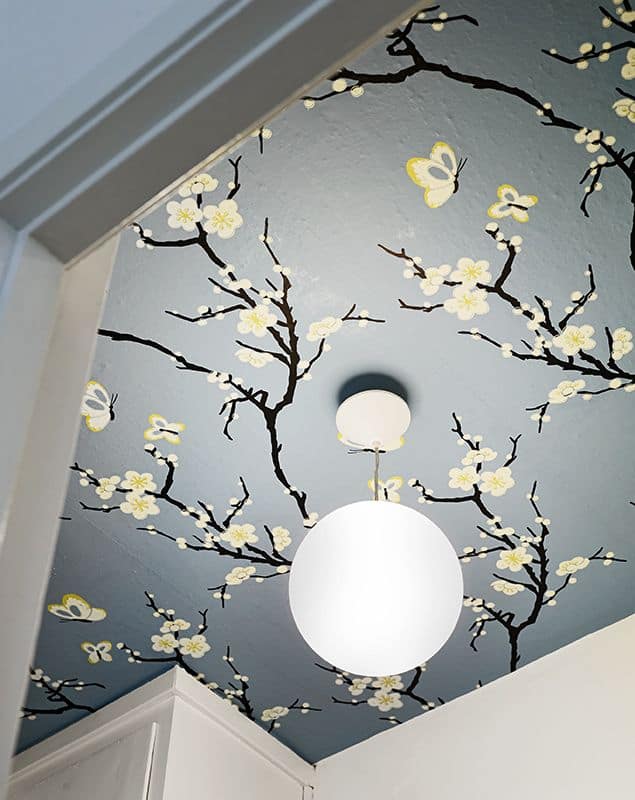 Image source: pinterest.com
Turn your ceiling into an artwork with the help of this false ceiling design idea. You can add floral patterns, clouds, etc. according to what you want.
This false ceiling with repetitive geometric patterns is suitable for a workplace or study room. Also, it is a sharp and neat design. The white and gray triangles are interspersed with bright blue ones. This breaks the monotony while maintaining the coherency of this design.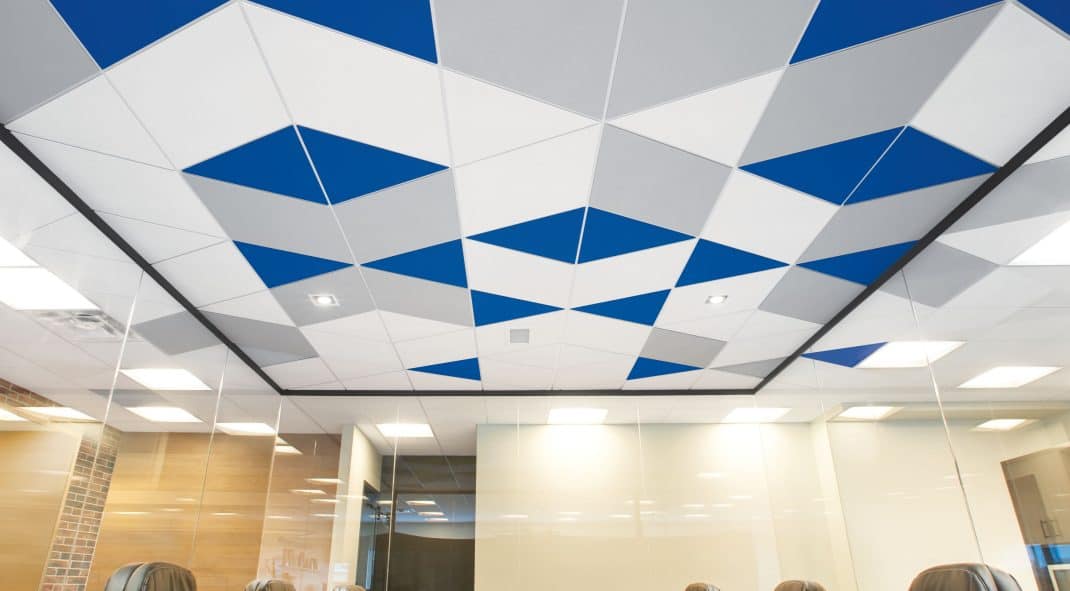 Image source: armstrongceilings.com
Such an arched ceiling design is called a barrel vault. Also, these cheap false ceiling ideas for the living rooms, hall, bedroom, etc. have an otherworldly charm. This false ceiling is primarily made of wood and gives a rustic look to this living room.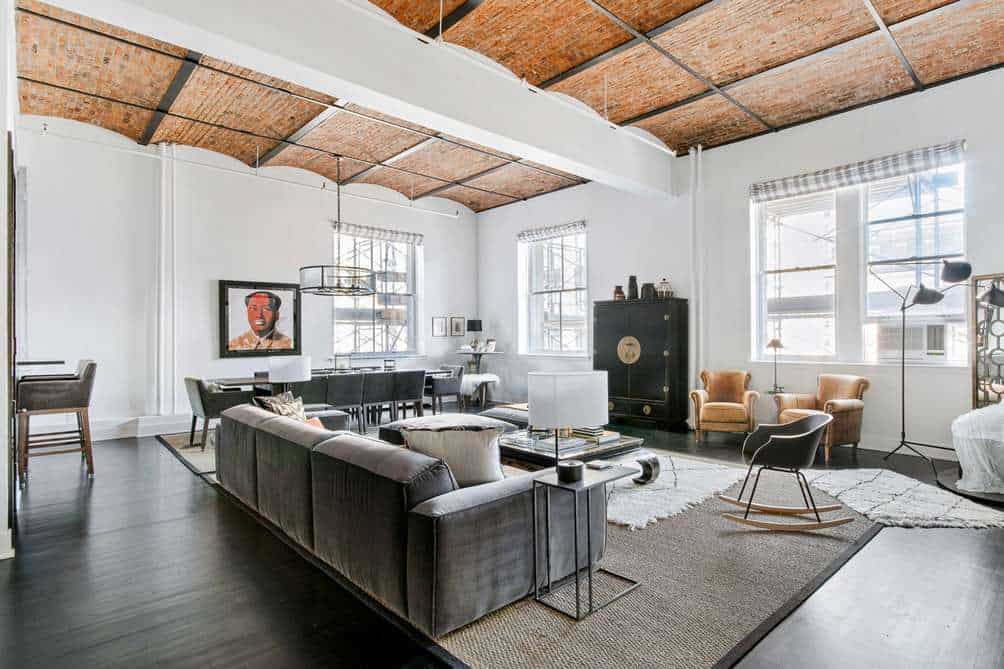 Image source: cityrealty.com
This main hall false ceiling design is stylishly unpretentious. Also, wooden beams are fitted parallel to each other for an uncomplicated design. Recessed lights are installed at regular intervals.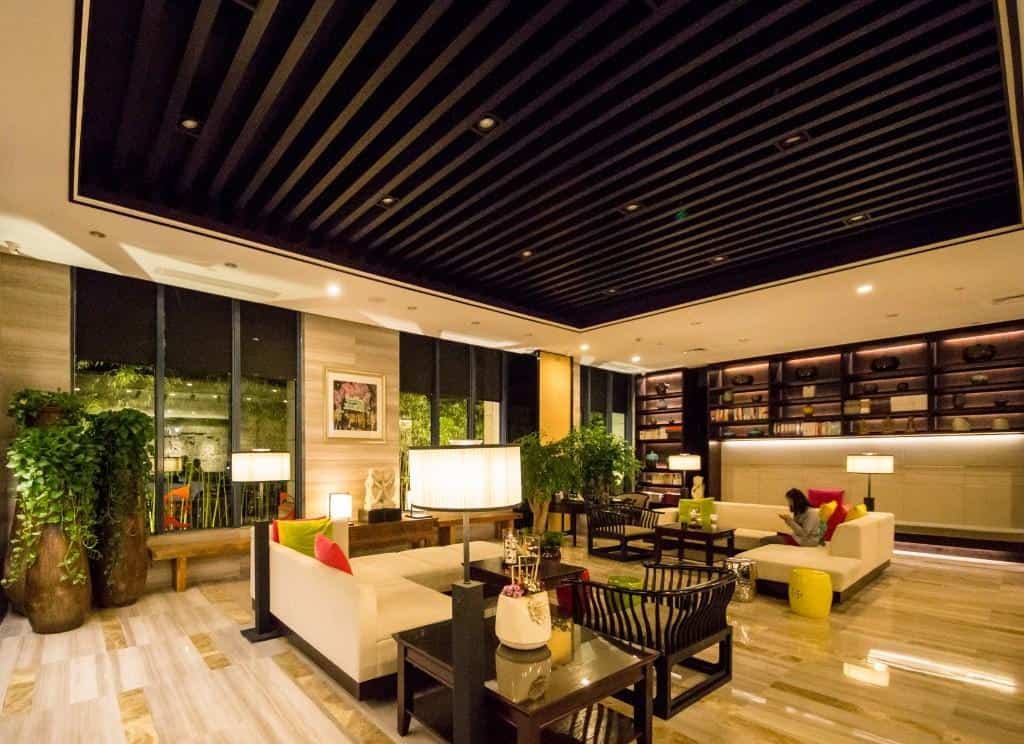 Image source: hyderabad.in.locan.to
Rainbow-themed false ceiling paint ideas are for those who want to make a bold statement. Notice the walls. Their simplicity is what sets the stage for this multi-colored ceiling which has nothing subtle about it.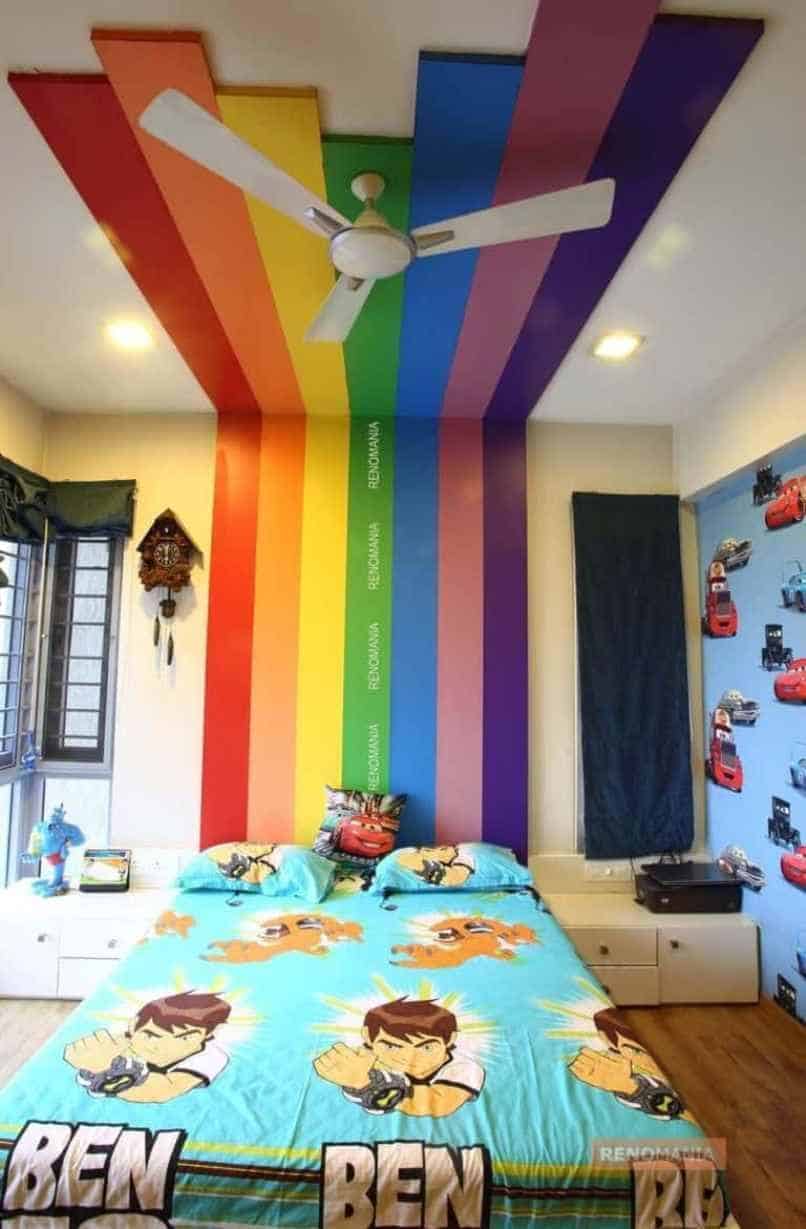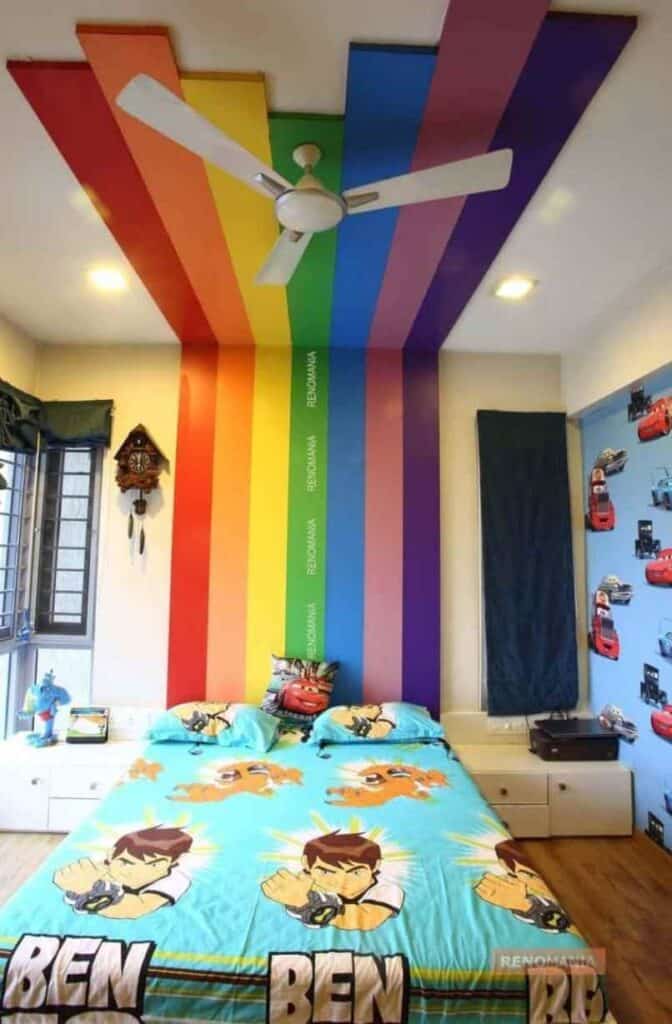 Image source: pinterest.com
If you want to feel like royalty this is the best kind of false ceiling for you. Also, it has an impossible-to-miss grandeur and beauty.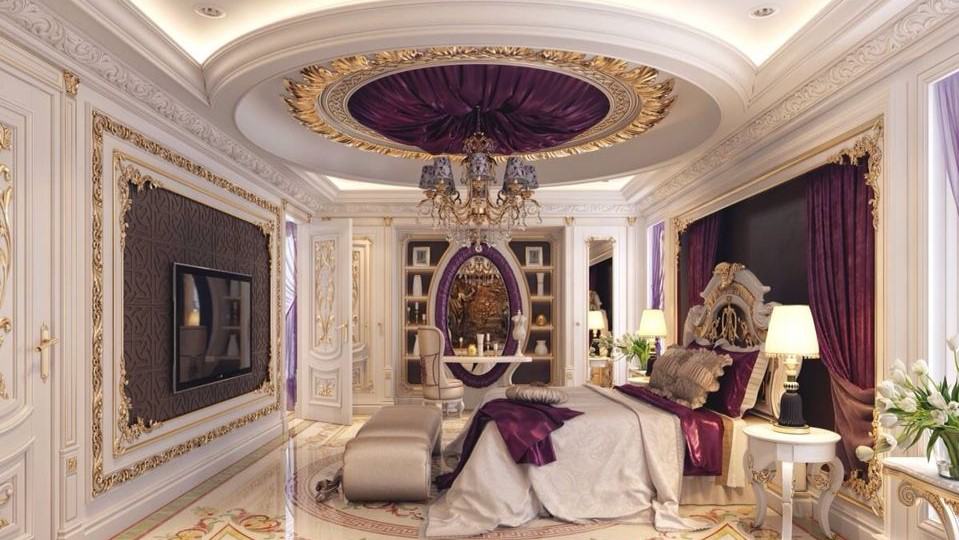 Image source: pinterest.com
The elaborate chandelier is the centerpiece of your hall. So, emphasize it with a circular design, also known as a medallion, in the middle of your false ceiling.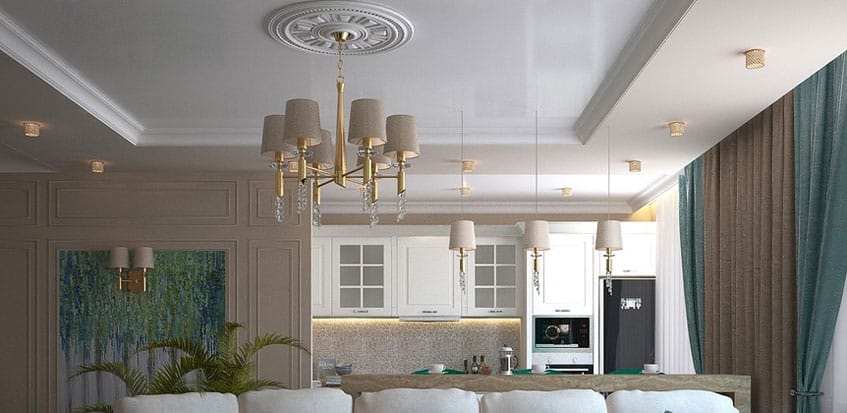 Image source: stanlil.co.uk
Install an LED strip light in the shape of a large rectangle in your false ceiling. Also, it looks sleek and provides sufficient lighting for your space.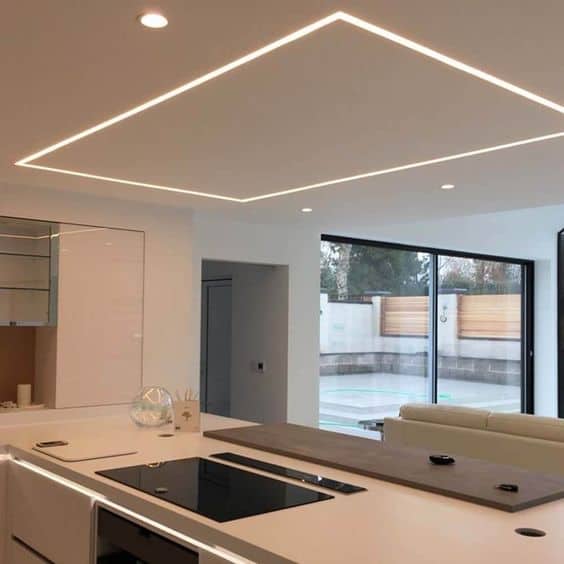 Image source: ultraleds.co.uk
Here is a simple suspended false ceiling that accommodates two fans and an attractive crystal chandelier. Also, such designs are the best and cheap false ceiling ideas for living room and halls. Additionally, coved lighting highlights the suspended ceiling.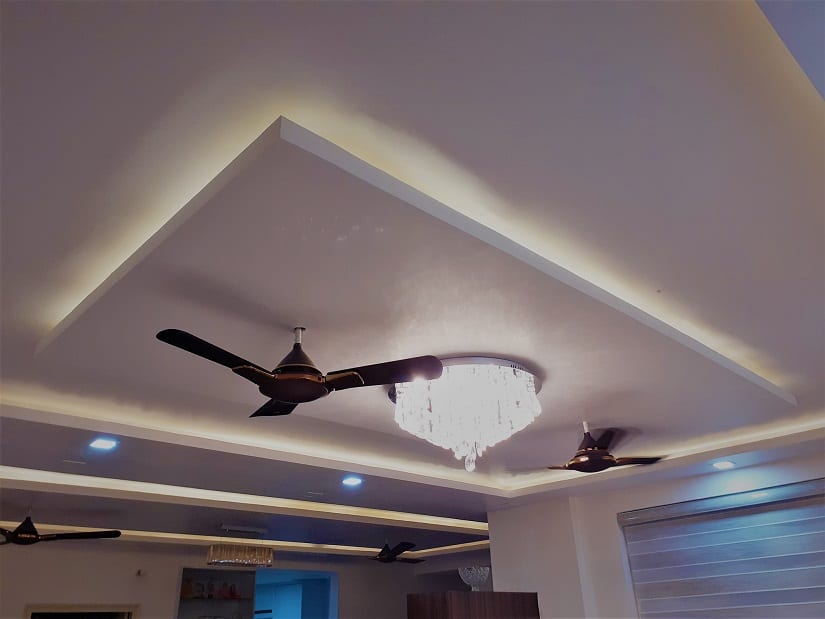 It is said that a person's best ideas come to them in the shower. Hence, it's important to create a bathroom that could stimulate your genius!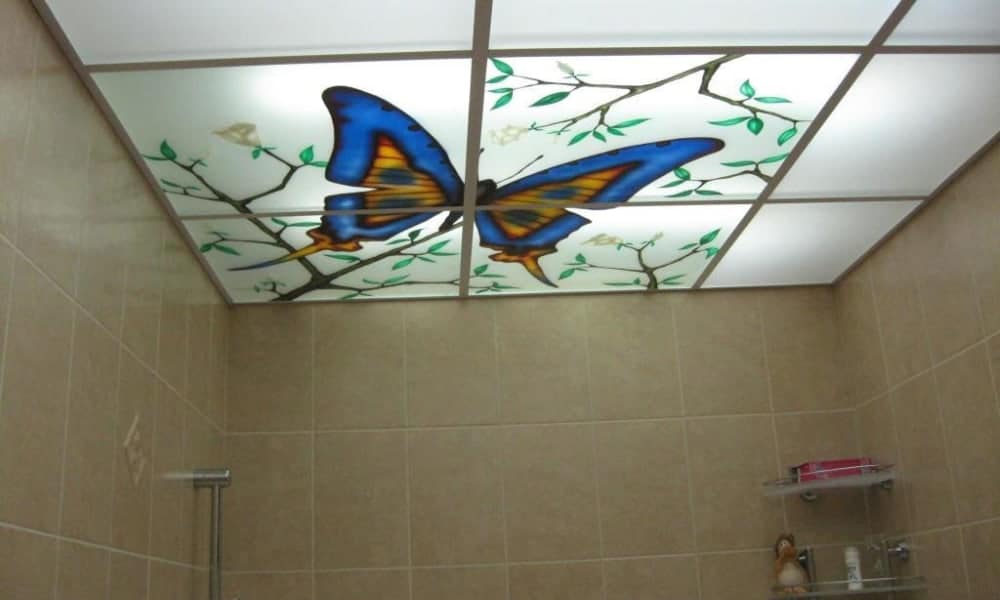 Image source: sunrisespecialty.com
A painted glass ceiling will make you spend long hours in the bathroom just staring at your ceiling. Also, this pretty ceiling will wow guests who come over to your place too.
Are you a fan of the black and white color combination? Then this false ceiling idea will definitely impress you. Also, a glossy ceiling with black and white stripes is simply perfect for these stripe-heavy interiors.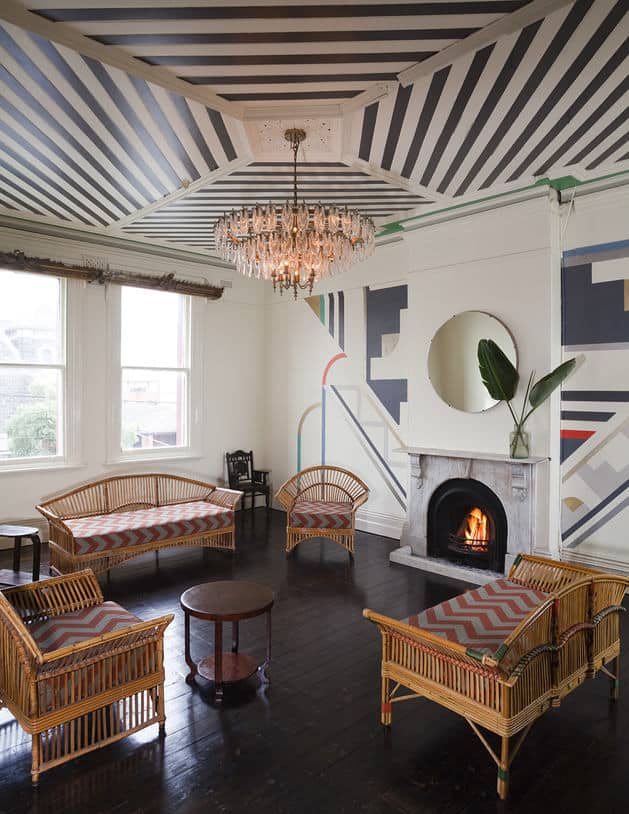 Image source: therugseller.co.uk
Wooden extended panel 
For false ceiling ideas for bedroom, a wooden extended panel is great. So, in this design, the bed, the wall behind the bed, and the ceiling look like parts of the same unit. This lends continuity to this false ceiling design idea.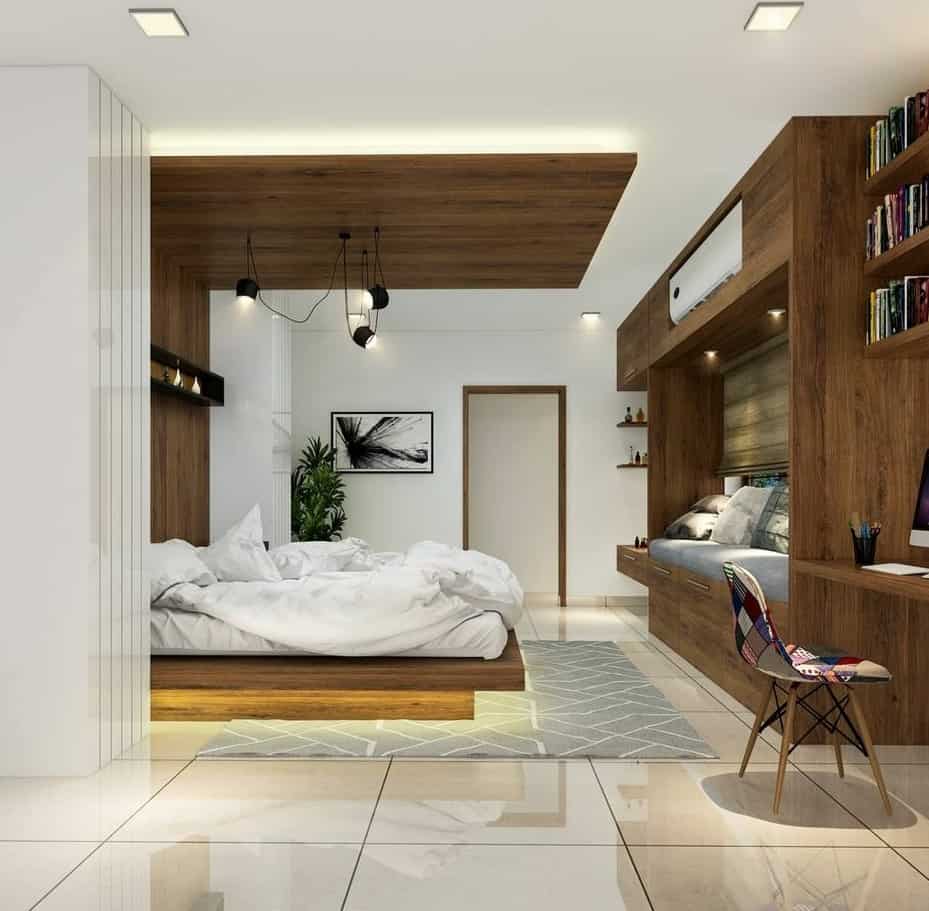 Image source: Studio de Sabeela 
While selecting the color of false ceilings, people tend to go for white or other "sophisticated" colors. Also, while that is a good idea in many cases, you are not limited to those options. So, you can go for plain ceilings in bright colors like yellow.
A panel extending from the ceiling towards the bed looks gorgeous.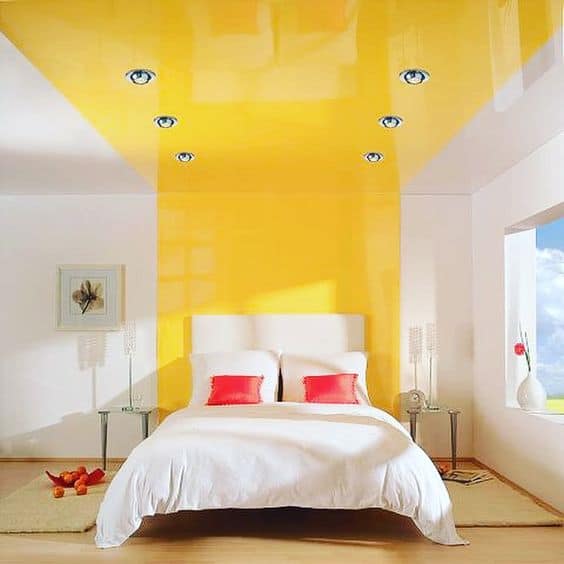 Image source: pinterest.com
 In such a design, you can overlap the wooden false ceiling with a plain white false ceiling in a unique shape.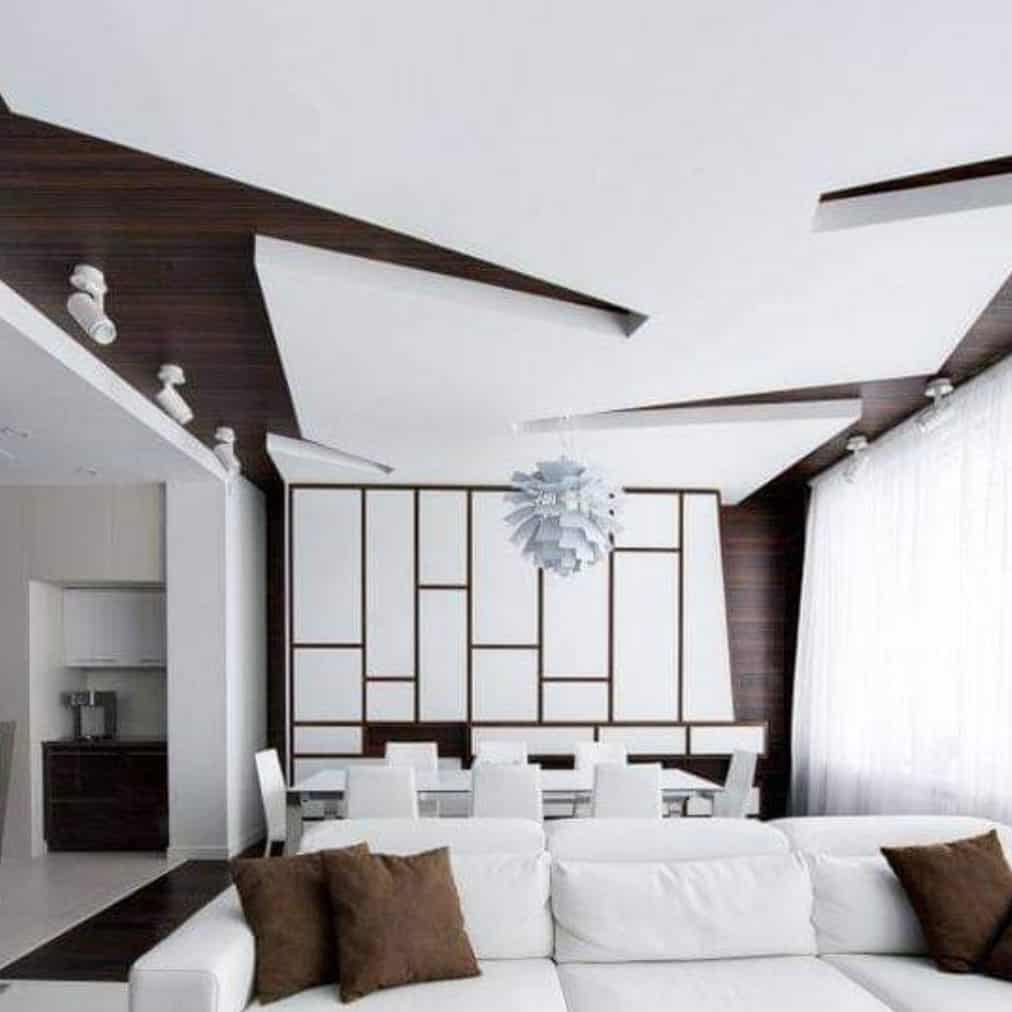 Image source: Anukriti Architects
A lot of apartments have a merged kitchen and dining area now. Also, you must choose the interiors for this area carefully because the family spends a lot of time in this space together.
Wooden planks and white ceiling tiles complement each other because of the beautiful contrast they present.
This inverted tray ceiling's white base is outlined by wooden planks. It is fitted with coved lighting and recessed lights.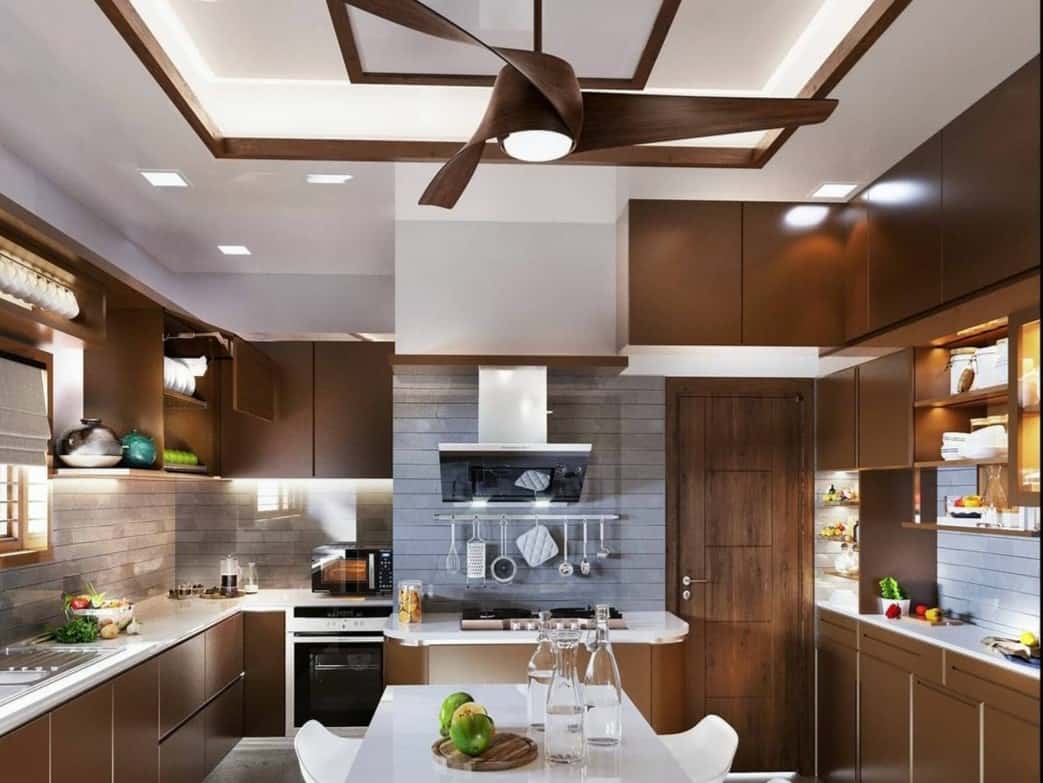 Image source: Studio de Sabeela 
The white furniture goes well with this design. Also, the shape of the false ceiling matches that of the dining table- which adds to the style of this area.
Color-block
Among cheap false ceiling paint ideas for hall and living room, color blocking is a brilliant technique to make any room pop. Also, the cool, calm, and soothing vibes of the colors blue, green, and white look great together.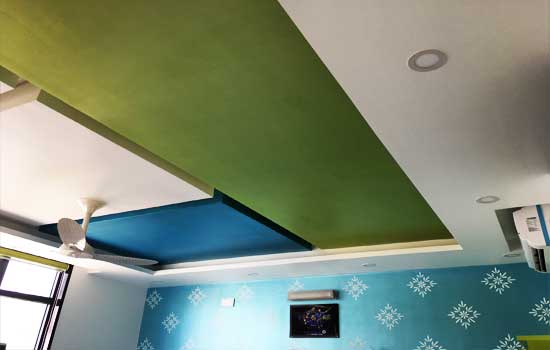 Image source: Jayswal Agencies
You can also use other combinations of colors depending on the atmosphere and the interior design elements in your room.
Bring the beauty of mosaic-patterned mirrors to your home with this false ceiling design. Use darker colors for the mosaic parts of the white false ceiling so that they attract attention.
There is something delicate and magical about mosaic ceilings. Maybe it's because they remind us of peaceful churches and other buildings of old.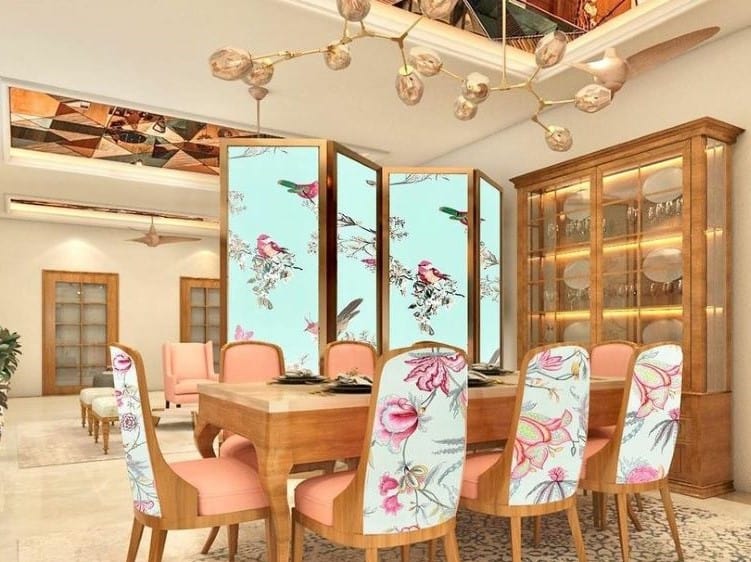 Image source: Symmys Design Studio
Tray within a tray false ceiling design
These false ceiling ideas look unique due to the extra layering. There is a wooden false ceiling within which a suspended ceiling is installed.
The outside layer is in a plain wooden design while the inside layer is in a grid design. The centremost panel is long and the fanlight is installed here.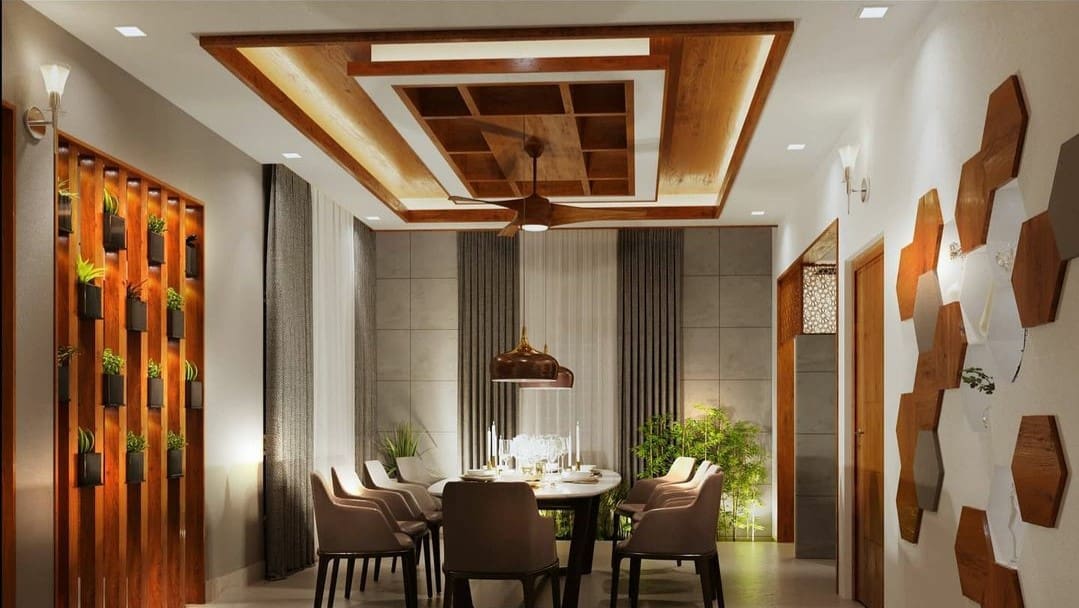 Image source: Studio de Sabeela 
This orange patterned-false ceiling contrasts wonderfully with the plain white curved ceiling overlapping it. The curved part draws attention even though it is towards the periphery. The reason is that even the orange-patterned ceiling gets a unique shape due to the curved one.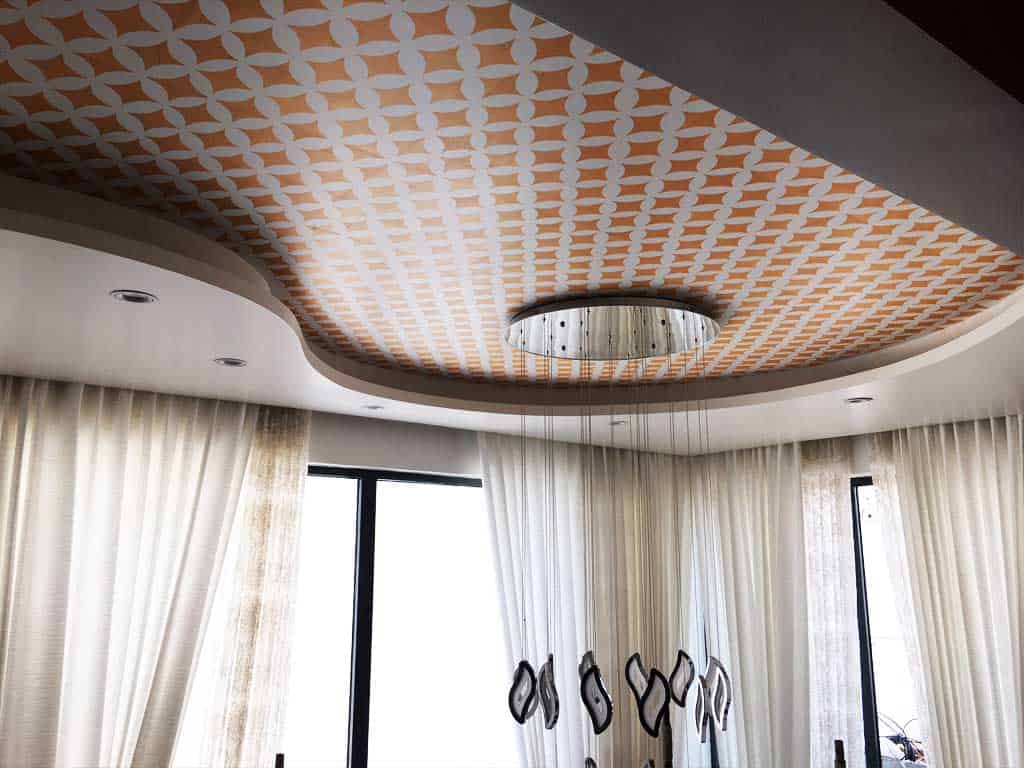 Image source: Jayswal Agency
 Space-dividing false ceiling ideas for bedroom
Use two different designs within the same room to divide the bedroom into different areas. This design is suitable for large bedrooms that have a sitting area.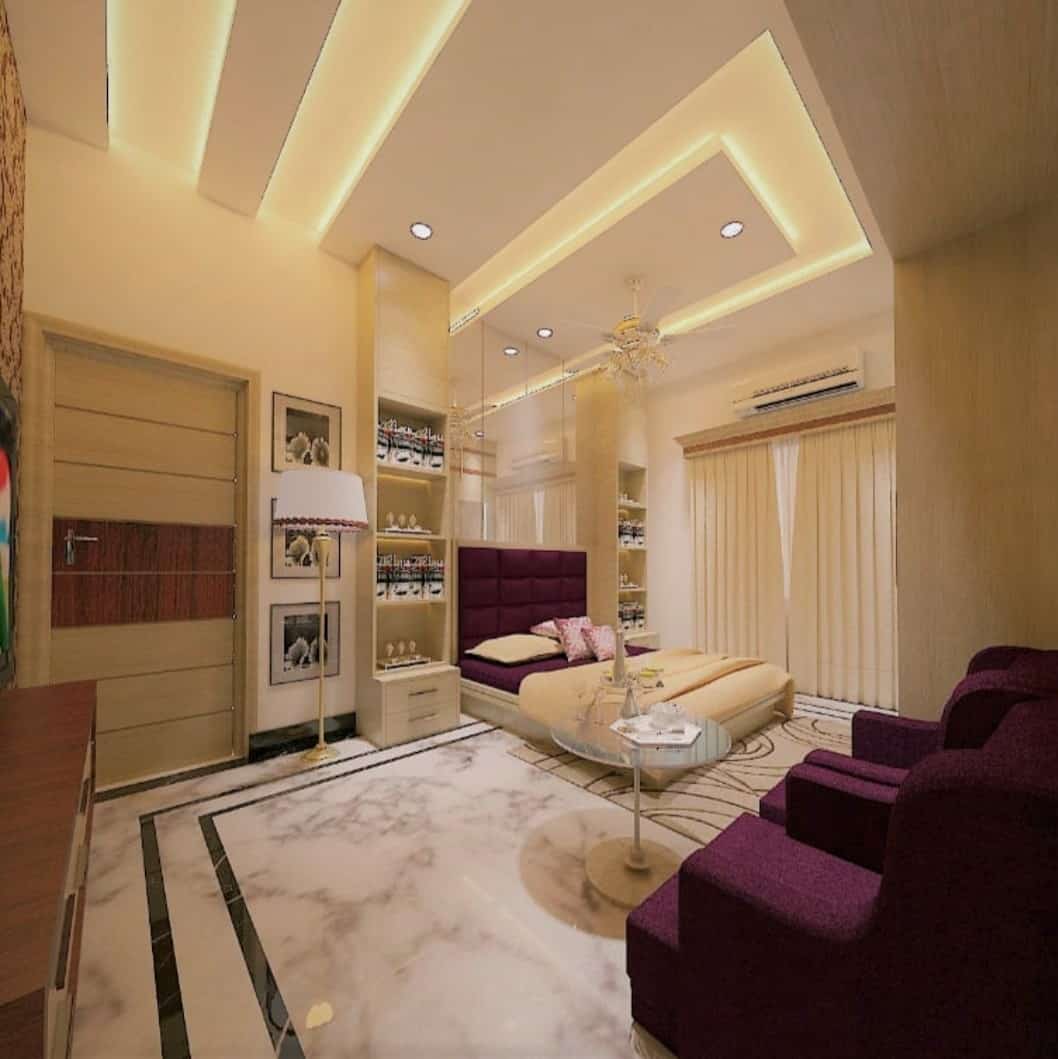 Image source: Harshit Sahni Architects
Suspended same-sized blocks
Instead of using a continuous panel for a suspended ceiling, opt for breaking your false ceiling into rectangular or square blocks.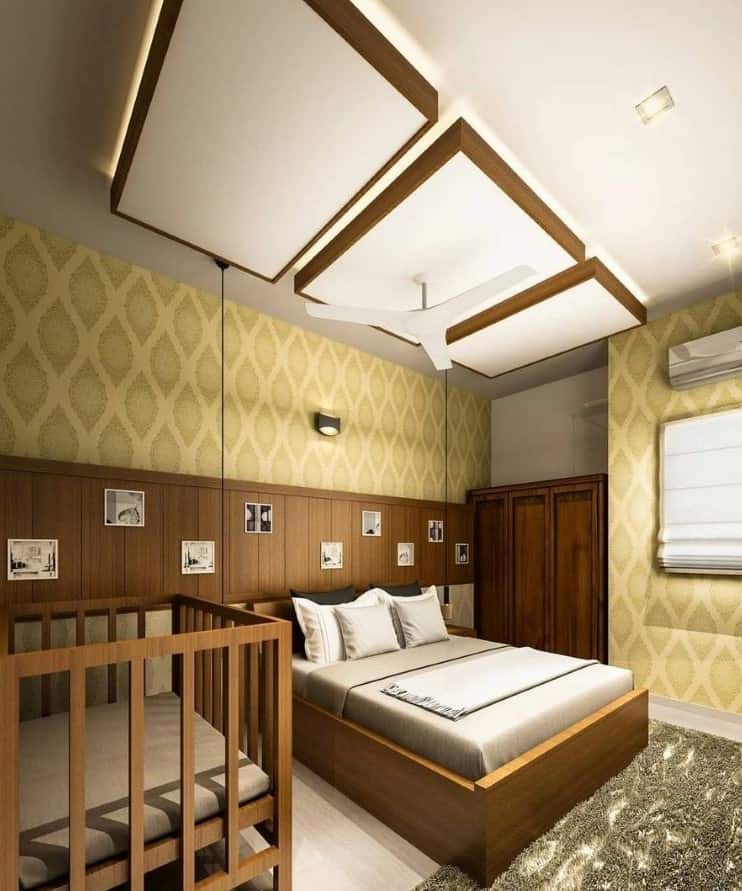 Image source: Studio de Sabeela 
Such a design suits the bedroom. It separates the areas of the bedroom. For example, the block at the center is right above the bed, the one on the left is towards the crib, and the one on the right is the closet area.
False ceiling jali design ideas
Another brilliant false ceiling design is the Jali design. They make a room's design look antique and grand.
Beautiful yet cheap false ceiling jail design ideas work well in living rooms, halls, open plan areas, and puja ghars as seen below.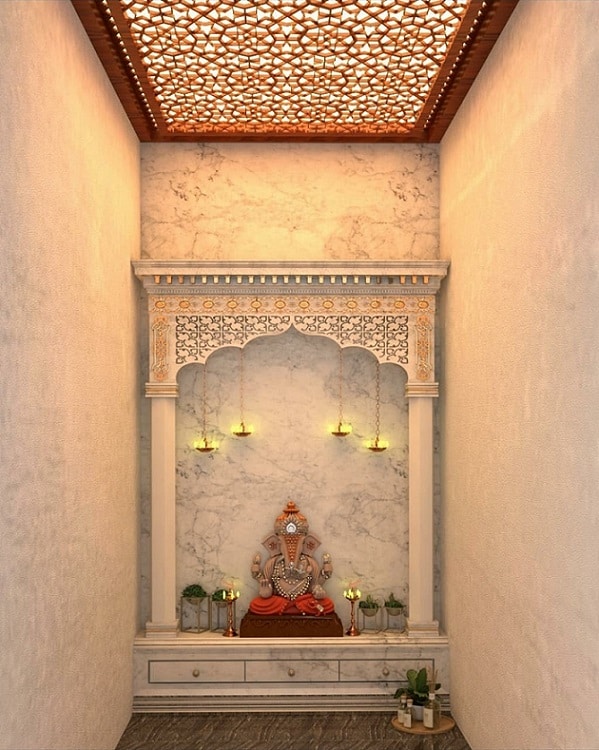 Image source: modo.create
If you are a big fan of Marvel or DC comics, you can add a comic book-themed false ceiling in your home. Comic book panels are "super" cool yet cheap false ceiling ideas for living room, hall, and bedroom. They add an extra touch of excitement to your home.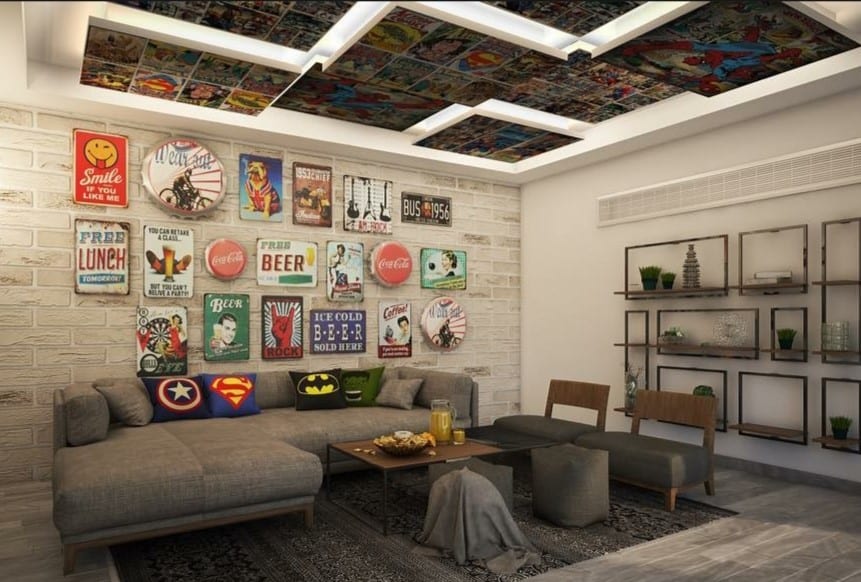 Image source: Lint Design
These false ceiling design ideas can also be used in children's bedrooms or in the bedrooms of adults who are still children at heart!
 Metallic outlines
Reflective metal surfaces serve well as borders for a simple white false ceiling. Also, they add glamour to an otherwise boring ceiling.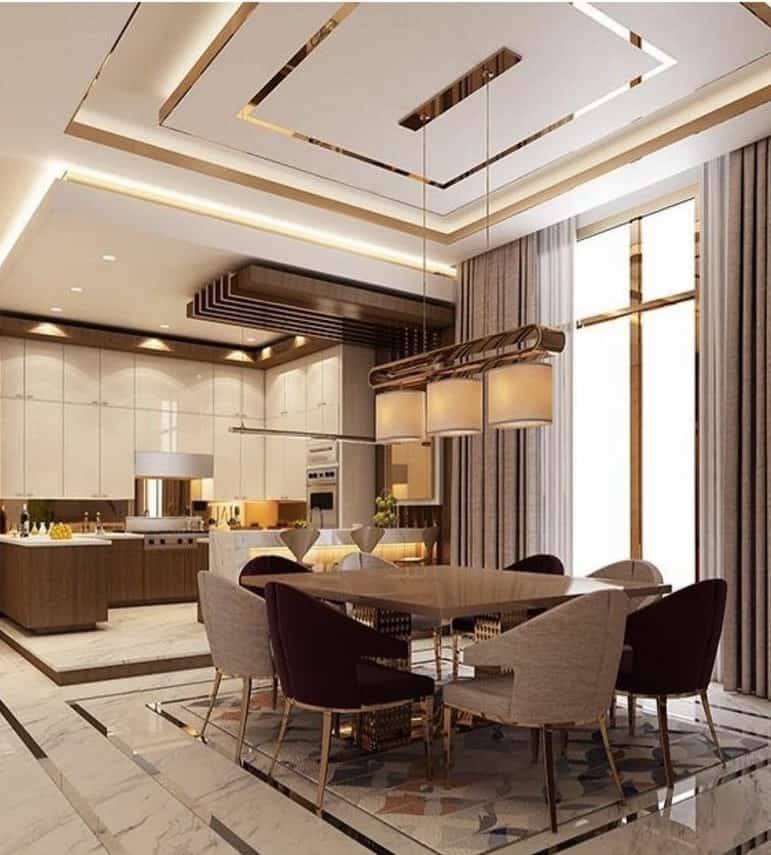 Image source: Anna Construction
Twinkling galaxy
Recreate a galaxy with these sparkling yet cheap false ceiling design ideas for living room and hall. Also, the lights are spread throughout the false ceiling.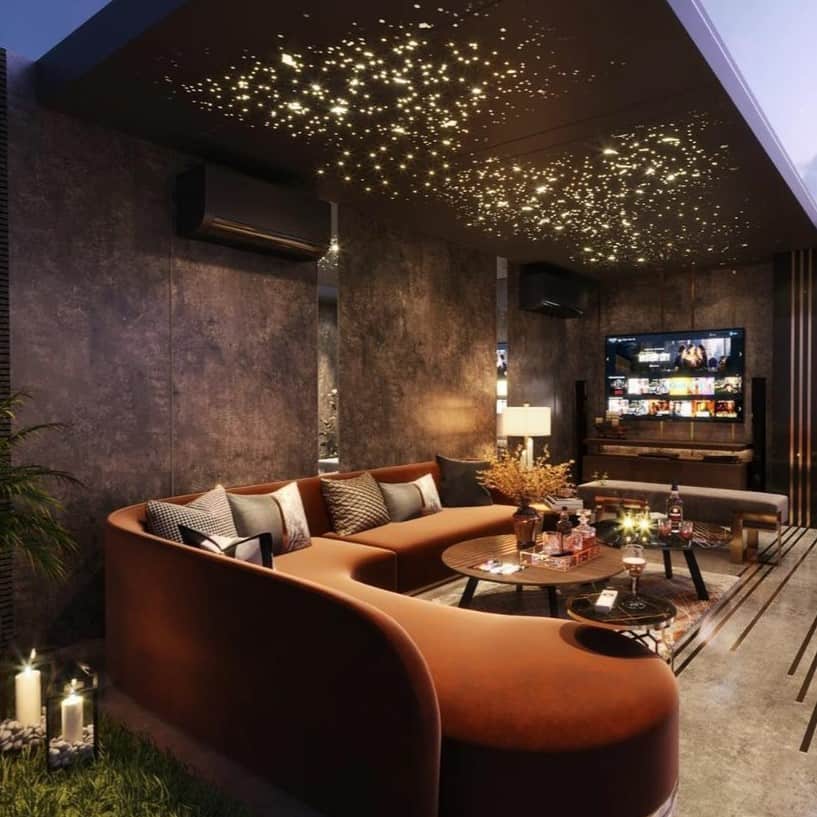 Image source: Studio 101
Sculpted Clouds
Here is a series of floating clouds for an office space. These sculpted clouds have integrated lighting. They also provide acoustic control in a busy place.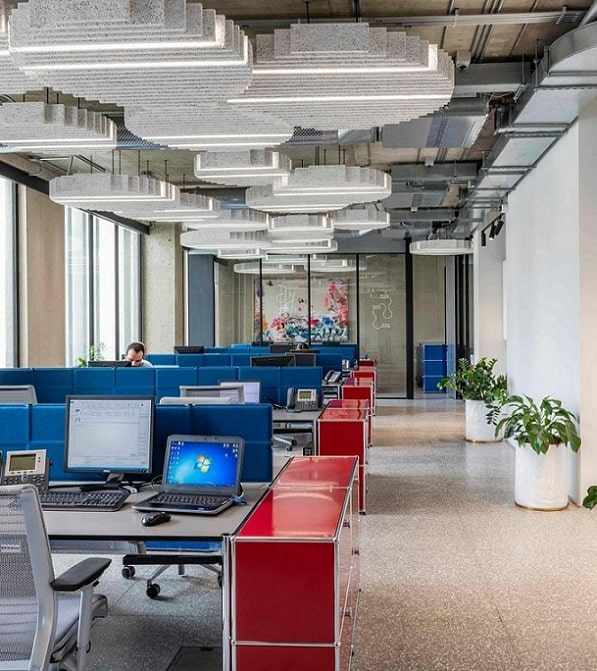 Image source: Raed Abillama Architects
Conclusion
False ceilings create a remarkable impression on people. There is an abundance of creative false ceiling designs to enhance the beauty of homes and workplaces.
The false ceiling ideas we have compiled in this list are brilliant designs. They can give an entirely new look to any space.
The designs vary from coffered and layered to mosaic and comic book-themed. There is an array of elegant as well as fun false ceiling ideas in this article. We have also given you the latest false ceiling painting ideas.
Lastly, we hope that you have found the design inspiration you were looking for here.
If you want to buy top-quality false ceiling solutions from the best brands, click on the link given below to check your options and submit your inquiries:
For more details, contact below:
Email: mukul.jain@buildingandinteriors.com
Mobile: +91 99676 32127
[vvsmustread]