Doors are the sliding or hinged barriers that separate an entryway from being closed or opened. These entryway barriers are very crucial fittings for any building, as they control access to our space. While designing our homes and offices, it is essential to pay attention to the door type and material. Glass is a versatile material that offers a plethora of door designs and application areas like bathrooms, wardrobes room partitions. The type of door you choose might determine the whole look of your space and also the security and privacy aspects of it. Different door designs offer various opening and closing ways. In this article, we provide you with all the information about glass doors, ranging from different types from sliding to revolving, advantages, and a list of top glass door manufacturers in India. So, keep reading to find the perfect modern door for your home or office!
Types of glass doors
There are endless choices when it comes to glass doors. To make it convenient for understanding, we have categorised them into two types. First, on the basis of closure type, meaning the opening and closing technique of the door, and then on the basis of the glass texture type. Remember, in no way are these categories watertight. All designs and types are fluid and overlap each other. 
Opening type
Hinged glass doors
Hinged doors are one of the most common types of doors. With hinges on one side, these doors move inward or outward to allow entry. The axis of rotation in hinged doors is vertical. These can further be divided into frameless or framed hinged doors. Frameless single-glass hinged doors look very modern and are commonly used for office doors and bathroom shower cabins. 
Sliding glass doors
As the name suggests, sliding doors allow or restrict entry by the motion of sliding along tracks. These types of doors optimise space as they do not need any independent space except the tracks to function. Sliding glass doors are now a popular choice in India for residential as well as commercial setups. Install sliding glass doors for your walk-in wardrobe to save space and conceal the cupboard elegantly. Also, now with sensor fitting, they have become the norm for commercial spaces to allow touchless entry and exist. You can choose anything from overlapping glass sliding doors or wall cavity sliding doors.
French glass doors
French doors, also called dual-sash casement doors, are one of the prettiest door styles. These doors are basically a pair of hinged doors, often made up of glass panes and wood. French doors can add grandeur and sophistication to your place and add value to your property. Attached are some lovely French doors to help you visualise them.
Bifold glass doors
Folding doors also called accordion or bifold doors, are unique and interesting types of doors. These doors have multiple sections that can be folded to open or close. Folding doors are popularly used as room partitions or for backyard access. Bifold doors in glass are great because they let in a lot of natural light and also look attractive. Here are some bifold door designs that you may use as inspiration. 
Pivot glass doors
Pivot doors are a distinctive category of doors because they are hinged in the middle from top and bottom to allow both inward and outward movement. These doors are a mixture of sliding and revolving types and in glass material, these look stunning and contemporary. However, Pivot glass doors are pretty expensive and rare to find in India. Nonetheless, if you want to add a touch of chic luxury to your modern space, the installation of a pivot door might be the best idea.
Revolving glass doors
Revolving doors have leaves or wings that are usually four in number, these glass leaves revolve around fixed access to allow entry. These doors are perfect for commercial spaces that have heavy footfall. Moreover, the revolving doors are designed in such a way that it allows people to pass without colliding. Also, these doors can revolve in clockwise and anti-clockwise directions. 
Glass type
Clear glass
As the name suggests, clear glass is plain, transparent glass used for window panes. Of all the other glass types, this glass allows the maximum amount of light to pass through. However, these might not be appropriate for doors if your home is surrounded by other houses due to privacy concerns. Nonetheless, clear glass doors can be used for doors in interiors that allow access from one room to another and bathroom shower cabins.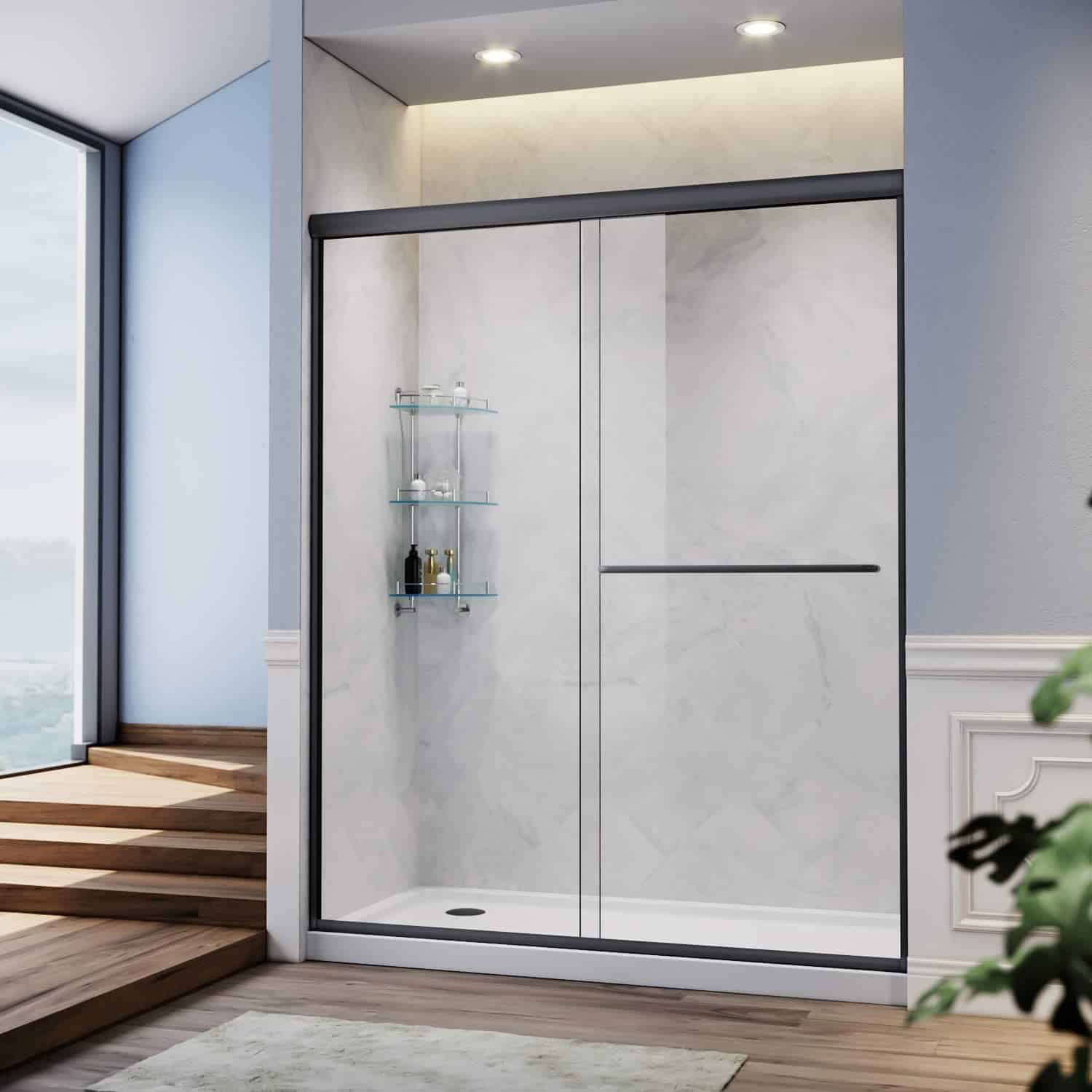 Image Source: Ubuy.com
Textured glass
Textured glass addresses the privacy issue raised by clear glass. These glasses range from translucent to almost opaque in visibility, and thus do not allow as much light through as a clear class. There are an almost infinite number of textures available, ranging from frosted, ripple, and water glass, to glazed glass designs. These glasses are a great option if you are looking to design a front entrance door or bathroom cubicle since they are also moisture-resistant.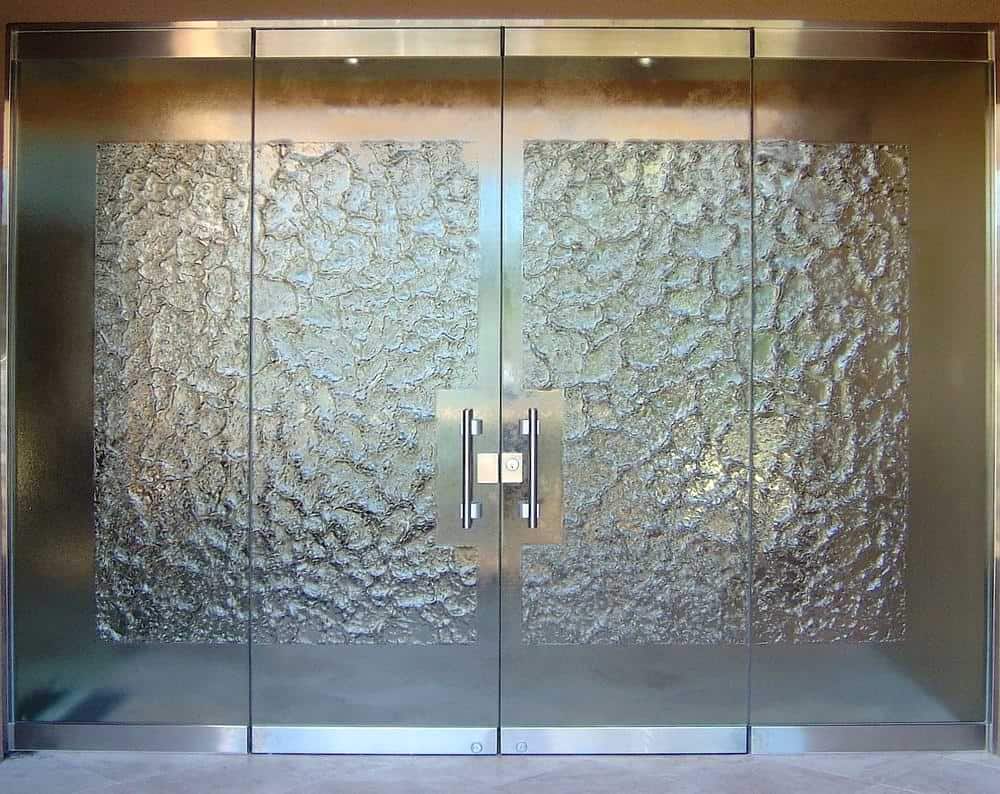 Image Source: Decorativegalssandmirrors
Tinted glass
Tinted glass is a visually aesthetic and interesting material. These glasses are mixed with selective oxides to control the intensity of natural light and also add a faint colour to the glass. Tinted glass is a great material suited for outdoor doors. These doors are also often laminated with UV-protecting technology. Choose from various tint colours such as grey, yellow, and brown.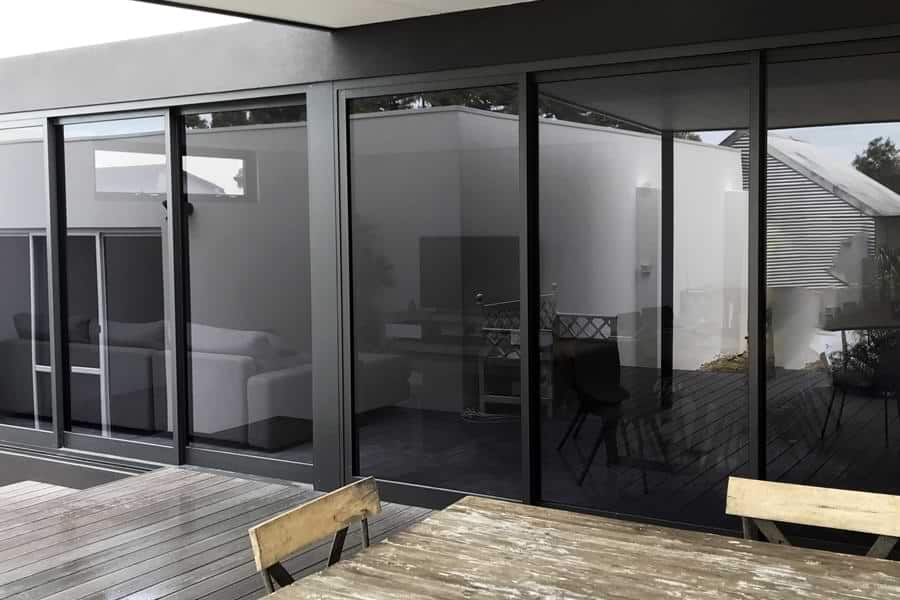 Image Source: Skyscreens
Toughened glass
It is advised that all door glasses be toughened glasses as these are physically and thermally stronger than the regular types. These are manufactured to ensure security and safety. In the event of breakage, they tend to shatter into small pieces rather than large chunks to avoid accidents. Due to their high safety standards, these are commonly used in automobiles and are now also for door designing and manufacturing.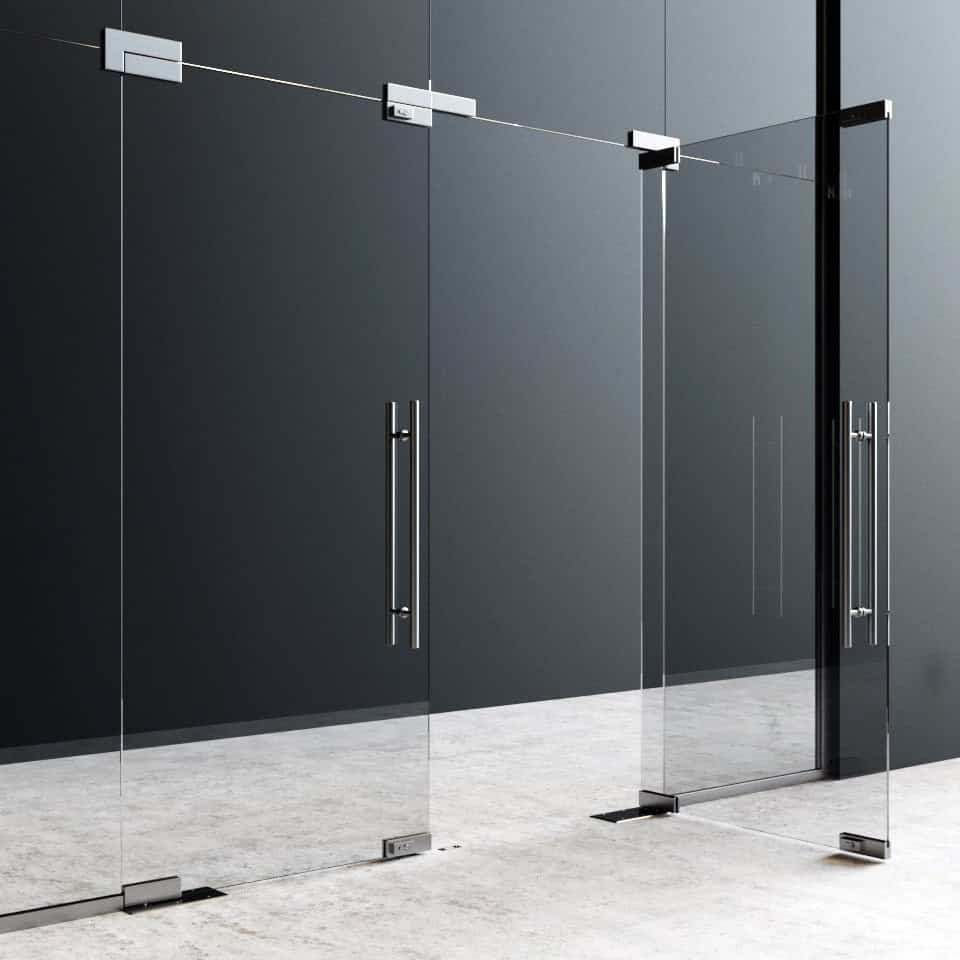 Image Source: Suppliersplanet
Stained glass
Stained glass is beautiful glass with bright colours. It is also called cathedral glass due to its large application in churches all around the world. The stained glasses joined with the help of copper foil and lead are great for creating a decorative look on the door and also add a colourful reflection at the back of the door. 
Image Source: WCMA
Insulated glass
If you live in an area that experiences long and harsh winters, then insulated glass is the material you need for your doors. These glasses are made by stacking two layers of glass sheets together to leave no air passage. Thus, these doors keep your interiors free from the outside air and provide you with warm and cosy interiors.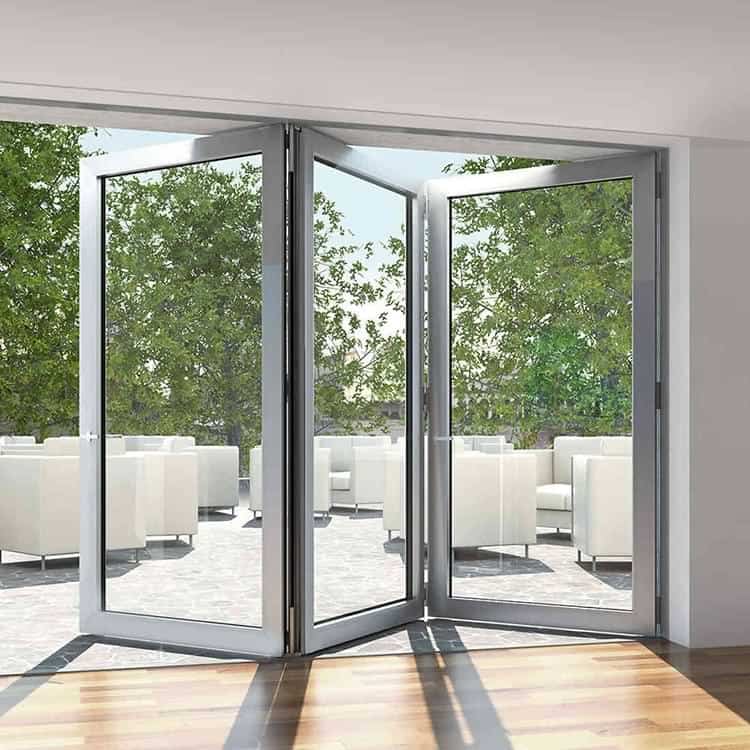 Image Source: Shenzhen sun global glass co
Coloured glass
Coloured glass is all about making your place decorative and vibrant. So, the use of coloured glass in a building can make a statement without any added effort. To create a lively atmosphere, find a glass in any colour and assemble your favourite picks at your front doors. These glasses are not only beautiful to look at, but they are also extremely durable and resistant to moisture.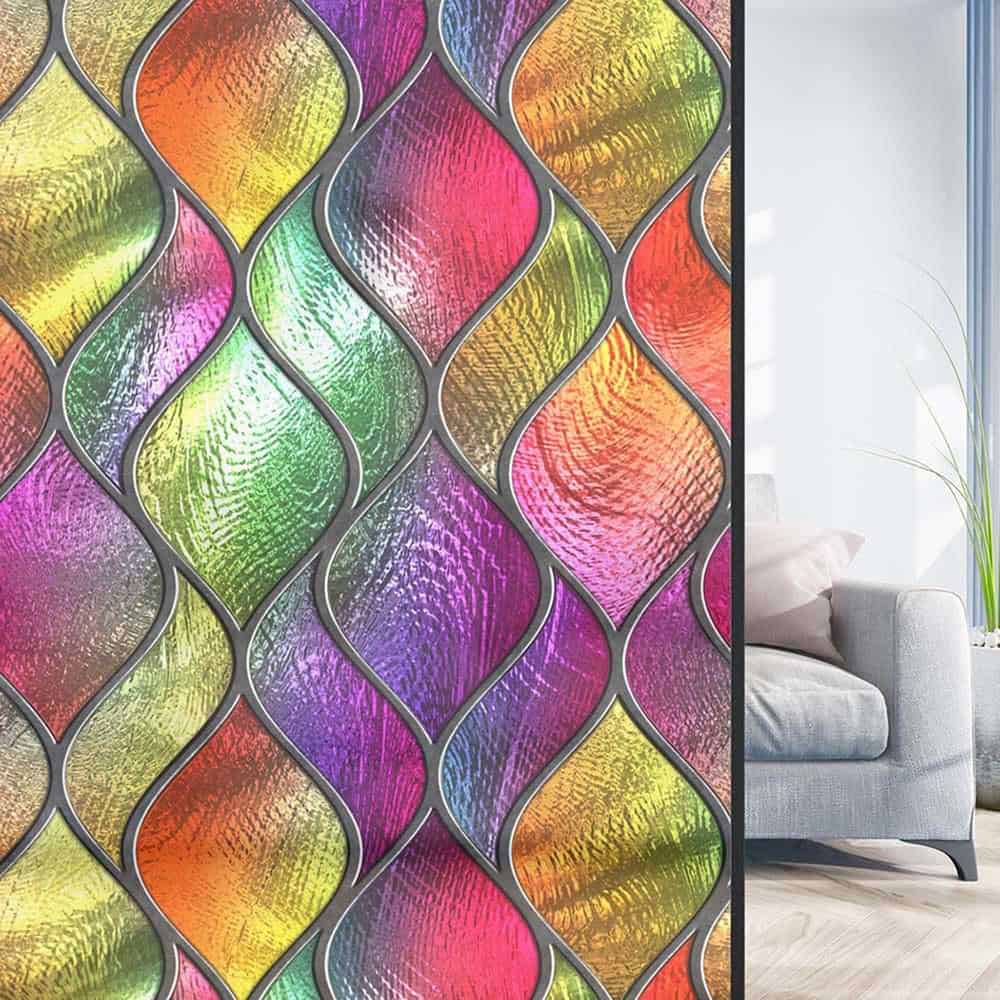 Image Source: Ubuy.com
Security glass
Security glass is a type of toughened glass specially made for the purpose of adding security. It is made using PVB or toughened glass with polyacrylic laminate to provide extra strength to the glass. Security glass is manufactured with impact resistance and even bulletproof qualities. Security glass with impact resistance finds great application in the architecture industry.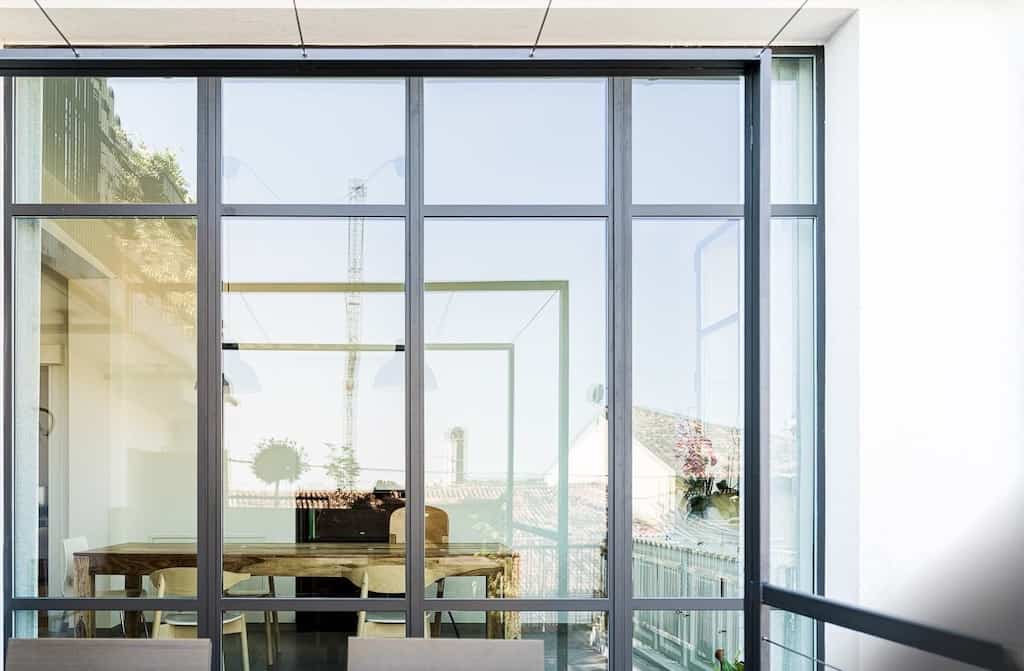 Image Source: Security doors
Advantages and disadvantages
The first advantage of glass doors is that they are really easy to clean and maintain. A little damp cloth swiped across the doors and voila! It's as good as new. Another big plus for these doors is their transparent nature, which allows a lot of natural light to come inside. Natural light inside our homes is so essential as it makes the place bright and also helps in keeping your interiors dry and regulates humidity. So, this also helps you cut down on your energy costs and is also available in various tints, colours, and textures. Hence, glass doors are available in various different designs and patterns making them suitable for bathrooms as well. Thus, installing these is both efficient and visually appealing. 
For some applications, these doors might create a privacy concern, but in these instances, one can always choose textured, tinted, or stained type to conceal and create more privacy. The only drawback for these is the unorganised market for glass doors in India. The local door fabricators lack standardisation, and many times the workmanship is not proper. Another issue with glass doors is the widespread counterfeiting of hardware products in India. These issues not only affect the service life of the doors but also increase the chances of accidents happening. 
Therefore, one should always opt for trustworthy fabricators that offer a good service network. It is advised to always use the drawings provided by an architect for door installation and invest in high-quality hardware items like handles and floor springs because glass is a risky material that is prone to shattering. So, keep reading to find out about the major brands in this segment. 
Top brands for glass doors in India
Dormakaba
Dormakaba is a Switzerland-based global brand pioneering in access control systems and security solutions. They offer a range of fittings and prefabricated glass door materials. One such product is their horizontal sliding walls made with toughened transparent glass to provide a clear view and security.
Saint Gobain
Saint Gobain is one of the leading designers and manufacturers of building materials, infrastructure, transportation, and industrial applications. The international brand offers various premium products for designing fenestrations, one such interesting material is their 654PPM clear glass suitable for making doors, partitions, windows, and cabins.
Boon Edam
Boon Edam is an international brand specialising in the manufacturing of auto sliding doors, swing doors, and revolving doors systems.  They are one shop stop for automatic doors in India. Boon Edam presents you with the Crystal Tourniket, a revolving door with a three or four-wing configuration made with a strong steel frame that operates automatically.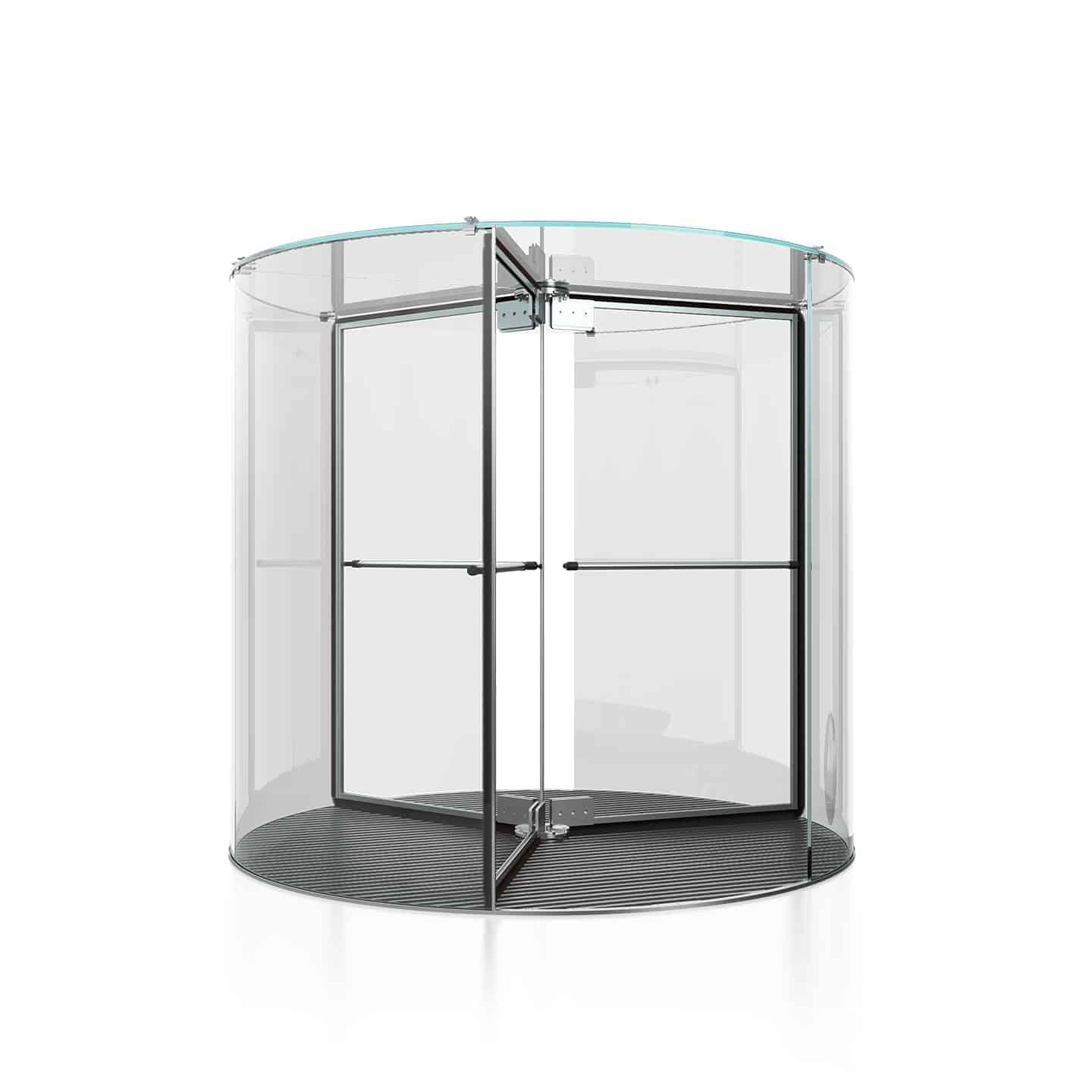 Geze
Geze is a building and engineering company known for its German-made technology, innovative products, and services. They offer you a range of high-end sliding, shutter, and automatic door fittings. These door fittings are suitable for passageways, partitions, walk-in closets, or even outdoor applications.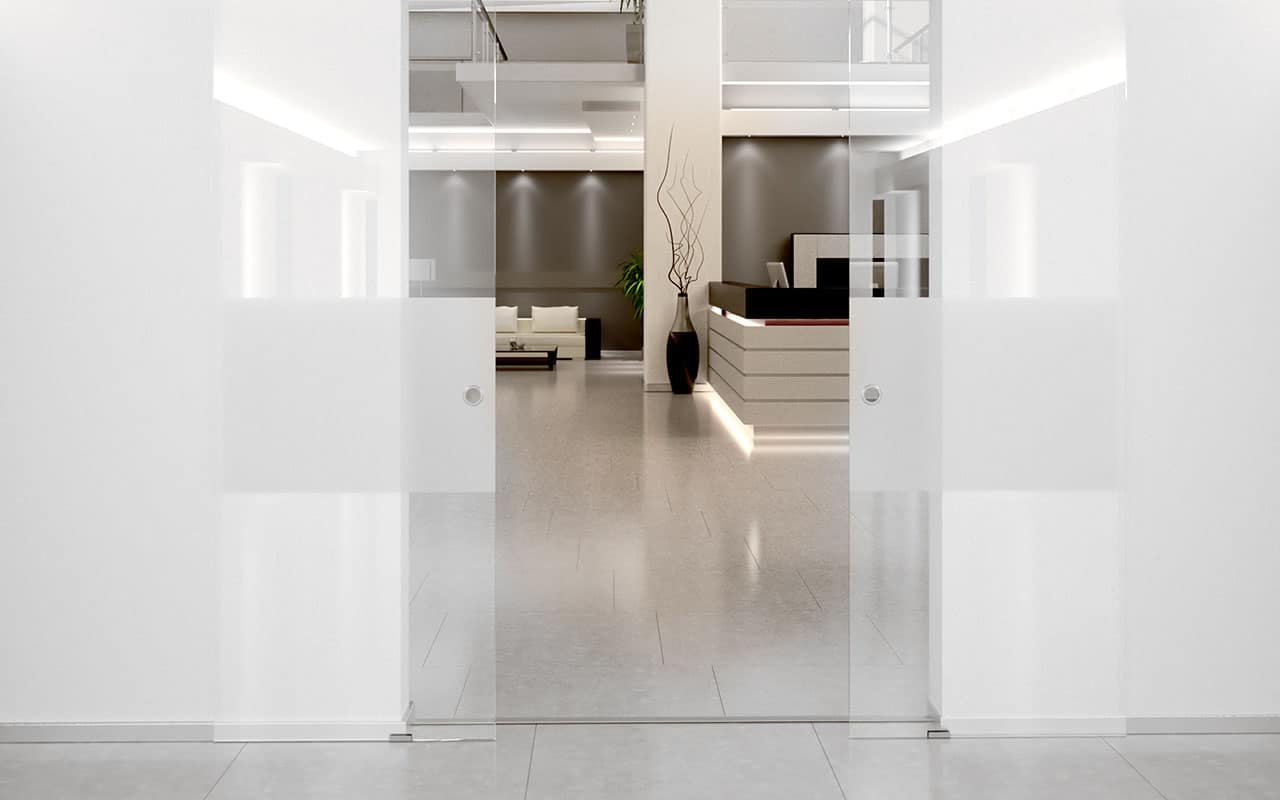 Auto Ingress
Auto Ingress is one of the largest manufacturers of auto sliding doors in India. Their sliding system called LOGIC SLIDE 220BLP is designed to suit heavy-duty structures and has versatile applications. Additionally, it comes with a self-cleaning steel track and whisper-quiet sliding belt mechanism. Click on the button below to know more!

Ozone
Ozone is a company offering architectural hardware solutions along with various standard and customized products. It is a brand from India now known globally for its unique designs and quality of glass door fittings. Also, their premium glass fitting segment consists of hydraulic door hinges, manual sliding systems, patch fittings, door handles, magnetic latch glass door locks, etc.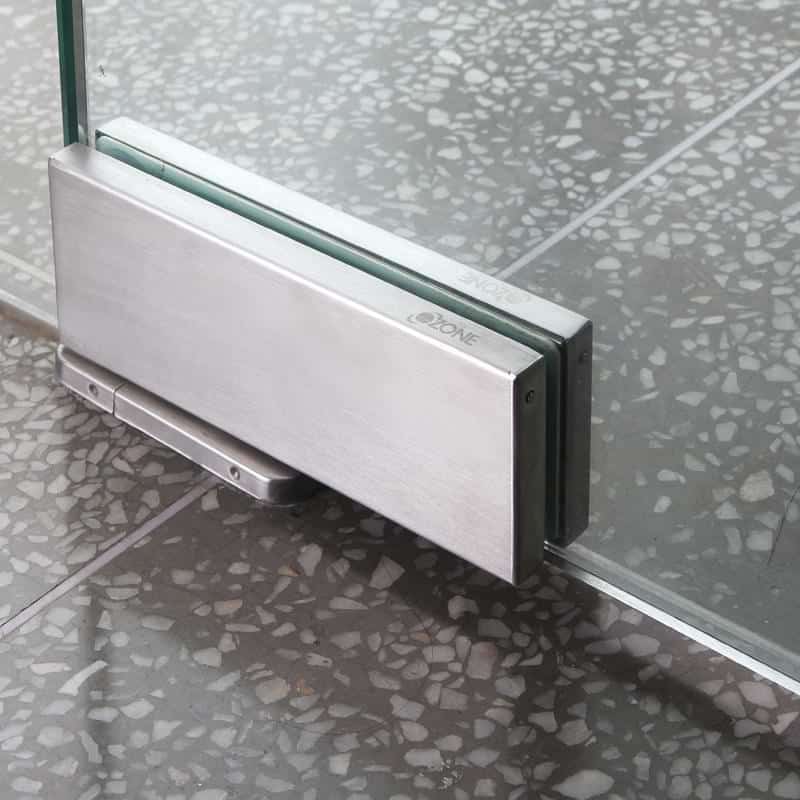 Hafele
Hafele is a German brand that provides hardware, electronics, fittings, and control systems internationally. The brand brings you a variety of sliding systems to choose from- straight sliding, Synchro sliding, and slide and fold suitable for your glass doors in bathrooms, wardrobes, office cubicles, etc. Their sliding solutions are not just functional and durable but also aesthetic in appeal.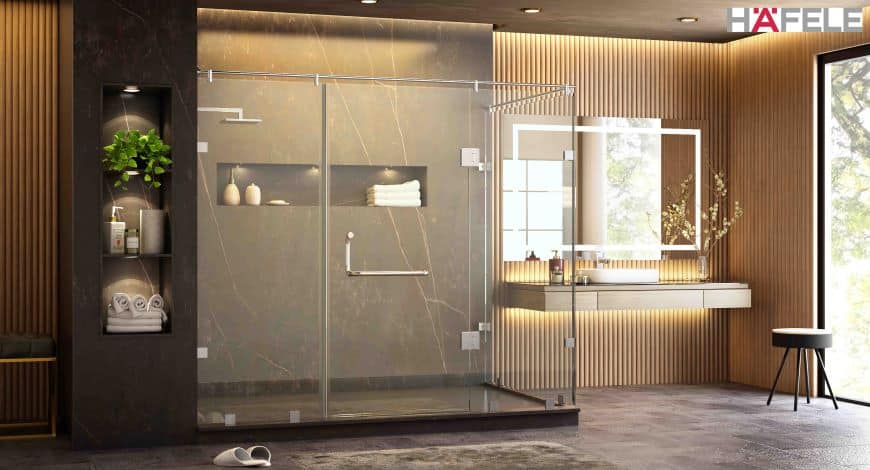 Alluring glass door designs for your home interiors
Glass door design for living room
Glass door design for bedroom
Glass door design for bathroom 
Conclusion
More and more people in India are moving towards the trend of glass doors for their homes and offices due to the obvious advantages that this versatile material has to offer. The potential to add sophistication with glass doors is immense, and so is the functionality of your interiors. However, some key points like design consistency, light, energy efficiency, safety, privacy, and visual aesthetics are important factors when selecting your doors. It is essential to consult a specialist before the installation of a door since it is a long-term investment. A glass door for the main entrance can make a lasting impression on visitors with its elegance, but the front also has to be top-notch in terms of security. Thus, always choose a glass door based on your needs and its function whether for the bathroom or main entrance.
If you want to buy top-quality glass door fittings & materials from the best brands, click on the link given below to check your options and submit your inquiries:
For more details, contact below:
Email: mukul.jain@buildingandinteriors.com
Mobile: +91 99676 32127
*The featured image used in the article is from Glenview Haus
[vvsmustread]