Contemporary homes are made with nothing but the best, from construction to furnishing, nobody like compromising. wardrobes are one such element that needs a lot of attention. In order to support your lifestyle, a wardrobe needs to be efficient and simple. Consequently, more and more people are opting for the installation of sliding doors for their wardrobes because they are efficient and simple. The sliding feature to the wardrobe door is just so revolutionary. It is not just efficient but also space-saving. A traditional cupboard hinged door requires so much space to function but with glass sliding wardrobe doors that is not the case. These doors just function on their narrow parallel tracks, giving your space a modern and spacious feel. Thus, if space management and safety is your issue, missing out on Aristo sliding wardrobe doors designs with inbuilt locks would be a sin!
Sliding wardrobe doors are now the most desirable feature for walk-in wardrobes or built-in closets. Since bedrooms already require much space for big furniture like beds, often the designated space of bedroom wardrobe runs low. In this case use of sliding wardrobe doors can give you the perfect bedroom wardrobe that you need, without a compromise. Apart from their space optimisation, these wardrobe doors have a modern luxury appeal. The wardrobe doors look so classy and elegant concealing all your belonging in the wardrobe.
Why should you choose Aristo wardrobe sliding doors?
Are you on the hunt for wardrobe doors that are functional, efficient and aesthetic? Say no more, Aristo sliding wardrobe doors are the best friend for every wardrobe. Aristo brings you world-class designs and ranges of sliding wardrobe doors with efficient sliding technology that is convenient and effective. Aristo is one of the leading manufacturers of doors and furniture in India. The international brand is known for its innovative sliding doors with built-in locks, room partitions, and magnificent walk-in wardrobe systems. Also, their space-sensitive sliding door system is perfect for any setting, from lavish walk-ins to traditionally built-in wardrobes.
Soft-close technology so you never hear the door slam!
Aristo sliding doors are designed with soft closing technology that prevents the door from slamming. Thus, the doors run smooth and close softly without making any noise.
Variety in shutter materials to cater for your taste
Aristo offers a variety of materials and designs when it comes to sliding wardrobe doors. Everything from clear glass to wooden material for your sliding wardrobe doors. So, the freedom to choose door material is now in your hands!
Floor to ceiling length doors cause bigger storage is superior!
Floor to ceiling wardrobes is the most prevalent trend these days. Modern homes require large storage, thus floor to ceiling doors allows a large wardrobe that can store about anything. Moreover, bigger storage is the need of the hour and Aristo serves it flawlessly.
Lockable doors for all rounding safety
All Aristo sliding doors come with an inbuilt lock system, that is efficient and sleek. So, with these lockable sliding doors, you will never have to worry about your valuables!
Smooth noiseless running for gliding doors
We all despise doors that are creaky and noisy, Aristo manufactures top-quality sliding doors that are not just quiet but also really smooth running.
Tested for 1 lakh sliding cycles to serve you the longest!
Aristo wardrobe doors go through rigorous testing, and each piece is tested for 1 lakh sliding cycles. Thus, its performance is unquestionable. This makes the sliding doors reliable and durable, providing you long service life.
Creative colours for playful personalities
Nothing is fun without some colours. Therefore, Aristo brings you the most stylish and trendy colours in their sliding wardrobe range. You can choose from classy monochrome doors or beautifully printed colour ones.
Customisable, because every wardrobe is unique
The great thing about these sliding doors from Aristo is that they are customisable. Now you have the freedom to decide the material, finish, colour etc. You can now design your dream wardrobe with help of the cooperative Aristo team.
A collection inspired by the fourth dimension adorned with edgy geometric patterns and design. Tesseract sliding doors come with locks and accessories to compliment your wardrobe.
Streaks
Beautiful lines of all shapes and sizes run over your sliding doors to create an elegant and playful design. This range of doors looks so stylish and appealing.
Reflection
Aristo Reflection range of wardrobe doors reflect lights from glass and make your room seem even more spacious and airy. Additionally, the mirror reflection on doors comes in various tints of colours, to suit your taste.
Glaze
These eye-catching wardrobe sliding doors are glazed with a frosted design on glass, available in matt and reflecting surface. This design is getting so much attention right now for its unique and interesting appeal.
Crystal
Aristo Crystal sliding doors are a simple affair with clear glass and white. The combination is just so elegant and contemporary.
Latitude
The Latitude sliding door range from Aristo is all about parallel lines. A parallel line of different sizes and colours create a harmonious blend with door material and add visual delight.
Mosaic
A fusion of modern and traditional mosaic design by Aristo is just the perfect pattern for wardrobe sliding doors. So, these doors add the right amount of creativity and sophistication to your room.
Highlight
Highlight sliding doors from Aristo gives you the freedom to pick and choose your material. These signature door collections are sure to compliment your space decor.
Impression
This range is all about colours, print patterns of your choice. Pick a pattern or design that resonates with you and Aristo makes these designer customisable doors a reality. Add personality to your wardrobe doors with the Aristo Impression range.
To know more about the Aristo sliding wardrobe doors, contact on the following details:
E-mail: sales@aristo-india.com
Phone: +91-8880 160160
Conclusion
The kind of luxury and convenience Aristo wardrobe doors provide is unmatched by any other door option. However, it is imperative to choose the right sliding door design that blends in with your lifestyle and house aesthetic effortlessly. The Aristo sliding wardrobe door designs provide exactly what you need when it comes to smart and innovative sliding solutions with locks. Aristo sliding wardrobes provide flexibility in design and functionality. So, get these amazing doors for your wardrobe now!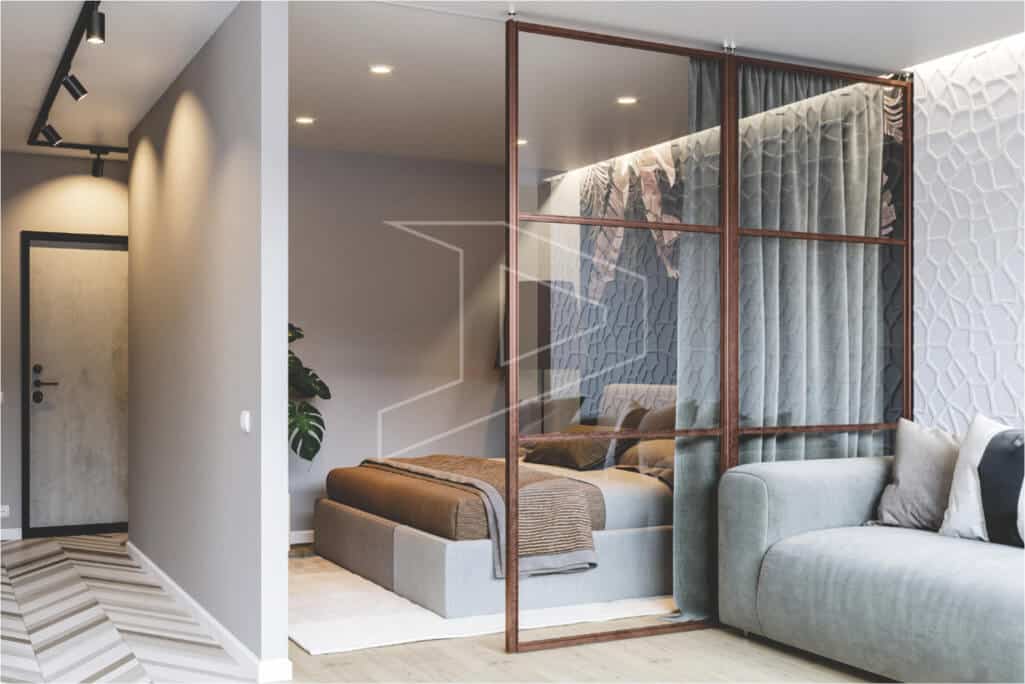 Do you find it difficult to organize a small space? Or, do you simply need a way to break up a larger area? Regardless of the case, a room partition remains a viable solution. Room dividers are trending these days for all the right reasons. They satisfy multiple purposes in a house or office. You can use them to divide space, hide the mess, create privacy, redirect footfall, or just enhance the aesthetics of the room. The different types of roo