People living in sprawling metro cities often find a lack of space in their homes & offices. So, to overcome this challenge while also maintaining the aesthetics of their space, most people now prefer sliding doors & windows. These systems keep your space warm and comfortable. Moreover, the most recent technology guarantees maximum thermal properties to keep the cold out of your house. These systems also function as an imperceptible doorway between spaces, retaining ambient noise and cold while conserving natural light. Sliding doors are appropriate for a garden home, balcony, or terrace as these are designed to maximize space and size. So, it doesn't come as a surprise that several brands are striving toward creating sustainable sliding solutions. However, one such brand that stands apart in this segment is Deceuninck with its new range of Slim Slide and Low Threshold with Sliding System for doors and windows.
About Deceuninck
Deceuninck was established in 1937 and has a history in the UPVC industry spanning more than 80 years. Also, the brand has operated in India for more than 15 years and has finished more than 100 projects there, 20 of which are high-rise towers.
Deceuninck offers exceptional quality and product assurance to all of its clients. The brand accredits its 22 storage and distribution facilities and 17 vertically integrated manufacturing facilities for it. Moreover, the five geographic locations where Deceuninck remains influential are:
Western Europe
Central Europe
Eastern Europe
North America
Turkey
Moreover, with a strong and dedicated 65 authorized channel partner network across India, Deceuninck offers cutting-edge solutions and Best in Class profiles for UPVC windows and doors. So, let's take a look at the newest launches by Deceuninck.
Deceuninck's latest addition, Slim Slide, has brought in a revolutionizing yet bold concept of narrowing the PVC section in the middle of the sliding windows and doors. Moreover, Deceuninck has narrowed down the width from 90 mm wide to 46.6 mm with the slim slide concept. Withalmost50%reductionofinterlockingjunctions, this slim section with uncompromised structural performance leads to increased penetration of light into the spaces. Apart from this, they are easy to install & operate and available in multiple sliding tracks and design combinations. TheyaremadeespeciallyforDGUandareabletoaccommodatevarious glasssizesasperdesignspecifications.Also, Deceuninck slim slide will suit every space with its multiple solid & wooden finishes available alongside excellent thermal & sound insulation.
Key features
Expert's comments
The all-new Deceuninck slim slide door range is introduced to the Indian market due to the ever-increasing requirement of the market for slimmer UPVC sections. Also, Deceuninck aims to provide the users with the required aesthetics without compromising on the performance parameters. We look forward to architects considering Deceuninck Slim Slide for high-end commercial and residential projects where higher light transmission and slimmer sections remain desired. Moreover, our most distinguished features include Slimmer interlocking junctions that reduce up to 50% without compromising on the strength required for doors against wind loads.
Satish Kumar, Group Business Development Director – Asia and Australasia

Deceuninck Low threshold with Sliding System for balcony doors
Deceuninck Low Threshold with Sliding Systems have been specifically designed for balcony doors and separates the outside from the inside interiors. These 70 mm aluminium thresholds have a unique design alongside no obstruction flush with the floor level. Moreover, Deceuninck sliding system won't let you compromise on functionality, durability, ease of use, and aesthetics. You can have multiple tracks as per design requirements.
Key features
Functional
Durable
Easy to Use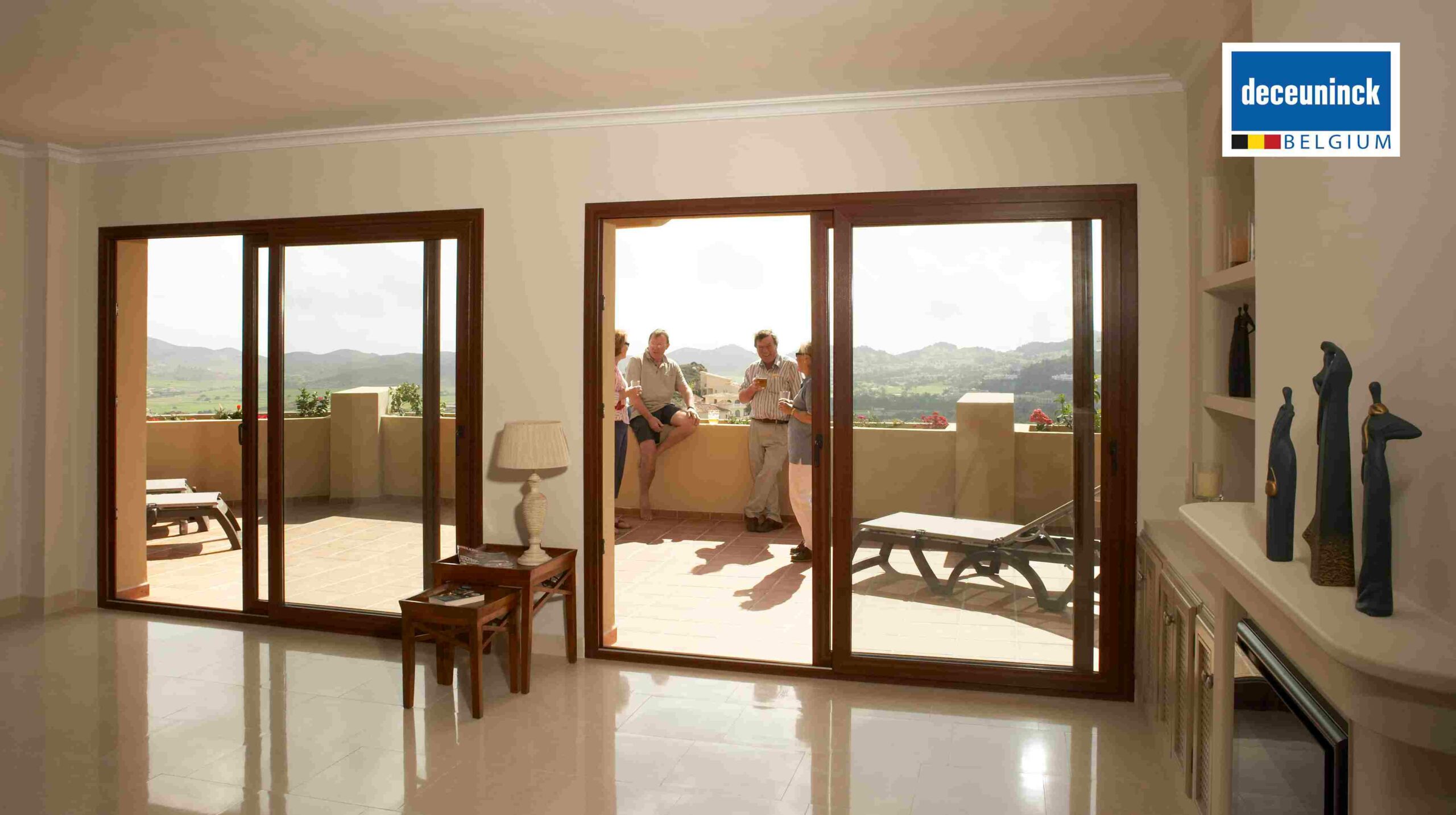 According to the latest trends, sliding doors and windows have become the top choice for most buildings. These systems enhance the look of the interiors and the façade. The horizontal sliding features offer great space optimization as well as style. Such benefits of sliding systems have made them a popular pick for decades, even though they had an unsteady beginning. Over time, these sliding windows and door systems have enjoyed several upgrades